October, 24, 2014
Oct 24
10:00
AM ET
A look ahead to Saturday's games in the Southeastern Conference. All times Eastern:
Noon
UAB at Arkansas, SEC Network:
Bret Bielema will have to wait at least one more week before notching that first SEC victory, but after three straight losses, this Arkansas team needs a win in the worst way. It's not like the Razorbacks are playing poorly. Even Saturday, after falling apart in the first half, they didn't give up. They responded in the second half and outplayed Georgia the final 30 minutes. That first conference win is coming. In the meantime, Arkansas can't afford to overlook UAB. The Blazers put up 34 points on No. 1 Mississippi State earlier in the season, so they're at least capable of getting in the end zone.
[+] Enlarge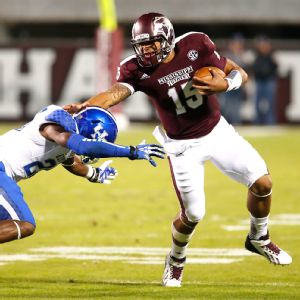 AP Photo/Rogelio V. SolisDak Prescott threw for 268 yards and ran for 33 last season in a 28-22 home victory over Kentucky.
3:30 p.m.
No. 1 Mississippi State at Kentucky, CBS:
What happened to Kentucky? This game was shaping up to be one of the biggest games in program history – a top-25 matchup, a chance to take down the No. 1 team in the country – and then it all fell apart at LSU on Saturday. Losing close is one thing, but the Wildcats were dominated in Death Valley. The good news is that they can still take down No. 1 this weekend as this will be Mississippi State's first game since taking over the top spot. For the Bulldogs, it's a chance to prove they're worthy of No. 1 and it's another opportunity for
Dak Prescott
to shine in front of a national audience.
4 p.m.
Vanderbilt at Missouri, SEC Network:
A week after everybody left Missouri for dead, the Tigers are back in the SEC East race and rolling after a 42-13 win at Florida. The defense feasted on the Gators' offense, forcing six turnovers and taking two back for touchdowns. That's bad news for Vanderbilt quarterback
Johnny McCrary
, who will be making his first start for the Commodores. In his first action since the season opener, McCrary went 10-of-16 for 169 yards with one touchdown and one interception Saturday against Charleston Southern. But that was Charleston Southern. This is Missouri. Good luck Mr. McCrary.
7:15 p.m.
No. 3 Ole Miss at No. 24 LSU, ESPN:
Don't assume that Ole Miss is going to just go to Baton Rouge and handle its business. Yes, the Rebels have arguably the top defense in the SEC. And yes, they're ranked No. 3 for a reason. But winning on the road at LSU is no easy task. Just ask Les Miles, who is 45-4 as LSU coach in night games at Tiger Stadium. There's something special about when the sun sets over Death Valley. So don't be surprised if this game is close in the fourth quarter, and it's up to Ole Miss quarterback
Bo Wallace
to make a play. Wallace did account for more than 350 yards and four touchdowns at LSU two years ago.
7:30 p.m.
No. 4 Alabama at Tennessee, ESPN2:
Thank you, Lane Kiffin, for infusing a little life back into this rivalry. He made it interesting back in 2009 when his Tennessee team nearly knocked off the eventual national champs, and he's doing it again this year with his return to Knoxville as Alabama's offensive coordinator. You can bet the fans will be a little more rowdy in welcoming Kiffin back to Neyland Stadium on Saturday. But despite all the hoopla surrounding Kiffin, there's still a game to be played. Alabama comes in as a heavy favorite, and the Vols could be in trouble if quarterback
Justin Worley
isn't able to play.
South Carolina at No. 5 Auburn, SEC Network:
Gus Malzahn admitted this week that he wears a visor every game because of Steve Spurrier. That's how much respect and admiration he has for the Head Ball Coach. On Saturday, Malzahn will face Spurrier for the first time as a head coach in a game that Auburn has to win for its playoff hopes. The Tigers are coming off a loss to Mississippi State, and this is their first of four SEC games in four weeks. Meanwhile, South Carolina has not delivered on the preseason hype. A top-10 team before the season, the Gamecocks are barely above water at 4-3.
September, 1, 2013
9/01/13
1:30
AM ET
COLLEGE STATION, Texas -- On Friday night, reigning Heisman Trophy winner Johnny Manziel apologized to his Texas A&M teammates for his conduct this past offseason, which included an NCAA investigation into whether he improperly signed thousands of footballs, photographs and other memorabilia for money.
On Wednesday, the NCAA suspended Manziel for the first half of the Aggies' season opener, a 52-31 victory over Rice at Kyle Field, and all but declared the case closed.
As part of Manziel's punishment, the NCAA ordered him to address his teammates and share what lessons he learned from the scandal. Surprisingly, the NCAA didn't require Manziel to stand in the corner of Kyle Field during the first 30 minutes of Saturday's game for what it called an "inadvertent" violation of its rules.
"I just hope he learned that those actions may be actions that you think just hurt you, but they end up hurting the whole football team," Texas A&M coach Kevin Sumlin said. "That was the real gist of his message to the team."
Less than 24 hours later, Manziel's sophomore season started on the fourth play of the second half, and it didn't take him long to help -- and hurt -- his football team again.
Read the full post here.
August, 31, 2013
8/31/13
8:52
PM ET
COLLEGE STATION, Texas -- There are several reasons Texas A&M was so highly thought of and had lofty expectations coming into the 2013 season.
The No. 7 Aggies, who were ranked in the top 10 of both preseason polls (they were No. 6 in the coaches' poll), returned a Heisman Trophy-winning quarterback, a plethora of running backs and an All-America caliber tackle, and play a style of offense that many SEC teams -- defending champion Alabama included -- find hard to defend.
And while there were several positives to take away from Texas A&M's season-opening 52-31 win over Rice on Saturday at Kyle Field, the win also illustrated that the Aggies still have a long way to go in several areas if they plan on fulfilling championship expectations.
[+] Enlarge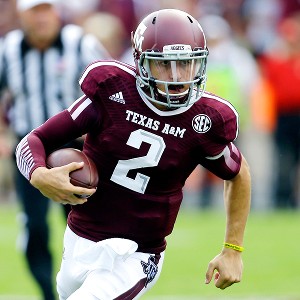 AP Photo/Eric GayThe good news is Johnny Manziel looked like his Heisman Trophy winning self once he got in the game. The bad news is the Aggies look like they still have lots of work to do if they want to win titles.
One of those areas is maturity. Head coach Kevin Sumlin discussed that after the game, and while he was specifically addressing it in relation to the ejection of freshman defensive end
Daeshon Hall
and the unsportsmanlike conduct penalty drawn by quarterback
Johnny Manziel
after a touchdown pass, Sumlin's words can apply across the board.
The Aggies had eight players miss at least the first half of Saturday's game. Four were suspended for "violating Texas A&M athletics department rules and regulations." Three were suspended after offseason arrests and Manziel was suspended for the first half after "inadvertent violations" that occurred as a result of signing autographs after the conclusion of an NCAA investigation.
That was also part of Manziel's message, according to Sumlin, to his teammates when he addressed them on Friday as part of the requirements of restoring his eligibility.
"Actions just like today and just like other guys on this team, those actions may be actions that you think just hurt you, but they end up hurting the whole football team," Sumlin said. "That was the real gist of [Manziel's] message to the team. That everybody's individual acts affect the team. When that happens, it's not good."
Of the suspended players, five were defensive starters (defensive tackle
Kirby Ennis
, cornerbacks
Deshazor Everett
and
De'Vante Harris
, linebacker
Steven Jenkins
and defensive end
Gavin Stansbury
). Another, Floyd Raven, is a key player expected to contribute this fall and was one time projected to start at free safety before
Clay Honeycutt
wound up first on the depth chart after a strong training camp.
As a result, the Aggies' defense was filled with true freshmen and newcomers getting significant playing time on Saturday and ended up surrendering 509 total offensive yards. Now, Rice is a good team in Conference USA that could contend for the league title, but it's not nearly the caliber of opponent Texas A&M will see on its SEC schedule. The Owls ran for a whopping 306 yards -- six yards a carry -- and appeared able to run right at the Aggies' defense.
The Aggies struggled with missed tackles and missed assignments, which are to be expected when you have a significant number of 18- and 19-year-olds on the field.
"We played 20 guys out there that had never played before," Sumlin said. "Is that an excuse for our play? No. I think we learned from today."
The Aggies regain the services of Ennis and Raven next week, though Everett will again have to sit out a half, by rule, because he was ejected in the second half after being called for a targeting penalty. The other four suspended -- Jenkins, Harris, Stansbury and receiver
Edward Pope
-- won't return until Sept. 14 when the Aggies host No. 1 Alabama.
But there were plenty of positives to be seen as well, most notably in the win column. Backup quarterback
Matt Joeckel
showed he was capable of moving the offense, leading the Aggies to 28 first-half points while putting up more than respectable numbers (14-of-19 passing, 190 yards). Joeckel's lone touchdown pass was a 71-yard catch-and-run completion to an apparent star in the making, 6-foot-5, 240-pound true freshman receiver
Ricky Seals-Jones
.
Players who are considered to be among the team's leaders, running back
Ben Malena
(100 total offensive yards, two touchdowns) and
Mike Evans
(84 receiving yards, two touchdowns) played their roles aptly. The kicking game was consistent as
Taylor Bertolet
was perfect on all his kick attempts, something he struggled with last season. And as Sumlin noted, the positive to having so many young players on the field on defense means they'll have a chance to learn from their mistakes and develop. Though there were struggles, they came up with turnovers and still did enough to win.
Most importantly, the Aggies got their quarterback, Manziel, back on the field in the second half and he looked like the player who captivated the nation a season ago. He was 6-of-8 passing for 94 yards with three touchdown passes and showed his trademark scrambling ability, though Rice did a solid job of keeping him from running too wild.
This is a team that has encountered a lot this offseason. From the headlines Manziel made and the NCAA investigation, to the suspensions and most importantly, the death of a teammate --
Polo Manukainiu
-- the Aggies have already dealt with their fair share of adversity.
The Aggies honored Manukainiu on Saturday by wearing decals with his number, first name and a Tongan-inspired design on their helmets and electing sophomore defensive tackle
Alonzo Williams
to wear Maunkainiu's No. 90. The team will elect a different defensive lineman to do so each week as a nod to Manukainiu and his family that he is "still out there with us," senior defensive back
Toney Hurd Jr
. said.
This team has lofty goals. Hurd mentioned Saturday the team would wear the Manukainiu decal "each and every week, leading [up] to the national championship." If they plan to get there, they have a lot of work still to do.
August, 31, 2013
8/31/13
4:49
PM ET
COLLEGE STATION, Texas -- Plenty of excitement and drama at Kyle Field as Rice made the game interesting but
Texas A&M eventually pulled away for a 52-31 win
over the Owls behind a second-half offensive effort sparked by quarterback
Johnny Manziel
.


It was over when:
Rice went scoreless on its first three drives of the third quarter. Texas A&M intercepted quarterback
Taylor McHargue
on consecutive drives to start the second half and turned those two picks into 10 points on offense, to turn a 10-point lead into a 38-21 advantage. The Owls responded to cut the lead back to 10 early in the fourth quarter, but Manziel led a six-play, 93-yard drive in 1:46 capped by an 18-yard touchdown pass to
Ben Malena
for a 45-21 lead and the Aggies never looked back.
Game ball goes to:
Texas A&M receiver
Mike Evans
. Sure, it would be easy to give it to Manziel for sparking the second-half offensive effort, but Evans played a crucial role on the two touchdown drives that blew the game open for the Aggies. He caught the 23-yard touchdown pass from Manziel to give the Aggies a 38-21 lead at the 9:43 mark in the third quarter. Later, on an early fourth-quarter touchdown drive that extended the lead to 45-28, Evans threw a big block for
Malcome Kennedy
on a 34-yard reception that got the Aggies in the red zone, then had a quality downfield block that sprung Malena for the 18-yard touchdown reception.
Stat of the game:
509 total offensive yards for Rice. The Aggies' defense had a few question marks coming into the season and didn't help matters by some self-inflicted issues, with six key players, including five starters, missing all or part of the game due to suspensions. That meant a lot of freshmen and newcomers on the field and it showed as Rice moved the ball well early and ran the ball with consistency. Once the Aggies get some of their key players back it will be interesting to see how things play out, but an effort like the one seen on Saturday won't bode well for Texas A&M once it gets to SEC play.
August, 31, 2013
8/31/13
2:00
PM ET
Texas A&M announced before Saturday's kickoff against Rice that
four players will be suspended
for the first two games of the season.
Senior linebacker
Steven Jenkins
, junior defensive end
Gavin Stansbury
, sophomore cornerback
De'Vante Harris
and redshirt freshman receiver
Edward Pope
are all suspended two games for "violating Texas A&M athletics department rules and regulations," according to the school.
Jenkins, Stansbury and Harris are starters and the Aggies already had three other key defensive players (defensive tackle
Kirby Ennis
, cornerback
Deshazor Everett
and junior safety
Floyd Raven
) suspended for some or all of Saturday's game. Ennis and Raven are missing the entire game; Everett is missing a half.
Read the full story here
.
August, 31, 2013
8/31/13
12:15
PM ET
COLLEGE STATION, Texas -- After what has been an eventful offseason, game day is finally here for Texas A&M.
The No. 7 Aggies host Conference USA foe Rice at 1 p.m. ET today, giving their fans a taste of real football after an offseason that involved a lot of headlines.
Heisman Trophy-winning quarterback
Johnny Manziel
will miss the first two quarters, serving a suspension announced Wednesday by Texas A&M and the NCAA after the investigation into allegations that he profited from autographs concluded.
The big question is, who's starting? The answer hasn't officially been made public at this point -- head coach Kevin Sumlin did say that both junior
Matt Joeckel
and true freshman
Kenny Hill
will play in the game.
The speculation seems to be that Joeckel will get the nod in the game's first series, though. Former Aggies defensive tackle Spencer Nealy posted a congratulatory message to Joeckel on his Twitter account on Friday night, tweeting:
Congrats to @MattJoeckel to becoming the starting quarterback against rice...Aggies we are in good hands

— Spencer Nealy (@SNeals99) August 31, 2013
The Aggies will be shorthanded on defense, with several players serving out suspensions stemming from offseason incidents. Starting defensive tackle
Kirby Ennis
and safety Floyd Raven, who is listed second on the depth chart at free safety, will miss the entire game. Junior cornerback
Deshazor Everett
, a starter best known for his interception that sealed A&M's upset victory at Alabama this year, will miss one half of action.
True freshman defensive tackle
Hardreck Walker
is the likely replacement for Ennis when the Aggies are in four defensive lineman alignments. Junior
Clay Honeycutt
is the starter at free safety after having a strong preseason training camp and look for a combination of
Tramain Jacobs
and Alex Sezer, Jr., to fill in for Everett when he's sitting.
Rice comes in with a veteran group, led by a fifth-year senior at quarterback in
Taylor McHargue
. This will be his fourth-straight opening game start; he is one of seven current FBS quarterbacks to have that distinction. The Owls will also be without a pair of defensive starters, linebacker
Cameron Nwosu
(injury) and cornerback
Phillip Gaines
.