December, 4, 2013
12/04/13
7:00
AM ET
ATHENS, Ga. – They aren't making any guarantees, but Georgia's coaches have made it abundantly clear that they expect
Hutson Mason
to replace
Aaron Murray
as their starting quarterback next year.
That said, the redshirt junior plans to compete over the next 10 months like he hasn't won anything yet.
"I've been here for four years, obviously, and everybody wants to say, 'He's the next guy, he's the next guy,' but no one owes you anything," Mason said. "Just because you're here for four years doesn't mean that you're going to walk in the day when Aaron leaves and you're going to be the starting quarterback. … That's the way our coaches coach, that's the right way to go about it and I know that there's other guys in that room that are capable of making plays and they're capable of being really good quarterbacks."
[+] Enlarge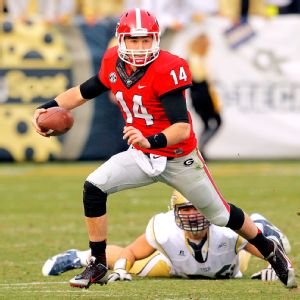 Todd Kirkland/Icon SMIHutson Mason should enter the spring with an advantage to be Georgia's starting quarterback in 2014. The more interesting battle might be for the No. 2 role.
Because of the season-ending knee injury that Murray suffered in the second quarter of the Kentucky game, Mason should have had two-and-a-half games of experience as the Bulldogs' No. 1 quarterback when they kick off the 2014 season against Clemson.
He has performed adequately as Murray's replacement – he has completed 46 of 71 passes for 648 yards, four touchdowns and two interceptions, which should only solidify his place for next fall. The more interesting aspect of the competition might be the jockeying for the position behind Mason among a group of young quarterbacks who could take over the reins in 2015.
"I don't see Hutson doing anything to self-destruct and make himself lose that job," center
David Andrews
said. "But these young guys, they'll understand. Hutson, he came out every day and he competed no matter what, even in his redshirt year [2012], when he knew he wasn't going to play. I think those young quarterbacks seeing that can understand, 'Even if I'm not going to play, this is setting it up and every day you don't try to get better, you're going to get worse.' I believe that, so I think Hutson sets a great example in that aspect."
As of now, the Bulldogs have three scholarship quarterbacks on the roster who will have eligibility remaining next fall: redshirt sophomore
Christian LeMay
, redshirt freshman
Faton Bauta
and freshman
Brice Ramsey
, who is redshirting this season. Georgia also has a commitment from
Jacob Park
(Goose Creek, S.C./Stratford), ESPN's No. 94 overall prospect in the 2014 recruiting class and No. 4 dual-threat quarterback.
Exhibiting a strong work ethic and intriguing run-pass skills, Bauta seized the backup spot behind Mason and will reportedly be tough to beat for the No. 2 role next season.
"He's really come into his own, not beating himself up every time he makes a mistake and going back out there to make another play," said receiver
Chris Conley
, who predicted that Bauta would claim the No. 2 job next fall. "He's a hard worker, so he's always going to be his toughest critic. But he's made a lot of plays this year out there. He made a lot of plays in the spring and that kind of turned people's heads to say, 'OK, I didn't know that he could play like that.' "
Ramsey is also an interesting prospect, having impressed coaches and teammates with his prototypical 6-foot-3 size and possibly the strongest arm among any of the quarterbacks on the roster.
As with most freshmen, Ramsey made use of his redshirt year to settle into a college routine and learn Georgia's offense.
"He has a gun on him," receiver
Michael Bennett
said. "He has a very good arm. He's just a freshman. You've got to mature a little bit, but he's going to be a good player, too."
That redshirt year was a particularly valuable experience for a green quarterback like Ramsey who executed a run-heavy Wing-T offense in high school – a far cry from the pro-style offense he'll run in college.
"I've grown so much," Ramsey said. "In January [when he enrolled], I couldn't have even have told you what a zone was or what all that was. It was just coming in and actually having to put forth effort and trying to learn the playbook and study and everything. Now I'm picking everything up and just excited for the future."
For now, though, the starting job in 2014 is Mason's to lose. He's the only quarterback aside from Murray to have attempted a pass this season – Bauta has run three times for 29 yards in mop-up duty and LeMay hasn't played this season at all, although he saw the field as a reserve in 2012 – and Mason will be far and away the most experienced quarterback on the roster next fall.
That will be a major departure for Mason, who up until 10 days ago has spent his entire career playing second fiddle to SEC career passing leader Murray.
"It's going to be weird just not having the guys that I'm used to being around, like Parker [Welch, a senior walk-on] and Murray," Mason said. "We've had a core group of guys that have been around for a long time in that QB room and we're going to be a whole lot younger with a lot of new faces. It's going to be different.
"It's exciting, though. It's what you come to Georgia for. I've been waiting for four years to go out there and compete for that starting position and I know every other guy in that room, that's why they're here. So that's an exciting time."
September, 23, 2012
9/23/12
3:36
PM ET
By
ESPN.com staff
| ESPN.com
David Ching writes

: The Bulldogs' offense is on a roll, racking up records left and right, and their increasingly effective quarterback Aaron Murray is just the tip of this iceberg.
Ching

:
3 Up, 3 Down
Ching

:
Random Thoughts:
UGA vs. Vanderbilt
Radi Nabulsi (Video):
Radi Nabulsi talks with Marlon Brown, who had a big game in Georgia's 48-3 win over Vanderbilt.
April, 16, 2012
4/16/12
8:30
AM ET
Thanks to some late defense heroics, Georgia's Red team defeated the Black team 32-31 in the G-Day Game Saturday in front of 44,117 fans at Sanford Stadium.
Tied at 25 late in the fourth quarter, linebacker
Reuben Faloughi
knocked the ball out of quarterback
Parker Welch
's hand. Fellow linebacker
Ricky Lowe
grabbed the ball out of the air and returned it 62 yards for a touchdown to make it 32-25 with 1:40 remaining.
Less than a minute later, quarterback
Christian LeMay
put the Black team back on the board with a 66-yard touchdown pass to tight end
Jay Rome
. The Black team then went for two, and the win, but LeMay's pass to wide receiver
Rhett McGowan
was incomplete.
"It was a great day for Georgia," coach Mark Richt said. "I feel like everyone enjoyed the game. I thought there were a lot of offensive plays that were made today. When you look at it, the defense was scoring points, too. I thought both sides of the ball played well. It was exciting."
LeMay led all quarterbacks with 154 yards and a touchdown on 7-of-10 passing. Black team running back
Richard Samuel
also had a game-high 43 yards on eight carries.
Aaron Murray
, who quarterbacked the Red team, completed 7-of-17 for 112 yards and a 33-yard touchdown pass to
Tavarres King
.
Hutson Mason
, who played for both teams, completed 9-of-12 for 133 yards and a 7-yard touchdown pass to McGowan.
Running back
Isaiah Crowell
rushed for 39 yards for the Red squad, while
Ken Malcome
, who has drawn a lot of praise from coaches and players this spring, scored two touchdowns for the Red and rushed for 32 yards.
Linebacker
Ramik Wilson
led the Red team with seven tackles, including a sack, and returned an interception 19 yards. Linebacker
Chase Vasser
led the Black team with five tackles and a pass breakup, while linebacker
Alec Ogletree
registered four tackles and returned an interception 28 yards.
Defensive end
Garrison Smith
added a big man touchdown when he fell on a fumble by Mason in the end zone in the fourth quarter.
Here's a link to more info about Georgia's spring game on the school's
official website
.