January, 12, 2010
1/12/10
11:00
AM ET
By
ESPN.com staff
| ESPN.com
Having had a few days now to digest the 2009 bowl season, here's a look at the All-SEC bowl team:
OFFENSE
[+] Enlarge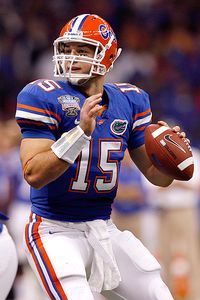 Matthew Stockman/Getty Images Tim Tebow torched Cincinnati for a career-high 482 passing yards and three TDs.
QB Tim Tebow, Florida

Broke Vince Young's record for total offense in a BCS bowl game with 533 yards in the Gators' 51-24 rout of Cincinnati in the Allstate Sugar Bowl. Completed 31 of 35 passes for a career-high 482 yards.
RB Dexter McCluster, Ole Miss

Was there a better player in the SEC the second half of the season? McCluster rushed for 184 yards and two touchdowns in the AT&T Cotton Bowl win.
RB Mark Ingram, Alabama

Despite cramping up in the Citi BCS National Championship Game, the Heisman Trophy winner showed his grit and led the Crimson Tide with 116 rushing yards and two touchdowns.
WR Riley Cooper, Florida

Led the Gators' offensive explosion in the Sugar Bowl with 181 receiving yards, including an 80-yard touchdown. Cooper averaged 25.9 yards on seven catches.
WR Brandon LaFell, LSU

The Tigers didn't put up much offense, but LaFell had five catches for 87 yards, including a 24-yard touchdown. LaFell led all SEC players with 19 touchdown catches over the past two seasons.
TE Aaron Hernandez, Florida

His nine catches led all players in the Sugar Bowl, and he finished with 111 receiving yards. Hernandez opened the Gators' scoring with a 7-yard touchdown catch.
OL John Jerry, Ole Miss

Helped clear the way for Ole Miss' 193 rushing yards against an Oklahoma State defense that finished ranked 11
th
nationally against the run.
OL James Carpenter, Alabama

Combined with
Mike Johnson
to make the key block that helped spring
Trent Richardson
on his 49-yard touchdown run in the second quarter of the Citi BCS National Championship Game.
OL Justin Anderson, Georgia

The Bulldogs were playing without starting right tackle Josh Davis, and Anderson came off the bench in the second half to help give a much-needed lift to the running game.
OL Mike Johnson, Alabama

The anchor of an Alabama offensive line that paved the way for both Mark Ingram and Trent Richardson to each rush for more than 100 yards against Texas' vaunted defense.
C Maurkice Pouncey, Florida

Spent more than five hours at Tulane Hospital with kidney stones and had several IV's, but didn't miss the start and led the way for the Gators up front.
DEFENSE
DE Marcell Dareus, Alabama

Had the hit that knocked Texas quarterback
Colt McCoy
out of the game and also returned an interception 28 yards for a touchdown right before halftime.
DE Carlos Dunlap, Florida

Came back strong from his suspension in the SEC championship game with two sacks in the Gators' Sugar Bowl romp.
DT Geno Atkins, Georgia

Pressured Texas A&M quarterback
Jerrod Johnson
relentlessly. Atkins finished with a sack and also blocked a field goal attempt in the second quarter.
DT Dan Williams, Tennessee

A rock all season long in the middle for the Vols, Williams ended his career with nine tackles, including a half a sack in the 37-14 loss to Virgina Tech in the Chick-fil-A Bowl.
LB Patrick Trahan, Ole Miss

His 34-yard fumble return for a touchdown sealed the game for the Rebels with 3:12 remaining. Trahan also had an interception on Oklahoma State's next possession.
LB Jerry Franklin, Arkansas

Finished with 10 tackles and had a third-quarter interception that turned the game around for the Hogs. East Carolina was leading 10-0, but Franklin intercepted a pass and returned it 31 yards to set up an Arkansas field goal.
LB Eric Norwood, South Carolina

Wrapped up a record-setting career at South Carolina by leading the Gamecocks with 10 tackles in their 20-7 loss to Connecticut in the Papajohns.com Bowl.
DB Walter McFadden, Auburn

Intercepted two passes in Auburn's Outback Bowl win. McFadden's first pick set up a touchdown, and he did the honors himself on the second one – returning it 100 yards for a touchdown.
DB Tramain Thomas, Arkansas

His 37-yard interception return for a touchdown tied the game in the third quarter. Thomas also tipped away a pass at the goal line in the final minutes that might have saved the game.
DB Kendrick Lewis, Ole Miss

Intercepted two passes in Ole Miss' 21-7 Cotton Bowl victory over Oklahoma State. His big hit in the fourth quarter also forced the fumble that Patrick Trahan returned 34 yards for a touchdown to break the game open.
DB Chad Jones, LSU

Did a little bit of everything in his final game at LSU. Led the Tigers with eight tackles, including one for loss, while also forcing a fumble, breaking up a pass and blocking a kick.
SPECIAL TEAMS
K Alex Tejada, Arkansas

His 37-yard field goal in overtime was the difference in Arkansas' 20-17 victory over East Carolina in the AutoZone Liberty Bowl.
P Spencer Lanning, South Carolina

In extremely cold conditions, Lanning punted seven times for a 42.3-yard average and had a long of 48 yards. He also doubles as the Gamecocks' place-kicker.
KR Brandon Boykin, Georgia

Tied an SEC record with his third kickoff return for a touchdown this season, taking one back 81 yards to answer Texas A&M's first touchdown.
January, 2, 2010
1/02/10
7:02
PM ET
By
ESPN.com staff
| ESPN.com
A quick look at
Ole Miss' 21-7 victory over Oklahoma State
on Saturday in the AT&T Cotton Bowl:


How the game was won:
Senior running back
Dexter McCluster
provided all the offense the Rebels needed with 230 all-purpose yards, and they somehow managed to overcome five turnovers. But the difference in this game was an Ole Miss defense that made amends for a subpar performance in the 41-27 loss to Mississippi State in the regular-season finale. Tyrone Nix's defense held the Cowboys to 255 total yards, came up with a key goal-line stand and scored the clinching touchdown when linebacker Patrick Trahan picked up a fumble and rambled 36 yards with 3:12 to play.
Turning point:
With the game tied at 7-7 late in the third quarter, Oklahoma State recovered a
Jevan Snead
fumble at the Ole Miss 40 and drove it down to the Rebels' 1. The Cowboys went for it on fourth-and-goal from the 1, but were stuffed by a host of Ole Miss defenders.
Player of the game:
McCluster went out in style with 185 yards rushing and two touchdowns. He had an 86-yard scoring jaunt to open the Rebels' scoring and also scored the go-ahead touchdown in the fourth quarter on a 2-yard scamper out of the Wild Rebel formation. McCluster was sensational during the second half of the season. He'd rushed for 821 yards in his last five SEC games coming into Saturday's contest.
Stat of the game:
The two teams combined for 12 turnovers, and Oklahoma State had six in the fourth quarter.
Stat of the game II:
Ole Miss quarterback Jevan Snead threw three more interceptions and finished the season with 20.
What it means:
In winning the Cotton Bowl for the second straight year, the Rebels (9-4) did something they haven't done since the John Vaught era – win nine or more games in back-to-back seasons. This was a key game for Ole Miss coach Houston Nutt for several different reasons. The Rebels put a happy face on an up-and-down regular season, and by winning a second straight bowl game, he gets out from under the tag he was saddled with at Arkansas of not being able to get it done in the postseason.
Record performance:
McCluster became the first player in SEC history to rush for 1,000 yards and have 500 receiving yards in the same season.
October, 29, 2009
10/29/09
3:00
PM ET
By
ESPN.com staff
| ESPN.com
Posted by ESPN.com's Chris Low

With Halloween just around the corner and all the goblins sure to be out on Saturday night, I'll take a stab at the 12 scariest players in the SEC.

These are guys you wouldn't want to make mad and certainly wouldn't want to meet in a dark alley if they had an issue with you.

Here's my list (Hope none of them are mad at me):

1. Alabama linebacker Rolando McClain

2. Florida linebacker Brandon Spikes

3. Mississippi State defensive end Pernell McPhee

4. Arkansas defensive tackle Malcolm Sheppard

5. Kentucky linebacker Micah Johnson

6. Florida safety Major Wright

7. Ole Miss linebacker Patrick Trahan

8. Arkansas offensive guard Mitch Petrus

9. Vanderbilt linebacker Chris Marve

10. Tennessee offensive guard Vladimir Richard

11. Auburn offensive tackle Lee Ziemba

12. LSU defensive tackle Drake Nevis
October, 27, 2009
10/27/09
12:35
PM ET
By
ESPN.com staff
| ESPN.com
Posted by ESPN.com's Chris Low
Some SEC links for your viewing pleasure:
October, 5, 2009
10/05/09
6:05
PM ET
By
ESPN.com staff
| ESPN.com

Posted by ESPN.com's Chris Low
Who's hot and who's not in the SEC? It's that time of week again to find out:
En Fuego
Tim Tebow speculation:
Every passing minute, there are more doctors coming out of the woodwork and more concussion experts springing up than Tebow has scored touchdowns during his record-setting career. When Florida coach Urban Meyer says he doesn't know if Tebow is going to play against LSU, he means it. Nobody knows. This isn't Meyer's call. This isn't Tebow's call. This is a doctor's call, a real doctor, and no legitimate doctor is going to clear Tebow for contact unless he's sure the Gators' star quarterback is completely free from any symptoms and in no danger to go out there and play again after suffering a concussion. We might not know for sure about Tebow's availability until Wednesday. We might not know for sure until game time. The only sure thing is that nobody knows.
Hot
Alabama running back Mark Ingram:
If you're looking for the most complete running back in the SEC, Ingram would be right there at the top. He's averaging just under 100 yards rushing per game and is tied for the team lead with 14 catches. He has nine touchdowns -- six rushing and three receiving -- and is coming off a 140-yard rushing effort in the 38-20 win over Kentucky.
Not
Tennessee's special teams:
The third phase of the game was a problem under the previous Tennessee staff, and it's a problem under the current staff. The Vols just aren't very good when it comes to covering kicks.
Hot
Ole Miss linebacker Patrick Trahan:
One of those players you keep waiting to break out and become a star, Trahan had a career-high 11 tackles, including two sacks, in the 23-7 win over Vanderbilt.
Not
Georgia's running game:
The Bulldogs are the only team in the league not averaging 100 rushing yards per game. They were held to 45 yards on the ground in the loss to LSU. It looks like the time may be now for true freshman
Washaun Ealey
.
Hot
Auburn running back Ben Tate:
The bruising senior has really prospered in Gus Malzahn's offense. He had 180 all-purpose yards in the 26-22 win over Tennessee, including 128 rushing yards.
Not
Georgia-LSU officiating crew:
Not only did they throw the bogus flag on Georgia's
A.J. Green
for excessive celebration, but they did the same thing a few minutes later on LSU's
Charles Scott
in an obvious makeup call. More on this later.
Hot
Georgia receiver A.J. Green:
Yes, he showed up here last week. But as Jerry Reed once sang, "When you're hot, you're hot." Green's leaping touchdown catch against LSU, his fifth of the season, was spectacular. He leads the league in receptions (30) and reception yards (527).
Not
Kentucky quarterback Mike Hartline:
After opening the season with a little momentum, Hartline has fallen off dramatically. He's thrown six interceptions in his last three games and hasn't thrown for more than 178 yards in any of those games. Alabama picked him off three times last week.
Ice, Ice Baby
Excessive celebration penalties:
Enough is enough. It's a dumb penalty to begin with and way too subjective as to when you throw the flag and when you don't throw the flag. What makes college football so great is the passion and unbridled enthusiasm of the players. So you mean to tell me that when they score a touchdown in the final minutes and the crowd is going bonkers, they're not supposed to celebrate, too, and whoop it up with the crowd? Give me a break. Why don't we just play the game with robots? There's an obvious line you don't cross, such as taunting another player and gestures such as the throat slash. Those things should draw a flag every time. But the whole idea that you penalize a player because he's celebrating excessively is asinine. And by the way, the head of the NCAA rules committee when the celebration penalty was enacted in 1995 was none other than Vince Dooley. So those Georgia fans crying foul might want to look up their legendary ex-coach.
August, 26, 2009
8/26/09
8:27
PM ET
By
ESPN.com staff
| ESPN.com
Posted by ESPN.com's Chris Low

This was the toughest duty yet. Ranking the linebackers in this league is impossible, which tells you a little bit about the depth at that position in the SEC:


1. Alabama: The one-two punch of Rolando McClain and Dont'a Hightower is as good as there is anywhere in the country. Watch some of the younger guys take off at linebacker this season, too, like Courtney Upshaw and Jerrell Harris. The Crimson Tide have depth, talent and smarts to go around at linebacker.


2. Florida: Brandon Spikes is one of the best middle linebackers in the country and a terrific tone-setter for this defense. The guys flanking him aren't too shabby, either. Brandon Hicks, Ryan Stamper and Dustin Doe are all big-time players in their own right. Remember the name Jelani Jenkins, too. He's only a freshman.


3. Georgia: All three starters from a year ago return, including junior Rennie Curran, the league's top returning tackler. Curran was one of four SEC defenders to have at least 100 tackles last season. The Bulldogs have a bunch of guys at linebacker who can play. Now, let's see if they tackle better than they did a year ago.


4. Vanderbilt: The Commodores are legit. Senior Brent Trice didn't even start last season, but has been so disruptive that it's going to be hard to keep him off the field. Senior Patrick Benoist was a second-team All-SEC selection a year ago, and Chris Marve was one of the best freshman linebackers in the country.


5. Ole Miss: Starting middle linebacker Jonathan Cornell returns along with starting strong side linebacker Allen Walker. Both players have extensive SEC experience and the kind of speed this league demands. The guy to watch is Patrick Trahan, who's a prime candidate for Breakout Player of the Year honors.


6. South Carolina: Ellis Johnson, who oversees the Gamecocks' defense, wishes he had the kind of depth everywhere else he does at linebacker. Eric Norwood, the Gamecocks' senior outside linebacker, is the SEC's career active leader in sacks, and Rodney Paulk returns in the middle after missing most of last season.


7. Mississippi State: The depth might be a little iffy, but it's hard to beat the Bulldogs' top three linebackers, all of whom are 240-plus pounds. Jamar Chaney is back in the middle after breaking his leg in the opener last season. K.J. Wright is another All-SEC caliber player, and junior college newcomer Chris White is the third starter.


8. LSU: The Tigers return both starting outside linebackers from a year ago, Perry Riley and Kelvin Sheppard. First-year coordinator John Chavis has also moved Harry Coleman from safety to outside linebacker. Stepping into the middle is senior Jacob Cutrera, who's been a spot starter for most of his career.


9. Auburn: If the Tigers stay healthy, they probably deserve to move up a little bit. But they're razor thin at linebacker and can't afford for anybody to go down. Josh Bynes and Craig Stevens are back after starting most of last season, and junior college newcomer Eltoro Freeman has fit nicely into this defense.


10. Kentucky: Senior Micah Johnson is one of the most imposing middle linebackers in the league and a tackling machine. He just doesn't have much around him in the way of experience. Senior Sam Maxwell steps in as a full-time starter on the outside, and sophomore Danny Trevathan is the Wildcats' fastest linebacker.


11. Tennessee: Senior weakside linebacker Rico McCoy is the anchor of the Vols' unit and has a ton of experience and talent, but the Vols will play a former walk-on, Nick Reveiz, at middle linebacker and don't have anybody else on the roster who's played a meaningful SEC snap.


12. Arkansas: The entire Arkansas defense took a beating last season, not just the linebackers. Wendel Davis, Jerry Franklin and Freddy Burton are all back after starting in four of the last six games a year ago. They get a chance to prove that they're a lot better than the numbers from 2008 would suggest.
May, 15, 2009
5/15/09
3:00
PM ET
By
ESPN.com staff
| ESPN.com
Posted by ESPN.com's Chris Low
Who are the emerging stars in the SEC?
The spring provided a few clues, although they don't hand out All-America honors for what you do in March and April.
But based on my own observations, evaluations from coaches and talking to those close to each program, here are my picks for the emerging offensive and defensive stars on all 12 teams in the SEC:

Alabama
Offense
Colin Peek, TE, Sr.: The 6-7, 255-pound transfer from Georgia Tech could end up being Greg McElroy's best friend on key downs.
Defense
Dont'a Hightower, LB, So.: He started as a freshman last season at will linebacker, but may get more chances as a pass-rusher in the jack linebacker role in 2009.

Arkansas
Offense
Joe Adams, WR, So.: Bobby Petrino loves Adams' ability to make things happen after the catch. He was a touchdown machine in the spring.
Defense
Jerry Franklin, LB, So.: He came to Arkansas as a safety, but led the Hogs last season with 87 tackles playing both middle and weak side linebacker.

Auburn
Offense
Lee Ziemba, OT, Jr.: The 6-8, 304-pound Ziemba is one of the more underrated offensive linemen in the league. That's about to change, though.
Defense
Craig Stevens, LB, Jr.: Defensive coordinator Ted Roof couldn't quit talking about Stevens this spring. He's gotten bigger, stronger and faster.

Florida
Offense
Aaron Hernandez, TE, Jr.: He's an every-down tight end that has NFL written all over him. Look for the Gators to get Hernandez the ball even more next season.
Defense
Janoris Jenkins, CB, So.: Jenkins was one of the best freshman cornerbacks in the country last season and was versatile enough this spring to move inside to nickel when the Gators went to five defensive backs.

Georgia
Offense
Clint Boling, OT, Jr.: He can play anywhere on the offensive line and pretty much has for the Bulldogs. He ended the spring as the starting left tackle.
Defense
Justin Houston, DE, So.: His five sacks in the last two scrimmages of the spring illustrates what kind of pass-rusher he can be. But he'll be suspended for the first two games in 2009.

Kentucky
Offense
Randall Cobb, QB/WR, So.: Cobb showed what he could do in stretches last season at quarterback. Now it's time to turn it loose as a full-time receiver.
Defense
Winston Guy, S, So.: Rich Brooks has called Guy the most talented defensive back he's signed at Kentucky. Guy looked the part this spring at free safety.

LSU
Offense
Jordan Jefferson, QB, So.: He showed flashes in his two starts to end last season. Jefferson has the run/pass ability to be an outstanding quarterback in this league.
Defense
Patrick Peterson, CB, So.: Les Miles said it best this spring: Peterson is ready to play at a different level. He has great ball skills and is excellent in man coverage.

Mississippi State
Offense
Leon Berry, WR, Jr.: The Bulldogs need receivers, and Berry was the best of the bunch this spring after coming over from junior college. He caught eight passes for 125 yards in the spring game.
Defense
Pernell McPhee, DT, Jr.: McPhee is another junior college transfer who didn't take long to establish himself in the middle of the Bulldogs' defensive line. He's a real disrupter.

Ole Miss
Offense
Brandon Bolden, RB, So.: Bolden beat out several challengers and heads into the fall as the Rebels' starting tailback after a big spring. He averaged 5.5 yards per carry last season.
Defense
Patrick Trahan, LB, Sr.: He started at Auburn, made a detour through junior college and is now poised for a breakout senior season. Watch him take off in 2009.

South Carolina
Offense
Jarvis Giles, RB, Fr.: The Gamecocks needed to rev up their running game and did so with the speedy Giles, who showed in the spring just how explosive he can be.
Defense
Stephon Gilmore, CB, Fr.: How talented is Gilmore? He's going to start in the opener at cornerback and will also get some chances at quarterback in a special package.

Tennessee
Offense
Vladimir Richard, OG, Sr.: One of the most physically impressive players on Tennessee's roster, Richard has the tools to be a devastating run blocker.
Defense
Chris Walker, DE, Jr.: If the spring is any indication, then Walker is about to become one of the most feared pass-rushers in the league. Lane Kiffin called him "unblockable."

Vanderbilt
Offense
Terence Jeffers, WR, Jr.: The transfer from Connecticut is that big, physical playmaker the Commodores need on offense. He was the best player on the field for much of the spring.
Defense
Chris Marve, LB, So.: Quietly, Marve was one of the most productive freshmen in the league last season. He was fourth with 105 total tackles and led the SEC with four forced fumbles.
May, 7, 2009
5/07/09
4:58
PM ET
By
ESPN.com staff
| ESPN.com
Posted by ESPN.com's Chris Low
Neither depth nor talent should be an issue for Ole Miss defensively next season.
But as good a player as defensive tackle Peria Jerry was for the Rebels, the departed All-American was an equally strong leader. Players followed his lead, and in a lot of ways, he set the tone for Ole Miss' defense last season.
Who will step into that role?
Ole Miss defensive coordinator Tyrone Nix thinks there are a number of candidates and expects the leadership to be more spread out on his defense next season.
"Coming out of the spring, the top leader was [safety] Kendrick Lewis," Nix said. "He's a vocal guy and made a lot of plays. He's also improved and become a better tackler."
Lewis wasn't the only one, though.
Nix said defensive ends Kentrell Lockett and Marcus Tillman, along with cornerback Marshay Green, also took on strong leadership roles, while linebacker Patrick Trahan was a different kind of leader.
"He leads more by example by the way he competes on every single play," Nix said. "It's more, 'Do what I do.'"
And don't discount senior defensive end Greg Hardy being more of a leader next season.
"If you ask me, Greg Hardy will definitely be a leader," Nix said. "We've challenged him, and he's up to the challenge."
May, 5, 2009
5/05/09
9:20
AM ET
By
ESPN.com staff
| ESPN.com
Posted by ESPN.com's Chris Low
Ole Miss Rebels
2008 overall record: 9-4

2008 conference record: 5-3

Returning starters

Offense: 6, defense: 8, kicker/punter: 1

Top returners

QB Jevan Snead, WR Dexter McCluster, WR Shay Hodge, OT John Jerry, DE Greg Hardy, DE Kentrell Lockett, LB Patrick Trahan, FS Kendrick Lewis, PK Joshua Shene

Key losses

OT Michael Oher, WR Mike Wallace, FB Jason Cook, DT Peria Jerry, SS Jamarca Sanford

2008 statistical leaders (* returners)

Rushing: Dexter McCluster* (655 yards)
Passing: Jevan Snead* (2,762 yards)
Receiving: Shay Hodge* (725 yards)
Tackles: Kendrick Lewis* (85)
Sacks: Greg Hardy* (8.5)
Interceptions: Kendrick Lewis* (4)

Spring answers

2009 Schedule
Sept. 6 at Memphis
Sept. 12 BYE
Sept. 19 Southeastern Louisiana
Sept. 24 at South Carolina
Oct. 3 at Vanderbilt
Oct. 10 Alabama
Oct. 17 UAB
Oct. 24 at Arkansas
Oct. 31 at Auburn
Nov. 7 Northern Arizona
Nov. 14 Tennessee
Nov. 21 LSU
Nov. 28 at Mississippi State

Snead's team: If the Rebels are going to make a run at their first SEC championship in more than 40 years, Jevan Snead's the guy to take them there. He was terrific over the last half of last season and took it to another level this spring. Offensive coordinator Kent Austin will be able to expand the playbook with Snead under center and give him more freedom.

Powe emerges on defense: Jerrell Powe certainly waited long enough to play in a game for Ole Miss, and after learning on the job a year ago and getting his weight down, he showed this spring that he can be a difference-maker up front. He's poised to be a big part next season of one of the deepest defensive lines in the country.

Trahan the man: The Rebels have talented defensive linemen coming out of their ears, which is the strength of this defense. But keep an eye on outside linebacker Patrick Trahan, who had his moments last season and blossomed this spring. He's a big-play linebacker with the speed, strength and desire that it takes to be a star in this league.

Fall questions

Handling the hype: From a talent standpoint, Ole Miss ranks second only to Florida in the SEC. But this is entirely new ground for the Rebels. They're probably going to be a top-10 team entering the season, and the expectations are going to be off the charts. We'll find out a lot about this team's maturity, focus and leadership next fall, because the talent is there to be special.

Solidifying the left side: Michael Oher was Snead's bodyguard from his left tackle position last season, but Oher is now counting his money after being selected in the first round of the draft. Bradley Sowell, who played some at tight end last season, had an up-and-down spring. But he enters the fall as the Rebels' starting left tackle. Top signee Bobbie Massie arrives this summer.

Is Patterson the real deal? If signee Patrick Patterson is as good as he looks on tape, then Snead is really going to have a big time slinging the ball around next season. Patterson has the size and speed everybody's looking for in a receiver. We'll see in the fall if he also has the maturity and focus to play as a freshman in this league.
April, 13, 2009
4/13/09
2:19
PM ET
By
ESPN.com staff
| ESPN.com
Posted by ESPN.com's Chris Low
After stinking up the joint in the first major scrimmage of the spring, Ole Miss' offense bounced back last Saturday -- setting the tone on the very first drive.
Quarterback Jevan Snead led the offense on a 99-yard touchdown drive, which ended with Lionel Breaux's 38-yard scoring run on a reverse.
Here are a couple of links from the scrimmage: Houston Nutt likes his offense's response, and the Rebels get physical.
Even though the offense did recover and show some signs of life from a poor first scrimmage, the defense still appears to be the strength of the Rebels' team at this point. It's no secret that they're as deep as any team in the country on the defensive line.
But the vote here (the spring vote, that is) for the most improved player in the SEC goes to linebacker Patrick Trahan. He's been a beast this spring and had a sack in the end zone for a safety last Saturday.
He has a much better understanding of the defense after coming over from junior college a year ago and is playing much more instinctively now. Look for an All-SEC-type season out of the 6-foot-3, 225-pound senior in 2009.
February, 27, 2009
2/27/09
11:29
AM ET
By
ESPN.com staff
| ESPN.com
Posted by ESPN.com's Chris Low
Who are the players who will emerge from the shadows?
You know, those guys who've shown flashes, but either haven't been on the big stage consistently or haven't reached star status ... yet.
Here are five guys I think may break out next season in the SEC:
Vanderbilt cornerback Myron Lewis: Talk to newly promoted Vanderbilt defensive coordinator Jamie Bryant very long, and it's obvious what the coaches think of Lewis. There's no question that he was overshadowed by D.J. Moore last season, but the 6-foot-3, 202-pound Lewis may end up being an even better NFL prospect. He'll be the Commodores' lockdown cover guy this season and he has the versatility to play a number of different roles. He was tied for fourth on the team last season with 76 tackles, finished among the league leaders with five interceptions and is one of the better blitzers on the team as evidenced by his five sacks. He's the kind of player you can build your defense around.
Florida tight end Aaron Hernandez: Much like Lewis, Hernandez was a full-time starter for Florida last season. He took over the lead role at tight end after Cornelius Ingram went down in the preseason with a knee injury. But in a league laden with quality tight ends, the 6-foot-3, 255-pound Hernandez flew under the radar. He didn't even receive honorable mention on the Associated Press' All-SEC team last season despite leading all tight ends with five touchdown catches. In 2009, Hernandez will be at the top of everybody's list. He has great hands. He's a physical blocker and can be utilized in a number of different ways. The Gators love to use him on the shovel pass, and they run it better than anybody.
Georgia tailback Caleb King: One of the most intriguing position battles next season in the SEC will be the Georgia starting tailback job. The front-runner is King, although Richard Samuel will also be a big part of the rotation. But with Knowshon Moreno gone and after so much hype about his potential, this is the 5-foot-11, 212-pound King's time to shine and he knows it. He rushed for just 247 yards on 61 carries last season, but Moreno was the centerpiece of the Georgia running game. Here's betting that King seizes this opportunity during his sophomore season and showcases what kind of back he really is behind an offensive line that should be one of the strengths of the team in 2009.
LSU safety Chad Jones: He's one of the more versatile athletes in the SEC, and 2009 is the season that Jones becomes one of the better football players in the SEC. The 6-foot-3, 214-pound Jones has shown just enough during his first two years that you know he has greatness written all over him. But with a new defensive coordinator (John Chavis) and new position coach (Ron Cooper), look for Jones to not only be a full-time starter, but much more consistent. The other thing that should help him is that he won't miss any spring practice to play baseball for the Tigers this spring. Despite starting in just six games last season, Jones still tied for sixth on the team with 50 total tackles and also forced two fumbles. Those numbers will only climb next season.
Ole Miss linebacker Patrick Trahan: If there were any questions about Trahan, they were erased at the end of last season when he played lights out for the Rebels. He had a sack and forced a fumble in the Cotton Bowl win over Texas Tech and finished the season 11th on the team in total tackles. Despite starting in just two games, he recorded 4.5 tackles for loss. It sometimes takes a year or part of a year for a junior college transfer to fully adjust, but Trahan will be an integral part of the Rebels' defense in 2009. He goes in as the starter at weakside linebacker and has all the tools to be one of the best big-play defenders in the league. Remember, the Ole Miss defense under Tyrone Nix last season had a staggering 111 tackles for loss.
October, 29, 2008
10/29/08
12:14
PM ET
By
ESPN.com staff
| ESPN.com
Posted by ESPN.com's Chris Low
Checking in on what everybody else is writing and saying about the SEC: