SEC:

Penn State Nittany Lions
January, 1, 2011
1/01/11
5:06
PM ET
Florida defeated Penn State
37-24
on Saturday in the Outback Bowl.
Here's an instant analysis from the game:


How the game was won:
With Penn State driving for the potential game-winning touchdown, Florida senior safety Ahmad Black intercepted a third-and-3 pass from Penn State's
Matthew McGloin
and returned it 80 yards for a touchdown, sending Urban Meyer out a winner in his final game as the Gators' coach.
Turning point:
Penn State was leading 24-20 late in the third quarter when Florida linebacker Brandon Hicks intercepted a McGloin pass and returned it 14 yards to the Penn State 25, setting up Florida's go-ahead touchdown.
Player of the game:
Black had two of the Gators' five interceptions, including the 80-yard touchdown return to seal the win in the final minute.
Stat of the game:
Florida won despite going just 4-of-15 on third down and being outgained in total offense by 70 yards.
Best call:
Following the Hicks interception early in the fourth quarter, the Gators had it fourth-and-2 at the Penn State 17. But Meyer passed on kicking the field goal and went for it.
Jordan Reed
hit
Trey Burton
with a 3-yard pass to get the first down, and the Gators went on to score the go-ahead touchdown.
What it means:
After all the success Meyer has enjoyed in his six seasons at Florida, he deserved to go out a winner, especially given everything that went wrong this season. The Gators (8-5) overcame a lot of distractions to win this game and made several clutch plays when they had to, which should generate some positive energy in the program heading into the offseason as Will Muschamp takes over for Meyer.
December, 31, 2010
12/31/10
4:49
PM ET
A little bit of this and a little bit of that heading into Saturday's Outback Bowl matchup between Penn State and Florida:
This is the only bowl game this season featuring coaches that each have a national championship. Penn State's Joe Paterno led the Nittany Lions to the 1982 and 1986 national titles, while Florida's Urban Meyer led the Gators to titles in 2006 and 2008.
Meyer, who's stepping down after this game, is 6-1 all-time in bowl games, going 2-0 with Utah and 4-1 with Florida. His lone loss was a Capital One Bowl loss to Michigan following the 2007 season.
Paterno holds the NCAA records for most bowl appearances (37) and bowl wins (24). He is 24-11-1 in bowl games.
This is Penn State's 16th bowl game against an SEC opponent. The Nittany Lions are 10-5 in the previous 15, which includes the 1961 Gator Bowl against then-SEC member Georgia Tech.
The Gators have 12 touchdown passes and 11 interceptions this season. That's after they threw 93 touchdown passes and just 16 interceptions in the previous three seasons. The last time the Gators threw fewer than 20 touchdown passes in a season was 1989 when they were held to 10.
Meyer said he plans to meet with quarterback John Brantley about Brantley's future plans following the game. Brantley is considering transferring next season.
Meyer's six-year run at Florida included two national championships, three BCS bowl victories and seven first-round NFL draft picks.
December, 30, 2010
12/30/10
1:45
PM ET
Here are three keys for Florida in its Outback Bowl matchup with Penn State:

1. Make some plays down the field:
Throughout much of Urban Meyer's tenure, nobody was better than the Gators when it came to making explosive plays down the field. But that was a component that was sorely missing this season from the offense. Florida could use some quick strikes early to get its offense going and spread out the Penn State defense.
Chris Rainey
figures to play a key role in this game.
2. Force Penn State to throw:
Even though Florida will be without top cornerback Janoris Jenkins in this game, the Gators are still plenty talented in the secondary. They will gladly take their chances with Penn State throwing the football as opposed to the Nittany Lions getting their running game cranked up and moving the chains that way. If Florida can get Penn State into a lot of third-and-long situations, then it's probably going to be a long day for the Nittany Lions.
3. Take care of the ball:
The Gators turned the ball over an SEC-high 25 times this season, which is extremely uncharacteristic of an Urban Meyer team. They turned the ball over six times in their last two games against FBS opponents -- South Carolina and Florida State. If they turn it over two or more times against Penn State, they're going to be in trouble.
December, 30, 2010
12/30/10
1:00
PM ET
In what will be Urban Meyer's final game as Florida's coach, the Gators face Penn State on Saturday at 1 p.m. ET on ABC.
Here's a quick preview of the Outback Bowl:


WHO TO WATCH:
Florida quarterback
John Brantley
may also be playing his final game as a Gator. He's thinking about transferring and won't decide until after the game. It's been a tough season for Brantley to say the least. He never seemed comfortable in the Gators' spread offense and expects to again share the quarterback duties against Penn State with two other players --
Trey Burton
and
Jordan Reed
. Of the three, Burton has been the designated runner at quarterback and Reed has been a little bit of both. For Brantley, it's one last chance to throw the football with some confidence and play up to his talent level. He's a better passer than his numbers reflect, as he enters this game with nine touchdown passes and nine interceptions.
WHAT TO WATCH:
It was downright painful most of this season to watch the Gators on offense. Three different times they were held to seven or fewer points. In lopsided losses to South Carolina and Florida State in November, they managed just two offensive touchdowns. Ranked 10
th
in the SEC in total offense, they look to break out of their offensive doldrums against a physical Penn State defense that ranked 44th nationally in total defense. But, then, the Nittany Lions have been even worse than the Gators offensively and have struggled to score points all season. The first team to 21 points may well end up winning this game.
WHY WATCH:
Penn State's Joe Paterno just recently turned 84 and is still going strong. Meyer, 46, is calling it quits after this game, handing over the keys to the Florida program to Will Muschamp. Paterno and Meyer are unquestionably two of the giants in the coaching profession, and both have sterling postseason records. Meyer is 6-1 during his stints at Utah and Florida, including four BCS victories, while Paterno has a record 24 postseason wins.
PREDICTION:
Florida 24, Penn State 13. Picking the Gators in any game at this point is dicey considering how much they've struggled offensively this season. But Penn State can't score, either, and Florida should get a boost from a healthier
Jeff Demps
now that he's had some time to rest his foot. In the end, the Gators will rise to the occasion and send Meyer out a winner.
December, 6, 2010
12/06/10
1:30
AM ET
Florida Gators (7-5) vs. Penn State Nittany Lions
(7-5)
Jan. 1, 1 p.m. ET (ABC)

Florida take by SEC blogger Chris Low
: It will be a short drive for Florida to its bowl destination. The Gators are headed to Tampa, Fla., to take on Penn State in the Outback Bowl.
A bit of a surprise choice this high in the SEC's bowl pecking order, the Gators (7-5) still carry a lot of clout with their brand, especially in the state of Florida. That brand won't help them come Jan. 1 unless they figure out a way to move the ball and score some points.
They ended the regular season with a dismal 31-7 loss to Florida State, the third time this season the Gators were held to a touchdown or less. It was a struggle the whole way offensively, as
John Brantley
simply wasn't a fit for Florida's spread offense. The Gators went to a three-quarterback system after losing three straight games in October, adding
Trey Burton
and
Jordan Reed
to the mix, but the results weren't much better in their last two losses to South Carolina and Florida State.
It's hard to get a read on where this team is emotionally right now or how excited it will be to even play in a bowl game. Florida coach Urban Meyer vowed to rebuild the program the "right way" following the loss to Florida State.
This is a chance for the Gators to get off on the right foot in that process as they make their 20th consecutive bowl appearance.
---

Penn State take by Big Ten blogger Adam Rittenberg
: Joe Paterno has done his best work preparing teams for the postseason, as the legendary Penn State coach owns a record 24 bowl victories in his extensive career. Paterno once again will try to prepare a young Nittany Lions squad for an intriguing postseason test against Florida in the Outback Bowl.
Although a 7-5 regular season never sits well in State College, Penn State won four of its final six games and showed significant strides on offense down the stretch. Spunky sophomore quarterback Matt McGloin provided a lift for a struggling unit and needs to perform well against the Gators. He'll also need help from running backs
Evan Royster
and
Silas Redd
. Florida boasts a top 10 defense, so the Outback Bowl should provide a good barometer for the Penn State attack.
Penn State's defense will get some time to heal up before facing a Gators offense that has taken several steps back following the departure of superstar Tim Tebow. Penn State won a low-scoring Capital One Bowl against LSU in January, and while we all hope for better weather and much better field conditions in Tampa, this game could play out in a similar way.
All but one of Penn State's losses came against top 20 opponents, so the Lions have fared well against comparable opponents. Florida certainly qualifies as one.
September, 12, 2010
9/12/10
9:46
AM ET
By
ESPN.com staff
| ESPN.com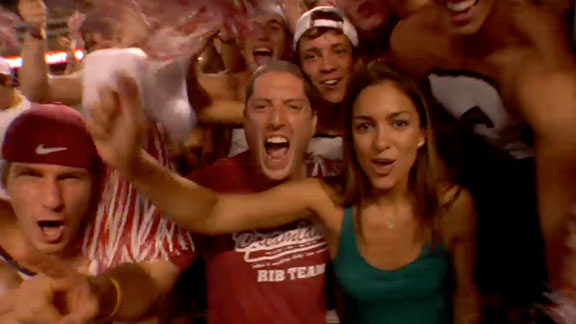 Top-ranked Alabama renews its rivalry with Penn State after 20 years and Road Trip gives you unprecedented access to all the action from the tailgate to the field.
November, 6, 2008
11/06/08
1:00
PM ET
By
ESPN.com staff
| ESPN.com
Posted by ESPN.com's Chris Low
All right Florida fans, I've got the scoop directly from the man in the know when it comes to the BCS standings.
Our own Brad Edwards' track record speaks for itself. He was the one saying after the SEC Championship Game last year that LSU would jump Georgia into the second spot in the final BCS standings, and he was dead on. (Edwards also discussed the BCS standings

on Mike & Mike.)
This year, he thinks the Gators are in excellent shape if they can finish up 12-1 and win the SEC title.
"Assuming Penn State and Texas Tech aren't both undefeated, I think Florida has a great chance to get in at 12-1," Edwards said.
Texas Tech plays Oklahoma State at home this Saturday and then plays at Oklahoma in two weeks.
Edwards said it helps Florida if Alabama remains unbeaten and is 12-0 when they meet in the SEC Championship Game. A win over the No. 1 Crimson Tide would really give the Gators some extra pop with the voters and in the computer rankings.

"The Big 12 champ is the only one-loss team that would have a chance to finish ahead of Florida, and I think there's even an outside shot the Gators could jump an undefeated Penn State if Texas Tech and Penn State both win out," Edwards said.
So, in other words Gator fans, root hard for Alabama and root hard for Oklahoma State this Saturday.
And take care of your own business.
November, 4, 2008
11/04/08
8:13
PM ET
By
ESPN.com staff
| ESPN.com
Posted by ESPN.com's Chris Low
Talk about an eventful week in the SEC. It opened with the dean of SEC coaches, Phillip Fulmer, being fired Monday after 17 seasons at Tennessee. It will close with two games -- Alabama at LSU and Florida at Vanderbilt -- that could set the SEC Championship Game matchup earlier than it's ever been set since the league split into two divisions and added the championship game in 1992. If Alabama and Florida both win this Saturday, they would clinch their divisional crowns and square off Dec. 6 in Atlanta. Anyway, let's take a few questions in the SEC mailbag:
Brendan from Sandy Springs, Ga., writes: If Vandy beats Florida, then Florida wins its remaining SEC game (against South Carolina), Vandy then wins its remaining SEC games, Georgia wins its remaining two SEC games and there's a three-way tie among Florida, Georgia and Vanderbilt, what happens in the tiebreaker?
Chris Low: Whew, that's a lot of ifs. The biggest of which would be Vanderbilt upsetting Florida. But if your scenario plays out, the tiebreaker would get all the way down to the last one -- highest ranking in the BCS standings following the final weekend of regular-season games. The tricky part here is that there's a caveat in that final tiebreaker that says if the second of the tied teams is ranked within five places of the highest ranked tied team that head-to-head results of the top two tied teams shall determine the SEC Championship Game representative. In other words, Florida appears to be home-free even should the Gators lose to Vanderbilt and wind up in a three-way tie with Georgia and Vanderbilt. The Gators would certainly drop from their No. 5 spot in the BCS standings if they were to lose to the Commodores. But the Bulldogs were No. 13 this week, so there's very little chance that Florida would fall more than five spots behind Georgia. And that's what would have to happen since Florida owns the head-to-head tiebreaker over Georgia. The one catch in all this would be if Florida were to also lose that last regular-season game to Florida State. Two losses in their last four games would then probably drop the Gators far enough in the polls that the Bulldogs could be ranked more than five spots ahead of them in the BCS standings. Of course, Georgia also has to play Georgia Tech on that final weekend, so there's still a lot that could happen. The condensed version to all this is that Florida can all but write its ticket to Atlanta.
October, 27, 2008
10/27/08
9:32
AM ET
By
ESPN.com staff
| ESPN.com
Posted by ESPN.com's Chris Low
I know I've been saying all year that a one-loss SEC champion would have a great shot to play in the BCS National Championship Game, and I still believe that.


But Penn State's win over Ohio State last Saturday complicates matters for the SEC. For one, there's the Joe Paterno factor, and I also don't think the Nittany Lions are going to lose any of their remaining games against Iowa, Indiana or Michigan State.
All this said, Alabama -- No. 2 again this week in the BCS standings -- is still a virtual lock to play in the BCS National Championship Game if the Crimson Tide win out.
That's the simplest scenario.
However, should Alabama lose a game somewhere along the way, I don't think the Crimson Tide would be able to recover enough in the polls to climb back into one of those top two spots in the final BCS standings.
So in my mind, that leaves the Florida-Georgia winner this Saturday as the only one-loss SEC team that would have a legitimate chance to play in the BCS National Championship Game if everything else stays pretty much status quo.
The Bulldogs moved up one spot this week in the BCS standings to No. 6, and the Gators move up two spots to No. 8. Both teams will have ample opportunity to impress the voters, beginning this weekend in Jacksonville.
The key for the winner this weekend is for Alabama to keep winning and be sitting there in the SEC Championship Game ranked No. 1 or No. 2 and unbeaten. Knocking off such a highly ranked team on the final weekend would earn Florida or Georgia some serious mileage with the voters.
The Gators are being dragged down by their computer average. They're tied for 10th this week, but that would almost certainly go up if they could close out the season beating Georgia, a surging Florida State and then No. 2 Alabama in the SEC Championship Game.

Southern California, No. 5 this week, would be a factor, but I think Florida and Georgia would both surpass the Trojans as one-loss SEC champions in the final BCS standings. Oklahoma, No. 4 this week, would be hurt if the Sooners don't make the Big 12 Championship game.
The real hurdle at that point for the SEC would be an unbeaten Penn State team, which is why the SEC needs to root for the Big 12 to continue to beat up on each other, something along the lines of Texas Tech beating Texas this weekend in Lubbock, then losing to either Oklahoma State in Lubbock (Nov. 8) or Oklahoma in Norman (Nov. 22) and Oklahoma then losing to Oklahoma State in Stillwater (Nov. 29).
There's still a lot of football to play, so sit back and enjoy and don't fret about the polls.
July, 3, 2008
7/03/08
9:44
PM ET
By
ESPN.com staff
| ESPN.com
College football writers Tim Griffin, Chris Low and Mark Schlabach touch on Joe Paterno's replacement, news from the SEC, and Big 12 quarterbacks among other topics in this season preview.
SEC SCOREBOARD
Saturday, 12/27
Saturday, 12/20
Monday, 12/22
Tuesday, 12/23
Wednesday, 12/24
Friday, 12/26
Monday, 12/29
Tuesday, 12/30
Wednesday, 12/31
Thursday, 1/1
Friday, 1/2
Saturday, 1/3
Sunday, 1/4
Monday, 1/12
Tweets from https://twitter.com/ESPNCFB/lists/sec