June, 20, 2012
6/20/12
2:00
PM ET
Ross Bjork understands the difficulties that come with running Ole Miss' athletic department, especially when it comes to football.

Ole Miss' new athletic director knows the sport is a major work in progress, but he's looking to expedite a return to being competitive.

Ole Miss' football program has yet to make it to Atlanta for the SEC championship game and has reached double-digit wins only once (2003) since 1971. While Ole Miss has had 13 winning seasons since 1990, the Rebels have churned out six losing seasons in the last eight years. Ole Miss has won just six games in two years and has lost 14 straight SEC matchups.

That disappointment led to Houston Nutt's dismissal last season. At the same time, then-athletic director Pete Boone also announced his resignation, meaning true change was coming to Ole Miss.

And Bjork, who left Western Kentucky's athletic director's spot for Ole Miss, is hoping to spearhead some positive change, as he embarks on his first year in Oxford.

"There's a big upside at Ole Miss," Bjork told ESPN.com during the SEC spring meetings in Destin, Fla., in May. "Being the University of Mississippi, having the state power of the brand of the University of Mississippi, being the flagship institution, but also having the attraction and the passion at Ole Miss is a big advantage for us. People are hungry, from a fan perspective. The state of Mississippi and our alumni are hungry to get back to winning consistently in all of our sports."

Bjork, who at 39 is the youngest athletic director among BCS schools, brings the right charisma and determination with him to Ole Miss. He might be young, but knows the business. He might be new to the SEC, but he isn't intimidated. Athletic directors have to be aggressive and even ruthless in this league and Bjork seems ready to take on that personality. Western Kentucky saw an increase in athletic success and some facility upgrades during Bjork's short stint there, and he hopes to see similar improvements at Ole Miss.

In order to do that, Bjork said he's evaluating his coaches every day, including new football coach Hugh Freeze. There isn't necessarily a timetable for any coaches or any sort of leeway he has with them, but each evaluation comes with trying to find ways to make programs better and more competitive faster. If that means expanding the budget, Bjork will work to do that. If that means enhancing facilities, he'll aim to do that as well.

"To me, there's only one way to go, and that's to go up," he said. "We have a lot of great ideas, a lot of energy around these ideas. Now, we have to put them in place. We know that the expectations are to produce and that's why we're in this business."

Bjork wouldn't go into detail about those ideas, but they are things Bjork said motivate him every day. Winning and winning a lot consume his thoughts and that's something Ole Miss needs.

Bjork has been around Ole Miss only a short time, and is still adjusting to the culture of the town and university, but he's aiming high when it comes to athletics. He doesn't want middle-of-the road anymore, and he's looking for his programs to excel quickly.

"To me, we want to compete for and win championships," he said. "That will be the model, and if you're in the top quadrant of this league that means you're going to be in the top quadrant nationally. So we have to get our teams in the top quadrant consistently in this league.

"Some are there and some have a long way to go. Now, we have to sit down and figure out what it's going to take to get there."
January, 23, 2012
1/23/12
12:09
PM ET
By
ESPN.com staff
| ESPN.com
Linking our way around the SEC:
December, 27, 2011
12/27/11
12:00
PM ET
Checking out the SEC with some links on a Tuesday.
November, 7, 2011
11/07/11
7:35
PM ET
Houston Nutt's time at Ole Miss is drawing to a close.
The school announced the coach
will resign at the end of the 2011 season
and that athletic director Pete Boone will resign within the next year.
"Our goal is to compete for championships, and we are not making progress in that regard," Boone said. "It's time for our team to have new leadership and a new direction."
The moves mark an era of change at Ole Miss, and it's one that needed to come.
For all the good Nutt did during his first two years, the past season and a half have been atrocious for the football program. After back-to-back nine-win seasons that included two Cotton Bowl victories, the Rebels have lost 15 of 21 games and have lost 12 straight conference games.
In Nutt's first year, Ole Miss was the only stumbling block during Florida's national championship season in 2008, and he's gone 2-1 against LSU.
[+] Enlarge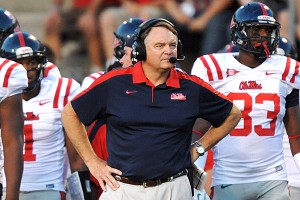 Kirby Lee/Image of Sport/US PresswireOver the past two seasons the Rebels have gone 15-for-21 and have lost 12 straight SEC matches.
But Ole Miss also has lost two straight to Mississippi State, lost to Vanderbilt three out of four times and suffered through an embarrassing double-overtime home loss to Jacksonville State last season, marking the first time Ole Miss ever lost to a Football Championship Subdivision opponent.
Getting to last season's four-win mark seems tough with LSU and Mississippi State still on Ole Miss' schedule.
Nutt was seen as a savior after his first two seasons. His signature straw hat had become a popular symbol among the community (just look at the Rebels' new mascot), and his Southern charm was –- and will no doubt remain -- very inviting. Nutt guided Ole Miss to its best two years of football in more than 40 years, but the stigma was that he did it with former coach Ed Orgeron's players.
Recruiting misses and attrition caught up with him the past two years, but one issue Nutt has dealt with for most of his time in Oxford has been the inability to find a consistently good quarterback. Jevan Snead had a tremendous second half in his first year under Nutt in 2008 but struggled mightily in 2009.
Last season, Nutt's experiment with troubled quarterback Jeremiah Masoli didn't really work out, either. Even equipped with longtime bud David Lee as offensive coordinator this season, the offense regressed. Ole Miss shuffled through three quarterbacks before finally deciding on
Randall Mackey
in Week 5, but currently ranks 11th in the league in total offense (295.7 yards per game).
This team was supposed to be better, but it simply isn't close.
"My time at Ole Miss has been very special, and I've enjoyed working with a wonderful group of athletes and the Ole Miss community at large," Nutt said. "Change is never easy, but I understand why it's necessary."
When talking to those around the program, you get the sense that players have lost their passion this season. On-field discipline was an issue for the Rebels last season and continues to be one this year. The Rebels have been plagued with execution problems on both sides of the ball and are 11th in the league in penalties, averaging seven per game. That all reflects on the coach.
But passion around the program in general has been lacking. Just look at the Forward Rebels movement that has been calling for change, especially the firing of Boone, for months.
Boone's departure should usher in even more much-needed change. Remember, it was Boone who called out Nutt's players and upstaged his coach following the 31-7 loss to Vanderbilt in September. Boone did nothing but worsen a situation for a program that has been teetering in mediocrity for years under his watch.
One major flaw during Nutt's tenure was his inability to recruit the state of Mississippi until only recently. He won the recruiting battle with Mississippi State and Dan Mullen this year, and we've seen a heavy helping of that 2011 class, so barring major attrition, the Ole Miss cupboard won't be bare for the next coach.
Maybe Nutt needed more time with his new recruiting classes. Maybe his first two years should have cleared him for at least one more after 2011. Or maybe the failures of 2011, including blowout losses to Vanderbilt and Kentucky, were just too much.
But now it's time for change and patience. This isn't exactly Alabama or LSU, although there is a perception around the program that Ole Miss is on that level.
(Three coaches since 2007 should be evidence enough.)
It's time for chancellor Dan Jones to figure out exactly what he wants from his football program.
Does he look within the SEC at coordinators such as Alabama's Kirby Smart or Auburn's Gus Malzahn? Or does he look at an up-and-comer, such as Houston's Kevin Sumlin or Louisville's Charlie Strong, who is an extraordinary recruiter, was the wide receivers coach at Ole Miss in 1990 and has an affinity for Oxford?
Whatever direction Jones goes, he and those around him must realize that building this program up will take time. This isn't a quick fix. Time and effort from all outlets are needed.
September, 29, 2011
9/29/11
5:15
PM ET
By
ESPN.com staff
| ESPN.com
Things are really heating up at Ole Miss, so much so that chancellor Dan Jones is making the rounds in the media and making it known he won't be pressured into firing athletic director Pete Boone.
A group calling itself Forward Rebels has been purchasing full-page advertisements in newspapers around the state, calling for Boone's ouster and blaming the Rebels' struggles on the administration.
Rick Cleveland, who's been covering sports in that state for 40-plus years, has an
excellent column on the situation
, one that may get worse before it gets better.
Jones has written a letter
to Ole Miss alumni, boosters and fans and is adamant he will not cave to the pressure or threats.
No matter what side you sit on in this whole mess, none of it's good for Ole Miss.
And the more the Rebels lose on the field, the nastier it's going to get, which is why the whole university could really use a win Saturday at Fresno State.
September, 27, 2011
9/27/11
2:27
PM ET
By
ESPN.com staff
| ESPN.com
When you're hot, you're hot. And when you're not …

Yep, it's that time again:

GLOWING EMBERS

LSU cornerback Tyrann Mathieu: If you were selecting the SEC's Defensive MVP through four games, Mathieu would be at the top of a lot of ballots. The Tigers' sophomore cornerback impacts the game in so many ways. He breaks up passes, forces fumbles, recovers fumbles, scores defensive touchdowns and is always around the ball. The Tigers are using him as a nickel back and giving him the freedom to roam and make plays. It's the perfect role for Mathieu, who's been the catalyst for LSU's defense this season. The Tigers are loaded with difference-makers on defense, but Mathieu's nose for the ball and his knack for creating turnovers make him invaluable.

HOT

Alabama offensive tackle Barrett Jones: He was one of the SEC's best guards a year ago. Now, he's playing left tackle for the Crimson Tide and received the highest grade on their offensive line in the 38-14 win over Arkansas. Jones has played four of the five positions on the line this season, including center. He also plays the violin. Serious.

NOT

Arkansas' special teams: The feeling coming into last week's Alabama game was that Arkansas might have an advantage in the kicking game. Obviously, that feeling was wrong. The Hogs gave up an 83-yard punt return for a touchdown, a fake field goal for a touchdown and didn't make anything happen in their own return game.

HOT

South Carolina defensive end Melvin Ingram: The guy's a touchdown machine. He already has three this season, his latest coming last Saturday on a fumble recovery in the end zone against Vanderbilt. Ingram also had three tackles for loss, including two sacks, against the Commodores.

NOT

Ole Miss athletic director Pete Boone: He might be better off if he spent more time trying to be a real administrator as opposed to grandstanding at his head football coach's weekly press conference.

HOT

Florida's backfield speed: We all knew Chris Rainey and Jeff Demps were fast, but they're running at light speed this season for the Gators. In a league full of fast players, they're making everybody else look slow. Seeing them go up against Alabama's defense will be a treat.

NOT

Tennessee's scheduling: The Vols take on Buffalo this Saturday in Neyland Stadium. And, no, not the unbeaten Buffalo Bills. Every SEC team schedules a few built-in wins, so there's no shame in scheduling Buffalo. The shame comes in paying a $750,000 penalty to buy your way out of the North Carolina series when the Tar Heels refused to move the series back later this decade and then replacing North Carolina with Buffalo. SEC teams don't run from ACC teams, at least not in football.

HOT

Vanderbilt cornerback Casey Hayward: He's tied for the SEC lead with four interceptions after picking off two more passes last week against South Carolina. Matched up with Alshon Jeffery for a lot of the game, Hayward also made himself a bunch of money by raising his stock in the NFL draft. Jeffery finished with just two catches for 34 yards and wasn't much of a factor in the game.

NOT

Kentucky, Ole Miss and Vanderbilt offenses: It's a close race as to who has the worst offense in the SEC right now. Ole Miss is 118th nationally out of 120 FBS teams in total offense, just ahead of Vanderbilt at 117th. Kentucky is all the way up to 113th in total offense, but has been limited to just eight touchdowns in four games.

FREEZER BURN

South Carolina quarterback Stephen Garcia: In some parts of South Carolina, Garcia remains a cult hero, although his followers are dwindling every week. Through four games, he's thrown three touchdown passes and seven interceptions. He's completing just 54.7 percent of his passes and is coming off a four-interception performance last week against Vanderbilt. Steve Spurrier is so frustrated that he said earlier this week that he's not going to criticize Garcia any more. That's like Tiger Woods saying he's not going to swear any more after slicing one into the deep rough off the tee. After all the drama this offseason involving Garcia and the fact that he was getting another chance, it's hard to find anybody who thought he would be this shaky out of the gate. We're talking about a fifth-year senior here who played some of the best football of his career last season. Spurrier doesn't have a lot of options other than to hope that Garcia snaps out of it, because sophomore Connor Shaw hasn't shown that he's ready. No wonder that visor on the Head Ball Coach's head looks a little more crooked every time you see him on the sideline. He's shaking his head in disgust just about every time the Gamecocks throw a pass.
September, 20, 2011
9/20/11
12:10
PM ET
We're hitting some SEC links while you dive into that brown bag to nibble on that soggy tuna sandwich.
September, 19, 2011
9/19/11
4:49
PM ET
By
ESPN.com staff
| ESPN.com
It's not a news flash that all is not well right now with the Ole Miss football program.

The Rebels are coming off an embarrassing 30-7 loss to Vanderbilt, their seventh straight SEC loss dating back to last season. Their average margin of defeat in those seven losses is 17.6 points.

After a 4-8 season a year ago, the last thing Ole Miss coach Houston Nutt needs is another losing season.

He also doesn't need an athletic director grandstanding the way Pete Boone did Monday at Nutt's regularly scheduled news conference.

Boone was the first to speak, and he was quick to promise fans that they would see a "totally different team" than the one they saw last weekend in Nashville.

Boone and Nutt had already met privately Sunday. Boone sent out a letter later Sunday night to Ole Miss donors and season-ticket holders asking for their continued support and assuring them that the problems with the football team would be dealt with "head on with solutions for improvement."

All this sounds good, and Boone has every right as athletic director to meet with his coach and offer suggestions.

But if you ask me, this whole thing reeks of Boone trying to save his own neck as much as it does his trying to steer the football program back on track.

Why upstage your coach like that publicly, especially three games into the season? All you're doing is making an already difficult situation for Nutt and his staff an impossible situation.

Those athletic directors who are genuinely strong and secure in their jobs don't have to make public spectacles of the situation when things get tough.

They say what they have to say to their coaches in private, make any suggestions they have to offer in private and otherwise keep a low profile.

They certainly don't come to their coach's weekly news conference and tell the world that the way Ole Miss is playing right now is unacceptable.

Everybody knows that. We don't need Boone to get up in front of the cameras to tell us that.

Why pour salt into the wound? Support your coach and do it in such a way that exudes being a leader.

The truth is that it may be too late. It sounds like Boone has his own issues.

A group calling itself "Forward Rebels" had already taken out advertisements around the state of Mississippi prior to last Saturday's game questioning the leadership of the Ole Miss administration. That same group made it clear that it was the administration that was the problem and not the coaches, players or fans.

There's blame to go around, and clearly Nutt faces an uphill battle if he's going to survive at Ole Miss.

Those back-to-back Cotton Bowl victories his first two seasons are getting further and further in the rear-view mirror. That's what happens when you lose two in a row to arch-rival Mississippi State, seven consecutive league games and three out of four to Vanderbilt.

When Nutt had a chance to speak Monday at his news conference, followed by Boone's guest appearance, Nutt was asked if he felt like he were coaching for his job.

"This is my 14th year (in the SEC), and it's like that every day," Nutt responded.

Indeed it is. The pressure in this league to win, with all the money being paid to coaches and all the money being generated, is mind-numbing.

Coaches understand that. They deal with it in their own way and accept the inevitable: You're on the hot seat in the SEC the second you take the job.

But in this case, it's obvious that Nutt's not the only one in Oxford feeling the heat.

So is the guy who led off the news conference earlier Monday.
March, 7, 2011
3/07/11
12:39
PM ET
By
ESPN.com staff
| ESPN.com
A look at what's making headlines in the SEC:
May, 13, 2010
5/13/10
7:26
PM ET
By
ESPN.com staff
| ESPN.com
The easiest nonconference schedule in the SEC last season?

That's an easy one ... Ole Miss.

The easiest nonconference schedule in the SEC next season?

Another easy one ... Ole Miss.

It's no secret that the Rebels needed to upgrade their schedule, and they have -- in a big way.

They will open the 2011 season at home against Boise State, which has established itself the past few years as the top non-BCS team in college football. The Broncos were unbeaten last season, capped by a win over TCU in the Fiesta Bowl.

They will almost certainly start next season ranked in the top 5 nationally and are knocking on the door of finally playing their way into the BCS National Championship Game.

The interesting thing about the Ole Miss matchup is that there's not a return trip for the Rebels out to Boise. Instead, the Broncos will pocket $900,000 for coming to Oxford. It will be the most Ole Miss has ever paid a nonconference opponent to come play at Vaught-Hemingway Stadium.

Props to the Rebels for stepping out there and playing the Broncos, who will open the 2010 season against Virginia Tech in Washington, D.C. They've beaten Oregon each of the past two years, including a win at Oregon in 2008.

Obviously, they're not easily intimidated. And for Ole Miss, this will be a good way to get some national attention right off the bat.

"We have been strengthening our nonconference schedule, and we certainly want to thank ESPN for helping make this possible," Ole Miss athletic director Pete Boone said. "Boise State has a great tradition in football, and coach Chris Petersen has built the Broncos into a national power. I expect a great deal of anticipation from our fans."
December, 8, 2009
12/08/09
10:25
AM ET
By
ESPN.com staff
| ESPN.com
OK, we've heard Ole Miss athletic director Pete Boone say there's nothing to the reports that Houston Nutt has already discussed the Kansas head coaching job with Kansas athletic director Lew Perkins.

I would think Ole Miss fans would like Nutt to come out and say there's nothing to it, and not only that, but say that he's dug in at Ole Miss.

That is, if he is dug in at Ole Miss.

The more you talk to people close to that situation, the more you keep hearing that maybe there are some issues between Nutt and Boone. In particular, Nutt feels like some promises were made that haven't been delivered on.

Either way, I'd say we'll find out pretty quickly how serious Nutt is or isn't about Kansas. This is something he can't afford to let drag out, not after getting a big raise and going to $2.5 million annually last year when Auburn showed some interest.

There's obviously been some dialogue about the Kansas job whether Nutt has talked directly to Perkins or not. The conduit is likely Kansas basketball coach Bill Self, who's remained close with Nutt since their days at Oklahoma State.

Nutt has done something in his first two seasons at Ole Miss that hasn't been accomplished in nearly 20 years in Oxford, and that's win eight games in back-to-back seasons. It's a program that's been on the move ever since he arrived on campus.

Yes, the Rebels are losing a bunch of good seniors he didn't recruit, but he won with those players and won at a level that hadn't been matched in two decades.

His next move is deciding whether he's in or out, and the Ole Miss fans want to hear him say it.
August, 17, 2009
8/17/09
11:45
AM ET
By
ESPN.com staff
| ESPN.com
Posted by ESPN.com's Chris Low
OXFORD, Miss. -- Once a Hog to the core, Houston Nutt is now a diehard Rebel.
He couldn't be happier about his move across the Western Division to Ole Miss and said it's rejuvenated him in more ways than one after a bitter divorce with Arkansas.
The scars from that divorce remain. There's no getting around that, but Nutt says he's thankful to be at a place that genuinely wants and appreciates him.
Approaching the most anticipated season at Ole Miss in more than 40 years, here's the second part of my Q&A with Nutt:
Is there anything you would have done differently at Arkansas?
Houston Nutt: I probably wouldn't have hired a couple of people. I probably would have just stuck to my niche. (He hired current Auburn offensive coordinator Gus Malzahn from nearby Springdale High following the 2005 season).
Why go away from that niche?
HN: It was probably the two losing seasons (in 2004 and 2005), and I was the only coach in Arkansas history to survive two losing seasons. But what people tend to forget is that the reason we had the two losing seasons was because of the sins we paid for the previous group that put us on probation. That took off 10 to 12 scholarships, and that's a major blow. They tend to forget that when the season gets going because everybody wants to win now.
Having gone through what you went through at Arkansas, the highs and the lows, how much better has that experience made you as a coach and how much stronger has it made you to deal with pretty much anything?
HN: It's made myself and my family stronger, closer, and it tends to make you wrap yourself with alligator skin. What I mean by that is you stay more focused and more attentive to detail. You don't worry about things. Especially the first four or five years at Arkansas, being from that state, I tried to please. When you grow up there, it's different, but I've learned.
Will it ever be the same for you when you go back to Arkansas to visit?
HN: I don't know. I have enough friends with my mom living there that I'll always go back. There are still people there that I'm very close with, guys like Jim Lindsey and Frank Broyles, who I still talk to. There are a lot of good people there, Warren Stephens in Little Rock, Rex Horne, who was my pastor at Immanuel Baptist Church. So I've got enough friends there that I'll always go back. What's difficult, and it goes back to what Phil Fulmer said (after he was fired at Tennessee), but you love the place so much, grew up there, played there, coached there and felt like, 'Boy, you've done nothing but give it your all,' so it still hurts a little bit.
Even at your height at Arkansas, did the level of energy and excitement there rival where it is here at Ole Miss leading into this season?
HN: No, because our people here are so hungry. The thing that was discouraging there was that you get to Atlanta twice and it was like, 'You gotta win the big one.' I'm thinking, 'Well, you didn't even go to a bowl game for a long time.' But now, you look at the last eight months here. People can't wait. There's an excitement here. I went to the M Club meeting with guys who played in the 50s and 60s, and they have that same attitude, a pride about their school. It makes you feel good, how good they feel about what we're doing.
How have some of the former Ole Miss stars like Eli Manning and Patrick Willis bought into what you're doing?
HN: They've been awesome. They have bought in full go. I look out there every morning in June and it's amazing. They're in that weight room and around our players. We had Eli in our weight room one morning along with Archie Manning, Derrick Burgess, Todd Wade, Patrick Willis and Deuce McAllister -- all in the same weight room. Pat Patterson is hollering up and down the hallway, 'I caught my first pass this summer from Eli Manning.' They're pumped, too.
Is it an unfair tag that your best seasons as a coach have come when people didn't see you coming or when you weren't picked very highly?
HN: The truth is that I haven't been picked too many times to win, and when I have, I've had some tough injuries. I know that's an excuse. But when you lose real players, it makes a difference.
Do you rethink your decision at all to sign Jamar Hornsby, who had already been kicked off Florida's team and has since been let go by you after getting into trouble again?
HN: In talking to his mother and getting to know him, there are days I wish he were still here. I think I could have helped him. But when he was involved in another court deal, that was one too many bad decisions for him. It was best for him to go to a lower division and get on with his life.
You took a lot of grief for signing 37 players last February, which precipitated the SEC presidents passing a rule limiting the number of signees a school can sign each year to 28. How surprised were you at that legislation?
HN: I was surprised because when we did it, I went to my athletic director, Pete Boone, and said, 'I've never experienced how many junior colleges we have in this state and want to build some relationships. I know that nine guys want to be at Ole Miss, but I know they're not going to make it academically. It gives me a chance to make them feel like a part of the family and let me shuffle them out to these different junior colleges and prep schools.' I never would have thought so much would come from it, because there's never been a rule and we all have to get to 25 by August. I guess they looked at it like it was embarrassing. But to the young men, I think they look at it more like, 'I get to sign with Ole Miss, go to JUCO and then come back.'
How refreshed are you to be at Ole Miss and have this new challenge at this point in your career?
HN: I can't tell you how appreciative I am to be so excited about coming to work every day and coming to a beautiful place. These players make it for you, because they hang onto every word. They're excited. I know we just got here. But to me, that's what it's about.
Has your family fully settled in now at Ole Miss?
HN: They love it. I have three of my four kids (son Houston III and twin daughters Hailey and Hannah) here going to college. My fourth one (youngest daughter Haven) swears she's going to be an actress and is headed to Pepperdine on a half-scholarship.
Pepperdine? That's some serious coin, isn't it?
HN: (laughing) Yeah, I hear that half-scholarship ain't going to help too much.
March, 18, 2009
3/18/09
7:30
AM ET
By
ESPN.com staff
| ESPN.com
Posted by ESPN.com's Chris Low
Ole Miss is poised to have one of the best teams it's had in years next season. The Rebels will also have one of the easiest nonconference schedules an SEC team has faced in years.
After going back and forth with several teams in an attempt to find a 12th opponent, Ole Miss announced Tuesday that it would face Northern Arizona on Nov. 7 next season. That gives the Rebels two FCS opponents on their schedule in 2009. They also face Southeastern Louisiana on Sept. 19.
What that means is that only one of those games would count toward the six wins required for Ole Miss to be bowl eligible. An FBS team isn't allowed to count more than one win against an FCS team to its win total for bowl eligibility.
So assuming the Rebels win both of those games next season, they would have to win five more and get to seven wins before they would become bowl eligible. Normally, six wins qualifies a team for a bowl game.
Ole Miss' other two nonconference games are against Memphis on the road on Sept. 5 and Alabama-Birmingham at home on Oct. 17.
"We didn't intend to schedule two I-AA teams nor do we anticipate scheduling two I-AA teams in the same year again," Ole Miss athletic director Pete Boone said.