September, 10, 2014
Sep 10
11:00
AM ET
AUBURN, Ala. -- Through the first two games,
Cameron Artis-Payne
has rushed for 289 yards and four touchdowns. His 42 carries are twice as many carries as
Corey Grant
, the team's No. 2 running back. So does that mean
Auburn
has found its workhorse? Have the Tigers found their replacement for
Tre Mason
?
[+] Enlarge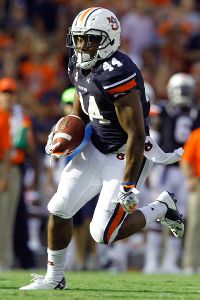 Butch Dill/AP PhotoCameron Artis-Payne, Auburn's leading rusher through two games, is out to prove he can carry the ball, as well as the Tigers' offense.
Not quite. At least not according to head coach Gus Malzahn.
"He did a good job," Malzahn said after Saturday's game. "Corey did a good job in there, too. We utilized both those guys. Nothing's changed as far as that goes. We've got to have two of those guys. And you saw the young guys get in there --
Peyton Barber
and then Roc [Thomas], too. It's good to get those guys some carries in a game-type situation."
And so we're back to square one.
Technically, Artis-Payne is Auburn's starting running back. He started the first two games, and he will likely start next Thursday's game at Kansas State. But for some reason, Malzahn has been reluctant to acknowledge that he's the guy.
To be fair, more than one back is needed in Malzahn's offense -- it's why the Tigers led the nation in rushing a season ago -- but by the beginning of SEC play last season, they settled on Mason as the featured back. That's the role Artis-Payne wants to have.
"Selfishly, yeah of course, everybody wants to keep getting the ball," Artis-Payne said after Saturday's game where he rushed for 112 yards and three touchdowns. "But at the end of the day, we have to go with the looks that they give us and what the defense is giving us.
"It's a team game. We've got a lot of really, really good running backs in the backfield."
That attitude is why Artis-Payne's position coach Tim Horton calls him "a pro before he's a pro." It basically means he's the same every day. He doesn't have bad days. He's professional in meetings, professional in work. As offensive coordinator Rhett Lashlee put it, "he's all business and all work."
It's the same way when he faces the media. There's plenty of personality, but there's a certain edge to him, too, a chip on his shoulder that's likely a reminder of where he came from.
"I'm sure there are some personal aspects in his life that he draws from, but also, he didn't have any offers coming out of high school," Lashlee said. "He goes out to junior college, and he earned his way here. He didn't have the typical road that a kid playing at a big school in the SEC would have as far as recruiting goes.
"So I think he's constantly out to prove himself, and he's out to prove that we don't have to miss a beat with him back there."
Even Artis-Payne admitted to having a little chip on his shoulder coming into this season.
"Yeah, ya'll saw me sitting on the bench last year," he said. "I read everything that everybody puts out, talking about how the running game is going to be. I'm here to prove that it's going to be all right."
After two games, it's been more than all right.
Auburn leads the SEC in rushing yards and rushing touchdowns. It doesn't matter that Mason is gone or that
Greg Robinson
left early for the NFL or that
Alex Kozan
is out for the season with an injury. The Tigers still feature a dominant rushing attack, and whether Malzahn wants to admit it, Artis-Payne is quickly becoming the driving force behind that.
"I'm just getting more comfortable knowing that I'm going to get in the game and not have to worry about playing time and all that type of stuff," Artis-Payne said.
So is he OK with 20+ carries a game from here on out?
"Oh yeah, I definitely enjoy that," he said. "I'd like for that to continue if it can."
August, 12, 2014
Aug 12
3:00
PM ET
AUBURN, Ala. -- It's never easy to replace the SEC's leading rusher, but
Auburn
doesn't have just one guy to replace
Tre Mason
. It has five.
"We have some really good cards," running backs coach Tim Horton said. "When you're playing cards, it's nice to have some good ones to play, and we've got some good players. Now it's just our jobs to figure out how to use these cards we have."
As expected,
Cameron Artis-Payne
and
Corey Grant
have distanced themselves from the rest of the pack in the Tigers' backfield hierarchy. The two have been around the longest and they know the offense, so when the time comes for Gus Malzahn to name a starter, expect one of the two seniors' names to be called.
However, that doesn't mean you can just write off the freshman trio. Regardless of whether or not they start,
Peyton Barber
,
Racean Thomas
and
Kamryn Pettway
are all capable of contributing right away.
"I think all three of them are talented," Malzahn told reporters Saturday. "And that's the main thing. You've got to ask yourself, 'Are you talented enough to play?' If they're talented enough to play, then (come) all the little things. Who's coachable? Who will protect that football? That's what's on my mind. Who's going to protect the football, especially being young?
"Hopefully, we'll give them enough chances during fall camp to show who can do that, who can execute our offense and who we can count on."
Barber is a year ahead of the other two after redshirting last season. He turned heads this spring and was primed for a breakout performance at A-day, but a foot injury on his first carry forced him to miss the rest of the game. A missed opportunity, no doubt, but he's back now and ready to compete.
Thomas arrived this summer, but you wouldn't know it by the way he's handled himself through the first week and a half of fall camp.
"He's done well," Horton said. "The thing that's really been impressive is his knowledge of the game. He's really a good learner and has made very few mental mistakes.
"We've put him in scrimmages and walked away. I think sometimes you can get up there and coach them every play, whisper every play, and we haven't done that. We've thrown him in the fire, and he's done really well with that."
Of the three freshmen, Thomas was the most highly regarded coming out of high school. He was ranked No. 28 overall in the
2014 ESPN 300
and was named Mr. Football in the state of Alabama. When it came time to talk goals with Malzahn, the Auburn coach went as far as to say he wants to get Thomas a Heisman Trophy before he leaves Auburn.
"I'm just trying to learn a lot," Thomas said in April. "I want to get in the system and be a dynamic playmaker."
Pettway, the other incoming freshman, might not be as decorated as Thomas, but he's impressed the coaching staff to this point and also has an opportunity to be in the mix.
As Horton alluded to earlier, it's now time for the coaches to figure out how to best use this talented group of running backs. Who starts? Who plays? How do you get all five backs involved?
"It's a great problem," Horton said. "But at the same time, you've got to understand, and unfortunately I'm old enough to have had this happen to me, is you have five guys that you think are really good and next thing you know, two of them are out for the season, one of them is out with a hamstring for two weeks and you're down to two.
"You better have depth in this league because I do know this: Those guys are going to get hit."
Auburn will likely name a starter in the coming weeks, but this backfield isn't strong because of just one running back. It's strong because of all five backs, freshmen included, and all five need to be ready in case the coaches decide to play their card.
June, 12, 2014
Jun 12
12:00
PM ET
The World Cup begins today. Will you be watching? If so, make sure you take in today's lunch links before Brazil and Croatia kick off. If not, still check out the lunch links and see what's going on around the SEC.
May, 19, 2014
May 19
12:00
PM ET
The conference finals have started in both hockey and basketball. Rookie minicamp just wrapped in the NFL. Meanwhile, we all sit and wait for college football to come back. Get your fix with Monday's lunch links.
May, 6, 2014
May 6
3:30
PM ET
AUBURN, Ala. -- Before spring practice, we previewed Auburn's top five position battles. Now that spring is over and the players have had a chance to compete against each other, who has the upper hand at each position?
Position battle No. 1: Star
[+] Enlarge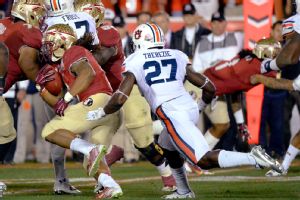 Richard Mackson/USA TODAY SportsRobenson Therezie looks like he'll be the starter at the Star position when the season starts.
This was
Robenson Therezie
's job before spring practice, and it's still Therezie's job. The senior defensive back played through a broken bone in his hand, an injury he suffered the first week, and although he didn't wow anybody, he also didn't do anything to give the job away either.
Justin Garrett
and
Mackenro Alexander
will continue to push for playing time behind him, and there's been talk that safety
Joshua Holsey
might get a look there in fall camp when he returns from injury, but the coaches feel confident with Therezie. He's still improving against the run and in man-to-man coverage, but he's a spark plug for this Auburn defense. Time and time again last year, he came up with a big play in a key situation.
Position battle No. 2: Left tackle
The battle at left tackle is ongoing.
Shon Coleman
and
Patrick Miller
took turns taking reps with the first-team offense throughout the spring, and though neither has emerged as the starter, both had strong springs. Coleman, a natural at left tackle, came out with the first group for the opening drive of the spring game. He's stronger than his counterpart and a better run blocker. However, Miller has the advantage in pass protection and has more game experience, making 14 starts at right tackle the past two years. The good news is that Auburn has two capable candidates that could start for the majority of teams in college football. The bad news is that we won't know a decision until fall camp at the earliest.
Position battle No. 3: Defensive end
If Auburn's season opener was last month, there's a strong possibility that
Gabe Wright
would have been the starter at defensive end -- the same 284-pound Wright who played all of last year at defensive tackle. That's how depleted the position was this spring. Returning starter
LaDarius Owens
missed all of spring practice with a foot injury while sophomores
Carl Lawson
and
Elijah Daniel
, the favorites to take over for
Dee Ford
on the other side, also sat out at some point due to injury. Still, there was progress made. By all accounts, Lawson had a terrific spring despite missing the spring game and improved his all-around game. Daniel played in the spring game and finished with three tackles, 2.5 for loss and one sack. Wright might see some time at end next fall, but it's more likely he stays inside once everybody is healthy.
[+] Enlarge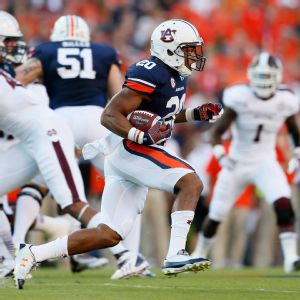 Kevin C. Cox/Getty ImagesCorey Grant showed his big-play abilities this spring.
Position battle No. 4: Running back
Tre Mason
might be gone, but Auburn showed this spring that it has plenty of talent returning at the position. No, a starter wasn't named, and if it's anything like last year, the team's go-to back might not emerge until three or four games into the season. But
Cameron Artis-Payne
and
Corey Grant
proved that they are each more than able to take over for the former Heisman Trophy finalist. Artis-Payne had 12 carries for 97 yards and a touchdown in the spring game while Grant flashed his big-play ability with 128 yards and a touchdown on just five carries. Throw in redshirt freshman
Peyton Barber
and ESPN 300 star
Racean Thomas
, who is scheduled to arrive later this month, and it's once again a position of strength for the Tigers.
Position battle No. 5: Cornerback
The spring game has not been kind to
Jonathon Mincy
recently. He was ejected from last year's game for targeting, and he didn't play at all in this year's game. Fortunately, that doesn't affect his status as the team's No. 1 cornerback. As long as he's healthy, he's expected to move over and replace
Chris Davis
as the boundary corner. On the other side,
Jonathan Jones
still looks to be the favorite, but
Trovon Reed
turned heads with his performance this spring. The former wide receiver had three tackles, one for a loss and two pass breakups in the spring game. Expect even more competition in fall camp when Holsey returns from injury and when incoming freshmen
Kalvaraz Bessent
and
Nicholas Ruffin
arrive on campus.
May, 1, 2014
May 1
3:00
PM ET
Before the beginning of spring practice, we made five predictions about the defending SEC champs. Some made us look smart. Others, not so much. Let's take a look back:
[+] Enlarge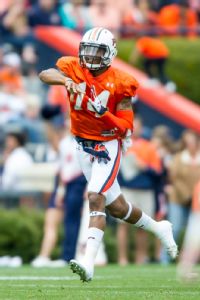 Michael Chang/Getty ImagesCan Nick Marshall get Auburn going even faster?
Prediction No. 1: No slowing down
Gus Malzahn's offense is no longer fast. It's #Auburnfast. The coaches have begun using the hashtag on Twitter for everything from players' 40-yard-dash times to their recruiting routes in New York City (see @rhettlashlee). Either way, it was evident from the first practice of spring that Auburn wanted to go even faster than last season. The entire second period was dedicated to pace, and the first, second and third-team units all worked on running the hurry-up, no-huddle offense. The key will be quarterback
Nick Marshall
and his comfort level with the offense. On Wednesday, Malzahn said Marshall was a lot more reactive this spring and that it was coming more natural to him. That's a good sign for Auburn and a bad sign for SEC defenses.
Prediction No. 2: No Ford, no problem
It's still a little early to say the defensive line will be better in 2014 without sack leader
Dee Ford
, but that's only because we never got a chance to see a healthy group up front during spring practice. Injuries riddled the defensive line, forcing players such as
Montravius Adams
and
Gabe Wright
to move from tackle to end. Rising sophomores
Carl Lawson
and
Elijah Daniel
both missed time while defensive end
LaDarius Owens
, a starter last season, missed the entire spring with a foot injury. When everybody is healthy and when the six 2014 signees on the defensive line arrive this summer, it will be a deeper, more talented group than what Auburn had a year ago.
Prediction No. 3: More balance on offense
This one depends solely on Marshall's progression as a passer, but if the spring game was any indication, Malzahn intends to throw it quite a bit more this season. Marshall went 13-of-22 for 236 yards and four touchdowns in the first half, and afterwards, Malzahn said the emphasis was obviously on throwing the football as it had been throughout the spring. Junior college transfer
D'haquille Williams
looked as good as advertised in the spring game, catching five passes for 88 yards and a touchdown. He adds another target to what was already a deep stable of wide receivers. Auburn will still be a run-first football team. That's who it is, and that's what Malzahn wants to do. But it's not crazy to think that Marshall will average 10 or more passing attempts per game this season than he did last season.
Prediction No. 4: Open audition at LT
The prediction was that Auburn would wait until the fall to name a starter at left tackle, and to nobody's surprise, it held true.
Shon Coleman
and
Patrick Miller
are veteran guys. They don't need to know who the starter is going to be until the week before the first game. They're going to keep plugging away like they always do. The only real takeaway from the spring that was that Auburn has two left tackles good enough to start, and if they can start on that offensive line, they're likely good enough to start for the majority of teams in college football. There was also a thought that
Avery Young
would see time at left tackle, but he stayed on the right side for the duration of spring practice.
Prediction No. 5: Breakout candidates
Did we hit a home run with Daniel and
Peyton Barber
as our breakout candidates? No. But we didn't strike out either. Daniel missed part of spring with a groin injury, but he returned and quietly had a strong spring game. The sophomore defensive end finished with three tackles, 2.5 for a loss, one sack and one quarterback hurry. Barber earned rave reviews from his coaches and teammates throughout the spring, but he injured his ankle on his first carry of A-Day and missed the rest of the game. He went 10 yards on his lone carry, showing good feet and a good burst, but also fumbled at the end of the run. Looking back, the breakout player of the spring had to be junior college safety
Derrick Moncrief
, who took advantage of an opportunity and carved out a role in the secondary.
April, 23, 2014
Apr 23
10:30
AM ET
AUBURN, Ala. --
Auburn
's spring came and went without a No. 1 running back establishing himself. Is it because
Cameron Artis-Payne
and
Corey Grant
performed so well that deciding between the two proved too difficult for the Auburn coaches?
It's a possibility. Artis-Payne paced the offense with 12 carries for 97 yards and a touchdown in the spring game, while Grant provided a spark with five carries for 128 yards and a touchdown of his own.
[+] Enlarge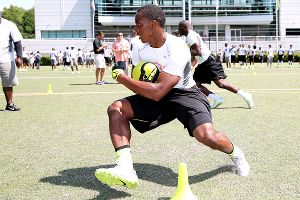 Tom Hauck for Student SportsRacean "Roc" Thomas, the No. 5 tailback in the 2014 class, was an Alabama fan before committing to play for Auburn.
A-Day capped off what had been an impressive month for both backs, though it did little to close the gap between the two.
But there might be more to it. What if the staff was waiting on a certain ESPN 300 prospect to arrive on campus before making a final decision?
It would seem crazy for a freshman to come in and take the job away from two seniors, but if you don't think it's possible then you haven't seen
Racean "Roc" Thomas
play. As a senior at Oxford (Ala.) High School, he rushed for 2,211 yards and 32 touchdowns. He says he's been told by Auburn coaches that he'll have every chance to start when he gets on campus.
"They're just ready for me to get up there and really get me in the offense and see what I can do," Thomas told ESPN.com.
Growing up, Thomas was an Alabama fan. He went to games at Bryant-Denny Stadium and attended camps on the UA campus. When he received an offer from Nick Saban and the Crimson Tide, it was expected that he would take his talents to Tuscaloosa. At one point, he was all set to commit there -- until the staff told him to hold on.
"I was like, 'Well, no I'm not going to hold on. If y'all want my commitment, then y'all will let me commit right now,'" Thomas said.
Alabama didn't take his commitment, so Thomas started taking visits to Auburn where first-year coach Gus Malzahn made him a top priority. A new bond was formed, and before Malzahn ever coached his first game, Thomas committed to Auburn in what he called a "business" decision.
Shortly after Lane Kiffin was hired as Alabama's offensive coordinator, the Crimson Tide made one last push to sign Thomas, but it proved too little too late. Thomas stayed true to his word and signed with the Tigers in February.
"I think a lot of people were surprised," Thomas said. "And [at the same time], I think a lot of them really kind of knew that's where I was going to go. I guess it's just stuff that happened over time."
With the recruiting saga behind fully him, Thomas appears more confident and at ease than he ever did in the months leading up to signing day. There are no more phone calls from coaches or media. No more criticism from Alabama fans who were upset he signed with their bitter rival. He's just living his life.
"[It's] just working out, track, keeping in touch with the coaches," Thomas said. "We're probably going to start soon where they'll start showing me some plays and trying to get me in the mix of how they do things up there play-wise.
"I'm just really trying to keep a solid schedule -- working out, eating right and just really trying to stay healthy."
The plan is for Thomas to arrive at Auburn this summer and immediately begin working out with the team. The coaches have high expectations for the Mr. Football Award winner. When Thomas said he'll be given every chance to start his first season, he wasn't lying.
Even though Artis-Payne and Grant battled dutifully for the starting job this spring, it's possible that Auburn's No. 1 running back is still on his way.
"We're going to play the best player at every position," offensive coordinator Rhett Lashlee said this spring. "I don't care if you're a senior, I don't care if you're a true freshman. Those guys are going to get opportunities."
Lashlee was careful to peel back the layers on the pending competition, however.
"The difference for them, these guys (on campus now) are light years ahead," he said. "Obviously Cam and Corey have played,
Peyton [Barber]
has had a year plus the spring, so it's just going to matter with Roc and Kam [
Kamryn Pettway
] in that situation, how quick do they pick things up, how fast can they grasp everything and have the game slow down for them.
"We've had it both ways. We've had guys like Peyton Barber who either because we had guys in front of him or he just needed a redshirt year -- we still think Peyton's going to be a great player. And then we've had other guys in the past that as a true freshman were ready, and we kind of eased them into it. Sometimes earlier in the year they got more or as the year went on they got more or their workload increased.
"We'll have to see how that goes when those two get here and see how they respond, but we're counting on them to come in and compete, want to play and want to play now."
April, 18, 2014
Apr 18
1:00
PM ET
AUBURN, Ala. -- Auburn might have been 3-9 in 2012, but that didn't stop the fans from piling inside Jordan-Hare Stadium for last year's spring game. There was a record crowd of 83,401 who were on hand to welcome new coach Gus Malzahn, not thinking that he would eventually lead the Tigers to the BCS title game nine months later.
"I think [A-Day] is for the overall program," Malzahn said. "Like I've said before, we're all in this together -- our fans, our players, our coaches. This is one of those unique opportunities. We want to make it exciting for our fans, and at the same time, we want to get better."
The crowd could be even bigger this year with the Tigers coming off a 12-2 season and an SEC championship. Here are five things to watch in Saturday's spring finale (ESPN, 3 p.m. ET):
[+] Enlarge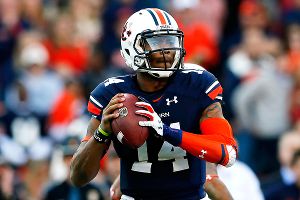 Kevin C. Cox/Getty ImagesWith his confidence sky high, expect Auburn QB Nick Marshall to be even better running the Tigers' high-powered offense.
1. Faster is better:
The proposed "10-second" rule never made it to a vote, and that means that Auburn's offense is only going to get faster. It took first-year quarterback
Nick Marshall
nearly half the season before he became comfortable in Malzahn's offense, and even then he wasn't as confident as he has looked this spring. The senior is making better reads, throwing the ball better and more importantly, he's become a leader. Expect Marshall to take the hurry-up, no-huddle offense to another gear this fall, and although the spring game won't give much away, it will give the fans a glimpse of what's to come.
2. Juco impact:
If you ask the fans, the player they most want to see Saturday would almost certainly be wide receiver
D'haquille Williams
. He was the nation's No. 1 junior college player a year ago, and there's already talk that he could be one of the top wideouts in the SEC next season. The coaches and players alike have raved about his talent this spring, and he'll make his debut in front of the fans this weekend. However, don't sleep on his juco teammate
Derrick Moncrief
. The former Prattville (Ala.) defensive back has had as good as spring as anybody on the team and could push for a starting role in the secondary.
3. Blind side battle:
Don't expect the left tackle battle to be decided during Saturday's spring game. The coaches have all but said they will wait until the fall before naming a starter. But that doesn't mean it won't be worth keeping an eye on. Sophomore
Shon Coleman
, who served as
Greg Robinson
's primary backup last year, might have a leg up in the race and will likely take the field with the first-team offense, but
Patrick Miller
, the more experienced of the two, will get his reps, too. In his first two seasons at Auburn, Miller started 14 games at right tackle, and he might see some time there depending on what the coaches do with
Avery Young
.
4. Health concerns:
There could be some familiar faces not in action Saturday. It's been a frustrating spring from a health standpoint, and while there haven't been any serious injuries, there have been enough nagging injuries to force the coaches to get creative. Defensive tackles
Montravius Adams
and
Gabe Wright
have both worked some at end, and with
LaDarius Owens
out and
Carl Lawson
questionable, the "Rhino package" could make an appearance. Earlier this week, defensive coordinator Ellis Johnson indicated that some of the starters who have been banged up might not get as many reps in the spring game.
5. The running backs:
It was this time last year when
Cameron Artis-Payne
, a junior college transfer at the time, first made his mark on the Plains. He had 164 yards of offense and a touchdown in the spring game, which earned him offensive MVP honors. He'd like to duplicate that performance in this year's game and claim the starting job, but
Corey Grant
won't go down without a fight. Grant, who primarily ran the jet sweep last year, will show what he can do as a featured back. And don't forget about redshirt freshman
Peyton Barber
, who could wind up leading the team in carries when it's all said and done.
April, 16, 2014
Apr 16
12:00
PM ET
Finish your taxes on time? Then sit back and enjoy Wednesday's lunch links.
March, 17, 2014
Mar 17
10:00
AM ET
Schedule:
The reigning SEC champions will begin their title defense on Tuesday when they open spring practice in Auburn, Ala. They will work out every Tuesday, Thursday and Saturday before wrapping up with the A-day scrimmage on Saturday, April 19 at 1 p.m. ET.
What's new:
After a complete overhaul of the coaching staff last offseason, Auburn's current coaches will all be back for a second year on the Plains. There were rumors involving head coach Gus Malzahn (University of Texas, Cleveland Browns), as well as some of his assistants, but now that the dust has settled, they will be one of five coaching staffs in the SEC that will remain intact next season.
[+] Enlarge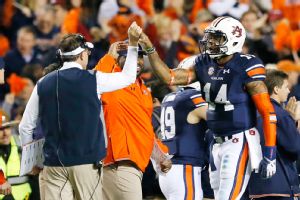 Kevin C. Cox/Getty ImagesCan Gus Malzahn and QB Nick Marshall improve on Auburn's successful last season?
On the move:
Word out of Auburn is that there's a strong possibility that wide receiver
Trovon Reed
moves to cornerback this spring. The former ESPN 300 star, who caught nine passes for 98 yards as a junior, hinted at the move in January via Instagram, but Malzahn refuted the rumor, calling it "premature." The news will likely become official Monday when Malzahn holds his pre-spring news conference. The other name to watch is
Johnathan Ford
. There has been talk that the sophomore cornerback will return to his natural running back position, but the staff has also considered moving him to safety this spring.
On the mend:
Safety
Joshua Holsey
injured his knee in practice just days before the Texas A&M game and missed the rest of the season. It was a costly blow to an already thin Auburn secondary, and with the loss of three seniors back there, his return next season is paramount. However, he's questionable for spring and will likely not participate in any contact drills. Offensive lineman
Jordan Diamond
is also expected to be no-contact per Malzahn. There's been no word on the progress of wide receiver
Jaylon Denson
, who tore his patellar tendon early in the season against LSU, but he's considered doubtful for spring practice.
New faces:
Auburn will have five early enrollees this spring but none bigger than wide receiver
D'haquille Williams.
He was the nation's No. 1 junior college player, and he has the size, skill and potential to make an immediate impact for the Tigers. The next month will give him the opportunity to get acclimated, work with the quarterbacks and learn the offense. His teammate in junior college,
Derrick Moncrief
, is also expected to push for early playing time at either safety or the Star position. He's the lone newcomer on defense.
Question marks:
Auburn's defense struggled at times last season, but it still improved under first-year coordinator Ellis Johnson. The stats prove it. However, Johnson will be the first to tell you that his unit needs to play better if the Tigers want to have any chance of duplicating last year's success. It won't be easy, though, as they need to replace five starters on defense including the team leader in sacks,
Dee Ford
, and the team leader in tackles,
Chris Davis
. With plenty of depth up front and budding stars like
Montravius Adams
and
Carl Lawson
, the defensive line shouldn't be a problem, but the secondary is a different story. The coaches will have to mix and match back there before reinforcements arrive this summer.
Key battle:
When
Greg Robinson
left early for the NFL, it didn't come as a surprise -- he's a surefire top-five pick -- but it left a gaping hole at left tackle for Auburn. Malzahn said that offensive line coach J.B. Grimes will open it up to
Shon Coleman
, Robinson's backup last fall, and
Patrick Miller
, a former starter at right tackle. But there's more. The second-year coach also mentioned
Avery Young
and
Robert Leff
as possibilities to win the job. Young is the one to keep an eye on. He's entrenched as the starter at right tackle after taking over midway through the year, but there's a good chance the staff moves him over to left tackle at some point this spring, especially if neither Coleman nor Miller emerge as the favorite.
Breaking out:
On Friday, I wrote about running back
Peyton Barber
and defensive end
Elijah Daniel
(
read here
), who could both emerge this spring, but junior wide receiver
Ricardo Louis
is another player who falls in the same category. He's more established than the other two, finishing second on the team last season with 28 receptions for 325 yards, but he has yet to live up to his potential. With Williams now on campus, along with ESPN 300 wide receiver
Stanton Truitt
, it might be now or never for Louis.
Don't forget about:
On the subject of breakout performances, who can forget what
Justin Garrett
did last spring? He impressed the coaches so much so that he earned a starting role on Auburn's defense heading into the fall. The problem was that he never made a start. Multiple injuries kept him off the field and prevented him from ever truly making an impact last season. The junior accepted a medical hardship and is now eager to return this spring, finally healthy. The coaches loved his versatility at the Star position, and if he can replicate what he did last spring, he could push
Robenson Therezie
for playing time.
All eyes on:
There are plenty of talented players and key pieces on Auburn's 2014 roster, but the Tigers will go where
Nick Marshall
takes them. The senior quarterback was absent last spring after transferring from junior college and arriving in the summer, but it didn't seem to faze him during the season. He threw for 1,976 yards, rushed for 1,068 yards and combined to score 37 touchdowns. Now he's a legitimate Heisman candidate heading into the upcoming season. The scary part is that he's still improving as a passer. That's the area where the coaches want to work with him this spring, but with all of his receivers back and the additions of Williams and Truitt, it's hard to imagine that he doesn't take the next step as an all-around quarterback.
January, 9, 2014
Jan 9
4:00
PM ET
As expected, Auburn junior running back
Tre Mason
declared for the 2014 NFL draft Thursday
.
He's foregoing his final year at Auburn for a chance at millions, and no one would dare blame him for his decision.
Following a stellar season that ended with a dynamic performance in Monday's VIZIO BCS National Championship Game loss to Florida State, Mason had no choice but to leave Auburn early for a chance at the NFL.
[+] Enlarge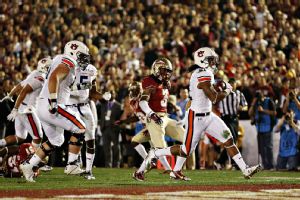 Jeff Gross/Getty ImagesAfter rushing for 1,816 yards and 23 TDs in 2013, Tre Mason had nothing left to prove at Auburn.
The truth of the matter is that Mason's stock will never be higher. That's certainly not a knock against Mason, but after leading the SEC with 1,816 yards (which broke Bo Jackson's school record) and 23 touchdowns, setting a school record for yards of total offense (2,374), and finishing sixth in the Heisman Trophy race, there really wasn't anything else for Mason to prove.
He went from 161 yards as a reserve freshman to 1,002 last year and a national championship run this season. The chances of surpassing -- let alone duplicating -- what he did in 2013 are very slim. Not with SEC defenses looking to make a major rebound in 2014 and with defensive coordinators gunning for the Tigers' little wrecking ball.
Is Mason a first-round running back? He certainly has the vision, toughness, strength, speed and elusiveness to be in the conversation, but his 5-foot-10, 205-pound frame could hold him back some. But another year of college ball won't help him grow.
Regardless of his size, Mason believes he's more than ready to take on the NFL.
"They're getting somebody that's a hard worker and willing to do whatever it takes to win," Mason said Thursday. "My mind is not just set on money. It's set on championships. I have yet to win a championship, and my mindset is not going to change. God willing, I'll win a championship at the next level."
We know about the short self life NFL running backs have, and another pounding in the SEC won't do much to help him. Sure, more coaching can always be a benefit, but what else does Mason really have to learn? He's eclipsed 1,000 yards in both a pro-style offense and a spread. He knows adversity all too well, considering he rushed for 1,002 yards in 2012 during a 3-9 season that saw his head coach get fired, only to turn around and creep up on 2,000 yards under new coach Gus Malzahn in 2013.
Does he have much more to prove against SEC defenses? Uh, no. Against Alabama's top-rated rush defense in that fateful final week of the regular season, Mason rushed for 164 yards and a touchdown, averaging 5.7 yards per carry. The next week in the SEC championship against Missouri's rush defense, which ranked 14th nationally at the time, Mason rushed for a career-high and SEC championship game-record 304 yards with four touchdowns.
In SEC play in 2013, Mason averaged 123.1 yards per game and 5.1 yards per carry. He also had 13 touchdowns.
In Monday's 34-31 loss to the Seminoles, Mason looked like the best player on the field for most of the night, rushing for 195 yards and a 37-yard touchdown that appeared to be the game-winning score with 1:19 remaining. With the way he played on Monday, you have to think that he would have finished
much
higher in the Heisman race.
Mason has been great for the Tigers, and there's no doubt that he immediately would've made them a title contender again in 2014 if he had decided to stay. But he absolutely made the right decision.
For Auburn, it's time to look to its already-loaded stable of running backs, which includes
Corey Grant
and
Cameron Artis-Payne
, who each ran for more than 600 yards and had six touchdowns this past season. Obviously, quarterback
Nick Marshall
(1,068 rushing yards) is a dangerous running threat. Auburn will take the redshirt off running back
Peyton Barber
and will have ESPN 300 back
Racean Thomas
coming in. Thomas could be a real stud for Auburn and could compete for solid playing time early.
The Tigers will certainly miss Mason, who was both a great player and person, but his family on the Plains had to know that it was his time to take the next step.
June, 26, 2013
6/26/13
12:00
PM ET
SEC media days are only three weeks away. The madness is creeping closer!
February, 4, 2013
2/04/13
9:05
AM ET
This time of year usually makes anyone associated with or interested in college football crazy. With national signing day creeping closer and closer, strange things will happen and be said until kids finally put pen to pad.

Auburn experienced quite the weekend, as players took their final visits to the Plains. The biggest -- and best -- news of all came when five-star defensive end
Carl Lawson
(Milton, Ga./Milton)
decided to keep his commitment with the Tigers

. After the coaching turnover at Auburn, Lawson, who is ranked the No. 2 player in the country, took time to reevaluate where he stood with his Auburn commitment.
But even with top schools making hard runs at him, he left his official visit to Auburn this weekend with a firm commitment to the Tigers' program.
"This will successfully end my recruitment," Lawson said on Twitter. "I am an Auburn Tiger. I haven't felt this light on my feet in a while. The weight of the world is off my shoulders. WDE."
What a major get for Gus Malzahn and his staff. He's the signature player in this class and has a chance to compete right away for good playing time this fall.
The visit by
Reuben Foster
(Auburn, Ala.), who is the No. 1 inside linebacker in the country, was a bit weirder. He took his official visit to Auburn, where he was once committed, and reportedly
left in the middle to take a visit to Alabama
, another school he was once committed to.
It also sounds like Foster had company as well, with four-star running back
Alvin Kamara
(Norcross, Ga.) joining him. Foster and Kamara both have Alabama and Georgia at the top of their recruiting lists. It's unknown where Foster really stands with Auburn, but leaving an official visit early to check out that school's biggest rival certainly isn't a good sign. It's a slap in the face, really. I wonder what it feels like for him when he sees that Auburn logo he had tattooed on his arm when he looks down or into a mirror ...
So Foster might have bolted from the Plains, but the Tigers received more good news over the weekend when four-star running back
Peyton Barber
(Milton)
flipped from Ole Miss to the Tigers

after his official visit to Auburn.
Barber is a big pickup for Malzahn and Co., considering Mike Blakely decided to transfer last week. He will now give the Tigers four scholarship running backs to work with this fall, as he joins junior college transfer
Cameron Artis-Payne
in the Tigers' 2013 class.
Here's what his father Ken Barber said about his son's decision to change his pledge from Ole Miss to Auburn:
"It's just a combination. I guess you could say it's the perfect storm, to a degree. Peyton was at Ole Miss last week, had a great visit also. After this weekend, it just really confirmed that it was the right fit for him.

"The great thing is that Peyton will have an opportunity to get a great education. Auburn University definitely offers that. Being close to home really means a lot. Family is very big for Peyton and all of us, also. It was just a great fit."