July, 12, 2012
7/12/12
3:35
PM ET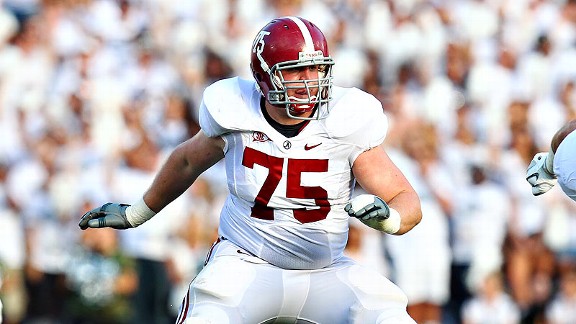 Ned Dishman/Getty ImagesA move to center shouldn't slow Alabama's Barrett Jones, last season's Outland Trophy winner.
Our preseason SEC position rankings continue with the big uglies. The
real
muscle down in the trenches. Offensive lines are crucial in every level of football, but teams seriously do live and die by the play of their offensive lines in the SEC.
Past rankings:
On to the SEC's offensive line groups:
1. Alabama:
Four starters return (with 95 combined starts), there's size, there's athleticism and this line just screams first-round NFL talent, starting with mammoth tackle
D.J. Fluker
and guard
Chance Warmack
. Reigning Outland Trophy winner
Barrett Jones
is moving to center, but with his versatility he should excel there. Add former top recruit
Cyrus Kouandjio
at left tackle and this is arguably the country's top offensive line.
2. LSU:
Like Alabama, this line is full of experience, as four starters return and so does
Josh Dworaczyk
, who was granted a sixth-year after a knee injury caused him to miss all of 2011. Some think he was LSU's best lineman before last season began. Tackles
Chris Faulk
and
Alex Hurst
are two of the best in the league and center
P.J. Lonergan
is tough to beat. Former highly-touted recruit La'El Collins should also contend for time this fall, too.
3. Texas A&M:
This could be the strength of the team. Left tackle
Luke Joeckel
is a future first-rounder, while right tackle
Jake Mathews
has All-SEC potential. Senior center
Patrick Lewis
provides a very sturdy anchor in the middle. Guards
Jarvis Harrison
and
Cedric Ogbuehi
are young, but both got good experience last year, as Harrison started five games and Ogbuehi started six. Depth could be an issue, as most reserves are younger.
4. Arkansas:
The Hogs have one of the better center-guard combos in the league in
Travis Swanson
and
Alvin Bailey
. Both have received preseason accolades and should be even better in 2012. Sophomore tackle
Brey Cook
came in with a lot of hype and if he develops in his second season, this line will be really good. Sophomore
Mitch Smothers
proved he can play just about anywhere and big left tackle
Jason Peacock
is back, but is still in the doghouse after his arrest this spring.
5. South Carolina:
Replacing Rokevious Watkins at left tackle won't be easy, but the staff feels like redshirt freshman
Brandon Shell
might be the man for the job. He's incredibly talented and athletic and improved his blocking ability during his redshirt year. Center
T.J. Johnson
and guard
A.J. Cann
are coming off of solid seasons, but the right side has questions. Right tackle
Mike Matulis
started five games last year, but missed spring while recovering from shoulder surgery and right guard
Ronald Patrick
recorded zero starts last year.
6. Tennessee:
The good news is that everyone is back. The bad news is this is the same line that was incredibly inconsistent last year in the run game, as Tennessee ranked 116th in rushing offense. However, the staff feels it has a better lineup with the emergence of sophomore
Antonio Richardson
at left tackle. Stud
Dallas Thomas
moves to left guard and
Ja'Wuan James
, who has started 25 games at right tackle, provides some good stability. The line has 99 combined starts and allowed just 18 sacks last year, but the proving ground with this group is establishing that it can come off the ball and be a better running team.
7. Missouri:
The Tigers lost three starters from last year, but that doesn't mean Mizzou is without experience. Old man
Elvis Fisher
was granted a sixth year after last year's season-ending knee injury and will provide a major boost at left tackle. And three other linemen return with starting experience from last year: tackle
Justin Britt
, who took over Fisher's spot last year, and guards
Jack Meiners
and
Travis Ruth
. One thing to keep an eye on is the line's durability. The average weight of this group is roughly 295 pounds.
8. Auburn:
Three starters return to a line that has a ton of young depth. Center
Reese Dismukes
is the anchor and one of the top centers in the league. Guard
John Sullen
and tackle
Chad Slade
combined for 21 starts last year. The staff really likes redshirt freshman
Greg Robinson
at left tackle and former top recruit
Christian Westerman
will compete for time after sitting out last year. Guard
Eric Mack
made strides this spring before he was shot near the hip during the tragic shooting that occurred near Auburn's campus in June.
9. Mississippi State:
Injuries and constant reshuffling along the line caused the Bulldogs' offense to struggle for most of last season. Three starters are gone, but junior guard
Gabe Jackson
, who is one of the league's best, is back and so is right guard
Tobias Smith
. If Smith, who suffered a season-ending knee injury early last year, is healthy, this line should be very strong along the interior.
Dillon Day
started six games last year and returns at center, while junior college transfers Charles Siddoway and Dylan Holley are pushing for time.
10. Florida:
The Gators return four starters to a line that struggled all last season. Will Muschamp said he saw vast improvement up front this spring, but tackles
Xavier Nixon
and
Matt Patchan
must show more consistency and leadership.
Jonotthan Harrison
is solid at center and guard
Jon Halapio
has improved each year. Sophomore tackle
Chaz Green
and impressive early enrollee D.J. Humphries will compete for time as well.
[+] Enlarge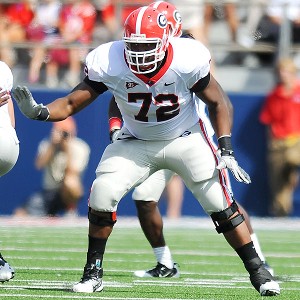 Radi Nabulsi/ESPN.com Georgia may have O-line questions, but likely none concerning junior Kenarious Gates.
11. Georgia:
Yet again the Bulldogs have questions up front. Junior
Kenarious Gates
is very versatile and athletic and is Georgia's most reliable lineman. The staff was pleased with guards
Dallas Lee
and
Chris Burnette
coming out of spring, but a lot is riding on sophomore
David Andrews
making it at center. If he has to move, Burnette will have to move to center and more reshuffling will come. Inexperience is worrisome and true freshman John Theus should get plenty of chances to take one of the tackle spots.
12. Vanderbilt:
Thanks to offensive line coach Herb Hand, this group was one of the most improved in the league last year. He'll have a tall task again with a lot of youth and inexperience. Left tackle
Wesley Johnson
is one of the most underrated linemen out there, while
Ryan Seymour
has been solid up front. The right side has issues and the depth is a concern. Injuries made it tough for this line to get through spring practice, and six freshmen are coming in to compete for spots during fall camp.
13. Kentucky:
The Wildcats lost three starters from a line that struggled throughout 2011, but vets
Larry Warford
and
Matt Smith
are back to provide a solid center-guard combo. However, they'll be asked to help a cluster of youngsters. The left side is gone and will be replaced by youngsters
Zach West
(redshirt freshman) and
Darrian Miller
(sophomore). Right tackle
Kevin Mitchell
started just one game last year. Any sort of injury up front would be devastating for the Cats.
14. Ole Miss:
This is arguably the Rebels' weakest position. Hugh Freeze wasn't thrilled with the line this spring, continuing to say it didn't handle the offense's tempo well. Guard
Matt Hall
, who had double-digit starts last year, left the team this spring. Center
Evan Swindall
was Ole Miss' most consistent lineman this spring, while senior
A.J. Hawkins
moved to guard. Comfort was an issue for everyone, and the tackle spots were filled this spring by
Emmanuel McCray
, who missed all of last season, and JUCO transfer Pierce Burton.
May, 16, 2012
5/16/12
11:59
AM ET
OXFORD, Miss. -- Ole Miss' football program is stuck in the wilderness -- a scary place, filled with a plethora of overgrown obstacles.
When coach Hugh Freeze arrived last December, he says the jungle was as thick as ever and it didn't look like his new team was ready to cut its way out.
[+] Enlarge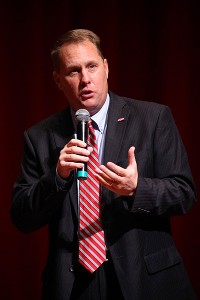 Shelby Daniel/Icon SMINew coach Hugh Freeze has set out an agenda for all Ole Miss players: "winning the day."
That was until Freeze offered a solution: his "Journey." He told players that he didn't know how long it would take for them to make it out or find some sort of salvation, but if they followed him, they'd find the light.
"The reasonable expectation for us in Year 1 is for us to compete passionately for this university for 60 minutes," Freeze said. "And whatever that scoreboard says at the end of that 60 minutes we'll have to live with."
The Rebels will have to plod through this quagmire, but Freeze insists patience is the key to turning around a program that is less than three years removed from a second straight Cotton Bowl victory.
"It's well-documented that we don't have the talent level that people in the SEC West have right now at a lot of spots, at least not the depth," Freeze said. "That's not fixed overnight."
And it's just one of the handful of problems Freeze is looking to fix, as he replaces Houston Nutt, who was once heralded as Ole Miss' greatest hire. Academic and discipline issues are also on the agenda. As Freeze puts it, he has "a few mountains to climb" before he can shape things up, but since the journey began in December, progress has been made.
Freeze said probably 65-70 percent of the players have bought in, which might be a conservative number. It's better than what he expected, considering the trust issues and players being set in their old ways of doing "what they've wanted to do for themselves for so long."
"They think they like it the way they had it, even though, if they're intelligent enough, they look at the results," he said. "You're will is something that's hard to change once you get set."
Freeze put the Rebels' abysmal 6-18 two-year record and 14 straight SEC losses front and center as motivation, he made academics more of a priority, looked to adjust Ole Miss' lenient drug policy, and created accountability groups.
Everything has helped, but the accountability groups really took off.
They were created to show players how much their actions affected everyone. Miss class? Your group runs at 5 a.m. Miss tutoring? Group run; 5 a.m. Late for
anything
? Welcome the sun with some running.
Rising junior linebacker
Mike Marry
said his group never ran – he made sure of it – but he saw other groups running as much as five times during a two-week span. The running cut down as the spring went on and there was hardly any toward the end.
"That's what I like about him," Marry said of Freeze, "he doesn't let little things slide.
"The last coaches, they let certain things slide. Certain things were small, but eventually they start building up and turn into big things and people started feeling like they could get away with more and more things. Since he's not letting little things slide, you're seeing the team come together closer and closer and there are fewer problems."
Freeze said eliminating off-field trouble is top priority. That's why he's so nervous about leaving his players in their own hands during the true offseason. Progress was made, but he worries guys will fall back on old habits when less supervised.
To ease his mind, Freeze turns to recruiting. With Ole Miss so thin at defensive tackle, offensive line, running back and safety, and needing walk-ons to fill three full teams in practice (on both sides), Freeze is stacking recruiting on recruiting.
He had some early success in his first class, grabbing three Under Armour All-Americans – DT
Issac Gross
, DE Channing Ware and DB
Trae Elston
-- and two junior college All-Americans – QB
Bo Wallace
and OT
Pierce Burton
– and his roll has continued with nine commitments in hand for 2013.
Recruiting at Ole Miss has hardly ever been easy with schools like Alabama, LSU, Auburn and Georgia in such close proximity, but Freeze believes he'll make it work. And he'll do it by going after the top prospects, not by getting lax and offering whomever to fill space.
"We can make it easy in recruiting, now, and I think that's what's happened," he said.
"I know you can recruit here. I've been here before when we did it and when we had 20 kids drafted in the NFL in those three classes that we brought in.
"Is it easy? No, but it is doable."
Fixing Ole Miss is also doable, he said. It's going to take a lot of work and a lot of time, but it requires patience. Freeze's mantra is "Winning the day," not winning the week.
"The one thing that we have that's constant and equal [to opponents] is time," Freeze said. "So, what are we doing to prepare for that end goal -- whatever that is -- today?
"We're a fragile state of mind right now and when you start talking about things that are so far out there, I don't think that will be beneficial to us. Let's just talk about today."
Freeze might be preaching about today, but you can sense the confidence growing inside players, especially wide receiver
Donte Moncrief
, who took things a step further.
"Everybody keeps putting us under the radar, but once we learn this offense and the defense keeps playing like it's playing, we're going to shock a lot of teams," he said.
What a journey that'd be.
April, 26, 2012
4/26/12
2:00
PM ET
If new Ole Miss coach Hugh Freeze is going to get his spread offense off the ground in Oxford, he's going to have to see a lot of positive changes from his offensive line.
What entered the spring as the Rebels' most experienced unit left as arguably its weakest, as it struggled to transition to Freeze's new offense.
"The tempo of which we want to do it with caused some problems and we still have a ways to go in that adjustment period," Freeze said of his offensive line Tuesday.
[+] Enlarge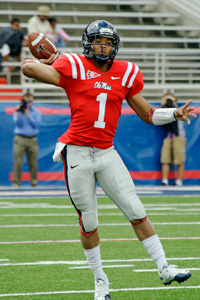 AP Photo/Rogelio V. SolisRandall Mackey was a bright spot this spring for Ole Miss, contributing at quarterback, running back and as a receiver.
Ole Miss lost potential first-round pick
Bobby Massie
and three-year starter
Bradley Sowell
before spring, but watched as its returning starters struggled throughout the 15 spring practices.
Guard
Matt Hall
, who started 11 games at right guard last season, was missing for the first part of the spring before he eventually left the team. Fellow guard
Patrick Junen
, who started six games at left guard, ran with the first team at times, but continued to struggle picking up Freeze's offense throughout spring.
Rising senior
A.J. Hawkins
, who played in and started five games at center last year, took reps at guard, while rising junior center
Evan Swindall
(seven starts) was able to stay at his past position and might have been the Rebels' most consistent lineman.
Rising sophomore
Aaron Morris
(five starts) shined at times, while the tackle spots were filled by redshirt junior
Emmanuel McCray
, who missed all of last season but played in 12 games in 2010, and junior college transfer Pierce Burton.
There were bright spots here and there, but overall, Ole Miss' offensive line didn't excel. There are a lot of career games along the front five, but it'll take more than experience to get this group going before the season starts.
While Freeze was down on his offensive line, he was impressed by a couple of skill players this spring. Freeze said rising junior wide receiver
Ja-Mes Logan
had "the most consistent spring at wide receiver." Logan only caught 20 passes for 274 yards and zero touchdowns last season, but he's a big body who the staff hopes can be used as a deep threat in this offense.
He caught three passes for 88 yards and two touchdowns in the spring game.
Freeze was also pleased with how
Randall Mackey
performed, even with all the moving around he did. After being a starting quarterback for the Rebels last season, Mackey moved to wide receiver. As one of Ole Miss' best pure athletes, he took reps in the slot, as a wildcat quarterback and as a running back.
In Ole Miss' spring game, Mackey completed two passes -- both touchdowns -- for 44 yards, caught a pass for 4 yards, and carried the ball twice for 16 yards.
"He's a talented kid," Freeze said, "and I expect him to give us an added boost to the offense from playing all the many positions that he'll play."