October, 26, 2012
10/26/12
4:30
PM ET
It's time to answer your questions before we get to the weekend:
Kirk in Little Rock, Ark., writes:
If Ole Miss can get to a bowl game this year does that warrant consideration for Hugh Freeze as the SEC coach of the Year? I mean honestly who thought Ole Miss had a shot at a bowl before the season? I can buy Will Muschamp if Florida keeps it up. I can buy Nick Saban if they roll undefeated. But if Ole Miss wins 2/3 between Arkansas, Vandy and Mississippi State and become bowl eligible I believe that is a good coaching job with the academic issues he started with and the lack of depth he has.
Edward Aschoff:
I think he definitely deserves consideration. If he takes Ole Miss to a bowl game, after this team won just six games over the past two seasons, I think Freeze will be right near the top of the list. That team had major attitude issues last season and entered this season with tons of depth issues across the board. Ole Miss has won the games it was supposed to win and has played tough in all of its games, and you didn't see that last season. This team quit in games last season, but it learned how to play for four quarters under Freeze. No one
really
expected the Rebels to be in the thick of the bowl race in Freeze's first year, but this team has really surprised people. Plus, that offense has really taken off. Freeze has done a heck of a job already with the Rebels. Kevin Sumlin at Texas A&M also deserves some love in this department, considering most of us thought that team would struggle in the SEC with all those missing stars from last season.
---
Jon in Chattanooga, Tenn., writes:
This Tennessee coaching situation is driving me crazy! I like Derek Dooley as a person and appreciate him trying to do what is right about Lame left us. But it just doesn't look like he can get us going anywhere. Do you think Tennessee is really in the running to get Jon Gruden? Afraid to get my hopes up.....what do you honestly think? And thanks for reading this.
Edward Aschoff:
If
Tennessee decides to make a coaching change, I think Gruden has to be at the top of athletic director Dave Hart's list. I think he'd fit in well in the SEC, and could be a heck of a recruiter with his personality. Gruden has ties to Tennessee -- he met his wife while working with Tennessee's staff -- and he knows East Tennessee very well. He's very close to that area, and I have no doubt he would be interested in the job if it came open. Now, he could be pretty expensive to bring in, and with Tennessee's financial issues, plus Dooley's buyout, it could be tough to swing it. But if there's a chance of being able to afford Gruden, and Hart believes it's best to sever ties with the current coaching staff, then I think Tennessee would go after Gruden. But Dooley isn't out the door. He could still guide this team to eight wins, and if he does that, he should be back in Knoxville next year.
---
Robert in Oklahoma City, writes:
My question is do you think
Zach Mettenberger
will start playing to the high expectation that was placed on him or will Mettenberger be another one of those high profile QB's that did not take advantage of the situation?
Edward Aschoff:
He certainly hasn't looked like the quarterback that we all expected, but he still has a long way to go before the season is over. He just has to regain the confidence he had earlier in the season. The zip on the ball that he showed against Washington just hasn't been there. He looks like he's lost confidence in his deep throws and he just hasn't stood very tall in the pocket consistently. Now, he did look better against Texas A&M, so that's a good sign. He needs his wide receivers to step up as well. That group has had a lot of drops this season, which haven't helped him. This bye week should help him regroup, and maybe it will help the coaches simplify things on offense a little. He has an extremely tough matchup with Alabama's defense coming up, so he can't afford to be timid or make mistakes in that one. He could either take some major steps forward or go in reverse next weekend.
---
Damontre Moore in College Station, Texas, writes:
I have asked both of you this and I haven't heard anything from y'all. Why is Clowney getting all the love. I have outplayed him all year long and I don't disappear in big games.
Edward Aschoff:
I'm going to go out on a limb and say this isn't the real Damontre Moore. Just a hunch. Seriously, I think it's because
Jadeveon Clowney
is one of the most dominant defensive players in all of college football. You have to double-team him or he's going to punish your quarterback. He can line up all over, and when his motor is going, it's tough to stop him. There are coaches in this league who think he's the SEC's best player, regardless of position. Now, Moore has been great. It will definitely come down to Moore and Clowney for the SEC sack title this season, but Clowney is just more versatile, in my opinion. Moore is going to make lot of money at the next level, but I just don't think he's the physical specimen that Clowney is. Few players really are, and I think that's why he's received more love.
---
Will in Cleveland writes:
Given the fact that South Carolina has shot themselves in the foot with their play the last two Saturdays, what is the best case scenario for the Gamecocks for the rest of the season? Is there any national respect left for this club?
Edward Aschoff:
There is national respect left for this group, and if you listen to ESPN.com colleague/BCS guru Brad Edwards, the Gamecocks could still make it to a BCS bowl game. Now, they obviously need help, like Florida losing at least two more games. Even if the Gators win Saturday against Georgia, if they were to lose to Florida State at the end of the regular season and then lose to the SEC West champ (presumably Alabama) the Gators might fall out of contention for a BCS bid. If South Carolina wins out, the Gamecocks could be right there to take that BCS spot away from Florida. The SEC championship might not be there, but a BCS bowl game would look great. There is still a ton for the Gamecocks to play for this season.
October, 26, 2012
10/26/12
2:00
PM ET
Few players in the SEC have made an impact both on and off the field the way senior running back
Zac Stacy
has at Vanderbilt.
Last week, he became the Commodores' all-time leading rusher in their 17-13 win over Auburn and was given a victory ride afterward by his offensive linemen.
Stacy, who's third in the SEC in rushing with 668 yards, has a chance to put together his second straight 1,000-yard season. Over the past decade, only eight SEC players have accomplished that feat. Among them: Darren McFadden, Felix Jones, Carnell Williams and Knowshon Moreno.
[+] Enlarge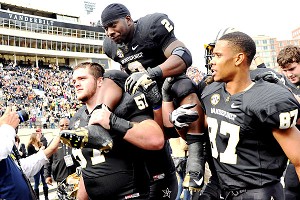 Frederick Breedon/Getty ImagesZac Stacy's 2,670 rushing yards is now the career record at Vanderbilt.
So Stacy would join some elite company if he can grind out 332 more yards this season.
Off the field, he's been an inspiration to a number of people, most notably his younger brother, Justin, who has Down syndrome. Stacy is majoring in special education and volunteers at Whitsitt Elementary School in Nashville as a student teacher. He works primarily with kids who are dealing with learning disabilities and/or behavioral issues.
We had a chance to catch up with Stacy earlier this week for a Q&A:
What went through your mind after you broke the record last week?
Zac Stacy:
I really didn't know I was that close to getting the record. I was just trying to get a 'W' and wanted to put my team in the best position to do that. We've faced some adversity this year, but we've gotten through it. I'm honored to break the record, but it's a reflection of the offensive line and a reflection of these coaches putting their trust in me to go out and get the job done.
How far have you come as a running back?
ZS:
I sort of got a head start playing running back. Growing up, I wasn't a big fan of playing football. I loved watching it, but I was more of a baseball guy. Baseball was a huge deal for me. But when I started playing football in Pee Wee, I always played running back. I didn't play anything else and was used to having the ball in my hands. I was still playing on raw talent when I got here, but coach [James] Franklin and his staff have done a great job helping me become a better student of the game. It's helped me play faster and a whole lot smarter.
Who are some of the running backs you grew up admiring?
ZS:
Being from Alabama, I idolized Kenny Irons when he was at Auburn and also liked to watch Knowshon Moreno at Georgia. Barry Sanders was one of my favorites, and even now, I like to watch Ray Rice.
What position did you play in baseball?
ZS:
I was a second baseman and actually had some offers from small schools and community colleges to come play baseball.
Given your 1,193-yard season a year ago, how much more conscious of you have defenses been this season?
ZS:
I knew defenses would load the box and key on our running game this year. But that's where
Jordan Matthews
has emerged and
Chris Boyd
has emerged. Whether I get five carries or 25 carries, I just want to take advantage of my opportunities every time I touch the ball and help my team win on Saturdays.
What's your day like when you're student teaching?
ZS:
I'm in the resource room with second , third and fourth-graders. Kids come in, and I help them with their reading or their math. It's mostly kids with learning disabilities. That's what I want to do, work with kids who have learning disabilities, behavioral problems or some type of language impairment. I've learned so much about the needs of those kids just being around my brother.
Justin's a fixture at all of your games with his No. 2 jersey. Talk about your relationship with him and what he's meant to you.
ZS:
The best feeling in the world after our games, whether we win or lose, is seeing him with that smile on his face and getting a big brotherly hug from him. He's taught me so many things about life and has helped me put into perspective what's important. Life's not about sports or football. It's about love and family and caring for each other.
It sounds like Justin has become quite the celebrity there in your hometown of Centreville, Ala. Who's a bigger star there -- you or him?
ZS:
I get phone calls from all my friends back home telling me how they all love him and how popular he is. He's at the high school there now. I got a call from my mom two weeks ago was telling me he got asked to the homecoming dance. I didn't even get asked to the homecoming dance. It's just amazing to see how he's touched so many people. I'm proud to be his brother.