March, 26, 2014
3/26/14
12:00
PM ET
Spring storylines abound this week around the SEC. Let's take a quick spin around the league to see what's happening.
October, 11, 2013
10/11/13
11:30
AM ET
ATHENS, Ga. -- Say this much for
Aaron Murray
, he has had to learn how to adapt to personnel changes on the fly throughout his college career.
Since taking over as Georgia's quarterback in 2010, there has been a seemingly endless parade of skill players in and out of the Bulldogs' offensive lineup -- from A.J. Green's four-game absence to open Murray's freshman season, to regular tailback shuffling in 2011, to debilitating injuries at receiver last season, to considerable upheaval over the last two weeks of this season.
[+] Enlarge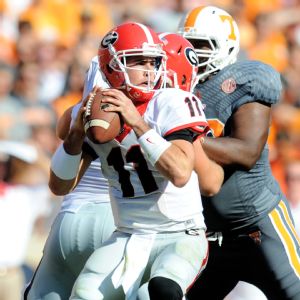 Randy Sartin/USA TODAY SportsAaron Murray and Georgia have adapted to lineup changes in the past and they'll have to do it again if the No. 7 Dawgs hope to beat No. 25 Missouri.
"He's used to it, then," Bulldogs offensive coordinator Mike Bobo deadpanned.
And he needs to be.
In Saturday's noon ET game against No. 25 Missouri (5-0, 1-0 SEC) Murray must deal with his biggest personnel challenge to date. With Georgia already without
Malcolm Mitchell
, who tore his ACL in the opener against Clemson, the Bulldogs lost two more key wideouts,
Justin Scott-Wesley
and
Michael Bennett
, last week against Tennessee. Tailback
Keith Marshall
also went down with a season-ending knee injury last Saturday, joining fellow star tailback
Todd Gurley
on the sidelines as the Bulldogs' high-scoring offense started to sputter without so many key pieces.
"I would say it affected not only the offense, but the team," fullback
Quayvon Hicks
said. "It was players that are not only playmakers on the field, but great teammates. Losing them and knowing that they're not going to be out there, it's something that you've got to just suck it up and keep going."
Murray and No. 7 Georgia (4-1, 3-0) barely salvaged the game, forcing overtime with a last-minute touchdown and winning 34-31 with a field goal in the extra session. The lone constant in Georgia's lineup over the last three-plus seasons, Murray's experience adjusting to the personnel around him might have been the difference in the outcome.
"You never really can truly practice everything that might happen in a game," Bobo said. "So I think it's been a lot of experience for Aaron, obviously, to have to go through that and the game plan altered in the middle of a game. And then obviously myself with calling plays. You've just got to adjust. That's football, and I think any time you've got experience to draw back from instead of maybe something that you practiced, it's always beneficial."
Injuries will force the Bulldogs to do some major adjusting over at least the next couple of weeks. Georgia coach Mark Richt said Gurley remains doubtful to play against Missouri and Bennett is probably out until at least the Nov. 2 game against Florida.
That leaves Bulldogs with little to no experience suddenly in the mix for playing time. Richt has mentioned walk-ons Kenny Towns and
Michael Erdman
as possible fill-ins at receiver, along with redshirt freshman
Blake Tibbs
, who has yet to appear in a game.
The running game could once again be in the hands of a group of true freshmen if Gurley is unable to go. It might even mean that
A.J. Turman
-- a clear redshirt candidate before Marshall's injury made that outcome less of a certainty -- joins fellow freshmen
J.J. Green
and
Brendan Douglas
in the backfield.
"[Turman] seems to be excited about getting reps with the ones or twos or whatever reps that he's getting right now," Richt said. "He doesn't look like a guy who's bummed out about an opportunity, a possible opportunity. He seems to be a guy who's kind of anxious for it, so that helps."
Georgia's running game could be a key factor in Saturday's game. The Bulldogs' still-developing defense will have its hands full with a Missouri offense that is one of only five in the country averaging at least 255 yards on the ground and 285 through the air. The UGA backs' ability to extend drives and keep the defense on the sideline will almost certainly be of major importance, and last year's game against the Tigers was not especially encouraging in that department.
Missouri actually outgained Georgia 371 yards to 355 last year and limited the Bulldogs' running game to just 113 yards -- 44 of which came on a single Gurley run. Georgia needs a more productive performance from Green, Douglas and the other backs if Gurley isn't there to power the Bulldogs' running game.
Otherwise, Georgia will lean more heavily on the injury-depleted receiving corps led by
Chris Conley
-- who would have redshirted in 2011 if not for injuries that led to his debut in the fourth game of that season.
In other words, Murray is far from the only offensive player on the roster who had to adapt on the fly because of personnel changes.
"It's definitely caused us to be mature," Conley said. "And for guys to learn how to play in that situation, it's something that you're not comfortable doing naturally. Over the last couple of years, we've had multiple guys who had to become comfortable doing that -- stepping up, learning things on the fly, going in on a Saturday like they've been doing it all along."
Georgia needs that trend to continue Saturday with some of the new faces in the lineup and old faces who will attempt new things. If they can handle this adjustment as capably as they have the others over the last couple of seasons, the Bulldogs still might be able to ride out their recent rash of debilitating injuries.
October, 9, 2013
10/09/13
7:00
AM ET
ATHENS, Ga. -- One of the prevailing images from last Saturday's win against Tennessee was Georgia's players dogpiling on top of
Marshall Morgan
to celebrate his game-winning 42-yard field goal in overtime.
It capped a day where the sophomore claimed the SEC's special teams player of the week award for the second straight week after booting the longest field goal in Neyland Stadium history, a 56-yarder in the first quarter, and the game-winner in OT. But it wasn't much fun to be in Morgan's position at the time.
[+] Enlarge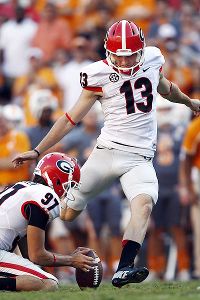 AP Photo/Wade PayneGeorgia kicker Marshall Morgan kicked a 56-yard field goal against Tennessee, the longest on the road in school history.
"I was trying to get them off me," said Morgan, whose Bulldogs (4-1, 3-0 SEC) host Missouri (5-0, 1-0) on Saturday. "That's a lot of weight. I've got asthma."
Otherwise, the Bulldogs' special-teams effort was memorable for the wrong reasons, continuing what has been a season-long trend.
Collin Barber
had a punt blocked for a touchdown -- the second time that has happened this season -- and
Blake Sailors
received a five-yard penalty for defensive delay of game after Georgia forced a third-quarter punt, giving Tennessee a fourth-and-1 that prompted the Volunteers to instead go for a first down.
Vols running back
Rajion Neal
then broke a 43-yard run that set up his game-tying touchdown run when Georgia's defense could have been off the field if not for the rarely-seen penalty.
"If you make a movement that it looks like you're trying to get somebody to jump offsides, if they jump offsides, it's on the defense. It's on us in that case," Georgia coach Mark Richt said. "I've never really seen that happen before and it was pretty crucial, obviously. We had a great stop and they were in a position to punt. I think it was a fourth-and-1 or less and they get the long run. A lot of bad plays happened after that point, and we learned a lesson. Can't do it."
Quayvon Hicks
-- one of three protectors in Georgia's punt shield lineup along with
Arthur Lynch
and
Josh Dawson
-- said there was a miscommunication on the play and accepted blame for the Tennessee block.
"I put that all on me," Hicks said. "I would say it was a miscommunication, but it was something that could have been prevented. It will be something that we're really working on, especially me as a player, to make sure that it doesn't happen in the future."
Hicks could have saved the day if he had blocked
Jalen Reeves-Maybin
before he darted through to deflect Barber's punt, but front-line blocker
Leonard Floyd
also barely got a hand on Reeves-Maybin.
Their collective whiff allowed the Tennessee rusher to break through, and Lynch said the decibel level in Neyland Stadium played a direct role in the miscommunication.
"It's so much easier going out and practicing and doing it, even if it's full-speed practice because you kind of have that communication barrier and it really was a lot louder than I think a lot of people thought," Lynch said. "
Lucas Redd
looked at me and was like, 'I had to read your lips.' That was one of the things that you just can't have those types of setbacks. I think we've cleaned it up."
A skeptic might point out that Georgia has vowed to clean up its special-teams errors several times recently, only to see another mistake lead to an opponent touchdown. Asked what he thinks the team needs to do to remedy those miscues, Hicks was direct in his response.
"It's really not what we think, it's what we're going to do," Hicks said. "Thinking, that's a part of football that really doesn't matter. I think Coach can only do so much. I know we're a very close team, so we're going to do what we have to do this week to make sure that not only in the Missouri game, but here on out, that that doesn't happen anymore. It's just something that could have been prevented. It could have cost us the game."
That seems to be the message that Richt is imparting to his club, as well. Georgia's errors in the kicking game are simply a quality-control issue, where a lack of attention to detail has allowed opponents to steal easy points.
A shaky snap might have cost Georgia the game in its lone loss. The Bulldogs are fortunate that their ensuing mistakes weren't so costly, but they know their luck will likely run out if they don't fix the problems -- and keep them fixed.
"Us as coaches, we've got to do a better job of simulating what's going to happen in the game and coaching and teaching properly where these guys can be more dependable," Richt said. "So it's a two-way street. Coaches gotta coach better, for sure, and the players have got to take on their responsibilities and take care of business.
"That's the way it is in life, so we're learning the hard way, and just by the grace of God the two times we had blocked punts, we still won the game. But the margin for error is just getting slimmer and slimmer."
September, 17, 2013
9/17/13
7:00
AM ET
ATHENS, Ga. -- As career debuts go, few can match
Brendan Douglas
in terms of the pressure of the moment.
The Georgia freshman had not touched the ball yet in his first college game -- he missed the opener against Clemson with an injury -- when running backs coach Bryan McClendon sent him in to spell
Todd Gurley
with the Bulldogs attempting to protect a 41-30 lead late in the fourth quarter against South Carolina. And all he did was break through a hole on his first career carry and flatten Gamecocks safety
Brison Williams
to pick up 17 yards right in front of his team's sideline, where his teammates celebrated like Douglas just scored a touchdown.
[+] Enlarge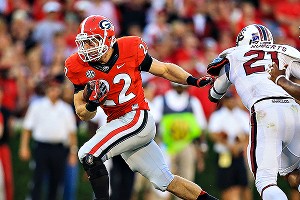 Daniel Shirey/USA TODAY SportsBrendan Douglas made the most of his chance against South Carolina.
"It was crazy. That's what he's been doing since he got here," fullback
Quayvon Hicks
said.
Gurley agreed: "That dude is a beast. If only you would have seen him in camp."
Douglas generated considerable buzz during Georgia's August practices with his physical running style, but the injury before the Clemson game and the stakes in the following week's game against South Carolina -- stars Gurley and
Keith Marshall
combined for 40 touches, 252 yards and three touchdowns – meant an opportunity had not arisen for Douglas to enter the pivotal SEC East game.
But with Marshall out of the game with a knee injury and Gurley needing a breather, Georgia's coaches turned to the freshman midway through what would become the game's final possession. The Bulldogs took over at their own 1 with 8:28 left, but hammered away at the Gamecocks' defensive front to drive 81 yards and use up all of the remaining time on the clock.
The lead hammer? Douglas, who took his first carry with 5:10 remaining and handled the ball on five of the game's final eight plays.
"If Keith was not hurt, he probably wouldn't have gotten that opportunity, but he got the opportunity and he took great advantage of it," Georgia coach Mark Richt said. "Every time we've seen him scrimmage, we saw what you guys saw -- a really powerful runner who's got good ball security and some good vision. So like I've been saying, he's a very legitimate Southeastern Conference tailback in my opinion, and I think he's going to have a good career for us before it's all over."
Even Douglas was surprised, however, when McClendon called his name for the first time.
"He called me over and I was a little surprised, I guess, but I was ready to go," Douglas told his hometown Augusta Chronicle in the tunnel outside the locker room following the game.
UGA has not cleared Douglas to participate in media sessions since preseason practice, but his coaches and teammates are more than willing to praise his talents.
For instance, Richt and offensive coordinator Mike Bobo said last week that they already view Douglas as one of the team's top short-yardage backs.
"We feel confident in him running in those situations," Bobo said. "He does a nice job. He's hard to tackle, low to the ground, good balance and has exhibited good ball security here in camp."
He certainly proved that on his first career carry, when he lowered his shoulder to knock Williams to the ground before slamming into other South Carolina defenders near the Georgia bench.
Teammates like
Corey Moore
,
Amarlo Herrera
and
Hutson Mason
led the cheers from the sidelines as dozens of Bulldogs ran toward Douglas to celebrate the run that helped nail down an enormous win.
One of the first to reach him was tight end
Arthur Lynch
, who lifted Douglas into the air during the party and who expects that to be only the first of many such celebrations involving the freshman tailback.
"He was a guy that was about to go to Georgia Tech, so thank God we got him here," Lynch said. "He's a hard-nosed kid, he's deceivingly fast, he holds the ball high and tight, which is really what you want out of a running back.
"He's got that attribute that Todd has: you can't bring him down with one guy alone and he has very good balance, so I think he's very good to have in our backfield."
September, 7, 2013
9/07/13
11:03
PM ET
ATHENS, Ga. -- The shoe was finally on the other foot Saturday night as the final seconds ticked off in
No. 11 Georgia's 41-30 win against No. 6 South Carolina
.
After three straight years of backbreaking blunders, key special-teams mistakes and offensive inefficiency, quarterback
Aaron Murray
-- who delivered perhaps the most impressive performance of his career -- and the Bulldogs gained redemption in the first big SEC East game of the season.
[+] Enlarge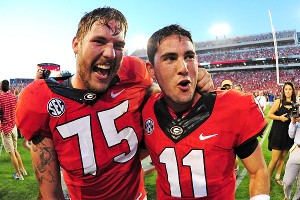 Scott Cunningham/Getty ImagesGeorgia quarterback Aaron Murray (right) passed for 309 yards on 17-of-23 passing against South Carolina.
"For the whole team, it feels great," Murray said. "All week long, everybody wanted to talk about the head coach and the QB, but it's a team game. We win and lose as a team. Coach [Mark] Richt and I didn't win tonight. The
Georgia Bulldogs
did, and I'm so proud of the way all the guys played."
Twice in the last three years -- the other time it wasn't necessary as South Carolina won with a blowout -- the Gamecocks rode workhorse tailback
Marcus Lattimore
with run after pounding run in the fourth quarter, mounting long drives that used up the clock and secured huge division victories.
This time it was Georgia protecting a narrow lead when the Bulldogs took over at their own 1-yard line with 8:28 left on the clock. Thirteen plays -- including 12 runs -- and 81 yards later, South Carolina was out of time as the trio of
Todd Gurley
,
Brendan Douglas
and
Quayvon Hicks
teamed with a resurgent offensive line to pound South Carolina's defense into submission.
"When we got the ball on the half-yard line with eight minutes left, we knew that if we can control the clock, if we can keep the ball on the ground and just keep pushing it down their throat that we can win this game and close the door," right guard
Chris Burnette
said. "That's the moments that you live for as an offensive lineman."
Center
David Andrews
took it a step further, saying, "I think we made them quit tonight" in running 76 plays for 536 yards, including 53 for 227 on the ground.
In last season's 35-7 loss at South Carolina, Georgia's offense never got on track. Murray passed for a career-low 109 yards and a previously explosive offense delivered just four plays that covered at least 15 yards. The Bulldogs had four in the first quarter alone on Saturday, and finished the day with 11 that covered 15-plus -- none bigger than an 85-yard touchdown pass to
Justin Scott-Wesley
in the fourth quarter that gave the Bulldogs a 41-30 lead with 13 minutes to play.
Murray rolled left away from
Jadeveon Clowney
after his protection broke down and found a wide-open Scott-Wesley behind South Carolina's
Ahmad Christian
and
T.J. Gurley
down the left sideline. Once the UGA track sprinter -- and first-time starter at receiver -- hauled in Murray's pass, nobody was going to catch him.
"Murray got some pressure and I just stayed on the sideline uncovered and Murray got the ball out, great pass, and the rest is history," said Scott-Wesley, who totaled 116 yards on three catches.
Clowney and South Carolina's defense seemed to intimidate Murray & Co. last season in Columbia, but that was far from the case on Saturday. Clowney, South Carolina's star defensive end, managed a sack and two tackles for a loss, but he was rarely a big factor for the Gamecocks.
According to ESPN Stats & Info
, Georgia averaged 8.3 yards per play in the 59 plays that Clowney was on the field, while the Bulldogs averaged 2.8 per play on the 17 downs where he was on the sideline.
Meanwhile, Murray was a nearly flawless 17-for-23 for 309 yards and four touchdowns -- and most importantly, no turnovers -- while facing a defense that had previously held him to the lowest career Total QBR (46.0) of any division opponent.
Gurley and his backfield mates certainly eased Murray's burden on Saturday. Bulldogs offensive coordinator Mike Bobo lamented his abandoning the running game early in last season's loss when South Carolina built a big early lead. That would not be the case in the rematch, with Gurley and
Keith Marshall
accounting for 252 yards and three touchdowns after managing just 81 rushing yards on 25 combined carries against the Gamecocks last season.
"The line, man, they kept telling me this week, 'You need 25 or more,' " said Gurley, who rushed for 132 yards on 30 carries and scored on both the ground and through the air. "I was ready to give them 25 and we came away with the victory."
Georgia enters its first bye week of the season back on solid ground after an uneven performance last week at Clemson gave the Bulldogs their first loss of the season. They have two weeks until North Texas visits Athens, with SEC power LSU waiting the following week to complete a demanding September schedule.
The Bulldogs knew they couldn't afford to open the season 0-2 if they were to maintain reasonable hopes of contending for SEC and perhaps BCS championships. Thanks to the past failings against South Carolina that they exorcised on Saturday, they won't have to spend the next two weeks stewing over another lost opportunity.
"That's a hypothetical that I'm glad didn't happen. It would be tough," Burnette admitted. "We're just excited by the fact that all our goals are still on the table. If we win the next game and the next game and the next game, we can make it to Pasadena."
September, 1, 2013
9/01/13
3:20
AM ET
CLEMSON, S.C. -- Although it's easy to point to a botched field goal try as the difference in No. 5 Georgia's 38-35 loss to No. 8 Clemson on Saturday, the Bulldogs know there was more to it than that.
"I thought we did some good things and we did some things to get you beat," said Georgia coach Mark Richt, whose team has no time to lick its wounds with a game against No. 6 South Carolina on tap next Saturday. "We'll find out how good we are next week."
There were penalties from the Bulldogs on Saturday. One of the nation's most-penalized teams over the last several years, Georgia had nine for 84 lost yards against Clemson -- including two costly infractions in the fourth quarter that short-circuited the Bulldogs' comeback attempt.
There were two turnovers by quarterback
Aaron Murray
-- a fumble and an interception -- in the second quarter that took the wind out of the Georgia offense's sails after accounting for 218 yards and two touchdowns in the first quarter alone.
And there was a simple lack of execution at some crucial junctures that altered a game the Bulldogs certainly could have won.
"We did a lot of good things tonight, but there were a lot of things that we didn't do so well -- some first-game mistakes and they ended up costing us there in the game," said Georgia offensive coordinator Mike Bobo, whose team accumulated 545 yards of total offense, but surrendered four sacks and two turnovers. "But I just told the guys we ran out of time there at the end and it hurts, but we've got to look at the tape, we've got to correct and we've got to get better."
The sequence that led to the botched field goal was particularly costly. Georgia earned first-and-goal at the Clemson 5 after a 35-yard completion to
Chris Conley
late in the third quarter. The Bulldogs then ran three straight running plays -- a 2-yard run by
Keith Marshall
, a 1-yard run by
Todd Gurley
and a third-down dive for no gain by
Quayvon Hicks
-- before settling for a 20-yard field goal try by
Patrick Beless
that would have tied the score at 31-all.
One problem: On his first field goal snap of the season, new snapper
Nathan Theus
shot the ball high to holder
Adam Erickson
, who was unable to corral the snap and was forced to fall on it for a 6-yard loss.
That was an enormous letdown after Georgia had battled its way back into the game and failed to gain the equalizer.
"Momentum is a big thing and that was huge momentum for us, a big boost for our guys," Clemson coach Dabo Swinney said. "That turned out to be one of the deciding plays of the game, obviously."
As were the plays that immediately preceded it, since they could have given Georgia its first lead since Hicks' 1-yard touchdown run early in the second quarter.
"We had to get points in the red zone coming in and we wanted touchdowns and we weren't able to do it right there," Bobo said. "We ran the ball down there and I wanted to keep running it and I've got to look at the tape. We just didn't execute what we had called and unfortunately we didn't get the three points. That happens. We still had a chance to win after that, so we had our opportunities and just penalties killed us there on the next couple of drives."
Even after the field goal mistake, Georgia's defense forced a Clemson three-and-out, with a punt giving Georgia possession at its 43 early in the fourth quarter. The Bulldgos were quickly flagged for a devastating 15-yard penalty for chop blocking, however, and ended up punting.
Clemson scored on the next drive to go up 38-28 midway through the quarter, making a holding penalty that nullified a 14-yard Gurley run on the Dawgs' ensuing drive even more costly, as another Georgia punt there nearly put the game out of reach.
The Bulldogs drove for a quick touchdown late in the fourth quarter, but when they failed to recover an onside kick and had already used all of their timeouts, Clemson was able to run out the clock and walk away victorious.
"We killed ourselves with penalties tonight," Murray said. "It's tough to convert third-and-long. Penalties are a big reason why we lost tonight."
With the loss, Georgia finds itself in a fairly familiar position, which might have been why there seemed to be little panic within the Bulldog contingent during postgame interviews.
The Bulldogs dropped their first two games of 2011, including their SEC opener against South Carolina, and finished the regular season with a 10-game winning streak. They took a 35-7 pounding last season at South Carolina and once again won out.
Both times they earned a spot in the SEC championship game by claiming the Eastern Division title. And next Saturday will still play a major role in whether they can return to Atlanta for a third straight season, regardless of what happened against Clemson.
"I don't see anybody in there ready to jump off a bridge or anything," Richt said. "I think they all know that happens in football if you play a really good football team and you get beat. And if you do, then you move on and you continue to play well and you get better and you make corrections. We're still learning a lot about this team."
February, 27, 2013
2/27/13
1:00
PM ET
Two SEC players have decided to end their football careers.
Vanderbilt backup running back
Warren Norman
confirmed to The Tennessean Tuesday that his
playing career is over
due to thinning cartilage in his knees, while Georgia announced on Wednesday that rising senior fullback
Alexander Ogletree
, the twin brother of
Alec Ogletree
, has decided to end his football career for "medical reasons."
Norman was one of the most exciting freshmen to watch in the SEC back in 2009. He earned SEC Freshman of the Year honors that year after breaking SEC records for all-purpose yards by a freshman (1,941 yards; 161.8 yards per game) and kickoff return yards (1,050 yards). He also matched the SEC record by returning three kickoffs for touchdowns and led the Commodores with 783 rushing yards, which was the second-highest total for a freshman at Vandy.
Norman battled a knee injury and a broken hand in 2010, but still led the Commodores with 459 rushing yards and shared the team lead with four rushing touchdowns. But the knee injuries cost him his entire junior season and caused him to play sparingly last fall. He appeared in eight games and registered 75 yards and a touchdown on 21 carries last season.
With Norman and
Zac Stacy
(Vandy's leading rusher the past two seasons) gone, Vanderbilt will now expect even more from rising redshirt senior
Wesley Tate
, rising sophomore
Brian Kimbrow
and rising junior
Jerron Seymour
starting this spring. The Commodores also signed three-star back Rapheal Webb, who will arrive this summer.
Norman will hold a news conference this afternoon.
As for Ogletree, he was listed as the No. 1 fullback for the latter part of the season, but started just two of the eight games he played in all year. He finished his playing career with just 37 rushing yards and a touchdown on seven carries. He carried the ball three times for 14 yards and a touchdown last fall.
The loss of Ogletree will now open up things at fullback for the Bulldogs. Walk-on
Merritt Hall
, who started six of the 12 games he played in last year, will compete with rising sophomore
Quayvon Hicks
, who played in 12 games last season primarily on special teams.
September, 3, 2012
9/03/12
1:25
PM ET
By
DawgNation staff
| ESPN.com
David Ching writes

: Georgia's high-ranked signing haul from February is quickly paying off, as several freshmen already are filling big roles for the Bulldogs on game day.
Ching

: Freshman tailback Todd Gurley's big debut could be considered one of the best of the Mark Richt era.
Ching

: UGA power rankings, Week 1
Kipp Adams writes

: Opponents are on the lookout for four-star Naim Mustafaa, and so are college programs. The Georgia commit has three official visits planned.
Adams

: Georgia's top Class of 2013 recruit Shaq Wiggins took a little trip into No Man's Land this past weekend, visiting the Bulldogs' archrival, the Florida Gators.
Adams

: Georgia target Tyren Jones didn't take long to start having a banner year in 2012.
Radi Nabulsi writes

: Georgia commits weigh in on the Bulldogs' season opener, and they aren't shy about assessing the team's struggles with an unexpectedly feisty Buffalo squad.
Nabulsi (Video):
Catching up with Georgia safety commit Quincy Mauger.
August, 8, 2012
8/08/12
2:46
PM ET
By
ESPN.com staff
| ESPN.com
DawgNation live chat in The Pound:
7 p.m. ET
DawgNation Roundtable

: In Georgia's 2012 backfield, veteran workhorses Ken Malcome and Richard Samuel will team with bright, shiny new freshman stars Keith Marshall and Todd Gurley. Who will carpe the diem?
David Ching writes

: What more could an incoming freshman ask for than an NFL-ready star linebacker such as UGA's Jarvis Jones making it his mission to prepare the newcomer for life on the college gridiron? That's Jones' plan for new UGA offensive tackle John Theus, and everyone else.
Ching

: Redshirt freshman Sterling Bailey said goodbye to his no-contact jersey when fall camp started as the defensive end has been cleared to play, coming back from a December injury.
Kipp Adams writes

: While schools nationwide court juco DT Toby Johnson, who is in school in Kansas now but attended high school in Atlanta, he finds a certain home-y appeal in the Georgia Bulldogs.
Ching

: Around the Hedges in 80 Days -- 24 days to kickoff. The twin brother of Georgia star linebacker Alec Ogletree, fullback Zander Ogletree has been a useful role player through his first two seasons in Athens and should continue on that path in 2012 and beyond.
April, 26, 2012
4/26/12
12:34
PM ET
By
ESPN.com staff
| ESPN.com
DN Roundtable

: This week's discussion answers the question, "What's the driving force behind Georgia's recent rush of recruiting success?"
Kipp Adams writes

: How is UGA looking with offensive line recruiting, and how many do the Bulldogs look to sign at the position for 2013? How about massive OL Shamire Devine? DN answers those questions and more.
April, 15, 2012
4/15/12
1:04
PM ET
ATHENS, Ga. -- Georgia's coaches hardly would have predicted last September that
Ken Malcome
would rank among the Bulldogs' top options at tailback following spring practice.
For a period of one whole day last Sept. 28, Malcome wasn't a member of the team at all. He informed coach Mark Richt of his intentions to transfer because he was buried on the depth chart following a spate of injuries, only to return a day later.
[+] Enlarge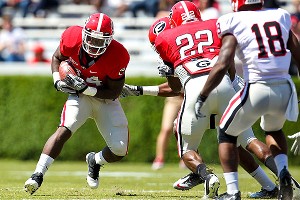 Daniel Shirey/US PresswireMark Richt said at G-Day that it does his heart good to see a player who has previously struggled -- such as Ken Malcome -- turn around his game and excel.
Malcome didn't play for another five games after rejoining the team -- he missed the last of those games, against New Mexico State, for failing a drug test -- but began to make an impact by the end of the season, leading the Bulldogs in rushing in each of their last three games. His progress continued this spring as coaches complimented him for an improved focus and attitude. That helped him move up the depth chart.
April, 4, 2012
4/04/12
5:17
PM ET
By
ESPN.com staff
| ESPN.com
Kipp Adams writes

: Last year, Nike's The Opening rocketed to 'premier event' status in its debut. Alumni from the Peach State explain why the next round of top-tier players from Georgia should make an invitation their goal.
David Ching writes
: Redshirt freshman Devin Bowman makes up for lost time and throws his hat in the ring at cornerback.
Ching

: Spring practice report, Day 9.
Ching

: Christian LeMay gets comfy at QB.
October, 12, 2011
10/12/11
6:59
PM ET
By
ESPN.com staff
| ESPN.com
David Ching of DawgNation writes
: With leading receiver Malcolm Mitchell out and other wideouts banged up, several guys have a chance to shine at Vanderbilt on Saturday.
Video
: Radi Nabulsi interviews freshman wide receiver Chris Conley.
Ching writes
: Quarterback Aaron Murray laments that he just missed a couple of deep balls against UGA, but says big plays are coming.
Nabulsi writes

: Fullback commit Quayvon Hicks is the pied piper of Georgia recruiting, connecting with commits and prospects alike.
Kipp Adams writes

: Two-thirds of the Georgia roster are in-state players. DawgNation identifies 60 prospects to keep an eye on for 2013.