February, 7, 2012
2/07/12
4:00
PM ET
The NFL has released its list of
invites to this years NFL combine
. Of the more than 300 prospects taking part in the pre-draft shenanigans starting Feb. 22, 62 are from the SEC (for fun we are including Missouri and Texas A&M).
Here are the SEC representatives:
Joe Adams, WR, Arkansas
Antonio Allen, S, South Carolina
Justin Anderson, OT, Georgia
Ryan Baker, LB, LSU
Vick Ballard, RB, Mississippi State
Mark Barron, LB, Alabama
Jake Bequette, DE, Arkansas
Brandon Bolden, RB, Ole Miss
Brandon Boykin, CB, Georgia
Michael Brockers, DT, LSU
Ron Brooks, CB, LSU
Randy Bullock, K, Texas A&M
Drew Butler, P, Georgia
Josh Chapman, DT, Alabama
Orson Charles, TE, Georgia
Greg Childs, WR, Arkansas
Morris Claiborne, CB, LSU
Fletcher Cox, DT, Mississippi State
Jeff Demps, RB, Florida (Demps decided earlier this year that he will not pursue a career in football and will focus on professional track)
Michael Egnew, TE, Missouri
Terrence Frederick, CB, Texas A&M
Jeff Fuller, WR, Texas A&M
Stephon Gilmore, CB, South Carolina
Cordy Glenn, OT, Georgia
Cyrus Gray, RB, Texas A&M
A.J. Greene, OT Auburn
Winston Guy, S, Kentucky
Dom Hamilton, DT, Missouri
Darius Hanks, WR, Alabama
Josh Harris, LS, Auburn
Casey Hayward, CB, Vanderbilt
Dont'a Hightower, LB, Alabama
Jaye Howard, DT, Florida
Melvin Ingram, DE, South Carolina
Jerrell Jackson, WR, Missouri
Malik Jackson, DT, Tennessee
Jordan Jefferson, QB, LSU
Alshon Jeffery, WR, South Carolina
Ben Jones, C, Georgia
Coryell Judie, CB, Texas A&M
Dre Kirkpatrick, CB, Alabama
Bobby Massie, OT, Ole Miss
Marquis Maze, WR, Alabama
Quan Menzie, CB, Alabama
Charles Mitchell, S, Mississippi State
Brandon Mosley, OT, Auburn
DeAngelo Peterson, TE, LSU
Tauren Poole, RB, Tennessee
Chris Rainey, RB, Florida
Rueben Randle, WR, LSU
Sean Richardson, S, Vanderbilt
Trent Richardson, RB, Alabama
Quentin Saulsberry, OG, Mississippi State
Jacquies Smith, DE, Missouri
Ryan Tannehill, QB, Texas A&M
Brandon Taylor, S, LSU
Danny Trevathan, LB, Kentucky
DeAngelo Tyson, DE, Georgia
Courtney Upshaw, LB, Alabama
Blair Walsh, K, Georgia
Rokevious Watkins, OT, South Carolina
Jarius Wright, WR, Arkansas
School breakdown:
Alabama: 9
Arkansas: 4
Auburn: 3
Florida: 3
Georgia: 8
Kentucky: 2
LSU: 8
Missouri: 4
Mississippi State: 4
Ole Miss: 2
South Carolina: 5
Tennessee: 2
Texas A&M: 6
Vanderbilt: 2
February, 6, 2012
2/06/12
3:30
PM ET
The first batch of big uglies are on the ranking slab Monday. No offense can operate without offensive linemen and the SEC has its share of talented big men.
Here's a look at our
preseason rankings
when it came to offensive lines. Let's just say we overestimated when it came to a couple of groups.
Here's what we though of after the 2011 season:
1. Alabama:
The Crimson Tide line pushed around its opponents all year long. Alabama was first in the SEC in rushing (and had the Doak Walker winner in Trent Richardson) and averaged 5.5 yards per carry. Alabama was equipped with Outland Trophy winner Barrett Jones, who played just about every position up front and the top SEC in William Vlachos. Alabama got tremendous play out of D.J. Fluker and got a pleasant surprise out of Alfred McCullough. Alabama ranked first in the league by allowing just 17 sacks.
2. LSU:
The Tigers' offense went as its running game went. And for 13 games the running game was great. The offensive line should take a lot of credit for that. With two Associated Press All-SEC members -- Will Blackwell and Chris Faulk -- LSU averaged 200.9 rushing yards against conference foes. Alex Hurst should also become a more familiar name in 2012. LSU allowed just 18 sacks and totaled only 234 negative rushing yards.
3: South Carolina:
South Carolina put only one player on the All-SEC list, in Rokevious Watkins, but the Gamecocks' line had a pretty good season. Even after losing top running back Marcus Lattimore midway through the season, South Carolina finished the season third in the SEC in total rushing and rushing against conference opponents. South Carolina had to deal with Kyle Nunn's absence for most of the year as well, but found a budding star in A.J. Cann. Pass protection dipped, as South Carolina allowed 30 sacks.
4. Georgia:
Before the season, the offensive line seemed to be held together by tape, but this line stayed together nicely through 14 games. The Bulldogs were fifth in the conference in rushing against SEC foes and had two All-SEC performers in Cordy Glenn, who might be a first-round draft pick, and center Ben Jones. Where Georgia's line came up short was in pass protection, as the Bulldogs were 11th in the league allowing 33 sacks.
5. Vanderbilt:
The Commodores didn't put anyone on the All-SEC teams, but there's no question that this was the most improved line in 2011. Wesley Johnson proved to be one of the most underrated linemen in the league and the Commodores' offense was much more explosive than past years. Vandy was sixth in the league in rushing and had the league's No. 3 rusher in Zac Stacy. The Commodores gave up 18 sacks in SEC games.
6. Arkansas:
The Razorbacks were dealing with a young line, but saw improvements as the season went on. Without Knile Davis in the lineup, the running backs were pretty inconsistent individually, but the Hogs averaged 134.3 yards in conference games. In each of Arkansas' two losses, the Razorbacks averaged just 32 rushing yards. Alvin Bailey was a second-team All-SEC member and should be star in 2012. Arkansas allowed 28 sacks, but also allowed quarterback Tyler Wilson take some punishing hits throughout the year.
7. Auburn:
The Tigers could run the ball for most of the year. Auburn was fourth in the league in rushing and averaged 4.1 yards per carry against SEC play. Michael Dyer finished the year second in the league with 1,242 yards. Brandon Mosley was the only returning starter, but the Tigers got solid play out of freshman center Reese Dismukes and saw the reemergence of A.J. Greene after injury cut his 2010 season short. However, Auburn's passing game and pass protection struggled. The Tigers gave up 32 sacks in 2011 and were overwhelmed by more athletic defensive lines.
8. Mississippi State:
The Bulldogs had to deal with a rash of injuries along their offensive line in 2011. Tobias Smith went out early and the Bulldogs watched as Quentin Saulsberry and James Carmon deal with injuries toward the beginning of the season. The Bulldogs were able to deliver a 1,000-yard running back in Vick Ballard, but ranked ninth in the league in rushing against SEC teams. Mississippi State gave up just under two sacks a game.
9. Tennessee:
This was supposed to be a strong point for the Vols last fall, but Tennessee struggled all year to run the ball. The Vols ranked 116th nationally in rushing and averaged just 63.5 yards per game in SEC play. While Tennessee never generated much of a running game last season, its pass protection was one of the best in the league. The Vols gave up just 18 sacks on the season, despite playing three different quarterbacks.
10. Florida:
The Gators experienced another year of sub par line play in 2011. With a relatively young group up front, Florida really struggled to provide much comfort in the pocket for its quarterbacks and rarely outplayed opposing SEC defensive lines. Florida's line was also flagged a bunch last fall. Florida gave up just 23 sacks, but 21 came in SEC play and Florida averaged just 3.8 yards per carry and scored nine rushing touchdowns against SEC defenses.
11. Kentucky:
Before the season, we thought the Wildcats would be much higher on this list, especially considering the fact that they returned four starters. However, injuries ruined Kentucky up front. Larry Warford was Kentucky's best lineman, but for the first part of the season, the Wildcats failed to play its five original starters because of injuries. Kentucky gave up 21 sacks through the first five games and gave up a league-high 35 sacks on the year. The Wildcats also ranked 11th in the league in rushing.

12. Ole Miss:
Here's another line that returned so much but did so little last fall. We look pretty silly now after ranking Ole Miss' line second in our preseason rankings because the Rebels' line didn't do much protecting all year. Ole Miss' line didn't have the injury issues that Kentucky had and was still 10th in the SEC in rushing and scored just four rushing touchdowns in league play. The Rebels also gave up 31 sacks on the season, with a league-high 26 coming against SEC defenses.
September, 30, 2011
9/30/11
1:00
PM ET
Vick Ballard
isn't sugarcoating anything.
He looks at the first two weeks of the season, compares them to what he's seen lately from the
Mississippi State Bulldogs
offense, and sees a significant difference.
"We just aren't executing like we normally have," the senior running back said.
"It's real frustrating because we're the type of offense that can put up at least 40 points (a game). It's real frustrating."
The Bulldogs had one of the nation's best offenses through the first two weeks of the season, averaging 588 yards in the first two games, but that was against lowly Memphis and an Auburn team that sports the SEC's worst defense.
Against LSU and Louisiana Tech, the Bulldogs averaged just 267 yards and combined for 32 points after racking up 93 in the first two games.
[+] Enlarge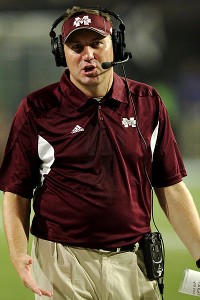 Nelson Chenault/US PRESSWIRECoach Dan Mullen says the Bulldogs must execute on offense.
There has been a missed block here and a blown assignment there. A botched route blows up a play and a poor read sets the drive back.
Mississippi State enters its game against Georgia with a 2-2 record. More importantly, the Bulldogs are 0-2 in conference play. Expectations were much higher for this team coming into the season, but the offensive stall has some second-guessing the Bulldogs.
Two conference losses likely put a West championship out of reach, but Ballard said this team is still upbeat. The offense is confident. This team was in the exact same situation last year heading into the Georgia game. Mississippi State won that game and went on a six-game winning streak, eventually making a January bowl.
"Everyone wants to go undefeated," Ballard said. "We lost those two games, but the fact that we were in the same situation last year gives us confidence for the next couple of games."
If this team wants to repeat last year's success, the offense has to get back on track. Ballard and head coach Dan Mullen said it starts with the little things.
It's about getting back to the basics for the Bulldogs. Mullen runs a physical spread offense because of the bruising running style of Ballard and quarterback
Chris Relf
. Mullen not only wants to spread you out and make you attack all 11 players, but he wants you to grind or the Bulldogs will pop you in the mouth.
That pop hasn't been there the last couple of weeks, with Ballard getting 38 and 68 yards in games and Relf getting 30 rushing yards on 25 carries. The physicality we saw earlier from the Bulldogs isn't there and it hurts this potent attack.
Another reason for the Bulldogs' shortcomings on offense has been the offensive line shuffle. First, starting left tackle James Carmon went down with a knee injury against Auburn, shoving freshman Blaine Clausell into the starting role.
With junior right guard Tobias Smith out for the year after suffering a knee injury against LSU, Carmon, who returned this week and worked all over the offensive line, or senior Quentin Saulsberry could get the nod at his spot. Redshirt freshman Dillon Day is expected to continue to start at center.
That means there are two freshmen on this offensive line and youth here is always a concern in the SEC. Mullen said that makes it even more important communication issues get fixed and plays know exactly when and where to be on the field, as minute mistakes can create enormous problems and that's what the offense has dealt with in the past two weeks.
"One guy off gets you out of rhythm in the offense and it kind of really slows you down," Mullen said. "Every time we've been taking shots early in the season we've been hitting them down the field. We've been just off the fingertips the last two weeks. Those issues can really start to compound, one after the other, where you don't get into a good rhythm on offense.
"When you're going forward and backward, forward and backward, with guys making some mistakes and not executing cleanly you get out of that rhythm and you don't put up those huge numbers that you are when you're in great rhythm."
No one would blame Mullen for getting awfully close to pressing the panic button after an 0-2 start, but isn't. In fact, he's not ready to change much of anything offensively. He just wants to little things corrected.
"We're not changing a whole lot of what we do because we're not far off from where we want to be," he said. "We have to be cleaner and execute better."
August, 4, 2011
8/04/11
4:38
PM ET
Mississippi State's Quentin Saulsberry spent the summer working as an intern in the Starkville Police Department.
Yes, he's already had more than a few teammates hit him up trying to get some help with speeding tickets. No, he didn't dare go there for obvious reasons.
[+] Enlarge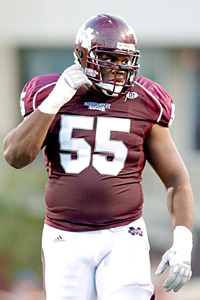 Shelby Daniel/Icon SMIThe Bulldogs are looking to Quentin Saulsberry to anchor their offensive line.
"Plus, I didn't have that kind of clout," Saulsberry joked.
On the field this fall, it figures to be a different story.
The 6-2, 305-pound senior will be one of the mainstays of Mississippi State's offensive line and will start out at center. It's the fourth different position he's played up front for the Bulldogs. He started most of last season at right guard, but also filled in at center when J.C. Brignone was out for two games.
Two seasons ago, Saulsberry started all 12 games at left guard. And as a redshirt freshman in 2008, he started all 12 games at right tackle.
"I've played everywhere and am ready to do that again this season if that's what it takes," Saulsberry said. "My job is to be a leader for the young guys, answer their questions and be an example. I don't care where that is -- center, guard or tackle."
Saulsberry's leadership will be vital this season, which is one of the reasons the Bulldogs are moving him to the middle of the offensive line. Gone are All-America left tackle Derek Sherrod and Brignone, who anchored the middle of Mississippi State's line the last three seasons at center.
"We've got to make sure we're good students of the game in the offensive line, and a lot of that is on me," Saulsberry said. "Knowing what to do and how to do it is one thing. But when you know why you're doing certain things, that's when you play faster and the game slows down."
Running the football has been Mississippi State's forte each of the past two seasons, and Saulsberry thinks that will again be the case in 2011. One of the key battles up front during preseason camp, which opened Thursday, will be at left tackle where redshirt freshman Blaine Clausell and senior James Carmon will vie for the starting job. Carmon moves over from defensive tackle, while the 6-7 Clausell has bulked up close to 300 pounds.
"We sort of look at what we do on offense up front as being part of the defense," Saulsberry said. "We play defense, too, and that's by running the ball, keeping our offense on the field and keeping the ball out of the opposite players' hands."
Mississippi State led the SEC in time of possession last season and was second to Auburn in rushing, averaging 214.8 yards per game on the ground.
Saulsberry said the nine-win season a year ago was "just a little taste." He said the Bulldogs expect to be in the SEC championship game this season, something they've done only one other time (1998).
"You always want to go beyond where people think you can," Saulsberry said. "And, really, you want to go beyond where you think you can. You never stop pushing."
July, 13, 2011
7/13/11
2:40
PM ET
The fall watch list craze is in full swing and the SEC is getting a ton of love on each one that comes out.
Tuesday, the Rotary Lombardi Award watch list
came out
, with 16 SEC players making the list. The award is given annually to college football's best lineman. Eligibility for the award is limited to "down linemen, end-to-end, either on offense or defense, who set up no farther than 10 yards to the left or right of the ball, and linebackers who set up no farther than five yards deep from the line of scrimmage."
The high number of SEC contenders is a testament to the strength of the lines in this league. Many coaches outside of the SEC have repeatedly said that the main difference between the SEC and the rest of the country is the strength of the lines. The battles in the trenches are so key in the SEC.
The SEC has won the award twice in the last four years, with Auburn's Nick Fairley taking it home last year.
Alabama had the most representatives from the SEC with four -- Dont'a Hightower, Barrett Jones, Courtney Upshaw and William Vlachos. Arkansas was right behind the Tide with three players -- Alvin Bailey, Jake Bequette and Jerry Franklin.
Here is the complete list of SEC players on the Lombardi watch list:
OG Alvin Bailey, Arkansas
DE Jake Bequette, Arkansas
LB Jerry Franklin, Arkansas
OT Cordy Glenn, Georgia
LB Dont'a Hightower, Alabama
DT Jaye Howard, Florida
DT Malik Jackson, Tennessee
OL Barrett Jones, Alabama
C Ben Jones, Georgia
OL Quentin Saulsberry, Mississippi State
OT Bradley Sowell, Ole Miss
DE Devin Taylor, South Carolina
LB Danny Trevathan, Kentucky
LB Courtney Upshaw, Alabama
C William Vlachos, Alabama
OG Larry Warford, Kentucky
Today, the Rimington Trophy watch list
was announced
. The award is given annually to the nation's best center and the SEC had the most candidates on the list with seven. The Big Ten checked in second with six players.
Here are the SEC representatives:
A.J. Hawkins, Ole Miss
T.J. Johnson, South Carolina
Ben Jones, Georgia
P.J. Lonergan, LSU
Matt Smith, Kentucky
Travis Swanson, Arkansas
William Vlachos, Alabama
June, 17, 2011
6/17/11
9:30
AM ET
The big uglies up front on the offensive side are our focus today. There are some quality veterans out there, but teams all across the league are looking to replace some quality linemen in the trenches.
Here's how we see the league stacking up:
[+] Enlarge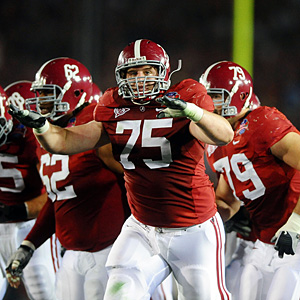 Mark J. Rebilas/US PresswireBarrett Jones has been one of the mainstays of Alabama's offensive line the past two seasons.
1. Alabama:
Four of Alabama's five linemen from a year ago return, making this one of the team's strongest units. The returners have combined for more than 70 starts at Alabama. Barrett Jones is the star of the show. The junior has been the Tide's starting right guard each of the past two seasons, but took reps at left tackle and could be asked to move. William Vlachos is back at center and could be the best at his position in the league. Fellow starters D.J. Fluker and Chance Warmack are back and took reps at left tackle this spring.
2. Ole Miss:
The Rebels' offense isn't getting much respect this offseason, but its offensive line returns All-SEC candidates in tackles Bradley Sowell and Bobby Massie. Seven of Ole Miss' linemen started two or more games each on the offensive line in 2010. Last season, the Rebels were first in the league in sacks allowed, giving up just 14. Alex Washington should stay at left guard after starting eight games there and A.J. Hawkins will likely get the nod at center after playing eight games there as well. Arkansas transfer Matt Hall will compete for time at center.
3. LSU:
Joseph Barksdale might be gone, but the Tigers have a very talented group of linemen returning. Tackle Alex Hurst seems primed to be a star in the league and senior Josh Dworaczky is arguably the Tigers' top lineman with 25 career starts. Patrick Lonergan is solid at center, while T-Bob Hebert is valuable at both center and guard. Sophomore Chris Faulk has the tough assignment of replacing Barksdale, but made quite the impression on his coaches this spring.
4. Kentucky:
The Wildcats return four starters on their line. Right guard Larry Warford headlines the group after gaining second-team All-SEC honors a year ago. Kentucky also returns two-year starter Stuart Hines at left guard and Matt Smith at center, who was solid in his first year there. Left tackle Chandler Burden missed spring practice, but is expected back by fall practice. Finding a suitable right tackle is the next step for Kentucky.
5. Tennessee:
This group could be one of the most impressive units for the Volunteers this season. It's deeper and more experienced in Derek Dooley's second year and he was very pleased with its performance this spring. Junior Dallas Thomas is solid at left tackle, and sophomore Ja'Wuan James really came on strong in his first year and is one of the top linemen in the SEC. James Stone also returns at center. The surprise of the group was true freshman Marcus Jackson, who held down the left guard spot for most of the spring.
6. Mississippi State:
The Bulldogs must replace All-American left tackle Derek Sherrod, but most of the line is somewhat on point. Center Quentin Saulsberry will anchor the line and is versatile enough to play just about every position on the line. Left guard Gabe Jackson and right tackle Addison Lawrence return and the Bulldogs will have junior Tobias Smith lining up at right guard. Blaine Clausell and James Carmon, who moved from defensive tackle, will compete at left tackle.
7. Georgia:
This was supposed to be one of the strongest offensive line units in the league, but the Bulldogs lost tackle Trinton Sturdivant to a season-ending knee injury this spring and fellow tackle A.J. Harmon transferred. Georgia's most-reliable options are Cordy Glenn, who moved from guard to left tackle and Ben Jones at center. Kenarious Gates is at left guard, but he's athletic enough to play tackle if needed. Former defensive lineman Justin Anderson will start off at right tackle. Right guard is the next area of business and the depth all around is a problem.
8. South Carolina:
The Gamecocks have questions here, but there is talent across the line. Rokevious Watkins is one of the most talented guards in the league and he'll be assisted by returning starter at center T.J. Johnson. Senior Kyle Nunn has made strides at left tackle and redshirt freshman A.J. Cann took over duties at left guard this spring. Still, the younger linemen will be counted on to contribute this fall.
9. Arkansas:
The Razorbacks must replace three starters on the offensive line. Center Travis Swanson and left guard Alvin Bailey are the only returning starters. Just a sophomore, Bailey impressed his coaches last season and will be one of the top linemen in the league this fall. After that, the Hogs will have to turn to youth for help. True freshman Brey Cook could be thrust into the starting role at right tackle, while sophomore Anthony Oden could get the job at left tackle.
10. Florida:
Florida's offensive line struggled throughout the 2010 season -- and that was with a senior-laden group. This fall, the Gators will start over with a ton of inexperience. Right guard Jon Halapio and right tackle Xavier Nixon are the only returning starters. Halapio struggled at times last season and Nixon battled injuries. Florida's line spent most of the spring in the infirmary, so little is known about the overall talent. Freshman Chaz Green left spring as the starter at left tackle, Jonotthan Harrison will battle former Notre Dame lineman Dan Wenger at center. He transferred in after spring, but has health concerns.
11. Auburn:
The Tigers will go from having one of the top offensive line groups in the country to having a major work in progress in 2011. Senior Brandon Mosley is the lone returning starter, and while he was solid on Auburn's line last season, he came from junior college as a defensive end/tight end. The good news is that tackle A.J. Greene should be fine this fall after sustaining a season-ending leg injury last year. The rest of Auburn's linemen are very young and inexperienced. Don't expect many redshirts from this group.
12. Vanderbilt:
The Commodores might return all five starters, but this unit had trouble keeping things together last year. The offense needs this group to improve mightily. Wesley Johnson is Vanderbilt's best option, despite only being a sophomore at left tackle. There will be size on the right side, with 300-plus pounders Kyle Fischer and Ryan Seymour over there. Simply put, this unit has the experience, but it requires a lot of improvement.
May, 12, 2011
5/12/11
8:00
AM ET
2010 overall record:
9-4
2010 conference record:
4-4

Returning starters
Offense: 8; Defense: 7; Kicker/punter: 0
Top returners
QB
Chris Relf
, OG Quentin Saulsberry, RB
Vick Ballard
, WR
Chad Bumphis
, WR Arceto Clark, DT Josh Boyd, CB Corey Broomfield, CB Johnthan Banks
Key losses
OT Derek Sherrod, C J.C. Brignone, TE
Brandon Henderson
, DE Pernell McPhee, LB Emmanuel Gatling, LB Chris White, LB K.J. Wright
2010 statistical leaders (* returners)
Rushing:
Vick Ballard* (968 yards)
Passing:
Chris Relf* (1,789 yards)
Receiving:
Chad Bumphis* (634 yards)
Tackles:
Chris White (110)
Sacks:
Chris White (6)
Interceptions:
Johnthan Banks*, Corey Broomfield*, Nickoe Whitley* (3)
Spring answers
1. Relf ready for next step:
Last season, quarterback Chris Relf proved he's a dynamic runner, but toward the end of the year he also showed that he could be strong passer. Relf finished the season passing for more than 200 yards in each of his last three games and the Bulldogs went 2-1 during that span. Coach Dan Mullen has repeatedly said the quarterback position is wide open, but don't be fooled. Relf had a very good spring and it would be a real shocker if he weren't the starter this fall.
2. Depth at receiver:
Relf will have plenty of options in the passing game this fall. Chad Bumphis is the star of the receiving group, but the Bulldogs developed some nice depth at receiver this spring. Junior Arceto Clark continued to impress, and
Chris Smith
and
Ricco Sanders
proved to be reliable targets. Mullen has said that he would like to rotate 10 receivers into games and he's not only got the depth, but the talent to effectively do that this fall.
3. Strong secondary:
Mississippi State lost just one player from its secondary and returned five players that started at some point a year ago. Johnthan Banks, Corey Broomfield and Nickoe Whitley all grabbed three interceptions and recorded 50-plus tackles in 2010. While the Bulldogs look to replace three starting linebackers, expect the defense to lean on its secondary to make plays this season. Making things more convenient is that each player as the ability to play in the box and has a knack for making big plays.
Fall questions
1. Finding linebackers:
While most of the pieces returned on offense this spring, there are gaping holes at linebacker. The Bulldogs lost three – Chris White
,
Emmanuel Gatling and K.J. Wright – and must start over at the position. The toughest to replace is White, who led the Bulldogs with 110 total tackles and six sacks in 2010. Cameron Lawrence, has two years of experience in Mississippi State's defense and should be in charge of directing the linebackers. Behind him,
Brandon Wilson
and Chris Hughes combined for 30 total tackles last season, but have yet to make an impact.
2. Offensive line holes:
Mississippi State might have the pieces needed to have an even more explosive offense this fall, but there is a little concern with the bodies up front. Guard Tobias Smith did very little this spring after having shoulder surgery in January and the Bulldogs must replace left tackle Derek Sherrod. The battle for that spot wasn't decided this spring with
sophomore Blaine Clausell and senior James Carmon working there the most. Clausell has the most experience, while Carmon moved from defense before spring. Mississippi State must also replace J.C. Brignone at center.
3. Dealing with the hype machine:
For the first time in a long time, expectations are high for the Bulldogs. Mississippi State enters the season as a popular dark horse pick in the SEC. There's a ton of speed and athleticism on offense and defense, but it's tough to say if the Bulldogs will be able to keep up with Alabama, LSU and Arkansas this fall. Also, the Bulldogs no longer have the element of surprise on their side. After throttling Michigan in the Gator Bowl, no team will be overlooking the Bulldogs this fall. Whether Mississippi State can handle the hype is yet to be determined.