November, 3, 2014
Nov 3
12:00
PM ET
The SEC West began to shake itself out last week, but the East only got more convoluted with Georgia's loss to Florida. This Saturday, the only marquee game on the docket is down in Baton Rouge, Louisiana; however, nothing can be assumed in this conference. If teams get caught looking ahead to next weekend, we could be in for another wild weekend.
Let's take a quick glance at some of this week's top storylines in the SEC.
Game of the week: No. 6 Alabama at No. 19 LSU
A month ago, after LSU was dominated on the road by Auburn, this didn't look like it would be much of a game. Sure, it's Alabama-LSU, one of the better rivalries in the SEC over the past decade, but Alabama looked like it might have its way in Death Valley. Not so fast. The Tigers have since won three straight games; they're playing their best football right now; and it goes up another notch when the sun sets over Tiger Stadium. Les Miles is 46-4 in home games played at night. But if anybody knows how to win in Louisiana, it's Nick Saban. He's won two of the three games he's coached at LSU since taking over at Alabama in 2007. If Saturday is anything like those two games, then get comfy. It's going to come down to the wire.
Player under pressure: Kyle Allen, Texas A&M
Nobody expects the Aggies to go into Auburn and win Saturday, nor do they expect Allen to throw for 300 yards and four touchdowns. But it'd be nice to see him improve on his performance this past weekend against Louisiana-Monroe. The freshman, making his first ever start, went 13 of 28 for 106 yards with one touchdown and one interception. That's a far cry from the numbers
Kenny Hill
put up in his first start against South Carolina to open the season, but we all know that debut would've been tough to beat. Hill will miss his second straight game Saturday, serving a two-game suspension. That opens the door for Allen, who has an opportunity to make his case not only for this season, but for next year, too.
Coach under the microscope: Mark Richt, Georgia
It's not fair to put Richt on the hot seat, but you can't just give him a pass either, not after how Georgia
played against Florida
on Saturday. The Bulldogs had control of the SEC East and arguably the easiest road to Atlanta for the conference championship game. Now they don't even control their own destiny anymore. The defense, which had played so well in the month of October, gave up 418 yards rushing and five rushing touchdowns to the Gators. That's not good, especially when the league's top rushing offense comes to town in two weeks. But Georgia can't look ahead to Auburn. It needs to focus on this Saturday's game at Kentucky. A loss to the Wildcats, and Richt's seat might start getting warm.
Storyline to watch: How does Ole Miss respond without Treadwell?
It was the worst possible scenario for Ole Miss on Saturday night. The cart was on the field for star wide receiver
Laquon Treadwell
, who lay there writhing in pain. He had just fumbled at the goal line, inches from giving the Rebels the lead against Auburn with less than two minutes left. It's a game, and a play, that will stay with the program for years. How do you move past that, especially when Treadwell is out for the remainder of the season with a broken leg? Ole Miss should get back on track this weekend against Presbyterian, but the Rebels don't have another player like Treadwell on the roster. That means it's up to fellow wide receivers
Vince Sanders
,
Quincy Adeboyejo
and
Cody Core
to step up in his absence.
Intriguing matchup: Leonard Fournette against Alabama's defense
It seems like it's been a long time since Fournette struck the Heisman pose after scoring his first career touchdown against Sam Houston State. Lately, the LSU freshman has been going about his business and playing like the player everybody thought he was going to be. He rushed for 113 yards his last time out against one of the better defenses in the SEC in Ole Miss. On Saturday, he'll face the top rushing defense in the conference. Alabama is only giving up 78 yards per game on the ground this season, and they'll be geared to stop LSU's rushing attack. Fournette, who nearly ended up in Tuscaloosa, will have his hands full with the likes of
Trey DePriest
,
Reggie Ragland
and
Landon Collins
. It's strength vs. strength.
October, 23, 2014
Oct 23
4:00
PM ET
BATON ROUGE, La. -- Football coaches and players discuss the importance of winning the turnover battle, the words can almost ring hollow. But when LSU players say they must protect the football Saturday against Ole Miss, it's more than just an empty football cliché.
The No. 3 Rebels (7-0, 4-0 SEC) have an uncanny ability to swing games by creating turnovers at key moments.
"Their defense are ball hawks," LSU receiver
Travin Dural
said. "If you're giving your offense the ball on the opponent's side of the field a lot, they're going to score, and that's what they've been doing. We're going to try our best to flip the field as much as we can."
No. 24 LSU (6-2, 2-2) has turned the ball over only nine times this season, and it might need to maintain that trend on Saturday if it is to have any chance of upsetting the Rebels. Not only does Ole Miss lead the nation with 90 points off turnovers, but it has been remarkably consistent.
The Rebels have either scored a defensive touchdown or created a turnover to take control of the contest in each game this season:
In other words, this is a well-established habit for the Rebels, and the Tigers understand that protecting the ball will be particularly important on Saturday.
"We pride ourself on not turning the ball over in the backfield," running back
Terrence Magee
said. "We work ball security every day before we get into the core of practice, and it's just something that we work on a routine basis. We realize that if we don't turn the ball over and we win the turnover margin, our chances of winning are much greater."
LSU has won or tied in turnover margin in every game this season except last week's 41-3 win against Kentucky. The Tigers have actually been extremely effective themselves at turning takeaways into points, outscoring opponents 72-7 following turnovers -- a differential that ranks third among FBS teams. Only Oregon's plus 79 (79-0) and Ole Miss' plus-71 (90-19) points-off-turnovers margins are better.
LSU has also capitalized off opponent miscues, as the Tigers' game-winning scores against both Wisconsin and Florida came after fourth-quarter interceptions by
Jalen Mills
and
Rickey Jefferson
.
That creates a competition of sorts between an LSU secondary that prides itself as being one of the best in the nation and a group of Rebels defensive backs who are tied for the FBS lead with 15 interceptions.
"You could say that," Jefferson said, "but we're looking to be on top. That's what we're trying to do as DBs."
LSU's defensive backs could accomplish that goal by capitalizing on mistakes by Wallace, and he hasn't made many this season. Ole Miss' senior quarterback has tossed six interceptions overall and none in SEC play.
Just as important will be avoiding the back-breaking offensive mistakes that set up short drives for Ole Miss. Understandably, that has been a point of emphasis for the Tigers this week.
"Just end every drive with a kick," Dural said. "Try not to make those mental mistakes to where we give them the ball with a short field."
October, 12, 2014
Oct 12
2:30
AM ET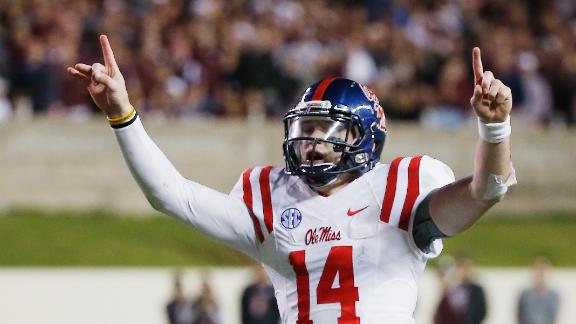 COLLEGE STATION, Texas -- As seconds dripped off the clock,
Bo Wallace
roamed the visiting sideline at Kyle Field to give high-fives and handshakes to his Ole Miss teammates.
Before he began his journey, an Ole Miss fan sitting in the first row near midfield attempted to get the senior quarterback's attention.
"Great game, Bo," the fan yelled. "Proud of you."
Wallace looked up toward the fan. "Appreciate it," he responded. Then three young boys further down the sideline wearing red Rebel jerseys leaned over the rail with hands outstretched, waiting for high-fives to which Wallace obliged. Later, after doing a postgame interview, Wallace was the last Rebel to head to the locker room, and as he jogged toward the southeast tunnel, an entire section of fans draped in red and blue stood and roared for their quarterback.
Hotty Toddy, gosh almighty, the Rebels fans are loving Wallace these days.
Why not? After his performance in No. 3 Ole Miss'
35-20 win
over No. 14 Texas A&M, which followed a stellar performance against Alabama the previous week, Wallace is deserving of the adulation. For all the talk of "Good Bo" and "Bad Bo" that permeated earlier this season, Wallace appears to be putting that talk to bed.
In the last two weeks against two ranked opponents, Wallace excelled. In the Rebels' 23-17 takedown of Alabama, he threw for 251 yards and three touchdowns. Saturday versus the Aggies, his passing numbers were much more modest (13-of-19, 178 yards and a touchdown) but that was partially because of the lead the Rebels had going into the second half and coach Hugh Freeze's desire to not take too many risks in the second half with a lead and his defense playing the way it was and has been all season.
[+] Enlarge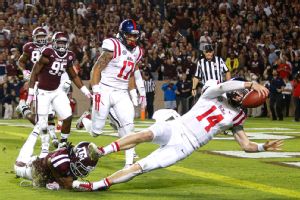 Troy Taormina/USA TODAY SportsBo Wallace passed for 178 yards and a touchdown against Texas A&M. He also ran for two scores and has yet to throw an interception in SEC play.
The key to Wallace's day against the Aggies was the timing of his lone touchdown pass and the work he did on the ground, leading the team with 50 rushing yards and two early touchdown runs that got the Rebels out in front of the Aggies 14-0 in the first quarter.
Wallace was accurate, made good decisions and kept the Aggies' defense off balance for much of the first half. Then when the Aggies were trying to creep back into the game late in the third quarter, Wallace delivered one of the biggest third-down conversions of the night,
doing his best Superman impression by leaping and reaching out for a first down on third-and-8
while met by multiple A&M defenders. The conversion kept a drive alive that he finished with a 33-yard strike to
Quincy Adeboyejo
that extended the Ole Miss lead to 28-7.
"No one's ever doubted his competitive spirit and that shows it," Freeze said. "We needed a first down. Bo is an extremely competitive kid."
The most important number in Wallace's stat line the last two weeks? Zero interceptions. He hasn't thrown a single pick in conference play and if the Rebels are truly a College Football Playoff contender -- which their 6-0 start, lofty ranking and last two wins suggest -- then quality quarterback play from Wallace is a must.
"It's huge," Ole Miss co-offensive coordinator and quarterbacks coach Dan Werner said of Wallace's play. "When you get into a game against a really good football team -- which we're going to see about five more -- it depends on the quarterback making good decisions. You can play great defense, you can run the ball and all that, but if the quarterback makes bad decisions, you're probably going to get beat. So far, he's done good with that."
Much of the attention and credit for Ole Miss undefeated first half of the season has gone to its defense and rightfully so.
The "Landsharks" have been stellar this year and were again on Saturday. The first-string defense allowed only one touchdown in the first five games and shut the Aggies' high-powered offense to basically 14 points (the Aggies' final six came as time expired and the game was out of reach). As a whole, the Rebels have allowed 71 points in six games and seven of those are courtesy of an Alabama fumble return.
The defense is clearly championship-caliber, but it takes more than that to reach the pinnacle. A productive, efficient offense and a capable quarterback are needed also and if the last two weeks are any indication, Wallace is poised to say goodbye to his "Bad Bo" alter-ego.
After the Rebels beat the Crimson Tide, Wallace voiced his annoyance with the whole concept, telling reporters afterward,
"I must be the only quarterback in the country to throw an interception."
If he keeps playing like he has the last two weeks, it'll be gone for good.
"He hasn't thrown an interception in an SEC game," Werner said. "That tells you he's protecting the football, he's making big plays when they're there and we're winning."
August, 29, 2014
Aug 29
1:10
AM ET
ATLANTA -- It was by no means a pretty win, but it was a win nonetheless for No. 18 Ole Miss. In a game that featured eight Ole Miss false starts and seven total interceptions (a record for the Chick-fil-A Kickoff Game), the Rebels trudged their way to a sloppy
35-13 win
over Boise State inside the Georgia Dome. It most be noted that 28 of those Ole Miss points came in the fourth quarter.
Momentum awkwardly traveled back and forth between the teams before Ole Miss sophomore wide receiver
Laquon Treadwell
put the Rebels ahead by eight with a beastly 14-yard touchdown grab with 12:26 remaining in the fourth quarter.
1. Finding that menacing Megaquon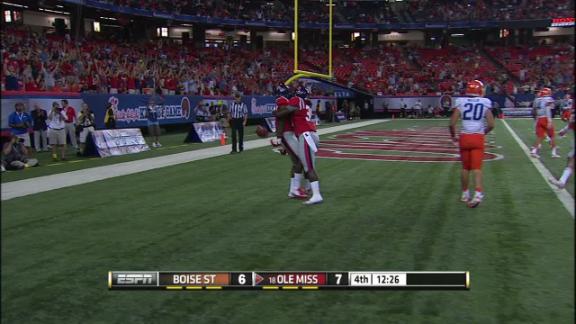 Quarterback
Bo Wallace
, who was having one of his more forgettable performances to this point, saw the obvious mismatch with the 6-foot-2, 229-pound Treadwell facing Boise State cornerback
Cleshawn Page
(5-9, 178) to his left. Without hesitation, Wallace looked to his left and zipped a pass to where only a leaping Treadwell could get it. The sophomore caught the pass at the 2 and tumbled into the end zone to give the Rebels a 14-6 lead.
Offensive coordinator Dan Werner:
"We felt like if we could get him singled up, which they weren't letting that happen very often, but if we did, we were going to audible and run the fade. Bo did a nice job; he saw that they were bringing the free safety, so we had one-on-one coverage and he just threw it up high and let Laquon make a play."
Treadwell:
"Man-to-man, throw it up. That's really all I saw. I knew he was pressing. He tried to jump jam, but he kinda jumped offside. After he did that, I knew he was beat, and I was just waiting for Bo to throw the ball, really."
2. Bouncing Adeboyejo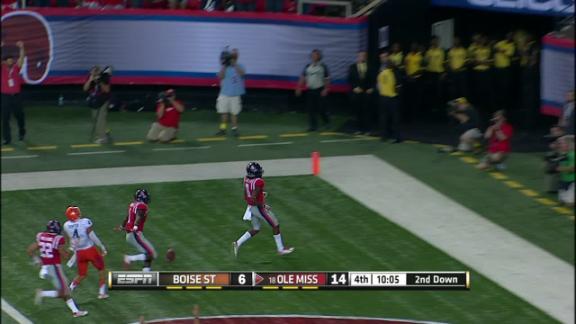 Not to be outdone a couple minutes later was fellow sophomore receiver
Quincy Adeboyejo
, who officially put the game away with a springy 31-yard touchdown catch. Adeboyejo, whose touchdown was set up by a fantastic interception by safety
Tony Conner
two plays earlier, caught a bullet of a pass from Wallace at Boise's 10-yard line before bouncing off two defenders and into the end zone to make it 21-6.
Treadwell:
"I think that broke Quincy out of his shell. Quincy's a great player and we know he can play. It's just that he's inconsistent, but now I think that broke him out of his shell, really, and he should have a great season. I think that really helped the offense."
3. Can't catch Cody Core
So this is what Ole Miss' offense was supposed to look like, huh? An offensive line that struggled all night (did I mention those eight false starts?) held its ground for the second Wallace needed to find Core sprinting through the middle of the field. Core caught the ball in space and was gone.
Wallace:
"It was just a vertical route. We swung the backs so maybe the husky would jump out and give us leverage, and they did, so we got it. It's something that we ran in camp that when we first put it in, it was tough on our defense. We felt like that would be a good play for us."
Core:
"I saw the field open and I trusted my teammates and just cut loose. I actually didn't [see the linebacker jump out], but I knew the cornerback was behind me so if I cut over to the other side, it would be for the field."
August, 19, 2014
Aug 19
8:00
AM ET
1. Kentucky settled its quarterback race on Monday when coach Mark Stoops announced that sophomore
Patrick Towles
will be the Wildcats' starter. It's a nice story, because Towles redshirted last season and competed for the starting job twice before and lost. Instead of transferring,
Towles continued to work and battled his way to the top of the depth chart
. Not an easy thing to do in the winner-starts-loser-transfers trend that seems to be increasing among college football quarterbacks. The 6-foot-5, 238-pound Towles was even able to fend off highly-regarded true freshman
Drew Barker
, a prize recruit in the Wildcats' 2014 class. No word yet from Stoops whether Barker will redshirt this season, but regardless, former Wildcat great Tim Couch has sage advice for the young Barker:
"It's how you handle that year that is really going to determine the rest of your career."
2. Vanderbilt's
quarterbacks are wearing knee braces in hopes of preventing injuries
. It's not common to see healthy quarterbacks who haven't had knee injuries wear them and Vanderbilt's signal-callers did not engage in this practice in the 16 years that head trainer Tom Bossung has been there. After losing two quarterbacks to knee injuries last season, though, the Commodores decided to make the move. They're different from the offensive linemen's knee braces, but thumbs up to the Commodores training staff on the move. While it may not prevent all knee injuries, the decision to do it moving forward should help. It has become so common among offensive linemen, it will be interesting to see if this becomes a trend among quarterbacks across the nation.
3. Alabama brought in its fourth motivational speaker of fall camp,
welcoming former Fresno State basketball star Chris Herren to campus on Monday
. Herren got a positive response from the Crimson Tide players. Preceding Herren in Tuscaloosa, Alabama, during training camp was former NFL player and current league executive vice president of football operations Troy Vincent, former NBA star Antoine Walker and well-renowned motivational speaker Eric Thomas. This is certainly not uncommon; plenty of programs bring in guest speakers or motivational speakers to get messages across to players. Still, it's beneficial because when you recruit at the level Alabama does, you bring in dozens of highly-regarded players who have been told often how good they are. Getting messages from people who have been through ups and downs like Herren or Walker or someone like Vincent who has played at the highest level of football as these players undoubtedly hope to, they can impart valuable wisdom and provide a different voice other than the coaches who are barking at them every day. Sometimes that different voice can have an effect.
More from around the SEC:
Tweet of the day
"I'm being a cowboy. I'm going to save America." - DL Nick James #VoteJamesin2016 https://t.co/Hw4spznkDn

— MSU Football (@HailStateFB) August 18, 2014
July, 29, 2014
Jul 29
2:00
PM ET
HOOVER, Ala. --
Evan Engram
might have been one the most underrated true freshman in the SEC last season. Of course it didn't help that he rolled his ankle and missed five games, and when he did return for the Music City Bowl he simply wasn't 100 percent. But when he was on the field and healthy, he was the type of pass-catching threat that makes defenses cringe. At 6-foot-3 and 217 pounds, he had the build of a tight end and the athleticism of a receiver. On a team with Donte Moncrief and
Laquon Treadwell
, he had 20 receptions and three touchdowns in seven games before being sidelined.
[+] Enlarge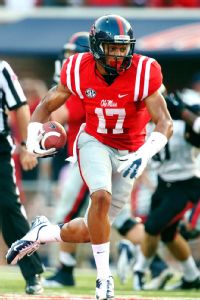 Spruce Derden/USA TODAY SportsTight end Evan Engram had 20 receptions and three TDs in seven games for Ole Miss last season.
Coach Hugh Freeze's eyes lit up when asked about Engram at SEC media days this month. The guru of the Rebels' offense couldn't hide his enthusiasm; he couldn't wait to see his promising tight end back on the football field this season. When Engram went out last season, Freeze had to turn to two walk-ons at the position. Though he "loved having them" and praised their effort, they were no replacement for Engram. It got to the point that from Week 8 on, Ole Miss released its pregame depth chart with three receivers, two running backs and no tight ends.
"I cannot overstate it," Freeze said of Engram's absence. "We changed last year when he went out. We were not the same."
Early on against Vanderbilt, Texas, Auburn and Texas A&M, Ole Miss averaged 466 yards and 35.75 points per game. Week 7 against LSU -- the same game Engram rolled his ankle in the second half -- the Rebels racked up 525 yards and 27 points in a dramatic upset victory. But down the stretch in losses against Missouri and Mississippi State, the offense faltered, failing to score more than 10 points in either game. Without Engram, there was no one to work the middle of the field and keep the safeties honest. Quarterback
Bo Wallace
began forcing the ball and threw six interceptions in November alone as the Rebs limped to an 8-5 finish.
A healthy Engram should mean greater consistency for Ole Miss in 2014. He and fellow freshman Treadwell are a year wiser, and Wallace's arm is finally back to 100 percent after never fully rehabilitating from shoulder surgery prior to last season. Moncrief might be off to the NFL now, but there is plenty to like about the depth of the receiving corps, especially 6-foot-3 sophomore Quincy Abedoyejio, whom Wallace said is the best route-runner and the fastest receiver of the bunch.
Even though the receivers deserve their fair share of acclaim, don't sleep on Engram. He might not be a household name yet, but to the people who matter most he's held in high esteem. As junior defensive end
C.J. Johnson
said, "I think it will be key to keep him healthy."
"Evan is a little faster than people give him credit for, I think," Johnson added. "He's tough, really long, really athletic, has good hands. He can really cause some problems in the slot.
"Having Evan and the skill set he has is pretty special."
Asked in May what Engram brings to the table, offensive coordinator Dan Werner said simply, "The fact that he's almost a wide receiver."
"He's got the talent of a wide receiver, but he's more physical so he can play inside. Now we're getting him matched up on linebacker and safeties a bunch. That's just a total mismatch."
But it's not just Engram who is poised to wreak havoc on SEC defenses this season. The entire league seems to be strong at tight end. When the
John Mackey
Award watch list came out last month, Engram and six other SEC players were on it:
Rory Anderson
,
Hunter Henry
,
O.J. Howard
,
Malcolm Johnson
,
Jay Rome
and
C.J. Uzomah
. The seven total selections (compared to five the year before) were more than any other conference in college football.
June, 27, 2014
Jun 27
3:00
PM ET
We continue our
"most important game" series
, which looks at the most important game for each SEC team in 2014. These are the games that will have the biggest impact on the league race or hold special meaning for one of the teams involved. Today, we take a look at Ole Miss.
Most important game:
Nov. 1 vs Auburn


Key players:
Every time you think about this Ole Miss team, you usually always come back to quarterback
Bo Wallace
. He's had his issues with injury and inconsistency since he arrived in Oxford. But he and Ole Miss' staff are hoping this season is different. For the first time in years, Wallace's shoulder isn't bothering him, which should help with the velocity and accuracy of his passes. Against a very athletic Auburn front, Wallace will have to be at his best when it comes to managing plays out of the backfield.
What will help him is the fact that he has one of the SEC's freakiest athletes at wide receiver in sophomore
Laquon Treadwell
. With Donte Moncrief gone, Treadwell will have even more on his plate. The good news is that the's more than capable of dealing with all that responsibility and attention. After all, he led Ole Miss with 72 receptions last year. Treadwell won't be on his own, though.
Keep an eye on receivers
Vince Sanders
and
Quincy Adeboyejo
; Hugh Freeze believes they could have breakout seasons this fall. Add in tight end
Evan Engram
, and the Rebels should have a formidable passing attack against a more seasoned secondary.
One way to make sure that passing game goes well is for left tackle
Laremy Tunsil
to protect Wallace. Whether Auburn defensive end
Carl Lawson
is healthy or not might not matter with the talent the Tigers have up front, so Tunsil will be pretty busy. So will defensive end
C.J. Johnson
, who brings back the pass-rushing dynamic the Rebels lost when he left last season with a season-ending leg injury. If you want to stop Auburn's offense, you have to get to the quarterback and disrupt the zone-read. That will be Johnson's job.
Containing Auburn's running backs will be very important, too, meaning defensive tackle
Robert Nkemdiche
will have to clog things up front, and safety
Cody Prewitt
will have to play more in the box, while also watching quarterback
Nick Marshall
's arm. He should get help from fellow safeties
Trae Elston
and
Tony Conner
in that department, along with linebacker
Serderius Bryant
, who can act like a spy against Marshall.
Why it matters:
Freeze said this spring that he didn't think he'd be prepared to talk about bowl games until his third year with the Rebels. Well, that went out the window when he took Ole Miss bowling in his first year. He did it again last year, and now has even higher expectations in Year 3. Ole Miss has some depth issues along its offensive line and at receiver, but there is enough overall talent for the Rebels to make a legitimate run at the SEC West title. That's why getting a victory over reigning SEC champ Auburn is so important. If the Rebels are going to take that next step as a program, they need a win like this. Take down one of the big boys and you'll get real respect in this league. A win such as could unload momentum for the Rebels and it will be crucial for their race in the West.
June, 12, 2014
Jun 12
4:00
PM ET
Ole Miss
has no shortage of standouts who are entering their sophomore seasons. After landing one of the nation's
best recruiting classes in 2013
, the Rebels were able to see the fruits of their recruiting trail labor early with several players contributing right away last season.
There are several worthy candidates to choose from for today's
second-year stars installment
, even as we look for someone who might not be right at the forefront of our brains, like freshman All-Americans
Laremy Tunsil
and
Laquon Treadwell
.
[+] Enlarge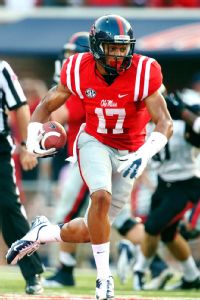 Spruce Derden/USA TODAY SportsDespite missing five games due to injury, Evan Engram had 21 catches for 268 yards and three touchdowns last fall.
Class recap:
Ole Miss had the nation's
No. 5 recruiting class in 2013
, and so far it seems like the high ranking was warranted. The Rebels' top four recruits in the class -- Tunsil, Treadwell,
Robert Nkemdiche
and
Tony Conner
-- all were named freshman All-Americans and were picked for the SEC coaches All-Freshman team. Even more players from that class are poised for increased roles this fall.
Second-year star:
TE
Evan Engram
(6-foot-3, 217 pounds)
Recruiting stock:
Engram was an under-the-radar prospect out of Georgia in the 2013 class, holding offers from the likes of Wake Forest, Ohio and South Alabama prior to earning an offer and eventually committing to Ole Miss. A
three-star prospect
, Engram was ranked 27
th
nationally among tight ends and 132
nd
overall in Georgia.
2013 in review:
If not for a high-ankle sprain that caused him to miss five games late in the season, Engram could have been headed for a freshman All-American spot himself (he still received honorable mention and was a second-team All-SEC freshman pick by the Associated Press). He finished with 21 catches for 268 yards and three touchdowns. The three scores are a school record for an Ole Miss freshman.
2014 potential:
If he can stay healthy this season, the breakout potential is there. His size and ability is a nice fit for the Rebels' offense, and with receivers
Donte Moncrief
and
Ja-Mes Logan
-- two of Ole Miss' three leading receivers last season -- now in the NFL, there are more catches to go around. Engram is among a group of other young pass catchers like
Vince Sanders
,
Quincy Adeboyejo
,
Cody Core
and
Collins Moore
who will be looked upon to take on bigger roles. If Engram's early-season success last fall is any indication, he'll find success sooner rather than later.
Also watch for:
Obviously, Tunsil, Treadwell, Conner and Nkemdiche are all looking to build on strong freshman seasons, so expect each of the four to improve as sophomores and continue playing prominent roles for the Rebels. As for some other less-heralded possibilities, Adeboyejo is one to watch. A three-star prospect out of Texas high school power Cedar Hill, Adeboyejo (7 catches, 81 yards, 1 TD) did get some playing time last season as a true freshman and has nice size (6-3, 189). Another three-star prospect from the 2013 class,
Derrick Jones
(27 tackles, 1 TFL, 2 pass breakups), played in nine games and made four starts as a cornerback last season and is certainly one to watch as a potential breakout player.
May, 23, 2014
May 23
1:30
PM ET
Despite
a difficult schedule
in 2014, Ole Miss could pose a real threat in the SEC West this fall. The freshman phenoms are back for Year 2, and quarterback
Bo Wallace
, who threw for 3,346 yards a year ago, is the league's top returning passer.
We caught up with co-offensive coordinator/quarterbacks coach Dan Werner to see how the Rebels progressed during the spring and where they're at offensively.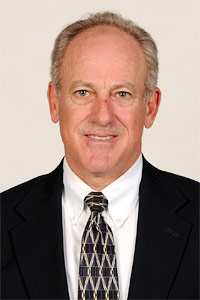 Courtesy of Ole MissOle Miss offensive coordinator Dan Werner believes the Rebels have much better depth heading into the 2014 season.
How'd you believe the offense came along during spring practice?
Werner:
The thing that I'm really pleased about is our depth at basically all positions other than the offensive line. We're a little thin there. But we have two backup quarterbacks that are going to battle it out that we feel good about. We've got three or four running backs that we feel good about. Probably four or five to six wide receivers along with some young guys coming in, true freshmen we feel like can help. I feel like we're at a much better spot now than we were last year and definitely than the year before.
How about wide receiver? How do you replace a guy like Donte Moncrief?
Werner:
Laquon Treadwell
, who played the slot for us last year as a true freshman, has moved outside to take Donte [Moncrief's] place and really looked good in the spring. I feel like he could be a dominant guy out there.
Vince Sanders
was banged up most of the spring, but he had a great year last year so we know he's going to be a player. We just have to get him back healthy, which he is now.
Quincy Adeboyejo
had a really good spring. [He's] another kid who was a true freshman last year -- saw some playing time, not a whole lot, but really came on by the end of the year and had a really good spring. Then we've got a bunch of backups that played well, along with the young guys coming in.
In a league with a lot of new faces at quarterback, how nice is it to have Bo back?
Werner:
It's big. Last year at this time, he was still coming off his surgery, so we weren't even sure how he was going to be able to throw. The year before that, he hadn't even won the job yet. So even though he's been a two-year starter going on his third year, this is the first year that he's really come in knowing he's the guy. Instead of learning or trying to work on his throwing, we're taking it to that next-level stuff.
March, 28, 2014
Mar 28
12:00
PM ET
While college basketball teams are punching their tickets to the Elite Eight, the SEC's best quarterback of the last two seasons might have cemented his position as an elite talent in the NFL draft.
September, 6, 2013
9/06/13
11:00
AM ET
Ole Miss had one of the more memorable wins from the first weekend, coming from behind to knock off Vanderbilt on the road in Thursday's season opener.
Wide receiver
Donte Moncrief
is now in his third season with the Rebels. He was there before the arrival of Hugh Freeze, when the program was in dire straits, but he also has been a big part of the resurgence under the second-year coach, both on the field and in recruiting.
The much-anticipated 2013 recruiting class made its debut against the Commodores and played a major role in the victory. Moncrief, a preseason All-SEC selection, spent some time with ESPN.com to talk about the win, the play of the freshmen and the team's expectations.
[+] Enlarge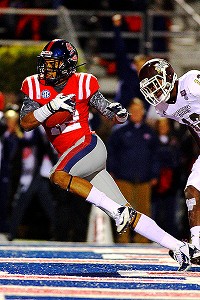 Spruce Derden/USA TODAY SportsOle Miss receiver Donte Moncrief has become a veteran presence on a young roster.
Q: How big was it for you guys to open the season with that win over Vanderbilt?
A:
That was a big thing. That's momentum for the team. A lot of young players played a good game, and that's what we needed. We're just moving forward, and we're going to take every team like they're a championship team and play our best.
Q: What were the emotions like at the end of that game?
A:
The emotions were high. We had a mindset that we weren't going to leave without a win. When we got down by 14, we just had to keep everybody together and make sure everybody kept their head high, so nobody got their head down. We just kept fighting, and we were in better shape, so we came out the win.
Q: I have to ask you about your counterpart, LaQuon Treadwell. How good was he, and did you see that coming before the game.
A:
Yes sir. I had told him before -- he was my roommate in the hotel room -- and I just told him, 'You need to play like this is a high school game. These are high school players that came from high school, just like you did. Just come out there, play hard and give it all you got.' That's what he did. He had a great game.
Q: If you can sum up the freshman class as a whole, what kind of impact did they make?
A:
All of the freshmen, they're not regular freshmen, those are some big-time guys that made big-time plays. That's what we needed. Coach Freeze did a good job of recruiting them, and those guys came in ready to play fresh off the jump.
Quincy [Adeboyejo]
is another LaQuon. He's just a faster version. He's smaller, but he can make big catches just like LaQuon.
Robert [Nkemdiche]
is a big, physical guy. He's very humble. He's going to make a lot of plays. It's good to have his first game under his belt.
Q: You had a solid freshman year at Ole Miss a couple years back. What was the biggest adjustment you had to make going from high school to college?
A:
Back when I came here, a lot of people doubted me. I just took that to the head -- I fought harder, and I gave it everything I got. Every day I came out here, I was trying to get better watching the older guys. As I got better, they gave me a chance to play, and I took advantage of it. I told the (new guys) when they first got here that we're not trying to put you on a redshirt. I told them to learn the plays and get ready to play early. That's what they did.
Q: It's just one game, but how good can this Ole Miss team be this year?
A:
I think we'll be really good. We're very young, but at the same, we're all together and we all have the same goals. Everybody is just trying to stay focused, stay healthy and get ready to do what we've got to do.
SEC SCOREBOARD
Saturday, 12/20
Monday, 12/22
Tuesday, 12/23
Wednesday, 12/24
Friday, 12/26
Saturday, 12/27
Monday, 12/29
Tuesday, 12/30
Wednesday, 12/31
Thursday, 1/1
Friday, 1/2
Saturday, 1/3
Sunday, 1/4
Monday, 1/12
Tweets from https://twitter.com/ESPNCFB/lists/sec