July, 22, 2014
Jul 22
10:30
AM ET
HOOVER, Ala. -- Bret Bielema has a message to any
Arkansas
fans who might not want to see
Brandon Allen
starting under center for the Razorbacks this season: Get over it.
"Sit back and relax because it isn't going to change," Bielema said last week at SEC media days.
[+] Enlarge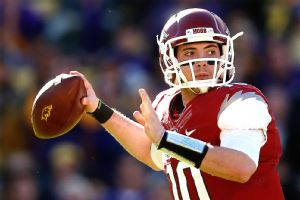 Chris Graythen/Getty ImagesBarring something unforeseen, Brandon Allen is going to be Arkansas' starter at quarterback again this season.
Not much ambiguity there.
It's Bielema's job to sound confident in his quarterback. It's not his style to waver, either.
But Bielema will have to understand why others might be hesitant to see a Brandon Allen sequel in 2014. As a redshirt sophomore, he threw 13 touchdowns and 10 interceptions last season. His completion percentage was below 50 percent and his adjusted QBR (58.5) didn't rank among the top 60 college quarterbacks. Arkansas lost its final nine games and Allen was the face most associated with the team's failures.
So why bring him back? Well, there's two answers to that question: 1) Coaches and teammates believe he's improved; and 2) There's no one else who is ready to take the job from him.
"I've seen a big difference in B.A.," Arkansas safety
Alan Turner
said. "It was tough. He was younger last year. It was his first time playing, and then he got hurt.
"But from that time to now he's gotten more confidence, he's being a great leader and his reads are coming faster. He's getting rid of the ball quicker. I believe he's gotten way better. If he can keep taking strides further, he'll be good for us."
The question is whether his best is good enough. For now it has to be.
Rafe Peavey
, Arkansas' quarterback of the future, simply isn't there yet. The former four-star prospect has all the tools you look for -- 6-foot-2 and 210 pounds with good quickness and accuracy -- but he's lacking in the one department that matters most in college football: experience.
"As a coach, you realize what certain players can bring," Bielema said. "Rafe's a freshman. I understand certain freshmen are able to play. I've had freshmen come in and do some really good things, but he's not there. That's not to say he can't continue to get there with continued work and perseverance, but there isn't anyone who is even close to what B.A. will bring Day 1 from that first game against Auburn."
Anyone hoping for something different is betting on a long shot.
"Unless someone reinvents who they are for those four weeks of preseason practice, B.A. is the guy, hands down," Bielema said.
April, 18, 2014
Apr 18
12:00
PM ET
Alabama, Auburn and Missouri will all hold their spring games this weekend. To get you ready for all the action, be sure to check out Friday's lunch links.
April, 11, 2014
Apr 11
9:00
AM ET
Brandon Allen
isn't shying away from the competition. Despite starting 11 games at quarterback for
Arkansas
last season, he knows nothing is guaranteed. There are others ready to take his spot at the drop of a hat:
AJ Derby
, who started one game and saw action in seven contests;
Rafe Peavey
, a four-star prospect who enrolled early so he could participate in spring practice; even Allen's younger brother,
Austin
, who redshirted last season.
When coach Bret Bielema
said prior to spring practice
that Allen would be with the first-team offense "in theory," he essentially threw down the gauntlet: "Who gives us the best chance to win next year's opener against Auburn will be at that position. If it's B.A. that's great. If it's not, hopefully that next person is ready."
[+] Enlarge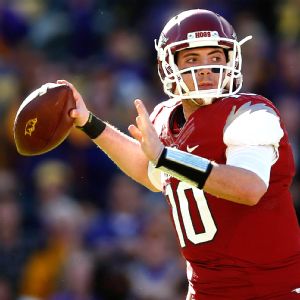 Chris Graythen/Getty ImagesBrandon Allen says he has a better grasp of Arkansas' scheme and how to be a leader.
Allen sounds ready to keep fighting for his job.
"My mindset is I'm the starter and I need to go out and prove to everyone that I'm still the starter," Allen told ESPN.com on Wednesday. "Obviously the competition fuels all of us, especially with me. It makes me want to perform better than everyone else."
Allen wasn't far and away better than everyone else last season. Though he started strong -- 388 yards, five touchdowns and one interception in Arkansas' first three games, all wins -- he didn't end that way, finishing with an underwhelming 13 touchdowns and 10 interceptions. His 49.6 completion percentage left something to be desired, falling well behind league leaders
Johnny Manziel
(69.9 percent),
Bo Wallace
(64.8 percent) and even Austin Carta-Samuels (68.7 percent).
The good news is Allen is only beginning to come into his own. Last spring he was a sophomore trying to learn an entirely new offense. This year he's much better prepared to execute what coaches ask of him.
"I have a lot more confidence," Allen said. "Playing that whole year, just getting the experience of SEC football and getting that under my belt, has been huge for me, especially coming into the spring and making myself more of a leader. I think that whole confidence level for me has been a huge boost."
Bielema has noticed. After Allen completed 17 of 20 passes for 247 yards, a touchdown and one interception in Arkansas' first scrimmage last Saturday, Bieliema told reporters he has seen a change in his quarterback ever since the start of spring practice.
"He looks different physically. He plays different. He has got so much composure," Bielema said. "What I love there -- not that I wanted to see it -- but when we had a couple of guys jump offsides he really let the huddle have an awareness of what we needed to do and what was expected. You like to have your quarterback step up in that fashion."
Allen said he's gotten bigger, faster and stronger in the weight room this offseason. And that has translated to more durability and better arm strength, he explained. But it becomes clear even in the briefest of conversations that he's more interested in control of a different kind. He wants to lead.
"As an offense, we need to be clicking on all cylinders," Allen said. "We can't be making little mistakes -- jumping offsides, doing little things that hurt ourselves. I think if we clean up those details and finish up the spring on track, we'll be a tough offense to stop. Really it's all about not hurting ourselves and doing the right things."
Allen knows that he had quite a bit to work on as well. He watched the film and saw where he could have done better.
"

I'm making myself more of a perfectionist, just not making many mistakes is what I'm trying to pride myself on.

"

-- Arkansas QB Brandon Allen
There were highs, he said, pointing to close games where it could have gone either way. There were lows, too, where he and the offense struggled to hold up their end of the bargain.
Proving he's ready to be the starter once again is about getting over the hump.
"I've taken things I've learned from last season and applying it, even to the new things we're installing," he said. "I'm making myself more of a perfectionist, just not making many mistakes is what I'm trying to pride myself on."
The starting job is ostensibly Allen's to lose. Just don't tell him that.
Derby didn't distinguish himself in limited time last season. There were plenty of opportunities for Bielema to pull the redshirt off of his two freshmen, but he didn't for a reason. And Peavey, talented though he may be, is still far too young to be expected to grasp an offense and run with it.
Allen thinks of himself as the starter, but at the same time he's not taking it for granted. As he said, "You can't make mistakes in a competition." When you do, someone is always there to take advantage.
"Everyone wants to be the top guy, but there can be only one," he said.
April, 4, 2014
Apr 4
10:00
AM ET
Brandon Allen
.
Nick Marshall
.
Bo Wallace
.
That's it. That's the list.
Only three quarterbacks who started double-digit games last season return to the SEC this fall, and one of them isn't even guaranteed to be a starter.
[+] Enlarge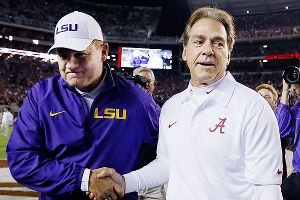 Kevin C. Cox/Getty ImagesLes Miles and Nick Saban are in no hurry to name their starting QBs for the fall.
Everywhere you turn in this league, there's a quarterback competition underway, from Alabama to Georgia, Arkansas to Kentucky, LSU to Texas A&M.
Maty Mauk
is surely the presumptive starter at Missouri, but even he's not a sure thing. Gary Pinkel says he wants competition, never mind that there were times when Mauk looked better than former starter
James Franklin
.
But not every coach in the SEC approaches the quarterback position the same way. A quick glance across the league shows a variety of opinions about how to pick a starter.
Mark Stoops is the most urgent-minded coach of the bunch, and given the inconsistency Kentucky had at quarterback last season, it's easy to understand why. Entering his second season, Stoops said: "I'd love to come out of spring with a clear-cut starter." That means everyone is in the mix.
Maxwell Smith
can't practice while he recovers from shoulder surgery, but
Jalen Whitlow
,
Reese Phillips
,
Patrick Towles
and even true freshman
Drew Barker
are in the hunt.
Barker, a four-star prospect according to ESPN, "has a very good opportunity to take control of it," Stoops said, praising his maturity for such a young quarterback.
"He's a guy [who] has high expectations [for] himself, and he's OK with the pressure that comes along with playing that position," Stoops said. "He's excited about the opportunity, and I'm excited to see what he can do."
Bret Bielema isn't outwardly putting a timetable on anything at Arkansas, but he's encouraging everyone to compete. Allen started 11 games last season but was up and down, with 13 touchdowns and 10 interceptions.
Bielema was about as no-nonsense as any coach gets about the situation.
"In theory, the first time we yell out for the [first string, Allen is] going to step out there," Bielema said before the start of spring practice. "But really, in our program, the competition brings the best out of people.
"So B.A. is going to be the first guy in with the ones, but there will be other guys who get opportunity," he continued. "Who is able to produce and run the offense effectively and who gives us the best chance to win next year's opener against Auburn will be at that position."
Similar to the case at Kentucky, Bielema isn't counting out his true freshman.
Rafe Peavey
, another highly-regarded four-star prospect, is going to be allowed to sink or swim. Bielema loves his talent and praised him as a "football junkie." But he's not pampering the rookie.
"It's no different between the right tackle or the quarterback or the safety," Bielema said. "It's all about what a freshman can handle, how they adjust to adversity and how they enjoy success.
"The quarterback gets a lot of attention. They're usually really pretty, really smart, and everybody likes them. But in reality, they're like everybody else. Those that play well will play and those that don't will sit."
While Bielema and Stoops are anxious for a battle, other coaches around the league are more inclined to sit back and wait.
[+] Enlarge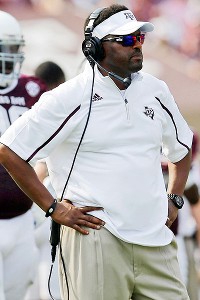 AP Photo/David J. PhillipWho will replace Johnny Manziel as Texas A&M's QB? Kevin Sumlin isn't saying anything right now.
LSU coach Les Miles said he has a good sense of the competition between
Anthony Jennings
and
Brandon Harris
. "But it always plays out," he said, harkening back to when Matt Flynn and JaMarcus Russell duked it out eight years ago. It looked like Flynn had the job in hand after winning a bowl game and watching Russell come into camp out of shape in 2006. But Flynn's body faltered down the stretch and Russell kept going, eventually winning the job.
"I want all the quarterbacks to know that it's going to be given to no one," Miles said. "[It's] earned by the one that plays."
Texas A&M and Alabama are taking similar approaches to replacing
Johnny Manziel
and
AJ McCarron
. In fact, both Kevin Sumlin and Nick Saban are somewhat defiant about holding the cards close to the vest.
Sumlin has gloated before that when people assumed
Jameill Showers
would beat out Manziel in 2013, "I didn't name a starter [after spring]; y'all did."
So while we watch
Matt Joeckel
,
Kenny Hill
and
Kyle Allen
jockey for position, don't expect a starter to be named until close to the season.
Saban, for his part, doesn't want to hear anything about it. His quarterback competition is essentially on hold until the fall, when Florida State transfer
Jacob Coker
arrives. Before the start of spring practice, Saban laid out his plan, saying, "Let me be very clear about this: We're not going to be in a hurry to decide who the quarterback is."
"You guys are going to ask me at least 1,000 times between now and the first game who's the first-team quarterback," he added, "and I'm telling you right now you're probably going to get a 1,000 'We're going to wait and see.' "
The only place in the SEC that doesn't have to be patient in the matter is South Carolina. Coach Steve Spurrier named
Dylan Thompson
the starter well before spring practice ever began.
Replacing
Connor Shaw
won't be easy, but Spurrier said that Thompson was the guy for the job, no question. A fifth-year senior with plenty of in-game experience, Spurrier didn't have a doubt in his mind.
"I didn't know there was any question about it," he said. "Someone said, 'You're just naming him the starting quarterback?' Well, I just said, 'Of course I am. Why wouldn't we?' "
Spurrier did it his way. Saban and Sumlin are doing it theirs. Stoops is anxious, and Bielema and Pinkel are only interested in the competition.
Recruiting a quarterback is the furthest thing from an exact science. Finding out who's ready to start is even more inexact.
This might be the season of new quarterbacks in the SEC, but everywhere there's a different sense of which way the wind blows.
March, 14, 2014
Mar 14
1:00
PM ET
Schedule:
The Razorbacks open spring camp with their first practice on Sunday. They conclude with the Red-White Game on April 26 at Donald W. Reynolds Razorback Stadium in Fayetteville. The spring game is free to attend.

What's new:
Arkansas hired former Tampa Bay Buccaneers linebackers coach Robb Smith as defensive coordinator to replace Chris Ash, who left for Ohio State. Prior to working in the NFL, Smith was the defensive coordinator at Rutgers. The Razorbacks replaced defensive line coach Charlie Partridge with Rory Segrest, who coached the same position at Samford. They also hired Clay Jennings, who coached at TCU for the past six seasons, to replace defensive backs coach Taver Johnson, who went to Purdue. Linebackers coach Randy Shannon was promoted to senior associate head coach.
On the mend:
The Hogs are healthy heading into their first practice this weekend. Just one player is out for the spring, junior tight end
Mitchell Loewen
(torn ACL).
On the move:
Arkansas has a challenge in finding a replacement for center
Travis Swanson
, who started all 50 games of his career.
Luke Charpentier
was Swanson's top backup as a junior last season, but sophomore
Cordale Boyd
is moving from guard to compete for the job this spring. With the departure of senior fullback
Kiero Small
, the Razorbacks will move junior tailback
Kody Walker
and could also look to shift junior
Jonathan Williams
from tailback in order to stack the backfield. Williams has put on 15 pounds without sacrificing speed.
New faces:
There are eight early enrollees who will participate this spring: quarterback
Rafe Peavey
, wide receivers
Jared Cornelius
and
Cody Hollister
, cornerbacks
Chris Murphy
and
Cornelius Floyd
, linebacker
Khalia Hackett
, offensive lineman
Frank Ragnow
and defensive tackle
Armon Watts
.
Question marks:
There are a lot after the Razorbacks went 3-9 in Bret Bielema's first season. Arkansas was also winless in conference play for the first time since 1942. So, is the head coach's honeymoon over already? Clearly some of the luster has worn off of Bielema's star just a year after Arkansas was widely praised for its surprise hire. Another question concerns his
pace-of-play crusade
. Was the intent to deflect attention from his team's performance? Now that the 10-second rule has been shelved, the focus shifts back to making progress on the field. Bielema will be under more scrutiny from a restless fan base in Year 2.
The next question, therefore, is how much can the Hogs improve? They've got a lot of work to do on a defense that gave up an average of 6.1 yards per play last season and allowed more than 30 points a game for the second straight year. On offense, Arkansas averaged just over 20 points a game in 2013, their lowest production since 1997. There are pieces in place on both sides of the ball for Bielema to engineer a quick turnaround, however, and he'll spend this spring building his players' confidence.
[+] Enlarge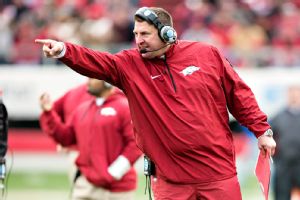 Wesley Hitt/Getty ImagesAlong with its improved communication, Bret Bielema said Arkansas can make strides by getting physical.
Key battle:
The competition at quarterback will be a classic case of an underperforming veteran trying to fend off some talented newcomers.
Brandon Allen
struggled as a sophomore in his first go-round as a full-time starter. He threw for just 1,552 yards with 13 touchdowns and 10 interceptions, but it was the 49.6 completion percentage that has Bielema looking for more. Last season, juco transfer
AJ Derby
got a start and some playing time but failed to impress. This spring Allen will be the favorite to keep his job, but he'll have to beat out his younger brother.
Austin Allen
was a four-star prospect who redshirted last season. One more challenger is Peavey, the true freshman. He's another four-star prospect whom ESPN ranked the No. 10 dual-threat QB prospect in the Class of 2014.
Breaking out:
Linebacker is the other big position battle this spring, as it was a sore spot in 2013. Five different players made starts at linebacker last season.
Braylon Mitchell
tied for second on the team with 77 tackles as a junior, and juco transfer
Martrell Spaight
will have to improve on his 22 tackles. But the player whom Bielema has the most praise for is Fayetteville's own
Brooks Ellis
, who started the last four games of 2013 at middle linebacker as a true freshman. Look for Ellis to pick up where he left off in November.
Don't forget about:
Arkansas' defensive line could be a strength and key the turnaround that is desperately needed on defense.
Trey Flowers
, who had a breakout season at defensive end in leading the team with 13.5 tackles for loss, resisted the lure of the NFL to return for his senior season. He's also put on 15 pounds and should play faster and more aggressively in Smith's defense. Defensive tackle
Darius Philon
was named to the SEC All-Freshman Team after recording 46 tackles and three sacks. He stepped into the starting lineup due to an injury and never looked back.
All eyes on:
Alex Collins
was the crown jewel of Bielema's first recruiting class and lived up to expectations with an SEC Freshman of the Year performance. He became the first true freshman in Arkansas history to eclipse 1,000 yards rushing. Making such a splash means that Collins is now the most visible Razorback and will be held to a higher standard. That's why Bielema suspended him from football activities and social media for a week in February. The head coach says Collins has responded well to the discipline, but Bielema is clearly keeping an eye on his star tailback.
March, 13, 2014
Mar 13
1:30
PM ET
You could hear the commotion in the background as Bret Bielema was handed the phone late Wednesday night. The
Arkansas
coach has been in the news lately as the most vocal proponent of the
now-tabled 10-second rule
. Not all of his remarks have gone over well, and he has come under fire for it, becoming a talking point in the media and at watercoolers around the country.
[+] Enlarge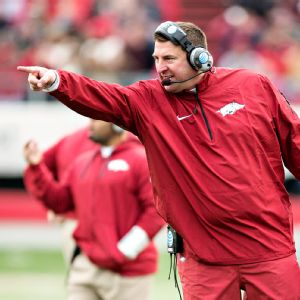 Wesley Hitt/Getty ImagesArkansas coach Bret Bielema wants competition at quarterback this spring, though junior Brandon Allen is the favorite to start in 2014.
But the noise on the other end of the line was clearly enthusiastic as Bielema left a Razorback Club event in Central Arkansas, loading into a vehicle that would take him to the airport and back to Fayetteville. He does a number of similar booster club gatherings during the spring, and Wednesday's event promised to be one of the final get-togethers before spring practice begins Sunday. The message that night: Last season wasn't a starting point, it was a launching point. Some 500 people filled the room for fried fish and football, a record draw for the event.
"It's always a little crazy, it just depends what kind of crazy," Bielema said of the road to spring practice. "But it's good. I'm excited. I know our kids are.
"A year ago at this time, we were getting to know these kids, trying to know their names. ... Now a year into it we have 88 kids who are going to partake in practice, and 84 of them you've seen before."
Bielema and the Razorbacks are putting last season's 3-9 finish behind them. In December, the team watched the SEC championship game and the second-year coach asked his players why they couldn't be there in 2014. Auburn and Missouri combined for two SEC wins in 2012 and now they were playing in Atlanta. Only a month earlier, Arkansas threatened a fourth-quarter comeback against Auburn, falling short despite getting almost 200 combined rushing yards from
Jonathan Williams
and
Alex Collins
.
"I really wanted to challenge them that it's not one but two teams that decided to make a stand," Bielema said. "And to do that, you need to change your actions. I knew they were going to work hard, they were going to listen, they were going to try and do the things we asked them to do. But maybe off the field they needed to dedicate themselves."
The results, Bielema said, have been positive. He has seen a number of players change physically since then, pointing out Williams in particular. The rising junior has put on 15 pounds and "is actually faster and more limber" than he was before, according to his coach.
Collins, who ran for 1,026 yards as a freshman last season, and Williams will once again make up Arkansas' tandem at tailback. Fellow tailback
Kody Walker
will play much more at fullback this spring, switching back and forth between the two positions much like
Kiero Small
did last season.
With
Hunter Henry
back at tight end, there's a good nucleus to build around on offense. Henry had his highs and lows last season, said Bielema, who is hoping for more consistency from his standout freshman. What he's seen from Henry this offseason has been promising.
"He's bigger. He's faster. He's stronger," Bielema said. "I think he understands what it means to play in the SEC in an eight-game schedule, and hopefully beyond that."
For Arkansas to go "beyond that" -- as in, the conference championship or a bowl game -- other players need to step up.
The defense got a boost from the return of defensive end
Trey Flowers
, who was second-team All-SEC last season. New defensive line coach Rory Segrest will "allow him to play faster and a little more aggressive," Bielema said. And with new defensive coordinator Robb Smith in place, expect a slightly different look from the defense as a whole.
"

We'll let him work through the process, feed him as much as he can be fed and see where he can go with it. He's a guy that if he can play we will. If not we'll give him a redshirt year.

"

Razorbacks coach Bret Bielema on early enrollee quarterback Rafe Peavey.
"If you're inside the huddle, you'll hear a lot of things change," Bielema said. "We're going to try and simplify it for our players and get them lined up quickly and put them in a position to play aggressively."
Despite its 12th-place SEC finish in points per game allowed last season, the biggest question facing the Razorbacks isn't defense. Instead, it's who will start under center.
Brandon Allen
started 11 games as a sophomore, ending the season 13th on the SEC leaderboard for passing yards per game (141.1). His double-digit interceptions (10) were the most troubling, though.
Bielema said he wants competition at quarterback this spring, all the while acknowledging that Allen has "gotten stronger" and is the favorite to win the job.
"In theory, the first time we yell out for the ones, he's going to step out there," Bielema said. "But ... there will be other guys who get opportunity. Who is able to produce and run the offense effectively and who gives us the best chance to win next year's opener against Auburn will be at that position.
"If it's B.A., that's great. If it's not, hopefully that next person is ready."
Watch out for
Rafe Peavey
. The four-star prospect enrolled in January and has the tools to push Allen. Bielema likes Peavey's talent and "football junkie" attitude, but Peavey is still just a freshman.
"We'll let him work through the process, feed him as much as he can be fed and see where he can go with it," Bielema said. "He's a guy that if he can play, we will. If not, we'll give him a redshirt year."
Peavey was just one of a handful of freshmen to enroll early, the four unknowns of the 88 players Bielema referred to earlier on the phone. When Bielema spoke to the Razorback Club that night, much of the talk surrounded recruiting, and with good reason. Approaching the second season of his tenure at Arkansas, Bielema is slowly putting his imprint on the program with the way he brings in players and the changes in attitude on the roster as a whole.
When Arkansas opens camp on Sunday, his message will be much as it was Wednesday night. The record is wiped clean, he'll say. It's time to launch forward.
"Don't worry about what happened yesterday and focus on getting great today. At the end of this stretch we'll all be better," he said. "We'll take where we're at, take all the things that were positive and all the things that were negative, evaluate it and move into the next phase."
October, 9, 2013
10/09/13
2:00
PM ET
Each Wednesday, ESPN RecruitingNation updates its
national class rankings
. For an in-depth look at the SEC, check out our conference rankings:

1. Alabama, 21 commits:
The Crimson Tide sit atop the RecruitingNation class rankings with a class that features 15 ESPN 300 prospects, including most recent commitment
Ronnie Clark
(Calera, Ala./Calera), the No. 96 overall prospect. Alabama remains in the hunt for several five-star prospects, including No. 1 overall
Leonard Fournette
(New Orleans/Saint Augustine) and No. 9
Marlon Humphrey
(Hoover, Ala./Hoover).
September, 30, 2013
9/30/13
8:00
AM ET
With the college football season nearing the halfway point, there is plenty of recruiting news each and every weekend. From Georgia's big win over LSU with several key visitors to some big-time performances by SEC commitments, here is the latest.

Biggest commitment:
ESPN 300 defensive end
Keyon Brown
(Wauchula, Fla./Hardee County) committing to Georgia was a big one for the Bulldogs. With five-star outside linebacker prospect
Lorenzo Carter
(Norcoss, Ga./Norcross) being far from a lock for Georgia, adding a pass-rushing outside linebacker who fits Todd Grantham's 3-4 was key after missing on
Darrion Owens
(Orange Park, Fla./Oakleaf) this summer. With Brown now in the fold, the Bulldogs can go after Carter, ESPN 300
Rashaan Evans
(Auburn, Ala./Auburn) and Alabama commitment
Christian Miller
(Columbia, S.C./Spring Valley) with the comfort of having one very capable prospect at the position in the fold.
Best weekend performances:
Many SEC pledges were in action this weekend. Here's a look at some of the top performances over the weekend.
QB Rafe Peavey (Bolivar, Mo./Bolivar), Arkansas commit: The four-star prospect passed for 195 yards and two touchdowns and rushed for 260 yards and three scores on 18 carries in a 59-24 win over Marshfield.
RB Nick Chubb (Cedartown, Ga./Cedartown), Georgia commit: In what is becoming the Chubb Weekly Watch, the powerful ESPN 300 running back rushed for 370 yards and five touchdowns in Friday night's 42-28 win over Southwest Whitfield. On his way to a 2,500-yard regular season, Chubb now has 1,359 yards.
To continue reading this article you must be an Insider