September, 10, 2014
9/10/14
9:00
AM ET
After Week 2, the quarterback battles in the SEC seem to be dwindling.
Nick Marshall
returned as the starter for Auburn while it looks like both Kentucky and Tennessee have found their man. The same can't be said just yet at Alabama and LSU, and nobody knows what's going on at Vanderbilt. The SEC quarterback tracker is back. Have a look.
Alabama
Starter:
Blake Sims
Backup:
Jake Coker
How Sims performed:
Sims continues to do what coach Nick Saban and his staff value most: manage the offense. It might not be flashy, but Sims has taken what the defense has given him time and time again. Relying on mostly short, quick passes, Sims threw for 228 yards and two touchdowns on 12 of 14 passing against Florida Atlantic. He also ran in a touchdown from 7 yards out.
What it means:
Sims has done nothing to lose the starting job, but it's still what he hasn't done -- throw the football deep -- that's most troubling. Coker, on the other hand, can do that. In fact, he seemed intent on chucking it deep in his first real action under center for the Crimson Tide. Coker was 15 of 24 for 202 yards and a touchdown against FAU. But it was what he couldn't do -- manage the offense, minimize mistakes -- that is keeping him from truly challenging Sims.
– Alex Scarborough
Sims' hold on position:
8
Auburn
Starter:
Nick Marshall
Backup:
Jeremy Johnson
How Marshall performed:
After missing the first half in the opener, Marshall returned as the starter in Week 2 and played well. He threw for over 100 yards, rushed for over 100 yards and scored twice. A solid effort, but by no means was it perfect. He completed just 10 of his 19 pass attempts, and he fumbled on the opening drive. With that said, the Auburn offense still racked up over 400 yards through three quarters with Marshall under center.
What it means:
The big takeaway from Saturday was that Johnson didn't see the field until the fourth quarter with the Tigers already ahead 45-13. That's not the "role" we all envisioned for Johnson after Week 1. I believe it was Gus Malzahn's way of re-enforcing the fact that Marshall is this team's quarterback. If there was any doubt at all after the Arkansas game, he wanted to make it crystal clear on Saturday.
– Greg Ostendorf
Marshall's hold on position:
10
Kentucky
Starter:
Patrick Towles
Backup:
Drew Barker
and
Reese Phillips
How Towles performed:
After passing for 377 yards in the opener, Towles did his damage on the ground in a 20-3 win against Ohio. Towles had 22 rushing attempts (five of which were sacks) for 59 yards, with six runs covering 10 yards or more. He also went 17-for-31 for 170 yards and tossed an 8-yard touchdown pass to
Dorian Baker
for the Wildcats' first score. If there was anything to criticize, it's that the Wildcats' offense bogged down after jumping out to a 17-0 lead.
What it means:
It was another impressive, and turnover-free, start from Towles, who won the starting job during preseason camp. He's about to face an enormous step up in competition, however. Saturday's visit to Florida, which allowed just 125 yards in its season-opening 65-0 win over Eastern Michigan, is going to be one of the toughest tests of the season for Kentucky's reconstructed offense. If Towles can stay composed and move the offense against the Gators, Kentucky will truly have something to get excited about.
– David Ching
Towles' hold on position:
9
LSU
Starter:
Anthony Jennings
Backup:
Brandon Harris
How Jennings performed:
Jennings took the majority of snaps in a 56-0 rout of Sam Houston State and connected with
Travin Dural
for three touchdown passes -- including a 94-yard score on LSU's first play from scrimmage. Jennings also ran eight times for 43 yards and played by far his most efficient game yet out of three college starts. It was another step in the right direction after a solid second half in the Tigers' comeback win against Wisconsin in the opener.
What it means:
We saw Harris (4-5, 62 yards, TD) get his first substantial playing time against SHSU, too, and the freshman made a couple of huge plays -- most notably a 46-yard touchdown run. LSU coach Les Miles was critical of the freshman's fourth-quarter fumble, but it was overall a strong home debut for Harris. He's probably not ready to push Jennings for the starting job yet, but we're going to see a lot more from the freshman as the season progresses.
– David Ching
Jennings' hold on position:
6
Tennessee
Starter:
Justin Worley
Backup:
Joshua Dobbs
and
Nathan Peterman
How Worley performed:
It was another impressive performance from Worley. He completed nine straight passes to start the game and finished 22 of 38 for 247 yards and two touchdowns. He even rushed for a third score. The only negative came in the third quarter when Arkansas State defensive back
Money Hunter
, son of
Detroit Tigers
outfielder
Torii Hunter
, dove in front of one of Worley's passes and intercepted it.
What it means:
Through the first two games, Worley is looking like the most improved player in the SEC. The two touchdown throws to
Marquez North
on Saturday were not easy throws, and he put them on the money. The senior quarterback will have to play a nearly flawless game this weekend if the Volunteers hope to upset Oklahoma on the road, but win or lose, Worley is still the guy for Tennessee.
– Greg Ostendorf
Worley's hold on position:
9
Texas A&M
Starter:
Kenny Hill
Backup:
Kyle Allen
How Hill performed:
Hill wasn't quite as accurate in his second game (17-of-26) as he was in his debut (44-of-60) but still performed well, throwing for 283 yards and four touchdowns with zero interceptions. Offensive coordinator Jake Spavital said he wants to see Hill improve on his intermediate and deep-pass accuracy and the Aggies took more shots downfield in their win over Lamar than they did in their season opener vs. South Carolina. Allen got some work in both the first and second half once the Aggies had a big lead.
What it means:
Spavital called the game in such a way to work on some areas where Hill isn't as strong and by doing that, Hill was out of his comfort zone a little, but he handled it well overall and turned in a strong performance. A game against an FCS opponent was an opportune time to get a live look at how Allen would perform. He had some freshman moments, like throwing an interception on his first drive, but bounced back well. Still, Hill did just fine and while Allen is not backing down, Hill is the starter.
– Sam Khan
Hill's hold on position:
10
Vanderbilt
Starter:
TBD
Options:
Wade Freebeck
,
Johnny McCrary
,
Stephen Rivers
,
Patton Robinette
How Rivers performed:
Rivers got the nod last week but the performance wasn't pretty. He was 6-of-25 passing for 60 yards and no touchdowns in a 41-3 loss to Ole Miss. Head coach Derek Mason noted that "we should have done a better job of using those guys' skill sets and getting the ball in playmakers' hands," and said that they've made schematic changes as a result. It is worth noting that Mason stuck with Rivers for the entire game Saturday rather than playing musical chairs with the quarterbacks, as he did in the season-opening loss to Temple.
What it means:
The Commodores still don't have a starter at the moment, as Mason referenced the quarterbacks will compete for the right to start this week. Now, there's a fourth name in the mix in addition to Rivers, Robinette and McCrary -- Freebeck, the true freshman from Florida. Mason said he's very much in the competition this week. Who starts this weekend against Massachusetts is anyone's guess. For what it's worth, Mason promised "explosive offense." We'll see.
– Sam Khan
Rivers' hold on the position:
0
September, 3, 2014
9/03/14
9:00
AM ET
By
ESPN.com staff
| ESPN.com
Week 1 is in the books, and the big storyline in the SEC was quarterback play. There were some who took the starting job and ran with it, and there were others who struggled at times, opening the door for the backup. As the second weekend approaches, here's the latest on all the SEC quarterback battles and where each team stands.
Alabama
Starter:
Blake Sims
Backup:
Jake Coker
How Sims performed:
Nick Saban couldn't have asked for more from Sims, who stayed out of trouble and got the ball to his playmakers in space. Completing 72.7 percent of his passes was better than anyone expected, but he did turn the ball over once on an interception and missed a handful of open receivers. He'll need to work on that and getting the ball downfield more effectively, but for a first start he played quite well.
What it means:
If it wasn't before, it's now Sims' job to lose. Though he might not be an electric passer that strikes fear into a defense, he does bring some nice tools to the table, especially his escapability. But until we see Coker actually attempt a pass, nothing is settled. We'll get that chance on Saturday when Alabama hosts Florida Atlantic in Tuscaloosa. If Sims continues to play well, he shouldn't be in trouble. If he struggles some and Coker looks solid, we could be in for a race.
– Alex Scarborough
Sims' hold on position:
6.5
Auburn
Starter:
Nick Marshall
Backup:
Jeremy Johnson
How Johnson performed:
Marshall's suspension stemming from an incident this offseason gave Johnson an opportunity to start the season opener, and he took full advantage of it. The sophomore, listed No. 2 on the depth chart, played the first half and went 12 of 16 for 243 yards and two touchdowns. Marshall returned in the second half and re-energized the Tigers, but statistically, it was clear that Johnson had the better day.
What it means:
Maybe nothing. Maybe a whole lot. After the game, Gus Malzahn said that while Johnson will certainly have a role this season, Marshall is still the team's quarterback. So expect Marshall to return to the starting lineup this weekend against San Jose State and for the foreseeable future. Don't be surprised if fans start calling for Johnson if Marshall slips up down the road against a Kansas State or an LSU, though. It's not a bad problem to have, but the last thing the coaches want is a controversy.
– Greg Ostendorf
Marshall's hold on position:
9
Kentucky
Starter:
Patrick Towles
Backup:
Drew Barker
or
Reese Phillips
How Towles performed:
After winning the job during preseason practice, Towles got off to an outstanding start against overmatched UT-Martin. He completed 15 of 22 passes for 263 yards and a touchdown in the first half as the Wildcats went up 35-0. Towles turned it over to Phillips in the fourth quarter, finishing the day with a line of 20-for-29 for 377 yards and one TD, plus a 23-yard TD run.
What it means:
It's just one game against a mid-level FCS program, but Towles didn't do anything in the opener to lose ground to Barker or Phillips. He gave a composed performance and the Wildcats' offense looked great in the 59-14 rout. Kentucky hosts Ohio this weekend before facing a huge test in its Sept. 13 SEC opener at Florida. That will provide the first legitimate litmus test for Towles and the revamped Wildcats offense.
– David Ching
Towles' hold on position:
8
LSU
Starter:
Anthony Jennings
Backup:
Brandon Harris
How Jennings performed:
Jennings and LSU's offense looked awful in the first half against Wisconsin, but the sophomore performed a bit better down the stretch. He was 4-for-6 for 119 yards and a touchdown in the second half after his improvised 80-yard touchdown pass to
Travin Dural
in the first quarter provided nearly all of the Tigers' offensive production in the opening half. Jennings played every possession but one, while Harris underwhelmed in his single series under center.
What it means:
LSU has a couple of easier non-conference games ahead -- Saturday against Sam Houston State and the following week against Louisiana-Monroe -- so Harris should get some much-needed work against live competition. Likewise, Jennings will benefit from some more game reps before the Tigers host Mississippi State on Sept. 20. He looks like the clear leader for now.
– David Ching
Jennings' hold on position:
6
Tennessee
Starter:
Justin Worley
Backup:
Joshua Dobbs
and
Nathan Peterman
How Worley performed:
Tennessee clearly made the right decision in going with Worley as its starting quarterback. The senior looked like a completely different player than last year as he went 27 of 38 for 273 yards and three touchdowns against Utah State. The most impressive part was his decision-making. He didn't try and force any balls. He took what the defense gave him and simply picked it apart.
What it means:
For starters, it means that barring injury, Dobbs and Peterman will have to wait until next year before they see the field. Worley is the guy. Even if he struggles in two weeks against Oklahoma, he showed enough improvement in the first game that Butch Jones will likely ride it out. However, before the Volunteers head to Norman, Worley has a chance to put up big numbers again this Saturday against Arkansas State.
– Greg Ostendorf
Worley's hold on position:
9
Texas A&M
Starter:
Kenny Hill
Backup:
Kyle Allen
How Hill performed:
The sophomore, who was making his starting debut, was nearly flawless. Considering the circumstances (on the road against a ranked opponent in a hostile environment), you couldn't ask more of Hill, who broke
Johnny Manziel
's single-game school records for passing yards (511) and completions (44). He was poised and productive against South Carolina.
What it means:
Life after Manziel won't be so rough. If this is what the Aggies can expect from Hill moving forward, the ceiling on their season changes drastically. Most assumed there would be growing pains, but Hill seems to be a natural fit for the Aggies' Air Raid-inspired offense. He has numerous talented weapons to throw to and an excellent offensive line protecting him. Allen made it a close battle in camp and continues to compete, but the Aggies made the right decision as Hill was ready to take the reins. Sumlin's not the type to shuffle quarterbacks, so this looks like Hill's job for the forseeable future.
– Sam Khan
Hill's hold on position:
10
Vanderbilt
Starter:
Patton Robinette
Backup:
Stephen Rivers
Other:
Johnny McCrary
How Robinette performed:
Robinette's numbers weren't bad (4-for-6 passing, 38 yards) but the offense was unable to generate much while he was in, punting four times and turning it over in five drives. Unfortunately for Robinette, he was yanked before having a real chance to develop a rhythm in favor of Rivers, who went 12-for-25 for 186 yards and an interception.
What it means:
The Commodores don't have a starting quarterback. The musical chairs that played out in the 37-7 loss to Temple (redshirt freshman McCrary appeared briefly that night, too), means Vanderbilt is searching for an answer. Derek Mason told reporters this week that the quarterbacks know who will start Saturday vs. Ole Miss but he won't announce who it is publicly. The Vanderbilt quarterback depth chart for the Ole Miss game reads: Stephen Rivers "OR" Patton Robinette "OR" Johnny McCrary.
– Sam Khan
Robinette's hold on the position:
0
August, 11, 2014
8/11/14
10:30
AM ET
»
More team previews:
ACC
|
Big 12
|
Big Ten
|
Pac-12
|
SEC
Previewing the 2014 season for the
Kentucky Wildcats
:
2013 record:
2-10
Final grade for 2013 season:
Can you blame Kentucky for the season it had? The Wildcats never found a quarterback, lacked playmakers on offense, and the secondary had to replace three starters from a team that finished 2-10 the previous season. Still, an SEC win would've been nice. It's now been three years since Kentucky last won a conference game. But the 2013 team showed more fight under Mark Stoops, so for that we give them a D-plus, rather than a D.
Key losses:
QB Jalen Whitlow, RB Raymond Sanders, OG Kevin Mitchell, DT Donte Rumph, DT Tristian Thompson, LB Avery Williamson
Key returnees:
RB
Jojo Kemp
; WR
Javess Blue
; OT
Darrian Miller
; OT
Jordan Swindle
; DE
Alvin 'Bud" Dupree
; DE
Za'Darius Smith
; LB
Khalid Henderson
; Nickel
Blake McClain
[+] Enlarge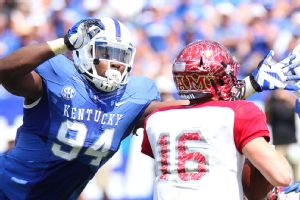 Jeff Moreland/Icon SMIZa'Darius Smith and Kentucky are aiming to win their first SEC game since 2011.
Projected 2014 starters:
QB
Patrick Towles
; RB Jojo Kemp; FB D.J. Warren; WR Javess Blue; WR
Ryan Timmons
; TE
Steven Borden
; LT Darrian Miller; LG
Zach West
; C
Jon Toth
; RG
Ramsey Meyers
; RT Jordan Swindle; DE Alvin 'Bud' Dupree; DT
Mike Douglas
; DT
Melvin Lewis
; DE Za'Darius Smith; MLB
Josh Forrest
; WLB Khalid Henderson; Nickel Blake McClain; CB
Fred Tiller
; S
A.J. Stamps
; S
Ashely Lowery
; CB
Cody Quinn
Instant-impact newcomers:
QB
Drew Barker
, RB
Braylon Heard
, WR
Garrett Johnson
, DT
Cory Johnson
, DT
Matt Elam
, LB
Ryan Flannigan
, S
A.J. Stamps
Breakout player:
Forget the Air Raid attack. The strength of this Kentucky team is at running back, and the Wildcats have a handful of good ones. Kemp might start the season opener because of his experience from last year and his performance in the spring game, but don't be surprised if Heard tallies more carries by the end of the season and has a bigger impact on this team. He transferred from Nebraska in search of carries, and he'll get them in Lexington. As a Cornhusker, he rushed for 462 yards in two seasons, averaging 6.7 yards per carry.
Most important game:
Vanderbilt isn't going to move the needle like a South Carolina, a Georgia or even a Louisville, but Kentucky's date with the Commodores on Sept. 27 is huge. It's the Wildcats' best chance to win an SEC game. The more the conference losses keep piling up, the more pressure there is to win one. Why not get it out of the way early? Not to mention, Vandy has won three straight in the series.
Biggest question mark:
Who's going to be the quarterback? The coaching staff was hoping for a quick resolution, but we're a week into fall camp and still no word.
Maxwell Smith
has the most experience, starting four games each of the past two seasons, but Kentucky might be looking to go in a different direction with either Towles or Barker, a pair of former four-star recruits from the Bluegrass State. Towles has been on campus longer, but Barker is the future. Redshirt freshman
Reese Phillips
is also in the mix ... for now, but don't expect Stoops to wait much longer before he makes a decision.
Upset special:
The players have already circled the SEC opener at Florida, but there's a better chance Kentucky takes down South Carolina at home three weeks later. If you recall, the Wildcats went to Columbia last year and played maybe their best game of the season, losing 35-28. The Gamecocks will be playing their fourth conference game in as many weeks, leaving them vulnerable to a potential upset, and if Kentucky knocks off Vanderbilt the week before, the pressure will be off and momentum will be on its side.
Key stat:
Kentucky had just three interceptions in 2013. The Wildcats were not only last in the SEC, they were tied with Temple and Utah for last among all 125 FBS teams.
They said it:
"A lot of people are sleeping on us. They have reason to -- we won four games the last two years. How can somebody win four games and play in the SEC? We had a lot of chances to put guys on their deathbed, but we really didn't step on their throat like we should have and then twist the knife. We had a lot of chances, but we didn't [do it]. Hopefully this year we will capitalize on everything and the chances we have to win games, we will twist the knife and step on their throat." -- defensive end Alvin 'Bud' Dupree
Preseason predictions:
ESPN Stats & Information:
5.5 wins
Bovada over-under:
3.5 wins
Our take:
The schedule actually sets up nicely for Kentucky. Assuming wins over UT-Martin, Ohio and Louisiana-Monroe, the Wildcats could have four, maybe even five wins by the middle of October. That would be a major improvement for a team that has a total of four wins the past two seasons. The only problem is the second half of the schedule is much more rigorous, so it's important Kentucky gets off to a fast start. Best-case scenario is probably six wins and a bowl game, but more realistically this team is looking at five wins in 2014. The program is moving in the right direction under Stoops, but it's still a year away.
June, 9, 2014
6/09/14
2:30
PM ET
In 2013, the freshmen of the SEC were truly fabulous.
Hunter Henry
and
Alex Collins
were impact players at Arkansas.
Laquon Treadwell
and
Robert Nkemdiche
were spectacular for Ole Miss. And who can forget the play of
Vernon Hargreaves
,
Chris Jones
and
A'Shawn Robinson
?
But standout rookies aren't easy to come by. Usually it takes some time to make a transition from high school to college, and in Year 2 we generally see the biggest jump in production from players.
With that in mind, we're taking
a team-by-team look
at the players who didn't quite break through as freshmen, but could see their stock skyrocket with as sophomores.
Next up: Kentucky
[+] Enlarge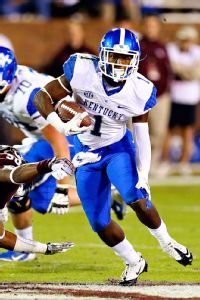 Spruce Derden/USA TODAY SportsRyan Timmons had a productive freshman season and is set to explode in 2014.
Class recap:
The Kentucky job has never been thought of as a dream job because it's a basketball school, not a football school. The Wildcats signed only four four-stars from 2010 to 2012, and the 2013 class was headed down the same path. That was until Mark Stoops arrived. Stoops didn't buy that 'basketball school' talk, and it didn't take long for him to rejuvenate the program. He signed 23 players in his first class, including six four-stars. He flipped in-state star
Jason Hatcher
from his USC commitment and landed defensive end
Za'Darius Smith
, the No. 13 junior college player in the nation. When the ink was dry, the class was ranked No. 36.
Second-year star:
WR
Ryan Timmons
(5-foot-10, 193 pounds)
Recruiting stock:
Timmons, a Kentucky native, was one of two ESPN 300 signees in the 2013 class. The four-star athlete had offers from Arkansas, Florida and Ohio State, among others, but chose to stay home and play for the Wildcats.
2013 in review:
Timmons did a little bit of everything for Kentucky in 2013. He played in all 12 games, making six starts. He was second on the team in receiving with 32 catches for 338 yards and two touchdowns and also rushed for 91 yards on 12 carries. He finished with a career-high six catches against Florida, but his best game came in October against Mississippi State, when he had five catches for 69 yards and a touchdown.
2014 potential:
It came as no surprise that Timmons made the impact that he did last season. He was the first major recruit to jump on board after Stoops was hired, and he was one of the best all-around players in the class. But even more will be expected of him in 2014 as was evident in April's spring game, where he caught five passes for 47 yards, rushed once for eight yards and served as the team's No. 1 punt returner. He and
Javess Blue
, a junior college transfer from the 2013 class, are the top two wide receivers, and how they perform will be vital to the Wildcats' passing game, regardless of who's throwing them the ball.
Also watch out for:
Running back
Jojo Kemp
was the star of the spring game with 131 total yards of offense. He and Nebraska transfer
Braylon Heard
are expected to form a dynamic 1-2 punch in the backfield. Hatcher is stuck behind Smith and All-SEC star
Alvin Dupree
on the defensive line, but he's too good to keep off the field. He finished with 20 tackles, three for a loss, and two sacks last season. As a freshman,
Blake McClain
was third on the team with 59 tackles. He's in line to start again this fall and will be a key piece in the secondary. Redshirt freshman
Reese Phillips
is still in the mix for the starting quarterback job, though he's currently behind
Patrick Towles
and
Drew Barker
, and cornerback
Jaleel Hytchye
is moving up the depth chart after a solid spring. He had 4.5 tackles and two pass break-ups in the spring game.
May, 2, 2014
5/02/14
12:00
PM ET
Friday is finally here. Get a jump start on your weekend with Friday's lunch links.
April, 30, 2014
4/30/14
8:30
AM ET
Three things we learned this spring about the Kentucky Wildcats:

1. Depth in the backfield:
Running back is an area of strong depth for Kentucky and it showed this spring. Four running backs --
Braylon Heard
,
Jojo Kemp
,
Josh Clemons
and
Mikel Horton
-- combined for 308 rushing yards in the spring game, led by Clemons (93 yards) and Kemp (90 yards). With no quarterback starter set and not a lot of experience at the position, having veteran runners should help.
2. Stamps boosts secondary:
Junior college transfer safety
A.J. Stamps
had a strong spring, drawing praise from the coaching staff for acclimating himself quickly and for his playmaking ability. That's good news for the Wildcats secondary, because Kentucky was tied for the fewest interceptions in the country in 2013 (three).
3. There is optimism:
It's always tough coming off a 2-10 season, but Mark Stoops & Co. believe the Wildcats are better now than they were at this time a year ago and the fan base still appears excited -- 35,117 showed up for the spring game -- so there is hope for brighter days ahead in Lexington.
Three questions for the fall:
1. Who's the quarterback?
The Wildcats' spring ended with three players competing for the job: sophomore
Patrick Towles
, redshirt freshman
Reese Phillips
and true freshman
Drew Barker
.
Maxwell Smith
, who started four games last season, sat out spring practice recovering from a shoulder injury. Towles started the spring game and was solid (11 of 15 passing for 126 yards). Stoops hasn't indicated a clear timetable for naming a starter, but Towles appears to have the edge currently.
2. Can Demarco Robinson continue to bounce back?
Robinson was suspended for the final two games last season and coach Stoops said he could return if he "meets some requirements we put on him." So far, it looks like Robinson is doing that. He had eight catches for 115 yards in the spring game and Stoops said he's "very proud of the effort that he has made off the field." The Wildcats were thin at receiver this spring.
3. How impactful will Heard be?
Braylon Heard
, who transferred from Nebraska, turned in a solid performance in the Wildcats' spring game with 55 yards on 18 carries while working with the first-team offense. While sitting out last season, per NCAA transfer rules, he showed plenty of improvement. "He took as much advantage of a redshirt year as anybody I've seen," offensive coordinator Neal Brown said. The coaching staff likes the junior's explosiveness and maturity, but the backfield is deep.
One-way-too-early prediction:
The Wildcats will win a game they aren't supposed to this fall. They still have a long way to go to get to where Stoops wants them to be, but they're better and continue to increase their talent level in recruiting. Finding the right quarterback will be key.
April, 28, 2014
4/28/14
9:00
AM ET
A quick review of the spring games at Arkansas and Kentucky:
Arkansas

The Razorbacks' Red team, which was headed by a solid running game, won 61-22 over the White Team in Arkansas' spring game. The star of the day was sophomore running back
Korliss Marshall
, who rushed for a game-high 99 yards. He also had a 59-yard touchdown run in the second quarter to give the Red team a 20-15 lead. The Red team finished with 252 rushing yards and four touchdowns Saturday. Red team quarterback
Brandon Allen
separated himself as the Hogs' starter this spring and finished with a game-high 108 passing yards with a touchdown and two interceptions.
Austin Allen
, Brandon Allen's brother, ended the day with 139 passing yards and two touchdowns while splitting time with both teams. To read more about Arkansas' spring game, check out the
Hogs' official website
.
Kentucky

Led by the first-team offense and defense, the Blue team dominated the White team 38-14 during the Wildcats' Blue/White spring game. Offense was the name of the game for the Blue team, as it outgained the White team 437-165. It was also a day to see who could take a big step in the race to be Kentucky's starting quarterback. With
Jalen Whitlow
transferring, the Wildcats had three quarterbacks -- true freshman
Drew Barker
, redshirt sophomore
Patrick Towles
and redshirt freshman
Reese Phillips
-- share reps with both teams. Towles was the most impressive of the three, passing for a game-high 126 yards and an interception. Barker and Phillips each threw for 74 yards and combined for three touchdowns. Receiver
Demarco Robinson
had a big day, catching eight passes for 115 yards and a 30-yard touchdown. For more on Kentucky's spring game, check out
its official website
.
April, 16, 2014
4/16/14
1:30
PM ET
Quarterback
Jalen Whitlow
's decision to
transfer from Kentucky
leaves a very big opportunity for early enrollee freshman
Drew Barker
and third-year sophomore
Patrick Towles
.

Both arrived at Kentucky with enormous hype and now could be barreling toward their own two-man race for the starting QB job for the Wildcats.
Both have dealt with early superstar status in Lexington, but with one more body out of the quarterback race, they better get used to the attention around them greatly increasing.
While coach Mark Stoops isn't in a hurry to name a starting quarterback for the 2014 season, the Wildcats now likely will have to speed up Barker's development and throw a little bit more at him. He's clearly the quarterback of the future for Big Blue Nation, and this is another step in that direction.
"He has every opportunity to take control because we're so unsettled there,"
Stoops told ESPN.com's Alex Scarborough
last month. "He's a guy that's very mature. He's a guy that has high expectations himself, and he's OK with the pressure that comes along with playing that position."
Barker, a former ESPN 300 recruit, better get ready for even more pressure. He already knew before arriving at Kentucky that he'd get every opportunity to take the starting job, either this spring or in the fall. Taking Whitlow out of the equation could expedite the process for a player who passed for 2,671 yards and 34 touchdowns in 2013 at Conner Senior High in Hebron, Ky.
[+] Enlarge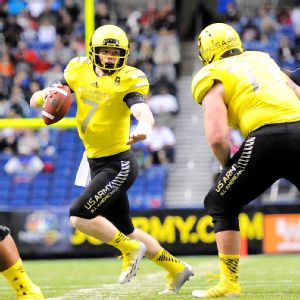 John Albright/Icon SMIKentucky freshman Drew Barker, who was ranked as the No. 9 pocket passer in the country in the 2014 class, could start as a freshman.
What also works to Barker's advantage is that fellow QB
Maxwell Smith
is out this spring as he recovers from shoulder surgery. That means that for the rest of spring, which concludes on April 26 with the annual Blue/White Spring Game, Barker will compete with Towles and redshirt freshman
Reese Phillips
.
Towles, who was the Gatorade Player of the Year in the state of Kentucky in 2011, has never really found his groove on the field since his arrival. After passing for 233 yards and a touchdown in five games as a freshman in 2012, he redshirted last season when Stoops and his coaching staff arrived.
Towles has played well this spring, especially in Kentucky's second scrimmage, and this could be his last chance to prove to the coaches that he can be
the guy
under center. Honestly, he might not get any more chances if Barker takes the job. Towles was labeled as the quarterback of the future before he even stepped on campus, but he has yet to live up to expectations. The time is now for him, if he truly wants it.
It's still very early in the process, but this is a very important battle for the Wildcats. Don't expect Stoops to slow Barker's progression because he's a freshman. If he's good enough to play, he will.
If Smith can return and Phillips makes headway, that's just another plus for the Wildcats. A more intense battle will go a long way for every quarterback, but for now Barker and Towles have the most to prove.
April, 4, 2014
4/04/14
10:00
AM ET
Brandon Allen
.
Nick Marshall
.
Bo Wallace
.
That's it. That's the list.
Only three quarterbacks who started double-digit games last season return to the SEC this fall, and one of them isn't even guaranteed to be a starter.
[+] Enlarge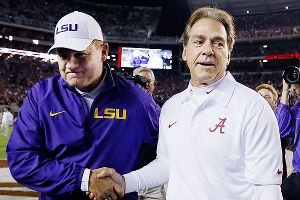 Kevin C. Cox/Getty ImagesLes Miles and Nick Saban are in no hurry to name their starting QBs for the fall.
Everywhere you turn in this league, there's a quarterback competition underway, from Alabama to Georgia, Arkansas to Kentucky, LSU to Texas A&M.
Maty Mauk
is surely the presumptive starter at Missouri, but even he's not a sure thing. Gary Pinkel says he wants competition, never mind that there were times when Mauk looked better than former starter
James Franklin
.
But not every coach in the SEC approaches the quarterback position the same way. A quick glance across the league shows a variety of opinions about how to pick a starter.
Mark Stoops is the most urgent-minded coach of the bunch, and given the inconsistency Kentucky had at quarterback last season, it's easy to understand why. Entering his second season, Stoops said: "I'd love to come out of spring with a clear-cut starter." That means everyone is in the mix.
Maxwell Smith
can't practice while he recovers from shoulder surgery, but
Jalen Whitlow
,
Reese Phillips
,
Patrick Towles
and even true freshman
Drew Barker
are in the hunt.
Barker, a four-star prospect according to ESPN, "has a very good opportunity to take control of it," Stoops said, praising his maturity for such a young quarterback.
"He's a guy [who] has high expectations [for] himself, and he's OK with the pressure that comes along with playing that position," Stoops said. "He's excited about the opportunity, and I'm excited to see what he can do."
Bret Bielema isn't outwardly putting a timetable on anything at Arkansas, but he's encouraging everyone to compete. Allen started 11 games last season but was up and down, with 13 touchdowns and 10 interceptions.
Bielema was about as no-nonsense as any coach gets about the situation.
"In theory, the first time we yell out for the [first string, Allen is] going to step out there," Bielema said before the start of spring practice. "But really, in our program, the competition brings the best out of people.
"So B.A. is going to be the first guy in with the ones, but there will be other guys who get opportunity," he continued. "Who is able to produce and run the offense effectively and who gives us the best chance to win next year's opener against Auburn will be at that position."
Similar to the case at Kentucky, Bielema isn't counting out his true freshman.
Rafe Peavey
, another highly-regarded four-star prospect, is going to be allowed to sink or swim. Bielema loves his talent and praised him as a "football junkie." But he's not pampering the rookie.
"It's no different between the right tackle or the quarterback or the safety," Bielema said. "It's all about what a freshman can handle, how they adjust to adversity and how they enjoy success.
"The quarterback gets a lot of attention. They're usually really pretty, really smart, and everybody likes them. But in reality, they're like everybody else. Those that play well will play and those that don't will sit."
While Bielema and Stoops are anxious for a battle, other coaches around the league are more inclined to sit back and wait.
[+] Enlarge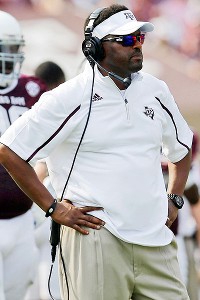 AP Photo/David J. PhillipWho will replace Johnny Manziel as Texas A&M's QB? Kevin Sumlin isn't saying anything right now.
LSU coach Les Miles said he has a good sense of the competition between
Anthony Jennings
and
Brandon Harris
. "But it always plays out," he said, harkening back to when Matt Flynn and JaMarcus Russell duked it out eight years ago. It looked like Flynn had the job in hand after winning a bowl game and watching Russell come into camp out of shape in 2006. But Flynn's body faltered down the stretch and Russell kept going, eventually winning the job.
"I want all the quarterbacks to know that it's going to be given to no one," Miles said. "[It's] earned by the one that plays."
Texas A&M and Alabama are taking similar approaches to replacing
Johnny Manziel
and
AJ McCarron
. In fact, both Kevin Sumlin and Nick Saban are somewhat defiant about holding the cards close to the vest.
Sumlin has gloated before that when people assumed
Jameill Showers
would beat out Manziel in 2013, "I didn't name a starter [after spring]; y'all did."
So while we watch
Matt Joeckel
,
Kenny Hill
and
Kyle Allen
jockey for position, don't expect a starter to be named until close to the season.
Saban, for his part, doesn't want to hear anything about it. His quarterback competition is essentially on hold until the fall, when Florida State transfer
Jacob Coker
arrives. Before the start of spring practice, Saban laid out his plan, saying, "Let me be very clear about this: We're not going to be in a hurry to decide who the quarterback is."
"You guys are going to ask me at least 1,000 times between now and the first game who's the first-team quarterback," he added, "and I'm telling you right now you're probably going to get a 1,000 'We're going to wait and see.' "
The only place in the SEC that doesn't have to be patient in the matter is South Carolina. Coach Steve Spurrier named
Dylan Thompson
the starter well before spring practice ever began.
Replacing
Connor Shaw
won't be easy, but Spurrier said that Thompson was the guy for the job, no question. A fifth-year senior with plenty of in-game experience, Spurrier didn't have a doubt in his mind.
"I didn't know there was any question about it," he said. "Someone said, 'You're just naming him the starting quarterback?' Well, I just said, 'Of course I am. Why wouldn't we?' "
Spurrier did it his way. Saban and Sumlin are doing it theirs. Stoops is anxious, and Bielema and Pinkel are only interested in the competition.
Recruiting a quarterback is the furthest thing from an exact science. Finding out who's ready to start is even more inexact.
This might be the season of new quarterbacks in the SEC, but everywhere there's a different sense of which way the wind blows.
March, 27, 2014
3/27/14
2:00
PM ET
Schedule:
The Wildcats open spring practice Friday and will conclude it on April 26 with the annual Blue/White Spring Game at 3:30 p.m. ET inside Commonwealth Stadium.

What's new:
Craig Naivar came from Texas State, where he was the defensive coordinator and safeties coach the past three seasons, to coach the Wildcats' special teams and safeties after Bradley Dale Peveto left to coach special teams at LSU.
On the mend:
Quarterback
Maxwell Smith
will not throw this spring as he recovers from shoulder surgery. Wide receiver
Alex Montgomery
will also be limited as he recovers from a torn ACL he suffered this past November. Linebacker
TraVaughn Paschal
will be limited to non-contact drills this spring as he recovers from offseason surgery. Safety
Ashely Lowery
will also miss contact portions of the spring as he recovers from offseason shoulder surgery.
On the move:
As of now, the Wildcats don't have any significant position changes.
New faces:
The Wildcats welcomed in five freshmen this spring: quarterback
Drew Barker
, wide receivers
Thaddeus Snodgrass
and
T.V. Williams
, running back
Mikel Horton
, and linebacker
Dorian Hendrix
. Kentucky also had two junior college transfers come aboard: defensive tackle
Cory Johnson
and cornerback
A.J. Stamps
.
Question marks:
The Wildcats have experience coming back in the secondary, with four starters returning, but there has to be better consistency out of that group. With Lowery on the mend, younger players will get good work at one of the safety spots opposite
Eric Dixon
. Mark Stoops likes his defensive backs to be versatile, so players will get time at each position. Kentucky's secondary produced just one interception last fall, so each position is up for grabs.
[+] Enlarge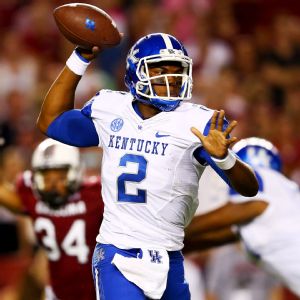 Streeter Lecka/Getty ImagesJalen Whitlow threw for 1,033 yards, five touchdowns and five interceptions in 2013.
Clearly, the Wildcats would also like to take a few steps forward with their quarterback situation. With Smith out, the battle comes down to
Jalen Whitlow
,
Patrick Towles
,
Reese Phillips
and early enrollee Barker. Finding some headway at quarterback will be crucial this spring.
With the losses of defensive tackles
Donte Rumph
and
Mister Cobble
, the Wildcats are looking for some girth and help in the middle of their defensive line. Johnson might have to be the guy who takes the biggest steps this spring. He's already the most talented tackle on the team, but his development will be key.
The same issues still remain for the Wildcats: Who can be a true playmaker in this offense?
Javess Blue
could be that guy after leading the team in receiving in 2013. Up-and-comer
Ryan Timmons
could be another after making 12 catches last season. There's a battle at running back, highlighted by
Jojo Kemp
and Nebraska transfer
Braylon Heard
. Can one of them step up to be a consistent threat in this offense?
The Wildcats also have to replace linebacker
Avery Williamson
, who was such a big spark on the field and in the locker room. Maybe
Khalid Henderson
can be that player, but it's an open competition to replacing his importance.
Key battle:
It has to be quarterback. The Wildcats haven't had any stability there in years and have yet another wide-open battle. Whitlow has the most game experience, but he has to improve his mechanics and decision-making. Those two areas have held him back with his development, and if he wants this job, that can't happen this spring. Towles redshirted last season, but arrived in Lexington with a load of hype and high expectations. For some reason, it just hasn't clicked for Towles. This could be his last shot at taking the starting spot. Phillips redshirted last season and enters the competition with no on-field experience, but he'll be in the thick of the competition. Then there's Barker, who might have the most upside and talent of the bunch. He was an ESPN 300 selection and a top-10 QB prospect coming out of high school. Barker has a lot of upside and talent, and as the future at the position, he'll have every chance to be the guy this spring and fall.
Breaking out:
Kentucky's coaches were pleased with the development off offensive lineman
Ramsey Meyers
last season. He redshirted in 2013 and will have a chance to be the starting right guard for the Wildcats during his second year on campus. He's a physical blocker and could be a big plus in pass protection. Also, keep an eye on defensive tackle
Regie Meant
, who also redshirted last season. He has good size and athleticism, which will come in handy along the defensive line. He has a chance to play right away at one of the tackle spots, but can also move around the line and add some versatility.
Don't forget about:
One of the top Kentucky recruits in 2013, defensive end
Jason Hatcher
, could be primed for a breakout sophomore season. He had two sacks last in 2013 and started to really hit his stride during the second half. He's another versatile player who can play with his hand on the ground and standing up as an outside linebacker. Also, defensive end
Alvin "Bud" Dupree
has a chance to be a household name in this league. He gets overlooked a lot in the SEC, but he's had a very solid three-year career with Kentucky. Moving to defensive end only made him a better player, as he finished the 2013 season with seven sacks.
All eyes on:
The offense. This is a unit that scored a league-low 14.8 points per game in conference play last fall. There was too much up-and-down play at quarterback, no running back registered at least 500 rushing yards and no receiver collected 600 yards. The defense wasn't great, but made strides and showed good flashes in 2013. The offense has to take the next step. Playmakers must emerge and a quarterback has to show some sort of consistency and control.