November, 19, 2013
11/19/13
7:00
AM ET
ATHENS, Ga. -- Georgia's win on Nov. 9 against Appalachian State wasn't just one of the last times we'll see this senior-laden version of the Bulldogs offense, it also served as a sneak preview of what lies ahead.
Following Saturday's date with Kentucky -- the final game at Sanford Stadium this season -- the Bulldogs will look entirely different on offense the next time they take the field before a home crowd. And many of the players who will take over for the likes of
Aaron Murray
and his fellow seniors next fall also filled their spots in the fourth quarter of
Georgia's 45-6 win
over the Mountaineers two weekends ago.
[+] Enlarge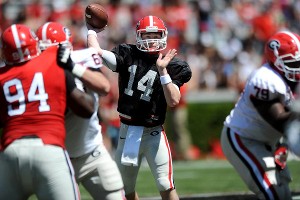 Radi Nabulsi/ESPNBackup quarterback Hutson Mason is the frontrunner to start for the Bulldogs in 2014.
"I think the thing you can't get in practice is just that 95,000 [fans] with the atmosphere," said junior
Hutson Mason
, Georgia's presumptive starting quarterback next season, who went 11-for-16 for 160 yards and a touchdown in the fourth quarter against Appalachian State. "Really you can get everything [else] in practice. Our coaches, they believe in putting a lot of pressure on you so when it comes to the game, you're used to that feeling. But it's definitely a different atmosphere, different jitters."
Assuming he wins the quarterback job, Mason will be in a convenient position next season. Georgia loses seven seniors -- Murray, tight end
Arthur Lynch
, receivers
Rantavious Wooten
and
Rhett McGowan
and offensive linemen
Chris Burnette
,
Kenarious Gates
and
Dallas Lee
-- who started on offense against Auburn. And yet the returning skill-position talent surrounding the Bulldogs' next quarterback will be as impressive as that of nearly any offense in the country.
Not only will tailback
Todd Gurley
return for his junior season, the Bulldogs expect to get receivers
Malcolm Mitchell
and
Justin Scott-Wesley
and tailback
Keith Marshall
back from season-ending knee injuries that crippled the offense at points this fall. That's in addition to other returning weapons like receivers
Chris Conley
,
Michael Bennett
and
Jonathon Rumph
, tight end
Jay Rome
and tailbacks
J.J. Green
and
Brendan Douglas
and 2014 commitments
Sony Michel and Nick Chubb
, both of whom rank among ESPN's top eight prospects at running back.
Not a bad situation for a first-time starting quarterback who must replace the most distinguished passer in SEC history.
"We've got a lot of weapons," redshirt freshman receiver
Blake Tibbs
said. "And Hutson, he don't care who's open. If they put a dog in a helmet and some equipment out there, if he was open, Hutson would throw it to him. That's one thing about Hutson: He don't care. If you're open, he's going to trust you to make the play and he's going to keep throwing to you."
Mason certainly proved that in his lone opportunity for significant playing time this season. He hit his first eight pass attempts, connecting with the likes of Rumph, Green, freshman
Reggie Davis
and walk-on
Kenneth Towns
on his first drive. Then came further completions to Tibbs,
Michael Erdman
, Douglas and Rumph again before his first incomplete pass.
The common bond there? Those are mostly the players with whom Mason has regularly worked on the Bulldogs' second-team offense, so chemistry was not an issue when they hit the field.
"That group's kind of been playing together -- besides Rumph -- for a long time and a lot of when our twos go against the ones, they always seem to do well and I think there's a chemistry between those guys kind of like Aaron and Bennett and other guys," offensive coordinator Mike Bobo said.
There's a long time between now and the reserves' time to shine. Heck, there are three games remaining this season.
That means there is plenty of time for the stars in waiting to continue to develop before the Bulldogs open the 2014 season against Clemson on Aug. 30 -- which is exactly the mentality Rumph says he's developing.
"That's what young players have got to understand," said Rumph, who has six catches in the last three games after missing the first half of the season with a hamstring ailment. "This is your job, so every time you go to school or go to practice, you've got to work to get better. That's all I'm trying to do is keep adding stuff to my game. I've got the feel for the game, I know what I'm capable of. I'm just trying to keep adding stuff to my game."
Mason echoed those thoughts, pointing out that while even coach Mark Richt has declared Mason as the frontrunner to win the job next season, he still must make good use of this opportunity and not just assume the job is his from the get-go.
He has the opportunity to work with what could be an extremely productive offense next season -- if he stakes a claim on the job.
"I'm not going to be na´ve. I hear about that stuff and I read some of it and stuff like that. I've always been the first to say that I believe they're just being nice," Mason said. "I believe that I've done a good job of performing when my opportunity comes, but I've never stepped on the field in front of 90,000 and like I was saying earlier, that's different from playing in practice.
"So I enjoy the comments and I enjoy the people that have faith in me, but really myself, I just take it day-by-day and say, 'You know what, what have I proven?' because in reality I haven't proven a lot. So when that opportunity comes, hopefully I'll show up."
October, 22, 2013
10/22/13
7:00
AM ET
ATHENS, Ga. -- Even when his unit lost player after player to injury, Mike Bobo insisted Georgia would keep running its offense as it always had.
There was one problem: over time, that became an impossible proposition.
[+] Enlarge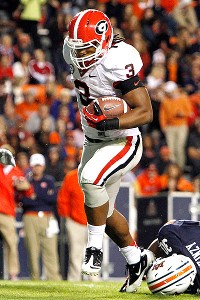 AP Photo/Butch DillGeorgia tailback Todd Gurley is expected to return from injury against Florida on Nov. 2.
Here were the Georgia offensive coordinator's top personnel options when the season started:
Tailback:
Todd Gurley
(1,385 rushing yards, 17 TDs in 2012),
Keith Marshall
(759-8).
Receiver:
Malcolm Mitchell
(40 catches for 572 yards last season),
Michael Bennett
(24-345 in five games last fall),
Chris Conley
(20-342),
Justin Scott-Wesley
(made win-clinching touchdown catches against South Carolina and LSU early this season).
After season-ending injuries to Mitchell, Marshall and Scott-Wesley and ailments that kept Gurley and Bennett out for three and two games, respectively, here's the travel roster Bobo was working with on Saturday against Vanderbilt, when he called an ultra-conservative game in hopes of slipping out of Nashville with a win:
Tailback:
Freshmen
J.J. Green
(313 rushing yards, 6.7 yards per carry this season) and
Brendan Douglas
(218, 4.2), walk-ons
Brandon Harton
and
Kyle Karempelis
(no carries between them), Gurley (who is still injured and watched from the sideline).
Receiver:
Conley (team-high 30-418 this season),
Rantavious Wooten
(14-174), true freshman
Reggie Davis
(7-189),
Rhett McGowan
(7-70),
Jonathon Rumph
(who just returned from a hamstring injury that has sidelined him for nearly the entire season, but did not play against Vandy), walk-ons Kenneth Towns (no catches) and
Michael Erdman
(1-6).
That's everybody.
With a full complement of skill players, Bobo has certainly never been afraid to call for the deep ball, and quarterback
Aaron Murray
hasn't been afraid to throw it. Georgia was actually one of the nation's most successful teams at generating big plays last season when Gurley and Marshall were breaking long runs and the Bulldogs' assortment of wideouts was getting behind the secondary for long completions.
According to ESPN Stats & Info, Georgia led the nation last season with 31 touchdowns that covered 20 yards or more and ranked fifth with 63 completions of at least 20-plus yards. And this season initially looked to be more of the same, with 37 plays of 20-plus, six touchdowns of 20-plus and 27 completions of 20-plus through the first five games.
It has been a completely different story over the last two weeks, however. The explosive play did not exist in the 31-27 loss to Vandy -- Georgia's longest play of the game was a 17-yard completion to Green -- and the offense mustered only a paltry 221 yards against a Commodores defense that gave up 51 points to Missouri its last time out.
Murray completed 16 passes for 114 yards, just five more completions than his career low, and attempted only two throws that covered at least 15 yards. Both were incompletions.
The previous week's loss against Missouri was not as underwhelming. The Bulldogs finished with 454 total yards and Murray was 25-for-45 for 290 yards, but nearly half of his completions (11) came on dump-off passes to Green and Douglas, as Bobo and his quarterback elected to dink and dunk to their checkdown receiving options against Missouri's zone defense.
Green broke a 57-yard run and Wooten made a 48-yard reception, but explosive play and aggression was largely lacking in that loss, as well.
The long ball was a key element in the offense in the first five games, with Murray going 21 for 37 on throws of 15 yards or more, averaging 17.8 yards per attempt and connecting for five touchdowns versus no interceptions. He was 4-for-11 on such throws against Vandy (0-2) and Missouri (4-9), but averaged just 8.7 yards per attempt with no touchdowns and two picks.
Georgia still has only six touchdowns that covered 20 yards or more, leaving the Bulldogs in a tie for 74
th
nationally after leading in that category last fall.
The good news for Georgia is that Gurley and Bennett are expected back for the Bulldogs' next game, Nov. 2 against Florida. Perhaps more than any other player on the roster, even Murray, Gurley is the linchpin in Georgia's offensive explosiveness -- and his presence allows Bobo to call a completely different game than what we just witnessed in Nashville.
The sophomore back's ability to run physically between the tackles forces opponents to funnel defenders into the box to slow him down. And his formidable speed makes Gurley a threat to break a run for a big gain at any time.
The sophomore already has seven touchdowns of 20 yards or more in 18 career games.
Aside from their occasional case of fumble-itis, Green and Douglas have done a fine job in Gurley and Marshall's absence, but they can't replace what Gurley brings to the lineup. If another running back anywhere in the country is capable of that, he's on a mighty short list.
Now will Gurley make a big enough difference against Florida? We shall see. He has been on the shelf since Sept. 28 and hasn't been able to practice for three weeks. But if he returns with fresh legs and his injured ankle has healed to the point that the Gurley of old takes the field in Jacksonville, Georgia's chances of victory -- and its chances of generating big plays on offense -- will increase exponentially.
October, 8, 2013
10/08/13
7:00
AM ET
ATHENS, Ga. -- Mark Richt delivered the bad news on Sunday when he confirmed that tailback
Keith Marshall
and receiver
Justin Scott-Wesley
would join wideout
Malcolm Mitchell
on the season-ending injury list.
With receiver
Michael Bennett
(knee) out and All-SEC tailback
Todd Gurley
(ankle) questionable for Saturday's game against No. 25 Missouri (5-0, 1-0 SEC), No. 7 Georgia (4-1, 3-0) has little time to identify the personnel who must play larger roles in order to hang with a Tigers offense that ranks among the nation's most productive units.
Here are four groups/trends to watch as the Bulldogs move forward:
Freshman tailbacks:
With Georgia's two star backs both possibly out Saturday, it's certainly possible we will see another heavy dose of true freshmen
J.J. Green
-- who rushed for 129 yards last Saturday against Tennessee -- and
Brendan Douglas
at tailback.
[+] Enlarge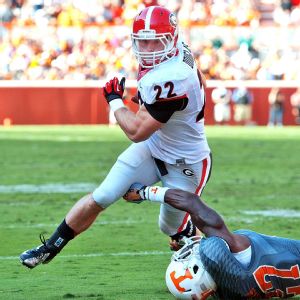 Jim Brown/USA TODAY SportsBrendan Douglas and fellow freshman J.J. Green likely will be asked to shoulder more of the load.
That isn't necessarily a scary proposition for the Bulldogs, who have seen the young duo perform well in practice and in spot duty up until last Saturday's overtime win.
"We see those guys in practice, and they do a great job of breaking tackles or shaking guys or breaking loose for touchdowns against a great defense," offensive guard
Chris Burnette
said. "Seeing them do that in practice, we know they're capable of doing that in a game."
The larger question is what happens if Gurley is unable to play Saturday. If one of the top running backs in the nation remains unable to go as the week progresses -- and he once again did not practice on Monday -- Georgia's coaches might have to take a longer look this week at freshman
A.J. Turman
.
He seemed like a certain redshirt candidate a week ago, but Richt's staff must determine whether the two freshmen who already have played and walk-ons
Kyle Karempelis
and
Brandon Harton
would be enough to carry the load without Gurley and Marshall.
"A lot may depend on how Gurley's doing," Richt said. "If Gurley comes back and you've got the other two, you don't normally have to go three backs. But if Gurley can't go, then we've got to try to figure out what we're going to do. We've got Harton and Karempelis that have played for us before, so those are possibilities. We've just got to kind of try to figure that out.
Wild cards:
Speaking of Turman, he's not the only newcomer who has not played yet and still might or might not make an impact this fall.
Receivers
Tramel Terry
and
Jonathon Rumph
-- Georgia's second- and sixth-highest-rated 2013 signees in ESPN's player rankings -- have not played to date but still could factor into offensive coordinator Mike Bobo's plans ... eventually.
Richt said "it's very doubtful that [Rumph would] be ready" for the Missouri game while still dealing with a left hamstring strain, but "after that, we're going to definitely try to get him ready."
Meanwhile, Terry struggled during preseason practice while still recovering from offseason ACL surgery and seemed set to redshirt this season. But because of the receiver attrition, the freshman might be someone the coaches eventually consider.
"I just think the longer he practices coming back from his injury, the better he'll be," Richt said. "Is he really ready for this type of competition? I don't know.
"And the fact that he hasn't had a lot of reps with our offensive unit, he's been working mainly scout team reps, and he's a freshman, so it's hard to really be ready in all the ways that you have to be ready -- not only physically, but knowing the game plan and just having experience running the routes and playing in games like that. So I'm not counting him out, but I really don't know the answer right now."
More tight ends:
Considering the level of in-game attrition that occurred at Tennessee, perhaps the most surprising statistic from that game was that neither
Arthur Lynch
nor
Jay Rome
made a reception.
Expect that to rank as a statistical anomaly moving forward.
When Georgia's receivers encountered a number of injury issues last season, Lynch and Rome were two of the top pass-catching beneficiaries. The two tight ends combined for 25 catches for 367 yards -- 251 by Lynch and 116 by Rome – over the final six games last season. In the first eight games of 2012, they combined for 10 catches and 216 yards.
Lynch and Rome have 212 yards -- 169 by Lynch and 43 by Rome -- this season.
[+] Enlarge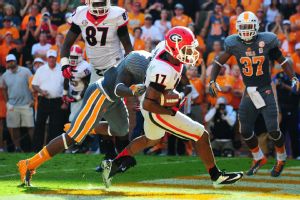 Scott Cunningham/Getty ImagesWith injuries mounting, senior Rantavious Wooten might be counted on to play a much larger role.
Replacement receivers:
Junior
Chris Conley
-- who led Georgia with 64 receiving yards and made a tremendous one-handed touchdown catch against Tennessee -- is nearly the only known quantity in the Bulldogs' receiving corps for the time being.
Yes, they have fifth-year seniors
Rhett McGowan
and
Rantavious Wooten
available, but both players have been role players throughout their careers. Beyond that, Georgia might need reserves like
Reggie Davis
,
Blake Tibbs
,
Michael Erdman
,
Kenny Townes
to pick up their production.
"We're deep in the receiver room," McGowan said. "A lot of people don't know that, because they haven't played, but they're at Georgia for a reason."
Bennett will undergo arthroscopic surgery today to determine the extent of his knee injury. Even if he receives positive news, the junior will certainly miss the Missouri game and possibly more time after that.
Since they have dealt with regular injuries over the last two seasons, the receivers believe they are well-prepared for their current situation and now must take advantage of this opportunity.
"[Receivers coach Tony] Ball always tells me, 'Prepare like you are the starter, and you never know, because you're one play away from [being] a starter,' " said Wooten, who caught two touchdowns against Tennessee. "So all the guys know that in the room, and I know that myself, and I always had that in the back of my head. Any guy could be the next man up. The coaches have the final decision on that, but at the end of the day, that's what we do, we practice, and we get ready for those types of situations."
September, 25, 2013
9/25/13
10:30
AM ET
We're continuing to look at the first quarter of the 2013 college football season today by checking out the effect true freshmen have had. We know that the days of freshmen sitting back and watching are over, and SEC teams have made sure to get the youngsters on the field as quickly as possible.
Who has received the best results from their freshmen through the first four weeks? Who not only has quantity but quality when it comes from the freshmen impact? Take a look:
[+] Enlarge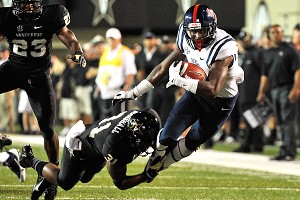 Frederick Breedon/Getty ImagesTrue freshman WR Laquon Treadwell has been one of several instant-impact rookies for Ole Miss.
1. Ole Miss:
The Rebels might have had the most talked about recruiting class this past spring,
and boy has it delivered
. Coach Hugh Freeze was concerned about the class receiving too much hype, but these kids haven't had trouble adapting to the college game. Heading into this week's Alabama game, Ole Miss has five true freshmen as starters on the depth chart. The headliners in the class have been defensive end
Robert Nkemdiche
, who has 10 tackles, including four for loss, and wide receiver
Laquon Treadwell
, who is averaging 5.3 catches per game and has 154 receiving yards. Tight end
Evan Engram
has also had a major impact, catching 11 passes for 175 yards and two touchdowns, while offensive tackle
Laremy Tunsil
will make his second straight start at left tackle. Starting nickel corner
Tony Conner
intercepted a pass on his first career defensive snap, while offensive lineman
Austin Golson
has played around 50 percent of the snaps.
2. Georgia:
The Bulldogs knew they were going to have to get a lot out of their freshman class, especially on the defensive side of the ball. Through the first four weeks of the season, six of Georgia's top 15 tacklers are freshmen: safety Tray Matthews (14), linebacker
Leonard Floyd
(12), cornerback
Brendan Langley
(10), safety
Quincy Mauger
(five), defensive lineman
John Taylor
(four) and linebacker
Reggie Carter
(four). The Bulldogs have played 14 true freshmen this season, which ranks third nationally. Ten of them have played on the defensive side of the ball and three of them -- Matthews, Floyd and Langley -- have started. In addition, freshman receiver
Reggie Davis
has two catches for 134 yards, including a school-record 98-yard touchdown reception against North Texas.
3. Arkansas:
The first thing you think about when you see this Razorbacks team is the running game. Alex Collins became the first freshman in SEC history to begin his career with three straight 100-yard rushing games and the first true freshman in the NCAA to record three straight 100-yard rushing games to start his career since Oklahoma's Adrian Peterson had nine straight in 2004. Collins leads the SEC with 481 rushing yards, is averaging 120.3 yards per game and has been named the SEC Freshman of the Week twice. Tight end
Hunter Henry
is second on the team with eight catches for 125 yards and a touchdown. Offensive tackle
Denver Kirkland
grabbed a handful of snaps against Southern Miss, while fellow tackle
Dan Skipper
blocked a field goal against Rutgers. Cornerback
D.J. Dean
has received a lot of snaps this fall as well.
4. Tennessee:
Fourteen true freshmen and 22 freshmen overall have played for the Vols this season. Three true freshmen have made starts this season: wide receiver
Marquez North
(four), defensive back
Cameron Sutton
(four) and wide receiver
Josh Smith
(two). North, who leads the team with 12 catches for 112 yards, became the first true freshman to start the season opener for Tennessee at receiver since Marsalis Teague in 2009, while Sutton is the first true freshman defensive back to start a season opener since
Justin Coleman
in 2011. Defensive back Malik Foreman intercepted a pass in his debut against Austin Peay, becoming the first true freshman to record a pick in his Vols debut in the season opener since Dwayne Goodrich in 1996. Defensive back
Devaun Swafford
recorded a pick-six in Tennessee's loss to Florida last week.
5. LSU:
The Tigers have played 14 true freshmen this season, and eight of those are defensive players. Cornerback
Tre'Davious White
is the only freshman to make a start this year, doing so against Kent State and Auburn. White has 17 tackles on the season, including one for loss, and has also forced a fumble and broken up a pass.
Kendell Beckwith
has received some good snaps at linebacker and on special teams. He also lines up at defensive end to provide more of a pass-rushing threat on third downs. Defensive lineman
Christian LaCouture
has seen time in the rotation along the Tigers' defensive line.
September, 23, 2013
9/23/13
12:35
PM ET
The SEC league office announced its top performers for Week 4:
Offense:
Jeremy Hill
, RB, LSU
Rushed for career-highs of 184 yards and three touchdowns on 25 carries in a 35-21 win over Auburn. He scored touchdowns the first two times he touched the ball – going 49 yards on the first score and then followed that with a 12-yard run on his next carry – both coming in the first five minutes of the game.
Scored his third touchdown on a 6-yard run in the third quarter to stretch the LSU lead to 28-7. Added a 54-yard run down to the Auburn 1-yard line early in the second quarter that led to another LSU score and a 21-0 advantage.
Averaged 7.4 yards per carry. Hill's 184 rushing yards were the most by an LSU player since Alley Broussard set the school record with 250 yards against Ole Miss in 2004.
Defense:
Dante Fowler Jr.
, DE, Florida
Forced two fumbles against Tennessee and recovered one.
Recorded three tackles (for a total loss of 15 yards) and was the only Gators player to claim a sack on the day.
Helped lead the Gators defense as they held Tennessee to just 66 rushing yards.
Helped force the Vols to consecutive three-and-outs in the first half.
Special teams:
Alan D'Appollonio
, LS, Arkansas
Made first career reception on fake punt in first quarter at Rutgers.
Catch was for 24 yards on fourth-and-6 from Arkansas 49-yard line, extending drive that ended with an Arkansas field goal.
Has been perfect on PAT, field goal and punt snaps in 2013.
Freshman:
Reggie Davis
, WR, Georgia
Davis caught the first two passes of his career and finished with 134 yards receiving and a touchdown in the 45-21 victory over North Texas.
His first reception was a 98-yard touchdown catch from Aaron Murray. It was the longest offensive play in school history and tied for the third-longest receiving touchdown in SEC history.
Davis helped the Bulldogs generate 641 yards on offense against the Mean Green and 35 points or more for the third consecutive game.
Offensive lineman:
Gabe Jackson
, G, Mississippi State
Jackson was instrumental in the Bulldogs amassing 551 yards, 235 on the ground, in a 62-7 victory over Troy.
The senior guard didn't have a missed assignment and was credited with five pancake blocks.
The 551 yards was the 14th-most in school history, and the 45 first-half points were the most in the modern era.
Defensive lineman:
Kony Ealy
, DE, Missouri
Ealy had perhaps the single biggest individual play of Saturday's win over Indiana, when with the Hoosiers driving for a potential tying score right before halftime, he jumped to knock down a pass on a third-and-3 at the Missouri 46 with two minutes left. Instead of just knocking the ball down, however, Ealy got the ball to stick in his mitts, and he raced the other way for a 49-yard interception return for a touchdown. That staked the Tigers to a 28-14 lead, and they never looked back.
The pickoff was the first of Ealy's career, and he finished with two total pass break-ups. He also had a solo tackle as the Tigers held the Indiana offense to well below its season averages.
September, 21, 2013
9/21/13
7:20
PM ET
ATHENS, Ga. -- Sloppy play plagued his team -- particularly on special teams -- and drew boos from some waterlogged fans on a rainy afternoon, but Georgia coach Mark Richt found at least one satisfying aspect of Saturday's 45-21 win against North Texas.
Once Richt's team absolutely had to get serious, it stopped playing around. The Bulldogs (2-1) used a solid effort from their defense and a 24-0 run to close out the game after a North Texas (2-2) blocked punt resulted in a touchdown that made it 21-all early in the third quarter.
"We got ourselves into a fight," Richt said. "It was tied, obviously, in the second half and it could've got real ugly, but it didn't. We continued to settle the game down by playing great defense and continued to move the ball and get some points, and we were able to finish the game without a lot of drama. It could've been very dramatic. It was very dramatic until we pulled away a little bit."
No. 9 Georgia moved the ball seemingly at will Saturday, outgaining North Texas 641 yards -- fourth most in school history -- to 245. The Mean Green had barely exceeded 200 yards of total offense before their final drive against mostly reserves from Georgia. Yet thanks to a North Texas 99-yard kickoff return for a touchdown, the blocked-punt score and an
Aaron Murray
interception in the Mean Green end zone, the outcome was in doubt far later into the afternoon than the pregame 32-point spread might have indicated.
However, Todd Grantham's defense delivered its first strong performance of the season, limiting North Texas to just one offensive touchdown a game after surrendering just six points in the second half of a win against South Carolina. The Bulldogs' run defense was particularly stout, allowing just seven yards on 25 attempts -- which tied for the fewest surrendered in any Football Bowl Subdivision game this year.
[+] Enlarge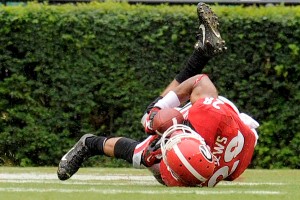 Dale Zanine/USA TODAY SportsGeorgia freshman safety Tray Matthews' interception in the second half gave the Bulldogs all the momentum they needed to pull away.
"I thought them guys played their tails off," Grantham said. "They hung in there, were put in some tough spots, showed mental toughness.
Tray [Matthews]
got a turnover. I'm proud of the way those guys played."
In hindsight, freshman safety Matthews' interception -- the first of his career and first of the season for the Bulldogs -- might have been one of the biggest plays of the game. Georgia had just taken a 28-21 lead when North Texas had driven to the Bulldogs' 27. Matthews easily picked off a
Derek Thompson
pass -- he credited cornerback
Damian Swann
for re-routing a North Texas receiver who should have been in the vicinity -- at the Georgia 5 to halt a potential game-tying drive.
The Bulldogs then drove 95 yards in 12 plays, taking a 35-21 lead on Murray's 4-yard pass to
Chris Conley
, and North Texas didn't threaten Georgia's lead again.
"We were on the sideline, and I was like, 'Dang it's close, man,'" Matthews said. "I swear, [defensive line coach Chris Wilson] was like, 'Man, we need to create some turnovers.' It just stuck in my head that we need to create turnovers. He said we need an alpha dog on the defense, somebody that's going to lead the team and get the team pumped up. I was like, 'Man, I want that to be me, so I feel like I need to go out and make a play.'"
There were plenty of offensive highlights to go around.
Murray connected with wideout
Reggie Davis
on a 98-yard touchdown pass -- the longest pass play in school history, Murray's 100th career touchdown pass and the freshman's first career reception, no less -- and finished the day with 408 yards and three touchdown passes, plus a 1-yard rushing score.
Murray also passed
David Greene
to become Georgia's career total offense leader with 11,352 career yards. He is third in SEC history behind Florida's Tim Tebow (12,232) and Chris Leak (11,380).
"Really, it's a huge honor. Those are some studs right there, so just to be alongside those guys is a great feeling," Murray said. "But most importantly it was a great win today. The team played great. We had some rough patches, but I really loved the way we were able to fight through it."
Records and special-teams mishaps aside, the big story in Saturday's win was that Georgia's defense provided its first competent outing of the season. North Texas had just two offensive plays that covered 20 yards or more, failed to move the ball on the ground and saw its quarterbacks repeatedly hammered by oncoming Georgia rushers.
"Every time [Thompson] threw it away, I decided next time I was going to hit him even harder," said outside linebacker
Jordan Jenkins
, who had two of the Bulldogs' 10 tackles for negative yardage. "Every time we hit him, two or three times he said, 'Oh [no],' because he was scared at times. But when you get hit that many times, I would be too."
After surrendering an average of 460.5 yards per game against Clemson and South Carolina to open the season -- and with LSU preparing to visit next Saturday -- this was exactly what Grantham's defense needed, even if the final score was closer than one might have expected beforehand.
"I feel like this is something that we really enjoyed," Jenkins said. "It showed the younger guys and just showed the nation how we can play when we all click and what our defense is going to be like in the future."
August, 14, 2013
8/14/13
11:45
PM ET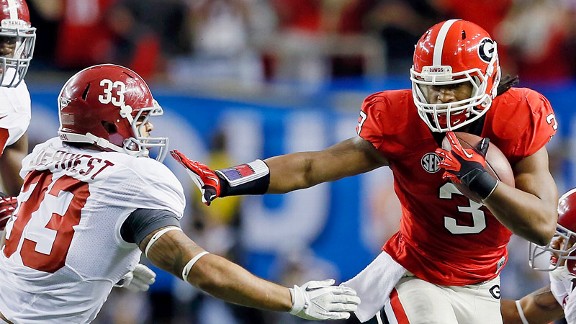 Kevin C. Cox/Getty ImagesTodd Gurley had 105 total yards and two touchdowns in Georgia's scrimmage Wednesday, part of a much more focused effort by the Bulldogs' offense.
ATHENS, Ga. -- Since his team will open the season at night against Clemson, Georgia coach Mark Richt wanted his team's final two scrimmages to be under the lights.
Richt got exactly the conditions and energy level from the team that he was hoping for in Wednesday's second scrimmage of the preseason -- a marked difference from the Bulldogs' listless effort a week ago.
"I thought it would be a good idea to do it this week because I just wanted it to be a nice, cool night, I wanted everybody to be well-rested and I just wanted to see a lot of energy out there," Richt said. "It was like night and day from the first scrimmage as far as just the energy level out there."
Georgia's coaches got what they expected from their starting units, as well, with those groups mostly having their way against the backups in traditional series and situational scenarios.
"When you scrimmage like this and you go ones versus twos, you hope that your number-one offense is going to have a pretty good go against your number-two defense and vice versa. And that's about how it's gone," Richt said. "If your second offense was just thrashing your number-one defense, then you've got a really, really serious problem. But that's not the case. I thought both number-one units played pretty good."
Several of Richt's assistant coaches said recently that they would begin narrowing the field of candidates for playing time after Wednesday's scrimmage so that they would have defined roles when they hold their third and final scrimmage next Wednesday. Richt said the coaches would grade film of the scrimmage within the next 24 hours, but their personnel decisions will likely take at least a few days.
"It'll be maybe a day or two before we start trying to figure out ... and it won't be exact until probably next Wednesday," Richt said. "I would think by next Wednesday when we have that practice game, we'll have a really good idea of our lineup."
As for statistics, there were no particularly eye-catching numbers on Wednesday -- unlike last week's scrimmage, when starting quarterback
Aaron Murray
threw three interceptions. Murray bounced back to go 14-for-18 for 173 yards, one touchdown and one interception on Wednesday, with backup
Hutson Mason
finishing 9-for-19 for 107 yards, one touchdown and one interception.
All-SEC tailback
Todd Gurley
was the offensive star of the evening, rushing five times for 33 yards and two touchdowns and adding three receptions for another 72 yards. Tailback
Keith Marshall
had six carries for 39 yards and freshman
Brendan Douglas
added seven rushes for 50 yards and two catches for another 31 yards.
"[Douglas] was very impressive today," Richt said. "He ran the ball well, he ran with power, he ran with some vision, he continued to pass [block] pretty good. He's not perfect in that area."
Blake Tibbs
and
Michael Bennett
caught the two touchdown passes and
Malcolm Mitchell
led the receivers with four catches for 58 yards.
Josh Harvey-Clemons
, suspended for the opener at Clemson, led the defense with seven tackles and three pass breakups.
Amarlo Herrera
had five tackles and two pass breakups, while
T.J. Stripling
,
Connor Norman
,
Garrison Smith
and
Leonard Floyd
all had four stops. Floyd also made a tackle for a loss and would have recorded a sack, Richt said, if not for being blatantly held by an offensive tackle.
Defensive end
Toby Johnson
recorded the one official sack.
Freshman cornerbacks
Shaq Wiggins
and
Brendan Langley
both made interceptions, with Langley returning his interception 48 yards for a touchdown. Richt said Langley also broke up a pass at the goal line to prevent a touchdown.
The two freshmen are not just competing to be the backups at cornerback, Richt said, they're competing with
Sheldon Dawson
to win a starting job alongside junior
Damian Swann
.
"I'd say they're all still competing, other than Swanny's going to be in there," Richt said. "But who the other starter will be, it's just a matter of watching what happened in this scrimmage and what happens between now and next Wednesday, probably."
Kennar Johnson
and
Lucas Redd
also intercepted passes.
The Bulldogs are still contending with a number of injuries, as 15 players appeared on Wednesday's injury report -- including safeties
Tray Matthews
(shoulder/hamstring),
Corey Moore
(knee sprain),
Shaquille Fluker
(illness),
Marc Deas
(elbow sprain) and
Paris Bostick
(foot surgery).
Nose guard
Chris Mayes
(concussion), linebackers
Tim Kimbrough
(knee sprain) and
Chase Vasser
(ankle sprain), receivers
Reggie Davis
(knee sprain),
Rhett McGowan
(ankle sprain) and
Rantavious Wooten
(hamstring strain), tailback
A.J. Turman
(knee/ankle) and tight end
Jay Rome
(ankle sprain) were also sidelined.
The good injury news, Richt said, was that he did not believe the team suffered any new injuries during the scrimmage.
"It was a good day. No one was banged up today," Richt said. "Sometimes the next day you hear something, but today Ron [Courson, Georgia's director of sports medicine] came to me and said everything looked good, so that's a blessing."
July, 11, 2012
7/11/12
5:09
PM ET
Breaking news:
2012 signee Leonard Floyd failed to qualify after the NCAA Clearinghouse flagged one of his high school courses. Instead, the talented linebacker will attend prep school in the fall.
Staff - DN Roundtable

: With transfers, early departures and dismissals including that of star RB Isaiah Crowell, UGA enters the season with just 75 scholarship players. DawgNation considers why that is and what Mark Richt & Co. can do to overcome the issue.
Tom Luginbill writes

: Several University of Georgia commitments and targets took part in The Opening, last weekend's premier summer camp in Beaverton, Ore. That gave our scouts another opportunity to watch them work and discuss what we learned.
Kipp Adams writes

: ESPN 300 ILB Tim Kimbrough Jr. has more than 20 offers, including one from the Bulldogs. With a return trip to Athens for Friday's Dawg Night, the nation's No. 11 inside linebacker prospect has UGA high on his list.
David Ching writes

: Around the Hedges in 80 Days – 52 days to kickoff
Isaiah Crowell's exit swung open a huge door for two mega-talented incoming running backs. Freshman Todd Gurley might not be as heralded as his five-star counterpart Keith Marshall, but he is expected to have a banner rookie campaign with the Bulldogs.
July, 4, 2012
7/04/12
1:59
PM ET
By
ESPN.com staff
| ESPN.com
DawgNation Roundtable

: Today being the Fourth of July, we expect to see fireworks and parades. Georgia football has had its share of fireworks, too, through the years. So we asked the staff and DawgNation's readers: "What is the biggest fireworks display, figuratively speaking, you have seen at a Georgia football game?"
Radi Nabulsi writes

: Georgia will be well represented at The Opening this weekend, with QB Brice Ramsey leading seven notable commits who will showcase their talents at the Oregon event. The seven will also put on their recruiter caps, aiming to coax several Georgia targets to join them next year in Athens.
David Ching writes

:
Around the Hedges in 80 Days -- 59 days to kickoff.
During the offseason Georgia coaches took advantage of Ray Drew's growth, cross-training him in the spring at defensive end, where they believe he'll become a force. With Isaiah Crowell gone, Drew effectively takes over as the cream of the Dream Team crop, and figures to contribute a great deal in the next few seasons.
June, 6, 2012
6/06/12
6:08
PM ET
By
ESPN.com staff
| ESPN.com
Kipp Adams writes

: In the latest ESPN 150 rankings, four-star Georgia cornerback commit Shaq Wiggins bolted more than 50 spots up the list, while three other UGA commits held steady.
Adams

: Newly ranked four-star athlete Greg Taboada of Atlanta was surprised by his inclusion in the ESPN 150, considering football had only recently superseded soccer as the sport of choice for this the player with Spanish heritage.
Adams

: Prospects don't come any more versatile than newly appointed ESPN 150 four-star athlete and two-way player Rashard Fant, and UGA is taking notice.
Radi Nabulsi writes

: UGA commits and targets pepper the newly released ESPN 300 list.
May, 31, 2012
5/31/12
2:15
PM ET
By
ESPN.com staff
| ESPN.com
Kipp Adams writes

: The DawgNation recruiting mailbag this week covers several questions that all seem to branch from one potentially cataclysmic recruiting event: Four-star commit Derrick Henry could jump ship and roll to the Tide.
Radi Nabulsi (Video):
Lifelong Gators fan D.J. Smith talks about his latest offers, from Florida and Georgia.
David Ching writes:
For UGA's Athletic Association staff, finding new and innovative ways to keep fans coming back -- and coming back happy -- is at the forefront of the school's ever-expanding spectator amenities.