December, 10, 2014
Dec 10
2:00
PM ET
BATON ROUGE, La. -- As far as
Jalen Collins
is concerned, it wasn't until the Ole Miss game that LSU's secondary became great again.
[+] Enlarge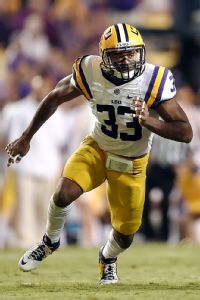 Stacy Revere/Getty ImagesJamal Adams could be among a host of LSU defensive backs who earn All-SEC attention in 2015.
Considering how the Tigers lead the SEC in total defense (and rank eighth nationally, allowing 305.8 yards per game), are first nationally in pass efficiency defense (98.7) and fourth in passing yards allowed (162.3), the junior cornerback is making a strong statement when he opines that it wasn't until Game 9 that LSU's secondary truly clicked.
"I feel like the Ole Miss game was kind of where we made a statement saying that we're for real," said Collins, the junior cornerback whose defense limited Ole Miss to 313 total yards in LSU's
10-7 win
. "Just the way that we played and came out every series, every snap and tried to stop them. They're a great offense and we held them to well under their average for the year."
The Tigers did that to a lot of opposing offenses this season, especially after their
41-7 loss at Auburn on Oct. 4
. Auburn and Mississippi State both ripped holes in LSU's reconstructed defensive front early in the season, and complemented the run with a handful of big plays in the passing game, but once the Tigers' front seven settled in, LSU's overall defensive results started to improve.
In the second half of the season, only three defenses (Clemson, Central Florida and Penn State) allowed fewer yards per game than LSU's 273.8 and no defense in the country surrendered fewer touchdowns than LSU's 10.
The Tigers capped the season by holding Texas A&M to 228 total yards and 144 passing yards -- among the Aggies' worst performances in either category this season -- with Collins clinching the victory by intercepting a
Kyle Allen
pass on A&M's final play.
"I feel like we got better every game," Collins said. "Going into camp, [defensive backs coach Corey] Raymond was hard on us and made sure we prepared. And every week we tried to get in some extra work, tried to make sure our communication was good so we were prepared for whoever we were facing. I feel like we did a lot."
It was a far cry from the problems that the 2013 secondary experienced, with multiple opponents lighting up LSU's pass defense early in the season before freshmen
Tre'Davious White
and
Rashard Robinson
grabbed starting roles.
Robinson was suspended twice in 2014, and his future status seems to be in jeopardy since he has been indefinitely suspended for the past three games, but White and Collins formed a consistent combination at cornerback.
And at safety, despite missing
Corey Thompson
for the entire season and
Dwayne Thomas
for most of it, the combination of
Ronald Martin
,
Jalen Mills
,
Rickey Jefferson
and
Jamal Adams
was formidable.
Although All-SEC pick Martin is a senior and juniors Mills and Collins will have the opportunity to join him in the NFL draft pool if they opt to forgo their final seasons of eligibility -- Collins confirmed Sunday that he submitted his name to be evaluated as a possible early entrant into the draft -- the returning players should help LSU's secondary rank among the nation's best again in 2015.
As White and Robinson did the season before, true freshman Adams started to come into his own toward the end of the season. He started two of the last three games and is now tied for sixth on the team with 56 tackles.
"It definitely slowed down," Adams said after matching his career high with eight tackles against A&M. "Each game, I'm trying to get better, trying to help the team out and each day we're getting better and better as a team."
Depending on who returns next season, Adams could be among a handful of LSU defensive backs who earn All-SEC attention in 2015. Entering his junior season, White will be a no-brainer, and several other Tigers veterans have flashed the skills to join him in the upper echelon of SEC DBs.
"The way that we came to work this past year and just kind of shed that light on the younger guys, everybody's having another year under their belt," Collins said, looking ahead to next season. "It'll just be that much more exciting to see what we can do and how good we can be."
December, 3, 2014
Dec 3
1:00
PM ET
Dwayne Thomas
was in a vulnerable position when hundreds of LSU fans rushed the field at Tiger Stadium following an Oct. 25 win against Ole Miss.
The sophomore defensive back was on crutches, less than a week removed from surgery to repair the torn ACL in his right knee, and easily could have toppled over in the frenzied crowd. Luckily he had a convoy of teammates and support staff to keep him safe on the way to the locker room.
"Jermauria Rasco, he was on my side. I had some great strength and conditioning coaches on my side and we were just all walking in," Thomas recalled. "Jamal [Adams] was right behind me, Rickey [Jefferson] was right in front of me and we all just were walking in with people coming up and grabbing, excited. I was just like, 'OK, let's do this. Let's go in the crowd.'
"It actually was fun because being in the house so much [that week after surgery], not being around a lot of people, it was just so boring. To see that excitement when people rushed the field, I'd never been a part of that before so I enjoyed that moment. I kind of wanted to be out there, so I told them I wanted to stay out there and I didn't want to go inside."
That was the closest to on-field excitement that Thomas came in the second half of the season since he injured his knee in Game 5 against New Mexico State. The Tigers were 4-1 at the time and ranked 15th nationally, with Thomas starting to develop as a star in John Chavis' "Mustang" defensive package.
He was rushing the quarterback off the edge, as he often does in the Mustang, when he suffered the season-ending knee injury. It was Thomas' second season-ending injury at LSU, as he took a medical redshirt in 2012 after suffering a sports hernia that kept him from playing in the final nine games that fall.
"When they were like, 'It's a torn ACL,' it kind of hit me emotionally a little bit because I was having an exciting season," said Thomas, who had 24 tackles, 2.5 tackles for loss, an interception and a key fumble recovery (against Mississippi State) before the injury. "It was fun to start off fast for me and it was just a little setback and I just felt like I could bounce back from this because it's just a torn ACL. It's not like I tore my meniscus or anything else bad with that. I'm just ready to get back. My ACL's healing faster than a lot of people really think it would."
In fact, he thinks he'll be ready to go when the Tigers open spring practice.
"He's working hard," LSU coach Les Miles said last week. "His rehabilitation is coming along very nicely. Hope to have him back for spring. I don't know if that's possible, but as hard as he's working, we would think that's likely."
Thomas' return would bolster a secondary that might need a player with his capabilities next season. The Tigers will definitely lose senior starter
Ronald Martin
, while juniors
Jalen Mills
and
Jalen Collins
are eligible to enter the NFL draft and suspended starter Rashard Robinson's future at LSU is in doubt.
The secondary fared well overall even without Thomas available – LSU is second nationally in pass efficiency defense (98.7) and fifth in passing yards allowed (162.3) – but the group might need his veteran presence in 2015. Not to mention his playmaking ability.
"He's a different type of player and he brings a spark to our defense," sophomore cornerback Tre'Davious White said. "But even without him bringing that spark, I feel like we're not really missing anything. We're missing him as a person and as a player, and we're missing his playmaking ability, but I feel like as a secondary, we performed well this year. I feel like with him, it'll make it even better."
In the meantime, he will continue to rehab the injury and attempt to assist his teammates from the sideline while taking notes about opponents' tendencies. That knowledge will come in handy if Thomas makes it back to the field according to his expected timetable.
"It was tough in the beginning, but I'm over the mental thing. I'm just looking at all the positive coming out of it," Thomas said. "The season is almost over. ... It just flew by, and next thing you know we're going to be in spring and camp and I'm going to be right there on the field with those guys."
October, 23, 2014
Oct 23
4:00
PM ET
BATON ROUGE, La. -- Football coaches and players discuss the importance of winning the turnover battle, the words can almost ring hollow. But when LSU players say they must protect the football Saturday against Ole Miss, it's more than just an empty football cliché.
The No. 3 Rebels (7-0, 4-0 SEC) have an uncanny ability to swing games by creating turnovers at key moments.
"Their defense are ball hawks," LSU receiver
Travin Dural
said. "If you're giving your offense the ball on the opponent's side of the field a lot, they're going to score, and that's what they've been doing. We're going to try our best to flip the field as much as we can."
No. 24 LSU (6-2, 2-2) has turned the ball over only nine times this season, and it might need to maintain that trend on Saturday if it is to have any chance of upsetting the Rebels. Not only does Ole Miss lead the nation with 90 points off turnovers, but it has been remarkably consistent.
The Rebels have either scored a defensive touchdown or created a turnover to take control of the contest in each game this season:
In other words, this is a well-established habit for the Rebels, and the Tigers understand that protecting the ball will be particularly important on Saturday.
"We pride ourself on not turning the ball over in the backfield," running back
Terrence Magee
said. "We work ball security every day before we get into the core of practice, and it's just something that we work on a routine basis. We realize that if we don't turn the ball over and we win the turnover margin, our chances of winning are much greater."
LSU has won or tied in turnover margin in every game this season except last week's 41-3 win against Kentucky. The Tigers have actually been extremely effective themselves at turning takeaways into points, outscoring opponents 72-7 following turnovers -- a differential that ranks third among FBS teams. Only Oregon's plus 79 (79-0) and Ole Miss' plus-71 (90-19) points-off-turnovers margins are better.
LSU has also capitalized off opponent miscues, as the Tigers' game-winning scores against both Wisconsin and Florida came after fourth-quarter interceptions by
Jalen Mills
and
Rickey Jefferson
.
That creates a competition of sorts between an LSU secondary that prides itself as being one of the best in the nation and a group of Rebels defensive backs who are tied for the FBS lead with 15 interceptions.
"You could say that," Jefferson said, "but we're looking to be on top. That's what we're trying to do as DBs."
LSU's defensive backs could accomplish that goal by capitalizing on mistakes by Wallace, and he hasn't made many this season. Ole Miss' senior quarterback has tossed six interceptions overall and none in SEC play.
Just as important will be avoiding the back-breaking offensive mistakes that set up short drives for Ole Miss. Understandably, that has been a point of emphasis for the Tigers this week.
"Just end every drive with a kick," Dural said. "Try not to make those mental mistakes to where we give them the ball with a short field."
October, 22, 2014
Oct 22
12:00
PM ET
BATON ROUGE, La. -- Hugh Freeze is 1-1 against LSU since arriving at Ole Miss. Aside from the close finishes -- the victor scored the game-winning points in the final 15 seconds in both years -- there was another common thread from those games: Freeze's offense moved up and down the field with great success.
Behind two solid games from quarterback
Bo Wallace
, the Rebels are averaging 31 points and 494 yards of total offense against John Chavis' LSU defense under Freeze.
"We're coming out here to try to prevent that," said LSU safety
Rickey Jefferson
, whose No. 24 Tigers (6-2, 2-2 SEC) enter Saturday's game against No. 3 Ole Miss (7-0, 4-0) as the underdogs. "Every game we never plan to fail, so when they do do things like that, it's kind of shocking. That means we have to go back in the lab and do some more work, which we did even after this win [against Kentucky last Saturday]."
[+] Enlarge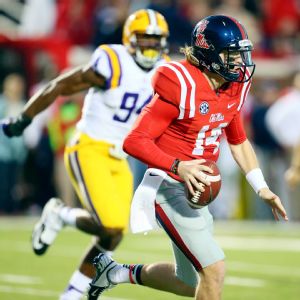 Spruce Derden/USA TODAY SportsBo Wallace passed for 346 yards in the Rebels' 27-24 upset of LSU last season.
But how can the Tigers go about preventing another big night for the Rebels? It starts with limiting the damage that Wallace inflicts with his arm and legs.
Wallace is averaging 328 passing yards in two starts against LSU -- games where he tossed two touchdowns and three interceptions -- plus he has run 22 times for 72 yards and two more scores. His dual-threat ability probably concerns LSU fans who saw Mississippi State's
Dak Prescott
and Auburn's
Nick Marshall
gash Chavis' defense, but the Tigers have fared better against versatile quarterbacks in recent games.
Florida's
Jeff Driskel
had an up-and-down game against LSU and Kentucky's
Patrick Towles
-- who doesn't get enough credit for his running ability -- failed to produce much of anything on the ground.
"One thing we adapted to is keeping the pocket contained because all these dual-threat quarterbacks, they're going to try to run up the middle on QB draw or something like that," defensive end
Danielle Hunter
said. "So it's all about containing the pocket and compressing the pocket, staying in our gaps."
Wallace still runs on occasion -- he has 67 attempts for 122 yards and a pair of touchdowns this season -- but Ole Miss mostly relies on its senior quarterback to produce in the passing game these days. He's averaging 271.3 passing yards per game and has been uncharacteristically turnover-free for the most part, tossing 17 touchdowns against six interceptions.
As in past seasons, the Rebels have other players who rotate in to handle specialty packages at quarterback, like former LSU signee
Jeremy Liggins
, a 300-pound tight end who occasionally takes snaps in short-yardage situations.
"That definitely gives us tendencies. For like last game, whenever the quarterback motioned out, you know it's going to be some kind of run or reverse," Hunter said of Kentucky, which utilizes a "Wildcat" package with
Jojo Kemp
and others taking direct snaps. "So this game, we're expecting the bigger quarterback, [Liggins], whenever he goes in it's going to be some kind of short-yardage or some kind of power play."
Another key factor on Saturday will be third-down conversions, said LSU cornerback
Tre'Davious White
. The Rebels sustained several long drives by going 11-for-18 on third down on the way to running 84 plays and totaling 525 yards against the Tigers in a 27-24 upset win.
"[Wallace] was picking us apart on third down. He was making excellent reads and pretty much picking our defense apart," White said. "I feel like he was making great decisions with where he was going with the ball and he was very confident in his receivers and they were making big-time plays for him. We'll try to limit that this year."
LSU has done a better job of limiting what opposing offenses hoped to accomplish in recent weeks after Mississippi State and Auburn both embarrassed the Tigers' defense. Ole Miss doesn't bring the SEC's scariest offense into Tiger Stadium -- the Rebels rank eighth in the SEC in both scoring (35.4 ppg) and total offense (433.3 ypg) -- but the Rebels' defense has been so good that Chavis' bunch probably can't afford to be as generous against Ole Miss as it has been in the last two seasons.
Reviewing film of last season's loss in Oxford has made that point abundantly clear.
"We watched a lot of film. We watched the whole game last year probably twice," Jefferson said. "I would think that the thing that we have to do to come out here and get these guys would be to execute and do everything that Coach Chief [Chavis] tells us and don't be out of place, make tackles, break on balls and hustle and give enthusiasm the whole game. It's going to be live."
October, 17, 2014
Oct 17
3:00
PM ET
BATON ROUGE, La. – Upstart Kentucky (5-1, 2-1 SEC) gets another chance on Saturday to prove that its fast start is legitimate. The Wildcats will visit LSU (5-2, 1-2), which notched its first SEC win in last weekend's 30-27 thriller against Florida.
One of these teams will be bowl eligible by the end of Saturday night, while the other will start looking over a tough second-half schedule and hoping another win is on there somewhere.
Let's take a look at four key factors in Saturday's game:
Contributions from newcomers:
A unique attribute that both of these teams share is how heavily their offenses rely on players who are filling new roles.
True freshman have accounted for 22 of LSU's 31 touchdowns, and they have actually scored 16 of those touchdowns. Freshman running back
Leonard Fournette
, who rushed for 140 yards and scored twice against Florida, has six touchdowns. Receiver
Malachi Dupre
has four, and running back
Darrel Williams
three. Quarterback
Brandon Harris
has passed for six touchdowns and run for three.
After he rushed 27 times against Florida, one of only nine backs ever to run more than 25 times in a game under LSU coach Les Miles, keep an eye on whether the Tigers use Fournette as the feature back again. Previously they had distributed carries among Fournette, Williams and seniors
Kenny Hilliard
and
Terrence Magee
.
The Tigers have already played 17 true freshmen this season, which is the most for any LSU freshman class under Miles.
Kentucky, meanwhile, is also getting a majority of its production from players who didn't play for the Wildcats in 2013. Nebraska transfer
Braylon Heard
(38-282, 3 TDs) and freshman
Stanley Williams
(23-202, 2 TDs) help Kentucky newcomers account for 73 percent of the team's rushing yards. Players who didn't play for Kentucky last season have also accounted for 67 percent of its points (147 of 171).
Williams, who also leads the SEC with an average of 36 yards per kickoff return, had a big game last Saturday against Louisiana-Monroe. He ran seven times for 104 yards and a touchdown and also returned the opening kickoff 75 yards.
Rare air for Kentucky:
In Mark Stoops' second season, the Wildcats are vastly improved from their back-to-back two-win seasons of 2012 and 2013. In fact, they would be undefeated today if their upset bid at Florida hadn't fallen just short in a 36-30 triple-overtime loss.
They haven't been on the road since that painful loss in The Swamp, so posting a win Saturday at Tiger Stadium would be an even greater milestone for Stoops than Kentucky's thrilling 45-38 win over South Carolina two weeks ago.
It would also secure Kentucky's first four-game winning streak since 2008, its first three-game SEC winning streak since 2006 and its first 3-1 start in SEC play since 1999.
If the Wildcats are 6-1 by the end of Saturday night, it would be only the fourth time since 1950 that Kentucky had won six or more games in the first seven games of the season.
[+] Enlarge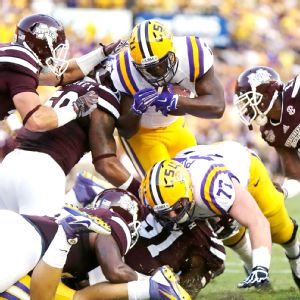 AP Photo/Gerald HerbertLeonard Fournette got a career-high 27 carries against Florida and turned them into 140 yards.and two TDs.
Turnover battle:
Finishing on the positive side in turnover margin is often a way to earn a victory, and these teams have done that consistently. LSU and Kentucky are both plus-eight in turnover margin, which ties for second in the SEC.
A remarkable turnaround by Kentucky's secondary is the driving force in its success generating turnovers. Of Kentucky's 16 takeaways, 11 have come on interceptions -- a total that is fourth nationally and second on the SEC behind Ole Miss' 12. Kentucky had just three interceptions in the entire 2013 season.
Junior college transfer
A.J. Stamps
is the Wildcats' leader in pass coverage, notching three interceptions and six passes defended.
Safety
Marcus McWilson
and linebacker
Josh Forrest
both returned interceptions for touchdowns last week against Louisiana-Monroe, marking the first time since 1986 that the Wildcats had two pick-sixes in a game.
LSU has been more balanced in turnovers, both in its takeaways and giveaways. The defense has generated 16 turnovers (eight fumbles and eight interceptions) and the offense has committed eight turnovers (four fumbles and four interceptions).
Linebacker
Kwon Alexander
is one of the Tigers to watch on the turnover front. He forced a fumble that
Danielle Hunter
recovered and returned for a touchdown against Mississippi State and then forced a
Jeff Driskel
fumble last week in Florida territory that led to a short touchdown drive.
Safety
Rickey Jefferson
made a key late interception against the Gators to set up
Colby Delahoussaye
's game-winning field goal. Jefferson and cornerback
Tre'Davious White
are tied for the team lead with two interceptions apiece.
Pounding the run:
If Kentucky is to win on Saturday, its success in the running game will almost certainly be a deciding factor.
The Wildcats have one of the SEC's most balanced offenses, but LSU has been much more vulnerable against the run than the pass. The Tigers are 12th in the SEC against the run (175.6 yards per game), but boast the conference's top pass defense (157.7).
Don't be surprised to see the Wildcats feed Williams and Heard, have
Jojo Kemp
take direct snaps and even run a bit with quarterback
Patrick Towles
in an effort to duplicate previous teams' successes running against LSU.
The Wildcats also must do a better job on the ground against the run-heavy Tigers. South Carolina ran for 282 yards against Kentucky two weeks ago, led by 183 yards and three touchdowns from
Mike Davis
. LSU runs the ball more than any SEC team; its 332 rushing attempts are 43 more than the next-closest team. So the Wildcats know that slowing down Fournette and Co. is their No. 1 task.
Kentucky is eighth in the SEC in run defense at 152.0 ypg. LSU is sixth in the league in rushing offense (209.1), but had one of its best outings of the season against Florida. Although the Gators have one of the toughest defensive fronts in the league, LSU ran 50 times for 195 yards.
June, 11, 2014
Jun 11
12:40
PM ET
Safety already ranked among the most unproven positions on LSU's roster.
Jalen Mills
' arrest and
indefinite suspension
on Wednesday only adds to the uncertainty.
Mills was arrested early Wednesday and charged with second-degree battery in connection with an incident last month in which he allegedly punched a woman in the mouth at a Baton Rouge apartment complex. Certainly, Tigers coach Les Miles will allow the legal process to play out before determining Mills' long-term punishment -- if punishment is necessary once all the facts are in -- but this summer just became enormously important for LSU's crop of young safeties.
[+] Enlarge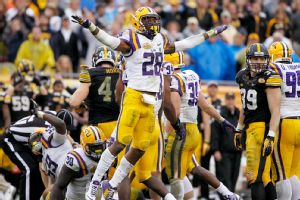 Kim Klement/USA TODAY SportsThe suspension of junior safety Jalen Mills means a talented but unproven freshman DB class might have to make a significant impact for LSU this fall.
Jamal Adams
-- ESPN's No. 2 safety and No. 18 overall prospect in the 2014 recruiting class -- is the name most LSU fans have circled as the Tigers' next great safety. Adams, fellow ESPN 300 prospect
Devin Voorhies
and three-star signee
John Battle
will attempt to learn the ropes at a position that has plenty of candidates, but little on-field production.
Even during spring practice, Miles was unwilling to name a starter at the position because of the talent who had yet to join the roster.
"I don't think that decision will be made until the freshman class comes in. We'll be in two-a-days and kind of decide who the best guys are," Miles said in March.
Mills led LSU's defensive backs with 67 tackles and three interceptions last season and has started all 26 games of his college career. The rising junior shifted to safety at the end of the 2013 season to address depth issues that arose when the Tigers suffered a spate of injuries at the position.
The good news for LSU is that those injured safeties -- senior
Ronald Martin
(38 tackles, one INT) and junior
Corey Thompson
(23 tackles) -- should be back when the Tigers open camp in August.
Martin started seven games last season and seemed to be in line to reclaim a starting job during spring practice. Thompson -- who started five of his last six games before suffering a season-ending knee injury against Texas A&M -- missed the spring while recovering from the injury.
Sophomore
Rickey Jefferson
(six tackles) will also figure into the competition after getting a crash course at the position late last fall.
Everyone expected Mills to provide some stability at safety after 2013 senior
Craig Loston
left the roster. Perhaps Mills will still do that, depending on what happens with his legal case. But since his future remains cloudy for now, veterans like Martin and Thompson have to take charge and be prepared to possibly take over starting jobs while the freshmen settle into their new surroundings.
"It'll be interesting to see the young guys come in, make a name for themselves," Thompson said during the spring. "It'll be fine. We'll all get together and work out, do some drills together and get into fall camp, teach the young guys how to do it and they'll be good from there."
April, 30, 2014
Apr 30
8:00
AM ET
Three things we learned in the spring about the LSU Tigers:
1. QB race is on:
If the spring game made anything clear, it's that the quarterback race between
Anthony Jennings
and
Brandon Harris
was much closer than we might have anticipated prior to spring practice. Jennings followed a subpar performance in his first start -- LSU's Outback Bowl win over Iowa -- with a disappointing effort in the spring game, where he threw two interceptions that linebackers returned for touchdowns. Meanwhile, Harris didn't have a perfect performance, but he flashed a ton of potential and playmaking ability. Their competition will remain as the leading storyline of preseason camp.

2. Defense is on the upswing:
LSU's defense started slowly last fall -- a disappointing shift after ranking among the nation's best over the previous few seasons -- but was back in fine form by the end of the season. It looks like John Chavis' athletic bunch was heading back toward that style of physical, fast defense that LSU is known for. The starting defense surrendered just 179 yards, one touchdown and 3.9 yards per play in the spring game -- and that was without key players
Jermauria Rasco
,
Ronald Martin
and signees
Jamal Adams
and
Clifton Garrett
participating.
3. Not working with a full deck:
Speaking of non-participants, it was a fairly ho-hum spring in Baton Rouge because of the number of absent players who will almost certainly play key roles in the fall. Only two of the 23 signees -- Harris and cornerback
Ed Paris
-- participated in spring drills, leaving LSU with barely more than 50 scholarship players taking part in the practices. Without players such as Adams, Garrett, tailback
Leonard Fournette
, receivers
Malachi Dupre
and
Trey Quinn
practicing, we simply haven't seen what the 2014 Tigers will truly look like yet.
Three questions for the fall:
1. Who fills spots at safety?
Apparently converted cornerback
Jalen Mills
has found a home at safety. But if he holds onto one of the starting spots, who gets the nod at the second safety position? Martin seemed like the favorite during the spring, but he was not healthy for the entirety and
Rickey Jefferson
took over in his absence.
Corey Thompson
also sat out while recovering from injury. And then you have Adams and fellow signees
Devin Voorhies
and
John Battle
, who will join the team this summer. It's clear LSU's coaches plan to fully weigh their options in the secondary once preseason camp opens and all of the candidates are on hand.
2. Can young players handle business early?
This will probably be the determining factor in whether LSU contends alongside division heavyweights Alabama and Auburn in 2014 or whether this will be a transitional season ahead of potential title-contending teams in 2015 and 2016. It's a lot to ask of freshmen to step into the SEC and perform competently right away, but LSU will almost certainly do that with several members of its star-studded signing class. There aren't a ton of holes in LSU's roster, but it needs the youngsters to fill a couple of them -- namely at receiver, tailback, defensive tackle and quarterback -- by playing with composure right out of the gate.
3. Who supplies the pass rush?
One of the disappointing issues on defense last fall was LSU's lack of a consistent pass rush. The Tigers finished the season with just 27 sacks in 13 games, which might have seemed like an even bigger drop-off since players like
Sam Montgomery
and
Barkevious Mingo
had been such dominant pass rushers in the recent past. LSU operated without one of its top edge rushers (Rasco, who led the team with four sacks last season) during the spring, although
Danielle Hunter
notched a couple of sacks in the spring game. Hunter seems like the odds-on favorite to become LSU's next great pass rusher, but he'll need some help from a largely unproven group of linemen.
One way-too-early prediction:
Honestly it's difficult to tell whether this is actually going out on a limb, but we believe Harris will become the Tigers' starting quarterback by midseason if not sooner. Coaches Les Miles and Cam Cameron both said the quarterback competition will carry over into preseason practice, but Harris certainly made his case in the spring game. Although everyone insisted that Jennings performed better during other spring practices than he had in the lone scrimmage that was open for public viewing, he simply didn't spark the offense the way that Harris did that day. Harris certainly struggled at points and made plenty of bad decisions himself, but he was far and away the more explosive playmaker that afternoon. That has to factor into the coaches' decision-making process.
April, 22, 2014
Apr 22
9:00
AM ET
LSU's spring practice ended two weeks ago, leaving a full 15 weeks before the Tigers return to the practice field.
The position battles that started in the spring will continue through summer workouts before resuming in front of coaches in August. Let's take a look at what happened in a few of those spring battles and what we'll be watching between now and Aug. 30, when the Tigers open the season against Wisconsin.
Defensive tackle:
The spring was as much a feeling-out process as anything for defensive line coach Brick Haley. He mostly rode two departed veterans last fall while using youngsters
Christian LaCouture
and
Quentin Thomas
in spot duty. LaCouture and Thomas jumped into leading roles during the spring, and Haley also tested
Maquedius Bain
,
Greg Gilmore
and
Frank Herron
(at times) in the middle. Haley has probably established a mental pecking order with the group, but August and the early-season games will certainly play important roles in cementing the coach's opinions. It will also be worth watching how signees such as
Travonte Valentine
perform once they arrive on campus, as they might allow Haley to utilize a true rotation in the middle.
[+] Enlarge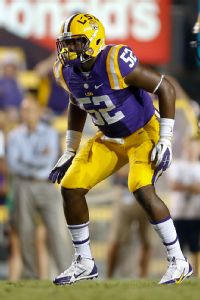 Derick E. Hingle/USA TODAY SportsSophomore linebacker Kendell Beckwith moved inside and was impressive this spring.
Linebacker:
This should be a fun bunch to watch in the fall. While
Kwon Alexander
,
Lamar Louis
and
D.J. Welter
seemed to rank among John Chavis' first options during the spring, it's apparent that the Tigers' defensive coordinator has no shortage of talented options. One of the intriguing spring storylines was
Kendell Beckwith
's transition to middle linebacker behind Welter. The linebackers as a group had an excellent spring game, with
Ronnie Feist
leading all tacklers with 14 stops and both Alexander and
Deion Jones
picking off
Anthony Jennings
passes and returning the interceptions for touchdowns.
Clifton Garrett
is one of the Tigers' highest-rated 2014 signees, and he could add even more intrigue to the competition for playing time once practice resumes.
Quarterback:
Surely you've heard by now that the battle between Jennings and freshman
Brandon Harris
appears to be wide open entering the summer months. Jennings has a slight experience advantage, but Harris was the more effective performer in the spring game. Both players made plenty of mistakes, however. Their offseason preparation in the next few months will be enormously important once August arrives.
Right guard:
This is another battle that the coaches said was wide open once the spring concluded.
Evan Washington
shifted from tackle to guard and seemed to take the leading role in the competition. Fellow senior
Fehoko Fanaika
and sophomore
Ethan Pocic
are lurking, however. It wouldn't be much of a surprise to see all of them play some scrimmage downs against Wisconsin -- or in Weeks 2 and 3 against Sam Houston State and Louisiana-Monroe -- as new offensive line coach Jeff Grimes weighs his options. Coach Les Miles complimented all three players after the spring game, so it seems that the coaches would be comfortable playing any of the candidates.
Safety:
Injuries caused this position to remain as a bit of a mystery during the spring.
Jalen Mills
remained in a starting role, and
Ronald Martin
seemed to be faring well in a return from a fractured right foot. He was injured again by the end of the spring, however, joining
Corey Thompson
(knee surgery) on the sideline by the time the spring game rolled around. Mills and
Rickey Jefferson
were the top options in the spring game, but the Tigers could use any number of combinations when the season arrives -- especially once highly-rated safety prospect
Jamal Adams
and the other signees make it to Baton Rouge this summer. Once the Tigers are back to full strength in August, this should make for one of the most intriguing position battles.
Tight end:
This will be a fun position to track in the fall. They had plenty of playing time last season, but barely made a blip as receivers. They seem to be confident that they will make a more well-rounded contribution in 2014. Sophomore
DeSean Smith
and signee
Jacory Washington
possess intriguing receiver skills, and
Dillon Gordon
,
Travis Dickson
and
Logan Stokes
worked this spring to prove that they are well-rounded players at the position. It's a big group, but all of them should have roles to fill during the season.
Wide receiver:
They were the walking wounded for much of the spring, with
Avery Peterson
,
Kevin Spears
,
John Diarse
and
Quantavius Leslie
all spending time in non-contact jerseys. That was a tough blow for a group that has a lot to prove after
Odell Beckham
,
Jarvis Landry
,
Kadron Boone
and
James Wright
all left the roster after last season.
Travin Dural
-- who had an outstanding spring game with five catches for 130 yards and two touchdowns -- seemed to solidify his spot as the No. 1 receiving option for now. But this will become one of the Tigers' most interesting position battles in August once a star-studded signing class, led by
Malachi Dupre
and
Trey Quinn
, arrives to challenge the returning wideouts.
March, 31, 2014
Mar 31
10:00
AM ET
BATON ROUGE, La. -- He probably thought he was prepared to compete at the time, but
Corey Thompson
can now admit that it blew his mind when he first set foot on LSU's practice field as a freshman.
He had been an all-state safety and certainly has athletic genes -- both of his parents were college athletes -- but the speed of the players around him, the increased complexity of the playbook and the intricacies of playing safety in college initially made life rough for Thompson.
[+] Enlarge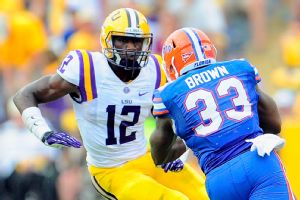 Stacy Revere/Getty ImagesCorey Thompson will have to overcome a late-season knee injury as well as some talented incoming safety prospects.
"Sometimes it was a little bit overwhelming," Thompson said. "I got tired, I got frustrated, questioned myself a few times, but I'm good now."
He eventually made the transition in fine fashion. Thompson played in all 13 games in 2012 as a true freshman, mostly covering kicks on special teams, and had claimed a starting spot by the midway point of his second season.
He had started five of the last six games in 2013 when he suffered a season-ending knee injury against Texas A&M -- an ailment that has kept him out of the Tigers' spring practice while he recovers from offseason surgery.
Now Thompson and his fellow veterans must help a new class of freshman safeties overcome the natural frustration and self-doubt that almost always accompanies their first taste of life in the SEC. That group, which includes ESPN's No. 2 safety and No. 18 overall prospect for 2014,
Jamal Adams
, along with
Devin Voorhies
and John Battle, is one of the nation's top collection of safety signees and will almost certainly compete for playing time in 2014.
Les Miles confirmed as much after Saturday's scrimmage, when a reporter asked whether any safeties had earned a starting spot yet.
"I don't think that decision will be made until the freshman class comes in. We'll be in two-a-days and kind of decide who the best guys are," Miles said.
Competition suits Thompson fine, and LSU's coaching staff will have plenty of options since
Jalen Mills
,
Ronald Martin
and
Rickey Jefferson
also started at safety at least once last fall.
"It'll be interesting to see the young guys come in, make a name for themselves," Thompson said. "It'll be fine. We'll all get together and work out, do some drills together and get into fall camp, teach the young guys how to do it and they'll be good from there."
Martin intercepted two passes in Saturday's scrimmage and Jefferson had one, causing Miles to remark afterward that he thinks the safeties are playing better. If that's the case, that would be a good sign -- since safety was a fairly inconsistent position for the Tigers in 2013. Senior
Craig Loston
was an old hand at safety by then, but Martin was the only other experienced starter -- and he had started just once prior to last fall.
It was a rocky learning experience for all involved, which was part of the reason that Mills finally shifted from cornerback to fill in at safety against Arkansas and then start there in the Outback Bowl against Iowa.
"It was a curve, just trying to be more of a vocal leader and stepping up in a position, trying to be a first-time starter and getting to know the defense more from changing positions," Martin said. "Because when I first got here, I was playing strong and I mixed in free safety. So it's all about knowing the defense."
That last part will probably be the biggest hurdle for the newcomers once they arrive this summer. Adams is LSU's highest-rated safety signee in the ESPN prospect rankings since Loston (the No. 1 safety in 2009), so clearly he has the physical tools to excel in college. It might be only a matter of time until he cashes in on that star potential, but it's no simple task catching on to the job that awaits him at LSU.
"One thing is the speed of the game, but the next is really just knowing your plays, knowing how to mix in different calls and stuff like that because you're the quarterback of the defense at safety," Thompson said. "I'm making calls every play, so I have to know what's going on, where people are lining up at and give them different calls and stuff."
The veterans plan to help teach the newcomers from the moment they arrive on campus. Once they learn the intricacies of the position, that's when the competition will truly begin -- and there will be plenty of that.
"That's what football is all about," Mills said. "It's about that competitive area, the competitive nature. You have to be competitive whether it's on the field, off the field, in practice, wherever you are."
March, 19, 2014
Mar 19
9:00
AM ET
BATON ROUGE, La. --
Jalen Mills
doesn't view himself as a safety. He doesn't view himself as a cornerback, either.
He views himself as both -- which is coming in handy for LSU's defense these days.
"When you come in, you call yourself a defensive back," said Mills, a rising junior who started at safety for the first time in the Tigers' Outback Bowl win against Iowa. "That means you can play corner to nickel to safety to dime. You want to be able to play all positions. You don't want to be a single-position type of guy if you're a defensive back."
[+] Enlarge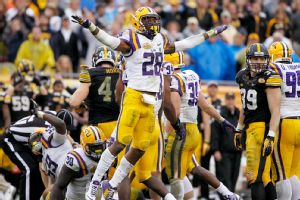 Kim Klement/USA TODAY SportsJalen Mills is helping out at safety this spring after playing the position in LSU's Outback Bowl victory over Iowa.
That's an ideal attitude because Mills is several of those things -- particularly now, when the Tigers must replace starting safety
Craig Loston
and are without part-time starting safety
Corey Thompson
, who is still recovering from offseason knee surgery. Mills is a starting safety in LSU's base defense, remains as the starting nickelback and still finds time to practice in a traditional cornerback role at points.
The Tigers need him most at safety for the time being, which was the message that defensive backs coach Corey Raymond imparted prior to spring practice.
"Him and Chief [defensive coordinator John Chavis], they kind of talked to me or whatever and they were like, 'Right now we need help at safety. You played a pretty good job those last two games of the season. Can you play it for us?' And I was like, 'Yeah,' " Mills said. "And he said, 'But we're still going to need you at corner and you're still going to be our starting nickel when we go Mustang package.' "
With Thompson on the shelf and a group of talented safety signees -- led by ESPN's No. 18 overall prospect and No. 2 safety
Jamal Adams
-- not yet on campus, the Tigers are primarily using Mills and
Ronald Martin
with the first-team defense.
Rickey Jefferson
and
Dwayne Thomas
are also working at safety, and thus far the foursome is pleased with what it has accomplished.
"Rickey, if he keeps coming along, he's going to help us out a lot. Jalen Mills is doing a good job back there, also. And Dwayne Thomas, he's doing a good job," Martin said. "That's the only other ones that we've got working in right now in the spring, just us four. Us guys, we're doing a pretty good job so far, so we're just trying to keep it going."
Perhaps that's a good sign, as safety was a problem area for much of 2013. Loston was the one constant when healthy, but the starting spot opposite him was a revolving door partially because of inconsistency. The Tigers used seven different starting combinations at safety, with Martin, Thompson, Mills and Jefferson all starting at least once.
Once Adams,
Devin Voorhies
and
John Battle IV
arrive on campus this summer, Raymond will have even more safety options from which to choose. And Tigers coach Les Miles said the newcomers will indeed get a long look from the coaching staff.
"We'll have guys back, but I think we'll be looking at some of these young guys that are coming in," Miles said.
Thompson will also be back by then. The rising junior missed the final two games of 2013 after injuring his left knee against Texas A&M and undergoing surgery in December. He said after Tuesday's practice that the knee is back to about 80 percent, but he will not attempt to test it during spring practice.
"I aim to be 100 by May," Thompson said. "I don't want to rush it, get back too early. But then I feel like May is a good time to be 100 and do everything to get in shape and be ready for the season."
So for now, the Tigers will continue to function with the four available safeties -- a group attempting to prove that last season's lapses were only a temporary hiccup for a program known for solid defensive back play. LSU's pass defense totals actually improved slightly (from 206.0 ypg in 2012 to 197.5 last season), but the Tigers' overall defensive slide continued, with Chavis' group dropping from second nationally in total defense in its 2011 SEC championship run (261.5 ypg) to eighth in 2012 (307.6) to 15th last fall (340.7).
That's an 80-yard increase in just a two-year span, and the safeties know they must perform more consistently in order to improve those numbers.
"We've just got to show that we can be leaders out there -- show that we can lead the defense just like those guys in the past like Eric [Reid], Brandon [Taylor], LaRon [Landry] and so on and keep the pedigree going," Martin said.
Continued progress from Mills at the position would offer a big boost, just as he did in his first-ever attempt at playing safety when he intercepted a pass during a comeback win against Arkansas.
Mills still has nuances of the position to learn, such as how to make new reads that are different at safety from those at cornerback, but he believes he is making the transition smoothly.
"I really didn't have a problem with [shifting positions]," Mills said. "Just coming from corner, you know where you want your safety to be sometimes in different types of checks. So just going from cornerback to safety, I know what the corner wants, so I just try to do it."
March, 4, 2014
Mar 4
9:05
AM ET
Setting up the spring in the SEC West:

ALABAMA
Spring start:
March 15
Spring game:
April 19
What to watch:
Succeeding McCarron: The Crimson Tide must find the person who will step into AJ McCarron's shoes. There are several quarterbacks on campus: Blake Sims, Alec Morris, Parker McLeod and Cooper Bateman. The person most have pegged as the favorite, however, won't be on campus until the summer: Jacob Coker. A transfer from Florida State, Coker is finishing his degree before enrolling at Alabama. But new offensive coordinator Lane Kiffin will get a chance for a long look at the others this spring.
What's next for Henry?: Running back Derrick Henry has the fans excited after his Allstate Sugar Bowl performance (eight carries, 100 yards), and he brings great size to the position (6-foot-3, 238 pounds). T.J. Yeldon is a returning starter who is more experienced and battle-tested, and there are still other talented backs on the roster, such as Kenyan Drake. But plenty of eyes will be on the sophomore-to-be Henry.
Replacing Mosley: Linebacker C.J. Mosley was a decorated star and leader, so his presence will be missed. Alabama has plenty of talent in the pipeline; it's just not tremendously experienced. Watch for Reuben Foster and Reggie Ragland.

ARKANSAS
Spring start:
March 16
Spring game:
April 26
What to watch:
Keeping it positive: It's been rough around Fayetteville, Ark. The Razorbacks closed their season with nine losses in a row; coach Bret Bielema is a focal point in the unpopular NCAA proposal designed to slow down hurry-up offenses; and leading running back Alex Collins served a weeklong suspension last month for unspecified reasons. The Hogs could use some positivity.
A new DC: The Razorbacks will be working in a new defensive coordinator, Robb Smith. He came over from the NFL's Tampa Bay Buccaneers, where he was the linebackers coach. Smith made a significant impact at his last college stop, Rutgers, where he led the Scarlet Knights' defense to a No. 10 ranking in total defense in 2012.
Year 2 progress: Making a drastic change in scheme isn't easy to do, which is what the Razorbacks tried to accomplish in Bielema's debut season. In the second spring in Fayetteville for Bielema, things should come a little more easily as the Razorbacks continue to institute Bielema's brand of power football.

AUBURN
Spring start:
March 18
Spring game:
April 19
What to watch:
Picking up where they left off: The Tigers put together a memorable, magical 2013, and with eight starters returning on offense, keeping that momentum going is key. Replacing running back Tre Mason and O-lineman Greg Robinson won't be easy, but there is still plenty of talent on offense to aid quarterback Nick Marshall.
Marshall's progress: Marshall's ascent last year was impressive, but can he continue it? He's great with his feet and made some big-time throws last year. As he continues to progress as a passer, it should add another facet to the Tigers' explosive, up-tempo, multifaceted attack.
Improving the defense: The Tigers lost five starters from a group that was suspect at times last season. But defensive coordinator Ellis Johnson has a history of improving defenses from Year 1 to Year 2, and it should be interesting to see if he can do that at Auburn.

LSU
Spring start:
March 7
Spring game:
April 5
What to watch:
Jennings next at QB?: Anthony Jennings engineered a memorable, game-winning drive in the regular-season finale against Arkansas, leading the Tigers 99 yards downfield, capped by a 49-yard touchdown pass. His performance in the Outback Bowl was far from impressive, though, as he went 7-for-19 passing for 82 yards and an interception in the Tigers' win over Iowa. Still, he is considered the favorite to replace Zach Mettenberger. Competing with Jennings is Penn State transfer Rob Bolden and freshmen Hayden Rettig and Brandon Harris.
Starting over at WR: LSU loses two 1,000-yard receivers in Jarvis Landry and Odell Beckham, plus a senior (Kadron Boone). That's a lot of production to replace. Travin Dural, who made the game-winning catch against Arkansas, is back, as is Quantavius Leslie and Armand Williams. The Tigers have a host of redshirt freshmen joining the mix (John Diarse, Avery Peterson and Kevin Spears) and bring in several freshmen (Malachi Dupre, Trey Quinn, D.J. Chark) to compete for playing time. But replacing 72 percent of the 2013 receiving yardage will be challenging.
Finding safeties: Craig Loston has moved on, and the Tigers don't have a returning starter at safety. But they do have Jalen Mills, who slid from his cornerback spot to safety to start in the Outback Bowl. Corey Thompson, Ronald Martin and Rickey Jefferson all return, and ESPN 300 recruit Edward Paris Jr. is already on campus and will participate in spring practice.

MISSISSIPPI STATE
Spring start:
March 18
Spring game:
April 12
What to watch:
All eyes on Prescott: With some strong performances to close out the season in the Egg Bowl and in the AutoZone Liberty Bowl, quarterback Dak Prescott certainly played the part of an elite SEC quarterback. He'll enter the season with more national attention after putting together some gutsy performances while pushing through some personal adversity last season after the death of his mother.
Malone stepping in: Justin Malone was on pace to start at right guard last season, but was lost for the year with a Lisfranc injury in his foot in the season opener against Oklahoma State. With Gabe Jackson gone, the Bulldogs need another solid interior lineman to step up, and a healthy 6-foot-7, 320-pound Malone could be that guy.
Offensive staff shuffle: The Bulldogs added some new blood on the offensive coaching staff, bringing in young quarterbacks coach Brian Johnson, a former Utah quarterback. Billy Gonzales and John Hevesy were promoted to co-offensive coordinators, though head coach Dan Mullen will continue as the playcaller in games.

OLE MISS
Spring start:
March 5
Spring game:
April 5
What to watch:
Wallace's development: Coach Hugh Freeze believes quarterback Bo Wallace will be helped by having more practice this time around; last year, January shoulder surgery had Wallace rehabilitating most of the offseason, and Freeze believes it affected Wallace's arm strength later in the season. A fresh Wallace going into the spring can only help, and as he's heading into his senior season, the coaching staff will look for more consistency.
Status of Nkemdiche and Bryant: Linebackers Denzel Nkemdiche and Serderius Bryant were arrested last month and suspended. Ole Miss is investigating the situation, but their status remains undecided.
A healthy Aaron Morris: During the season opener against Vanderbilt, Morris tore his ACL and missed the rest of the season. The offensive guard was recently granted a medical hardship waiver to restore that season of eligibility. Getting Morris back healthy for 2014 is important for the Rebels as he is a key piece to their offensive line.

TEXAS A&M
Spring start:
Feb. 28
Spring game:
None (final practice is April 5)
What to watch:
Life after Johnny Manziel: Texas A&M says goodbye to one of the best quarterbacks in college football history and must find his successor. Spring (and fall) practice will be the stage for a three-way battle between senior Matt Joeckel, sophomore Kenny Hill and freshman Kyle Allen. Only one of those three has started a college game (Joeckel), and he played in just one half last August. Whoever wins the competition will be green, but all three have the ability to run the Aggies' offense.
Retooling the defense: The Aggies were pretty awful on defense last season, ranking among the bottom 25 nationally in most defensive statistical categories. They have to get much better on that side of the football if they want to be a real factor in the SEC West race, and that starts in the spring by developing the young front seven and trying to find some answers in the secondary, particularly at the safety positions.
New left tackle: This spring, the Aggies will have their third different left tackle in as many seasons. Luke Joeckel rode a stellar 2012 season to the No. 2 overall pick in the NFL draft. Senior Jake Matthews made himself a projected top-10 pick for this year's draft while protecting Manziel last season. This season, Cedric Ogbuehi gets his turn. Ogbuehi has excelled throughout his Texas A&M career on the right side of the offensive line (first at right guard, then at right tackle last season) and is looking to follow in the footsteps of Joeckel and Matthews.
March, 14, 2013
3/14/13
12:00
PM ET
Here are some SEC links to help you get through that tuna sandwich that just doesn't look as appetizing anymore.
March, 13, 2013
3/13/13
1:41
PM ET
Some SEC linkage to sink your teeth into:
SEC SCOREBOARD
Saturday, 12/20
Monday, 12/22
Tuesday, 12/23
Wednesday, 12/24
Friday, 12/26
Saturday, 12/27
Monday, 12/29
Tuesday, 12/30
Wednesday, 12/31
Thursday, 1/1
Friday, 1/2
Saturday, 1/3
Sunday, 1/4
Monday, 1/12
Tweets from https://twitter.com/ESPNCFB/lists/sec