May, 8, 2013
5/08/13
10:31
AM ET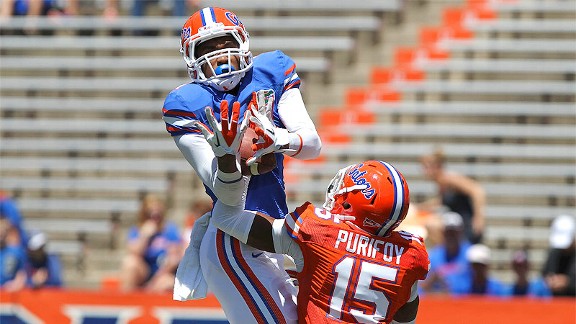 Kim Klement/USA TODAY SportsDemarcus Robinson, who got a jump on the competition by participating in spring practice, has a steep hill to climb to make an impact as a freshman receiver at Florida.
GAINESVILLE, Fla. -- One of the main reasons Florida's passing offense has struggled since 2009 is the lack of production -- or a playmaker -- at receiver.
If the Gators' 2013 passing offense is going to be better than the unit that ranked 114
th
nationally last season, the receivers must be significantly better. Redshirt junior
Quinton Dunbar
, redshirt senior
Andre Debose
, and senior
Trey Burton
are the most experienced receivers and should be UF's go-to playmakers, but each have limitations.
Dunbar has 50 career catches, but he hasn't developed into the downfield threat the Gators have needed. Debose (29 career catches) has been that at times, but his career has been marred by inconsistency and work-ethic issues. Burton (69 career catches) has so many roles that it's hard for him to excel at one, and he's more of a short-yardage, possession receiver.
Sophomores
Latroy Pittman
and
Raphael Andrades
each caught two passes last season and were used more as blockers than receivers.
That means UF will be depending on two or more of the five signees to make a substantial impact.
Demarcus Robinson
is the most likely, as he enrolled in January and participated in spring practice. But either
Ahmad Fulwood
,
Alvin Bailey
,
Marqui Hawkins
or
Chris Thompson
will have to produce, too.
But even having only one of those freshmen become a reliable and productive part of the offense might be asking too much. It's hard for true freshman receivers to make an impact -- as the past 23 years have shown.
Florida hasn't had much luck with freshman receivers, especially when it comes to being anything more than someone who gets mop-up work.
The Gators have signed 61 receivers from 1990-2012, but only 20 played as true freshmen -- and only 19 caught passes. Of those 19, only four caught more than seven passes: Reidel Anthony, Ike Hilliard, Andre Caldwell and Percy Harvin. Anthony, Hilliard and Harvin all became first-round NFL draft picks and Caldwell was a third-round pick.
Here's more proof that it takes an especially gifted player to make an impact as a freshman: Twelve the 16 receivers who played as true freshmen from 1990-2009 went on to become draft picks.
Is there an incoming receiver who can make an impact in 2013? There's no way to know right now until September, but based on the last two-plus decades, it's unlikely.
October, 26, 2011
10/26/11
10:30
AM ET
Maybe all the glitter really isn't gold.
Just take a gander at Florida's 2010 recruiting class.
Praised by many as the greatest recruiting class ever, Florida watched as two more from that group walked away Tuesday.
Even after both players practiced during the bye week, Florida coach Will Muschamp announced that tight end
Gerald Christian
and
Robert Clark
will
transfer from Florida
.
"Both of these players have expressed a desire for more playing time and felt that it would be in their best interests to transfer," Muschamp said. "We wish them both the best of luck and appreciate their contributions to the program."
Neither one had done much in their Florida careers, as Christian redshirted last year and spent time as both a linebacker and tight end. He caught four passes for 72 yards, including a 45-yard touchdown. Clark has touched the ball twice this season on punt returns, and muffed one. Last year, he caught seven passes for 69 yards and a touchdown.
That makes eight players who have left the team in the past year from that vaunted class – a class that featured 18 ESPNU 150 members (wide receiver
Adrian Coxson
signed with Florida, but transferred to Maryland before the 2010 season and is listed as a Maryland signee).
Attrition aside, this class has yet to make the kind of impact many expected it to. Yes, they are sophomores or redshirt freshmen, but even former Florida coach Urban Meyer said he expected this class to come right in and make significant contributions.
We've seen some here and there.
Trey Burton
, who was one of Florida's least heralded members from the 2010 class, led Florida with 12 total touchdowns last season. Matt Elam has become one of Florida's most trusted defenders at the strong safety spot. Chaz Green is starting to get more reps on Florida's offensive line in his second year.
After that, this class has had mixed results. When you look at Florida's defensive line haul from that year, we're still waiting to see what it can really do. Defensive end Ronald Powell, who was the No. 1 recruit in the country, had a tough freshman year, but hasn't made much improvement in 2011. Sharrif Floyd had a solid freshman year at tackle, but after moving to end this year he hasn't made much of an impact at all. Dominique Easley has shown flashes here and there inside, but just isn't consistent.
Cornerback Cody Riggs had a handful of good moments last year, but has had coverage issues this season. Joshua Shaw was the No. 3 corner coming out, but has moved to safety, and running back
Mack Brown
can't seem to crack the depth chart.
Outside of inconsistency on the field, this class was ravaged by attitude problems that caused a major rift with the upperclassmen last year. With a new coaching staff and a fresh start, the thought was that wouldn't be an issue, and maybe it hasn't been, but the hype surrounding this class has been damaging from the start.
The interesting thing about Christian and Clark wanting more playing time is that the positions they were at didn't exactly have playmakers wowing everyone with their numbers. Florida's leading wide receiver is senior
Deonte Thompson
, who has 12 catches for 152 yards and no touchdowns. Tight end
Jordan Reed
has 12 catches for 91 yards.
Regardless, this class has yet to live up to its billing. Twelve of the 26 who made it on campus for the first game played in six or more games, with six playing in all 13 games, so it's not like this class hasn't had the chance to get some on-field development.
There is certainly time for this class to get things together, but the moniker of "best ever" is long gone.
April, 26, 2011
4/26/11
2:30
PM ET
It's not like Florida coach Will Muschamp doesn't have enough to worry about this offseason.
Between the carousel of booster club meetings and deciding on an appropriate punishment for senior cornerback Janoris Jenkins, Muschamp has to be sweating over how his players will take to summer workouts, especially his offensive skill players.
Muschamp and offensive coordinator Charlie Weis will be limited with players, so strength coach Mickey Marotti and the players themselves will be left with the responsibility of making sure spring improvements bleed over into fall practice.
Player-organized 7-on-7s will be the crucial next step to finding that player the offense can consistently rely on.
Florida has a stable of unproven wide receivers and tight ends and while speed is the name of Florida's running game, none have proven to be capable of being a primary running back.
So who will step up to help out quarterback
John Brantley
this fall? Let's take a look at the options:
RB
Chris Rainey
: When he's good, he's dangerous, but Rainey has always dealt with inconsistency and he's not the strongest athlete. At 5-foot-9, 175 pounds, he's not an intimidating player to look at, but he's one of the most elusive runners in the SEC. He'll be used as a receiver at times and Muschamp praised him for having one of the best springs of any of Florida's players.
Jeff Demps
: He's a national champion in the 60-meter dash and he was one of the most exciting players in the country to watch during his first two seasons. However, he proved that his 5-foot-8, 181-pound frame couldn't handle being an ever-down running back last season when he went down with a foot injury after carrying the ball more than 20 times against Tennessee. He's Florida's best weapon in space, but he can't be asked to carry a heavy load out of the backfield.
FB/H-Back
Trey Burton:
He's no longer a quarterback and will be used more out of the backfield. He was a major running threat at times and caught 32 passes in 2010. He wasn't terribly shifty or much of a deep threat, but he became a consistent target for Brantley last season.
WR
Deonte Thompson
: Thompson was supposed to be Florida's next great deep threat, but inconsistency with his hands has hindered that. He was a top recruit coming out of high school, yet enters his senior season with the unproven tag. His speed isn't questioned, but he's got to shore up his catching ability before he can be a major factor.
Frankie Hammond Jr.
: He's got big-play ability, but he's never really been used extensively in Florida's offense. He's got pretty good speed and left spring as a starter on the outside. He said during spring that he and Brantley have developed good on-field chemistry, but will it carry into the fall?
Omarius Hines
: Hines was hardly used last season, but combines his 6-foot-1, 211-pound frame with exceptional speed to become a mismatch for most defenders. He's got the traits to be a playmaker, but he needs to be used more.
Andre Debose
: Coming out of high school, he was expected to immediately replace Percy Harvin on offense, but severe hamstring injury sidelined him his freshman year and his inconsistency in practice cost him playing time in 2010. This spring, he was held out of the latter part of practice and the spring game with an ankle injury. Debose had the gifts in high school, but he's yet to fully show them at Florida.
Quinton Dunbar
: Dunbar became one of Muschamp's most talked about offensive players this spring because of his big-play ability and speed. He's inexperienced, but appears to have the tools to be a deep threat in Florida's offense.
Robert Clark
: He was solid in the slot this spring and could be a guy that gets the ball in the backfield as well. He's elusive and has good speed, so he could be a real threat in the middle of the field for the Gators this fall.
TE
Jordan Reed
: He's back at tight end and during spring he drew tons of praise from his teammates and coaches. Brantley called him one of the most athletic players on Florida's team, regardless of position. Now that the tight end is a major part of the offense, Reed could end up being a prime target for Brantley this fall.
April, 15, 2011
4/15/11
5:30
PM ET
The wide receiver unit at Florida is starting to become more of a concern for the Gators. It was a very unproven group heading into spring and now two of the younger faces are gone.
Friday, coach Will Muschamp announced that freshmen receivers
Chris Dunkley
and Javares McRoy are transferring from Florida to pursue football careers elsewhere.
"We wish both of those guys the best of luck in their future endeavors, both on and off the field," Muschamp said.
McRoy, who enrolled in January from Lakeland, Fla. but missed the spring game after undergoing a minor procedure on his lung, intends to transfer to Texas Tech in order to play with his brother
Ben McRoy
, who is in his second year as a running back for the Red Raiders.
"I enjoyed my time at Florida, but I really want the chance to play with my brother Ben, who is at Texas Tech," McRoy said. "Florida has been very understanding and is giving me that opportunity."
As for Dunkley, his reasons aren't as clear. He missed all of 2010 with a hamstring injury and was suspended from the team last week because of academic issues.
"It's been a great learning experience being here at the University of Florida, but I feel like it's in my best interest to get a fresh start somewhere else," Dunkley said.
The former Pahokee, Fla., standout was one of Florida's prized offensive recruits in 2010. Outside of Ronald Powell, he was one of the most exciting guys to watch at Florida's 2009 Friday Night Lights camp. Most expected him to come in and make an instant impact for the Gators.
However, a hamstring injury nagged him throughout his entire freshman season. It appeared to vanish this spring, but academic issues wrecked the rest of his time.
Dunkley seemed perfect for Urban Meyer's spread and the thought was that there wouldn't be a drop off in Charlie Weis' pro-style offense. Now, Dunkley is off to find a new home and start fresh with his third college coaching staff in less than a year.
It's unclear if Dunkley just wasn't invested, but slipping academically isn't a great sign.
As for McRoy, he originally committed to Texas Tech, but switched to Florida last summer. He was a total spread guy, so adapting to the pro-style might have been an issue for him. However, with his speed, he drew some praise from coaches and players this spring.
Regardless, Florida finds itself down two bodies at receiver. Of the guys returning, senior
Deonte Thompson
has had the most production. He caught 38 passes for 570 yards and a touchdown in 2010, but had major issues with dropping the football.
Behind him are
Omarius Hines
and Frankie Hammond Jr. Hammond might have the best playmaking ability of the group. He only caught 22 passes for 276 yards and two scores last year, but he showed that he's not only got good speed, but he's pretty shifty in the open field. Hines could be a receiver/tight end hybrid for the Gators and seemed to be heavily underused last fall.
Florida also found out this spring that rising sophomore
Robert Clark
has the tools to be solid in the slot and redshirt freshman
Quinton Dunbar
has earned high praise from Muschamp and his teammates for being the top playmaker in camp.
Florida's coaches will now have to accelerate the acclamation process of incoming freshman Ja'Juan Story -- Florida's only other receiver from the 2011 class.
The Gators have options at the position, but experience is an issue. And after a less-than-stellar offensive showing in the spring game, this does less to help the concerns people have about Florida's offense heading into the offseason.