August, 29, 2013
8/29/13
9:00
AM ET
STARKVILLE, Miss. -- An iPhone App said that it was 84 degrees on Mississippi State's campus Tuesday afternoon, which could only be true if Starkville was located at the bottom of a lake. It's only a few minutes into the start of practice and you can see the players struggling with the humid, sapping conditions. Coaches shout at the medical staff to "Water the O-line!" as if the assembly of 300-pound men were a patch of wilting dandelions.
One of the team doctors takes issue with the readout. Robert Collins, a white-haired holdover from the Jackie Sherrill era, says it's at least 5-6 degrees warmer on the practice field most days, and that's not counting the radiant heat, a measurement he argues is a much more accurate gauge of how hot it actually feels. Inside the players helmets, it's a good 20 degrees warmer, he says.
[+] Enlarge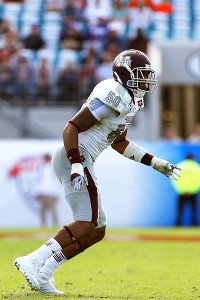 AP Photo/Don Juan MooreThe Mississippi State defensive coaches hope to see more "juice" out of Benardick McKinney and the rest of the Bulldogs defenders.
It
feels
hot watching the Bulldogs run through individual and team drills. There's no shade for onlookers and even less relief for the players trying to catch their breath. Rick Ray, the school's basketball coach, wears a oversized bucket hat to keep from burning. He's here to watch 6-foot-5 freshman wideout
De'Runnya Wilson
, who came to school this summer with intentions of playing both sports, though it looks like football will keep him from doing so.
"They're killing the sled," said Ray, craning his neck to the far side of the field where the defensive linemen are working. "You can hear it all the way over here."
A few minutes later, players break from their position groups and begin to practice live action. What happened next should have looked familiar to Ray. It wasn't basketball, but the tempo sure looked like it. All that was missing was the high pitch of sneakers screeching on hardwood floor.
Mississippi State has long been a team that likes to run the football and control the clock, but today both sides of the ball are working at a full sprint. The NASCAR offense, as coaches call it, is in full effect. There's almost no break between plays. The first series is over before there's even time to measure it by hand. Ready for the second series, the average time between the blow of the whistle and the snap clocks in at roughly 19 seconds.
Players aren't the only ones running. Coaches are, too. Defensive coordinator Geoff Collins waves his hands like a man possessed and screams at his cornerback to, "Crank your a-- up!" before he's dropped to the scout team.
Time, you see, is of the essence.
Oklahoma State and its high-octane offense await Mississippi State on Saturday. The Cowboys, who finished seventh nationally in passing a year ago, averaged one play every 20.3 seconds. Fifty-eight of their 69 offensive touchdowns came on drives that lasted 3 minutes or less. Under the direction of coach Mike Gundy, they scored 19 touchdowns in under 60 seconds, good enough for third in the country.
"Once their tempo gets started, it's like a train rolling downhill," Collins said earlier in the day, "it's kind of hard to stop it."
For more than seven months, Mississippi State has been preparing for Oklahoma State and its no-huddle offense. Collins has stressed to his players that the best way to stop it is to never let it get going in the first place. Negative plays and pass breakups, he says, put the offense at a disadvantage. Throwing off the tempo is the only real option, because once the Cowboys have a defense on its heels, it's lights out.
SEC SCOREBOARD
Saturday, 12/20
Monday, 12/22
Tuesday, 12/23
Wednesday, 12/24
Friday, 12/26
Saturday, 12/27
Monday, 12/29
Tuesday, 12/30
Wednesday, 12/31
Thursday, 1/1
Friday, 1/2
Saturday, 1/3
Sunday, 1/4
Monday, 1/12
Tweets from https://twitter.com/ESPNCFB/lists/sec