January, 13, 2015
Jan 13
11:00
AM ET
Talent isn't the question. For Alabama, it never is.
But the number of concerns coach Nick Saban and his staff face this offseason are aplenty. On both sides of the ball, there are major reconstructions to take place. And philosophically, it feels as if the program is at a crossroads -- to further embrace Lane Kiffin's wide-open offense and try to win games by way of a shootout or go back to the basics and attempt to re-create the hard-nosed defense that typified Alabama's first three national titles under Saban.
eion
It's why we at the SEC Blog went against the grain and did not rank the Crimson Tide among our projected top three teams in the conference. With so much up in the air, we felt better about the chances of Georgia and Auburn.
Now there are two sides to every debate, and here we'll reveal the point-counterpoint behind our thinking.
[+] Enlarge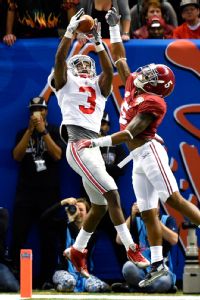 John David Mercer/USA TODAY SportsCan CB Cyrus Jones make a big leap in his play in the Tide secondary?
1. A shaky defense
Point:
Saban built Alabama on defense. So to see the regression there this past season was troubling. While the line was strong and the linebackers were more than adequate, nothing seemed to save the secondary. It seems like so long ago now, but the season-opener against West Virginia when it gave up 365 yards passing was a harbinger of things to come. Outside of the now departed star safety
Landon Collins
, there wasn't a lot of solid on-ball coverage. In the final three games against Auburn, Missouri and Ohio State, the once-dominant Crimson Tide defense surrendered an average of 33 points and 493 yards per game. Without Collins to lean on and no sure thing at safety ready to step into his shoes, can we honestly expect an improvement in Alabama's pass defense? And even bigger than that, is there anything to suggest that Saban and his staff have learned to defend the hurry-up, no-huddle any better? Especially when there's a mobile QB involved, Alabama has been found lacking.
Counterpoint:
There's always the chance that this was a transitional year at cornerback.
Cyrus Jones
came to his own,
Eddie Jackson
returned from a torn ACL quickly, and freshman
Tony Brown
was able to see the field with some regularity. So, if you're looking on the bright side, all three could be better next season, whether it's Jackson's knee getting stronger or Brown's knowledge of the defense increasing. Along with that, there's plenty of talent waiting in the wings.
Marlon Humphrey
, a five-star corner in last year's signing class, will shed his redshirt, and there's the chance that a few stars from the 2015 class emerge, whether that's early enrollee safety
Deionte Thompson
or one of the two top-five cornerbacks already committed to the Tide.
2. Too many questions on offense
Point:
Blake Sims is gone after one spectacular year as a starter. And while Alabama lucked out with his out-of-nowhere development, can we expect lightning to strike twice? Maybe, but most programs aren't so fortunate. At some point, you have to think Saban's run of solid QBs will end. If it does, how will it affect Alabama? Do we know for sure that
Derrick Henry
is ready to become a feature back? After all, the way Kiffin subbed an ailing
T.J. Yeldon
into the game against Ohio State on most every third down indicated that Henry is a liability blocking. And beyond Henry's ability and
Kenyan Drake
's health, who will be the go-to receivers? Amari Cooper's 124 receptions are gone, along with the next two leading pass-catchers in
Christion Jones
and
DeAndrew White
.
Counterpoint:
Who would have thought a year ago that Alabama would be bemoaning the loss of Sims? The former wideout was never supposed to become the starting QB, which is both a testament to his ability and that of Kiffin to coach the position. After all, if Sims can throw for 3,000 yards, maybe
Jake Coker
can too -- or
Cooper Bateman
,
Alec Morris
,
David Cornwell
or
Blake Barnett
. Because in fact, we don't know who will win the starting job. But there are plenty of options, and a number of them possess the traits to do well in Kiffin's offense, as evidenced by Cornwell and Barnett's high ratings as recruits or Coker's much ballyhooed arm while at Florida State.
3. Increasing competition
Point:
The bowl season said one thing, but the regular season said quite another. The West, contrary to popular opinion these days, might still be the best division in college football next season. If you don't believe that to be true, come up with your predicted order of finish. Who do you have as the sixth and seventh teams? Mississippi State, which possesses a Heisman Trophy candidate at QB? Texas A&M, which should upgrade on defense thanks to the addition of John Chavis? How about Arkansas, which won four of its final six games and could begin the season ranked in the top 25? While Alabama might still be the most talented team in the SEC, the gap seems to be dwindling.
Counterpoint:
It's not so weak that it fails to merit playoff consideration, but Alabama's schedule is not exactly a high-wire act. Outside of nonconference cupcakes Middle Tennessee, Louisiana Monroe and Charleston Southern, the big draw, Wisconsin, will have a new coaching staff and will be without its star player,
Melvin Gordon
. Then consider that the home portion of the schedule is about as favorable as possible: Ole Miss, Arkansas, Tennessee and LSU. Going to Georgia, Mississippi State and Auburn won't be easy, granted, but at least those games come in October and November, rather than when the team is still developing in September.
January, 9, 2015
Jan 9
1:10
PM ET
For most big-time college football programs, January is a time of letting go.
On Friday,
Alabama
had to do just that as three of the program's most prolific underclassmen --
Landon Collins
,
Amari Cooper
and T.J. Yeldon -- announced that they would forgo their final seasons of eligibility to
enter the NFL draft
.
[+] Enlarge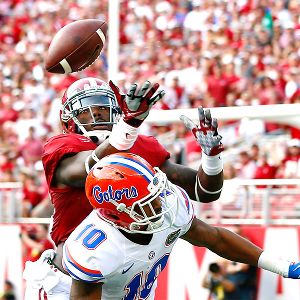 Kevin C. Cox/Getty ImagesWithout Landon Collins, Alabama's secondary enters a period of uncertainty that it hasn't experienced in some time.
Really, who can blame them? For three years they've been an integral part of the Crimson Tide's success, leaving no stone left unturned in their careers.
Yeldon ran for 100 yards in his first game and has proved himself ever since. Cooper caught the game-winning pass in the SEC title game as a freshman and made it all the way to the Heisman Trophy ceremony in December. Collins may have taken a little longer to develop than his fellow juniors, but when he shifted from special-teams stud to a starting safety as a sophomore, you knew he would become an All-American.
But now they must move on.
And now Alabama must move on.
While no one should weep for coach Nick Saban as he sends this latest trio of underclassmen off to the pros, it should be said that his job of replacing them won't be easy. Granted, the duo of Derrick Henry and Kenyan Drake should pick up right where Yeldon left off, but in the case of Cooper at receiver and Collins at safety, there are no obvious replacements.
Three consecutive No. 1-ranked recruiting classes have assured Alabama plenty of talent from which to draw, but there's a difference between a potential star and an already-known commodity.
In fact, what's known about the secondary without Collins isn't necessarily promising. Setting aside the rocky situation at cornerback, there are two vacant safety positions ahead of spring practice, and there's no clue who will fill them.
Alabama's amazing run of continuity at the position is over. This won't be 2011 when
Mark Barron
returned for another year. It won't be 2012, with a seasoned
Robert Lester
. It won't be 2013 with Ha Ha Clinton-Dix and
Vinnie Sunseri
, and it won't be this past season with Collins stabilizing the back end of the defense as a veteran starter.
While there's
Geno Smith
, who has played at safety and nickel, and Hootie Jones, who saw the field as a true freshman, neither has shown he's ready for the spotlight. It could be a wild card who ends up starting, such as redshirt freshman Ronnie Clark or one of the two top-10 rated safeties Alabama has committed in its 2015 signing class (four-star
Deionte Thompson
is already on campus).
The situation at receiver without Cooper is just as murky, because it's not just Cooper and his 124 receptions heading out the door. It's the next two leading receivers, too, as Christion Jones and DeAndrew White have moved on.
So who is Alabama's top returning receiver? That would be Chris Black, who caught 19 passes this past season. Besides him, there's ArDarius Stewart, who caught 12 balls, Cam Sims (seven) and Robert Foster (six). It's a talented group, to be sure, but none of the four underclassmen has had to deliver in crunch time.
With a new quarterback set to take snaps under center, it will be interesting to see who develops into the go-to targets in the passing game.
Don't discount someone like the 6-foot-4 Raheem Falkins or the 6-5 Derek Kief getting into the mix.
Calvin Ridley
, the No. 1 receiver in the 2015 class and an Alabama verbal commitment, could vie for playing time right away, too.
With so much up in the air, stay tuned for what unfolds during spring and fall practice.
It will be a different group of playmakers leading Alabama next season now that Collins, Cooper and Yeldon are gone, but by now Saban and his staff should be used to this game of plug-and-play.
It's January, which is as good a time as any to start anew.
January, 9, 2015
Jan 9
9:00
AM ET
The season isn't even over yet, but does that mean it's too early to start looking ahead to 2015? Not when it comes to Alabama and Auburn. Fans are already talking about which team will be better next season and who will have the advantage come November.
So who does have the edge? We decided it break it down for you … in January.
Offense
[+] Enlarge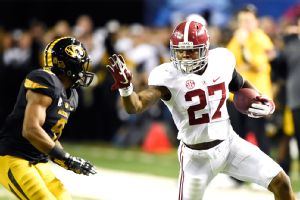 John David Mercer/USA TODAY SportsDerrick Henry will return to lead Alabama's offense and running game.
Alex Scarborough:
In terms of knowing what you're getting at the skill positions, I'm inclined to give Auburn the edge.
But that's not to say that Alabama isn't loaded with potential.
Derrick Henry
is clearly a beast and the return of
Kenyan Drake
from injury could provide a lethal one-two punch at running back. But outside of those two, is there a position where you know who the starters will be? That's not the case at receiver, where
Amari Cooper
and his 124 receptions exit stage left, along with the next two leading receivers in
Christion Jones
and
DeAndrew White
. The wideout with the most receptions returning to school this spring?
Chris Black
, who caught all of 19 passes this past season.
Cam Sims
,
Robert Foster
and
ArDarius Stewart
have great potential, but they're unproven. Heck,
O.J. Howard
has the skill to be an All-SEC tight end, but two years in he hasn't found any consistency in the passing game.
And that's all not to mention the quarterback, which could be
Jake Coker
... or
Cooper Bateman
or
David Cornwell
or Blake Barnett.
The one spot where I feel most sure Alabama will succeed is up front. On the offensive line, the return of center
Ryan Kelly
is an enormous help in terms of leadership for the rest of the line and continuity with whoever wins the starting job at quarterback. As is the return of standout freshman
Cam Robinson
. With Robinson anchoring the line at left tackle, there's plenty to build around.
Grant Hill
,
Alphonse Taylor
and Dominic Jackson have gained plenty of experience as a backups and could slide into the starting rotation with minimal stress.
Greg Ostendorf:
Don't be so quick to give Auburn the edge at the skill positions considering the Tigers are losing
Cameron Artis-Payne
,
Sammie Coates
,
Quan Bray
and
Corey Grant
.
The good news is that D'haquille Williams is returning to school. He solidifies a wide receiver group that would've been a huge question mark otherwise. Auburn should also be set at running back with
Roc Thomas
and
Peyton Barber
taking over for Artis-Payne and Grant, not to mention the addition of Jovon Robinson, the nation's No. 1 junior college player. Gus Malzahn has had a 1,000-yard rusher every year he's coached at the college level, and that trend should continue in 2015 with at least one of the players mentioned above.
The Tigers have a proven commodity at quarterback, too, which is more than their cross-state rival can say.
Jeremy Johnson
could've started for the majority of teams in college football, but he was stuck behind
Nick Marshall
, one of the best to ever play at Auburn. The offense might look a little different with Johnson under center, but don't expect a big drop-off in production. Not after what we saw in the first half of the Arkansas game.
The concern will be up front on the offensive line. How do the Tigers replace
Reese Dismukes
? How long will the coaches stick with
Shon Coleman
at left tackle?
The pieces are there --
Avery Young
is returning;
Alex Kozan
will be back from injury;
Braden Smith
will have a full year under his belt -- it's just a matter of how they fit together. If Auburn can figure that out, this offense will be scary good.
Defense
[+] Enlarge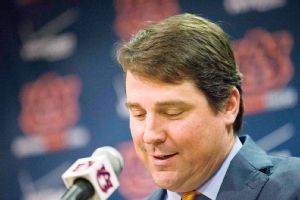 AP Photo/Brynn AndersonAuburn is looking to Will Muschamp to lessen the talent gap between Auburn and Alabama's defenses.
Scarborough:
The gap between the quality of Alabama's defense and that of Auburn's has narrowed of late. This past Iron Bowl and the bowl season showed that neither program is particularly adept at playing defense these days.
But in terms of who has the better defense entering the offseason, it has to be the Tide.
For one, there's no change in the system like Auburn is having to deal with. For another, there's a wealth of talent to draw from.
Alabama's secondary may be shaky today outside of
Cyrus Jones
, but there are so many four- and five-star DBs in Tuscaloosa it's hard to walk near the practice field without tripping over one. If for some reason
Eddie Jackson
continues to backslide and
Maurice Smith
and
Jonathan Cook
don't develop as planned, there's always the pair of top cornerbacks from last year's signing class in
Tony Brown
and
Marlon Humphrey
. If they don't work out, there are two top-five cornerbacks committed and two top-10 safeties committed as well.
But the big reason to like Alabama's chances on defense next season rest primarily with the front seven and the defensive line in particular. With the likes of
A'Shawn Robinson
,
Jonathan Allen
and
Dalvin Tomlinson
returning, most of last season's two-deep depth chart will remain intact. If
Jarran Reed
and
D.J. Pettway
stays for their senior season and the signing of Jonathan Taylor works out, defensive coordinator Kirby Smart will have more defensive linemen than he'll know what to do with.
Ostendorf:
I'm not going to sit here and try and argue that Auburn has a better defense. It's just not true. As bad as Alabama looked against Ohio State, Auburn was worse.
What I can say is that the Tigers will be better. Bringing in Will Muschamp to run the defense was the best move Auburn made all offseason. He's one of the more renowned defensive coordinators in college football, and regardless of talent, he'll have this defense playing much better than they did down the stretch.
But really, talent shouldn't be an issue. Linebackers
Cassanova McKinzy
and
Kris Frost
have both announced they're returning to school. Cornerback
Jonathan Jones
will be back after he quietly put together an All-SEC caliber season. Oh and did I mention that
Carl Lawson
will be healthy? Lawson missed the entire 2014 season due to injury, but he has a chance to be one of the league's top pass-rushers this fall. Remember what Dante Fowler Jr. did at Florida? That's what Muschamp wants to do with Lawson.
This unit might look even better a month from now depending on whether Muschamp can reel in five-stars Byron Cowart and CeCe Jefferson.
Alabama might have the better defense next year. And they should; that's Saban's identity. But like you said earlier, the gap won't be as wide as it looked at times this past season. Auburn's defense isn't giving up 55 points in the Iron Bowl. I don't care if
Braxton Miller
transfers to Tuscaloosa. That's not happening again.
June, 2, 2014
6/02/14
2:30
PM ET
In 2013, the freshmen of the SEC were truly fabulous.
Hunter Henry
and
Alex Collins
were impact players at Arkansas.
Laquon Treadwell
and
Robert Nkemdiche
were spectacular for Ole Miss. And who can forget the play of
Vernon Hargreaves
,
Chris Jones
and
A'Shawn Robinson
?
But standout rookies aren't easy to come by. More often it takes some time to make a transition from high school to college, and in Year 2 we generally see the biggest jump in production from players.
With that in mind, we're taking a team-by-team look at the players who didn't quite break through as freshmen, but could see their stock skyrocket with as sophomores.
First up:
Alabama
.
Class recap:
Nick Saban followed one top-ranked signing class with another in 2013, further extending his lead as the nation's top recruiter. All told, Alabama signed 18 ESPN 300 prospects.
A'Shawn Robinson
,
O.J. Howard
and a handful of others developed into impact players.
[+] Enlarge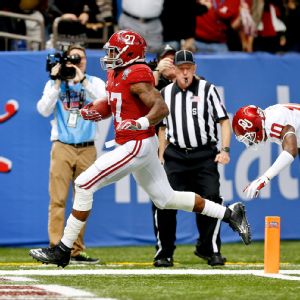 Derick E. Hingle/USA TODAY SportsDerrick Henry's breakout game in the Sugar Bowl showed he's certainly ready for prime time. But T.J. Yeldon is still ahead of him on the depth chart.
Second-year star:
RB
Derrick Henry
(6-foot-3, 238 pounds)
Recruiting stock:
Henry was one of only 11 five-star prospects in the 2013 class. He was the No. 1 athlete in the country and the No. 9 recruit overall, according to ESPN.
2013 in review:
Maybe Henry needed a break. He did, after all, just set the national record for career yards rushing at Yulee High in Florida. At Alabama, he became just another freshman fighting for reps, trailing veterans
T.J. Yeldon
and
Kenyan Drake
on the depth chart. After carrying the ball only 28 times during the regular season, Henry emerged during practice before the Sugar Bowl and earned the second-string spot in the rotation behind Yeldon against Oklahoma, where he ran for 100 yards and a touchdown on just eight carries. He also caught one pass -- his first and only as a freshman -- and took it 61 yards for another score.
2014 potential:
The hype surrounding Henry's sophomore season comes with good reason. While it might be a stretch to call him a Heisman Trophy contender, or even a threat to Yeldon to take over as the team's top running back, there is the potential for a big breakout season as a sophomore. It takes an army to tackle him. And he's got the wheels to back it up. But maybe most importantly, he'll have a new offensive coordinator in Lane Kiffin who is looking to make the most of his talent, whether that means lining up as a traditional tailback or elsewhere.
Also watch out for:
The rungs of the Alabama receiver corps loosened immensely with
Kevin Norwood
and
Kenny Bell
exiting for the NFL, so look for
Robert Foster
to take advantage. The No. 2-ranked wideout in the 2013 class has all the skills to become a top-flight target. Along those same lines, keep an eye on Howard. The pass-catching tight end was vastly underutilized as a freshman and should flourish under Kiffin's play-calling. On defense, defensive end
Jonathan Allen
and linebacker
Reuben Foster
both seem ready to step into a starting roles.
May, 13, 2014
5/13/14
9:00
AM ET
TUSCALOOSA, Ala. -- Some stocks rise during spring practice and some inevitably fall, and that wave of momentum heading into the offseason can be a valuable determinant when it comes to seeking more playing time during the season.
With that in mind, here's a look at five players emerging on offense for Alabama. Stay tuned Wednesday as we'll turn our attention to the defense.
QB Jacob Coker:
Yeah, we've never seen him wear an Alabama jersey, but is there any doubt
after A-Day that he's the frontrunner to start at quarterback
? He's now officially on campus, according to his father, and doing well. We've heard stories about his arm strength and his athleticism, but in a few months we'll get to witness it first-hand when camp opens.
[+] Enlarge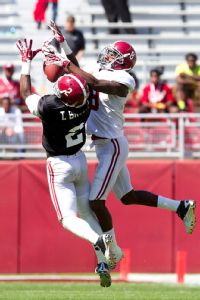 Marvin Gentry/USA TODAY SportsRobert Foster, who dueled Tony Brown for this pass on A-Day, showed big-play potential this spring.
WR Robert Foster:
Many might not remember that Foster was a late arrival as a true freshman, getting cleared by the NCAA and showing up at almost the last possible minute for practice in the fall. Still, he was listed as the second-string 'Z' receiver behind
Kevin Norwood
and
Kenny Bell
. In case you were sleeping under a rock, those two have graduated and moved on. And while Foster might not start, he should make a contribution as those around the program have been impressed by his big-play ability.
RB Derrick Henry:
At this point, is anyone is sleeping on Henry? After his breakout performance against Oklahoma in the Sugar Bowl, he's been all the rage. He's even gotten in the Heisman Trophy discussion and caused speculation that he might replace
T.J. Yeldon
in the starting lineup.
This writer disagrees
, but
another doesn't
. However, everything out of Alabama has been positive. Nick Saban has been effusive in his praise of Henry, calling his spring "fabulous" and his work ethic commendable.
TE O.J. Howard:
It's only a matter of time before Howard's skills as a pass-catcher translate to the field. As a freshman, he showed promise but was inconsistent. According to those close to him, he was frustrated at times as he caught six passes in his first three games and then eight the rest of the season. But with
Lane Kiffin now installed as offensive coordinator
, things should be different. Kiffin has had success with tight ends in the past and would do well to feature Howard more heavily in the offense, moving him around the field where he can exploit his size and athleticism against smaller defensive backs.
LT Cam Robinson:
The true freshman certainly looks the part. At 6-foot-6 and 325 pounds, he has the build scouts dream about. Early on this spring, it appeared as if his mind was elsewhere. In typically rookie fashion, he struggled to keep up as he learned everything for the first time. But he was a quick study and began rotating in with the first-team offensive line in no time. The former five-star prospect -- the No. 1-rated offensive lineman in the ESPN 300 -- wound up starting with the ones at A-Day, further solidifying his chances to start from Week 1.
April, 24, 2014
4/24/14
11:00
AM ET
Not every prediction we made about Alabama heading into the spring panned out, but we got awfully close. Let's take a look back:
Prediction No. 1: Kiffin provides a jolt
This one appears to be a work in progress as A-Day was not the most impressive performance for the offense. Outside of a failed flea-flicker attempt, there wasn't any play or formation called by new offensive coordinator Lane Kiffin that really wowed you. But, as one player told reporters after the game, only about 10 percent of the playbook was available. With that said, the reviews on Kiffin have been overwhelmingly positive. Nick Saban said he expects Kiffin to get the ball into his playmakers' hands more often this season, specifically to players such as
Amari Cooper
. That should be music to fans' ears. And as far as the players themselves, they've noticed a difference in Kiffin's demeanor and play-calling. They've said his offense is much more simple and "player-friendly." So while we never saw major schematic changes or a change in the tempo of the offense publicly, rest assured that Kiffin is working his magic behind the scenes.
Prediction No. 2: Sophomores emerge
[+] Enlarge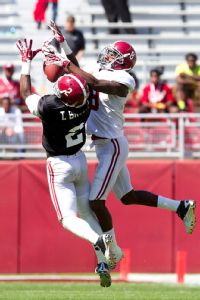 Marvin Gentry/USA TODAY SportsRobert Foster, who dueled Tony Brown for this pass on A-Day, showed big-play potential this spring.
OK, so this wasn't exactly an earth-shattering prediction. But we did name names.
Reuben Foster
,
Robert Foster
and
Maurice Smith
were spotlighted as players who missed spring practice last season but would benefit from it as sophomores. And with at least two out of the three, there was some measure of success. Reuben Foster, despite a series of stinger injuries, continued to draw positive praise and should be in the mix for significant reps at middle linebacker this fall. Robert Foster, on the other hand, made some spectacular catches at practice this spring, vaulting himself up the depth chart where he could be one of the first receivers off the bench. Smith, however, remained mostly quiet. Right after
Eddie Jackson
went down with a torn ACL, Smith missed a scrimmage with a concussion.
Tony Brown
, a five-star early enrollee, took full advantage of the reps and played well at A-Day, making an impressive interception despite playing in a no-contact jersey.
Prediction No. 3: Frosh challenges at LT
It took some time, but maybe not as much as some might have expected.
Cam Robinson
skipped his high school graduation and bypassed his prom to enroll at Alabama in January and compete in spring practice. With
Cyrus Kouandjio
gone at left tackle, he saw an opportunity. And after a few weeks of getting a handle on the offense, Robinson took a step forward, earning reps with the first team at left tackle, where he started A-Day. Robinson still has some growing pains to work out, but given his size, talent and early improvement, he'll be in serious contention to start at left tackle from Day 1. Though Saban called the five-star signee a "work in progress," he also cautioned that, "You get experience by making mistakes. ... He did some good things, and he's done some really good things all spring long."
Prediction No. 4: DePriest steps up game
By the sounds of it,
Trey DePriest
is doing everything coaches are asking of him this spring. With
C.J. Mosley
off to the NFL, he has responded by becoming a more vocal presence on the defense, leading a group that's as young in spots as it is talented. As DePriest put it, "I'm just trying to help out where I can." And that means calling the majority of plays on defense, getting his front seven in line and the secondary in tune. Saban praised DePriest's knowledge of the defense as well as his maturity, saying he has the ability to "affect other players in a positive way." Judging by the small window of A-Day, he has done just that as the defense didn't allow a point in the first half.
Prediction No. 5: Ranking Alabama's QBs
Maybe we were too hard on
Blake Sims
, ranking him fourth out of five. By Saban's estimation, he had a great spring, exhibiting control of the offense, improvement as a pocket passer and good production through two scrimmages, reportedly throwing for 515 yards, five touchdowns and no interceptions. But a sour A-Day performance kept him from being our post-A-Day leader in the clubhouse. Whatever momentum he'd gained before Saturday was lost when he threw one touchdown and two interceptions with a 43 percent completion percentage (13 for 30).
Cooper Bateman
, whom we previously ranked No. 1, looked the part at A-Day, showing the most poise and control of the quarterbacks.
Alec Morris
, meanwhile, was somewhat of a disappointment with just seven passing attempts and one interception.
Parker McLeod
and
David Cornwell
turned out to be the fourth and fifth quarterbacks in the race, attempting only two passes, completing none and throwing one interception. The one quarterback who did look good at A-Day was incoming transfer
Jacob Coker
, who looked on from the sideline as a spectator.
March, 14, 2014
3/14/14
9:00
AM ET
Schedule:
The Crimson Tide will open spring practice on Saturday in Tuscaloosa, Ala. All practices are closed and only the A-Day scrimmage at 2 p.m. ET on April 19 will be open to the public.
What's new:
The coaching staff has gone under some serious reconstruction. In fact, it looks a lot like Nick Saban's staffs of old with Kevin Steele as the linebackers coach and Bo Davis as the defensive line coach. Defensive coordinator Kirby Smart moved back to coaching the secondary to allow for Steele's return. And let's not forget the one new face on the staff, offensive coordinator Lane Kiffin. You might have heard of him.
On the move:
When Saban last spoke to the media a week ago, he said there was "no news on who's playing what position and who the quarterback is." But there will be movement. Look for some tweaking in the defensive backfield this spring. Much like last year,when Saban asked offensive players
Dee Hart
,
Christion Jones
and
Cyrus Jones
to try their hand at cornerback, he might ask someone like
ArDarius Stewart
to see if a return to defense is in order. Considering the lack of depth at cornerback and the departure of safeties
Ha Ha Clinton-Dix
and
Vinnie Sunseri
, the coaching staff might need to plug some holes in the secondary with some surprise players.
[+] Enlarge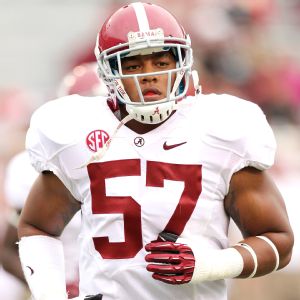 Nelson Chenault/USA TODAY SportsD.J. Pettway is back and will attempt to earn a shot at playing time at Alabama.
On the mend:
One of those defensive backs coming back is
Nick Perry
. The safety started four games in 2012 and appeared in two more games in 2013 before suffering a season-ending injury. Though he might not be the most talented option at the position, he's clearly the most experienced, with 30 games under his belt. And that counts for something with Saban, who needs to trust whoever starts opposite
Landon Collins
.
New faces:
Aside from the handful of early enrollees fresh out of high school, there are four junior college transfers to watch, including the return of former Alabama defensive end
D.J. Pettway
. There's also tight end
Ty Flournoy-Smith
, who was at Georgia once upon a time and could add to the passing game behind
O.J. Howard
; defensive tackle
Jarran Reed
, who could help plug the middle at 315 pounds; and offensive tackle
Dominick Jackson
, who was ranked as the No. 1 player at his position and could challenge to replace
Cyrus Kouandjio
.
Question marks:
We've detailed the problems in the secondary and hinted at the battle at left tackle, leaving a major unanswered question as to who replaces
C.J. Mosley
on defense. The former All-American linebacker was the heart and soul of the unit. We know
Trey DePriest
wants to take on the role, but is he ready? And who will play alongside him at inside linebacker?
Reuben Foster
was an immensely talented linebacker coming out of high school -- with a dramatic recruitment, no less -- but he played mostly on special teams as a freshman. He'll have a lot of competition for playing time, with
Dillon Lee
and
Reggie Ragland
hoping to emerge.
Key battle:
Unfortunately, this one won't be solved until the fall. But that makes the battle no less important. Alabama needs to find a starting quarterback to replace
AJ McCarron
, and until that's resolved, it's priority No. 1.
Jacob Coker
, the Florida State transfer, won't arrive on campus until May. So that leaves a bevy of unproven options under center.
Blake Sims
will get his shot after backing up McCarron last year, but it remains to be seen how the run-first athlete will do as a pocket passer. Beyond Sims, there's rising sophomore
Alec Morris
and a pair of redshirt freshmen,
Cooper Bateman
and
Parker McLeod
. If one stands out this spring, he'll surely have the upper hand come fall and could challenge the presumed frontrunner, Coker.
Breaking out:
It was a process started at the Sugar Bowl that many Alabama fans hope will continue right on into his sophomore season.
Derrick Henry
didn't do much during the regular season, carrying the ball a total of 28 times. But all you'll remember is the bowl game and his eight carries and one reception against Oklahoma, accounting for 161 yards and two touchdowns. He's big (try 6-3 and 238 pounds) and he's deceptively fast. With dreadlocks that stick out from under his helmet, picture a stretched out Trent Richardson. After losing a large chunk of practice last spring to a broken leg, he'll have the benefit of a full offseason to climb the depth chart and nip at the heels of incumbent starter
T.J. Yeldon
.
Don't forget about:
Don't sleep on Yeldon. He's pretty darn good, with back-to-back 1,000-yard rushing seasons to start his career. But don't forget Alabama's depth at wide receiver. Whoever starts at quarterback will have plenty of receivers to throw to.
Amari Cooper
, who is among the best in the SEC when healthy, is just the tip of the iceberg.
DeAndrew White
and Christion Jones are two veteran pieces, and tight end O.J. Howard has the potential to be one of the disruptive offensive weapons in the league if he reaches his potential. Given the way Alabama has recruited of late, look for one or two blue-chip prospects to emerge.
Chris Black
has been waiting patiently, and
Robert Foster
seems poised to step up with a year of experience under his belt.
All eyes on:
There's going to be a quarterback competition, position battles and several new players will emerge. But keep an eye on Alabama's attitude. Saban's dynasty in Tuscaloosa was shaken but not entirely derailed last season. Losing the final two games, to Auburn and Oklahoma, in such unspectacular fashion hurts. The question is how Alabama will respond. It worked out well after the 2010 season, but this isn't the same team. There are quite a few leaders in need of replacing, and there might be something to McCarron's criticism that a five-star sense of entitlement crept into the program. Righting the ship won't be easy for Saban and his staff, but he will have the luxury of putting a gigantic chip on his players' shoulders this offseason. How they respond is up to them.
August, 13, 2013
8/13/13
7:45
PM ET
Alabama starting linebacker
Trey DePriest
has been suspended for violation of team rules, according to Crimson Tide coach Nick Saban, who stressed that the team's second-leading tackler from a season ago would be able to return to the field shortly if he fulfills his obligations.
DePriest, a junior with NFL potential at 6-foot-2 and 245 pounds, missed Tuesday's practice in Tuscaloosa. He's part of a linebacking corps that returns all four of its starters from a season ago, including All-American inside linebacker
C.J. Mosley
and top pass-rusher
Adrian Hubbard
on the outside.
[+] Enlarge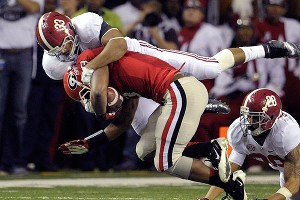 Paul Abell/USA TODAY SportsTrey DePriest has been suspended by Alabama for a violation of team rules.
"[DePriest] played very well for us," Saban told reporters. "He made a mistake. He didn't do the right thing. It wasn't a very smart thing to do, and there has to be consequences sometimes when you don't do the right things. Hopefully, he'll learn from it, it will make him better and he'll have a better chance to be successful in life."
Saban also announced that star wide receiver
Amari Cooper
would miss the next few practices with a strained foot. The preseason All-SEC selection led the team with 59 catches, 1,000 yards and 11 touchdowns last season, setting nearly every Alabama rookie receiving record in the process.
Cooper wore a black no-contact jersey during practice on Tuesday.
"He's going to be out for a few days," Saban explained, "and then he will be day-to-day. I don't think he's going to be hurt for a long time."
Luckily for Saban, Alabama is loaded at wide receiver.
Kevin Norwood
,
Christion Jones
,
DeAndrew White
and
Kenny Bell
all have starting experience and freshmen such as
Chris Black
,
Robert Foster
and
Raheem Falkins
are pushing for playing time as well.
"The receiver group has progressed very, very well from where we were at this point last year," offensive coordinator Doug Nussmeier said at UA's media day on Aug. 4. "We have a couple of new players, a lot of returning guys, a lot of guys who've played a lot of games. Obviously we had some injury issues last year that helped us develop some younger players."
Alabama was able to welcome back tight end
Malcolm Faciane
on Tuesday after he finished a 30-day suspension for violation of team rules. The 6-foot-5, 267-pound redshirt sophomore was in line for more reps this season after the departure of Michael Williams, but will have an uphill battle now that backups such as
Harrison Jones
and
O.J. Howard
have begun making their case for playing time.
"I don't like suspending players," Saban said. "If we're going to punish any players or suspend any players, it's going to be in their best interest to change their behavior so they have a better opportunity to be successful. If it's not going to do that, I don't see any reason to do it.
"It's almost like raising your kids. If you're going to spank them and it doesn't change their behavior, why spank them? If you take their computer or their cell phone away from them and it changes their behavior, I'd say that's the thing to do. We would only do it in the best interest of the player."
July, 31, 2013
7/31/13
12:00
PM ET
Yes, your eyes weren't lying last night. I was on the Hug Cam at last night's Braves game against the Colorado Rockies.
February, 6, 2013
2/06/13
9:15
PM ET

Alabama has announced its 2013 signing class.
The Crimson Tide finished off their 25-man class in a big way, earning the No. 1 ranking in ESPN's class rankings. Alabama ended the day grabbing two ESPN 150 members in running back
Alvin Kamara
(Norcross, Ga.) and defensive tackle
A'Shawn Robinson
(Fort Worth, Texas/Arlington Heights).
Alabama also picked up No. 4-ranked defensive tackle
Dee Liner
(Muscle Shoals, Ala.) earlier in the day. Alabama already had No. 1 athlete
Derrick Henry
(Yulee, Fla.), No. 1 inside linebacker
Reuben Foster
(Auburn, Ala.) and No. 2 wide receiver
Robert Foster
(Monaca, Pa./Central Valley) before signing day began.
To view Alabama's full class,
click here
.
January, 8, 2013
1/08/13
10:12
AM ET
By
ESPN.com staff
| ESPN.com
Alex Scarborough writes
: After winning three titles in four seasons, Nick Saban and Alabama can also look forward to bringing back most of their major contributors next season, such as quarterback AJ McCarron, running back T.J. Yeldon and linebacker C.J. Mosley –- and adding some key talent such as receiver Robert Foster and tight end O.J. Howard.