September, 10, 2013
9/10/13
10:00
AM ET
ATHENS, Ga. -- As he does each Sunday, Mark Richt sat down and rewatched his Georgia team's game from the previous day -- this time a 41-30 win against then-No. 6 South Carolina.
Asked Sunday evening what he took away from that second viewing, Richt's first comments concerned his starting tailback,
Todd Gurley
.
[+] Enlarge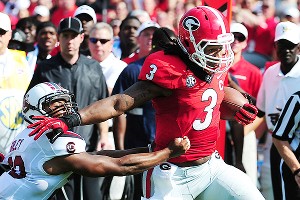 Scott Cunningham/Getty ImagesTodd Gurley is seventh in the nation with 286 rushing yards and tied for fourth with four TDs.
"Just watching Gurley run was fun," Richt said. "He's just such a powerful back. He's got such great balance, speed."
Fans -- and Heisman Trophy voters -- have had the opportunity to make similar observations over the last two weeks as Richt's Bulldogs played two top-10 opponents. And all Gurley has done is dominate in both games, despite missing a portion of the opener at Clemson with a quad injury and despite facing one of the nation's better run defenses from last season in South Carolina.
Gurley on Monday received two rounds of treatment on the thigh injury that kept him from practicing much last week, but it didn't prevent him from dominating on the ground Saturday and fulfilling one of his few stated offseason goals of contributing more in the passing game. He hauled in his first career touchdown catch in the third quarter of the Bulldogs' win.
"I really didn't sit down this offseason and say, 'I'm trying to do this, I'm trying to do that,' " Gurley said. "One of my main things was just to get more plays in the passing game and just work on playing without the ball. That was about all."
After his 30-carry, 132-yard effort, which included one rushing and one receiving touchdown, Gurley is seventh nationally with 286 rushing yards and tied for fourth with four touchdowns.
"He probably is at the top of the group of running backs who are going for the Heisman right now," said Chris Huston, whose Heisman Pundit website tracks the race closely throughout the season. "I'd say he has pushed himself to the top of that group."
Obviously it's early, but Gurley has already continued his upward trajectory from a breakout freshman season where he rushed for 1,385 yards and scored 18 touchdowns.
There was his 75-yard touchdown run against Clemson where he exploded through a hole and outran everyone to the end zone. And then there were runs Saturday like the one where he somehow stayed on his feet when South Carolina defensive lineman
Kelcy Quarles
ripped off his helmet by the facemask, and very well might have scored a helmetless touchdown if not for the rule that requires such a play to be blown dead. Or when he burst down the sideline during a second-quarter touchdown drive and easily tossed Gamecocks cornerback
Jimmy Legree
aside with a vicious stiff-arm.
"Watching film on him, he's by far in my opinion -- anyone who watched him would probably agree with me -- the best player in the country. I don't think there's anyone like Todd," Georgia quarterback
Aaron Murray
said Monday.
He might not enjoy the spotlight, but Gurley possesses the total package that a Heisman-contending running back needs in order to generate national attention. Now he needs his teammates to help him remain in the conversation.
Spread-offense quarterbacks have the odds in their favor in this day and age, although that position held the advantage even before dual-threat passers like Cam Newton, Robert Griffin III and
Johnny Manziel
claimed each of the last three Heismans. Quarterbacks have won 11 of the last 13 years, so Gurley not only needs to separate himself from other running backs with impressive yardage totals and highlight-reel runs, he needs Georgia to remain in the BCS conversation in order to remain a viable alternative to quarterbacks like Manziel, Clemson's
Tajh Boyd
, Oregon's
Marcus Mariota
and Ohio State's
Braxton Miller
.
"It's hard for a running back to win, but if he does win, he has to have as little competition from other running backs in the race as possible," Huston said. "Gurley's first task is to sort of establish himself as the running back alternative to whatever quarterbacks there are."
Then again, he must also separate himself from his own teammate to become a true Heisman frontrunner.
Murray reignited his Heisman hopes with a nearly flawless 309-yard, four-touchdown performance against South Carolina. Interestingly enough, however, Huston said the perception that two contending teammates might siphon votes away from one another isn't necessarily accurate.
As an example, he used the 2004 race where USC quarterback Matt Leinart won and running back teammate Reggie Bush finished fifth. Oklahoma's Adrian Peterson and Jason White finished second and third that year. In other words, members of the two teams that played for the BCS championship took up four of the top five spots in the voting -- and their respective abilities likely helped their teammates from a performance and publicity standpoint.
"You could argue that Jason White's support cost Peterson the Heisman, but you could also say that Bush's support cost Leinart more votes in that situation," Huston said. "Would Peterson have gotten more votes if White wasn't as good? So it's kind of a symbiotic relationship between the two. If Aaron Murray wasn't as good, Gurley probably wouldn't be as successful because teams would be able to key on him more."
August, 18, 2013
8/18/13
10:56
AM ET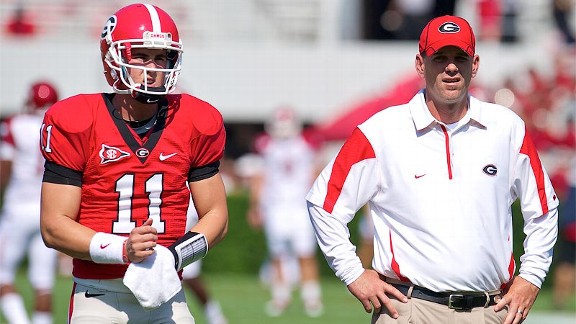 Dale Zanine/USA TODAY SportsMike Bobo (right) calls quarterback Aaron Murray an extension of the coaching staff on the field.
ATHENS, Ga. -- When Mike Bobo says he wants to see a more mobile
Aaron Murray
this season, Georgia's offensive coordinator doesn't envision his quarterback running circles around defenses like Robert Griffin III or Michael Vick.
Sure, maybe Murray will run a bit more than he has the past two seasons, but Bobo actually means that he wants the senior to have a better sense of where defenders are around him in the pocket -- and to have the wherewithal to move into positions that maintain clear throwing lanes.
"We were trying to say, 'Hey, there's an example of extending the play.' It's never going to be perfect that you drop back, you hitch twice, you go to your second progression, boom, completion. That doesn't happen, really," Bobo said. "It's move to the side, slide to the right, step up, run two yards, bang, throw the ball."
The convenient aspect of coaching a fourth-year starter is that Bobo can focus on such finer points. Technique and knowledge of the Bulldogs' offensive scheme are certainly not problems for a player with Murray's maniacal work ethic.
"Since halfway of last year, there's really not anything that I didn't feel comfortable giving him," Bobo said. "Really, he understands the whole playbook. He's really an extension of our offensive staff."
That partnership has produced back-to-back SEC East titles and never-before-seen offensive production at Georgia. The Bulldogs set a program scoring record last fall and Murray set single-season UGA records for passing yards (3,893) and touchdown passes (36).
He became the first quarterback in SEC history to pass for 3,000 yards in three seasons, and could become just the fourth in FBS history to surpass the 3,000-yard mark in each of four seasons.
That's not why he turned down the NFL to spend another season at Georgia, however. Murray insists he essentially made that decision as the final seconds ticked away in the Bulldogs' loss to Alabama in the SEC championship game, a few yards shy of a chance to play for the BCS title.
"The No. 1 reason why I came back this year is to win a championship -- to win an SEC championship game, to win a national championship," Murray said. "So I think that's pretty much it. If I leave here with a championship, with some rings, that's all I care about."
To reach that goal, Murray worked on another of the areas Bobo asked him to improve: leadership.
Bobo split the team into approximately 10 groups this summer and asked at least one team leader to take ownership of each group. The groups won points in such categories as attendance at class and in summer workouts, and multiple veterans said summer participation was the best it had been in their UGA careers.
"I think we really lucked out," senior tight end
Arthur Lynch
said. "I came in with him and I didn't really start realizing until he started molding into a leader. He always wanted to be that and he kind of molded into it and grew into that leadership role.
"Really now I think he's got a lot of respect for his performance on the field, but now it's even that much more respect off [it]. I think that's kind of one thing he's always wanted, not so much for himself, but so he could help lead a better group of guys to become a better team."
If Murray only duplicates his numbers from last season, he will break the SEC's career records for pass attempts, completions, passing yards and touchdown passes. So it might seem strange that he was voted as only the third-team quarterback on the media's preseason All-SEC team.
However, with Heisman Trophy winner
Johnny Manziel
of Texas A&M and
AJ McCarron
of back-to-back BCS champion Alabama still around, Murray must continue his upward trajectory in big games to earn more love. Correcting that one hole in his resume -- and he has that opportunity with games against Clemson, South Carolina and LSU before the end of September -- is nearly all he has left to accomplish.
"In my opinion, he doesn't have to prove anything," right guard
Chris Burnette
said. "But I know the outside opinion is for him to just continue to do well and even better in the big games. Honestly, he's a great leader of our team. Anytime we do well in a big game, he has a large part of it.
"Especially being a quarterback, I think a lot of the blame can get lumped on him when it's not really his fault. I feel like if we come out and achieve our goals this year, I don't think anybody will really be able to say too much about him."
May, 2, 2013
5/02/13
2:30
PM ET
By
Sharon Katz, ESPN Stats & Information
| ESPN.com
Stacy Revere/Getty ImagesWhat parts of Johnny Manziel's game need to improve for him to play in the NFL?
The NFL began to look more like the college game last season with mobile quarterbacks, zone-read options and spread passing attacks. With some work, Texas A&M's Johnny Manziel has the tools to continue the evolution.
Robert Griffin III
,
Russell Wilson
and
Colin Kaepernick
transformed the game with their speed and versatility, forcing defenses to adapt to a new style of play.
All three of those quarterbacks were also proficient passers. They each possess four qualities necessary to be a successful quarterback in the NFL: overall accuracy, ability to handle the blitz, downfield precision and composure under duress.
Manziel is skilled in all four categories, but he could improve in each next season to boost his draft stock if he decides to declare for the draft.
Overall accuracy
In 2012, Manziel completed 68 percent of his passes, which ranked ninth among FBS teams. He was at his best on short and intermediate passes, completing more than 76 percent of his throws within 10 yards of the line of scrimmage.
One of his greatest strengths was putting the ball in spots that enabled his receivers to run after the catch. Texas A&M ranked sixth among colleges in AQ conferences in yards after the catch, averaging 6.5 yards after the catch per reception.
Ability to handle the blitz
Opponents blitzed Manziel on fewer than 30 percent of his dropbacks last season.
Although Manziel's completion percentage was significantly lower against the blitz, he exploited blitzing defenses with big plays.
Manziel averaged a play of 20 yards or more once every 6.4 dropbacks when opponents blitzed, compared with once every 8.5 dropbacks when they sent standard pressure.
His biggest plays came when scrambling, with him rushing for 389 yards and seven touchdowns on 32 scrambles against the blitz.
Downfield precision
This is probably the one area Manziel could improve the most. Last season, he completed 38.7 percent of his passes of 20 yards or longer with eight touchdowns and four interceptions.
To put that into perspective, Griffin III, Wilson and
Andrew Luck
all completed a higher percentage of their passes on throws of this distance in their final year of college.
Manziel can learn from those quarterbacks, who all increased their completion percentages on throws of at least 20 yards downfield in their final college seasons.
Composure under duress
Last season, Manziel completed 51.4 percent of his passes when under duress, about 11 percentage points higher than the FBS average.
He was at his best when forced to improvise. Manziel ran for 857 yards and 10 touchdowns on 86 scramble attempts in 2012. He also threw for 581 yards and eight touchdowns when forced to throw from outside the pocket.
Many question whether this aspect of Manziel's game will translate to the NFL, given his size and the speed of NFL defenses. At 6-foot-1 and 200 pounds, Manziel is small for an NFL quarterback. Of the 49 NFL quarterbacks who attempted at least 30 passes last season, only three were 6-1 or shorter, and only one weighed 200 pounds or less.
In terms of the speed of NFL defenses, Texas A&M faced its share of NFL talent last season; 26 opposing defensive players were taken in the 2013 NFL draft.
Last season against Alabama, the top defense in the nation, Manziel ran for 92 yards. It was the most rushing yards the Crimson Tide had allowed to an opposing quarterback since Nick Saban became Alabama's coach in 2007.
November, 27, 2012
11/27/12
1:30
PM ET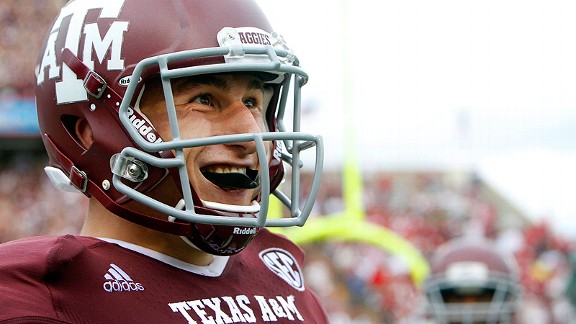 Brett Davis/US PresswireWhen it comes to Heisman candidacy, Texas A&M's Johnny Manziel has compiled a strong platform.
There's one last weekend for Heisman voters to scout any remaining candidates for college football's most prestigious award.
But after 13 weeks of action, the winner is clear, and voters don't need any more time to think about it.
It was
Johnny Manziel
a week ago. It's Johnny Manziel today. And it should be Johnny Manziel when the Heisman Trophy is presented on Dec. 8.
In 12 straight weeks (Texas A&M didn't have a bye week) the slippery Manziel racked up 3,419 passing yards with 24 touchdowns to eight interceptions and rushed for 1,181 yards and 19 more scores. He's second in the SEC in passing yards and first in rushing. He also guided Texas A&M to a 10-win season in its first year in the SEC and was undefeated on the road.
His 4,600 yards of total offense (and counting) topped Cam Newton's mark of 4,327 yards, which used to be an SEC record. He already has more passing and rushing yards than Tim Tebow did during his Heisman season in 2007 and has thrown for 565 more yards than Newton did during his 2010 Heisman season. He won't touch Robert Griffin III's 4,293 passing yards from his 2011 Heisman year, but he crushed him in the rushing department by 482 yards.
Manziel has had three games in which he had at least 300 passing yards and 100 rushing yards, the most for any player in a single season since 2000. The rest of the nation has had eight such games the entire season, according to ESPN Stats & Information. Manziel has also gained 784 rushing yards on scrambles. That's 43 more yards scrambling than
Collin Klein
,
Braxton Miller
and
Marcus Mariota
combined. He has also scrambled for 35 first downs this season, including 20 first downs on third down, according to ESPN Stats & Information.
Not voting Manziel No. 1 at this point is almost comical when you look at the way the fabulous freshman phenom has done all of this in his first year on the field with a brand-new offense and coaching staff in the SEC.
"His numbers speak for themselves against anybody who has played not only this year but who has [ever] played the game," said Texas A&M coach Kevin Sumlin, who has been very actively captaining the Johnny Football Heisman ship. "As we've gone through this process, he's been a catalyst for this football team in the first season in the SEC."
While his 43 total touchdowns are lower than his three predecessors, Manziel has way more total touchdowns than the other two dual-threat quarterbacks still alive in this race.
Klein, who has had a superb season, has 34 total touchdowns and Miller has 28 total.
People will knock his two losses (something neither Klein nor Miller have) to Florida and LSU at home. Both are currently ranked within the top seven of the BCS standings and both own top-10 defenses. In those games, Manziel threw for 449 combined yards with zero touchdowns and three interceptions. He also rushed for 87 yards and one touchdown, averaging 2.6 yards per carry.
Not Heisman-worthy at all, but you have to dig deeper than just his two poor performances against top-notch defenses. Look at the growth from Manziel after his losses. Since the LSU game, he has averaged 382.2 yards of offense with 19 touchdowns.
One of those opponents was Alabama ... on the road. Talk about growth.
He had his true coming-out party in front of the entire nation when he torched Alabama's top-ranked defense for 345 yards of offense and two touchdowns. He never wavered and sliced up the Tide with his arm and legs. Some of the Playstation moves he pulled didn't seem possible.
He then showed out in his final outing with a bevy of twists and turns that amounted to 439 yards and five touchdowns against Missouri with a brace on his knee. Willis Reed and Paul Pierce had nothing on Johnny Football.
Manziel has made Texas A&M one of the nation's hottest team. The Aggies aren't close to where they are without Manziel. People talk about how much
Manti Te'o
, Manziel's only real remaining Heisman competition, has meant to Notre Dame. He's been fantastic, but take Manziel off A&M's squad, and the Aggies aren't nearly the same.
Being a freshman should only help his defense because it makes what he's done that much more impressive. His two losses shouldn't hold much weight because Tebow and Griffin both had three losses before winning.
What matters is his body of work, and no one else equals him. No one else equals his excitement or importance.
The Heisman Trophy should be as good as his.
"It's something you dream about as a kid, when you're sitting there playing all these NCAA [video] games when you're a kid and you create a player and you win the Heisman as a freshman because you just put up crazy numbers," Manziel said. "It's something that you can only sit back and dream about. It's the biggest, most prestigious award in college football, so it would definitely be a dream come true."
Manziel is living the video game life, and there's no reason his dream shouldn't become a reality.
December, 5, 2011
12/05/11
9:10
PM ET
My Heisman Trophy ballot has changed every week for the last couple of months.
I'm not surprised there are more than three players going to the trophy presentation.
Five players were invited to New York for Saturday night's Heisman Trophy presentation -- quarterbacks
Andrew Luck
of Stanford and
Robert Griffin III
of Baylor, tailbacks
Montee Ball
of Wisconsin and
Trent Richardson
of Alabama and cornerback Tyrann Mathieu of LSU.
It's a shame the Heisman Trust didn't have room for three more quarterbacks because Houston's
Case Keenum
, USC's
Matt Barkley
and Boise State's
Kellen Moore
were just as deserving.
With five finalists going to New York, it figures to be one of the closer votes in recent Heisman Trophy history.
The closest vote in Heisman Trophy history came just two years ago, when Alabama tailback Mark Ingram edged Stanford's Toby Gerhart by only 28 points. Ingram received 227 first-place votes, Gerhart got 222 and Texas quarterback Colt McCoy, the second runner-up, received 203.
Given the number of finalists and their geographical regions, we could have another really close finish on Saturday night.
Luck, the runner-up to Auburn's Cam Newton last season, entered the 2011 season as the Heisman Trophy favorite. His performance didn't slip much this season, as he completed 70 percent of his passes for 3,170 yards with 35 touchdowns and nine interceptions.
I still feel Luck might be the most valuable player on any team in the country. Without him, there's no way the Cardinal is ranked No. 4 in the country and playing No. 3 Oklahoma State in the Tostitos Fiesta Bowl. Luck has done more with less, as Stanford lacks the game-changing playmakers that other teams have.
But Luck might still be the second-best quarterback in New York. Griffin, who is widely known as RG3, completed 72.4 percent of his passes for 3,998 yards with 36 touchdowns and six interceptions. He also ran for 644 yards with nine touchdowns.
Without him, the Bears wouldn't have beaten TCU, Oklahoma and Texas. Griffin's one drawback: He had a late interception that sealed the Bears' fate in a 36-35 loss at Kansas State on Oct. 1 and threw two picks in a 59-24 loss at Oklahoma State on Oct. 29. But with everything else RG3 has done this season, it's easy to give him a mulligan for the miscues.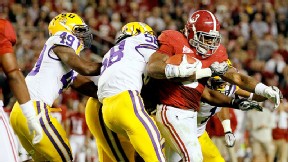 Kevin C. Cox/Getty ImagesRunning back Trent Richardson has been at his best in Alabama's biggest games.
I still believe Richardson is the best player in the country. He looked like the best player on the field in No. 2 Alabama's 9-6 loss in overtime to No. 1 LSU on Nov. 5. He had 89 rushing yards and 80 receiving yards in a game where every yard mattered. He finished the season with 1,583 yards with 20 touchdown runs and three touchdown catches. He's also Mr. Dependable, not losing a fumble in his past 520 touches and only once in 614 career touches.
Ball has been a scoring machine for the No. 10 Badgers this season, running for 1,759 yards with 32 touchdown runs and six touchdown receptions. His 38 total touchdowns are one shy of matching former Oklahoma State running back Barry Sanders' NCAA single-season record of 39 set in 11 games in 1988. Ball's production helped lead the Badgers to a Jan. 2 date against Oregon in the Rose Bowl Game presented by VIZIO.
Mathieu fell off my ballot after he was suspended from playing in the Tigers' 45-10 victory over Auburn on Oct. 22 for smoking synthetic marijuana. But his big plays helped the Tigers overcome deficits in each of their last two victories, over Arkansas and Georgia in the SEC championship game.
Mathieu -- aka the "Honey Badger" -- is the best player on the top-ranked team. He leads the Tigers with 70 tackles and has forced six fumbles and recovered five. He also is the most dynamic punt returner I've seen since Florida State's Deion Sanders. Mathieu has scored four touchdowns -- two on fumble returns and two on punt returns.
To penalize Mathieu for one foolish mistake wouldn't have been right. After all, Newton was briefly ruled ineligible at Auburn last season and 2010 Heisman Trophy finalist
LaMichael James
of Oregon was suspended from playing in last season's opener.
December, 5, 2011
12/05/11
7:53
PM ET
By
ESPN Stats & Information
| ESPN.com
On Monday the five finalists invited to New York for the Heisman Trophy ceremony were revealed. This year has featured one of the most interesting races for the Heisman as no one player has stood from the rest.
Here's a look at what a Heisman Trophy win -- or loss -- would mean to these players and their respective schools.

Trent Richardson, Alabama
Two seasons ago Trent Richardson was a part of a National Championship team with a Heisman Trophy winner, when running back Mark Ingram became Alabama's first winner. Richardson has nearly identical numbers to Ingram this season, and has already totaled 23 touchdowns compared to Ingram's 20 TD's.
If Richardson were to win the award it would put him and Ingram in some rare company. In the history of the Heisman Trophy only three times have two different players playing the same position at the same school won the award in a span of three seasons. It last happened when USC QB Matt Leinart won it in 2004 after Carson Palmer had taken home the award in 2002.

Andrew Luck, Stanford
Luck is listed second here as he finished second for the Heisman last season and Stanford has actually had the Heisman runner-up in each of the past two seasons (Toby Gerhart, 2009).
If Luck wins he would be the second player in Stanford history to win the award (Jim Plunkett, 1970) and join 1981 Herschel Walker as the only Heisman runner-ups to win the award the next season.
If Luck finishes second, Stanford would set a record. No school has ever had a Heisman runner-up in three consecutive seasons.

Montee Ball, Wisconsin
Montee Ball earned his invite thanks to his impressive numbers. Ball needs one touchdown in the Rose Bowl to tie Barry Sanders' FBS record for touchdowns in a season (39). Sanders won the Heimsan trophy during that 1988 season.
Ball's 38 touchdowns are the most by a Big Ten player since Eddie George had 25 in his Heisman Trophy winning 1995 season.

Robert Griffin III, Baylor
RGIII finished off a great regular season in which he threw 36 touchdowns compared to only six interceptions, while also leading Baylor to nine wins, its most since the 1986 season.
Griffin's invite is an accomplishment in its own considering he plays for Baylor. The Bears have only had one player finish in the top five of the Heisman vote in school history. In 1963 Don Trull finished fourth.
If Baylor's Robert Griffin III wins the Heisman Trophy this year, he will be just the third player since the BCS was established in 1998 to win the Heisman without his team playing in a BCS bowl game.

Tyrann Mathieu, LSU
The Honey Badger will take the trip to New York looking to join Charles Woodson as the only defensive backs to win the Heisman trophy.
Despite being a defensive player, recent history is on Mathieu's side to take home the award. Since 2003, seven of the past eight Heisman Trophy winners have come from the team at number one in the BCS standings entering the National Championship Game.
December, 1, 2011
12/01/11
4:00
PM ET
By
ESPN.com staff
| ESPN.com
David Ubben talks

with Ivan Maisel and Chris Low about Oklahoma State's Bedlam/BCS title game chances, Robert Griffin III and the Heisman, and the idea of SEC fatigue and hatred of a rematch helping the Cowboys into the championship.