March, 23, 2015
Mar 23
11:31
AM ET
The NCAA tournament has hit the SEC, even if the conference just has one team to root for in the Big Dance.
But we here at the SEC blog are all about the madness and wanted to continue a fun tradition that gives us our own fictional March tournament. Today, we are unveiling our SEC football brackets in honor of this week's Sweet 16.
Esteemed colleague Alex Scarborough and I have seeded all 14 SEC teams in a tournament of our own to crown our rightful spring SEC champion(s).
The first College Football Playoff did a great job of exciting the masses, but imagine if we had even more teams. I'll show off my seedings and bracket first, and Alex will post his later.
After letting my cat Meeko take over most of the responsibility with this whole thing, here are my seeds for all 14 teams:
Auburn
Georgia
Alabama
Ole Miss
Arkansas
Tennessee
LSU
Texas A&M
Missouri
Mississippi State
South Carolina
Florida
Kentucky
Vanderbilt
FIRST ROUND
In Memphis, Tennessee
[+] Enlarge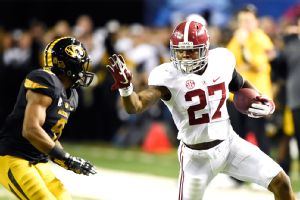 John David Mercer/USA TODAY SportsAlabama RB Derrick Henry looks to build on a promising sophomore season in which he averaged 5.8 yards per carry.
No. 3 Alabama vs. No. 14 Vanderbilt: This year's NCAA tournament saw two 14 seeds topple No. 3 seeds. That ain't happening in our bracket. Both teams are trying to figure things out at quarterback, but Alabama just has too much talent all around. Bama running back Derrick Henry will make quick work of Vandy's defense, giving OC Lane Kiffin the option to play every QB the Crimson Tide has. Winner: Alabama
No. 6 Tennessee vs. No. 11 South Carolina: The Vols are a trendy pick in the SEC East this year, and it makes sense when you realize Tennessee brings back 18 starters. South Carolina was a mess on defense last year and has its own quarterback battle to worry about. The Vols have rising star Josh Dobbs at QB and stud running back Jalen Hurd to lead the offense. The Gamecocks will have flashbacks of that horrendous fourth quarter against the Vols last fall. Winner: Tennessee
In Kansas City, Missouri

No. 4 Ole Miss vs. No. 13 Kentucky: Shocker, another SEC team with a quarterback issues, but we expect Chad Kelly to get most of the snaps in his game. Not having Laquon Treadwell (leg) will take a major part of the passing game away, but Cody Core will make a couple of big plays on Kentucky's defense, which will open things up for Jaylen Walton to slice up Kentucky's rebuilt defensive line. Winner: Ole Miss
No. 5 Arkansas vs. No. 12 Florida: Ah, the classic 12-5 upset. This has been such a fun pick to make in the NCAA tournament, but like this year's Big Dance, we'll have no 12-seed waltzing into the second round. Florida's offense is under construction, and even with Alex Collins recovering from an appendectomy, Johnathan Williams will tire out Florida's front seven, and the Hogs will force a couple of turnovers. Winner: Arkansas
In Jacksonville, Florida
No. 7 LSU vs. No. 10 Mississippi State: These aren't the same Bulldogs who pulled off an upset in Death Valley last year. However, LSU doesn't have the best quarterback situation. I think Brandon Harris gets the majority of the snaps and Leonard Fournette wears down the Bulldogs' line, but in the tournament you need a solid point guard, and that's where quarterback Dak Prescott comes in. LSU's lack of a pass rush gives Prescott the time he needs to lead a game-winning drive. Winner: Mississippi State
No. 8 Missouri vs. No. 9 Texas A&M: We get a little Big 12 feel with this game. The Tigers have won back-to-back SEC East titles, but don't have elite talent at defensive end this spring, and quarterback Maty Mauk has a completely rebuilt receiving corps to work with. The Aggies got a major defensive upgrade with the hiring of John Chavis, and he'll be the difference. Quarterback Kyle Allen will make some plays, and we'll finally see a defensive stand by the Aggies! Winners: Texas A&M
SECOND ROUND
In Charlotte, North Carolina
[+] Enlarge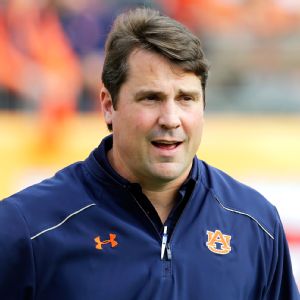 AP Photo/Chris O'MearaWill Muschamp takes over an Auburn passing defense that was ranked 86th in yards per game allowed last season.
No. 1 Auburn vs. No. 9 Texas A&M: Oh baby, we have a battle of new defensive coordinators. Chavis vs. Will Muschamp. This one should be one of the more exciting games of the tournament, but the Tigers will have a more balanced offense with Jovon Robinson and Roc Thomas beating down that A&M front and quarterback Jeremy Johnson making plays on the Aggies' secondary. Winner: Auburn
In Orlando, Florida
No. 2 Georgia vs. No. 10 Mississippi State: Georgia will start the game with Brice Ramsey at quarterback, but will use Jacob Park in special packages. But does it really matter? With Mississippi State trying to figure some things out up front, running back Nick Chubb will have a field day with that defense. Georgia won't need to throw much with Chubb going to work and the defense forcing key turnovers. Winner: Georgia
In Houston
No. 4 Ole Miss vs. No. 5 Arkansas: Last year's game didn't go so well for the Rebels, and they'll have another tough go down in H-Town. With Ole Miss' defensive line clamping down on the Hogs' running game, Arkansas will have to get more out of Brandon Allen. This is where we see the maturation of Allen's game inside new offensive coordinator Dan Enos' more spread-out passing offense. Winner: Arkansas
In New Orleans
No. 3 Alabama vs. No. 6 Tennessee: The Vols haven't beaten Alabama since 2006, but the Tide will have to settle on a quarterback in this game. I'm going with Jake Coker, who will have his hands full with pass-rusher Derek Barnett and one of the SEC's best secondary duos in Brian Randolph and Cameron Sutton. A Dobbs to Marquez North touchdown late is the difference in Tennessee's upset win. Winner: Tennessee
FINAL FOUR
In Arlington, Texas
No. 1 Auburn vs. No. 5 Arkansas: This could be the best game of the bunch: Auburn's potent uptempo offense vs. Arkansas' downhill, sledgehammer approach. Quarterback play will be essential in this game, and the key matchup to watch is Auburn edge rusher Carl Lawson against Arkansas LT Denver Kirkland, who just made the position switch this spring. Lawson is coming back from an ACL injury, but he's up to speed. Auburn's line will hold Arkansas' rushing attack back -- even with the return of Collins -- but Auburn's ability to force turnovers will be the difference. Winner: Auburn
In Nashville, Tennessee
No. 2 Georgia vs. No. 6 Tennessee: A great SEC East rivalry makes it to the Final Four, and Georgia's questions at quarterback remain. This will be the battle of pass-rushers, with Barnett trying to frustrate the Dawgs' backfield, and Georgia's trio of Leonard Floyd, Jordan Jenkins and Lorenzo Carter hunting Dobbs. The Dawgs will get to Dobbs a few times, but having four reliable receivers in the fold will push Tennessee's offense. Dobbs works some fourth-quarter magic to pull another upset. Winner: Tennessee
SEC CHAMPIONSHIP
In Atlanta
No. 1 Auburn vs. No. 6 Tennessee: Will time run out on our Creamsicle-colored Cinderella? To this point, Dobbs has been exceptional through the Vols' run, but Auburn's defense is getting more comfortable with Muschamp's scheme and teachings. Running the football will be a major advantage for Auburn with that pace and space. That's where the Tigers put it away. With Robinson and Thomas wearing down Tennessee's line, Johnson makes plays with freak receiver Duke Williams, bringing an SEC title back to the Plains. Winner: Auburn