February, 23, 2012
2/23/12
8:00
AM ET
By
ESPN.com staff
| ESPN.com
LSU secondary coach
Ron Cooper has taken a job
with the Tampa Bay Buccaneers.
Cooper is the second LSU assistant to leave since the end of the season. Receivers coach Billy Gonzales left to be co-offensive coordinator at Illinois and also coach the receivers. LSU coach Les Miles replaced Gonzales with Adam Henry, who was with the Oakland Raiders the previous five seasons.
Defensive coordinator John Chavis will have a big say in who the Tigers bring in to coach the secondary. Whoever it is, he won't find the cupboard bare. Cornerback/nickel back
Tyrann Mathieu
was a Heisman Trophy finalist last season, and safety
Eric Reid
earned second-team All-SEC honors. Cornerback
Tharold Simon
also returns after leading the Tigers with 10 pass breakups last season.
September, 28, 2011
9/28/11
10:30
AM ET
Tyrann Mathieu has a graceful recklessness about him.
LSU's sophomore cornerback plays like a daredevil, yet is extremely nimble when tracking down both players and the pigskin.
The fleet-footed ball hawk has been one of the most exciting players to watch this season because of his insatiable ability to float around the ball. He leads the Tigers in tackles with 30, has three tackles for loss, four pass breakups, one interception, two forced fumbles and two fumble recoveries.
His strip and recovery against West Virginia last week moved him into first all-time at LSU with seven forced fumbles -- and he's only 17 games into his career. Six of those forces and four of his five recoveries have come against top-20 opponents.
[+] Enlarge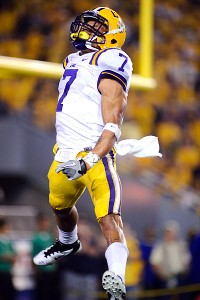 Howie McCormick/Icon SMILSU's Tyrann Mathieu has a knack for making the big play.
"Tyrann is a guy who has a knack for making big plays. He has great anticipation," LSU coach Les Miles said. "We like to put him in a position where his natural interpretation of play allows him to be exceptional."
Mathieu's aggressive, almost wild style is something he's had since high school. He wanted to prove that while he wasn't the biggest player, he could be the toughest, most physical one.
With his history as a wide receiver, Mathieu has also perfected his catching skills, making quarterbacks weary to throw near the pugnacious nickel corner.
But it's hard to throw away from him when he hones in on the ball like a heat-seeking missile.
"I always want the ball in my hands," Mathieu said. "I just attach to it for some reason. I give Coach [John] Chavis and [defensive backs] Coach [John] Cooper a lot of [credit] too. They put me in the perfect position to keep me around the ball and make some big-time plays this year."
With how electrifying Mathieu has been, you'd think he was a can't-miss high school prospect. However, Mathieu was rated as a three-star prospect by ESPN recruiting services and LSU was his only major offer. His next biggest were from Southern Miss and SMU.
Respect didn't flow and Mathieu thinks recruiting scouts overlooked him, but it only provided motivation.
Junior corner Morris Claiborne saw the chip Mathieu hauled in on his shoulder the summer before his freshman year. He also saw how special Mathieu could be.
The frosh flew around 7-on-7s, working with the vets instead of his classmates, making play after play. Claiborne recalled that Mathieu had three interceptions during the first workout and the starters left wide-eyed and stunned.
Claiborne said Mathieu played with a rare confidence seen in young corners. He was brawny, athletic and incredibly disruptive.
Today, Claiborne still sees that frenetic freshman, but he also sees maturity that has made him, and will continue to make him, a more dangerous defender.
"He can be as special as he wants to be," Claiborne said. "I don't think he's reached his peak yet. He can go for more. Every week in and week out, you see him make different plays and you're like, 'Man, how did he do that?' You see it, but you see it in practice and you see that he practices exactly how he plays."
Mathieu admits he's a little too physical in practice and has to be slowed by coaches. He's overzealous when going for strips and he's not afraid to hurl teammates to the turf.
"I try to practice like I plays so when game time comes, I just want to turn the light on," he said. "It's really about me being in the right spot at practice, getting interceptions at practice and picking up every fumble. Hopefully, those plays translate to Saturdays."
Mathieu has garnered comparisons to former LSU great Patrick Peterson -- last year's Jim Thorpe Award winner -- but he doesn't pay attention to them. He'd rather remember what Peterson taught him than outplay him.
The most important advice Peterson gave his apprentice was that corners usually have three or four chances a game to make a significant play and he must capitalize each time.
So far, he's done that.
As for if he'll be a better player than Peterson, Claiborne said it's hard to say because they're so different. Peterson wasn't this physical and Mathieu doesn't have as much finesse. Both are great, Claiborne said, but in different ways.
What Claiborne does know is that there isn't much of a defense against Mathieu. Offenses take the field knowing he'll be the main antagonist.
"When Tyrann is anywhere on the field, there's a chance that if you throw the ball to his side, you run the ball to his side, there's a chance that he's going to come up with that ball," Claiborne said.
January, 22, 2009
1/22/09
9:00
AM ET
By
ESPN.com staff
| ESPN.com
Posted by ESPN.com's Chris Low
Once you get in this family, there's no getting out.
I keep thinking about that famous line from "The Sopranos" as I watch the assistants in the SEC change addresses within the conference at a dizzying pace.
That's not to mention the former SEC assistants, head coaches and players who have flocked back to the league this year and found their way onto different staffs.
I can't ever remember a year quite like this where jumping from one SEC port to another was this prevalent. In some cases, coaches were just looking for work. In others, coaches simply got better deals, while some jumped at the chance to reunite with guys they'd worked with in the past.
Consider:
Lance Thompson, after two years at Alabama under Nick Saban, joins Lane Kiffin's staff at Tennessee.
Former Auburn coach and linebacker James Willis leaves his alma mater for bitter rival Alabama to replace Thompson.
John Chavis ends up at LSU after 14 seasons as Tennessee's defensive coordinator.
Former Alabama defensive back Lorenzo Ward, after one year at Arkansas, leaves for South Carolina to reunite with Ellis Johnson, who left Arkansas a year earlier after spending 28 days on the Hogs' staff.
Trooper Taylor is back in the SEC at Auburn after spending last season at Oklahoma State and the previous four at Tennessee.
David Reaves leaves South Carolina for Tennessee to work under Kiffin, who is Reaves' brother-in-law.
Tracy Rocker leaves Ole Miss for Auburn, where he became the first SEC player in history to win the Outland Trophy and Lombardi Award in 1988.
Former Auburn defensive ends coach Terry Price replaces Rocker at Ole Miss.
Ron Cooper, after five years at South Carolina, leaves for LSU.
Former Ole Miss head coach Ed Orgeron is the recruiting coordinator and defensive line coach at Tennessee after spending last year with the New Orleans Saints.
Former Tennessee running back Jay Graham, who also worked as a graduate assistant for the Vols, is now the running backs coach at South Carolina.
Former Ole Miss assistant Frank Wilson has a cup of coffee at Mississippi State earlier this month before bolting for Tennessee.
Tony Hughes, after a year at Southern Miss, replaces Wilson at Mississippi State. Hughes worked under Orgeron all three years at Ole Miss.
Former Auburn assistant Eddie Gran lands at Tennessee.
Former Arkansas offensive coordinator Gus Malzahn is back in the SEC at Auburn after spending the last two years at Tulsa.
Carl Torbush, who last worked in the SEC as Alabama's defensive coordinator in 2002, is back in the league as Mississippi State's defensive coordinator.
January, 21, 2009
1/21/09
11:49
AM ET
By
ESPN.com staff
| ESPN.com
Posted by ESPN.com's Chris Low
Let's empty out the SEC mailbag now that the 2008 season is in our rear-view mirror. For those of us who can't get enough of SEC football, the start of spring practice at several of the schools is only about a month and a half away:
Chris in Tulsa writes: Arkansas' hire of John L. Smith, a good one or bad one? Any opinions? It appears interesting that a former head coach would go "help" someone he mentored, AND, not be the defensive coordinator, but rather the d-backs coach. Seems like quite a step-down to me, but maybe John is looking for something a little less stressful.
Chris Low: The first thing the Smith hire tells me is that he and Bobby Petrino obviously share a close relationship. Remember, too, that Smith was out of football last season. This is a chance to get back in the door and not have all the pressure of being the head coach. Smith, 60, has been down that road at four different schools. He's actually going to coordinate the special teams at Arkansas and help out on the defensive side. I've always wondered why more college coaches don't designate one guy to oversee special teams. Urban Meyer has coached the Florida special teams himself, and that's worked out pretty well. I like the hire of Smith. Any time you can get a guy on your staff who's been a head coach, has made tough decisions in the heat of the moment and has coached in different leagues, it can't do anything but help. You're not hiring a "yes" man who's necessarily hoping to move up the ranks, either, but hiring a guy who's going to be brutally honest with you. And given the relationship between Petrino and Smith, I think that will be the case at Arkansas.
---
Ray of Shreveport, La., writes: On former head coaches on SEC staffs, LSU also has former Louisville head coach Ron Cooper on its staff as defensive backs coach.
Chris Low: Ray, thanks for the heads-up, and you're exactly right. Cooper, who recently left South Carolina to join Les Miles' staff at LSU as defensive backs coach, was the head coach at Louisville from 1995-97. He was also the head coach at Eastern Michigan from 1993-94 and the head coach at Alabama A&M from 1998-2001. When you add Cooper to the list, that's 14 former head coaches now working as assistants in the SEC, and four schools (LSU, Mississippi State, Tennessee and Vanderbilt) each have two former head coaches on their staffs.
---
Jon in Nashville writes: Chris, What does it hurt to say that the SEC has six of the top 17 classes? Mississippi State ranks 17th according to Scout.com. How on earth could they be ranked dead last in the SEC West?
Chris Low: Ahh, the wonderful world of recruiting rankings. First of all, you're obviously referring to the piece I did earlier this week on where the SEC recruiting classes rank at this point, according to Tom Luginbill of ESPN's Scouts Inc. Those were not my rankings, but rather the rankings of the people who follow recruiting for ESPN. I don't rank recruiting classes, although I do wonder where Utah's class was ranked three or four years ago. Also, I wouldn't get too caught up in where a school is ranked at this point. We've got a ways to go to the finish line, and much can change between now and Signing Day. But just from my perspective, you've got to like what Dan Mullen and his staff are doing in that state. Getting commitments from Tupelo receiver Chad Bumpas and Louisville receiver/defensive back Dennis Thames last weekend was a real coup. Both are among the top 10 prospects in the state, and Mullen has made no secret of the fact that he's looking to stock up on receiver types that fit into his spread offense.
---
James writes: Georgia has won two national championships in 1942 and 1980. What is your reason for saying otherwise? They also can claim three others in some form or fashion.
Chris Low: No agenda, James. I promise. The truth is we can argue all day about the number of national championships some schools claim. But if you stick to those sources recognized by the NCAA, Georgia's only national title would be the 1980 crown. Now, if you want to count the Boand System, Poling System, Williamson System, Houlgate System, Billingsley Report, Sagarin Ratings and Litkenhous, the Bulldogs could indeed claim additional titles in 1927, 1942, 1946 and 1968. But the same goes for several of the SEC schools.
---
Jim in Miami writes: Chris, what is the story with Cornelius Ingram at Florida? Will he have an opportunity to play in 2009 since he missed the 2008 season due to injury?
Chris Low: Ingram will not be back at Florida in 2009. It's unlikely he would have been granted another year of eligibility by the NCAA, so he's turning his full attention to the NFL. That offense would have been something to see (even better than it already was) with Ingram and Aaron Hernandez lining up in that two-tight end package they worked on all spring. By the way, Ingram told me the week of the FedEx BCS National Championship Game that he would have played against Oklahoma had it been up to him, but the doctors wouldn't clear him. It was simply too risky coming off an ACL tear five months earlier.