December, 4, 2013
Dec 4
3:00
PM ET
GAINESVILLE, Fla. -- Ron Zook answers his cellphone on a bright and unseasonably warm autumn day in New York City. His car has almost reached the hotel when a reporter asks for his thoughts on Florida head coach Will Muschamp. Again.
He sighs deeply, painfully.
"What's the gist of the story about?" he asks warily and listens as the reporter says he wants some perspective on what Muschamp is going through now that Florida's season has gone south and fans are calling for his head.
[+] Enlarge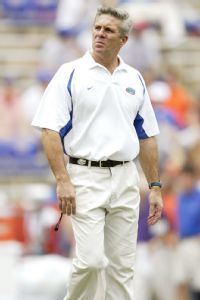 Jason Parkhurst/USA TODAY SportsRon Zook, who went 23-14 overall and 16-8 in the SEC from 2002 to 2004, can relate to what Will Muschamp went through this year.
As a former Florida head coach who experienced the exact same thing in his third season, Zook knows the drill.
He coughs a staccato burst of a laugh. "Heh, I don't know if you can call it an experience," he says and counts the number of times in the last week he's been asked this very same question.
He pauses to collect himself, then he answers.
"Let Will do his job," he says.
That's Zook's message nine years after he was fired by Florida athletic director Jeremy Foley, and he says it with a measure of exasperation, as though he has been given one more chance to speak directly to the fans who compose the proud Gator Nation.
Zook never got much of a chance to do his job. There was too much "noise in the system" as he called it. Many of those outspoken fans turned on him, just as they turned on Muschamp this season. Only for Zook, the honeymoon lasted a matter of hours.
Muschamp was given a mulligan in his first season after being handed a program that
Urban Meyer admitted was "broke a little bit
." What's followed has been more like a roller-coaster ride with the sugar-rush high of Muschamp's superlative second season followed by the sudden crash of 2013.
There are enough similarities between these two coaches that it's understandable how often they are compared. Both were defensive coordinators and recruiting whizzes with no head coaching experience who followed national championship-winning coaches at UF.
Zook went 23-14 with a 16-8 record in the SEC from 2002 to 2004. Muschamp has steered the Gators to a 22-16 record, 13-11 in the SEC over the last three seasons.
But the lows of 2013 are unlike anything Zook ever experienced: Florida's first losing season since 1979, the first loss to Vanderbilt since 1988 (first at home since 1945), the program's first loss to an FCS team, and the end of a 22-year bowl streak that dated back to 1991 when Steve Spurrier led the program out of the darkness of probation into an era of unprecedented heights.
"Obviously there's a lot of negativism going around right now," Zook said. "That's college football. That's part of it. That's one of the things that makes Florida a great place. It's is also one of the things that makes it tough. They want to win, and they want to win now."
Off the field, both coaches had some low moments in wrestling with the realities of their fans' expectations.
After losing this season to Georgia -- his alma mater -- for the third straight year, Muschamp got into a shouting match with a Florida fan as he walked off the field. A week later he acknowledged his emotions got the best of him.
"I made a real mistake over a very passionate, passionate Florida fan telling me his opinion of me," he said. "You know what, that's fine, that's fine. They pay their ticket, they can boo all they want."
A couple of weeks later, Muschamp boiled over again, saying, "there's a lot of negativity out there. Some of our fans need to get a grip."
In contrast, Zook took more heat from fans from the moment he was hired. He famously inspired a Florida fan to launch the website FireRonZook.com one day after he got the job. But nothing was worse than apologizing for
his role in a late-night verbal altercation
with an antagonistic fraternity on campus. Less than two weeks later, Zook was fired.
By the time Muschamp finished his third season, something Zook was unable to do, the pressure had risen to a feverish level. But let the record show that FireWillMuschamp.com is merely another placeholder website for sale.
With the benefit of hindsight, comparing Muschamp and Zook is on the minds of many irate fans. But is it fair?
Foley says it is not, and his opinion is the only one that matters.
"Zooker and I are friends, but it's just not apples-to-apples," he said last Saturday before Florida finished its season with an expected blowout loss to unbeaten archrival Florida State. "It's my job to evaluate and see where the program is headed. At that point in time, I didn't think it was headed where we wanted it to be. This time, I think it's headed where we want it to be. The proof is going to be in the pudding, but I don't think it's apples-to-apples.
"I'm like anybody else, I want to be successful for the University of Florida. The only thing that we want to do is to take care of the Gators. I've been doing that for 38 years. I've been doing it for 22 as athletic director. [It's not a matter of being] patient or impatient or wiser or older. I want to be successful. I'm very confident we're going to be successful moving in the direction we're moving in. That's where it's at."
[+] Enlarge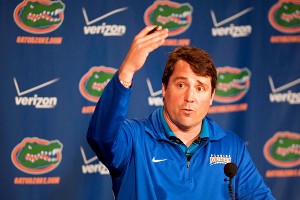 AP Photo/Phil SandlinWill Muschamp knows just how high the expectations are for the Gators and Florida officials say that despite this year's record he has things heading in the right direction.
Muschamp hasn't lost his players, either, despite suffering through an agonizing seven-game losing streak that ended the 2013 season. Many, like senior guard
Jon Halapio
, were upset and defiant about the criticism that bombarded their head coach.
"I strongly disagree with that," he said. "I'll go to battle with that coach any day, his whole coaching staff. I see the grind in his eyes every day. I see what he does every day, the passion he has for this team, and I'll go to war with him any day. He has our backs and I have his back, win or lose."
Senior center
Jonotthan Harrison
elaborated on why Muschamp won his enduring loyalty, why the players still believe in their coach.
"Because he is down to earth, as down to earth as it comes. He's as real as it comes," he said. "There's no sugar-coating anything. There's no BS. He's as black and white as it comes. He's going to tell you exactly how it is. He's going to treat you like you deserve to be treated. So if you're a hard worker -- no matter if you're a scholarship athlete, a third-string, no matter what your position is on the team, as long as you're a hard worker -- you have all of his respect. But if you go out there and you're a scumbag and you really don't want to work hard or whatever, then you're not going to have his support. That's just how it is. He's black and white. He's down to earth. He's a real guy."
The passion with which Muschamp's player support him is obvious. It's something Zook has seen and appreciated from afar.
"I think the fact that the players have circled the wagons for him, now they've got to come out and play for him," said Zook, who is two years removed from being fired as head coach at Illinois and is now a business development officer at Gateway Bank, back in Gator country, just 45 minutes south of Gainesville in Ocala. "I can tell ya he's on the right track. People say they've quit on him, but I do know that all of the negativism just zaps the energy out of your football team.
"Hopefully Will will get it turned around. I think he will."
In other words, let the man do his job.
March, 28, 2013
Mar 28
4:50
PM ET
OK, I know I didn't cover all of the
memorable SEC upsets from the last 30 to 35 years in my earlier post
.
And, yes, I've already heard from some of you about those that weren't included.
So as promised -- and hoping that there are a few more compelling upsets to come in the NCAA tournament -- below are several more upsets involving SEC teams that fans have either tried to keep alive all these years or do their best to forget.
I've also included non-conference games and bowl games in this batch, and they're listed chronologically.
Texas A&M 29, Alabama 24 (2012):
The Aggies were a 13-point underdog on the road against the No. 1 Crimson Tide, and Johnny Football delivered the performance that won him the Heisman Trophy.
South Carolina 35, Alabama 21 (2010):
The No. 1 Crimson Tide had their 19-game winning streak snapped before a raucous crowd at Williams-Brice Stadium. Steve Spurrier said afterward that his Gamecocks played close to perfection on offense. Naturally, South Carolina lost the next week at Kentucky.
Jacksonville State 49, Ole Miss 48, 2 OTs (2010):
Ole Miss, coming off a nine-win season, opened the 2010 season by blowing a 21-point halftime lead and losing at home to the FCS Gamecocks.
Vanderbilt 17, South Carolina 6 (2007):
The Gamecocks debuted at No. 6 that week in the first BCS standings, but were stunned at home by the Commodores. It was one of two SEC wins that season for Vanderbilt.
Kentucky 43, LSU 37, 3 OTs (2007):
Braxton Kelly's stop of Charles Scott on fourth-and-2 in the third overtime preserved Kentucky's biggest win in decades and sent the No. 1 Tigers packing even though they rebounded to win the national title that season.
Auburn 20, Florida 17 (2007):
Wes Byrum kicked a 43-yard field goal as time expired to end an 11-game winning streak for the defending national champion Gators and hand Urban Meyer his first loss in the Swamp.
Vanderbilt 24, Georgia 22 (2006):
Bryant Hahnfeldt kicked a 33-yard field goal with seven seconds left to cap a game-winning 65-yard drive for the Commodores, whose only other wins that season were over Duke, Tennessee State and Temple.
Mississippi State 38, Florida 31 (2004):
It's an upset Ron Zook remembers all too well. It cost him his job.
Auburn 23, Florida 20 (2001):
The No. 1 Gators were a three-touchdown favorite and had won their first five games by a 244-45 margin. The unranked Tigers, though, sent Jordan-Hare Stadium into a frenzy when Damon Duval booted the game-winning 44-yard field goal with 10 seconds to play.
Mississippi State 47, Florida 35 (2000):
The No. 3 Gators had their 72-game winning streak against unranked teams snapped in Starkville as the Bulldogs rolled up 351 yards on the ground.
Arkansas 28, Tennessee 24 (1999):
The Vols were No. 3 and pointing toward a run at a second straight national title, but Clint Stoerner and the Hogs exacted revenge from the heartbreaking loss the year before in Knoxville when Stoerner stumbled and fumbled. When it was over, the Hogs' fans tore down the goalposts and paraded them up and down Dickson Street.
Georgia 20, Auburn 16 (1986):
It was a bitter home loss for the No. 8 Tigers and cost them a share of the SEC championship. It's a game that's probably best remembered for the water cannons at Jordan-Hare Stadium being turned onto the Georgia fans while they celebrated on the field after the game.
Miami (Ohio) 21, LSU 12 (1986):
The eventual SEC-champion and Sugar Bowl-bound Tigers opened the season by taking down No. 7 Texas A&M and rose to No. 8 in the polls. The very next week, they were ambushed at home by Miami (Ohio).
Tennessee 38, Auburn 20 (1985):
The Vols knocked eventual Heisman Trophy winner Bo Jackson out of the game and blistered the No. 1 Tigers in Knoxville behind four touchdown passes from Tony Robinson.
Georgia 10, Texas 9 (1984):
The Bulldogs capped the 1983 season by upsetting No. 2 Texas in the Cotton Bowl and knocking the previously unbeaten Longhorns out of the national title picture. Vince Dooley said that Texas defense was one of the best he's ever seen.
Tulane 31, LSU 28 (1982):
It's the last time Tulane has beaten LSU, which was ranked No. 7 entering the game and would go on to play in the Orange Bowl that season.
Georgia Tech 24, Alabama 21 (1981):
This ranks right up there with some of the more improbable upsets in history involving SEC teams. Alabama was ranked No. 2, but managed to lose in Birmingham to a Georgia Tech team that finished 1-10 that season -- the lone win coming over the Tide.
September, 13, 2012
9/13/12
9:00
AM ET
I'm proud to report that the ATL Kid and I are both 21-2 (.913) two weeks into our picks contest.
What's regrettable is that all of our picks have been the same to this point. He talks about the NCAA investigating me for taking a sneak peek at whom he's picking every week.
I've already complained to SEC commissioner Mike Slive about the Kid airing his dirty laundry in public. After all, we have a stated protocol for how to handle these things, but kids today aren't real big on rules.
Maybe that's why the Kid gets me his picks about 3 o'clock in the morning every Thursday after carousing around Atlanta with his pal, Oscar.
We were both 9-2 last week and missed Louisiana-Monroe's 34-31 upset of Arkansas and Northwestern's 23-13 win over Vanderbilt, which didn't score a second-half touchdown in either of its first two games.
We'll have some separation this week, because our picks aren't all the same.
It's grudge time on the SEC blog as the Kid's alma mater (Florida) takes on my alma mater (Tennessee). There hasn't been a lot of trash talk, although I told him he should have to sing "Rocky Top" on video if the Vols win.
His Gators have owned this series, so there's not a lot I can say. They've won the past seven games. The last time Tennessee won, the Kid was still playing youth soccer somewhere and sitting on the bench with a juice box on one side of him and his orange slices on the other.
I hear he still rolls that way.
That said, let's roll through this week's picks:
PRESBYTERIAN at VANDERBILT
Chris Low:
The Commodores are trying to recover from an 0-2 start. This is one they not only need to win, but need to win convincingly. ...
Vanderbilt 35, Presbyterian 7
Edward Aschoff:
We'll finally see the explosive play we've been waiting on from Vanderbilt's offense in this must-win for the Commodores. ...
Vanderbilt 41, Presbyterian 10
UAB at SOUTH CAROLINA
Chris Low:
The Gamecocks romped last week with backup quarterback
Dylan Thompson
passing for three touchdowns. Regardless of who's at quarterback this week, the Gamecocks will cruise again. ...
South Carolina 42, UAB 10
Edward Aschoff:
Connor Shaw
might not play, but the Gamecocks should be just fine again. Expect a little more
Marcus Lattimore
this week. ...
South Carolina 38, UAB 13
MISSISSIPPI STATE at TROY
Chris Low:
Going on the road to play in one of these games is never ideal for an SEC team, but the Bulldogs have built up too much momentum to stumble now. ...
Mississippi State 31, Troy 14
Edward Aschoff:
The Bulldogs are coming off their first SEC-opening win since 1999, but can't lose their edge. They won't this weekend. ...
Mississippi State 38, Troy 14
IDAHO at LSU
Chris Low:
The Tigers keep losing players, but they keep winning big. Nobody's really challenged them yet, and that's not going to change this Saturday. ...
LSU 45, Idaho 6
Edward Aschoff:
The Tigers looked much better all around in Week 2, and that trend should continue Saturday. This is the weekend we see the passing game really open up. ...
LSU 48, Idaho 3
WESTERN KENTUCKY at KENTUCKY
Chris Low:
Western Kentucky is one of the Sun Belt Conference's better teams this season, but Kentucky quarterback
Maxwell Smith
is one of the SEC's hottest quarterbacks right now. ...
Kentucky 28, Western Kentucky 21
Edward Aschoff:
The Wildcats know they have to win out in nonconference play if they want to make a bowl game. They should have no problem getting past Western Kentucky. ...
Kentucky 41, Western Kentucky 13
FLORIDA ATLANTIC at GEORGIA
Chris Low:
The Bulldogs are getting two defensive starters back for this game, which will make it an even longer night for the already outmanned Owls. ...
Georgia 52, Florida Atlantic 7
Edward Aschoff:
The Bulldogs get one last tuneup before really diving into SEC play. The Dawgs should roll Saturday. ...
Georgia 45, Florida Atlantic 10
TEXAS A&M at SMU
Chris Low:
The Aggies stay in Texas but go on the road to face the Mustangs.
Johnny Manziel
& Co. will see to it that they finish the game this time. ...
Texas A&M 34, SMU 21
Edward Aschoff:
The jitters are gone, and a game is under the Aggies' belts. Expect to see more of Texas A&M's offense to be unveiled Saturday. ...
Texas A&M 34, SMU 14
LOUISIANA-MONROE at AUBURN
Chris Low:
Ask Arkansas if the Warhawks should be taken lightly. In fact, the best thing that could have happened to Auburn was seeing what happened to the Hogs last week. ...
Auburn 31, La.-Monroe 21
Edward Aschoff:
The Tigers are in desperate need of a win and some confidence on both sides of the ball. The Warhawks might have upset Arkansas, but Auburn will rebound Saturday on the Plains. ...
Auburn 31, La.-Monroe 17
TEXAS at OLE MISS
Chris Low:
The Grove will be at its best Saturday. The Rebels will also need to be at their best to pull the upset. They'll make it close, but they don't have quite enough firepower yet to close the deal. ...
Texas 28, Ole Miss 24
Edward Aschoff:
An epic party is expected in Oxford this weekend, and confidence is high at Ole Miss. The Rebels should hang around early, but Texas just has too much talent. ...
Texas 34, Ole Miss 21
ARIZONA STATE at MISSOURI
Chris Low:
Loosen up the old neck, because this could turn into a track meet. The Tigers are hurting on their offensive line but have enough playmakers to outlast the Sun Devils. ...
Missouri 38, Arizona State 31
Edward Aschoff:
The Tigers are coming off of a tough, physical loss to Georgia. Mizzou might be a little banged up, but it'll outlast Arizona State in another shootout Saturday. ...
Missouri 31, Arizona State 27
ALABAMA at ARKANSAS
Chris Low:
The Hogs were embarrassed by what happened in Little Rock last week. They'll put up a fight, but the Crimson Tide have too much muscle in the trenches. ...
Alabama 37, Arkansas 13
Edward Aschoff:
The luster of this game has certainly been lost, but the Hogs have to be extremely motivated underdogs. However, even a healthy
Tyler Wilson
might not have enough to take down this Alabama team. ...
Alabama 31, Arkansas 10
FLORIDA at TENNESSEE
Chris Low:
The last time Tennessee beat Florida, Ron Zook was coaching the Gators and Phillip Fulmer was coaching the Vols. Both teams have visions of contending in the East, but Tennessee's passing game will be the difference in this one. ...
Tennessee 31, Florida 28
Edward Aschoff:
Tennessee might have the flashiest passing game around, but Florida's defense is riding high after that second half at Texas A&M. The Gators are underdogs, but that defense will keep the Gators and their winning streak going against Tennessee. ...
Florida 24, Tennessee 21
December, 13, 2010
12/13/10
11:25
AM ET
How much of a gamble did Florida athletic director Jeremy Foley take in hiring a guy with no previous head coaching experience?

It might be that Will Muschamp isn't a gamble at all, but here's a look at how those head coaches in the SEC have fared the past decade after coming into the league as a first-time head coach in the college game:

Robbie Caldwell, Vanderbilt: 2-10 (Agreed to step aside following this season at Vanderbilt. Was promoted to head coach after Bobby Johnson retired in July).

Joker Phillips, Kentucky: 6-6 (Just completed his first regular season at Kentucky. Has the Wildcats in their fifth straight bowl game).

Lane Kiffin, Tennessee:7-6 (Replaced Phillip Fulmer and coached for one season at Tennessee in 2009 before taking the Southern California head coaching job).

Dan Mullen, Mississippi State: 13-11 (Has the Bulldogs in the Gator Bowl in his second season at Mississippi State, which won eight regular-season games this year for the first time since 1999).

Ed Orgeron, Ole Miss: 10-25 (Coached three seasons at Ole Miss from 2005-07, never winning more than four games in a season. Was 3-21 in SEC play).

Sylvester Croom, Mississippi State: 31-38 (Led the Bulldogs to a Liberty Bowl victory in 2007, but was forced out following that next season, his fifth at Mississippi State, when the Bulldogs finished 4-8).

Mike Shula, Alabama: 26-24 (Was fired after four seasons. His best season was his next to last in 2005 when the Crimson Tide finished 10-2. Lost all four years to Auburn).

Ron Zook, Florida: 23-14 (Was fired during the middle of his third season in 2004 following a loss to Mississippi State. Coached the remainder of the regular season and then stepped away. Lost both bowl games he coached in and never took the Gators to the SEC championship game. Now the head coach at Illinois.

Guy Morriss, Kentucky:9-14 (Took over for Hal Mumme at Kentucky after a recruiting scandal forced Mumme to resign. Coached two seasons at Kentucky and left to take the Baylor head coaching job following the 2002 season. The Wildcats were 7-5 that year. Morriss was fired at Baylor following the 2007 season.

Mark Richt, Georgia: 96-33 (Dean of SEC head coaches at the same school. Just completed his 10thregular season at Georgia. Has won two SEC championships, the last one in 2005, and has taken the Bulldogs to bowl games every season he's been the coach. Richt is 14-11 in his past two seasons.
October, 22, 2009
10/22/09
1:37
PM ET
Posted by ESPN.com's Chris Low

A look at what's making headlines around the SEC:







October, 22, 2009
10/22/09
9:00
AM ET
Posted by ESPN.com's Chris Low
Another solid week for me, if I say so myself.
I was 5-1 last week, missing only Kentucky's upset of Auburn, and am now 45-10 (.818) on the season.
If we were shooting free throws, you'd love to have me at the line right now in the final minutes of a tight game.
Here are my picks for Week 8 in the SEC:
Kentucky 34, Louisiana-Monroe 14:
Even with the injuries, Kentucky looks good to go for the stretch drive.
Derrick Locke
is banged up, but he's been outstanding. And what can you say about
Randall Cobb
that hasn't already been said? This is a team that persevered through the toughest part of its schedule and has a chance to take off from here.
South Carolina 24, Vanderbilt 9:
The mere sight of black and gold causes South Carolina fans to cringe. The Commodores are riding a two-game winning streak over the Gamecocks, which hasn't gone over well in Columbia. But South Carolina is too good on defense this season and Vanderbilt is too bad on offense for that streak to continue. The Commodores haven't scored more than 10 points in an SEC game.
LSU 31, Auburn 21:
Given the way Auburn has struggled on defense the past few weeks, Gene Chizik's club just might be what the doctor ordered for LSU's struggling offense. This is one of those games you don't want to miss in the SEC. There's always some type of thrilling finish, controversial play or memorable performance. It won't be very memorable for Auburn, which will see its losing streak extend to three games.
Ole Miss 28, Arkansas 24:
Both teams really need this game, and the winner has a chance to go on and have a big season. The Hogs look like they're starting to settle into a groove. The Rebels have yet to prove much of anything this season. Ole Miss quarterback
Jevan Snead
is due, though, and gets it done Hotty Toddy style on Saturday.
Florida 34, Mississippi State 17:
The Urban Meyer vs. Dan Mullen matchup will get a lot of the billing, but the No. 1 Gators can't get caught up in anything other than playing their game. The Mississippi State community is jacked for this game, and the environment should be electric. The Gators don't need a history lesson about the last time they visited Starkville. They lost 38-31 in 2004, and Ron Zook was fired two days later.
Alabama 24, Tennessee 13:
The Third Saturday in October is taking place on the fourth Saturday in October this year. This is one of the classic rivalries in college football and filled with so much history. Even in those years when one team is clearly better and has more to play for, it's usually a fourth-quarter game. With the way these two defenses have played this season, Saturday's game shouldn't be any different. But
Mark Ingram
and the Crimson Tide will wear down the Vols and pull away for their third straight win in the series.
May, 22, 2009
5/22/09
1:17
PM ET
Posted by ESPN.com's Chris Low
The Bleacher Report has a story up rating the 11 worst coaching performances in college football during the 21st century.
Four of the 11 are former SEC coaches. Ed Orgeron was No. 5 on the list for his stint at Ole Miss, which saw the Rebels win just 10 of 35 games in three seasons and go 3-21 in SEC play. Alabama's Mike DuBose was No. 6. Alabama's Mike Shula was No. 8 and Florida's Ron Zook was No. 10.
While Orgeron didn't win at Ole Miss and clearly made some major blunders as a head coach, he deserves some credit for setting the table for Houston Nutt. The Rebels are stacked with talent right now, and just about all of those guys were recruited to Oxford by Orgeron, who's now the recruiting coordinator at Tennessee.