October, 26, 2011
10/26/11
9:17
AM ET
Dennis Johnson
saw what the running game did for Arkansas' offense last season.
The tough part for him was that he was watching from the sideline as
Knile Davis
ran his way into the Hogs' record book.
Now, it's Davis who's unfortunately watching from the sideline, and a healthy Johnson would love nothing better than to light it up down the stretch the way Davis did a year ago.
The 5-foot-9, 213-pound junior is off to a good start. He rushed for a career-high 160 yards last week, including a 52-yard touchdown run to jump-start the Hogs in their 29-24 comeback victory at Ole Miss.
[+] Enlarge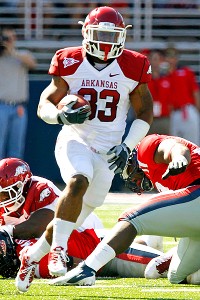 AP Photo/Rogelio V. SolisA healthy Dennis Johnson has his sights set on a 1,000-yard season.
A hamstring injury kept Johnson out of the lineup the first two weeks, and he gradually rounded back into shape. He showed flashes in the fourth quarter against Texas A&M when he rushed for 43 yards.
And then after the bye week, he looked like the old "DJ" against the Rebels.
"I had that feeling again, that I'm back to being me, back to normal and ready to roll again," Johnson said. "It couldn't come at a better time, either, being healthy again and getting back out there and helping the running game get going and helping this team as much as I can."
One of the most dangerous kickoff return threats in the SEC, Johnson will likely see his workload at running back increase the rest of the way.
When the Hogs have given him the ball, he's produced. In fact, he's had more than 12 carries in a game only three times during his career and has rushed for 100 yards all three times. He had 15 carries last week against Ole Miss.
"I'm very hungry," Johnson said. "We're trying to get a 1,000-yard rusher this year, and that's still on the table. I'm trying to eat, trying to get there. I just have to keep practicing, keep working hard and keep producing.
"The more I produce, the more they're going to give me the ball."
Johnson, who has 273 yards, leads the Hogs with an average of 54.6 rushing yards per game, and he's also averaging 6.5 yards per carry. Obviously, he has a ways to go to reach 1,000 yards and would have to average 122 yards per game over the next six games, counting the bowl game, to reach the milestone.
The Hogs would take it even if he gets close. When Davis went on his tear last season, they averaged 179 rushing yards in their last seven games after averaging just 114 in their first six games.
Johnson will continue to share carries with
Ronnie Wingo
and
Broderick Green
, although Arkansas coach Bobby Petrino liked what he saw from Johnson last week.
"He showed his speed and quickness," Petrino said. "I thought it was the most decisive he's been all year on his cuts, and that does take reps. The more carries you get, the more vision, the more things that you see, the better you're going to make your cuts, and it really showed up the other day."
For Johnson, simply being healthy and being able to run again has been a blessing.
The hamstring injury earlier in the season was aggravating, but his injury last season was life threatening.
In the second game against Louisiana-Monroe, Johnson was tackled while returning a kickoff and fell on the ball. The point of the ball was sticking up when he fell and drove into his midsection. He said it felt like a big bullet.
At the time, nobody knew how serious the injury was, but what happened was that the point of the ball drove into his abdomen and tore his bowels, doing damage to his colon.
Just before the team got on the bus after the game in Little Rock, Johnson started vomiting blood. The Arkansas medical staff rushed him over to the nearby University of Arkansas Medical Sciences Hospital, and Johnson underwent emergency surgery that night.
"It was hard. I had to learn to run again," said Johnson, who missed the rest of the 2010 season. "I had to get my wind back. It was a long, hard process. I was glad that I was even able to come back."
There were times that Johnson, while lying in the bed and recovering, wondered if he would ever play again.
"But then I got back around my teammates, and that motivated me," he said. "You appreciate it a whole lot more when you go through something like that.
"A lot of people go through an injury like that and just quit football. You're not even thinking about sports. But to come back from something like that, it just makes you appreciate the game again."
"
Depth Chart: Arkansas
" takes a closer look at the Razorbacks. Tune in on Wednesday at 7 pm ET on ESPN or online at Watch ESPN.
October, 20, 2011
10/20/11
10:26
AM ET
Four SEC teams are taking the week off, including Florida, Georgia and South Carolina in the East. Mississippi State also has an open date in the West.
Here's a look at what to watch in Week 8:
[+] Enlarge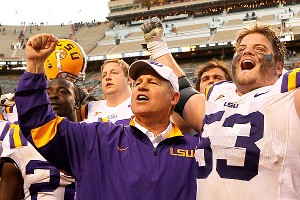 Kevin C. Cox/Getty ImagesFollowing the suspension of three players, LSU coach Les Miles has his work cut out for him this week.
1. Suspensions on the Bayou:
LSU coach Les Miles refused to confirm anyone was suspended for Saturday's game against Auburn. Rather, he said there was an internal disciplinary matter that he was not inclined to share with external forces. The translation, when you get through the Les-speak, is that running back
Spencer Ware
and cornerbacks Tyrann Mathieu and Tharold Simon won't be playing for the No. 1 Tigers this weekend. They reportedly tested positive for synthetic marijuana, which is par for the course when you consider how chaotic off the field it's been for LSU going back to the preseason. Maybe this is a team that thrives on drama, although losing key players has a way of catching up with you.
2. The replacements:
The good news for LSU is that it keeps on winning despite all these distractions, suspensions and injuries, and one of the reasons the Tigers do is because they're so deep.
Michael Ford
and
Alfred Blue
have shared the carries with Ware at running back and already have 10 combined rushing touchdowns between them. In the defensive backfield, there's a chance you might see senior
Brandon Taylor
move to cornerback. If Taylor does move, Craig Loston would probably step in at Taylor's safety spot. Ron Brooks and Derrick Bryant can also play corner.
3. Miles' call:
The Tigers are going to play two quarterbacks the rest of the way, and Miles said everybody might as well get used to it. He said
Jarrett Lee
remains the starter, but that the Tigers will continue to look for ways to get
Jordan Jefferson
in the ballgame. "As imperfect as I am, that's going to be my call," Miles said. "It's not going to have to do with critics, and it's not going to have to do with personality and what somebody sees as his due. … We have our two quarterbacks, and we like the way they play, and we'll play it that way."
4. Another new quarterback:
For the third straight week, LSU will be facing a quarterback who didn't open the season as the starter. This week, it's Auburn's
Clint Moseley
, who takes over for
Barrett Trotter
. Moseley played the second half, and the Tigers threw only 16 passes all game. One of the reasons Auburn is going with Moseley is to try and generate more of a downfield passing attack, which has pretty much been nonexistent lately. Auburn offensive coordinator Gus Malzahn likes Moseley's ability to make plays down the field. Last week, LSU went up against Tennessee quarterback
Matt Simms
, who was filling in for the injured
Tyler Bray
. And in the Florida game, LSU went up against true freshman
Jacoby Brissett
, who took his first college snaps in that game after
John Brantley
sprained his ankle the week before against Alabama.
5. Stingy with the ball:
Not only have Alabama and LSU won 14 straight games between them, they've also gone a combined 98 offensive possessions without a turnover. The Crimson Tide have yet to commit a turnover in four SEC games this season. They haven't thrown an interception in 77 possessions, dating back to the third quarter of the season opener against Kent State. LSU has just three turnovers all season. The Tigers' last turnover came in the fourth quarter of the Mississippi State game the third week of the season.
6. Banged-up Bama:
Alabama's consistency in the offensive line this season speaks for itself, but right guard Anthony Steen has not practiced this week after suffering a concussion in the 52-7 win over Ole Miss last Saturday. Also, left tackle Barrett Jones has been slowed by a nagging hip injury, although coach Nick Saban said Jones would be fine for the Tennessee game. It took a while earlier in the season, but Alabama was able to settle on its best combination up front. Jones moved around and played four of the five positions on the line, including center. It's been a unit that's been rock-solid, as evidenced by the fact Alabama is the only team in the league averaging more than 200 rushing yards per game (241.6). There's also some depth. Senior Alfred McCullough has experienced and could step in at guard or tackle, and true freshman tackle Cyrus Kouandjio may be the most physically talented of the bunch.
7. Cranking up the run:
Once Arkansas got its running game cranked up during the second half of the season a year ago, the Hogs took off and won six straight games. Granted, that was with
Knile Davis
, but the Arkansas coaches and players feel a lot better about the running game coming out of the bye week. For one, outside of Davis, the Hogs are a lot healthier at running back.
Broderick Green
's return has added that power dimension to the running game, and
Dennis Johnson
is one of those guys who gives you a little bit of everything. Arkansas is still looking for that home run threat in the running game, which was supposed to be Ronnie Wingo's role. Wingo injured his toe and didn't play in the last game against Auburn, but Arkansas coach Bobby Petrino said Wingo should be back for Saturday's Ole Miss game. The Hogs will be without freshman running back
Kody Walker
the rest of the season. He underwent surgery to repair a stress fracture in his shin.
8. Shuffling in the secondary:
Tennessee coach Derek Dooley noted this week what has become painfully obvious to Vols fans. "We need to play better at the corner position," Dooley said. Tennessee is tied for last nationally with just one interception through its first six games and is ranked last in the SEC in pass efficiency defense. The Vols plan to move junior Prentiss Waggner from safety back to cornerback this Saturday against Alabama. Waggner has gone back and forth between the positions during his career. It's been a struggle for junior Marsalis Teague at cornerback this season, and with true freshman Brian Randolph playing as many snaps as he has, there are always going to be growing pains. The Vols have also taken a look at junior college newcomer Byron Moore this week at the nickel position. Moore hasn't made much of impact to this point on defense.
9. Trevathan Tornado:
There hasn't been a whole lot that's gone right for Kentucky this season, but senior linebacker Danny Trevathan hasn't slowed down one bit. In fact, he's gotten even better and leads the SEC with 72 total tackles. Trevathan finished with 144 last season to lead the league, and even though the Wildcats are just 2-4, opposing coaches are all coming away from their games with Kentucky saying the same thing: Trevathan is the real deal. He's averaging 12 tackles per game, which is sixth nationally, and his consistency has been remarkable. He's recorded double-digit tackles in five of Kentucky's six games and is a shining example of how you go out and play the game every Saturday regardless of how well or how poorly your team is playing.
10. Rodgers to start for Commodores:
After playing extensively a week ago in the Georgia game,
Jordan Rodgers
will make his first start at quarterback this Saturday against Army, taking over for senior
Larry Smith
. Rodgers, the younger brother of Green Bay Packers quarterback Aaron Rodgers, led Vanderbilt on three touchdown drives in the second half against Georgia. He made several plays with his legs and rushed for 80 yards. Rodgers probably would have played a good bit last season, but redshirted after having shoulder surgery. Vanderbilt coach James Franklin said the decision to start Rodgers this week was based on a combination of Rodgers' playmaking skills and how the team responded to him when he entered the game last week. "I think we kind of fed off that, so we'll keep going with it and see what happens," Franklin said.
September, 22, 2011
9/22/11
1:00
PM ET
Everybody in Arkansas was sick a year ago over the 24-20 loss to Alabama, but nobody took it harder than those who had anything to do with the Hogs' running game.
[+] Enlarge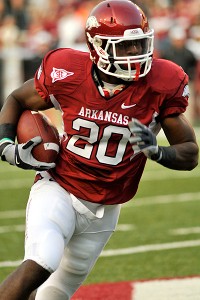 AP Photo/April L. BrownRonnie Wingo and Arkansas know they'll need a viable rushing attack to beat Alabama.
The fact is that Arkansas didn't have a running game, at least not at that point, which is a big reason the Hogs couldn't hold onto a two-touchdown lead and finish the game.
When the Hogs needed to run the ball and protect their lead, they couldn't. They managed just 13 rushing yards on seven attempts in the second half, leaving the door open for the Crimson Tide to come storming back.
"We still haven't gotten over that, the way we had them and just couldn't close the deal," said Arkansas junior running back Ronnie Wingo. "We got the blame for that loss, the running backs, and maybe we should have. If you can't run the ball, it's going to be hard to beat those guys. I'm just glad we get another chance."
Wingo and the Arkansas running game get that much anticipated shot on Saturday when the No. 14-ranked Hogs take on the No. 3-ranked Crimson Tide at Bryant-Denny Stadium.
In Wingo's defense, he didn't factor into the Hogs' running game last season against the Crimson Tide. He caught a 43-yard touchdown pass on the second play of the game, but didn't have a single rushing attempt.
For that matter,
Knile Davis
only had six carries and had yet to become an integral part of the Arkansas offense.
Davis, of course, went on to become the SEC's leading rusher among running backs and was one of the reasons the Hogs felt like they would have a better chance to soften up that Alabama defense this season with the running game.
That all changed when Davis fractured his ankle in the preseason, but what didn't change was Arkansas' commitment to at least being able to run the ball some against an Alabama defense that's allowing just 2.52 yards per play this season.
"It's been a priority for us, and that didn't change when Knile got hurt," Wingo said. "We have the best group of receivers in college football. But as we saw last year, when we're also running the ball, it just makes everybody better."
Wingo is coming off the best game of his career last week against Troy. He rushed for a career-high 109 yards and scored three touchdowns.
"That might be as well as Ronnie has run since he's been here, probably with the exception of the A&M game his freshman year," said Arkansas coach Bobby Petrino, who thinks the Hogs have steadily improved in the running game.
He said the offensive line has a better understanding and that all of the running backs are accelerating quicker through the hole. The Hogs also hope to have a healthier
Dennis Johnson
this week and would like to get him more touches, while junior fullback
Kiero Small
has been an excellent lead blocker.
But however the Hogs go about it, whether it's running or passing, they're going to have to have some success on first and second down.
"The key is to move forward, getting to second-and-medium and second-and-short and be patient enough and keep going forward," Petrino said. "Alabama has always done a great job of creating negative plays and putting you behind the sticks, and then they're going to tee off with their third-down package."
Wingo said this is a different team than the one that bowed meekly two years ago in a 35-7 loss at Bryant-Denny Stadium or the one that simply didn't finish the game last season in Fayetteville.
"We've learned a lot and have a lot of guys now who've been in these situations," Wingo said. "All we're thinking about is going out there and playing our best game, and that's what we're going to do on Saturday."
September, 2, 2011
9/02/11
10:13
AM ET
When Arkansas opened spring practice earlier this year, the Hogs were seemingly overflowing with depth at running back.
They were so deep, in fact, that De'Anthony Curtis was a mere afterthought. He didn't even end the spring on offense and was instead working at cornerback.
Needless to say, the landscape has changed.
Broderick Green
, the Hogs' power back, tore his ACL the week of the spring game, and then to open this preseason,
Knile Davis
went down with a fractured ankle. Davis led all SEC running backs a year ago with 1,322 rushing yards.
[+] Enlarge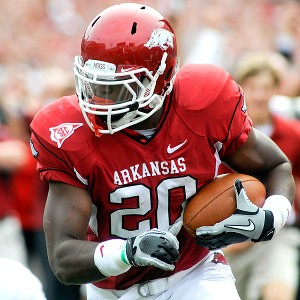 AP Photo/Beth HallArkansas will call on Ronnie Wingo to carry a heavier load this season.
Suddenly, Curtis was needed again at running back and was moved back there two weeks ago. It's a good thing, too, because senior running back
Dennis Johnson
has battled hamstring issues.
That leaves junior
Ronnie Wingo
, who will start Saturday at running back against Missouri State, but Curtis will be the Hogs' No. 2 guy. He's flashed some of the same speed and moves in practice that made him the top prospect in the state of Arkansas and one of the most sought-after running backs in the country back in 2008 when he signed with the Hogs.
"He's come back over to running back, and his quickness really shows up. His toughness really shows up," Arkansas coach Bobby Petrino said. "We're going to play him. He's going to be in there carrying the ball and catching the balls."
Petrino went on to call Curtis the "ultimate team guy" for his willingness to play anywhere the Hogs put him.
After moving from running back to receiver and then to cornerback, it looks like he's back at running back to stay.
The Hogs need the help.
Wingo still has to prove that he can be an every-down running back. What made Davis so valuable was his ability to get the tough yards, but he could also turn around and break a 75-yard touchdown run a few plays later.
At 6-foot-3 and 231 pounds, Wingo has all the physical tools to be a big-time back in this league. He's also one of the fastest players on the team and has been a guy Petrino has pointed to for two years now as being poised to take off and become a consistent game-changer.
Well, here's his chance.
"I want to be a complete back, and what I've got to understand is that every play's not going to be a 30- or 40-yard run," said Wingo, who has 572 career rushing yards and four touchdowns. "You're going to take a beating in this league and get 3 yards here and there. But if you keep grinding, the big play will come.
"I'm going to let the game come to me and not try to force everything. In the past, I've done too much thinking. It's time to get past that now and just play."
Following Davis' surgery, he called the running backs together and had a message for them.
"He just told us that the season was in our hands now, as far as the running game," recounted Johnson, who missed most of last season with an injury. "We take that to heart."
If Johnson is unavailable for the opener because of his hamstring issues, Wingo will be the only running back on the roster who carried the ball last season in a game.
Curtis' last carry came two years ago, and ironically enough, it came against Missouri State in the opener.
As sick as everybody in the Arkansas program was to see Davis go down, there was never any panic about what it would mean for the Hogs' running game this season.
Arkansas offensive coordinator Garrick McGee said there's a reason for that.
"Knile Davis was a really good player, probably one of the best college football players in the country," McGee said. "But we're really fortunate. We've recruited well at the position. We have kids who understand our offense, our system and the way we go about our business, so nothing changes with us."
The way the schedule sets up for the Hogs, they're probably not going to have a real feel for their running game until the fourth week of the season when they travel to Alabama.
Nobody needs to remind them that they were unable to run the ball against the Crimson Tide last season and protect their lead, which ultimately cost them the game.
Arkansas finished with just 64 rushing yards in that 24-20 loss, and Davis only carried the ball six times -- twice in the second half.
It was in the weeks after that bitter loss that Davis separated himself from the rest of the pack, and Arkansas' offense became even more explosive.
"Knile took over last year, and all of us have to have that same attitude," Wingo said. "We've got to step up more than ever, and the whole state of Arkansas is counting on us. We're not going to wait to get our running game going like we did last year. It starts now."
August, 15, 2011
8/15/11
12:05
PM ET
By
ESPN.com staff
| ESPN.com
The SEC is content to stick with 12 teams for the time being, but nobody is closing the book on the possibility of expansion in this league. Here's a look at what's shaking in the SEC:
August, 12, 2011
8/12/11
9:00
AM ET
The reports out of Arkansas are that the
lower left leg injury
suffered by star running back
Knile Davis
in Thursday's scrimmage is serious and that the Hogs will be
without him this season
.
Davis, who rushed for 1,322 yards last season, went down screaming Thursday on the seventh play of the scrimmage after being injured in a pileup. He was helped to the sideline and carted from the field.
Arkansas' policy is that head coach Bobby Petrino is the only one to comment about injuries, and Petrino has yet to make any statements.
Davis was a big reason the Hogs' offense took off last season after exploding onto the scene in October, but this latest injury is another in a long list of setbacks for the 6-foot, 226-pound junior. He broke his right ankle in high school and then broke that same ankle during his first spring practice at Arkansas. The screws from the first surgery weren't big enough for a guy Davis' size, which led to the second fracture. Davis has also broken his collarbone twice, once in high school and again during the Hogs' spring game last year, which is one of the reasons Davis wasn't on anybody's radar coming into last season.
One of the most respected players in the league, Davis endeared himself to his Arkansas teammates and coaches with how hard he ran and how hard he worked.
"I think what Knile really needs to understand is that the harder and more physical he runs and the faster he plays, that's how you stay healthy," Petrino said during the spring. "That's what he did when Dennis [Johnson] got hurt last year. He just said, 'I'm going to make sure the coaches know that I'm going to be the guy by finishing every run in practice and being more focused.' It jumped out. We're watching video of practice, and there's not one coach in the room who doesn't say, 'That's a little different No. 7 right there now.' "
Speaking of Johnson, getting him back is huge for the Hogs if Davis is indeed out for the season. Johnson, a 5-foot-9, 213-pound junior, is versatile and able to do different things out of the backfield. The onus is also on junior Ronnie Wingo, Jr., to step up and have his best season. One of the Hogs' fastest players, the 6-foot-3, 231-pound Wingo has shown flashes, but needs to do it consistently.
More than anything, the Hogs are going to need somebody to get the tough yards. They also lost
Broderick Green
to a torn ACL in the spring. The 244-pound Green was Arkansas' power back, but Davis scored 13 rushing touchdowns last season for the Hogs.
That's what made Davis so valuable. He was effective in the red zone and in short yardage, but also had the speed and the moves to break the long one.
July, 25, 2011
7/25/11
3:15
PM ET
We return to our bounce-back players series with the
Arkansas Razorbacks
:
OFFENSE

Dennis Johnson, RB, Jr.:
Johnson is back after a punctured intestine injury shelved him for most of the 2010 season. Johnson showed in the past that he's one of the most exciting return men in the league and he adds another body to what is a stacked backfield in Fayetteville. The loss of senior
Broderick Green
, who was the team's leading rusher in 2009, to a torn ACL this spring, means Johnson will share more carries with
Knile Davis
and Ronnie Wingo. Johnson averaged 25.78 yards per kickoff return, and 111.15 yards of total offense per game in 2009. He also returned 40 kickoffs for a school-record 1,031 yards and a touchdown, and enters the fall as the SEC's active leader for career kickoff return yards and total return yards with 2,014.
DEFENSE
De'Anthony Curtis, CB, Sr.:
This is the final go-round for Curtis. He arrived at Arkansas as a highly regarded wide receiver out of high school, but after failing to produce much on the offensive side of the ball, he moved to cornerback this spring with hopes of earning more playing time. Curtis practiced some at the boundary corner position this spring, but fell behind sophomore Jerry Mitchell. He's also hoping he can challenge junior Darius Winston, who started six games last season, for the corner spot opposite Isaac Madison. Curtis played in 34 games at receiver, but for him to end his Arkansas career on a high note, he'll need to show that he can be a factor on defense this fall. The Razorbacks have good depth in the secondary, so it won't be easy for him.
March, 9, 2011
3/09/11
2:43
PM ET
By
ESPN.com staff
| ESPN.com
Arkansas coach Bobby Petrino told a booster club group on Tuesday night that he really liked the amount of speed the Hogs would be able to put on the field next season.
You think?
The Hogs just recently completed testing sessions leading up to the start of spring practice next Tuesday, and according to results provided by Arkansas officials, 10 different players ran a 4.4 or faster in the 40-yard dash.
Receiver
Jarius Wright
and running back
Ronnie Wingo Jr.
tied for the fastest time, each with a 4.27.
Running back
Knile Davis
was close behind with a 4.29 and also did 415 pounds on the bench press.
Also, Petrino said running back
Dennis Johnson
was back to 100 percent entering the spring. Johnson missed most of last season after undergoing surgery to repair an internal injury to his bowels. Johnson ran a 4.43 in the 40.
Offensive lineman Blake Gunderson had the highest bench press with a lift of 470 pounds. True freshman Brey Cook benched 380 pounds. He's already enrolled in school and will go through spring practice. Petrino thinks Cook has a chance to win one of the starting offensive tackle jobs.
Here's a look at some of the Hogs' testing numbers:
40-Yard Dash
1. Jarius Wright 4.27
1. Ronnie Wingo Jr. 4.27
3. Knile Davis 4.29
4.
Joe Adams
4.30
5. Darius Winston 4.32
6. De'Anthony Curtis 4.36
6. Isaac Madison 4.36
8.
Javontee Herndon
4.37
8.
Maudrecus Humphrey
4.37
10. Greg Gatson 4.40
Other Notable Performances:
Dennis Johnson 4.43
Chris Smith 4.49
Jake Bequette 4.56
Bench Press
1. Blake Gunderson 470
2. Alvin Bailey 455
2. Alfred Davis 455
4. Lavunce Askew 415
4. Knile Davis 415
6. Byran Jones 410
7. Jake Bequette 405
7. Jared Green 405
7. Grant Cook 405
7. Jeremiah Jackson 405
October, 16, 2010
10/16/10
6:14
PM ET
AUBURN, Ala. -- Arkansas' Ronnie Wingo has been money for the Hogs this season on the wheel route.
He's scored three touchdowns against three different teams on similar plays. His 34-yard catch out of the backfield on Saturday pulled Arkansas within
30-28
.
February, 22, 2010
2/22/10
1:15
PM ET
By
ESPN.com staff
| ESPN.com
When a new coach takes over a college football program, typically the third season is when it's fair to make the first real evaluation of where that program is headed.
[+] Enlarge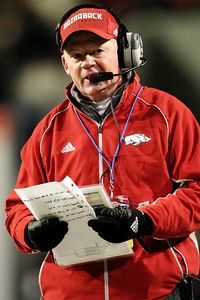 Nelson Chenault/US PresswireBobby Petrino is working on limiting the big plays his defense gave up too often last season.
This will be Bobby Petrino's third season at Arkansas. It's been a steady climb so far. The Hogs went from five wins to eight wins last season, including a win over East Carolina in the Liberty Bowl.
Suffice it to say that Year No. 3 under Petrino brings with it some heavy-duty expectations. This will be his most talented team, his most experienced team, and the schedule turns a little bit in the Hogs' favor.
Arkansas could start the season ranked in the top 20 of the preseason poll, something the Hogs haven't done since 1999.
Junior quarterback
Ryan Mallett
returns as one of the most feared passers in the country, and the arsenal of playmakers surrounding him is as stocked as any Petrino has ever coached.
If the defense comes through, it could be a season to remember in Fayetteville.
Granted, that's a big if when you look at the Hogs' defensive numbers from the past two seasons, but Petrino is confident they will be improved on that side of the ball.
Petrino talked about his defense and a lot more in a recent Q&A I did with him heading into the spring. The Hogs open practice on March 30 and play their spring game on April 24:
Even though Mallett's going to be sidelined this spring with the broken bone in his left foot, how important are these next three or four months for him if he's going to become a truly great quarterback?
Bobby Petrino:
The one thing you know he'll do is work real hard at it. He just won't get the 15 practices in, but should be good to go for all the summer work. He'll certainly be in the classroom doing everything he needs to do to get ready and take that next step.
What gives you hope that your defense will be better next season and more consistent?
BP:
We've recruited hard the last two years on defense and really tried to address issues in the secondary and the defensive front. So I think we're going to be more talented and more physical on defense this year. We have to tackle better, and we have to stop the explosive plays. That's what really hurt our defense a year ago. We would play good and play good and then give up a big play.
Sort of like the Alabama game last season when you were within a touchdown in the third quarter and then give up an 80-yard touchdown pass?
BP:
Our defense had played great, and they hit an 80-yard touchdown. And we're right there. We just don't make the play on the ball. So we've got to do a better job of playing the ball in the air and just stopping the big plays. The deep play-actions and screens are what hurt our defense more than anything.
How important is getting Isaac Madison back at cornerback after he missed all last season with a knee injury?
BP:
He'll be back and is doing real well (with his recovery). That was a huge loss for us because he's our fastest, most experienced, smartest secondary player. He should be back at full speed and ready to go. He's doing everything right now. I'm not sure I'll let him do the contact part of spring ball. He'll do everything else.
How would you assess the rest of your defense?
BP:
Our defensive front will be good, and we'll have depth. We've got [Jake] Bequette coming back and Damario Ambrose and Tenarius Wright at the defensive ends and then inside a lot of guys with a lot of experience coming back with [Zach] Stadther and D.D. Jones, Pat Jones, [Lavunce] Askew and [Alfred] Davis. All those guys have played a bunch of football, which is new. We haven't had guys who've played a bunch of football before. At linebacker, I'm a little concerned about depth. That's been an area where we've been hurt by a lack of depth. We have to have a good spring in developing depth at linebacker, but we do have a lot of experience in Freddy Burton and Jerry Franklin. Jerry has started every game since I've been here, and he's just a junior. But I am worried behind those guys.
As you look at all the intangibles it takes to compete for a championship, do you believe you guys are closer to being there?
BP:
We're definitely closer. Experience is something that really helps, the understanding of what we want to do and then our expectations. I think we took a huge step last year from the Alabama game to the Florida game. We went into the Alabama game and didn't execute and didn't play as well as we could. But also, I don't think we expected to win, and I don't think we executed because we were a little intimidated. Then when we went to Florida, our guys competed really, really hard and did everything they could to win the game. Mentally, we grew up and matured.
Your new offensive line coach, Chris Klenakis, was on staff at Nevada last season where the Wolf Pack led the country in rushing with an average of 344.9 yards per game. They were third nationally in 2008. What kind of dimension does he bring to your running game?
BP:
He's the guy who invented the Pistol [offense], he and coach Chris [Ault] together. I coached with Coach K before [at Nevada] and put together an offense before with him and were very successful. He's a very good teacher in the offensive front, but he also understands every other aspect of the offense. I think we'll be much more physical in the run game next year. We actually ran what everybody wants to call the Pistol last year and executed the passing game really well out of it. Now, we need to run the ball better out of it.
When you look at your running game, you appear to have all the different pieces in place in the backfield?
BP:
I'm really excited about our backfield. This spring will be very, very competitive. Ronnie Wingo has sprinter speed. He won the 100 and 200 meters in the state of Missouri in high school and today weighs 230 pounds. He really excites me. The other guys are all capable.
Broderick Green
is 248 pounds and the big guy we need back there.
Knile Davis
is up in the 220s. We have a chance now where we can be much more physical running the ball and running the ball downhill. That's so important in this league. When you get into a battle with Alabama, you have to be patient and run the ball and not give up the negative plays. That's what they're so good at, causing you to have negative plays.
You've obviously had some potent offenses during your career. Where do you think this one stacks up in terms of playmakers and the ability to score in a variety of ways.
BP:
When you look at the overall picture, it's the deepest group [of playmakers] I've had. We have to prove that we can do it up front. That's where we have to make great improvement. But when you have a
Greg Childs
,
Joe Adams
and
Jarius Wright
all coming back with two years of experience, and they've all made a lot of plays in this conference, that's exciting. Our young guy,
Cobi Hamilton
, might be better than all of them. He's a special, special talent and made a lot of plays last year as a freshman. But we've got to take care of business in the offensive front so we can be consistent.
How much do you feel the fans' expectations?
BP:
I feel good about the expectations of our players, the expectations of our team. That's the key. We're hoping everyone expects us to win, and if the fans do, then obviously that's great. But the best part of it is when our players expect to take the field and win, and I think we'll be that way this year.
February, 11, 2010
2/11/10
11:30
AM ET
By
ESPN.com staff
| ESPN.com
This time a year ago, how many of us were up to speed on
Darvin Adams
at Auburn, Justin Houston at Georgia,
Greg Childs
at Arkansas or Mark Barron at Alabama?
All four had breakout seasons in 2009, guys who went from role players/solid players to All-SEC caliber players.
Who are those players going to be in 2010?
Let's take a look:
1. Alabama defensive end Marcell Dareus:
Several in and around Alabama's program think Dareus will be the next great defensive lineman for the Crimson Tide. He certainly made his presence felt in the BCS National Championship Game in January when he was named the game's Defensive MVP after returning an interception 28 yards for a touchdown and knocking Texas quarterback
Colt McCoy
out of the game. Dareus only started in four games last season, but he still wound up with 9.5 tackles for loss and 6.5 sacks. Look for those numbers to soar in 2010, and look for him to emerge as one of the most dominant defensive linemen in the league.
2. Florida quarterback John Brantley:
Following a legend is always difficult, but Brantley has the skills to be one of the top three quarterbacks in the SEC next season. No, he's not going to make everybody forget about
Tim Tebow
, and he's not going to be able to provide everything Tebow did for the Gators the last three seasons. But what Brantley can do is throw the football, and Florida will build its offense around Brantley's strengths next season. The 6-3, 217-pound junior had a lot of work with the first-team offense last spring while Tebow was resting his shoulder and performed extremely well.
3. Vanderbilt safety Sean Richardson:
Some might say that Richardson already introduced himself to the league last season with his 84 tackles, which led all SEC defensive backs during the regular season. But if you're looking for prototypical safeties who can hit, cover and act as an enforcer back there in the secondary, the 6-2, 210-pound Richardson has a chance to really be special next season. Vanderbilt defensive coordinator/secondary coach Jamie Bryant has done an outstanding job when it comes to grooming quality defensive backs, but Richardson is the kind of punishing tackler that may be one of the best yet to come out of Vanderbilt.
4. Arkansas running back Ronnie Wingo Jr.:
The Hogs have so many returning offensive weapons that it's easy for some of those guys to get lost in the shuffle. Don't look for that to happen with Wingo, who has everything Arkansas coach
Bobby Petrino
likes in a running back. The 6-3, 220-pound sophomore is fast, tough and can catch the ball out of the backfield. Wingo played in all 13 games last season as a true freshman and ranked fourth on the team in total yards (319) and carries (47). He averaged 6.5 yards per carry. Petrino is on record as saying that the Hogs need to get the ball in Wingo's hands more and will look for ways to do that this coming season.
5. LSU receiver Rueben Randle:
With
Brandon LaFell
gone, somebody at LSU has to step next season on offense and become that go-to player. The 6-3, 200-pound Randle has all the physical tools to be that player. He was the No. 1 receiver prospect in the nation when he signed with the Tigers and started in four games last season as a freshman. Randle sort of played in LaFell's shadow, but still caught two touchdown passes and averaged 15.7 yards per catch. In a lot of ways, he was still getting re-acclimated to the position after playing quarterback as a high school senior. Look for Randle to blossom in 2010. The Tigers sure need him to.