December, 10, 2013
12/10/13
6:06
PM ET
TUSCALOOSA, Ala. -- Yankees manager Joe Girardi has been around the Alabama football program a few times after having Tide coach Nick Saban to New York to speak to his team during the offseason. Even the most famous of pinstriped ballplayers,
Derek Jeter
, came to Tuscaloosa in November to take in the Alabama-LSU game.
All those happenings, while extraordinary in their own right, seem feasible within the bubble of big-time sports, another instance of one historically significant franchise reaching out to another.
But the connection between the Yankees and the Tide took a step in a more perplexing direction when
Alex Rodriguez
spoke on the phone with
AJ McCarron
prior to Alabama's regular-season finale against Auburn. For McCarron, a lifelong Yankees fan, it was a spectacular moment. For a national public that holds Rodriquez in a generally low esteem given his connection to steroids and his suspension from Major League Baseball, it might be a bit dumbfounding.
[+] Enlarge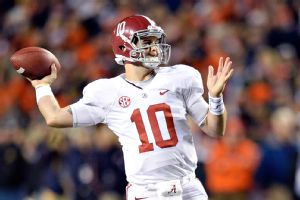 John David Mercer/USA TODAY SportsAJ McCarron doesn't just dial up audibles; Alabama has been putting him on the phone with other athletes who 'reinforce approach and confidence.'
McCarron was cheery, though, when he told reporters on Tuesday that Rodriguez told him he has followed his career.
"Coach Girardi showed them the video of me and [former Alabama center Barrett Jones] pushing each other [in the BCS title game] before last season and told him that's the passion they need within their club again and stuff like that," McCarron said. "It's just pretty crazy that they've watched me before and are fans of me. Like I said, it's unbelievable."
Alabama consultant Trevor Moawad, who is the full-time vice president of mindset programs at Athletes Performance, set up the phone call prior to the Iron Bowl, reaching out to Chad Bohling, who is the director of mental conditioning for the Yankees.
Moawad said the call with Rodriguez lasted 10-15 minutes and the discussion was about what it takes to be a successful athlete. There was no talk of Rodriguez's off-the-field troubles, Moawad said, just his own personal account of how he focused as a young man in order to reach where he is today.
It's a normal routine to put McCarron on the phone with high-profile athletes the night before games, according to Moawad, who said he has set up calls with Russell Wilson and Carson Palmer, to name a couple. Why? Because sometimes hearing the message from someone other than Saban helps.
"Over the years, the night before the game we'll try to find different people to reinforce key things about attitude, approach, confidence," Moawad said. "I've been with [McCarron] for five years, so if you can get someone to reinforce themes that Coach is talking about, it's a benefit.
"There are universal concepts that make athletes good across any sport. And athletes respond well to other athletes who have been successful."
It's hard to imagine a multi-million dollar professional athlete reaching out to a college senior, but Moawad said he hasn't had a hard time convincing players. In fact, most are very aware of McCarron before they speak.
"They are guys that have a tremendous amount of respect for AJ, too," Moawad said. "That's why they're willing to jump on the phone."
As far as McCarron is concerned, it's still an indescribable feeling. In as much as he's aware of his own celebrity, getting on the phone with someone like Rodriguez turns him into a giddy kid again.
"It's almost like living in a dream in a way because I've met guys that I've watched and watched coach for so many years," he said. "Now I'm talking to them on the phone and meeting them in person. It's just pretty surreal."
And there's a chance that McCarron's dream ride will continue. After all, McCarron will be in New York for the first time when he makes the trip to the Big Apple for the Heisman Trophy ceremony.
Maybe A-Rod or another Yankee will show him around.
May, 2, 2013
5/02/13
2:30
PM ET
By
Sharon Katz, ESPN Stats & Information
| ESPN.com
Stacy Revere/Getty ImagesWhat parts of Johnny Manziel's game need to improve for him to play in the NFL?
The NFL began to look more like the college game last season with mobile quarterbacks, zone-read options and spread passing attacks. With some work, Texas A&M's Johnny Manziel has the tools to continue the evolution.
Robert Griffin III
,
Russell Wilson
and
Colin Kaepernick
transformed the game with their speed and versatility, forcing defenses to adapt to a new style of play.
All three of those quarterbacks were also proficient passers. They each possess four qualities necessary to be a successful quarterback in the NFL: overall accuracy, ability to handle the blitz, downfield precision and composure under duress.
Manziel is skilled in all four categories, but he could improve in each next season to boost his draft stock if he decides to declare for the draft.
Overall accuracy
In 2012, Manziel completed 68 percent of his passes, which ranked ninth among FBS teams. He was at his best on short and intermediate passes, completing more than 76 percent of his throws within 10 yards of the line of scrimmage.
One of his greatest strengths was putting the ball in spots that enabled his receivers to run after the catch. Texas A&M ranked sixth among colleges in AQ conferences in yards after the catch, averaging 6.5 yards after the catch per reception.
Ability to handle the blitz
Opponents blitzed Manziel on fewer than 30 percent of his dropbacks last season.
Although Manziel's completion percentage was significantly lower against the blitz, he exploited blitzing defenses with big plays.
Manziel averaged a play of 20 yards or more once every 6.4 dropbacks when opponents blitzed, compared with once every 8.5 dropbacks when they sent standard pressure.
His biggest plays came when scrambling, with him rushing for 389 yards and seven touchdowns on 32 scrambles against the blitz.
Downfield precision
This is probably the one area Manziel could improve the most. Last season, he completed 38.7 percent of his passes of 20 yards or longer with eight touchdowns and four interceptions.
To put that into perspective, Griffin III, Wilson and
Andrew Luck
all completed a higher percentage of their passes on throws of this distance in their final year of college.
Manziel can learn from those quarterbacks, who all increased their completion percentages on throws of at least 20 yards downfield in their final college seasons.
Composure under duress
Last season, Manziel completed 51.4 percent of his passes when under duress, about 11 percentage points higher than the FBS average.
He was at his best when forced to improvise. Manziel ran for 857 yards and 10 touchdowns on 86 scramble attempts in 2012. He also threw for 581 yards and eight touchdowns when forced to throw from outside the pocket.
Many question whether this aspect of Manziel's game will translate to the NFL, given his size and the speed of NFL defenses. At 6-foot-1 and 200 pounds, Manziel is small for an NFL quarterback. Of the 49 NFL quarterbacks who attempted at least 30 passes last season, only three were 6-1 or shorter, and only one weighed 200 pounds or less.
In terms of the speed of NFL defenses, Texas A&M faced its share of NFL talent last season; 26 opposing defensive players were taken in the 2013 NFL draft.
Last season against Alabama, the top defense in the nation, Manziel ran for 92 yards. It was the most rushing yards the Crimson Tide had allowed to an opposing quarterback since Nick Saban became Alabama's coach in 2007.
April, 26, 2012
4/26/12
5:30
PM ET
By
ESPN.com staff
| ESPN.com

Michael Brockers, Quinton Coples, Stephon Gilmore, Stephen Hill, Luke Kuechly, Ryan Tannehill, Courtney Upshaw, Russell Wilson and Jerel Worthy talk about their playing days before NCAA football.
October, 10, 2011
10/10/11
12:05
PM ET
By
ESPN.com staff
| ESPN.com
Our Monday stroll around the league:
July, 13, 2011
7/13/11
1:30
PM ET
In the EA Sports world, LSU will end its season in BCS fashion in New Orleans. Unfortunately, it won't be for a national title, but the Tigers will be celebrating on Bourbon Street.
The good folks at EA Sports simulated the entire 2011 season using "NCAA Football 2012" and have LSU edging out Wisconsin in the Allstate Sugar Bowl 24-21.
EA Sports has LSU and Wisconsin placing second in their respective conferences. Oh, and it appears as though
Russell Wilson
made it into the game as a Badger.
There are some nifty clips of LSU's first two touchdowns.
Russell Shepard
takes one in for a score on an option from
Jordan Jefferson
, while
Michael Ford
somersaults his way into the end zone for the second touchdown.
But Wilson leads a nice Badger charge, connecting with
Nick Toon
in the corner of the end zone.
The Badgers fight back, but Jefferson, who obviously benefited from the work he did with new offensive coordinator Steve Kragthorpe this spring, tosses a long game-winning touchdown to
Rueben Randle
in between Wisconsin defensive backs Devin Smith and Aaron Henry.
Jefferson finished the game with 227 passing yards and two touchdowns. No word if Les Miles sampled some of that turf inside the Superdome.
June, 27, 2011
6/27/11
1:07
PM ET
By
ESPN.com staff
| ESPN.com
Scratch Russell Wilson's name from Auburn's quarterback mix.
Wilson has decided to play his
final season of college football at Wisconsin
. He was released from his scholarship at North Carolina State and is currently playing minor league baseball. Wilson had visited both Auburn and Wisconsin.
June, 27, 2011
6/27/11
11:13
AM ET
By
ESPN.com staff
| ESPN.com
Auburn will find out today whether or not it can add Russell Wilson to its quarterback equation.
Wilson, the former North Carolina State quarterback, plans to announce his decision, and ESPN's "College Football Live" will have
his first interview at 3:30 p.m. ET
.
The first thing Wilson has to decide is whether he's going to keep playing minor league baseball or play college football this fall. If it's football, he's down to Auburn and Wisconsin and has visited both schools. Wilson is currently playing baseball for the Class A Asheville Tourists.
Auburn ended the spring without making a decision on its starting quarterback. Barrett Trotter and Clint Moseley were battling for the job. Wilson would have one year of eligibility remaining and could play this season.
May, 31, 2011
5/31/11
5:42
PM ET
By
ESPN.com staff
| ESPN.com
DESTIN, Fla. -- Auburn coach Gene Chizik wasn't mentioning any names (and per NCAA rules, he can't), but he certainly sounded open Tuesday to the possibility of bringing in former North Carolina State quarterback
Russell Wilson
.
Wilson is currently playing minor league baseball, but still has one year of eligibility remaining and visited Auburn last week. He's also interested in Wisconsin.
Chizik was asked if he would consider taking a transfer quarterback for the 2011 season and said, "When it comes to the recruiting part of it, my job as the head coach at Auburn is to make sure we're developing our roster the best way we see fit to help Auburn win.
"So as we go down the recruiting road, whoever gives us that opportunity to win at Auburn, whether it's a junior college transfer or high school (player) or whoever we feel fits the bill to continuously improve Auburn's football team to give us a chance to compete for the championship, then obviously that's my job and I'm for it."
The Tigers exited spring without a clear answer at quarterback. Junior
Barrett Trotter
and sophomore
Clint Moseley
battled to a draw, and offensive coordinator Gus Malzahn said there wasn't enough separation to name a starter. True freshman Kiehl Frazier arrived on campus earlier this month.
But in Wilson, the Tigers would get an experienced quarterback who passed for more than 3,600 yards last season at NC State and is a good fit athletically for Malzahn's spread offense.
May, 24, 2011
5/24/11
3:30
PM ET
Auburn ended spring practice without a definitive answer at quarterback.
The guy visiting the Plains on Tuesday could end up being that answer.

ESPN's Joe Schad is reporting that
Russell Wilson
, who was given his release by North Carolina State,
was on Auburn's campus Tuesday
and is considering playing his final season for the Tigers. Wilson is currently playing minor league baseball in the Colorado Rockies' organization. He's already graduated from N.C. State, meaning he would be eligible to play right away next season and not have to sit out under normal transfer rules.
Wilson, who threw for 3,663 yards and 28 touchdowns last season, also plans to visit Wisconsin in early June. He parted ways with N.C. State after the Wolfpack decided to go with
Mike Glennon
as the starter next season.
Junior
Barrett Trotter
and sophomore
Clint Moseley
were competing in the spring for Auburn's starting quarterback job, but no starter was named. Offensive coordinator Gus Malzahn said there wasn't enough separation to name one and that the competition would continue in the preseason. The Tigers also signed heralded prep quarterback Kiehl Frazier of Springdale, Ark. Frazier arrives on campus this summer.
May, 2, 2011
5/02/11
5:20
PM ET
The news of N.C. State quarterback
Russell Wilson
parting ways
with the Wolfpack
(and a little help from my
esteemed colleague Heather Dinich
) got me thinking: Could Auburn make a run at Wilson to play this fall?
There's been no word from either camp, but it's not out of the question to think that both parties would be interested in at least speaking. It certainly helps that N.C. State granted Wilson a release to play football in 2011 if wants to -- as long as it is outside of the ACC.
[+] Enlarge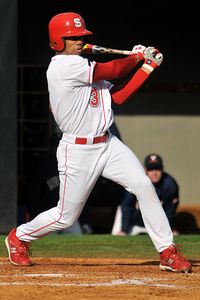 Tom MillerFormer North Carolina State quarterback Russell Wilson has been contacted by a number of schools since being released to transfer.
Of course, if Auburn was willing to take a chance on Wilson, the team would have to accept the fact that he is also pursuing a career in Major League Baseball. He's playing minor league baseball for the Colorado Rockies Class A affiliate Asheville (N.C.) Tourists and didn't participate in spring practice. The Rockies drafted Wilson in the fourth round of last summer's MLB draft.
But if he's a fast learner, why not take a chance on him?
Think about it: What made Auburn's offense so successful last season? Yeah, you guessed it. It was
Cam Newton
. That big, strong, powerful runner and passer was the engine of that team. I'm not saying that Wilson is Newton 2.0, but he's a solid passer and is very athletic.
Last season, Wilson led the ACC in total offense with 3,998 yards (3,563 passing and 435 rushing). He also led the league with 37 total touchdowns, including 28 through the air.
Wilson might not be the pounding runner that Newton was, but we know he's a passer. He had nearly 1,000 yards on Newton last season and had more than 200 more pass attempts than Newton.
Of course, he's not as big or as strong as Newton. Wilson stands 5 feet 11 inches and weighs 201 pounds. Newton was an intimidating 6-foot-5, 248 pounds, which is something Wilson won't be able to replicate.
What he'd be pretty close to recreating is the way the offense ran. Wilson won't be running over defenders with ease, like Newton, but he can get by them and he'll be able to spread defenses out and force them to respect both his arm and his legs. While N.C. State's offense wasn't exactly like Malzahn's, it wasn't that far off.
What he would also do is bring some much-needed experience to the quarterback position at Auburn. The Tigers left the spring with sophomore
Barrett Trotter
and freshman
Clint Moseley
nearly even in the quarterback race. Trotter holds the only experience, completing 6-of-9 passes for 64 yards last season.
Both struggled during the spring, but seemed to make strides toward the latter parts of practice and the spring game. However, neither has the game experience Wilson does. The three-year starter is battle-tested and ranks second all-time in the ACC with 93 total touchdowns.
Bringing Wilson in would not only help Trotter and Moseley, but it would undoubtedly help incoming freshman quarterback Kiehl Frazier, who enrolls this summer. Both have a similar skill set and if Wilson were to win the starting job Frazier would benefit from learning and watching Wilson in Auburn's offense for a year. It would give all of Auburn's current quarterbacks more time to mature and learn before going out into the league themselves.
And think about what Wilson could do with SEC talent. I don't see a lot of Trovon Reeds or Michael Dyers roaming around N.C. State's offense.
I'm not saying this will happen and I'm not saying either side is even interested in meeting each other. What I am saying is that it's worth a shot, even if it is just for one season.
Auburn took a chance on bringing Newton in, so, why not Wilson?