July, 23, 2012
7/23/12
10:00
AM ET
Now that we've ranked all 14 of the SEC's special-teams units, it's time to take a look at the league's top kickers.
Past rankings:
Here are our top 10 SEC kickers:
1. Caleb Sturgis, Sr., Florida:
The Lou Groza Award finalist hit on 22 of 26 field goal attempts for a kicking percentage of 84.6 last season. He was extremely accurate, hitting 19 of 21 kicks within 50 yards, and showed off his power by hitting 3-for-5 from 50 yards and beyond, including hitting a long of 55.
2. Drew Alleman, Sr., LSU:
He ranked first in the SEC and second nationally in field goal percentage after hitting 16 of 18 (88.9) field goal attempts last season, including a long of 44. He also made 62 of 63 (98.4) extra points. Alleman's solid 2011 season proved to be the most accurate year by an LSU kicker ever.
3. Zach Hocker, Jr., Arkansas:
He enters his senior season holding the Arkansas record for career field goal percentage at 80.4 percent and has 222 career points. Last season, he connected on 21 of 27 (77.8) field goal attempts, including a long of 50 yards, and made 57 of 59 (96.5) extra points.
4. Jeremy Shelley, Sr., Alabama:
After an average regular season, Shelley became one of Alabama's most important players in the BCS title game against LSU, as he hit 5 of 7 field goals. He finished the year hitting 21 of 27 (77.8) field goal attempts, and left last season much more confident than he entered.
5. Craig McIntosh, Sr., Kentucky:
He turned out to be one of Kentucky's best offensive weapons last fall, hitting 12 of 14 (85.7) field goals, including a long of 48. The Wildcats have more optimism concerning their offense and finding individual playmakers, but McIntosh will yet again be key for Kentucky in the points department.
6. Bryson Rose, Sr., Ole Miss:
While he only attempted 11 kicks last season, hitting nine of them, Rose has shown pretty solid accuracy during his career. He hit 16 of 18 field goals as a sophomore and has nailed 25 of 29 career kicks (86.2). With a new offense being installed, Rose's leg might be called even more this fall.
7. Cody Parkey, Jr., Auburn:
He led the Tigers in points last season, with 80, after hitting 13 of 18 field goals and 41 of 42 extra points. Parkey needs to work on his range, as all of his field goal attempts came within 50 yards last season. He's also a Lou Groza Award watch list member for 2012.
8. Trey Barrow, Sr., Missouri:
He filled in for the injured Grant Ressel last season and connected on 7 of 9 kicks (77.8), with a long of 39 yards. Barrow is the team's punter as well, but entered the spring as the starting kicker, but fell behind
Andrew Baggett
at times. He could rise or fall on this list depending on where he is on the place-kicking depth chart this fall.
9. Ryan Fowler, Sr., Vanderbilt:
He took over the place-kicking duties halfway through the season and hit 4 of 7 field goals, including a long of 35 yards, and all 19 of his extra-point attempts. Fowler was a two-year starter before
Carey Spear
passed him heading into last season. Fowler was 24-for-34 on field goals during his first two years as a starter.
10. Michael Palardy, Jr., Tennessee:
He was very inconsistent in 2011, but there was more of an emphasis put on special teams as a whole during spring practice at Tennessee. Last season, he hit 9 of 14 (64.3) field goals, including a long of 52. He has range to hit from deep, but has to improve his accuracy.
November, 15, 2011
11/15/11
1:00
PM ET
We've heard all sorts of descriptions for Joe Adams' 60-yard punt return for a touchdown last week against Tennessee.
Electrifying. Jaw-dropping. Brilliant. Spectacular. Sick.
Choose the one you like best. But we all may be watching football for a long time before we see a better punt return.
Of course, there's also the flip side to that play, which was Tennessee's shoddy tackling.
In tribute to Adams' gem, we've ranked the 10 best plays of the year so far in the SEC.
Guess which one tops list:
1. Arkansas' Joe Adams returning a punt 60 yards for a touchdown, Nov. 12 vs. Tennessee:
There were at least six and maybe seven defenders who had a chance at Adams. At one point, he was running backward, but managed to get turned back around. He then bounced off a cluster of defenders, found a crease and turned on the jets down the right sideline for his third punt return for a touchdown this season.
2. LSU's Eric Reid intercepting a pass at the 1-yard line, Nov. 5 vs. Alabama:
Reid almost got there too late. The pass, thrown by Alabama receiver
Marquis Maze
, sort of hung up there, and Alabama tight end
Michael Williams
initially had it in his hands. But while they were both in the air, Reid wrestled the ball away from Williams and came down with it at the 1 in a fourth-quarter play they will remember for a long time on the Bayou.
3. Alabama's Trent Richardson running 76 yards for a touchdown, Oct. 15 vs. Ole Miss:
If you want to see power, speed and eye-popping moves on one play, go back and check out Richardson's run against the Rebels. And what everybody remembers is Richardson freezing Ole Miss' Senquez Golson just inside the 15 and then scooting into the end zone.
4. South Carolina's Melvin Ingram running 68 yards for a touchdown on a fake punt, Sept. 10 vs. Georgia:
How many times do you see a 276-pound defensive lineman showcasing that kind of speed and athleticism? Ingram, one of the better all-around athletes in the league, finished the run by shaking Georgia cornerback Brandon Boykin on the sideline to get into the end zone.
5. Arkansas' Jarius Wright pulling in a 40-yard catch, Nov. 12 vs. Tennessee:
Wright tied the Arkansas career record for catches with what had to be the most improbable one of his career. It looked like he was bumped by Tennessee defender
Justin Coleman
before the ball got there, but Wright was able to reach back and tip the ball three different times, one of those bouncing off his face mask, and he then stretched out and cradled the ball before it hit the turf. Talk about not giving up on a play.
6. LSU's Tyrann Mathieu scoring on a 23-yard fumble return, Oct. 1 vs. Kentucky:
The legend of the Honey Badger was just taking off when he sacked Kentucky quarterback
Maxwell Smith
and caused Smith to fumble. Mathieu scooped up the fumble and returned it 23 yards for a touchdown. So on one play, Mathieu got credit for a sack, forced fumble, recovered fumble and touchdown.
7. Alabama's Marquis Maze returning a punt 83 yards for a touchdown, Sept. 24 vs. Arkansas:
Maze weaved his way through a sea of Arkansas defenders, showing his vision, his speed, his cutback ability and his patience along the way. It was about as textbook as a punt return can be executed on all fronts.
8. LSU's Morris Claiborne returning a kickoff 99 yards for a touchdown, Sept. 24 vs. West Virginia:
The Mountaineers had just pulled within 27-21 late in the third quarter and their fans were rocking. Claiborne quickly quieted things with a back-breaking kickoff return for a touchdown that saw him somehow escape on the left sideline and then leave a vapor trail on his way to the end zone.
9. Vanderbilt's Ryan Fowler throwing a 35-yard pass on a fake punt, Oct. 15 vs. Georgia:
The Commodores, trailing 10-0 in the second quarter and backed up on their own 22, dialed up a fake punt that had sandlot written all over it. Everybody for Vanderbilt shifted to the left side, and Fowler took the snap, rolled right and lofted a pass over the Georgia defenders' heads to his long snapper, Andrew East. The play set up Vanderbilt's first touchdown.
10. Georgia's Tavarres King pulling in a 14-yard touchdown pass on fourth down, Oct. 29. vs. Florida:
With it fourth-and-6 from the Florida 14 midway through the third quarter, Georgia coach Mark Richt decided to go for it. King went skyward and pulled in Aaron Murray's jump-ball pass in the corner of the end zone to tie the game at 17-17. It was the Bulldogs' second touchdown pass of the game on fourth down.
June, 23, 2011
6/23/11
9:50
AM ET
We're finally at the end of our position rankings and we'll finish up with special teams. This group does a lot more than people think and teams are starting to put their best athletes out here.
Kickers and punters don't get a lot of respect in the athletic department, but they are crucial assets to teams.
Let's see how the SEC special-teams units stack up:
1. Georgia:
It would be hard to find another special-teams unit better than the one in Athens. The Bulldogs return the dependable Blair Walsh at kicker, who nailed 20 field goals on 23 attempts (87 percent). Punter Drew Butler averaged 44.5 yards on 50 punts, with 19 landing inside the 20-yard line. Georgia also has a talented returning duo in Brandon Boykin and Branden Smith. Boykin is the school's all-time leader in kick return yards and averaged 24.3 yards per return with a touchdown in 2010. Smith only returned 10 punts last year, but is dynamic in space.
[+] Enlarge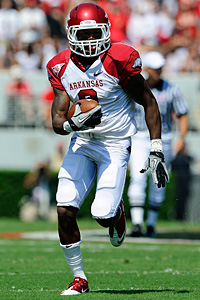 Paul Abell/US PresswireJoe Adams was fifth in the nation in punt returns last season, averaging 15.6 yards per return.
2. Arkansas:
Joe Adams
might be one of the most fun guys to watch in the return game. He was fifth in the nation, averaging 15.6 yards per return last year, and is one of the shiftiest returners out there. He also had a touchdown.
Dennis Johnson
is back from injury and when he was healthy, he was one of the best kicker returners in the league. In the kicking game, sophomore Zach Hocker had an impressive freshman year where he connected on 16 of 19 field goals, with seven from 40 or better. Punter Dylan Breeding averaged 42.5 yards per kick and pinned 18 inside the 20.
3. Alabama:
Trent Richardson
not only heads the Tide's offense, but he's extremely dangerous as a kick returner. He averaged 26.4 yards per return and had a touchdown last year.
Marquis Maze
, who grabbed 21 punt returns last year, has great speed to break one at any time. Alabama actually returns two kickers in Jeremy Shelley and Cade Foster. Shelley handled kicks within the 40-yard range, while Foster had long distance duty. The job at punter hasn't been settled, with Cody Mandell and Jay Williams battling it out.
4. Florida:
Caleb Sturgis is finally healthy after suffering a back injury last season. He was solid from farther out as a freshman, but struggled to stay consistent closer to the end zone. Ray Guy winner Chas Henry is gone, but freshman Kyle Christy enrolled early and immediately took over punting duties, launching a punt 55 yards in the spring game.
Andre Debose
was named the nation's top kick returner by the College Football Performance Awards in 2010 after returning two kicks for touchdowns and
Chris Rainey
could be the slipperiest punt returner in the SEC. Florida also has been the best punt/kick blocking team around the last few years.
5. Ole Miss:
Place-kicker Bryson Rose made 16 of 18 kicks last year and should be just as solid and might have to come up with even more kicks this fall. His kicking partner, punter Tyler Campbell, had a nation-leading 46.4 yards per punt average in 2010. He launched 19 punts over 50 yards and five of 60 or more yards.
Jeff Scott
was solid on kick returns, but Ole Miss' staff will look to junior college transfer Philander Moore for kick and punt returns. Last season at Blinn (Texas) College, Moore had 811 total return yards and six touchdowns.
6. Vanderbilt:
Kicker Ryan Fowler and punter Richard Kent return in 2011. Fowler was solid as a freshman, but took a few steps backward in 2010 kicking 8-of-13 and missing all of his kicks from beyond 35 yards. Carey Spear, who handled kickoffs last season, could push Fowler. Kent had one of the strongest and most durable legs in the country last season, leading the nation with 84 punts and averaged 41.8 yards per kick. Twenty-seven of them were downed inside the 20. Vanderbilt did, however, have four punts blocked. When healthy,
Warren Norman
is one of the most dynamic returners in the league. As a freshman, he took three kickoffs back for touchdowns and averaged 25.4 yards per return before his injury last season.
7. LSU:
The Tigers had one of the most exciting place-kickers to watch in Josh Jasper because he not only kicked but he was the master of the trick play. LSU will now look to Drew Alleman, who has had issues with consistency. Jasper also punted here and there, but regular punter Derek Helton is gone, leaving redshirt freshman Brad Wing in charge. The Australian-born athlete has a lot to learn about the SEC. Now that Patrick Peterson is gone, LSU is starting over in the return game. No one on the roster is as dynamic, but the Tigers will look at
Rueben Randle
, Tyrann Mathieu and Ron Brooks to carry the load by committee.
8. Mississippi State:
Kicker shouldn't be an issue for the Bulldogs. Derek Depasquale has hit 20-of-24 field goals in his two seasons in Starkville and nailed a 54-yarder in the spring game. Mississippi State must replace punter Heath Hutchins, but Baker Swedenburg should fill in nicely. The Bulldogs have a lot of athletes to throw out into the kicking game this year.
LaDarius Perkins
, who is Mississippi State's talented backup to running back
Vick Ballard
, will be used on kicks, along with receiver
Brandon Heavens
.
Chad Bumphis
returned punts last season, but Heavens could take over that role.
9. Kentucky:
Returners Randall Cobb and
Derrick Locke
are gone, but there are some athletes ready to fill in. Randall Burden, Winston Guy and Martavius Neloms got looks at punt returner this spring and there are a few options at kick returner. Both
Raymond Sanders
and Jerrell Priester fielded a few last season. Both kickers are back. Walk-on Craig McIntosh made 11 of 15 field goals last season, with a long of 50, while punter Ryan Tydlacka averaged 43.8 yards per kick.
10.Tennessee:
Kicker Michael Palardy only attempted seven kicks last year while backing up Daniel Lincoln. His only three misses were from beyond 40 yards. Tennessee will also be breaking in new punter Matt Darr this fall. The Volunteers were in the middle of the SEC pack in kick returns last year, but were 11th in the league in punt returns, totaling just 73 punt returns. Da'Rick Rogers will return punts and showed improvements there, while the Vols have yet to find their punt returner.
11. Auburn:
Record-setting kicker Wes Byrum is finally gone, so the Tigers' new kicker literally has big shoes to fill. That person should be Cody Parkey, who primarily kicked off last year. Auburn also lost punter Ryan Shoemaker. His replacement,
Steven Clark
had nine punts in 2010, with two dropping inside the 20.
Onterio McCalebb
should return more kicks this season and dynamic redshirt freshman
Trovon Reed
could be used on punt returns, where the Tigers averaged just 6.2 yards per return a year ago.
12. South Carolina:
Gone is dual-threat kicker Spencer Lanning, who kicked field goals and punts. Jay Wooten impressed at times this spring and can place-kick and punt. There's a chance the Gamecocks might end up having two kickers as Patrick Fish competed for the punting spot this spring. The Gamecocks were last in the SEC with a 3.4-yard average on punt returns, while the tiny
Bryce Sherman
averaged 20.4 yards on kicks, with a long of 37. The shifty
Ace Sanders
and newcomer Damiere Byrd could compete for time at punt returner.
April, 13, 2011
4/13/11
5:45
PM ET
As much as fans might not want to admit it, kickers are players too. They're actually quite important these days.
Sure, they aren't gym animals and most of them can barely outrun me in the 40. I played soccer, so I should be able to hold my own.
Anyway, even the rough SEC needs scrappy kickers to get by. During the 2010 season, 15 games involving SEC teams were determined by three points or less. The SEC actually went 3-4 against nonconference foes in these games, including Auburn's 22-19 win over Oregon in the national championship where Wes Byrum kicked one through the uprights as time expired.
Byrum also nailed one in overtime to beat Clemson last season.
Florida punter Chas Henry, who filled in for regular kicker Caleb Sturgis for most of last season, also missed a game-tying 42-yard field goal in a 10-7 loss at home to Mississippi State, but later redeemed himself with a game-winning field goal in overtime to beat Georgia.
And Tennessee won't soon forget North Carolina's field goal at the end of the fourth to tie the Vols in the Music City Bowl or the eventual game-winning one the Tar Heels kicked in the second overtime.
Obviously, not all games came down last-second field goals, but in a league that displays similar talent up and down, games are going to come down to the wire and kickers are going to be crucial.
Here's a look at returning kickers in the SEC:
Player
Bryson Rose
, Ole Miss (16-18, .889)
Blair Walsh
, Georgia (20-23, .870)
Zach Hocker
, Arkansas (16-19, .842)
Derek Depasquale
, Mississippi State (10-12, .833)
Cade Foster
, Alabama (7-9, .778)
Jeremy Shelley
, Alabama (12-16, .750)
Craig McIntosh
, Kentucky (11-15, .733)
Michael Palardy
, Tennessee (5-7, .714)
Ryan Fowler
, Vanderbilt (8-13, .615)
Caleb Sturgis
, Florida (2-4, .500)