February, 22, 2011
2/22/11
9:00
AM ET
Mississippi State hits the practice field next Friday to kick off spring practice in the SEC, and several other teams will follow the next week.
Football is back, and here's a snapshot of what to watch this spring in the Western Division:

ALABAMA
Start of spring practice:
March 21
Spring game:
April 16
What to watch:
McCarron or Sims? If you're looking for one of the more intriguing position battles of the spring, it doesn't get much better than A.J. McCarron and Phillip Sims battling it out for the Alabama starting quarterback job. Both players are extremely talented and were highly rated coming out of high school, and they're vying to replace a guy who was the essence of precision, smarts and productivity all wrapped into one -- Greg McElroy. McCarron played a little bit last season as a redshirt freshman, while Sims redshirted. We'll see if one separates himself enough this spring for Nick Saban to name a starter.
Back in the SEC: In addition to settling on a starting quarterback, the other thing the Crimson Tide would like to determine this spring is who will be protecting that quarterback from the left tackle position. Junior college signee Aaron Douglas is probably the guy to beat. He's already on campus after attending Arizona Western College last year and drawing a wide array of interest from schools. He started his career at Tennessee, where he earned Freshman All-American honors in 2009 while playing right tackle for the Vols.
Rushing the passer: The Crimson Tide would like to amp up their pass rush next season, which means getting there without having to blitz all the time. Jack linebacker Courtney Upshaw finished last season on fire and lived in the opposing backfield his last two games. This is an important spring for middle linebacker Dont'a Hightower, who's also been used outside in pass-rushing situations. Hightower was coming off reconstructive knee surgery last season and didn't appear to be all the way back. He's eager to show this spring that he is all the way back and poised to be an All-SEC player again.
ARKANSAS

Start of spring practice:
March 15
Spring game:
April 16
What to watch:
Mr. Wilson: A year ago, Tyler Wilson got a chance to show what he could do with the first unit because Ryan Mallett broke a bone in his foot and missed the spring after undergoing surgery. This spring, it's Wilson's show again, although Mallett won't be coming back this time. Wilson, a sophomore, is the odds-on favorite to win Arkansas' starting quarterback job. He passed for 332 yards and four touchdowns against Auburn last season on the road after Mallett was knocked out of the game with a concussion. Arkansas coach Bobby Petrino said he thinks Wilson can be a terrific quarterback, but wants to see him beat out Brandon Mitchell and Jacoby Walker for the job before handing him the keys to the Hogs' offense.
Getting defensive: The Hogs' defense took the kind of step last season that was required to get them to 10 wins. They went from 89th in the country in total defense in 2009 to 36th in the country a year ago. The key figures from that defense return next season, and Petrino has said he thinks Arkansas will be even better on defense in 2011 than it was last season. Finding a replacement for Anthony Leon at one of the linebacker spots will be important this spring, and the Hogs could still use some more speed in the secondary.
Fourth-quarter blues: Special emphasis was placed on winning the close games last season and getting it done in the fourth quarter. That will be a familiar cry on the practice field again this spring. All three of Arkansas' losses last season came on the heels of fourth-quarter breakdowns. The Hogs couldn't hold a lead at home against Alabama, and the Crimson Tide rallied from two touchdowns down in the fourth quarter to win. At Auburn, the Hogs were snowed under by a 28-point Auburn avalanche in the fourth quarter. And in the Sugar Bowl, the Hogs couldn't capitalize in the final minutes despite blocking a punt and recovering inside the Ohio State 20.
AUBURN

Start of spring practice:
March 23
Spring game:
April 16
What to watch:
Playing with a target: Auburn emerged from the shadows last season to go 14-0 and win its first national championship since 1957. Nobody really saw the Tigers coming. Now, even though they lost great players the caliber of Cam Newton and Nick Fairley, everybody will be circling the Auburn game on their calendars. With so many new faces in key positions, this team will have to establish its own identity and be prepared to get everybody's best shot every weekend.
Rebuilding the O-line: It's hard to imagine Auburn playing a game without departed senior offensive line starters Lee Ziemba, Mike Berry, Byron Isom and Ryan Pugh. They were together so long and made so many career starts alongside each other. This spring, the Tigers start the process of replacing their four rocks up front. The lone holdover from the BCS National Championship Game is right tackle Brandon Mosley, although A.J. Greene was also a starter last season until he injured his ankle. Redshirt freshman Ed Christian is definitely somebody to watch at one of the guard spots, and don't forget about junior John Sullen, who can play guard or tackle.
Trotter in the race: Even as great as Newton turned out to be, coach Gene Chizik and offensive coordinator Gus Malzahn were careful to make sure Newton was clearly the guy before naming him the starter at the conclusion of spring practice and heading into the summer. Junior Barrett Trotter and sophomore Clint Moseley were two of the guys battling with Newton last spring. But this spring, they will be battling each other for the starting quarterback job, a battle that's likely to continue into preseason practice once heralded true freshman Kiehl Frazier arrives on campus this summer.
LSU

Start of spring practice:
March 11
Spring game:
April 9
What to watch:
Quarterback derby: Perhaps the most closely watched quarterback battle this spring will occur at LSU, where seniors Jordan Jefferson and Jarrett Lee will try and hold off talented junior college signee Zach Mettenberger. Jefferson played better toward the end of last season, but the Tigers' passing game was nonexistent for much of the 2010 season. The 6-foot-5, 250-pound Mettenberger put up huge numbers in junior college last season after starting his career at Georgia. He obviously didn't sign with LSU to sit and watch.
Kragthorpe to the rescue: Former Louisville head coach Steve Kragthorpe takes over as LSU's offensive coordinator and does so after the Tigers finished 11th in the SEC last season in total offense and last in the SEC in 2009. Kragthorpe wants to make sure LSU is getting the ball in the hands of its best playmakers, but he also wants to make sure the Tigers are balanced. Their running game improved dramatically last season. With Stevan Ridley leaving early for the NFL draft, Spencer Ware is next in line after rushing for 102 yards in the Cotton Bowl.
Special-teams makeover: The Tigers were gutted on special teams. Even special teams coordinator Joe Robinson left to take a job on North Carolina's staff. Also gone are All-SEC place-kicker Josh Jasper, All-SEC return specialist Patrick Peterson and punter Derek Helton, who was second in the SEC with a punting average of 45.7 yards per game. LSU will be looking to fill voids across the board this spring in its kicking game, which was a big reason the Tigers won 11 games last season.
MISSISSIPPI STATE

Start of spring practice:
March 4
Spring game:
April 9
End of spring practice:
April 11
What to watch:
New defensive chief: Manny Diaz was hired away by Texas to be the Longhorns' defensive coordinator, meaning co-defensive coordinator Chris Wilson is now the guy running things in Starkville. Diaz and Wilson worked together closely last season, so it's doubtful much will change. Dan Mullen did bring in Geoff Collins to serve as co-defensive coordinator to Wilson and also coach the Bulldogs' linebackers.
Lining up linebackers: The Bulldogs lost all three of their starting linebackers from last season, including their top two tacklers in Chris White and K.J. Wright. Emmanuel Gatling was the other starter, although he shared time with Cameron Lawrence at one of the outside spots. So while Lawrence might have first dibs on one of those three starting jobs this spring, the competition will be fierce. Redshirt freshmen Felando Bohanna and Christian Holmes are two to watch in the middle. Chris Hughes played some last season as a true freshman on the outside, and third-year sophomore Michael Hunt will also be in the mix for a starting job.
Relf's supporting cast: Chris Relf enters his senior season as one of the most experienced quarterbacks in the SEC, and he's also one of the league's most improved players. The Bulldogs' top threats in the running game return, but Relf will have several new guys he'll be hooking up with in the passing game. Junior receiver Chad Bumphis has been working out and is expected back this spring after missing the Gator Bowl with a broken collarbone. The Bulldogs also redshirted several receivers last season they have high hopes for, including Malcolm Johnson, Robert Johnson and Jameon Lewis. Getting a healthy Marcus Green back at tight end will also make Relf's life easier.
OLE MISS

Start of spring practice:
March 28
Spring game:
April 16
What to watch:
Lee to call plays: The last time Ole Miss coach Houston Nutt didn't call his own plays was 2007 when David Lee called them during Nutt's final season at Arkansas. Well, Lee has reunited with Nutt at Ole Miss for the 2011 season after coming over from the Miami Dolphins, and Nutt has again turned over the offensive play-calling duties to Lee in order to spend more time focusing on other areas of the team. Lee will build what the Rebels do offensively around an underrated stable of running backs, led by Brandon Bolden.
Quarterback questions: Jeremiah Masoli popped in at the last minute a year ago. But this time, it appears that the guy who separates himself this spring will be the Rebels' quarterback for the season. Junior Nathan Stanley has the edge in experience. Randall Mackey is probably the most athletic, but will be limited this spring after undergoing knee surgery. Junior college signee Zack Stoudt is already enrolled and also eyeing the starting job, while West Virginia transfer Barry Brunetti will be in the middle of the race as well if he receives a waiver from the NCAA and is allowed to play this coming season.
Building back the defense: After back-to-back seasons in 2008 and 2009 when Ole Miss' defense was outstanding, Tyrone Nix's unit came crashing down last season. More than anything, it's a group that needs to regain its confidence this spring and play with that same attacking mentality that made the Rebels so effective on defense the previous two seasons. Linebacker D.T. Shackelford is a leader and the kind of guy you win with in this league, but Nix & Co. need to find a few more like him this spring, especially in the secondary.
January, 11, 2011
1/11/11
2:50
AM ET


Mark Schlabach talks with Auburn center Ryan Pugh about Michael Dyer's dominant running.
January, 5, 2011
1/05/11
6:27
PM ET
SCOTTSDALE, Ariz. -- A lot is being made this week of the obvious cultural differences between Auburn and Oregon.
Ryan Pugh, the Tigers' senior center, was more than willing to play right along Wednesday with the media.
"It's probably about as opposite as you can get in terms of politics," Pugh said.
He added, "It's liberal versus conservative."
Clearly, the Ducks' mascot has made an impression on Pugh, especially the way he leads the team out onto the field at home riding a motorcycle.
Pugh's also seen the clip of the Ducks' mascot beating up on the Houston Cougars' mascot in 2007.
"We learned their Duck, their mascot, is tough," Pugh said. "So we've been working with our mascot at practice. We're getting him ready for this upcoming event with their mascot, in case their mascot feels the need to challenge our mascot."
Pugh joked that Oregon's uniforms seem to change every week.
"We're really hard after our alumni to let us change our uniforms that haven't changed for 200 years," he cracked.
Asked what he knew about the state of Oregon, Pugh said, "The state of Oregon? I don't know anything about Oregon. I can't even B.S. that."
As for what the people in Oregon might not know about the state of Alabama, Pugh offered up this gem: "We're not really as redneck as people think we are. I would bet Oregon people don't even know why we are called rednecks."
A sampling of some Pugh's other musings:
"We're a very hospitable people, passionate [about] football, lots of 'yes sir' and 'no, sir.'"
"Sweet tea is really good, if you've ever had it."
He even took a good-natured jab at his Heisman Trophy teammate
Cameron Newton
when asked if the Tigers were a one-man team.
"If they consider five people one man, because the offensive line is obviously the best part of the team," Pugh joked. "There's no doubt that if they could have given out five Heisman trophies, they would have given it to the offensive line. They would have never even considered No. 2 for the award."
But then turning serious, he said, "People can say it's a one-man team because we realize that without that one man, we probably wouldn't be in this situation."
December, 20, 2010
12/20/10
10:56
AM ET
By
ESPN.com staff
| ESPN.com
Playing well in the offensive line is a must if you're going to win big at any level of football.

Equally important is playing together in the offensive line and maintaining a degree of continuity up front.

If you're constantly having to mix and match in the offensive line, then your productivity on offense is probably going to reflect that lack of continuity.

Arkansas and Auburn are two prime examples of what continuity up front can do for an offense.

The Hogs had the same five starters in all 12 games this season. The Tigers finished the season with the same five starters in their last 10 games. The only change was Brandon Mosley stepping in for A.J. Greene at right tackle after Greene suffered a season-ending ankle injury the third week of the season against Clemson. Mosley was in the starting lineup that next game against South Carolina and has been there ever since.

Moreover, all four of Auburn's senior starters -- Lee Ziemba, Mike Berry, Byron Isom and Ryan Pugh -- have been in the starting lineup for all 13 games.

So, is it any coincidence that the the SEC's two BCS bowl teams have essentially played with the same offensive lines all season?

Look at the offensive numbers.

Auburn (42.7 points per game) and Arkansas (37.3 points per game) are the top two scoring offenses in the SEC. The same goes for total offense. Auburn led the SEC, averaging 497.7 yards per game. Arkansas was close behind at 489.2 yards per game.

They were also two of the best teams in the league at scoring touchdowns inside the red zone. The Hogs scored 33 touchdowns in 46 red-zone trips (71.7 percent), while the Tigers scored 44 touchdowns in 63 red-zone trips (69.8 percent). Auburn would probably have an even higher percentage had it not been for four kneel-downs at the end of games.
October, 20, 2010
10/20/10
5:24
PM ET
By
ESPN.com staff
| ESPN.com
Auburn center Ryan Pugh is one of 10 finalists for the Lowe's Senior CLASS Award.
To be eligible for the award, the players must be classified as an NCAA Division I senior and have notable achievements in four areas of excellence -- classroom, character, community and competition.
A committee of media chose the finalists from the list of 30 candidates announced in August. Nationwide fan voting begins immediately to determine the winner. Fans are
encouraged to vote
via the Lowe's Senior CLASS Award website through Dec. 6. Fan votes will be combined with media and coaches' votes to determine the winner.
October, 15, 2010
10/15/10
3:12
PM ET
By
ESPN.com staff
| ESPN.com
You inquire, and I do my best to answer. It's time for the weekly SEC mailbag:
James in Niceville, Fla., writes:
I'm starting to think that the SEC's national championship run is going to end this season. When do the BCS standings come out, and how far back will the SEC teams be?
Chris Low:
The first BCS standings will be released this Sunday on ESPN at 8:15 p.m. ET. Based on projections by ESPN's Brad Edwards, who crunched the numbers, the SEC isn't likely to have a team in the top 5. But I wouldn't get too caught up in these first BCS standings. If either Auburn or LSU stays unbeaten and wins the SEC championship, I think it's a lock that team would be in the BCS National Championship Game. If everybody in the league ends up having one loss, I think Alabama is in the best shape. For one, the Crimson Tide lost early enough and still have a chance to move up in the polls with big games remaining against LSU (Nov. 6) and Auburn (Nov. 26). A one-loss SEC champion would need at least two unbeaten teams ahead of it to lose. Say Ohio State and Oregon, or Nebraska and Ohio State. I feel like a one-loss SEC champion would (and should) pass an unbeaten Boise State in the final BCS standings.
Jeramy in Highland Lake, Ala., writes:
How does Ryan Pugh not make at least the honorable mention list of the top offensive linemen? He's a four-year starter who hardly ever misses a block on Auburn's offensive line. He's been much better this year and last than Isom and is the anchor of the entire thing. He's possibly more valuable than Ziemba. The guy doesn't get many flags, doesn't get beaten often, is a great leader and makes all the calls to get the line where it needs to be.
Chris Low:
The truth is that Auburn has several guys on that offensive line who deserve to be among the top 10 linemen in this league. As a unit, they've played very well together. But to this point, Isom is a guy who's really stood out, according to several people at Auburn and others around the league I trust. That doesn't diminish Pugh's value to that team or the way he's played. Plus, this is just a midseason list. We'll see how it shakes out at the end of the season. But like you, I think Pugh is an excellent linemen. But so are Georgia's Ben Jones and Cordy Glenn, Alabama's James Carpenter and Chance Warmack, South Carolina's Garrett Chisolm, Florida's Carl Johnson and Kentucky's Stuart Hines, and none of those guys made the list. I could go on, but I think you get the idea. Somebody's going to be left off when you have so many great players in one league. Again, the list that counts is the one at the end of the season.
Patrick in Murfreesboro, Tenn., writes:
Rank the quarterbacks in the SEC.
Chris Low:
I actually did that this week in conjunction with a SportsNation poll asking fans to rank the SEC starting quarterbacks. This is the way I ranked them: 1. Newton, 2. Mallett, 3. McElroy, 4. Murray, 5. Garcia, 6. Masoli, 7. Hartline, 8. Brantley, 9. Relf, 10. Simms, 11. Lee, 12. Smith, 13. Jefferson. The fans' vote looked a little different. This is the way they voted: 1. Mallett, 2. Newton, 3. Garcia, 4. McElroy, 5. Lee, 6. Murray, 7. Hartline, 8. Brantley, 9. Masoli, 10. Jefferson, 11. Relf, 12. Simms, 13. Smith.
Jason in Hershey, Pa., writes:
Chris, have you heard if Tennessee will break out the black jerseys and orange pants for the Alabama game on Oct. 23? They did look really good last year.
Chris Low:
Geez, I hope not. I have to disagree with you, Jason, on the black-on-orange look. I realize it was Halloween and all, but those uniforms were hideous they wore against South Carolina last season. I'll admit that I'm a traditionalist and think it's silly when teams are always tweaking their uniforms and wearing different colors. Now, the apparel companies love it so they can market different jerseys to sell. But in Tennessee's case, the Vols have a lot more to worry about than breaking out the black jerseys, and I think Derek Dooley would tell you the same thing.
Evan in Little Rock, Ark., writes:
Do you think
x
is good enough to go to the NFL? If he is, what round would you say?
Chris Low:
Yes, I absolutely think D.J. has an NFL future. He's improved his blocking at Arkansas and is one of the best pass-catching tight ends in the country. I had the pleasure of getting to know D.J. and his family
for a story I did on them last year
, and I can tell you that his character is another thing that will weigh in his favor at the next level. Everybody who's a legitimate NFL prospect is talented, but more and more NFL executives are putting a higher premium on character. D.J. has it all and is outstanding when it comes to getting open, catching the ball and making something after the catch. ESPN draft analyst Mel Kiper rates D.J. as the third best senior tight end prospect in the draft, so I would think he has a good chance to go in the top three rounds.
Brannon in Baton Rouge, La., writes:
I was looking at the running back polls ESPN is doing and am curious why
Stevan Ridley
isn't in that group of running backs. He's second in the SEC in rushing on a team that's lucky to be 6-0, but nevertheless they are undefeated. He's also on a team that everyone knows is going to run the ball, yet he still averages 106 yards a game. Care to share your thoughts on this?
Chris Low:
Part of it might be that Ridley wasn't on a lot of people's radar coming into the season. I was impressed with him and knew he was capable. The little bit we got to see of him in that Alabama game last season, I felt like he had a bright future. He's big, runs with great power and faster than you think. So, basically, you're preaching to the choir. He's extremely underrated, and you also hit on a good point. He's been able to get his yards without the benefit of a passing game. He has 640 rushing yards in six games, and he's averaging 5.1 yards per carry. The Tigers better be glad they have him, because Ridley at times has been their only offense.
Matt in Middlesboro, Ky., writes:
If you could pick three players in the SEC that you would most want to see play, who would they be?
Chris Low:
Great question, although you're putting me on the spot. Let's keep it to this season, which means I'm making my choices purely on what they've done in the first half of this season. The three I would pick right now would be Kentucky's
Randall Cobb
, LSU's Patrick Peterson and Auburn's
Cameron Newton
. They all have one thing in common. They're so dynamic and so explosive that you don't want to miss a single play when they're on the field. I get the feeling that all three could line up just about anywhere and still be a star. Of course, Cobb already does that every week.
Derek in Caddo Gap, Ark., writes:
Another week and still no love for the Hogs. When will you learn? If you want to get your percentage up, pick up on the Hogs. Auburn' s best coach is from Arkansas.
Chris Low:
I know. I went back and forth on the game this week. A tough call, for sure. I just like Auburn better in the fourth quarter of games, and I see this being a fourth-quarter game. I hope you guys will let me back into the state of Arkansas again.
August, 26, 2010
8/26/10
4:15
PM ET
By
ESPN.com staff
| ESPN.com
The Rimington Trophy committee has released its
fall watch list
for the 2010 award, and five SEC players made the cut.
Named for former Nebraska center Dave Rimington, the Rimington Trophy is awarded annually to the top center in major college football. Florida's Maurkice Pouncey won the award last year, and his twin brother, Mike Pouncey, will try to keep it in the family this year.
Other SEC centers named to the 37-player watch list include:
Mississippi State's J.C. Brignone
Georgia's Ben Jones
Auburn's Ryan Pugh
Alabama's William Vlachos
July, 23, 2010
7/23/10
9:01
AM ET
By
ESPN.com staff
| ESPN.com
They say it all starts with the guys up front.
So with that, here's the way we see the offensive lines stacking up in the SEC this season: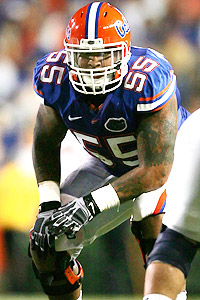 Cliff Welch/Icon SMIMike Pouncey, arguably the best lineman in the league, is moving to center this season.
1. Florida:
The Gators return four seniors on the offensive line who've played a lot of football, and three of them were full-time starters a year ago. Mike Pouncey might be the best offensive lineman in the league and is sliding over from guard to center to take over for his twin brother, Maurkice. Not only are the Gators good up front, but they're also huge. Four of their starters will be 315-plus.
2. Alabama:
The loss of All-America left guard Mike Johnson will hurt, but sophomore Barrett Jones is a budding star at right guard. William Vlachos is one of the best centers in the league. James Carpenter more than held his own a year ago at left tackle after transferring in from junior college, and massive D.J. Fluker (6-6, 340) looks like he'll be the right tackle. On top of it all, Alabama has one of the best line coaches in the business in Joe Pendry.
3. Georgia:
If everybody stays healthy, it's going to be hard to beat the Bulldogs' depth and experience. The key is staying healthy. Trinton Sturdivant has missed each of the last two seasons with knee injuries, but was Georgia's starting left tackle as a true freshman in 2007. Offensive line coach Stacy Searels will have some options. Several of the guys returning can play multiple positions. Senior tackle Clint Boling and junior guard Cordy Glenn are both All-SEC caliber players.
4. Auburn:
The Tigers have all but one starter returning from an offensive line that paved the way for a 2,612-yard passer, 1,362-yard rusher and 997-yard receiver last season. All four of the returning starters are seniors, too. Lee Ziemba could make a strong case as one of the best left tackles in the league, and Ryan Pugh is right there at the top of the list in terms of centers. The Tigers still have to settle on a right tackle and establish some depth behind the starters.
5. Arkansas:
The biggest name on Arkansas' offensive line from a year ago is gone (Mitch Petrus), but the Hogs still return four experienced starters. Seniors DeMarcus Love and Ray Dominguez form an imposing tackle tandem, and senior guard Wade Grayson is a powerful drive blocker inside alongside junior center Seth Oxner. The Hogs will also have a new offensive line coach in 2010, as Chris Klenakis reunites with Bobby Petrino.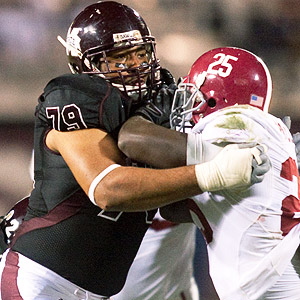 Shelby Daniel/Icon SMILeft tackle Derek Sherrod leads a line returning three other starters.
6. Mississippi State:
Any good offensive line needs an anchor, and the Bulldogs have that in senior Derek Sherrod, who's started the last 22 games at left tackle. He joins three other returning starters, all of whom deserve their share of credit for Anthony Dixon's big season a year ago. The only problem is that Dixon has taken his act to the NFL. Nonetheless, this is a physical group that really gets after people.
7. Ole Miss:
The middle of the Rebels' offensive line from a year ago is gone, including third-round draft pick John Jerry. Remember all the trouble Bradley Sowell had at left tackle, particularly early last season? Well, he made it through the storm and is back as one of Ole Miss' most experienced linemen. Sophomore Bobby Massie returns at right tackle after breaking into the starting lineup as a freshman.
8. LSU:
It can't get much worse for the Tigers up front, not after giving up 37 sacks and failing to generate any kind of consistent running game last season. Senior Joseph Barksdale is moving from right tackle to left tackle. He's used to moving. In high school, he was a highly recruited defensive lineman. LSU moved a couple of different people around in the spring hoping to find the right combination. Sophomore Alex Hurst shifted from guard to right tackle. Center T-Bob Hebert was suspended in May after being arrested and charged with DUI.
9. South Carolina:
The Gamecocks have been through the offensive line coaches. Shawn Elliott is the third different one in as many years. Steve Spurrier has said that a couple of true freshmen may have to play for the Gamecocks, even though that's easier said than done in the SEC. Like LSU, South Carolina gave up 37 sacks a year ago. Senior tackle Jarriel King is probably the best of the bunch, and sophomore T.J. Johnson is nestled in at center. Prized freshman running back Marcus Lattimore is on his way, but he's going to need more help than the South Carolina backs got last year.
10. Tennessee:
Having a first-year starter at quarterback in the SEC is daunting enough, but the Vols will go one better. They will put five new offensive line starters on the field, too. There's some young talent in the group, led by true freshman right tackle Ja'Wuan James. Sophomore Dallas Thomas emerged at the other tackle and had a solid spring. This is a line that could be very good down the road if the Vols keep everybody together, but they may take their lumps this season.
11. Kentucky:
The Wildcats like their younger talent in the offensive line, and that's a good thing. A lot of those guys are going to have to play key roles this season. The lone returning starter is junior guard Stuart Hines, and he's the guy the Wildcats ran behind in key spots a year ago. His leadership and guidance will be even more important in 2010. Mike Summers steps in as Kentucky's offensive line coach.
12. Vanderbilt:
Robbie Caldwell's job was already tough enough. But in addition to taking over for Bobby Johnson as interim head coach, he also has to whip a Vanderbilt offensive line together that will battle youth and inexperience. The Commodores are hopeful Ryan Seymour can return from shoulder surgery. They also lost promising tackle James Williams to academics after he missed most of last season with a broken ankle. Redshirt freshman tackle Wesley Johnson will have to grow up in a hurry.
May, 13, 2010
5/13/10
9:30
AM ET
By
ESPN.com staff
| ESPN.com
We spotlight Auburn today and take a look at where the Tigers were the strongest and the weakest coming out of the spring.

Strongest position: Offensive line
Key returnees:
Senior left tackle Lee Ziemba, senior left guard Mike Berry, senior center Ryan Pugh, senior right guard Byron Isom.
Key departures:
Right tackle Andrew McCain
The skinny:
The only negative is there isn't a lot of experience behind the starters. Otherwise, Auburn has a chance to put one of the best offensive lines in the league on the field in 2010. The Tigers return four senior starters who should be even better the second time around in Gus Malzahn's offense, not to mention offensive line coach Jeff Grimes' blocking schemes. Ziemba has 38 starts under his belt and Pugh 32 starts. Both are All-SEC caliber players. Berry sat out the spring after undergoing offseason knee surgery, but should be good to go when preseason practice resumes. The left side of the Tigers' line should be particularly strong. Junior college newcomers Brandon Mosley and Roszell Gayden battled it out for the right tackle job this spring. Mosley, a converted tight end, ended the spring with a slight lead, but Gayden will give it another shot in the fall. Staying healthy will be key. That and backups Bart Eddins and John Sullen stepping up and providing some quality depth.
Weakest position: Linebacker
Key returnees:
Senior middle linebacker Josh Bynes (104 tackles, six tackles for loss), senior outside linebacker Craig Stevens (95 tackles, eight tackles for loss, 2.5 sacks), sophomore safety/outside linebacker Daren Bates (70 tackles, 2.5 tackles for loss)
Key departures:
Adam Herring (12 tackles).
The skinny:
It's a wonder Bynes and Stevens are still standing after all of the snaps they had to play last season. They both were on the field for every defensive snap in the overtime win over Northwestern in the Outback Bowl. Both players are solid, too. It's just that there aren't a surplus of definitive answers after Bynes and Stevens. The Tigers plan to move Bates to outside linebacker after a stellar freshman season at safety. But it's difficult to say right now how Bates will adjust to his new position. He was unable to go through spring practice after undergoing offseason shoulder surgery. Junior Eltoro Freeman is also a possibility after an up-and-down first season at Auburn. Freeman, who transferred in from junior college, has to shake his inconsistency if he's going to be a starter. If Bates can successfully make the transition during preseason practice, he'll be the third starter and play more of a hybrid role. The Tigers like the idea of getting more speed on the field at linebacker. Defensive coordinator Ted Roof made it a point to cross-train guys at different position this spring. Sophomore Jonathan Evans, who started against Alabama last season, will be a key backup at several different spots. True freshmen Jessel Curry, Jake Holland and LaDarius Owens may also find their way into the rotation. Curry enrolled early and went through spring practice.
April, 30, 2010
4/30/10
7:30
AM ET
By
ESPN.com staff
| ESPN.com
The SEC is well represented on the preliminary watch list for the 2010 Rotary Lombardi Award.
There are 13 players from the SEC on the list, which will be updated prior to the start of the 2010 season.
Here are the SEC players making the cut:
Clint Boling, OT, Georgia
James Carpenter, OT, Alabama
Marcell Dareus, DE, Alabama
Dont'a Hightower, LB, Alabama
Justin Houston, OLB, Georgia
Cliff Matthews, DE, South Carolina
Pernell McPhee, DE, Mississippi State
Mike Pouncey, OG, Florida
Jerrell Powe, DT, Ole Miss
Ryan Pugh, C, Auburn
Weslye Saunders, TE, South Carolina
Kelvin Sheppard, LB, LSU
Lee Ziemba, OT, Auburn