April, 29, 2013
4/29/13
10:30
AM ET
Looking at the NFL draft, it's easy to see how some of the SEC teams had so much success in 2012.
Alabama and LSU led the way for the conference with nine draft picks each and both registered double-digit wins last season. Alabama won 13 games and a national championship last year, while LSU went 10-3.

Georgia, which went 12-2 last year, and 11-2 Florida both had eight draft picks, while 11-2 South Carolina had seven.
But take a gander at Vanderbilt. The Commodores went 9-4 in James Franklin's second year, but did it with just two future NFL draft picks -- running back Zac Stacy (first Vandy running back drafted since 1980) and offensive lineman Ryan Seymour. Vandy had eight draft-eligible players this year.
It's clear Franklin and his staff were able to do a lot -- including making it to back-to-back bowl games for the first time in school history -- with less than the other big boys around the league.
Three SEC teams with less wins in 2012 had more draft picks than Vandy this year:
Arkansas (4-8) -- 4
Mississippi State (8-5) -- 3
Tennessee (5-7) -- 4
Granted, the Commodores return two top-flight wide receivers in
Jordan Matthews
and
Chris Boyd
, and have some solid defensive players coming back in 2013, but they lost some key starters from last season, including quarterback Jordan Rodgers, Stacy and Seymour on offense. They also lost their top corner in
Trey Wilson
, a solid defensive tackle in
Rob Lohr
and hard-nosed linebacker
Archibald Barnes
.
Vandy will likely have more draft picks next year, but you have to commend the coaching job Franklin and his crew have done in their two years. Only two Commodores were drafted in the 2012 draft, too, and this program hasn't had near the success it's having now in a very, very long time.
Players have completely bought into Franklin's philosophy and the coaches are doing a very good job developing players. The offensive line was one of the most improved units in the SEC in 2012, thanks to line coach Herb Hand's teachings, and defensive coordinator Bob Shoop has totally turned this defense around. Vandy is one of five SEC schools to finish in the top 20 nationally each of the past two seasons in total defense.
The Commodores have also showcased a pretty explosive offense during the past two seasons and won five conference games in 2012 for the first time since 1935.
It's been a pretty impressive two-year run for Franklin and his Commodores, and they've done it without the same amount of top-grade talent as the bigger guys.
August, 16, 2012
8/16/12
1:35
PM ET
Vanderbilt offensive line coach Herb Hand has no time to ease his group of wide-eyed freshmen into the mix this fall.
He wants to chuck anything and everything at the six true freshmen in order to give them every single opportunity to show him that they aren't ready to play this fall.

"We want to throw them right in the mix," Hand said.
"I want to throw everything at them; not just give them the easy stuff to do.
"We have thrown the kitchen sink at them. A lot of those guys probably feel like they're drinking out of a fire hose right now."
Add in the big screen TV and the dining room table and Hand has the recipe for finding out which guys won't be able to cut it this fall. The ones who withstand the pounding earn the opportunity to play.
Knowing there would be depth issues in 2012, coach James Franklin and his staff made the offensive line a priority in the 2012 class. Six was a good number for the Commodores because bodies were needed.
Vandy's staff spent most of the spring trying to keep the offensive line together with tape, as injuries and procedures sidelined some of the big guys throughout spring practice. At one point this spring, Franklin and Hand could only use seven offensive linemen during practices because so many injuries piled up. It also didn't help that center Logan Stewart and Mylon Brown were both dismissed, after combining for 14 starts in 2011.
What was one of the most improved groups in the SEC last year now enters the fall with questions surrounding it. The good news for Hand is he feels very confident in eight core players, including projected starters
Wesley Johnson
,
Ryan Seymour
,
Spencer Pulley
,
Josh Jelesky
and
Andrew Bridges
, who, outside of Pulley, all have starting experience.
Redshirt freshman
Jake Bernstein
and sophomore
Joe Townsend
will also get their shots at playing time this fall, Hand said.
To Johnson, who is Vandy's most talented and versatile lineman, getting the freshmen acclimated quickly was a priority during summer workouts. He and the other vets made sure they hit the playbook with the youngsters as much as possible in order to pound the plays and schemes into their brains before real practices began.
Though there have been plenty of hiccups and setbacks from the newbies, Johnson said he's confident a few will end up stepping up and contributing this fall in order to make this line as strong as it was last year.
"We pretty much know we can get it done," Johnson said.
Hand still isn't ready to say which freshmen he can count on yet, but
Adam Butler
and
Andrew Jelks
have made the most progress in his eyes. Both were highly regarded coming out of high school. Hand is also happy that each of his new linemen were blessed with ideal genetics, as he considers each one "long" when it comes to their arms and legs and heavy enough to hold up in this league.
"We don't have the 250-pound guy that you're trying to build up," he said. "Not that we wouldn't take a guy like that, but with this particular class we feel like we've got some length and we've got some girth."
He added that each is pretty athletic on their feet, which helps as they adapt to the speed of the college game.
Hand won't know where his freshmen stand until after 15 fall practices, which essentially equates to them going through spring. After that, he'll have a much better understanding of where his line stands.
Fortunately for Vanderbilt, the vets are getting healthier and are much more comfortable with the offense, which is something Johnson said will help as they continue to prep the youngsters.
"Now, we pretty much have most of the playbook in, as opposed to last year where we were still learning plays and trying to figure everything out," he said. "There's a much better understanding of what we have to do."
August, 2, 2012
8/02/12
9:00
AM ET
Schedule:
The Commodores' first practice is on Thursday, and their first day in pads is on Aug. 7. They open the season on Aug. 30 at home against South Carolina, which will air at 7 p.m. ET on ESPN.
Returning starters:
Nine on offense, eight on defense and the place-kicker and punter on special teams.

Star power:
Running back
Zac Stacy
returns this fall as the SEC's top statistical back from a year ago after he broke Vanderbilt's single-season rushing record with 1,193 yards and single-season rushing touchdown record with 14.
New faces:
The Commodores welcome in six true freshmen offensive linemen. That's big for Vanderbilt, considering the depth issues along the offensive line. The coaching staff will be looking to expedite the learning process for them, as they'll all be expected to compete for some sort of time this fall. Also, the staff is especially excited about incoming frosh
Brian Kimbrow
, who could lineup at running back and return punts for the Dores. And don't forget that former Montana QB and Mountain West Freshman of the Year
Austyn Carta-Samuels
is eligible to play this fall and will continue to push
Jordan Rodgers
in camp.
Don't forget about:
Running back/return specialist
Warren Norman
is back and should be healthier than he's been since his sophomore year. Norman was Vandy's top rusher back in 2009 and was also one of the league's best kick returners. Injury cut his 2010 season short and he missed all of 2011 with a bad knee. If he's back at 100 percent, he'll not only bolster Vandy's return game but he should add another solid weapon in the running game.
Big shoes to fill:
Linebacker Chris Marve wasn't just a tremendous player out on the field for the Commodores, he was the unquestioned leader of this team inside the locker room. This spring,
Chase Garnham
did a pretty good job of filling in for Marve on the field, but growth is still needed for him to become an impact player on defense. The staff has been happy with Garnham in the leadership department, but more is expected during camp and when the season starts.
Key battles:
Vandy returns two starters on the offensive line --
Wesley Johnson
and
Ryan Seymour
-- and there is still a lot of inexperience that offensive line coach Herb Hand will have to deal with. One interesting battle should be between sophomores
Spencer Pulley
and
Joe Townsend
for the center spot. The third receiver spot is also up for grabs, with juniors
Wesley Tate
and
Jonathan Krause
battling redshirt freshman
Josh Grady
.
Rising star:
Grady made the move from quarterback to wide receiver and shined this spring. The staff has always been excited about his potential because of how athletic of a player he is, and it seems as though he has the best chance to be a big-play threat at receiver. He showed his versatility this spring by lining up receiver, running back and as the Wildcat quarterback.
Bottom line:
James Franklin turned Vandy around during his first year, after the program underwent a major attitude adjustment. There was more confidence and excitement surging through the program last year, and it has spilled over into Year 2 of Franklin's tenure. The Commodores have to replace some key defensive weapons and are thin on the offensive line, but there are enough offensive playmakers returning to make the Commodores' offense fun to watch. And if the defense holds up like last year, the Commodores could go bowling for a second straight year.
July, 12, 2012
7/12/12
3:35
PM ET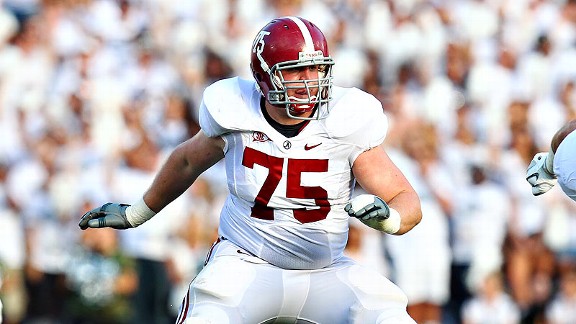 Ned Dishman/Getty ImagesA move to center shouldn't slow Alabama's Barrett Jones, last season's Outland Trophy winner.
Our preseason SEC position rankings continue with the big uglies. The
real
muscle down in the trenches. Offensive lines are crucial in every level of football, but teams seriously do live and die by the play of their offensive lines in the SEC.
Past rankings:
On to the SEC's offensive line groups:
1. Alabama:
Four starters return (with 95 combined starts), there's size, there's athleticism and this line just screams first-round NFL talent, starting with mammoth tackle
D.J. Fluker
and guard
Chance Warmack
. Reigning Outland Trophy winner
Barrett Jones
is moving to center, but with his versatility he should excel there. Add former top recruit
Cyrus Kouandjio
at left tackle and this is arguably the country's top offensive line.
2. LSU:
Like Alabama, this line is full of experience, as four starters return and so does
Josh Dworaczyk
, who was granted a sixth-year after a knee injury caused him to miss all of 2011. Some think he was LSU's best lineman before last season began. Tackles
Chris Faulk
and
Alex Hurst
are two of the best in the league and center
P.J. Lonergan
is tough to beat. Former highly-touted recruit La'El Collins should also contend for time this fall, too.
3. Texas A&M:
This could be the strength of the team. Left tackle
Luke Joeckel
is a future first-rounder, while right tackle
Jake Mathews
has All-SEC potential. Senior center
Patrick Lewis
provides a very sturdy anchor in the middle. Guards
Jarvis Harrison
and
Cedric Ogbuehi
are young, but both got good experience last year, as Harrison started five games and Ogbuehi started six. Depth could be an issue, as most reserves are younger.
4. Arkansas:
The Hogs have one of the better center-guard combos in the league in
Travis Swanson
and
Alvin Bailey
. Both have received preseason accolades and should be even better in 2012. Sophomore tackle
Brey Cook
came in with a lot of hype and if he develops in his second season, this line will be really good. Sophomore
Mitch Smothers
proved he can play just about anywhere and big left tackle
Jason Peacock
is back, but is still in the doghouse after his arrest this spring.
5. South Carolina:
Replacing Rokevious Watkins at left tackle won't be easy, but the staff feels like redshirt freshman
Brandon Shell
might be the man for the job. He's incredibly talented and athletic and improved his blocking ability during his redshirt year. Center
T.J. Johnson
and guard
A.J. Cann
are coming off of solid seasons, but the right side has questions. Right tackle
Mike Matulis
started five games last year, but missed spring while recovering from shoulder surgery and right guard
Ronald Patrick
recorded zero starts last year.
6. Tennessee:
The good news is that everyone is back. The bad news is this is the same line that was incredibly inconsistent last year in the run game, as Tennessee ranked 116th in rushing offense. However, the staff feels it has a better lineup with the emergence of sophomore
Antonio Richardson
at left tackle. Stud
Dallas Thomas
moves to left guard and
Ja'Wuan James
, who has started 25 games at right tackle, provides some good stability. The line has 99 combined starts and allowed just 18 sacks last year, but the proving ground with this group is establishing that it can come off the ball and be a better running team.
7. Missouri:
The Tigers lost three starters from last year, but that doesn't mean Mizzou is without experience. Old man
Elvis Fisher
was granted a sixth year after last year's season-ending knee injury and will provide a major boost at left tackle. And three other linemen return with starting experience from last year: tackle
Justin Britt
, who took over Fisher's spot last year, and guards
Jack Meiners
and
Travis Ruth
. One thing to keep an eye on is the line's durability. The average weight of this group is roughly 295 pounds.
8. Auburn:
Three starters return to a line that has a ton of young depth. Center
Reese Dismukes
is the anchor and one of the top centers in the league. Guard
John Sullen
and tackle
Chad Slade
combined for 21 starts last year. The staff really likes redshirt freshman
Greg Robinson
at left tackle and former top recruit
Christian Westerman
will compete for time after sitting out last year. Guard
Eric Mack
made strides this spring before he was shot near the hip during the tragic shooting that occurred near Auburn's campus in June.
9. Mississippi State:
Injuries and constant reshuffling along the line caused the Bulldogs' offense to struggle for most of last season. Three starters are gone, but junior guard
Gabe Jackson
, who is one of the league's best, is back and so is right guard
Tobias Smith
. If Smith, who suffered a season-ending knee injury early last year, is healthy, this line should be very strong along the interior.
Dillon Day
started six games last year and returns at center, while junior college transfers Charles Siddoway and Dylan Holley are pushing for time.
10. Florida:
The Gators return four starters to a line that struggled all last season. Will Muschamp said he saw vast improvement up front this spring, but tackles
Xavier Nixon
and
Matt Patchan
must show more consistency and leadership.
Jonotthan Harrison
is solid at center and guard
Jon Halapio
has improved each year. Sophomore tackle
Chaz Green
and impressive early enrollee D.J. Humphries will compete for time as well.
[+] Enlarge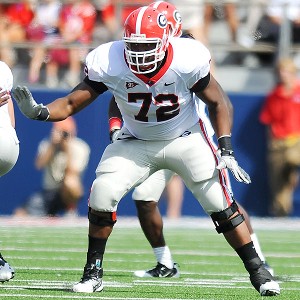 Radi Nabulsi/ESPN.com Georgia may have O-line questions, but likely none concerning junior Kenarious Gates.
11. Georgia:
Yet again the Bulldogs have questions up front. Junior
Kenarious Gates
is very versatile and athletic and is Georgia's most reliable lineman. The staff was pleased with guards
Dallas Lee
and
Chris Burnette
coming out of spring, but a lot is riding on sophomore
David Andrews
making it at center. If he has to move, Burnette will have to move to center and more reshuffling will come. Inexperience is worrisome and true freshman John Theus should get plenty of chances to take one of the tackle spots.
12. Vanderbilt:
Thanks to offensive line coach Herb Hand, this group was one of the most improved in the league last year. He'll have a tall task again with a lot of youth and inexperience. Left tackle
Wesley Johnson
is one of the most underrated linemen out there, while
Ryan Seymour
has been solid up front. The right side has issues and the depth is a concern. Injuries made it tough for this line to get through spring practice, and six freshmen are coming in to compete for spots during fall camp.
13. Kentucky:
The Wildcats lost three starters from a line that struggled throughout 2011, but vets
Larry Warford
and
Matt Smith
are back to provide a solid center-guard combo. However, they'll be asked to help a cluster of youngsters. The left side is gone and will be replaced by youngsters
Zach West
(redshirt freshman) and
Darrian Miller
(sophomore). Right tackle
Kevin Mitchell
started just one game last year. Any sort of injury up front would be devastating for the Cats.
14. Ole Miss:
This is arguably the Rebels' weakest position. Hugh Freeze wasn't thrilled with the line this spring, continuing to say it didn't handle the offense's tempo well. Guard
Matt Hall
, who had double-digit starts last year, left the team this spring. Center
Evan Swindall
was Ole Miss' most consistent lineman this spring, while senior
A.J. Hawkins
moved to guard. Comfort was an issue for everyone, and the tackle spots were filled this spring by
Emmanuel McCray
, who missed all of last season, and JUCO transfer Pierce Burton.
May, 15, 2012
5/15/12
6:00
AM ET
2011 record:
6-7
2011 conference record:
2-6
Returning starters:
Offense: 9; defense: 7; kicker/punter: 3
Top returners:

WR
Chris Boyd
, WR
Jordan Matthews
, QB
Jordan Rodgers
, RB
Zac Stacy
, OG
Ryan Seymour
, C
Wesley Johnson
, LB
Archibald Barnes
,
Chase Garnham
, DT
Rob Lohr
, CB
Trey Wilson
Key losses:
TE Brandon Barden, OT
Kyle Fischer
, DE Tim Fugger, LB
Chris Marve
, CB Casey Hayward, S Sean Richardson
2011 statistical leaders (*returners)
Rushing:
Zac Stacy* (1,193 yards)
Passing:
Jordan Rodgers* (1,524 yards)
Receiving:
Jordan Matthews* (778 yards)
Tackles:
Chris Marve (91)
Sacks:
Tim Fugger (8)
Interceptions:
Casey Hayward (7)
Spring answers
1. Finding more leaders:
Vanderbilt coach James Franklin wanted to leave spring with more leaders than started with. By his accounts, a few veterans stepped up with guys like Marve, Fugger, Hayward and Fischer gone. Franklin said that if the Commodores were going to build off of last season's success, some veterans had to step up and take hold of the team. Guys like Jordan Rodgers, Chase Garnham,
Walker May
, Trey Wilson and Zac Stacy really expanded their roles as leaders and will be leaned on even more this fall.
2. Marve's replacement:
Finding someone to take over for Marve in the locker room was one thing, but filling his position on the field is another. Exiting the spring, Franklin thinks he found the perfect player for the job in Garnham. He moved from the outside to the middle and really excelled at Marve's old position. Garnham was one of the Vanderbilt's most consistent defensive players this spring and the coaches expect to perform this fall.
3. More playmakers:
The Commodores return much of their offense this season, but it sounds like the coaches found a few more players. People know about Stacy and receivers Jordan Matthews and Chris Boyd, but a few other players caught the coaches' eyes like redshirt freshmen
Josh Grady
and
Kris Kentera
, who were former quarterbacks. Grady showed his versatility by playing all over the field at receiver, running back and as a wildcat quarterback. It looks like Kentera earned some playing time at H-back this fall, helping to take pressure off Matthews and Boyd.
Fall questions
1. Offensive line:
Spring practices have not addressed any of the issues the Commodores have on the offensive line.
Ryan Seymour
and
Chase White
began spring by rehabbing injuries, leaving Vandy with just nine healthy bodies up front. As spring went on, Franklin said there were times when his team sometimes had just seven linemen to work with. It was bad enough that Vandy rarely went through practices with a full offensive line taking reps. Six true freshmen linemen will enroll at Vandy this fall, but there's no question this unit is the biggest worry for the Commodores.
2. Quarterback consistency:
While Rogers made improvements to his game, he still showed the inconsistency that frustrated Franklin last season. There's no question he has the athletic ability to be a solid starter in this league, but he sometimes fails to stand tall in the pocket and deliver solid throws when things collapse around him. That kind of play really hurt Vandy's offense last season. He was pushed by 2009 Mountain West Conference Freshman of the Year Austyn Carta-Samuels during the spring and the battle is expected to continue through fall camp.
3. Warren Norman's health:
After missing all of the 2011 season with a knee injury, Norman returned to the practice field this spring. Though he was non-contact, he showed some improvement in his mobility. It's still unclear how healthy Norman will be and if really complement Stacy in the running game. Rising sophomore
Jerron Seymour
is the one other returning running back that registered carries last season.
April, 24, 2012
4/24/12
1:00
PM ET
Vanderbilt's offensive line entered the spring without a lot of running parts. Unfortunately for the Commodores, spring ended that way, as well.
With
Ryan Seymour
and
Chase White
rehabbing injuries, the Commodores started spring practices with just nine healthy bodies up front. Tuesday, coach James Franklin said that as the injuries piled up, his team went about most of spring with just seven healthy offensive linemen.
That meant both good and bad things for Vanderbilt.
For starters, it showed the lack of depth at one of the most important positions on the field. It meant that the Commodores rarely got through practices with a full offensive line taking reps.
But the positive was that Franklin and the offense found some new players to rely on, whether they were heading toward being starters or were legitimate backups.
"They got a chance to really develop, taking reps with the No. 1s, competing at a very, very high level," Franklin said during Tuesday's SEC coaches teleconference.
Vanderbilt might be down bodies on the offensive line heading into the offseason, but good news is coming. Franklin expects Seymour, White and other linemen who were banged up this spring to be back at full health this fall. Vanderbilt also signed six offensive linemen in this year's recruiting class, giving the Commodores some real depth to work with this fall.
Getting all those players on the field at the same time is very important to Franklin and Vanderbilt.
"Then we have a chance to start building something at that position," Franklin said.
March, 16, 2012
3/16/12
12:45
PM ET
Schedule:
Vanderbilt begins spring practice Friday at 5:15 p.m. ET and concludes with the Black and Gold Spring Game on April 14, in Vanderbilt Stadium. Coach
James Franklin
has decided to open all 14 of Vanderbilt's spring practices to fans.
What's new:
Franklin added two new assistants during the offseason. George Barlow comes over from New Mexico to coach the Commodores' defensive backs and serve as the defensive recruiting coordinator, while Josh Gattis left Western Kentucky to coach Vandy's wide receivers and will serve as the offensive recruiting coordinator. Vanderbilt will also see more of transfer quarterback Austyn Carta-Samuels, who came from Wyoming last season, after being the Mountain West's Freshman of the Year in 2009. After sitting out 2011, Carta-Samuels will compete with
Jordan Rodgers
for the starting quarterback spot. Joining the battle is early enrollee Patton Robinette.

On the mend:
Running back
Warren Norman
sat out all of the 2011 season with a knee injury and will be limited for most of the spring. Offensive linemen
Ryan Seymour
and
Chase White
, safety
Javon Marshall
, fullback
Marc Panu
, linebacker
Tristan Strong
, and running back
Jerron Seymour
won't go through contact this spring. Offensive lineman
Mylon Brown
, who was suspended due to violation of team rules and wide receiver
Brady Brown
, who decided not to return to the team, are not on the spring roster.
Questions:
Vanderbilt must replace four key starters and leaders from last year's defense. Gone are linebacker
Chris Marve
, cornerback
Casey Hayward
, defensive end
Tim Fugger
and safety
Sean Richardson
. Marve, Richardson and Hayward were Vandy's top three tacklers last year, while Fugger led the Commodores with eight sacks and 13.5 tackles for loss. Hayward is also tied for first in school history with 15 career interceptions. Vandy will also enter spring with a thin offensive line, with only nine healthy bodies to work with up front. With Seymour and White rehabing and Brown suspended, the Commodores likely won't have two full lines to work with. Also, can the Commodores continue to play and practice with the new confidence Franklin instilled in last year's team? That will be key for Vandy because the Commodores will likely receive more attention this spring, so keeping that edge will go a long way.
On the move:
Outside linebacker
Chase Garnham
is expected to move inside and play at Marve's spot at middle linebacker.
Josh Grady
is moving from quarterback to wide receiver, while
Kris Kentera
is also moving from the quarterback spot and will work at tight end/H-back this spring.
Key battle:
Rodgers had his ups and downs last year as the Commodores' quarterback, but his downs stuck out in Vandy's bowl loss to Cincinnati. He completed 4-of-14 passes and threw an interception in the first half. Now, Rodgers will have a fight on his hands this spring with Carta-Samuels and Robinette. Carta-Samuels proved he has the talent to push Rodgers after some success at Wyoming, while Robinette will certainly benefit from enrolling early. Vanderbilt returns most of its offensive production from last season, including running back
Zac Stacy
and wide receivers
Jordan Matthews
and
Chris Boyd
, but the quarterback play has to be more consistent in 2012. Rodgers made the offense go for most of the year, but his struggles held Vandy back at times.
Don't forget about:
Vandy has one of the most productive running backs in the SEC from a year ago lining up in its backfield once again. Stacy was third in the league in rushing last season (1,193) and was second with 14 rushing touchdowns. He was Vandy's most consistent offensive player last year and really helped add big-play ability when the Commdores had the ball. Stacy broke Vandy's single-season rushing record in the final game of the regular season when he rushed for 184 yards against Wake Forest. He will enter the season eighth on the school's list in career rushing yards (2,002) and trails career leader Frank Mordica by 630 yards.
Breaking out:
The Commodores have a few players who could turn some heads this spring. Sophomore defensive tackle
Barron Dixon
has a big lower body and is built like your typical SEC defensive tackle. He didn't play much last year, but with holes up front, he'll have a chance to grab a spot this spring. Also, redshirt freshman
Derek King
has a chance to really compete in Vanderbilt's secondary. He sat out last season, but with Hayward and Richardson gone, he has a shot to earn some playing time. Keep an eye on offensive guard
Jake Bernstein
because Vandy needs a lot of help on the offensive line and the redshirt freshman will be called upon often this spring.
All eyes on:
There will be a lot of attention paid to the quarterback spot this spring. Rodgers is the favorite heading into spring, but he'll really have to show improvement in his composure and his decision-making in order to leave spring as the starter. He's extremely talented and athletic, but he has to get the mental side down in order to develop heading into the 2012 season. The good thing is that Vanderbilt returns enough weapons to help in that department. Also, Norman should get more attention paid his way as well. He was one of Vandy's best offensive and special teams weapons when he was healthy, so making sure he makes improvements in his speed this spring will be key. Adding him back to the offense this fall will be big for the Commodores.
January, 24, 2012
1/24/12
11:00
AM ET
Even as we turn our attention to the 2012 football season, there's always time to check back with the past from time to time.
The SEC released its last set of notes from the 2011 season this week, so we thought we'd take a look at some of the interesting facts and figures from the previous season.
For starters, how about a look at the SEC players of the week?
Week 1 (Games of Sept. 1-3):
Offense
-
Vick Ballard
, RB, Mississippi State;
Defense
-
Tyrann Mathieu
, DB, LSU;
Special Teams
-
Joe Adams
, WR/RS, Arkansas;
Offensive Lineman
-
Rokevious Watkins
, OT, South Carolina;
Co-Defensive Lineman
-
Jaye Howard
, DT, Florida;
Luke McDermott
, DT, Kentucky;
Co-Freshman
-
Trey Depriest
, LB, Alabama;
Tre Mason
, RB/RS, Auburn.
Week 2 (Games of Sept. 10):
Offense
-
Tyler Bray
, QB, Tennessee;
Defense
-
Mark Barron
, S, Alabama;
Special Teams
-
Melvin Ingram
, DE, South Carolina;
Offensive Lineman
-
Alvin Bailey
, OG, Arkansas;
Defensive Lineman
-
Rob Lohr
, DT, Vanderbilt;
Co-Freshman
-
Josh Clemons
, RB, Kentucky;
Isaiah Crowell
, RB, Georgia.
Week 3 (Games of Sept. 15-17):
Co-Offense
-
Chris Rainey
, RB, Florida;
Marcus Lattimore
, RB, South Carolina;
Defense
-
Trey Wilson
, DB, Vanderbilt;
Special Teams
-
Caleb Sturgis
, PK, Florida;
Offensive Lineman
-
Wesley Johnson
, C, Vanderbilt;
Defensive Lineman
-
Bennie Logan
, DT, LSU;
Freshman
-
Odell Beckham
, WR, LSU.
Week 4 (Games of Sept. 24):
Offense
-
Trent Richardson
, RB, Alabama;
Defense
-Melvin Ingram, DE, South Carolina;
Special Teams
-
Brad Wing
, P, LSU;
Offensive Lineman
-
Barrett Jones
, OT, Alabama;
Defensive Lineman
- Jaye Howard, DT, Florida;
Freshman
- Isaiah Crowell, RB, Georgia.
Week 5 (Games of Oct. 1):
Co-Offense
-
Tyler Wilson
, QB, Arkansas;
Jarius Wright
, WR, Arkansas;
Defense
- Melvin Ingram, DE, South Carolina;
Special Teams
-
Steven Clark
, P, Auburn;
Offensive Lineman
-
William Vlachos
, C, Alabama;
Defensive Lineman
-
Sam Montgomery
, DE, LSU;
Freshman
- Isaiah Crowell, RB, Georgia..
Week 6 (Games of Oct. 8):
Offense
-
Connor Shaw
, QB, South Carolina;
Defense
- Mike Gilliard, ILB, Georgia;
Special Teams
-
Blair Walsh
, PK, Georgia;
Offensive Lineman
-
Will Blackwell
, OG, LSU;
Defensive Lineman
-
Fletcher Cox
, DT, Mississippi State;
Freshman
-
Tevin Mitchel
, CB, Arkansas.
Week 7 (Games of Oct. 15):

Offense
- Trent Richardson, RB, Alabama;
Co-Defense
-
Corey Lemonier
, DE, Auburn;
D.J. Swearinger
, FS, South Carolina;
Special Teams
- Steven Clark, P, Auburn;
Offensive Lineman
-
Chris Faulk
, OT, LSU;
Defensive Lineman
- Fletcher Cox, DT, Mississippi State;
Co-Freshman
-
Bruce Ellington
, WR, South Carolina;
Ray Drew
, OLB, Georgia.
Week 8 (Games of Oct. 22):
Offense
-
Dennis Johnson
, RB, Arkansas;
Defense
- Dont'a Hightower, LB, Alabama;
Special Teams
- Brad Wing, P, LSU;
Offensive Lineman
-
Ryan Seymour
, OG, Vanderbilt;
Defensive Lineman
-
Barkevious Mingo
, DE, LSU;
Freshman
-
A.J. Johnson
, LB, Tennessee.
Week 9 (Games of Oct. 29):
Offense
-
Michael Dyer
, RB, Auburn;
Co-Defense
-
Jerry Franklin
, LB, Arkansas;
Jarvis Jones
, OLB, Georgia;
Special Teams
-
Zach Hocker
, K, Arkansas;
Offensive Lineman
-
Cordy Glenn
, OT, Georgia;
Defensive Lineman
- Fletcher Cox, DT, Mississippi State;
Freshman
-
Brandon Wilds
, RB, South Carolina.
Week 10 (Games of Nov. 5):
Offense
-
Jeff Demps
, RB, Florida;
Defense
-
Eric Reid
, S, LSU;
Special Teams
- Dennis Johnson, RS/RB, Arkansas;
Offensive Lineman
-
Ben Jones
, C, Georgia;
Co-Defensive Lineman
-
Jake Bequette
, DE, Arkansas; Sam Montgomery, DE, LSU;
Freshman
-
Maxwell Smith
, QB, Kentucky.
Week 11 (Games of Nov. 12):
Offense
-
Zac Stacy
, RB, Vanderbilt;
Defense
- Dont'a Hightower, LB, Alabama;
Special Teams
- Joe Adams, WR/RS, Arkansas;
Offensive Lineman
- Ben Jones, C, Georgia;
Defensive Lineman
-
Travian Robertson
, DT, South Carolina;
Freshman
- Isaiah Crowell, RB, Georgia.
Week 12 (Games of Nov. 19):
Offense
- Tyler Wilson, QB, Arkansas;
Co-Defense
-
Ron Brooks
, DB, LSU;
Danny Trevathan
, LB, Kentucky;
Special Teams
- Blair Walsh, PK, Georgia;
Offensive Lineman
- Will Blackwell, OG, LSU;
Co-Defensive Lineman
-
Malik Jackson
, DT, Tennessee;
Abry Jones
, DE, Georgia;
Freshman
-
Curt Maggitt
, LB, Tennessee.
Week 13 (Games of Nov. 25-26):
Co-Offense
- Trent Richardson, RB, Alabama; Connor Shaw, QB, South Carolina;
Defense
- Tyrann Mathieu, DB, LSU;
Special Teams
-
Ryan Tydlacka
, P, Kentucky;
Co-Offensive Lineman
-
Kyle Fischer
, OT, Vanderbilt; William Vlachos, C, Alabama;
Co-Defensive Lineman
- Fletcher Cox, DT, Mississippi State;
Garrison Smith
, DE, Georgia;
Freshman
-
Kenny Hilliard
, RB, LSU.
SEC Championship Game MVP:
Tyrann Mathieu, CB, LSU
BCS (Yes, the SEC has won six straight)
Since 2006, more than half of the slots in the BCS National Championship Game have been taken by SEC teams (7 of 12). The Big Ten and the Big 12 have two each and the Pac-12 has one.
An SEC team has led or tied for the lead at the end of 20 of the last 24 quarters of BCS National Championship Game play.
Since 2006, an SEC team has been ranked first in the weekly BCS standings in 26 of the 48 weeks, with four different teams holding the top spot. Florida was first for seven weeks, Alabama for six weeks, Auburn for three and LSU for 10 weeks, including all eight polls of this season.
The SEC has had more teams ranked in the BCS standings for the most times than any other conference since 2006. The league has had 11 of its 12 teams ranked at one time or another since 2006 for a total of 238 times. The SEC breakdown: LSU (45), Alabama (35), Florida (33), Auburn (29), Georgia (23), Arkansas (23), South Carolina (21), Tennessee (14), Mississippi State (8), Kentucky (4) and Ole Miss (3).
Since 2006, the SEC has posted a 9-3 record in BCS bowl games, more wins and a higher winning percentage (.750) than any other conference. The win total equals that of the next two highest conferences.
Bowls
Since 2006, the SEC has accrued more bowl wins (36) and appearances (55) than any other conference. The conference's .655 bowl winning percentage is third behind the Big East (23-10, .697) and Mountain West (20-9, .690) during that time.
In January bowl games, the SEC is 22-10 (.688) against nonconference competition. Since 2008, the league is 16-6 (.727) against nonconference opponents in January bowls.
In seven 2011-12 bowl games against nonconference teams, SEC defenses held opponents to less than its scoring average in five of those games. One of the two other games were in overtime (Michigan State-Georgia) and the other was Auburn holding Virginia to 24 points, when the Cavaliers season average was 23.2 points per game.
Random
Over the last five seasons, Alabama owns the SEC's best winning percentage with a 50-12 record (.806). LSU has the most wins with 53, while Vanderbilt owns the league's lowest winning percentage (.355). LSU owns the best winning percentage over the last 10 years (.795) with a 105-27.
SEC teams were 20-28 on the road against SEC opponents last season. Kentucky, Ole Miss, Tennessee and Vanderbilt failed to win on the road against conference opponents.
LSU led the SEC with a touchdown efficiency on drives of 34.8. Alabama led in scoring efficiency (46.8). Ole Miss was last in scoring efficiency (20.1) and Kentucky was last in touchdown efficiency (13.2).
LSU led the SEC with 129 fourth-quarter points and a fourth-quarter scoring margin of plus-95. Ole Miss was last with 41 points and a scoring margin of -36.
Arkansas led the SEC in yards per scoring drive (61.9).
October, 24, 2011
10/24/11
11:00
AM ET
Here are the SEC players of the week the the league announced Monday:
OFFENSIVE PLAYER OF THE WEEK

Dennis Johnson, RB, Arkansas:
Johnson helped guide Arkansas to a 29-24 victory at Ole Miss with 15 carries for 160 yards (10.7 yards per carry) and one rushing touchdown. He also had a pair of catches for 14 yards. Johnson's 160 rushing yards were a career-high and were the most by a Razorback this season. Trailing 17-0 in the second quarter, Johnson started the Razorback comeback with a career-long 52-yard touchdown carry on a third and 14 draw play. Johnson also played a part in setting up Arkansas' final scoring play of the day as he had four consecutive carries for 44 yards to set up a Zach Hocker field goal that pushed the Arkansas lead to 29-17.
DEFENSIVE PLAYER OF THE WEEK
Dont'a Hightower, LB, Alabama:
Hightower totaled seven tackles with a sack, one interception, two pass breakups and three quarterback hurries in Alabama's 37-6 win against Tennessee. He returned the interception 29 yards to the UT 9-yard line to set up Alabama's final touchdown. Alabama's defense gave up six total first downs, 155 yards (92 rush, 63 pass) and just two third-down conversions on 14 Tennessee attempts. Alabama held the Vols scoreless in the second half and allowed just 41 total yards (0 first downs) in the final 30 minutes.
SPECIAL TEAMS PLAYER OF THE WEEK
Brad Wing, P, LSU:
Wing punted four times with a 51.2 average in LSU's 45-10 win against Auburn. Three of Wing's four punts were downed inside the 20-yard line. For the season, Wing has had 15 of his 31 punts downed inside the 20, the second highest percentage (48.39) in the SEC. Auburn had an average starting field position of its own 18-yard line on Wing's four punts.
OFFENSIVE LINEMAN OF THE WEEK
Ryan Seymour, OG, Vanderbilt:
Seymour anchored a Vanderbilt offensive line effort that helped produce more than 500 total yards and one of the best rushing performances in team history in a 44-21 victory against Army. Starting at left guard for just the third game after earlier starts at both tackle positions, Seymour had seven knockdown blocks as the Commodores rushed for a season-high 344 yards and produced 530 yards, including 198 rushing yards by
Zac Stacy
. Pulling from the guard slot, Seymour had five blocks that led to touchdowns or first downs.
DEFENSIVE LINEMAN OF THE WEEK
Barkevious Mingo, DE, LSU:
Mingo had four tackles with two sacks totaling 21 yards in losses and a quarterback hurry in LSU's 45-10 win against Auburn. He led a defense that registered six sacks and 10 tackles for losses against Auburn. Both of Mingo's sacks were in the first quarter. His first sack came on a 3rd-and-2 for a six yard loss. Mingo's second sack came on a 2nd-and-goal from the LSU 9-yard line for minus 15 yards and helped forced Auburn to kick a field goal.
FRESHMAN OF THE WEEK
A.J. Johnson, LB, Tennessee:
Johnson had a game-high 13 total tackles (five solos) with 1.5 for losses in Tennessee's 37-6 loss at Alabama. The Vol defense held Alabama to six first downs and 157 yards in the first half. He had seven of his tackles in the first half and six in the second.
Here is a list of other players who had
top performances
from the weekend.
June, 17, 2011
6/17/11
9:30
AM ET
The big uglies up front on the offensive side are our focus today. There are some quality veterans out there, but teams all across the league are looking to replace some quality linemen in the trenches.
Here's how we see the league stacking up:
[+] Enlarge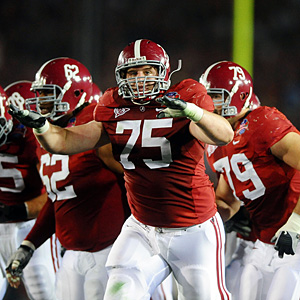 Mark J. Rebilas/US PresswireBarrett Jones has been one of the mainstays of Alabama's offensive line the past two seasons.
1. Alabama:
Four of Alabama's five linemen from a year ago return, making this one of the team's strongest units. The returners have combined for more than 70 starts at Alabama. Barrett Jones is the star of the show. The junior has been the Tide's starting right guard each of the past two seasons, but took reps at left tackle and could be asked to move. William Vlachos is back at center and could be the best at his position in the league. Fellow starters D.J. Fluker and Chance Warmack are back and took reps at left tackle this spring.
2. Ole Miss:
The Rebels' offense isn't getting much respect this offseason, but its offensive line returns All-SEC candidates in tackles Bradley Sowell and Bobby Massie. Seven of Ole Miss' linemen started two or more games each on the offensive line in 2010. Last season, the Rebels were first in the league in sacks allowed, giving up just 14. Alex Washington should stay at left guard after starting eight games there and A.J. Hawkins will likely get the nod at center after playing eight games there as well. Arkansas transfer Matt Hall will compete for time at center.
3. LSU:
Joseph Barksdale might be gone, but the Tigers have a very talented group of linemen returning. Tackle Alex Hurst seems primed to be a star in the league and senior Josh Dworaczky is arguably the Tigers' top lineman with 25 career starts. Patrick Lonergan is solid at center, while T-Bob Hebert is valuable at both center and guard. Sophomore Chris Faulk has the tough assignment of replacing Barksdale, but made quite the impression on his coaches this spring.
4. Kentucky:
The Wildcats return four starters on their line. Right guard Larry Warford headlines the group after gaining second-team All-SEC honors a year ago. Kentucky also returns two-year starter Stuart Hines at left guard and Matt Smith at center, who was solid in his first year there. Left tackle Chandler Burden missed spring practice, but is expected back by fall practice. Finding a suitable right tackle is the next step for Kentucky.
5. Tennessee:
This group could be one of the most impressive units for the Volunteers this season. It's deeper and more experienced in Derek Dooley's second year and he was very pleased with its performance this spring. Junior Dallas Thomas is solid at left tackle, and sophomore Ja'Wuan James really came on strong in his first year and is one of the top linemen in the SEC. James Stone also returns at center. The surprise of the group was true freshman Marcus Jackson, who held down the left guard spot for most of the spring.
6. Mississippi State:
The Bulldogs must replace All-American left tackle Derek Sherrod, but most of the line is somewhat on point. Center Quentin Saulsberry will anchor the line and is versatile enough to play just about every position on the line. Left guard Gabe Jackson and right tackle Addison Lawrence return and the Bulldogs will have junior Tobias Smith lining up at right guard. Blaine Clausell and James Carmon, who moved from defensive tackle, will compete at left tackle.
7. Georgia:
This was supposed to be one of the strongest offensive line units in the league, but the Bulldogs lost tackle Trinton Sturdivant to a season-ending knee injury this spring and fellow tackle A.J. Harmon transferred. Georgia's most-reliable options are Cordy Glenn, who moved from guard to left tackle and Ben Jones at center. Kenarious Gates is at left guard, but he's athletic enough to play tackle if needed. Former defensive lineman Justin Anderson will start off at right tackle. Right guard is the next area of business and the depth all around is a problem.
8. South Carolina:
The Gamecocks have questions here, but there is talent across the line. Rokevious Watkins is one of the most talented guards in the league and he'll be assisted by returning starter at center T.J. Johnson. Senior Kyle Nunn has made strides at left tackle and redshirt freshman A.J. Cann took over duties at left guard this spring. Still, the younger linemen will be counted on to contribute this fall.
9. Arkansas:
The Razorbacks must replace three starters on the offensive line. Center Travis Swanson and left guard Alvin Bailey are the only returning starters. Just a sophomore, Bailey impressed his coaches last season and will be one of the top linemen in the league this fall. After that, the Hogs will have to turn to youth for help. True freshman Brey Cook could be thrust into the starting role at right tackle, while sophomore Anthony Oden could get the job at left tackle.
10. Florida:
Florida's offensive line struggled throughout the 2010 season -- and that was with a senior-laden group. This fall, the Gators will start over with a ton of inexperience. Right guard Jon Halapio and right tackle Xavier Nixon are the only returning starters. Halapio struggled at times last season and Nixon battled injuries. Florida's line spent most of the spring in the infirmary, so little is known about the overall talent. Freshman Chaz Green left spring as the starter at left tackle, Jonotthan Harrison will battle former Notre Dame lineman Dan Wenger at center. He transferred in after spring, but has health concerns.
11. Auburn:
The Tigers will go from having one of the top offensive line groups in the country to having a major work in progress in 2011. Senior Brandon Mosley is the lone returning starter, and while he was solid on Auburn's line last season, he came from junior college as a defensive end/tight end. The good news is that tackle A.J. Greene should be fine this fall after sustaining a season-ending leg injury last year. The rest of Auburn's linemen are very young and inexperienced. Don't expect many redshirts from this group.
12. Vanderbilt:
The Commodores might return all five starters, but this unit had trouble keeping things together last year. The offense needs this group to improve mightily. Wesley Johnson is Vanderbilt's best option, despite only being a sophomore at left tackle. There will be size on the right side, with 300-plus pounders Kyle Fischer and Ryan Seymour over there. Simply put, this unit has the experience, but it requires a lot of improvement.
May, 27, 2010
5/27/10
7:30
AM ET
By
ESPN.com staff
| ESPN.com
For the second straight year, academic shortcomings have sidelined a key offensive player for Vanderbilt.
The university announced on Wednesday that junior offensive tackle James Williams, projected to be the starter on the right side,
would not be a part of the football team
in 2010 for academic reasons.
A year ago, it was receiver Terence Jeffers who didn't make it academically after transferring from Connecticut. Jeffers was easily the Commodores' best receiver in the spring, but didn't have enough transferable credit hours to be eligible in the fall.
It goes without saying that the Commodores can ill afford to keep losing some of their most talented offensive players.
Last season, they averaged just 8.9 points against SEC opponents and never scored more than 16 points against any league foe. Nationally, they finished 110
th
in total offense.
Williams was one of the Commodores' most promising offensive lineman a year ago and opened the season as a starter before breaking his ankle in the second game against LSU. He was unable to go through the spring while still recovering from his surgery, but the plan was for him to return to his right tackle spot.
Vanderbilt's other projected starting tackle, Ryan Seymour, also missed most of the spring after injuring his shoulder the second practice and undergoing surgery.
Veteran offensive line coach Robbie Caldwell is one of the best in the business, but this may end up being his greatest challenge.
The Commodores struggled mightily up front last season and will have even less experience in 2010.
Depending on how quickly Seymour recovers, sophomore Caleb Welchans and redshirt freshman Wesley Johnson will probably open preseason practice as the starters at tackle.
Vanderbilt coach Bobby Johnson would prefer to leave junior and two-year starter Kyle Fischer at guard, even though he's started at both positions during his career. The other guard spot is wide open. Senior Joey Bailey steps in to replace Bradley Vierling at center.
Seymour wasn't the only offensive lineman to get hurt during the spring. Redshirt freshman guard Justin Cabbagestalk injured his knee, although he should be back in time for the preseason.
It's never ideal for true freshmen to have to play on the offensive line, but the Commodores may need both Grant Ramsay and Logan Stewart to come in and be contributors right away.
Obviously, this preseason will be critical as Caldwell tries to mix and match and get his best combination on the field.
March, 22, 2010
3/22/10
7:50
PM ET
By
ESPN.com staff
| ESPN.com
Spring injuries have tormented Vanderbilt's football program in recent years. Unfortunately for the Commodores, this spring hasn't been any different.
Starting defensive tackle Adam Smotherman suffered a torn anterior cruciate ligament in his knee during
last Saturday's scrimmage
. Smotherman, a fifth-year senior, had started in 23 consecutive games.
He will miss at least the first part of the 2010 season. But Smotherman is one of the hardest workers on Vanderbilt's team, and coach Bobby Johnson said there's no doubt that Smotherman will do everything he can to recover and get back in time for part of the season.
This is the third straight spring that the Commodores have lost a key player to a knee injury. Receiver
Justin Wheeler
went down last spring and receiver
Alex Washington
in 2008. Wheeler never made it back for his senior season. Washington tried to come back, but was limited and didn't have a catch that season.
Smotherman wasn't the only player to go down last week for Vanderbilt. Starting offensive left tackle Ryan Seymour dislocated his shoulder and will require surgery. The Commodores are hopeful he will be back in time for summer workouts.
"I feel bad for both Adam and Ryan," Johnson said. "I can't tell you how hard Adam worked to repair an earlier knee injury and become a starter for this team. I know he will do all he can to get back on the field. Ryan is the same kind of young man as Adam. He'll get back with us as soon as he can.
"Unfortunately, injuries are a part of the game. Other guys need to step up for this team, and realize they have an opportunity in front of them."
SEC SCOREBOARD
Saturday, 12/20
Monday, 12/22
Tuesday, 12/23
Wednesday, 12/24
Friday, 12/26
Saturday, 12/27
Monday, 12/29
Tuesday, 12/30
Wednesday, 12/31
Thursday, 1/1
Friday, 1/2
Saturday, 1/3
Sunday, 1/4
Monday, 1/12
Tweets from https://twitter.com/ESPNCFB/lists/sec