October, 7, 2014
Oct 7
11:00
AM ET
Even though Texas A&M graduated three starters from its receiving corps (for the second consecutive season) -- including a first-round NFL draft pick (Mike Evans) -- few would have considered the position an area of concern coming into the season given how much young talent the Aggies have stockpiled there thanks to their recent recruiting hauls.
[+] Enlarge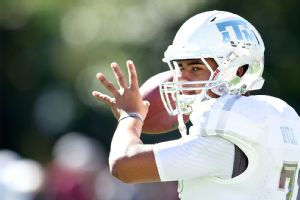 Marvin Gentry/USA TODAY SportsIf the Aggies are to improve, QB Kenny Hill says accuracy is a big key for the passing game.
And while it remains one of the deepest position groups on the team in terms of talent, consistency has been another story, especially in the Aggies' past two games. Drops have crept up as an issue for the unit in its win over Arkansas in Week 5 and its drubbing at the hands of Mississippi State on Saturday.
The
48-31 loss
to the Bulldogs was particularly rough in the dropped pass department: The Aggies had nine drops officially, according to ESPN Stats & Information, which is the most in a game for a Power 5 conference team in the past four seasons.
A casual perusal of the incompletions showed that while the Aggies were credited with nine drops, one could have easily credited them with double digits in the category.
"I guess it's one of those days," Texas A&M coach Kevin Sumlin said after the game.
Officially, the Aggies have recorded 13 drops in the past two weeks. That number more than doubles the total the Aggies had in the first four games of the season (10).
For the season, the Aggies' drop rate is 8.4 percent (23 drops on 274 targets), which ranks 110th nationally and it is the worst drop rate among Power 5 teams in the country. The past two weeks alone the Aggies have dropped passes at a 12.6 percent clip (13 drops on 103 targets), which -- if extrapolated for the entire season -- would only be better than three other FBS teams (Ball State, South Alabama and Eastern Michigan).
The Aggies aren't the only SEC team ranked below 100 in the statistic this season. Florida (7.1 percent, 101st), Missouri (7.4 percent, 105th) and Auburn (8.1 percent, 108th) are also in the bottom 30 in the category. Interestingly, those teams' combined record is 17-3.
Saturday's loss to Mississippi State saw a variety of drops from passes placed accurately that appeared to be catchable, routine balls to an array of throws that were less catchable and seemingly misplaced or otherwise a higher degree of difficulty. The timing of the drops were also a source of frustration for the offense. At least three of them came on third downs, contributing to the Aggies 5-of-17 showing on the down. The previous week vs. Arkansas, two of the four drops were on third downs.
The issue seemed contagious as numerous different receivers, including
Sabian Holmes
,
Boone Niederhofer
and
Ricky Seals-Jones
struggled at one time or another. Even the usually sure handed sophomore,
Edward Pope
, wasn't immune to it Saturday.
The blame isn't solely on the receivers; it can be shared between the receiving corps and sophomore quarterback
Kenny Hill
. Asked after the loss what he could have done better, Hill acknowledged he could have thrown some better balls, too.
"Accuracy," Hill said. "Decision-making. I probably could have stepped up and been a better leader."
Speaking of leadership, the Aggies missed one of theirs on Saturday, senior receiver
Malcome Kennedy
. The team's leading receiver this season and stated vocal leader, Kennedy sat out nursing a separated shoulder he suffered vs. Arkansas.
"It doesn't take a coach to see that Malcome Kennedy is a pretty important player for us, not just from a playing standpoint but from a leadership standpoint on the field," Sumlin said. "We certainly missed him [Saturday]."
Answers were hard to come by in the aftermath but confidence was not. Hill vowed that the issues, whatever they are, will be "easy to fix" and will be evident soon.
"Just keep throwing to them, just completing a lot of passes in practice," Hill said of what the Aggies can do to address it. "Just keep throwing and catching balls. Most of these receivers have been playing since they were little kids. They know how to catch the ball. It's just one of those things. We had an off day."
September, 26, 2014
Sep 26
11:00
AM ET
Before he was breaking records at Williams-Brice or tossing touchdowns before six-figure crowds at Kyle Field,
Kenny Hill
was busy trying to fulfill the lofty expectations that come with being a quarterback at Southlake Carroll.
[+] Enlarge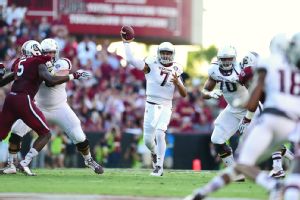 Phil Ellsworth/ESPN ImagesKenny Hill, whose Aggies play Arkansas on Saturday, is a big fan of AT&T Stadium.
The Texas high school football powerhouse, which is one of the most successful and storied programs in the state's illustrious prep history, has a well-documented history of state championships and, in the last decade, a track record for producing Division I quarterbacks.
Hill, Texas A&M's sophomore sensation, has both boxes checked off his résumé. The first one -- a state title -- he checked off on Dec. 17, 2011 at then-
Dallas Cowboys
Stadium (now called AT&T Stadium), the same place he and the No. 6 Aggies (4-0) will meet a rising Arkansas (3-1) team on Saturday in Arlington, Texas.
For obvious reasons, it's one of Hill's favorite venues to play.
"I love playing there," Hill said.
It's Hill's second time in the Metroplex in as many weeks. Last week the Aggies traveled to SMU for a 58-6 win at Ford Stadium. But the venue often dubbed "Jerry World" holds special meaning after Hill guided the Dragons to a 36-29 title-game win over Hightower High School (Missouri City, Texas) in his junior season.
Hill was named the offensive most valuable player of that game, accounting for 345 combined rushing and passing yards and four total touchdowns. His Texas A&M teammate,
Sabian Holmes
(then a senior for the Dragons), also turned in a shining performance for Carroll, catching 11 passes for 138 yards and a touchdown in the win.
Kevin Sumlin, who had officially accepted the Texas A&M head coaching job just the week before, was well aware of Hill's exploits and a state championship only added to his appeal as a recruit.
"A lot of people argue that being a quarterback at Southlake is as [pressurized] a deal as there is because of the expectation to not only be successful as a quarterback, but to win and win it all," Sumlin said. "To watch him win it all as a junior, it was a big deal in our eyes."
Sumlin remembered something Joe Tiller, the longtime Purdue coaching great who Sumlin played for and coached under, once told him about recruiting quarterbacks.
"'Always recruit a guy who wins in high school,'" Sumlin recalls. "'Because when he doesn't, it becomes somebody else's fault. If he's that talented, why aren't they winning?' I kind of listened to that."
Hill eventually committed to Texas A&M in April 2012 and signed with the Aggies in February 2013.
Southlake Carroll coach Hal Wasson said he has never compared his quarterbacks to their predecessors (the Dragons sent a succession of six quarterbacks to Division I schools prior to Hill taking the reins) and has always tried to instill confidence in them by telling them to "Go be a baller." Hill did just that.
"There is pressure, no doubt about it," Wasson said. "But pressure is a good thing. We always say pressure is a good thing, stress is a bad thing. Knowing how to cope with it and handle it is important."
Hill, who carries a cool, calm demeanor (Texas A&M quarterbacks coach Jake Spavital called his relaxed demeanor "creepy" before the season-opening win at South Carolina) handled that pressure just fine, performing exceptionally in the biggest of moments for a prep quarterback, doing so in an NFL stadium in front of a crowd of 42,822.
"I remember a few specific plays, but mostly it was the atmosphere," Hill said this week, recalling the title game. "There were 43,000 or something like that there. To play in that kind of environment was pretty cool. And after we won, I just remember we went pretty crazy. We were so happy."
And as someone who grew up in the Dallas area, the chance to play in the Cowboys' state-of-the-art home was a memorable one.
"I used to watch the Cowboys all the time growing up in Dallas," Hill said. "To play on the same field as them is sick."
The Aggies are hopeful Hill can create more positive memories on Saturday vs. the Razorbacks.
October, 29, 2013
10/29/13
1:30
PM ET
COLLEGE STATION, Texas — One of the byproducts of
Mike Evans
' dominant showing at receiver this season is an opportunity for others to contribute.
As the Texas A&M sophomore dominates defensive backs weekly, defensive coordinators shift their game plans to pay more attention to the 6-foot-5, 230-pound Evans. Rightfully so, because if proper attention isn't paid, he'll make opponents pay, as he did to Auburn (287 receiving yards, four touchdowns) or No. 1 Alabama (279 receiving yards). In eight games, Evans has nearly matched his 2012 season-long receiving yardage total with 1,101 yards (he had 1,105 in 2012) and has more than doubled his touchdown total from last year's 13-game campaign (11 this season after five in 2012).
[+] Enlarge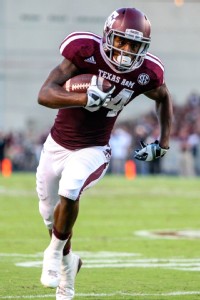 Troy Taormina/USA TODAY SportsTexas A&M junior wide receiver Malcome Kennedy is second on the team with 43 receptions.
Coming into this season, the Aggies knew they had to find other reliable options in the passing game. When Evans was a freshman last season, there were three seniors to accompany him in the starting lineup: Ryan Swope, Uzoma Nwachukwu and Kenric McNeal.
Other than Evans, this year's crop of receivers was a mix of returnees who have received only modest or no playing time and a batch of newcomers, as the Aggies signed six receivers in their 2013 recruiting class.
So far, the Aggies seem to be finding contributors.
The most consistent of the supporting cast has been junior
Malcome Kennedy
. Best known for catching the Aggies' final touchdown in their 29-24 upset win over Alabama in 2012, he is second to Evans with 43 receptions, 447 yards and four touchdowns. Kennedy has provided a consistent, middle-of-the-field target for
Johnny Manziel
this season, stepping into Swope's old 'Y' receiver position.
From week to week, the players who have emerged have varied. Senior
Derel Walker
(30 catches, 414 yards, two touchdowns) appears to have an increasing role in the offense as an outside receiver, with at least four catches in three of the last four games, including two touchdowns against Vanderbilt. Senior
Travis Labhart
has emerged lately, catching 20 passes in his last three games after only three receptions in the first five games of the season.
Early in the season, sophomore
Sabian Holmes
was targeted several times and a true freshman,
Ricky Seals-Jones
, had a smashing debut against Rice before a knee injury ended his season.
"That's what our philosophy is based on," coach Kevin Sumlin said. "We need good players at all those positions instead of just one. Otherwise you get the double team and then, 'Now what?' We've got good running backs that can catch it out of the backfield and put pressure on you that way, but in order to be a complete offense we've got to get production from our other receivers."
The Aggies got that against Vanderbilt, with Kennedy hauling in a team-high eight passes, Evans catching five and Walker with four. As the season wears on, even more players are finding themselves in the mix, such as true freshman
LaQuvionte Gonzalez
. Though most of the time he has seen has been on special teams as a kick returner or running fly sweeps, Gonzalez got into the mix on Saturday and caught four passes for 52 yards and his first career touchdown. With his speed and quickness, he has the look of someone who will fit nicely in the offense moving forward.
And, as Sumlin noted, running backs are a factor in the passing game as well.
"We've got a number of guys that we feel good about going in and out of the game and we need to have that this time of year," Sumlin said. "Because of what we do, all those guys have to be able to execute the offense, catch the ball, hang on to it, because you can't play one guy the way we go up and down the field. We had 78 snaps [Saturday]. We've got to be able to develop some depth, and I'm pleased with how those guys have come along."
August, 26, 2013
8/26/13
3:00
PM ET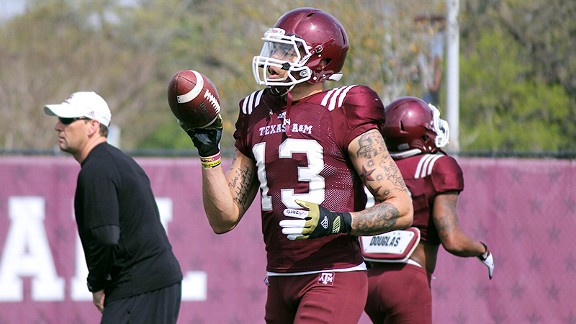 Sam Khan Jr./ESPNAs a redshirt freshman in 2012, Mike Evans led Texas A&M with 82 catches and 1,105 receiving yards.
COLLEGE STATION, Texas — Just like the quarterback for whom he became a favorite target,
Mike Evans
was a relative unknown outside of Aggieland at this time a year ago.
A redshirt freshman without much organized football under his belt -- he played just a year of varsity football at Ball High in Galveston, Texas -- Evans became much more well known to the college football world as
Johnny Manziel
's favorite target in 2012.
This spring, Texas A&M quarterbacks coach Jake Spavital used a unique term to describe what Evans -- who led the Aggies with 82 receptions and 1,105 receiving yards in 2012 -- became to the Heisman Trophy-winning quarterback.
"I call him his 'Panic guy,' " Spavital said. "When you're in a panic, you turn and you find Mike Evans and throw it at him. And he did a lot of that last year."
The 6-foot-5, 230-pound Evans won't surprise anybody this season, as opponents are now well aware of what he can do. Whether it was making a clutch catch to help the Aggies pull out a comeback win at Ole Miss, using his physicality to stiff-arm his way past smaller defensive backs or simply becoming a consistent option for Manziel, the sophomore receiver is looking to build off a strong first season.
And yes, he can get better, according to his coaches. That's not an ideal thought for opposing secondaries.
"Probably the biggest thing for himself [that he can improve] is route running," receivers coach David Beaty said. "Just the art of route running and understanding how to control that big ole body and play with bent knees, his posture being a little bit lower, really being able to use that tool, playing lower and creating more explosiveness."
Beaty would like to see Evans improve near the goal line as well.
"With his 6-5 frame, we need more production from him down by the red zone," Beaty said. "He should be a human red-zone highlight film himself. We need him to step up and do that, along with the rest of the guys -- it's not just going to be Mike. But we've got to be able to throw it up to that big sucker and have him come down with it."
Aside from Evans, there are openings for three starters at receiver because of graduation.
The heir apparent to Ryan Swope, who was the team's second-leading receiver last year and leader in touchdown receptions, is junior
Malcome Kennedy
.
Perhaps best known for making the touchdown catch that gave the Aggies their final points in a 29-21 upset win at No. 1 Alabama, Kennedy is the new starter at Swope's old 'Y' receiver position, which is essentially the slot receiver to the right side of the offensive formation. Kennedy's goals are clear.
"Being a playmaker," he said. "I made a few plays last year, but people only saw a few of them: the Alabama play and a few plays against Missouri. I'm ready to be a go-to guy. The position that I play, the 'Y' for Texas A&M, that's the go-to man."
Senior
Derel Walker
, who had an impressive spring game, has been working as the first-team outside receiver opposite Evans during preseason training camp and could be the starter there. Beaty called Walker the "brightest surprise" of his group since spring. At the other slot position opposite Kennedy, sophomore
Sabian Holmes
has received much of the first-team work in camp after playing part time last season as a true freshman.
And the six freshmen who were part of the Aggies' top-10 recruiting class that signed in February are making their presence felt as well. One in particular that has caught the eye of almost everyone during camp is former Sealy (Texas) High School standout
Ricky Seals-Jones
.
If there's anyone on the Aggies roster that could compare to Evans in body type it's Seals-Jones, whom Evans called "bigger" than him earlier this month. At 6-5 and now 240 pounds, Seals-Jones was an ESPN 300 selection who was ranked as the No. 8 receiver in the country coming out of high school.
"The guy's all muscle," strength and conditioning coach Larry Jackson said. "This guy is 18 years old and he looks like a grown man. Chest, abs, everywhere there are muscles. I just have to make sure for 70, 80, 90 snaps that he can keep rolling."
Head coach Kevin Sumlin said that Seals-Jones, who has practiced a lot as the 'Y' with the second team, will get plenty of playing time.
"He's got real ability," Sumlin said. "He's very athletic, but he's got to learn the nuances of the position. He's seeing a lot of different blitzes; we're throwing things at him. I think with Malcome in there right now, it's giving us some flexibility that he doesn't have to start right away. We can kind of bring him along, which is good with him. But he's definitely going to have a role in our three and four-wide and maybe even some two-wide package, but he's got real talent and he's working on it.
"He's big and he's fast and he's got real good hands."
LaQuvionte Gonzalez
, a quick, versatile weapon out of Cedar Hill, Texas, who was also an ESPN 300 recruit, figures to have a role. So does four-star signee
Ja'Quay Williams
out of Georgia. And the Aggies figure to use more tight ends in their attack this season with the return of senior
Nehemiah Hicks
and the addition of 6-foot-7, 270-pound
Cameron Clear
out of Arizona Western College.
If training camp is any indication, Manziel will have plenty of quality targets in addition to Evans this fall.
April, 15, 2013
4/15/13
4:00
PM ET
COLLEGE STATION, Texas -- Texas A&M wrapped up spring football on Saturday with the annual Maroon and White game. After 15 practices, there's plenty to take away, but here's five things we learned during the Aggies' spring:


SEC SCOREBOARD
Wednesday, 12/24
Saturday, 12/20
Monday, 12/22
Tuesday, 12/23
Friday, 12/26
Saturday, 12/27
Monday, 12/29
Tuesday, 12/30
Wednesday, 12/31
Thursday, 1/1
Friday, 1/2
Saturday, 1/3
Sunday, 1/4
Monday, 1/12
Tweets from https://twitter.com/ESPNCFB/lists/sec