January, 6, 2010
1/06/10
10:12
PM ET
Alabama is coming off its best victory of the season. Texas is coming off its worst.
Mark Ingram
will be battling the Heisman Trophy jinx in national championship games, and Alabama will be trying to claim the fourth-straight BCS national title by an SEC team. The last non-SEC team to win the title: Texas.
Those are just a few of the subplots in Thursday's Citi BCS National Championship Game. Big 12 blogger Tim Griffin and SEC blogger Chris Low take a look at the matchup and other factors that will play into it.
[+] Enlarge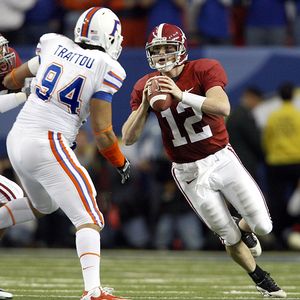 Marvin Gentry/US PresswireIf Alabama quarterback Greg McElroy plays the way he did against Florida, the Texas defense could be in for a long night.
Tim Griffin:
Chris. I saw Alabama in the SEC title game and was very impressed with the way they jumped on Florida quickly and put the Gators behind from early in the game. Do you think
Greg McElroy
can have a mammoth performance against a strong defense in back-to-back games?
Chris Low:
Tim, it's ironic that you would ask about McElroy, because everybody was asking about him back in the spring. Nobody really knew anything about him, whether he could handle the quarterback position or whether he would even finish the season as the starter. I think it's safe to say that he's far surpassed anybody's expectations. He's such a smart player, knows the Alabama offense inside and out and rarely makes the same mistake twice. After all, he's only thrown four interceptions in 13 games. I've seen halves against SEC defenses in which quarterbacks have thrown three or four picks. But McElroy is not just a caretaker of the offense. He'll spread the ball around. He throws a nice deep ball, and is better at moving around and making plays than he's given credit for. In short, if the Alabama offensive line plays the way it did against Florida, I look for McElroy to have another solid game. That's the thing about this Alabama offense. They don't need him to put up mammoth numbers to win. My question to you, Tim, is whether
Colt McCoy
is going to be running for his life against Alabama like he was against Nebraska a month ago?
TG:
If he does, Texas has absolutely no chance. But I think the fact that observers have been questioning Texas' offense for nearly five weeks after the Longhorns allowed nine sacks against Nebraska should serve as a motivational ploy. I look for Texas to try and dictate tempo early. Look for McCoy to try to use the Longhorns' one-minute offense, in which there would be little time between plays as they try to keep them out of their comfort zone. The Longhorns have struggled with their pass blocking all season. Look for freshman Tre Newton to get more time because of his pass-blocking skills. And I would also expect Texas to use tight end
Greg Smith
more than usual to have an extra blocker. In the Big 12, the Longhorns liked to run a lot of three- and four-wide receiver sets. I think they'll need the extra beef tonight. Chris, speaking of beef, how do you think Alabama's big offensive line will play against Texas' fast and quick defense. The Longhorns led the nation in rush defense, but faced four teams with defenses ranked 100th or worst. Does Alabama feel like they can exploit a Texas defense that is good, but hasn't played many good rushing attacks?
CL
: Honestly, I think Alabama thinks it can exploit any defense. This Alabama offensive line isn't as big as the one last year and has relied more on quickness and angles than just lining up and mashing people. Alabama will certainly look to run the football and won't be afraid to use both Mark Ingram and
Trent Richardson
. It seems like the Crimson Tide always have a fresh back in the game. Against Florida, Alabama was able to throw it some and spread the Gators out. But that was just one game. We also saw Alabama struggle to run the ball against Auburn in the last game of the regular season, and McElroy had to bring them from behind throwing the football. Even in that game, after getting down 14-0, the Crimson Tide didn't panic and didn't get out of character offensively. What do you make of McCoy having two of his worst games against the two best defenses he's faced this season -- Nebraska and Oklahoma?
TG:
Chris, interestingly those were also the games where he most faced consistent pressure from blitzes and had more trouble with interceptions. If Alabama can keep him from getting comfortable in the pocket and knock him around some, he could face a similar fate. The Texas offensive front isn't a great line -- by its standards or anybody else's. It's their biggest weakness, but really didn't impact them over the course of the season. The Longhorns had too many weapons and scored touchdowns in other ways to beat all the Big 12 teams they played.
[+] Enlarge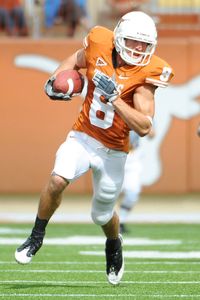 Brendan MaloneyAlabama's special teams will have its hands full with Texas returner Jordan Shipley.
When they played Oklahoma, they were facing a green quarterback in
Landry Jones
after
Sam Bradford
's injury earlier in the game. And against Nebraska, they were able to neutralize the Cornhuskers' big defensive effort because Nebraska's offense played so poorly. Chris, I think that Texas is going to have to get some cheap points -- say from a long kick or punt return or a turnover to have a chance. Is there anything you've seen that shows Alabama has got its special teams under control enough to withstand the pressure that
D.J. Monroe
,
Marquise Goodwin
and
Jordan Shipley
will place on the Tide?
CL:
Alabama has not been very good on kickoff coverage. That's a given. So it wouldn't be a shock to see the Crimson Tide give up some long returns or even a touchdown. Short fields could be critical in this game, because neither defense has allowed teams to consistently put together long drives. The problem with exploiting Alabama on special teams is that the Crimson Tide have one of the best punt returners in the country in Javier Arenas and a field goal kicker in All-American Leigh Tiffin who's made a bunch of big kicks and also has great range. In short, unless Alabama uncharacteristically turns the ball over and/or is forced to play from behind the whole game, I think the Crimson Tide take home the crystal trophy and complete a perfect season.
Alabama 27, Texas 17
TG:
I think Texas is going to have trouble stopping the run defense. But if they can get some early momentum, I like their chances of taking this game into the fourth quarter. But at that point, Alabama will have too much power and gradually wear the Longhorns down, likely with a late drive like the one Florida put Oklahoma away with last season.
Alabama 24, Texas 13
September, 4, 2009
9/04/09
11:00
AM ET
By
ESPN.com staff
| ESPN.com

Posted by ESPN.com's Chris Low
The popular perception when comparing Oklahoma's
Sam Bradford
and Florida's
Tim Tebow
as passers is that Bradford is the more effective of the two throwing the ball down the field.
Thanks to some research by the Stats & Information crew at ESPN, we can illustrate that's not completely true.
If you take into account their 2008 seasons, Tebow was more productive than Bradford on passes thrown at least 15 yards down the field.
Take a look:
By the Numbers: Bradford vs. Tebow
Bradford
Tebow
Completion Pct.

44.1
52.3
TD-INT
15-5
15-1
Yds./Att.
13.7
14.9
July, 10, 2009
7/10/09
11:49
AM ET
By
ESPN.com staff
| ESPN.com
Ivan Maisel sits down with Tim Griffin and Chris Low to figure out whether the Big 12 (Sam Bradford and Colt McCoy) or the SEC (Tim Tebow and Jevan Snead) has the better tandem of quarterbacks.
January, 8, 2009
1/08/09
10:09
PM ET
By
ESPN.com staff
| ESPN.com
Posted by ESPN.com's Chris Low
MIAMI -- Remember all those things Florida coach Urban Meyer said his team couldn't do and still win this game?
Well, the Gators are doing them.

But thanks to a defense that's shown some serious grit backed up against its own goal line, Florida finds itself tied 7-7 with Oklahoma at halftime of the FedEx BCS National Championship Game.
Florida quarterback Tim Tebow had thrown only two interceptions all season. He's thrown two in the first half Thursday night.
The Gators have also lost the battle of field position in the first half, as the Sooners have played a large portion of the game on Florida's side of the field.
But Charlie Strong's defense is making plays when it has to.
Just before halftime, Florida safety Major Wright picked off Oklahoma quarterback Sam Bradford with a bobbling interception that was tipped three different times before Wright finally collared it at the 3. The Sooners had a first-and-goal at the 6, so the Gators' defense saved themselves at least three points right there.
Earlier in the quarter, Florida sophomore defensive tackle Torrey Davis made an even bigger play. The Sooners went for it on fourth-and-goal from the Gators' 1. They tried to quick-snap it, but Davis shot through and leveled tailback Chris Brown for a 2-yard loss.
Talk about good timing.
Davis had only made five tackles all season coming into the game, and two of those were against The Citadel in a 70-19 rout.
The best news for the Gators offensively is that Percy Harvin looks great. He popped a 46-yard run off his own goal line and nearly broke it all the way.
On the down side, redshirt freshman running back Chris Rainey suffered a nasty looking knee injury in the second quarter when his right knee was caught under him near the sideline after being dragged down by an Oklahoma defender.
The Gators have to find a way to be more consistent offensively in the second half -- and find a running game.
January, 8, 2009
1/08/09
12:31
AM ET
By
ESPN.com staff
| ESPN.com
Posted by ESPN.com's Chris Low
A quick preview of Thursday night's FedEx BCS National Championship Game between Florida (12-1) and Oklahoma (12-1):

WHAT TO WATCH: The white pants are a dead giveaway. If Oklahoma quarterback Sam Bradford's pants are still white at the end of the game, that's good news for the Sooners and bad news for the Gators. Very few teams have been able to get pressure on Bradford this season, but it's a must if Florida is going to have a chance to slow down this Oklahoma offense. The Gators were second in the SEC this season with 32 sacks. They'd like to have about five or six more on Thursday night and another half dozen times when they send Bradford to the turf.
WHO TO WATCH: It's the question everyone's been asking: How healthy is Percy Harvin? His right ankle injury was a nasty one, and it's probably not realistic to expect him to be 100 percent. But he insists he's close, and Percy Harvin at 80 or 90 percent is still one of the most dynamic players in college football. The Gators will hand it to him, pitch it to him and throw it to him. He finds end zones the way fish find water. There's a reason he's scored touchdowns in the last 14 games in which he's played.
WHY TO WATCH: When was the last time two offenses this explosive were pitted against each other in a game that meant this much? Oklahoma scored more than 60 points in each of its last five games, the first team in the modern era to score 60 or more in five consecutive games. Florida has averaged 49.4 points during its nine-game winning streak. If that's not enough, the last two Heisman Trophy winners will lead the two offenses. Get the calculators ready.
December, 11, 2008
12/11/08
4:33
PM ET
By
ESPN.com staff
| ESPN.com
Posted by ESPN.com's Chris Low
All the Heisman Trophy ballots had to be in by 5 p.m. ET on Wednesday, so the numbers I'm about to give you are not a push to get anybody to vote a certain way.
They're simply something to consider as we await word on Saturday on who among Sam Bradford, Colt McCoy and Tim Tebow (listed in alphabetical order) wins college football's most coveted individual award.
Anyway, here we go.
Tebow faced six of the top 25 defenses in college football this season. Bradford faced one and McCoy none.
Tebow faced 10 top 50 defenses. Bradford faced three and McCoy none.
McCoy faced 11 defenses that were ranked lower than 70th. Bradford faced eight and Tebow one.
In Tebow's eight games against defenses ranked in the top 30 this season, he passed for a total of 18 touchdowns and no interceptions and rushed for nine touchdowns.
Here's a look at all the defenses Bradford, McCoy and Tebow faced this season and where those defenses were ranked nationally, using the rankings as of Dec. 6:
BRADFORD
No. 2 TCU
No. 26 Cincinnati
No. 50 Texas
No. 66 Nebraska
No. 72 Texas Tech
No. 86 Oklahoma State
No. 87 Baylor
No. 94 Kansas
No. 99 Missouri
No. 110 Washington
No. 113 Texas A&M
No. 117 Kansas State
MCCOY
No. 65 Oklahoma
No. 72 Texas Tech
No. 73 Arkansas
No. 79 Colorado
No. 86 Oklahoma State
No. 91 Missouri
No. 93 Florida Atlantic
No. 94 Kansas
No. 99 Missouri
No. 113 Texas A&M
No. 114 Rice
No. 115 UTEP
TEBOW
No. 3 Alabama
No. 4 Tennessee
No. 11 South Carolina
No. 13 Florida State
No. 15 Ole Miss
No. 25 Miami
No. 28 Georgia
No. 29 Vanderbilt
No. 36 LSU
No. 37 Kentucky
No. 59 Hawaii
No. 73 Arkansas

December, 7, 2008
12/07/08
10:02
PM ET
By
ESPN.com staff
| ESPN.com


Posted by ESPN.com's Chris Low
It's hard to imagine two hotter offenses, and for that matter, two hotter teams.
Simply, it's the game everybody wanted to see. Well, everybody but Texas. Florida (12-1) and Oklahoma (12-1) meet on Jan. 8 in the kind of high-octane FedEx BCS National Championship Game that mesmerizes even the most casual college football fan.
The Gators have won nine straight games by an average margin of 36.4 points, and the folks in Gainesville believe Tim Tebow deserves his second straight Heisman Trophy with his 28 passing touchdowns and 12 rushing touchdowns.
The Sooners have won seven straight games, setting an NCAA record by scoring at least 60 points in their last five games. The folks in Norman believe Sam Bradford is the rightful winner of the Heisman Trophy with his 4,463 passing yards and 48 touchdowns.
Florida would appear to have the edge on defense, but Big 12 proponents would argue that the Gators have run up inflated numbers against a long list of SEC offenses that were horrible this season.
But, then, the next time anybody in the Big 12 plays any defense might be the first.
Let the debating, arguing and analyzing begin.
Jan. 8 in Miami can't get here soon enough.
November, 21, 2008
11/21/08
2:05
PM ET
By
ESPN.com staff
| ESPN.com
Posted by ESPN.com's Chris Low
As a former Heisman Trophy winner, South Carolina coach Steve Spurrier gets a vote.
He never reveals his vote, and he's not going to start now. But he did provide a few hints earlier this week when asked about Florida quarterback Tim Tebow repeating.
"I really like those Texas quarterbacks, certainly Graham Harrell and Colt McCoy out there, those two guys, and the Oklahoma quarterback, (Sam) Bradford ... shoot," said Spurrier, always an admirer of high-powered passing games.
"Tebow's got so many other guys around him. He only throws about 15 balls a game. Of course, he runs for about two or three touchdowns anytime he wants to. He's certainly a tremendous athlete."
Spurrier, one of three Florida quarterbacks to win the Heisman along with Danny Wuerffel and Tebow, said he wants to see some more football before making up his mind.
"I don't know, I just sort of feel those Oklahoma and Texas quarterbacks might have an edge because they're throwing so much more this year," Spurrier said.
Here's a look at how Bradford, Harrell, McCoy and Tebow compare to this point:
Bradford vs. Harrell vs. McCoy vs. Tebow
Comp. %
Pass Yards
Pass TD
INT
Rush Yards
Rush TD
Bradford
67.9%
3,406
38
6
24
4
Harrell
71.7%
4,077
36
5
-5
6
McCoy
77.2%
3,134
30
7
527
8
Tebow
65%
1,913
19
2
393
11