March, 18, 2015
Mar 18
3:01
PM ET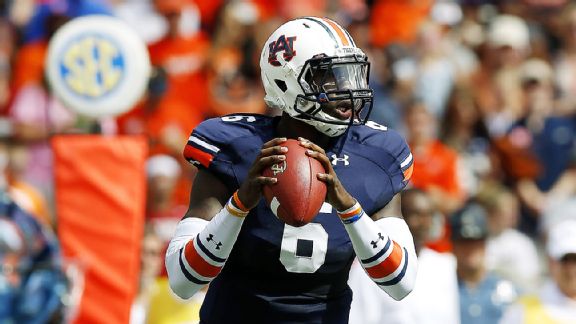 Mike Zarrilli/Getty ImagesJeremy Johnson is focused on becoming Auburn's starting quarterback.
AUBURN, Ala. -- Jeremy Johnson has waited his turn. The Auburn quarterback could've started for a number of SEC teams last season, but he spent the majority of his time on the sideline, clipboard in hand, and watched as Nick Marshall gashed opposing defenses.
It didn't matter that he went 12-of-16 for 243 yards and two touchdowns against Arkansas when Marshall was suspended for the first half of the season opener. After halftime, Marshall reclaimed his spot and never looked back. He started all 12 remaining games while Johnson attempted just 21 passes the rest of the season.
It was less than an ideal situation for Johnson, a former ESPN 300 recruit who was eager to showcase his own abilities.
"It was tough, but I look at it as a humbling experience and it made me grow and mature over the past two years," Johnson said. "I supported Nick and I enjoyed watching him play every snap here. God has a plan for everybody and that was his plan -- for me to sit out. Now that my time is here, I'm looking to win the starting job and be the man."
Marshall has since moved on to bigger and better things. He's hoping to get drafted. But his departure doesn't mean the coaches are just going to hand Johnson the starting job this season. He still has to earn it.
"This is his third go-around, his third year with us, so the expectations for him are extremely high," Auburn coach Gus Malzahn told reporters Tuesday.
Through the first week of spring practice, Johnson is splitting first-team reps with redshirt freshman Sean White. Though most assume Johnson will win the job, Malzahn and the coaches have been reluctant to officially name him the starter. They're giving White every opportunity to compete this spring.
However, it was telling when the staff made Johnson available to the media after the first practice. It was clear that they want him to be the face of this team and he's already started to embrace that role.
"My specific goal this spring is to win the starting job first and then become a leader and build team chemistry," Johnson said. "This is a new team, new players, new coaching staff. I'm looking forward to bringing everybody in to where if I say we're going to move right, the whole team moves right. That's the type of leader I'm trying to become for this team."
"Being a leader is not just being the quarterback," said offensive coordinator Rhett Lashlee. "You've got to earn your teammates' respect. They've got to see you put in the work and they've got to see you working hard, sacrificing and doing all the things that you're wanting them to do.
"He's been watching a lot more film, studying hard. He's really committed right now to trying to be as good as he can be, and as good as he can be is pretty good."
How good remains to be seen, but two of the last three quarterbacks to play at Auburn under Malzahn had pretty memorable first seasons. Marshall led the Tigers to an SEC championship and a spot in the BCS title game, and Cam Newton went undefeated his first year at Auburn, bringing a national championship back to the Plains.
Johnson hopes he can follow in their footsteps, assuming he wins the job.
"Like I said, I'm just trying to become a leader first to where my team can follow me, but mainly my goal is to win a national championship," he said.