August, 15, 2014
8/15/14
2:00
PM ET
COLUMBIA, S.C. -- Had Miami not been so slow to pull the trigger during the recruiting process,
Skai Moore
admits that he'd be a Hurricane right now.
"I grew up a Canes fan my whole life. That was my dream school," Moore said.
Dreams die hard, although in Moore's case, he's anything but crushed. Not after a dream debut season at South Carolina and what should be an even better sophomore season.
[+] Enlarge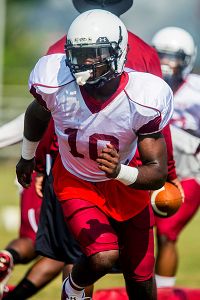 Jeff Blake/The State/MCT via Getty ImagesEntering his sophomore season, Skai Moore aims to play a key role in a deep and experienced linebacker corps.
He led the Gamecocks in total tackles (56) and interceptions (four) last season as a true freshman and did so without the benefit of spring practice. Even though he always seemed to be around the ball, Moore said he was in third gear more times than not because he was still acclimating himself to the college game.
"I'll be able to play a lot faster," Moore said. "Last year, I was really just focusing more on not messing up and thinking a little too much out there and didn't know where my help was coming from. Now, it's almost like high school. I have the scheme down. I know where my help is coming from, and it's slowing down for me. I'm able to anticipate better."
Already perched among the most promising young linebackers in college football, Moore will see his role expand in South Carolina's defense. He played in all 13 games a year ago, but started in only four.
In fact, the Gamecocks entered last season without a single linebacker who had ever started a college game.
Now, all of a sudden, they're brimming with experience, depth and talent at linebacker, so much so that they plan to utilize a 3-4 look some on defense to get their playmakers on the field.
Defensive coordinator Lorenzo Ward thinks he has nine players, counting the hybrid spur position, who are ready to play at linebacker.
And with Jadeveon Clowney now doing his thing in the NFL, the Gamecocks will mix it up a little more after playing primarily out of a 4-2-5 base the last few years.
"We don't have a great pass-rusher, per se, on the team that has proven himself," Ward said. "We have some guys who can be, but they haven't proven themselves. Until they do prove themselves, we have to take advantage of bringing linebackers and doing some different things to create pressure.
"Overall, they're our most experienced group even though they're young. They all had to play last year."
Moore will line up on the weak side and will be backed up by fellow true sophomore
Jonathan Walton
. Redshirt sophomore
T.J. Holloman
and junior
Kaiwan Lewis
are working in the middle, while senior
Sharrod Golightly
and redshirt sophomore
Jordan Diggs
are the two spurs.
That fourth linebacker spot could be manned by sophomore
Larenz Bryant
or true freshman
Bryson Allen-Williams
, while redshirt sophomore
Marcquis Roberts
is versatile enough to play a couple of different spots.
"We're two deep with a lot of talent, and we're not going to have any drop-off when we rotate linebackers," Moore said.
Since arriving on campus last summer, the 6-foot-2 Moore has bulked up 15 pounds and plans on playing right around 220 this season. That's not counting the additional weight of the chip he still carries on his shoulder from being spurned by all the Florida schools out of high school.
Moore helped lead his University School team in Fort Lauderdale, Fla., to an unbeaten season and the Class 3A state championship. But neither Florida nor Florida State recruited him, and Miami waited until the night before signing day to extend an offer.
"It was too late by then," Moore said. "I don't know what they were waiting on."
South Carolina didn't get involved with Moore until that December, and defensive backs coach Grady Brown was the point man in flipping Moore to the Gamecocks after he had initially committed to Rutgers.
"I developed a great relationship with Coach Brown," Moore said. "He told me to be sure and watch their bowl game. I watched it, came on a visit here (in January) and loved it.
"It all worked out the way it was supposed to, but I still feel like I have something to prove. A lot of schools overlooked me, a lot of schools from my state. I want to make sure they know what they're missing out on every time I go out there."
June, 26, 2014
6/26/14
3:30
PM ET
By
ESPN.com staff
| ESPN.com
We continue our
"Most important game" series
, which looks at the most important game for each SEC team in 2014. These are the games that will have the biggest impact on the league race or hold special meaning for one of the teams involved. We take a look at South Carolina on Thursday.
Most important game:
Nov. 15 at Florida

Key players:
Now that titanium-constructed Connor Shaw is gone,
Dylan Thompson
takes over as the Gamecocks' signal-caller. Thompson has the chops and has been through this before, thanks to Shaw's past injuries. Thompson will have to deal with the SEC's best corner in
Vernon Hargreaves III
and one of the league's best pass rushers in
Dante Fowler Jr
. Florida's defense has some new working parts, but people in Gainesville are very excited about the talent that will be flying around out there. The good news for Thompson is that he has receivers in
Damiere Byrd
,
Nick Jones
and
Shaq Roland
who combined to catch 85 passes for 1,311 yards and 14 touchdowns a year ago. Byrd is one of the SEC's fastest receivers, while Roland has a chance to be a breakout player this fall. They'll all have to step up against Florida's athletic secondary. One guy who could take a lot of pressure off Thompson is running back
Mike Davis
, who rushed for 1,183 yards and 11 touchdowns last year. He's the ultimate bruiser through the middle of the field, but once he gets open on the edge, he's gone. Florida contained him last year, but expect the Gamecocks to go to him more this fall. One way to keep Fowler under wraps will be for left tackle
Corey Robinson
to play lights out. He's already projected as a first-round pick in next year's NFL draft, and the battle between those two should be excellent. The defense could have its hands full if quarterback
Jeff Driskel
can get the Gators' offense moving this fall, so play up front from defensive linemen
J.T. Surratt
,
Gerald Dixon
and
Gerald Dixon Jr
. will be important. Getting to the edge to counter the zone read that has made Driskel successful in the past will be key. Spur
Sharrod Golightly
and linebacker
Skai Moore
will be key to containing the run and spying on Driskel.
Why it matters:
South Carolina has made tremendous strides under Steve Spurrier, but the Gamecocks have yet to win an SEC title under the Head Ball Coach. Last year's team was tremendously talented and had everything it needed (well, except the necessary amount of wins) to play in Atlanta. Does this team? Not sure. Time will tell, but if the Gamecocks are going to have any shot of getting back to Atlanta, they have to win at Florida. The SEC Eastern Division is so wide open, with every team having a laundry list of questions. Chances are the winner from the East won't have less than two losses heading into the last couple of weeks of the season. There are just too many issues and too much competition. The Gamecocks can take an early blow, but you never want to get to the end and have to worry about winning a tiebreaker (hello, U.S. soccer team!). If the Gamecocks can get to Gainesville with just one SEC loss, a win should send them to Atlanta. Two losses coming in, and beating Florida is a must.
December, 31, 2013
12/31/13
2:30
PM ET
Gary Andersen has helped compile extensive scouting reports for both defenses appearing in Wednesday's Capital One Bowl.
In the summer of 2012, Andersen, then Utah State's coach, examined a Wisconsin team that his Aggies would face in Week 3. South Carolina's defense has been on the top of his mind the past three weeks, as Andersen prepares Wisconsin to face the Gamecocks.
[+] Enlarge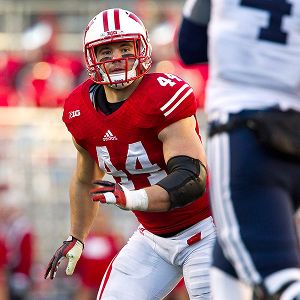 Dan Sanger/Icon SMIFour-year Wisconsin starter Chris Borland is set to close out his college career on Wednesday.
Not surprisingly, the South Carolina report is filled with mentions of
Jadeveon Clowney
, just like the Wisconsin report was with
Chris Borland
a year and a half ago.
"If you're playing Wisconsin, you're going to want to know where Chris is, and the same thing with Clowney as you're getting ready to play South Carolina," Andersen told ESPN.com. "They deserve that; they're that good. They're very similar players in those areas."
Similar might not be the first term used to link Clowney, South Carolina's junior defensive end, and Borland, Wisconsin's senior middle linebacker. Clowney is 6-foot-6 and 274 pounds, a rare physical specimen who came into college as the nation's No. 1 recruit and could exit as the No. 1 overall pick in the NFL draft. Clowney recorded a team-record 13.5 sacks and 23.5 tackles for loss as a sophomore, earned unanimous All-America honors and finished sixth in the Heisman Trophy voting, leading many to wonder if he should even play this season before jumping to the NFL. He suited up for South Carolina and, despite some speed bumps, still earned first-team All-SEC honors.
Borland is short at 5-foot-11. His recruiting profile next to Clowney's is laughable. He played soccer and other sports growing up, didn't participate in organized football until high school and appeared headed for a Division III school until wowing Wisconsin at a summer camp before his senior season. Of the 17 players in Wisconsin's 2009 recruiting class graded by ESPN recruiting, Borland received the second lowest.
He'll finish his career Wednesday as one of the best defensive players in team history, a four-year starter with multiple All-America honors who earned Big Ten Defensive Player of the Year honors this season. His NFL draft forecast isn't as promising as Clowney's -- most mocks have him in the second or third round -- but few defensive players have more accomplished college careers.
"He's as good as advertised," Andersen said, "just like I'm sure the Clowney kid is."
Clowney was the first player Andersen and Wisconsin's offensive coaches discussed when crafting Wednesday's game plan. But the strength of South Carolina's overall front seven, which includes first-team All-SEC tackle
Kelcy Quarles
and second-team All-SEC linebacker
Sharrod Golightly
, prevents the Badgers from constantly doubling, chipping or avoiding No. 7.
"Is he consciously in our game plan? Yes. But is every play designed to run away from him? Absolutely not," Andersen said. "We've got to get in there and do what we do. Our goal is to block him and put him a spot where he can't make plays."
South Carolina will take a similar approach against Borland, just like Andersen did with Utah State in 2012. It won't be easy, largely because of the position Borland plays.
Utah State tried to take Borland out of the box with formations to make him play more in space.
"A defensive end is on the left side or the right side," Andersen said. "Chris starts every play usually right in the middle of the defense, so it's harder to scheme if you want to run the ball between the tackles."
[+] Enlarge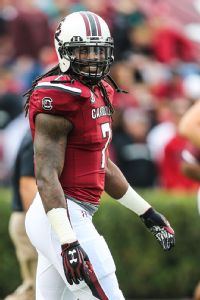 Jim Dedmon/Icon SMIThe Badgers will need to know where South Carolina's Jadeveon Clowney is at all times.
Andersen has never seen a college player quite like Clowney. Wisconsin guard
Ryan Groy
called the South Carolina star "a breed of his own" and admits there's no one that truly prepare you for his size-strength-speed combination.
Clowney also is an effective gambler, taking chances with inside moves both against the run and the pass. Defensive ends risk losing contain by doing this, but Clowney still usually covers the edge.
"You would never allow a young man who can't recover if he's making those inside moves, but it's also part of their scheme," Andersen said. "They have a backer that overhangs him and pre-snap, it's very difficult to sit there and understand that's what you're going to get. He does a nice job of not giving it away when he's going to make those moves, and maybe it's just him reacting. Maybe he's that gifted that he feels like you're reaching a little bit and he can come underneath that block, or if you get a little bit on your heels in a pass set, he's either going to right through you or he's going to come on an inside move.
"They probably don't even look at it as taking chances. They probably look at it as, 'This is our defensive scheme.'"
Clowney has one year of eligibility remaining, but Wednesday marks his final game with South Carolina. He participated in senior day ceremonies Nov. 30.
"He'll be an instant pro when the game is over," Gamecocks coach Steve Spurrier said Tuesday.
It will be a shock if Clowney isn't one of the first five names called at April's NFL draft. Borland still can boost his stock at the Senior Bowl and other pre-draft events.
His height will come up, but Andersen has received positive feedback from NFL scouts, who liken Borland to two other shorter linebackers, Sam Mills and Zach Thomas, who had 12 Pro Bowl appearances and 11 All-Pro selections in their careers.
"Somebody better take him early because if somebody takes him late, Chris is going to make a whole lot of people look bad," Andersen said. "He's going to be a great player in that league for many, many years, not just because he's so talented, but because he's such a great preparer and his care factor is as good or anybody that I've ever been around."
August, 1, 2013
8/01/13
10:30
AM ET
Schedule:
The Gamecocks begin practice at 7:15 p.m. ET on Friday. The first week of practice will be open to the public. The first day for full pads will be Tuesday, Aug. 6. The first two-a-days session will be Aug. 15.
On the mend:
Senior quarterback
Connor Shaw
is returning after missing all of spring following offseason foot surgery. Safety
T.J. Gurley
missed spring as he recovered from a knee injury, but he should be ready to go for fall camp.

Key battle:
The hybrid linebacker/safety "Spur" position has become a staple in South Carolina's defense. With DaVonte Holloman gone, junior
Sharrod Golightly
and redshirt freshman
Jordan Diggs
spent the spring vying for the spot. However, defensive coordinator Lorenzo Ward left spring without a ton of confidence in the position. Golightly enters the fall with the edge, but he's spent his college career primarily playing special teams for the Gamecocks.
Of note:
Steve Spurrier enters his ninth season at South Carolina as the Gamecocks' all-time winningest coach with 66 victories. He's already Florida's all-time winningest coach with 122 victories and joins Paul "Bear" Bryant as the only other coach to own the most wins at two SEC schools.
Predicted order of finish at media days:
Picked second in the SEC East at SEC media days.
They said it:
"Gosh, we hoped last year we'd have a chance and we did have a chance last year. We were just one game away from getting in the [SEC] championship game and were one game away the year before. So we're hoping and believing we gotta chance, but we know we gotta play well, a lot of guys gotta come through. We've got some talented players. We're not going to be favored, but we should be right up in there with the top four or five with a chance, I would think." -- Spurrier
July, 9, 2013
7/09/13
2:15
PM ET
In order to make a stand in the SEC, you have to have a strong front seven. It starts with a stout defensive line, but don't forget about those cats behind that front line.
Linebackers need love, too:
1. Alabama:
For starters, "Linebacker U" will enter the 2013 season with three linebackers --
C.J. Mosley
,
Adrian Hubbard
and
Trey DePriest
-- who started 10 or more games last season. Then there's
Xzavier Dickson
, who started seven games at the rush-end "Jack" position. All four played in every game last year, making play after play. Mosley was considered one of the nation's best linebackers and could have opted for the NFL early. He'll get even more time with
Nico Johnson
gone. Hubbard is the team's top pass-rusher, DePriest has transformed into a top linebacker prospect in next year's NFL draft and Dickson is versatile enough to play linebacker and on the line. There is also a ton of young talent to watch, starting with sophomore
Denzel Devall
, who could really break out.
[+] Enlarge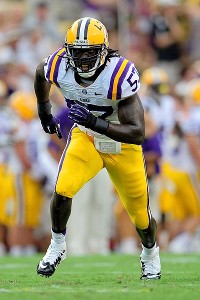 Stacy Revere/Getty ImagesLamin Barrow should replace some of the production the Tigers lost when Kevin Minter moved on to the NFL.
2. LSU:
Kevin Minter might be gone, but the Tigers still have some quality players roaming around the position.
Lamin Barrow
will anchor the group and is coming off a season in which he registered 104 tackles, including 52 solo stops. He's getting a ton of NFL love and will get help from very talented sophomore
Kwon Alexander
, who only played seven games, but would have seen plenty more action if hadn't suffered a broken ankle midseason. Alexander could be primed for a huge season and might be the team's best linebacker. Senior
Tahj Jones
only played in one game last year because of academic issues, but he'll have every chance to start outside. Sophomores
Deion Jones
,
Lamar Louis
and
Ronnie Feist
all saw good time last year and will be in the rotation along with incoming freshman
Kendell Beckwith
, who could immediately push for a starting spot.
3. Ole Miss:
The Rebels work in that 4-2-5 defense, but have a lot of talent at linebacker, starting with big-hitting senior captain
Mike Marry
, who has 22 career starts and finished last season with 78 tackles with 10.5 for loss. The pleasant surprise from this group last year was
Denzel Nkemdiche
, who was a second-team All-SEC member as a freshman after leading Ole Miss in tackles (82), tackles for loss (13) and forced fumbles (four). The thing that makes Nkemdiche so valuable is that he knows all of the linebacker positions and covers a ton of ground with his speed. Long-time Rebel
D.T. Shackelford
is back after two knee surgeries, but had a very good spring and should provide quality depth and excellent leadership. Then you have talented reserve
Serderius Bryant
, who could start at a lot of schools. Don't forget about the hybrid "Husky" position that will feature top recruit Antonio Conner.
4. Tennessee:
The Vols bring back the league's top tackler in
A.J. Johnson
and excellent pass-rusher
Curt Maggitt
, who had his 2012 season shortened because of injury. He should be back to full health this fall, but could move to defensive end. Johnson has a chance to play his way into the first round of next year's NFL draft. Senior
Dontavis Sapp
doesn't have a ton of experience, but was a star this spring and has the ability to play any of the linebacker spots. Four senior backups return and have combined to play in nearly 140 games. The only problem is that they've also combined for just one start. Senior
Brent Brewer
also moved from safety to linebacker to give the Vols a lot of speed on the outside.
5. Florida:
The Gators lost two valuable players in Jon Bostic and Jelani Jenkins, but they still have a ton of young talent to work with, starting with
Antonio Morrison
. He ran into legal trouble this summer, but he has a chance to be an All-SEC player after moving from outside to middle linebacker.
Dante Fowler Jr
. and
Ronald Powell
will rotate at the hybrid defensive end/linebacker "Buck" position, but Powell could see more time at strongside linebacker. If he's healthy after his two ACL injuries, he could be an elite pass-rusher. Hard-hitting and dependable
Michael Taylor
left spring as the starting weakside linebacker, while freshman
Daniel McMillian
had an outstanding spring at the Will position. Fellow freshman
Alex Anzalone
was a top recruit in the 2013 class and should vie for plenty of time, while vets
Darrin Kitchens
and
Neiron Ball
will push for starting spots.
6. Vanderbilt:
This was supposed to be a concern for the Commodores last year, but it ended up being a strength. Do-everything leader
Chase Garnham
is back, along with his 43 solo tackles, seven sacks and 12.5 tackles for loss. He's the heart of the defense. Hybrid linebacker/safety (Star)
Karl Butler
returns and should continue to put a lot of heat on opposing backfields. He registered 11.5 tackles for loss last season. Sophomore
Darreon Herring
has to replace the very reliable Archibald Barnes, but saw plenty of time last year as the Commodores' top reserve at linebacker. Sophomores
Larry Franklin
and
Jake Sealand
provide good depth after seeing significant time last year.
[+] Enlarge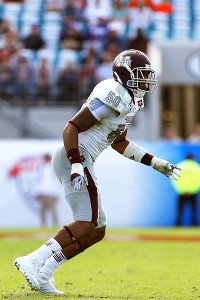 AP Photo/Don Juan MooreBenardrick McKinney was named to the Freshman All-SEC Team following last season.
7. Mississippi State:
Starters
Benardrick McKinney
(102 tackles) and
Deontae Skinner
(62 tackles) return, giving Mississippi State a very sound foundation to work with. McKinney was quietly one of the league's top linebackers last year and could be even better this fall. Veteran
Ferlando Bohanna
, who has tremendous speed, will provide good depth, and the staff is excited about the versatility junior
Matt Wells
has. Losing
Chris Hughes
this summer hurts, but the Bulldogs will be able to cover a lot of ground with this group of rangy, athletic linebackers.
8. Georgia:
Like every defensive position, the Bulldogs lost a lot at linebacker, but there is some promising young talent that should get better as the season goes on. Everything revolves around sophomore
Jordan Jenkins
, who could end up being an elite pass-rusher after learning under
Jarvis Jones
last season. Jenkins was second on the team in sacks last season with five and should be even more disruptive in Jones' old spot. Junior
Amarlo Herrera
started nine games and will be the captain of the unit inside. Junior
Ramik Wilson
had a very good spring and has found his spot inside, while sophomore
Josh Harvey-Clemons
will play some linebacker when he isn't at safety and has a chance to be a star. Sophomore
James DeLoach
also had a very good spring outside. Freshmen
Reggie Carter
and
Ryne Rankin
will also have ample opportunities for good playing time this fall.
9. Kentucky:
Having Alvin "Bud" Dupree moving to defensive end hurts, but the Wildcats still have two solid options returning in
Avery Williamson
and youngster
Khalid Henderson
, who has playmaker written all over him. Williamson enters his senior season with 194 career tackles. Finding someone to take the other linebacker spot is the goal of fall camp.
Miles Simpson
started 11 games and had 70 tackles last year, but has to be more consistent. Junior
Kory Brown
and sophomore
Josh Forrest
will compete for that spot too and might be more athletic, but they lack experience.
Malcolm McDuffen
still hasn't reached his potential and Demarius Rancifer has decided to transfer.
10. Texas A&M:
The Aggies lost starters Jonathan Stewart and Sean Porter and are now surrounded by youth. Veteran
Steven Jenkins
is back, but he missed spring practice due to offseason shoulder surgery. He had time to work with junior college transfer Tommy Sanders, which will help a lot this fall, as he vies for a starting spot outside. The Aggies will have to rely on youngsters at linebacker, but junior
Donnie Baggs
looks like he'll start at middle linebacker. But after that it's all about newcomers, including new linebackers coach Mark Hagen. Freshmen Reggie Chevis and Brett Wade both went through spring practice, which helps, but expect growing pains from this unit.
11. Missouri:
The Tigers are fortunate to have senior
Andrew Wilson
and his 23 career starts back, but there isn't a lot of experience beyond that. Wilson has also led the Tigers in tackles in back-to-back seasons (79 last year).
Donovan Bonner
, a senior, and
Kentrell Brothers
showed flashes this spring, but both have to be more consistent. The same goes for
Darvin Ruise
, who entered the spring as a starter and played primarily on special teams last year. Keep an eye on freshman
Michael Scherer
, who has the talent to be a stud. There is athleticism here, but tackling was a major issue with this unit last year.
12. Arkansas:
The Razorbacks return veterans
A.J. Turner
and
Otha Peters
, but the best overall player at this position might be junior college transfer Martrell Spaight. That could be both good and bad, but the fact of the matter is that Turner and Peters have to improve and get over their injuries from the spring if they want starting jobs this fall. Senior
Jarrett Lake
had a good spring and could be the leader here. Freshman Brooks Ellis could make an immediate impact too. Experience is a bigger issue than talent with this unit. Also, the staff could spend the preseason moving everyone around.
13. Auburn:
This unit really struggled last year with getting lined up right and making tackles. There should be improvement with Ellis Johnson taking over the defense, but players need to get better. Star hybrid
Justin Garrett
had a great spring and could be primed for a breakout year. He can play in the box and cover, so he'll really help this unit. The good news is that Johnson needs just two linebackers for his 4-2-5 scheme. But those players have to perform. Sophomore
Kris Frost
made strides this spring and
Jake Holland
is experienced, while
Cassanova McKinzy
and
JaViere Mitchell
should vie for the other linebacker spot.
14. South Carolina:
The Gamecocks lost their entire two-deep at linebacker and had to move tight end
Kelvin Rainey
to linebacker to help with depth. There are a lot of bodies, but the experience is really lacking. Sophomore
Kaiwan Lewis
made strides this spring at middle linebacker, while junior
Sharrod Golightly
left spring with the edge at the hybrid Spur position. Freshmen
T.J. Holloman
and
Jordan Diggs
will compete for time this spring, but, again, they have no experience. Sophomore
Cedrick Cooper
missed spring while recovering from knee surgery, but should start at weakside linebacker.
May, 6, 2013
5/06/13
6:30
AM ET
South Carolina Gamecocks
2012 record:
11-2

2012 conference record:
6-2 (third, Eastern Division)
Returning starters:
Offense: 7; Defense: 5; kicker/punter: 1
Top returners
QB
Connor Shaw
, QB
Dylan Thompson
, RB
Mike Davis
, WR
Bruce Ellington
, OT
Brandon Shell
, DE
Jadeveon Clowney
, DT
Kelcy Quarles
, CB
Victor Hampton
, CB
Jimmy Legree
Key losses
RB Marcus Lattimore, WR Ace Sanders, C T.J. Johnson, DE Delvin Taylor, LB
Shaq Wilson
, LB
Reginald Bowens
, Spur DeVonte Holloman, S D.J. Swearinger
2012 statistical leaders (*returners)
Rushing:
Marcus Lattimore (662 yards)
Passing:
Connor Shaw* (1,956 yards)
Receiving:
Bruce Ellington* (600 yards)
Tackles:
Shaq Wilson (86)
Sacks:
Jadeveon Clowney* (13)
Interceptions:
Jimmy Legree* and DeVonte Holloman (3)
Spring answers
1. Lattimore's replacement:
It wasn't going to be easy to replace Marcus Lattimore at the running back spot, but rising sophomore Mike Davis did a heck of a job showing that he has what it takes to be the No. 1 guy at that spot this fall. He left the spring as the starter and during his limited time in the spring game he rushed for 40 yards on two carries, including a 25-yard touchdown. He has all the talent to be a big-time back.
2. Good problem at QB:
With Connor Shaw out this spring because of foot surgery, Dylan Thompson took more steps forward in his development. Coach Steve Spurrier has made it clear that there isn't a quarterback controversy, and that Shaw is the starter, but he has a good problem on his hands with two very quality quarterbacks on his roster. Thompson prepared like the starter this fall and should be more than ready if Shaw goes down again this fall.
3. Clowney's focus:
With "The Hit" taking the world by storm and all of that Heisman hype bombarding South Carolina's best player, Jadeveon Clowney took everything in stride. He didn't flinch and talked more about the improvements he'd like to make before fall practice arrives. Clowney is a man on a mission this year (he also might be faster) and he took the proper steps this spring to make sure he's still on track to accomplish his goals for 2013.
Fall questions
1. Receiving help:
Ace Sanders' surprising exit left no seniors at receiver and a big hole to fill. Bruce Ellington is back, which certainly helps, but he'll need assistance this fall. Rising sophomore
Shaq Roland
arrived with a ton of hype last year, but didn't live up to his billing. He made good strides this spring, but he'll still have to prove himself all over again this fall. The coaches are also hoping
Damiere Byrd
can turn into a consistent deep threat. Throw in
Nick Jones
and a couple more youngsters and there are bodies to work with but not a lot of experience.
2. Finding that Spur:
Losing DaVonte Holloman was a big hit to this defense. The hybrid linebacker/safety spot is a big piece to what the Gamecocks do on this side of the ball, and defensive coordinator Lorenzo Ward doesn't have a ton of confidence in the position right now. Junior
Sharrod Golightly
and redshirt freshman
Jordan Diggs
battled for the spot this spring, with Golightly having a slight lead heading into the offseason. He's primarily played special teams at South Carolina.
3. New faces at LB/DB:
The Gamecocks will have a lot of new faces to work with at linebacker and in the secondary. They have to replace their entire two-deep at linebacker along with D.J. Swearinger and
Akeem Auguste
in the secondary. Cornerback Victor Hampton looked like a potential first-round pick at times to coaches this summer and linebackers
Kaiwan Lewis
and
Kelvin Rainey
made good strides, but both are learning and there should be growing pains this fall from both positions.
April, 10, 2013
4/10/13
9:10
AM ET
It turns out that
Jadeveon Clowney
isn't invincible after all.
South Carolina's All-American -- and one of the best players in college football -- might deliver tremendous pain on the field, but he's dealing with his own pain and
could miss the rest of spring
because of neck and back pain, defensive coordinator Lorenzo Ward said Tuesday.
"His neck and back is still stiff. Whether he goes another snap [this spring], I don't care," Ward said.
It doesn't sound like Clowney's injury is anything too serious, so there's no point in pushing him for the remainder of the spring. Honestly, healthy or not, there's really no reason to put him on the field for the spring game, anyway. It's not worth the potential injury, he doesn't need the extra work and you don't want to risk having your left tackle blown up in front of your home crowd.
Seriously, resting Clowney now is probably a good thing for the Gamecocks. He's on a mission this fall and he'll be worth the wait.
Leader at Spur
With Devonte Holloman graduating after last season, redshirt junior
Sharrod Golightly
and redshirt freshman
Jordan Diggs
have spent all spring battling for the starting "Spur" position (hybrid linebacker/safety).
Ward said on Tuesday that Golightly, who has primarily played on special teams and has registered 10 career tackles, is the leader heading into the final three spring practices.
"I think Sharrod is slightly ahead of Jordan Diggs, but it's real close," Ward said. "They both have done a lot of good things, but I think Sharrod has probably made more plays this spring. If we had to start tomorrow, Sharrod would be the starter."
The Gamecocks will conclude spring practice with their annual Garnet & Black Spring Game this Saturday.
February, 25, 2013
2/25/13
10:17
AM ET
We're taking a look at key storylines for all seven teams in the SEC Eastern Division.
Chris will take a look at the main issues in the Western Division on Tuesday.

FLORIDA GATORS
Spring start:
March 13
Spring game:
April 6
What to watch:
1. Rebuilding at linebacker: The Gators have to start figuring out the linebacker situation. Do they go with redshirt junior Michael Taylor in the middle, who's a run-stuffer but has to come off the field in passing downs? Or do they try sophomore Antonio Morrison, who played outside at 218 pounds as a freshman and has hopefully bulked up a bit? The most likely scenario is Morrison, which means UF has to find a weakside linebacker. That could be freshmen early enrollee Daniel McMillian or Alex Anzalone. The strongside starter should be, at least entering the spring, redshirt junior Neiron Ball.

2. Robinson's growth: One of the most scrutinized players this spring will be receiver Demarcus Robinson. He was the only one of UF's five receiver signees to enroll early and he'll be given every chance to win a starting spot. UF's receivers have been below average for the past three seasons and the Gators desperately need someone to become a consistent playmaker. The 6-foot-2, 195-pound Robinson, who caught 53 passes for more than 1,000 yards and scored 15 touchdowns as a senior at Fort Valley (Ga.) Peach County, is going to be under a lot of pressure to produce.

3. Driskel's confidence: Quarterback Jeff Driskel returns for his second season as a starter, and it'll be interesting to see how much he improves on his decision-making, release and accuracy. He's sure to benefit from not splitting reps 50-50 any longer. But just as important as Driskel's development is what happens behind him with redshirt junior Tyler Murphy and redshirt freshman Skyler Mornhinweg. Neither has thrown a pass in a college game. Why is that important? Because Driskel has not been able to stay healthy in his first two seasons in Gainesville. He missed starts as a freshman and sophomore because of ankle injuries. UF was lucky in 2012 to have Jacoby Brissett, who had played significantly as John Brantley's backup in 2011. With Brissett transferring to NC State, the Gators no longer have that luxury.

-- Mike DiRocco, GatorNation
GEORGIA BULLDOGS

Spring start:
March 2
Spring game:
April 6
What to watch:
1. Rebuilding the defense: Georgia begins its transition to a completely new collection of defensive talent this spring. No longer are Jarvis Jones, Alec Ogletree, Shawn Williams, Bacarri Rambo and John Jenkins on the roster. In fact, the Bulldogs must replace a total of 12 defensive players who were either full-time starters or key contributors, and at some positions, the possible replacements have little to no college experience. That makes this a pivotal time for defensive coordinator Todd Grantham to begin identifying which players will fill those roles, as the Bulldogs will have little margin for error when they open the season against Clemson's explosive offense Aug. 31. Some names to watch this spring: Josh Harvey-Clemons, Sheldon Dawson and Jonathan Taylor.

2. Developing the youngsters: The good news for Grantham and the other defensive coaches is that they brought in a number of January enrollees who should be able to help immediately. Junior college transfer Chris Mayes and John Atkins hope to fill the void left by Jenkins and Kwame Geathers at noseguard. Ryne Rankin and Reggie Carter will immediately enter the mix at linebacker. And cornerback Reggie Wilkerson and safeties Tray Matthews and Quincy Mauger can help address Georgia's depth shortage in a secondary that lost four key players. Georgia's 13 early enrollees -- more than twice as many January enrollees as Georgia coach Mark Richt has ever brought in before -- will help fill needs on both sides of the ball, but the defense is where the newcomers were most necessary.

3. Offensive line reps: For the most part, Georgia used the same starting lineup along its offensive line throughout the 2012 season and each of those starters should return this fall. But two of those starters -- right guard Chris Burnette and right tackle John Theus -- underwent surgeries during the offseason and will miss all or part of spring practice. There was a good chance that offensive line coach Will Friend was going to deploy more players in his line rotation this fall anyway, but the valuable practice reps that will be available with Burnette and Theus sidelined might make a deeper rotation even more likely. Someone still has to take advantage of the opportunity, however.

-- David Ching, DawgNation
KENTUCKY WILDCATS

Spring start:
March 18
Spring game:
April 13
What to watch:
1. Getting used to new coaches: New coaches are roaming Kentucky's football facility this spring. Mark Stoops brings a more defense-minded philosophy to Lexington, but his coaches will have to get things going on offense if the Wildcats are going to improve in 2013. There are always awkward moments when transitioning to a new staff, but now's the time to create valuable trust on both sides.

2. Finding offensive playmakers: Stoops might have a strong defensive background, but the Wildcats have to find answers on offense. Injuries were an issue last year, but for two straight years the Wildcats had real problems finding consistent playmakers on offense. Quarterback Maxwell Smith returns, but he needs more than just wide receiver La'Rod King to help him. Getting running back Josh Clemons back would be big, but expect the coaches to turn to a young group of receivers and running backs.

3. Tougher team: One thing Stoops wants from his players is a tougher identity. Stoops wants to build a stronger team from the ground up. He's taking a page from Texas A&M coach Kevin Sumlin when it comes to preparing his new team. This spring, we'll see just how much of an emphasis the coaches put on the weight room and conditioning before hitting the football side of things.
MISSOURI TIGERS

Spring start:
March 12
Spring game:
April 20
What to watch:
1. Josey's rehab: The Tigers will be keeping tabs on running back Henry Josey, who missed all of 2012 after suffering a devastating knee injury midway through the 2011 season. He was the Big 12's best running back before his injury and Mizzou needs him back. The staff has had to be patient, but this could be a crucial time in his rehab, as he looks to get his football legs back.

2. Rebuilding the front seven: Mizzou must replace a lot in its front seven. Star defensive tackle Sheldon Richardson's absence leaves a gaping hole up front, while linebackers Will Ebner and Zaviar Gooden must be replaced. Lucas Vincent will be first in line to take Richardson's spot, while Darvin Ruise, Donovan Bonner and Michael Scherer are three players to watch at linebacker.

3. Toughening up: Injuries ravaged Mizzou's offense last year, but it's clear that Mizzou wasn't in the playing shape that it would have liked to be in during its first year in the SEC. Injuries are part of the game, but gaining that toughness factor this spring will go a long way for the Tigers in 2013. The SEC is more than just a grind, and the Tigers found out the hard way that conditioning in this league is a little different than in the Big 12.
SOUTH CAROLINA GAMECOCKS

Spring start:
March 5
Spring game:
April 13
What to watch:
1. New backfield options: Marcus Lattimore and Kenny Miles are gone, so the Gamecocks will have to turn to their younger backs. Brandon Wilds missed the 2012 season with an ankle injury but should return this spring. Rising sophomore Mike Davis has all the tools to be a big-time player for the Gamecocks and could be the top option in the Gamecocks' backfield. Shifty Shon Carson also returns from a knee injury, so South Carolina will have a solid group to work with this spring.

2. QB controversy: Quarterback Connor Shaw might be tabbed as the starter, but with him out for the spring, Dylan Thompson will take the first-team reps. Thompson proved to be very valuable last year, and both will play this fall. Thompson has become one of the most vocal players on the team and is a strong leader. A good spring could bring some real controversy to the position.

3. Holes at linebacker: South Carolina will be without its two-deep at linebacker and "Spur" DeVonte Holloman is gone. That means there's a lot of work to be done when it comes to finding viable replacements. Sharrod Golightly will get the early crack at the Spur, and keep an eye on Kaiwan Lews, who was a true freshman last year and has a lot of potential to work with.
TENNESSEE VOLUNTEERS

Spring start:
March 9
Spring game:
April 20
What to watch:
1. New coaches on the block: With Butch Jones in town, the Vols have to get used to their third head coach in five springs. Jones and his staff have helped bring some much-needed energy to the program since arriving, but now it's time to develop vital on-field chemistry between the coaches and players.

2. Receiving help: The Vols' offense took at major hit at receiver. Juniors Justin Hunter and Cordarrelle Patterson made the leap to the NFL, while deep threat Zach Rogers and tight end Mychal Rivera graduated. Tennessee will now turn to a host of inexperienced receiving targets, including rising sophomore Alton Howard and early enrollee Paul Harris.

3. Quarterback battle: With Tyler Bray leaving for the NFL, Tennessee will work with rising junior Justin Worley and redshirt freshman Nathan Peterman. Worley has the edge when it comes to game experience, but with a new staff, this battle will be wide-open. They will also need to make strides before freshmen Joshua Dobbs and Riley Ferguson get on campus this summer.
VANDERBILT COMMODORES

Spring start:
March 15
Spring game:
April 13
What to watch:
1. Replacing Rodgers: Quarterback Jordan Rodgers is gone. The good news is Austyn Carta-Samuels has good experience after starting two years at Wyoming before transferring to Vandy. Redshirt freshman Patton Robinette is someone the coaches also are excited about, especially with his dual-threat ability, and should really push Carta-Samuels the whole spring.

2. Running back battles: The Commodores lost star running back Zac Stacy, so veteran Wesley Tate, who has bounced around positions, and rising sophomore Brian Kimbrow, who has the do-everything look to him at running back, will share reps. Warren Norman and Jerron Seymour also return, making for quite the talented backfield.

3. Keeping the edge: Now that another very successful season under James Franklin is over, the Dores have to continue to keep the edge that got them to where they are. It might sound like a broken record, but Vanderbilt still has to prove that it isn't the Vandy of old. People are certainly taking the Dores more seriously, but keeping that edge is important for more growth.
April, 16, 2012
4/16/12
9:30
AM ET
Behind 272 passing yards and four passing touchdowns, South Carolina's Black team defeated the Garnet team 38-24 in the Gamecocks' Annual Garnet & Black Spring Game in front of a crowd of 34,513 inside Williams-Brice Stadium Saturday.
Quarterback
Tanner McEvoy
led the way for the Black squad with 132 yard and two touchdowns, while
Connor Shaw
completed 6 of 7 passes for 128 yards and two more scores. Shaw made his presence known early by connecting with wide receiver
Damiere Byrd
for a 70-yard touchdown pass on the game's first play.
Shaw later hit walk-on receiver
Riley Gallaher
for a 39-yard score on the first play of the second quarter in the spring game's traditional "receiver off the sidelines" to give the Black a 14-3 lead.
Six quarterbacks saw time Saturday and combined to complete 39 of 54 passes for 511 yards and 6 touchdowns with two interceptions.
"We obviously threw the ball and caught it better than any spring game," coach Steve Spurrier said. "Probably more passing yards and completions. I thought coverage could've been better. We didn't have a pass rush.
Jadeveon Clowney
and
Devin Taylor
didn't play much. The quarterbacks had time and the receivers caught about everything. They had good routes. Who's to say if our coverage is suspect or not, but I know Coach [Lorenzo] Ward wasn't happy about some guys getting behind them. It made the offensive guys look pretty good throwing and catching. Whatever it means, I don't know."
Dylan Thompson
also threw the ball well for the Garnet team, completing 15 of 20 passes for a game-high 168 yards. He also threw a 22-yard touchdown pass to wide receiver
Nick Jones
in the third quarter.
Minus starter
Marcus Lattimore
, the Gamecocks didn't run the ball as well. Both squads combined for just 115 yards, but also combined to run the ball just 29 times.
Spur
Sharrod Golightly
led the defense with 4.5 tackles, while cornerback
Jimmy Legree
and safety
Kadetrix Marcus
both recorded four tackles.
Safety
Sheldon Royster
essentially put the game away when he intercepted
Seth Strickland
's pass and returned it 50 yards for a touchdown on the final play of the first half to put the Black team up 35-10.
You can read more about South Carolina's spring game on the school's
official website
.