October, 24, 2014
10/24/14
11:30
AM ET
TUSCALOOSA, Ala. -- Don't look at his feet.
Study nothing but his eyes. How they calmly scan left to right. How they read blockers and study the defense.
T.J. Yeldon
will fool you.
On this day, Texas A&M thinks it has Alabama's junior running back figured out. He's hemmed in on all sides. The Aggie defense watches Yeldon plodding behind the line, figuring sooner or later he'll get dragged down for a loss.
But Yeldon doesn't fall. He's waiting, watching. And as soon as a hole opens up, he makes one cut and he's gone. He finishes with 114 yards and two touchdowns.
He's Houdini. Tighten the straightjacket and marvel at how he slips free.
A quiet thinker, a deliberate runner, Yeldon defies the usual style of running backs in that he's neither particularly fast nor powerful. Instead, he's an amalgam of things, a veteran with poise few possess.
As former Alabama great Shaun Alexander is quick to point out, Yeldon isn't Mark Ingram or Trent Richardson or Eddie Lacy. He's not a runaway freight train like
Derrick Henry
or a bolt of lightning like
Kenyan Drake
. He is, as Alexander explains, "A confusing monster."
"You come off of Mark and Trent and Lacy, and then comes T.J.," Alexander said. "You say, 'Is he going to be big? Have a nice spin move? Break a few tackles? Or is he going to be a shift guy who makes you miss? Who is he going to be?' Well, he's that guy that can do all the things those Bama running backs can do, it just doesn't look the same, so it almost can make you miss how talented he is.
"He dominates the game and it's done so smooth, almost like it's effortless."
For nearly three years we've watched Yeldon run. During his first college game against Michigan he rushed for 111 yards. Thirteen times since then he's surpassed the century mark. He's become so reliable he's almost been forgotten.
If he averages 109.3 yards over the next six games, he'll break Alexander's school record of 3,565 career rushing yards.
If you can't appreciate Yeldon's brilliance with your own eyes, let us open them for you.
Vision
Asked what separates Yeldon from other backs,
Jalston Fowler
said it was simple.
"It's his vision," the fullback answered. "He sees the field really well."
Sometimes it doesn't look like there's a hole to be found.
"You pull up the film and see how he makes these cuts and things and you want to know, how did he see that?" said linebacker
Denzel Devall
. "I know if I was running the ball I'd never see the hole. I'd probably just bounce it outside or run it up on somebody."
Said Yeldon: "It's something you work on. I watch film a lot and look at the blocking schemes and make my cuts from there."
Mike Vickery saw that point of emphasis when he served as Yeldon's offensive coordinator at Daphne High in South Alabama.
"His football IQ is off the charts," he said. "The more he played, the more things slowed down.
"By the time he left, he not only knew everything he was supposed to do, he knew what the quarterback was supposed to do, he knew the blocking schemes up front, he knew the routes and what every receiver is supposed to do."
Patience
It's part of who he is.
Reserved and soft-spoken, Yeldon doesn't make a spectacle of himself.
"He's a very introverted guy," Vickery said. "But that does have something to do with being able to mentally see things and have the vision of things before they happen and all the things that play out in his mind."
Alexander figured that was the case. It explains how Yeldon can be so patient running the football.
"That's personality," he said. "Like the guy that says, 'I'm coming here to hit!' or 'I'm going to level somebody on every play!' Well, another guy might say, 'I'm going to sit here and see my way through.' I think before the game starts that person already has that.
"A lot of guys are so anxious to make the big play that they don't understand patience is a part of it. T.J. understands that the big plays have to come over time instead of trying to stress it to happen."
It drives some fans nuts the way Yeldon doesn't lurch toward the line of scrimmage, but often times that's ill-advised. Though he's not thought of as explosive, Yeldon has 25 career rushes for 20-plus yards, which ranks sixth among active running backs.
"He's good at hiding behind the guards and tackles, and then he'll pop up out the ground on you," Devall said.
Said defensive back
Jarrick Williams
: "You just see him explode through the hole and go, 'Whoa, where did he come from?' It's really shocking."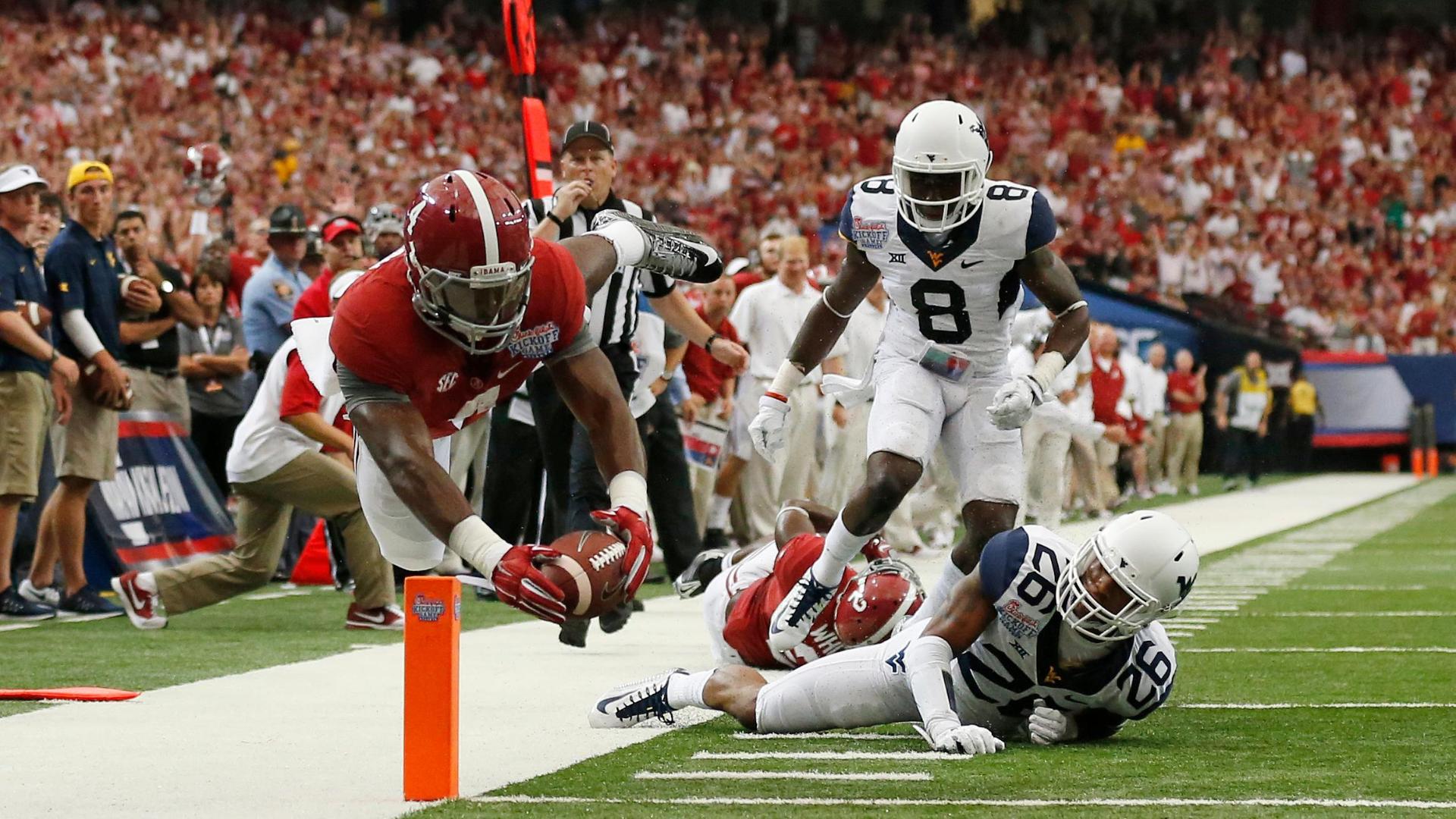 Total Package
If Yeldon is so appreciated by his peers, why is he so overlooked by others?
"I have to start all over like a freshman again because I had a bad year last year," Yeldon said heading into this season. Keep in mind that last season he became the first Alabama back ever to rush for 1,000 yards his first two seasons. "I'm just ready to prove I belong at the top."
If today's opinion makers don't see it, history is sure to put Yeldon in rarified air.
"It's hard for me to see [Yeldon] and not compare him to the whole group: the Bobby Humphreys, the Johnny Mussos," Alexander said. "Because he's one of us. He's one of the elite."
For now, Alexander hopes people appreciate Yeldon's worth.
If not at Alabama, then in the NFL.
He'll challenge the idea that the feature back is dead, Alexander said.
"He will allow people to think, 'Well, if you want to you can,'" the former NFL All-Pro and MVP said. "That's what's going to make him a great steal because he will open up the coaches' eyes wherever he goes to that, 'You know what? We can use this guy all day and in any situation.'"
He may not wow you with any one skill, but Yeldon is the complete package.
"It's special what he does," Alexander said. "He just gets it done."
July, 5, 2012
7/05/12
9:25
AM ET
By
ESPN.com staff
| ESPN.com
As promised, we're rolling out our All-SEC team from the BCS era this morning.
These are the top players by position in the league going back to the 1998 season. To be eligible, players had to have played in the SEC for at least two seasons starting in 1998 and running through now. Current players were also not eligible.
We unveiled our
top 11 offensive players
and
top 11 defensive players
of the BCS era on Tuesday. Later today, we'll come up with a list (with your help) of those deserving players who just missed the cut.
Here we go with the All-SEC team:
OFFENSE
QB – Tim Tebow, Florida
RB – Darren McFadden, Arkansas
RB – Shaun Alexander, Alabama
WR – Percy Harvin, Florida
WR – A.J. Green, Georgia
TE – D.J. Williams, Arkansas
OL – Chris Samuels, Alabama
OL – Shawn Andrews, Arkansas
OL – Matt Stinchcomb, Georgia
OL – Andre Smith, Alabama
C – Maurkice Pouncey, Florida
DEFENSE
DL – John Henderson, Tennessee
DL – Glenn Dorsey, LSU
DL – David Pollack, Georgia
DL – John Abraham, South Carolina
LB – DeMeco Ryans, Alabama
LB – Patrick Willis, Ole Miss
LB – Rolando McClain, Alabama
CB – Patrick Peterson, LSU
CB – Lito Sheppard, Florida
S – Eric Berry, Tennessee
S – Reggie Nelson, Florida
SPECIAL TEAMS
July, 3, 2012
7/03/12
4:25
PM ET
By
ESPN.com staff
| ESPN.com
Now that it's official that we'll be leaving the BCS era for the playoff era in college football beginning in 2014, I thought it would be fun to reflect on the best SEC players of the BCS era.
These are the best players, period, going back to the 1998 season, which was the birth of the BCS era.
To be eligible, players had to have played at least two seasons in the SEC from 1998 until now, meaning a player who played in 1995, 1996, 1997 and 1998 would not be eligible. We also didn't consider current players, meaning
Marcus Lattimore
,
Jarvis Jones
and
Tyrann Mathieu
weren't eligible.
We picked 11 players on offense and 11 players on defense and consulted with a number of coaches and other media members in making these selections.
We'll start with offense and come back with defense later today. We've also selected an All-SEC team of the BCS era that we'll unveil.
The players are listed alphabetically. Here goes with our best 11 on offense:
Shaun Alexander, RB, Alabama:
He scored 50 touchdowns in 41 career games and ranks as Alabama's all-time leading rusher with 3,565 yards. He set the SEC single-season record for touchdowns scored in 1999 with 24.
Shawn Andrews, OT, Arkansas:
A massive road-grader for the Hogs and a two-time All-American. Andrews won the Jacobs Trophy as the SEC's best blocker in both 2002 and 2003.
[+] Enlarge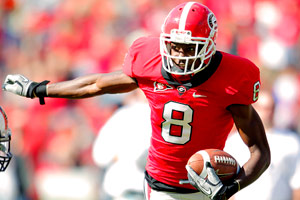 Icon SMIA.J. Green used his superior physical tools to record 23 TDs in 31 games in his Georgia career.
A.J. Green, WR, Georgia:
Combined a blend of speed, size and incredible body control to haul in 23 touchdown catches in 31 career games. Green caught more than 50 passes all three seasons at Georgia from 2008-10.
Percy Harvin, WR, Florida:
They called his position the "Percy" position because he was so versatile and so dynamic. Harvin lined up as a tailback, in the slot and out wide and finished his career with 32 touchdowns (19 rushing, 13 receiving).
Mark Ingram, RB, Alabama:
The first and only Heisman Trophy winner at Alabama in 2009, Ingram scored 46 career touchdowns and averaged 5.7 yards per carry on 572 career rushes. Ingram lost just two fumbles in more than 620 touches at Alabama.
Eli Manning, QB, Ole Miss:
Prior to his Super Bowl heroics in the NFL, Manning carved out a record-breaking career at Ole Miss. He was a first-team All-American in 2003 and threw 81 career touchdown passes, which is fifth all-time in the SEC.
Darren McFadden, RB, Arkansas:
Won the Doak Walker Award in 2006 and 2007 as the nation's best running back. McFadden averaged 120.8 rushing yards for his career, second only to Herschel Walker and Emmitt Smith in the SEC
Cam Newton, QB, Auburn:
After an inauspicious start to his career at Florida, Newton produced a season for the ages in 2010 after transferring to Auburn. He accounted for 51 touchdowns and rushed for an SEC-best 1,473 yards in leading the Tigers to the national title.
Chris Samuels, OT, Alabama:
Winner of the Outland Trophy in 1999, Samuels started 42 games for the Crimson Tide and cleared the way for a lot of Alexander's 3,565 career rushing yards.
Tim Tebow, QB, Florida:
Set the SEC record with 57 career touchdowns from 2006-09 and was an integral part of two national championship teams at Florida. Tebow won the Heisman Trophy in 2007 when he passed for 32 touchdowns and rushed for 23 touchdowns.
Carnell Williams, RB, Auburn:
There's a reason they called him "Cadillac." Williams teamed with Ronnie Brown in 2004 to form one of the best backfield tandems in SEC history and finished his career with 3,831 rushing yards and 46 touchdowns.
June, 4, 2012
6/04/12
2:54
PM ET
We've ranked our top five individual seasons in the SEC over the past 50 years, and I'm sure everybody agrees.
It was close for the top spot, but Auburn winning the national championship in 2010 nudged
Cam Newton
ahead of
Tim Tebow
.
Here's a look at 10 other outstanding individual seasons that just missed the cut. They're listed in alphabetical order:
Shaun Alexander, RB, Alabama, 1999:
His 24 touchdowns that season remains the SEC record, and he also rushed for 1,383 yards in leading Alabama to the SEC championship. Alexander scored four touchdowns in the 40-39 overtime win against Florida.
[+] Enlarge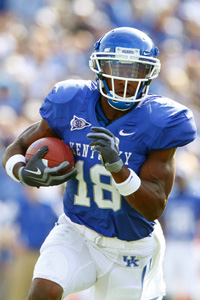 Mark Zerof/US PresswireRandall Cobb set the SEC record with 2,396 all-purpose yards during the 2010 season.
Randall Cobb, WR, Kentucky, 2010:
He set the SEC record with 2,396 all-purpose yards and accounted for 16 touchdowns -- seven receiving, five rushing, three passing and one on a punt return. With 424 rushing yards and 1,017 receiving yards, Cobb just missed becoming the first player in SEC history to rush for 500 yards and have 1,000 receiving yards in the same season.
Chris Gaines, LB, Vanderbilt, 1987:
An All-American for the Commodores, Gaines was a tackling machine and racked up a school-record 214 tackles in 1987, including 136 solo stops. He had 37 total tackles in a single game against Tulane. Gaines also tied for the team lead with nine tackles for loss that season.
Terry Hoage, S, Georgia, 1982:
He led the nation with 12 interceptions, which has remained the SEC record for nearly 30 years, and also collected 101 total tackles as the rover in Georgia's defense. Frank Broyles said Hoage was an "end, safety and cornerback combined."
Bo Jackson, RB, Auburn, 1985:
In romping his way to the Heisman Trophy, Jackson rushed for 1,786 yards, third all-time in the SEC, and 17 touchdowns. Despite carrying the ball nearly 300 times, he averaged an astonishing 6.4 yards per carry.
Peyton Manning, QB, Tennessee, 1997:
After returning to school for his senior season, Manning made it count with the first of back-to-back SEC championships for the Vols. He passed for 3,819 yards and 36 touchdowns that season.
Darren McFadden, RB, Arkansas, 2007:
His 1,830 rushing yards that season rank second all-time in the SEC to Herschel Walker's 1,891 yards in 1981. McFadden, a two-time Heisman Trophy runner-up, also set the SEC record for all-purpose yards that season with 2,310, a record that was broken in 2010 by Kentucky's Randall Cobb.
Patrick Peterson, CB, LSU, 2010:
Cam Newton wasn't the only SEC player who had a sensational season in 2010. Peterson won both the Thorpe and Bednarik awards while establishing himself as the top cornerback in the country. He also returned two punts for touchdowns, and was one of the nation's leaders in kickoff return average.
Jake Scott, S, Georgia, 1968:
One of the best all-around athletes to ever play in the SEC, Scott had 10 interceptions, which tied the SEC record at the time, and also led the SEC that season with a 12.6-yard average on punt returns. He was named the SEC's Most Valuable Player, and led the Bulldogs to the SEC championship.
Reggie White, DT, Tennessee, 1983:
The "Minister of Defense" racked up 100 total tackles and 24 tackles for loss, including 15 sacks. His school sack record has stood for nearly 30 years, and he had 72 unassisted tackles, which is unheard of for an interior defensive lineman.
October, 17, 2011
10/17/11
3:35
PM ET
I found out something very interesting this morning when I went to check my overcrowded Gmail inbox.
Sitting there was a message from friend, colleague and soccer enthusiast here at ESPN informing me that fellow SEC blogger Chris Low and I were the only ones to have Alabama running back
Trent Richardson
at the top of our Heisman ballots for this week.
(Full disclosure: he's been at the top of mine for the past two weeks.)
Jokes went back and forth between us as he let me know that our SEC bias was showing and I simply told him that I put the best player in the country at the top of the list for the most prestigious award in the sport.
[+] Enlarge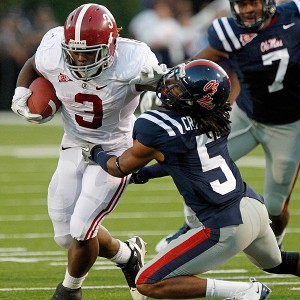 AP Photo/Rogelio V. SolisTrent Richardson ran around and through the Ole Miss defense on Saturday.
How only two people could see that at this point is baffling. Yes,
Andrew Luck
continues to be spectacular and
Kellen Moore
probably doesn't -- and won't -- get the respect he deserves.
But to put them, or anyone, ahead of Richardson right now is totally bogus.
After his 17-carry, 183-yard, four-touchdown performance against Ole Miss, he leads the SEC and is fourth nationally in rushing (912), yards per game (130.3) and is third in the nation with 15 rushing touchdowns and with 13.7 points per game.
Seven of his rushing touchdowns have come against SEC opponents and he's currently averaging 149 yards against conference foes.
However, if that wasn't enough to nail his name to the top of a ballot, how about his scintillating 76-yard touchdown run against Ole Miss? Every candidate needs his Heisman moment and Richardson had his Saturday when he showed off all the tools that make him great.
First, it was his strength and agility that got him to shake a defender -- who had the audacity to try to arm tackle Richardson deep in his own backfield -- and cut to his left. Next, with his legs churning, his explosiveness took over; guiding him through two more tackle attempts before he even crossed the line of scrimmage.
With him in total flight, his keen eyesight kicked in, allowing him to see the Ole Miss defenders fading one direction so he cut to his right about 30 yards away from where the play originated.
But it wasn't until he made everyone's jaw fall to the floor that he had his moment.
Right at about the 14-yard line, Richardson saw Ole Miss cornerback Senquez Golson trying to stop him. Instead of running out of bounds or trying to bowl him over, Richardson faked like he was going to cut around behind Golson, but right as Golson went right, Richardson juked back toward the end zone and sprinted into the end zone. He left Golson stumbling to the turf -- ankles removed -- and throwing his arms up in disgust once Richardson scored.
The only thing that would have made Richardson's run better was if Duke Tango from the AND1 Mixtape Tour breaking out an "OOOOOOOOOHHHHHHH BABY!!" after Golson was shaken out of his cleats.
And what did Richardson say about his tantalizing play? He said it wasn't even his best run. That he could have done better. That he was proud of his blockers.
"I had to get in the end zone some type of way," Richardson said. "I couldn't let them blocks go to waste."
Come on! Showboat a little!
No boasting or bragging. He never really complimented himself other than to say that it was a nice run.
It is so hard to find such a humble individual who is blessed with such talent, but we have Richardson.
The junior, who has now rushed for more than 100 yards in six straight games and needs one more to break Shaun Alexander's school record of seven set in 1999, is built like a tank, but runs like a track star and is proving to be the best player the SEC has to offer.
The scary thing is that he thinks he can get better … and he's probably right.
"There's more to come," Richardson said.
February, 19, 2009
2/19/09
2:00
PM ET
By
ESPN.com staff
| ESPN.com
Posted by ESPN.com's Chris Low
One final thought on the Mount Rushmore project.
You, the fans, have spoken. And, yes, I did miss a few people. I knew I would.
The SEC is so rich in football tradition that it's impossible to include everybody that played a key role in each school's tradition and success when you're keeping it to five to 10 names.
Thanks again for all your input. It was a big help, and it's always neat to see where fans differ on who meant more to each school.
That said, some of the more prominent names that deserved Mount Rushmore mention in some fashion and weren't included: Roy Kramer at Vanderbilt, Condredge Holloway at Tennessee, John Ward at Tennessee, Bowden Wyatt at Tennessee, Herman "Eagle" Day at Ole Miss, Deuce McAllister at Ole Miss, Bill Stanfill at Georgia, Terry Hoage at Georgia, Eric Zeier at Georgia, Quinn Grovey at Arkansas, Bernie Moore at LSU, Mike the Tiger at LSU, Zeke Smith at Auburn and Rex Enright at South Carolina.
As for Alabama, where do you start?
Shaun Alexander, Harry Gilmer, Bobby Humphrey, Woodrow Lowe, Johnny Musso, Gene Stallings, Bart Starr, Dwight Stephenson, Wallace Wade.
Notice I didn't even mention Nick Saban. He'll be there soon enough.
But the list at Alabama goes on and on.
Before we put this topic in our rear-view mirror for good, who would be the four you would chisel into stone if you were during a current SEC football Mount Rushmore?
In other words, the four most prominent/successful individuals associated with SEC football right now.
Mine would be, in alphabetical order, Eric Berry, Urban Meyer, Nick Saban and Tim Tebow.