February, 5, 2010
2/05/10
2:00
PM ET
By
ESPN.com staff
| ESPN.com
After a brief hiatus thanks to the monster that is recruiting, we continue our postseason countdown of the 30 best players in the SEC.
We've unveiled the players ranked Nos. 26 through 30, and there were three Alabama players included -- Mark Barron, Terrence Cody and
Julio Jones
.
Something tells me they won't be the last ones, either. Just a hint.
[+] Enlarge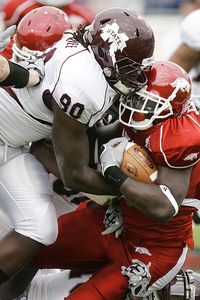 AP Photo/Danny JohnstonPernell McPhee notched 12 tackles for loss in 12 games.
Now, it's on to selections Nos. 25-21:
No. 25: Pernell McPhee, DE, Mississippi State:
One of the top newcomers in the league along with Arkansas quarterback
Ryan Mallett
, McPhee had stretches this past season where he was unblockable. He should be that much better as a senior after coming over from junior college. McPhee finished with 12 tackles for loss in 12 games. He also had five sacks to lead the Bulldogs and is one of those guys who never gives up on a play.
No. 24: A.J. Green, WR, Georgia:
The only thing holding Green back this past season was a late bout with injuries, specifically a bruised lung and separated shoulder that sidelined him for much of November. Green still finished with 53 catches, including six touchdowns, and averaged 15.3 yards per catch. He got off to a brilliant start and was one of the most productive receivers in the country before injuring his shoulder. Had he stayed healthy, Green would have easily been a top-10 player. Few receivers have his combination of speed, size and body control.
No. 23: Shay Hodge, WR, Ole Miss:
Hodge followed up an outstanding junior season with an even better senior season and firmly established himself as one of the best receivers in the SEC. Hodge led the league with 70 catches and 1,135 receiving yards. He also caught eight touchdown passes and averaged 16.2 yards per catch. His versatility is what made him so effective. He was good after the catch, made big plays down the field and also made some acrobatic catches (See his improbable grab in the end zone against Mississippi State).
No. 22: Randall Cobb, QB/WR, Kentucky:
There were a few players who might have been close, but nobody in the SEC was more versatile than Cobb this past season. He scored 10 rushing touchdowns, four receiving touchdowns and also returned a punt for a touchdown. Cobb was the only player in the league with more than 300 yards in the rushing, receiving, punt return and kickoff return departments. At times, he was a one-man show for the Wildcats and carried them offensively for much of the season.
No. 21: Rennie Curran, LB, Georgia:
One of the better tacklers in the league, Curran led the SEC with 130 total tackles. That's after recording 115 as a sophomore, which was the most for a Georgia defender since 1998. The league was full of great linebackers, and Curran was right up there near the top. But with the Bulldogs taking their lumps the way they did this season defensively, it was difficult to rank Curran as highly as we did in the preseason (16th). Georgia will surely miss him. He's giving up his senior season to enter the NFL draft.
Here's the link to
Nos. 30-26
.
No. 26: Malcolm Sheppard, DT, Arkansas

No. 27: Mark Barron, S, Alabama

No. 28: Terrence Cody, NG, Alabama

No. 29: Brandon LaFell, WR, LSU

No. 30: Julio Jones, WR, Alabama
January, 29, 2010
1/29/10
4:21
PM ET
By
ESPN.com staff
| ESPN.com
This is my annual public service announcement to SEC fans as national signing day approaches.
Don't sweat the three-star or even the two-star prospects that sign on the dotted line Wednesday. It's not always about the stars. In fact, it's rarely about the stars.
To prove that, here's a look at a different kind of All-SEC team from the last five years.
These are guys who weren't on everybody's prep All-America teams and rated no higher than three stars in most cases, yet ended up being All-SEC players and/or successful NFL players.
We'll start with offense:
QB Jay Cutler, Vanderbilt:
He had some interest among the lower tier Big Ten teams as a safety, but Vanderbilt offered him as a quarterback about a month before signing day. Cutler would go on to be the 11
th
overall pick in the 2006 draft.
RB Dexter McCluster, Ole Miss:
He's been perhaps the best running back at the Senior Bowl practices this week after becoming the first player in SEC history to rush for 1,000 yards and have 500 yards receiving in the same season. Not bad for a guy who wasn't rated among the top 100 prospects in Florida his senior year of high school.
RB Jacob Hester, LSU:
One of the stars of the Tigers' 2007 national championship team, Hester played nose guard his first two years of high school in Shreveport, La. In some quarters, he was a two-star prospect. Until LSU promised him he could play running back, some of his best offers were as a fullback or linebacker.
WR Sidney Rice, South Carolina:
There were concerns about his speed coming out of high school, and he wasn't even ranked among the top 10 players in the state of South Carolina. Suffice it to say that he's one of the top 10 receivers in the NFL right now.
WR Earl Bennett Vanderbilt:
A Birmingham, Ala., product, Bennett didn't get much of a sniff from Alabama or Auburn, but went on to set the SEC career record with 236 catches at Vanderbilt. He's the only player in league history to reach the 75-catch plateau in three different seasons.
AP Randall Cobb, Kentucky:
A quarterback in high school, Cobb was one of those guys a lot of schools weren't sure where he would play in college. He wanted a shot at quarterback and has proven the last two seasons to be one of the most versatile player in the SEC.
TE Jacob Tamme Kentucky:
His scholarship offer was initially pulled by the Wildcats because they decided they liked somebody else better. Rich Brooks re-offered Tamme when he replaced Guy Morriss, and it's a good thing. Tamme ended up catching more passes (133) than any other SEC tight end of the last decade (2000-09).
OL Clint Boling Georgia:
He's started since he was a freshman and has lined up just about everywhere up front for the Bulldogs while earning first- or second-team All-SEC honors both as a sophomore and junior. Georgia beat Vanderbilt, Kentucky, Duke and Wake Forest to get Boling.
OL Mitch Petrus, Arkansas:
He wasn't ranked anywhere (statewide or nationally) after coming to Arkansas as a tight end, but earned first-team All-SEC honors this season by the coaches and is participating in the Senior Bowl. He was a second-team All-SEC selection in 2007.
OL Chris Williams, Vanderbilt:
Despite being a Baton Rouge, La., product, Williams wasn't recruited by LSU. He weighed 245 pounds when he came out of high school, but left Vanderbilt as one of the top tackles in college football and was taken 14
th
overall in the 2008 NFL draft.
OL Antoine Caldwell, Alabama:
Only 250 pounds when he finished high school, Caldwell was anything but a national recruit. But he blossomed at Alabama and earned first-team All-America honors as a senior in 2008 and was the rock of that offensive line.
OL Jonathan Luigs, Arkansas:
A two-star prospect from Little Rock, Luigs wasn't listed among the top 10 prospects in Arkansas his senior year. He wound up winning the Rimington Trophy in 2007 as the most outstanding center in college football.
Noting:
Just looking at this past season alone, there were several guys who had big years that weren't rated through the roof coming out of high school. Ole Miss'
Shay Hodge
and Auburn's
Darvin Adams
combined to catch 18 touchdown passes. Neither was among the top 15 prospects in his state. Two of the best freshmen in the league were Mississippi State's Johnthan Banks and Vanderbilt's
Warren Norman
. Both were three-star prospects. Defensive end Marcell Dareus, who was the defensive star of the BCS National Championship Game, wasn't one of the highest-rated prospects in Alabama's star-studded 2008 signing class. Linebacker Nick Reveiz was the leader of Tennessee's defense in 2009 and one of the Vols' most productive players until he hurt his knee, and he was a former walk-on.
January, 25, 2010
1/25/10
5:37
PM ET
By
ESPN.com staff
| ESPN.com
The final rosters for the Under Armour Senior Bowl
have been posted
. The game is scheduled for 4 p.m. ET on Saturday from Mobile, Ala.
Vanderbilt is the only SEC school not represented in the game.
Here's the list of participating SEC players on the South team:
ALABAMA
CB Javier Arenas
NG Terrence Cody
OG
Mike Johnson
TE
Colin Peek
K Leigh Tiffin
RB
Roy Upchurch
ARKANSAS
OG Mitch Petrus
AUBURN
DE Antonio Coleman
RB
Ben Tate
FLORIDA
WR
Riley Cooper
QB
Tim Tebow
GEORGIA
DT Geno Atkins
DT Jeff Owens
KENTUCKY
CB Trevard Lindley
LSU
OT Ciron Black
LB Harry Coleman
MISSISSIPPI STATE
LB Jamar Chaney
RB
Anthony Dixon
OLE MISS
WR
Shay Hodge
OL John Jerry
RB
Dexter McCluster
SOUTH CAROLINA
LB Eric Norwood
TENNESSEE
DS
Morgan Cox
OT Chris Scott
DT Dan Williams
December, 31, 2009
12/31/09
1:27
PM ET
By
ESPN.com staff
| ESPN.com
A look at what's making headlines around the SEC:
November, 12, 2009
11/12/09
1:00
PM ET
By
ESPN.com staff
| ESPN.com
They're dubbing it the "Coach O" Bowl.
| | |
| --- | --- |
| | |
| | Joe Murphy/Getty Images |
| | Tennessee assistant Ed Orgeron will coach against some of his former recruits at Ole Miss for the first time. |
Ole Miss' players are talking about it. Tennessee's players are talking about it. So are Ole Miss coach Houston Nutt and Tennessee coach Lane Kiffin.
The only person who isn't talking is Ed Orgeron.
He's declined all interview requests this week as he gets ready to go back to Oxford, where he recruited a slew of talented players and won very few games.
Some of the Ole Miss players swear by him. Junior defensive tackle Jerrell Powe, for instance, talked at length this August about the impact Orgeron had on his football career and how Orgeron continued to believe in him despite it looking like for the longest time that Powe would never become eligible.
Then there's some who'd probably like to swear at him, not that the volatile Orgeron would be taken aback by such language.
He was known to light into his players verbally.
So much so that senior receiver
Shay Hodge
told The Jackson Clarion-Ledger following the Rebels' win over Northern Arizona last week that this game was "personal" for a lot of the players.
"Coach O never did anything to me, but the way I saw him treat some people, I know some guys are going to come out with a real fire in their belly and get after them pretty bad," Hodge said.
Perhaps it was Ole Miss junior defensive end Kentrell Lockett who shed the most candid perspective on Orgeron's time in Oxford.
In short, he's one of the best defensive line coaches in college football and one of the most dogged recruiters in college football. But as a head coach …
He was 0-8 in the SEC in his final season and lost 21 of the 24 games he coached in against SEC teams.
"Great guy, but he just wasn't that head coach," Lockett told the Clarion-Ledger. "He was a great D-line coach, but he wasn't that head coach. I haven't talked to him since [Orgeron was fired]. I might get a chance to talk to him after the game Saturday, might not.
"But life goes on, you know?"
And so has Orgeron. He's been a huge part of Tennessee's recruiting machine under Kiffin and has made quite an impression on the Vols' players.
Yes, he's still loud with that unmistakable voice. And, yes, he's been known to rip off his shirt to fire up the guys.
But you'd be hard-pressed to find anybody on Tennessee's team to say a negative word about him.
His fire has epitomized the way the Vols have played this season and is a big reason they've won three of their last four games and are playing their best football right now.
"Yes, Coach O can take it up a notch," Tennessee junior defensive end Chris Walker said. "We have only seen a little bit of it. We know he can be more intense than he has been, so we're kind of expecting it this week.
"He's an awesome coach to play for. He teaches us the details of things we haven't learned since we've been here."
Kiffin says in a lot of ways that Orgeron was a more important piece to this coaching staff puzzle than even Kiffin's dad, Monte.
In fact, the two Kiffins went down to Destin, Fla., to recruit Orgeron together when it looked like he might be going to LSU. They changed his mind that day.
"Having worked with him at USC, he knows exactly what I want and exactly how I want to do it," Kiffin said. "We had to have him."
November, 8, 2009
11/08/09
4:05
AM ET
By
ESPN.com staff
| ESPN.com
Posted by ESPN.com's Chris Low
On a weekend where there were more mismatches than legitimate matchups in the SEC, we still saw some outstanding performances.
That said, let's pass out a few helmet stickers for Week 10 in the SEC:

Tennessee quarterback Jonathan Crompton:
What a turnaround it's been for Crompton during the second half of the season. The much maligned fifth-year senior passed for a career-high 331 yards and five touchdowns in
the 56-28 win over Memphis
. It's the second time he's thrown for five touchdowns in a game this season. He also did it in the opener against Western Kentucky and now has an SEC-high 21 touchdown passes on the season. Crompton has 18 touchdown passes and only four interceptions in the Vols' five wins this season.
Alabama's offensive line:
The Crimson Tide lost a couple of All-Americans off last season's offensive line, but they've been solid all season up front and took the game over Saturday in the second half of Alabama's
24-15 win over LSU
. Alabama gained 121 of its 176 rushing yards after halftime, and left tackle James Carpenter released and took care of two men on
Julio Jones
' 73-yard touchdown romp down the sideline on a wide receiver screen. These guys may not be mashing people like the Tide did a year ago, but they're getting it done when it counts.
Ole Miss receiver Shay Hodge:
With
Dexter McCluster
taking most of the night off, Hodge stepped front and center with a career-high 169 receiving yards on seven catches, including two touchdowns. His 65-yard touchdown catch from
Jevan Snead
capped the Rebels' scoring in their
38-14 victory over Northern Arizona
. It was Hodge's second straight 100-yard receiving game.
Auburn quarterback Chris Todd:
For the longest time, it looked like Todd wasn't going to throw an incompletion in Auburn's
63-31 rout of Furman
. He completed his first 14 passes before throwing his first incompletion with just under three minutes to play in the first half. He finished 17-of-18, breaking Jason Campbell's school record for completion percentage in a game (94.4 percent), and threw for 256 yards and four touchdowns before halftime. Todd's 17 touchdown passes are tied for fourth on Auburn's single-season list.
Arkansas tight end D.J. Williams:
We've been waiting on this kind of performance from the Hogs' ultra-talented tight end this season, and he delivered in a game that was crucial to Arkansas' bowl hopes. Williams caught seven passes for a season-high 137 yards and hauled in a 69-yard catch right before half to set up a key field goal in the Hogs'
33-16 win over South Carolina
. Williams only had 16 catches on the season entering Saturday's game. But when he's getting the ball with a chance to run after the catch, he opens up a lot of things for everybody else around him.
October, 20, 2009
10/20/09
4:37
PM ET
By
ESPN.com staff
| ESPN.com
Posted by ESPN.com's Chris Low

As it turns out, Ole Miss wasn't quite ready to make its move to elite status in the SEC. Not yet, anyway. The Rebels (4-2, 1-2) are still looking for their first quality win after starting the season ranked in the Top 10 nationally. They rose all the way to No. 4 in the rankings, but bombed at South Carolina in a Thursday night performance that was telling back in September. They got another chance a couple of weeks ago against Alabama and could only manage a field goal in a 22-3 loss. The offense has never really looked in sync, although the Rebels did hammer UAB last week. It's no secret that quarterback
Jevan Snead
has struggled, but he's not the only one. Ole Miss' pass protection has broken down at key times, and the Rebels haven't run it consistently, either. The frustrating part is that Ole Miss' defense has been everything and more that it was supposed to be. The Rebels' front seven has proven to be one of the best in the country.
Offensive MVP: WR Shay Hodge.
The Rebels haven't been able to get the ball to
Dexter McCluster
as much as they would like, so Hodge has sort of stepped in as their go-to guy on offense. He's third in the SEC in receiving yards per game (64.8) and fourth in catches per game (4.3). He's also tied for the team lead with three touchdown catches.
Defensive MVP: DE Kentrell Lockett.
The hard part with this choice is that so many players have played well on Ole Miss' defense, but Lockett stands above everybody else with the number of big plays he's made. He leads the team in tackles for loss (5.5), sacks (4) and quarterback hurries (6).
May, 5, 2009
5/05/09
9:20
AM ET
By
ESPN.com staff
| ESPN.com
Posted by ESPN.com's Chris Low
Ole Miss Rebels
2008 overall record: 9-4

2008 conference record: 5-3

Returning starters

Offense: 6, defense: 8, kicker/punter: 1

Top returners

QB Jevan Snead, WR Dexter McCluster, WR Shay Hodge, OT John Jerry, DE Greg Hardy, DE Kentrell Lockett, LB Patrick Trahan, FS Kendrick Lewis, PK Joshua Shene

Key losses

OT Michael Oher, WR Mike Wallace, FB Jason Cook, DT Peria Jerry, SS Jamarca Sanford

2008 statistical leaders (* returners)

Rushing: Dexter McCluster* (655 yards)
Passing: Jevan Snead* (2,762 yards)
Receiving: Shay Hodge* (725 yards)
Tackles: Kendrick Lewis* (85)
Sacks: Greg Hardy* (8.5)
Interceptions: Kendrick Lewis* (4)

Spring answers

2009 Schedule
Sept. 6 at Memphis
Sept. 12 BYE
Sept. 19 Southeastern Louisiana
Sept. 24 at South Carolina
Oct. 3 at Vanderbilt
Oct. 10 Alabama
Oct. 17 UAB
Oct. 24 at Arkansas
Oct. 31 at Auburn
Nov. 7 Northern Arizona
Nov. 14 Tennessee
Nov. 21 LSU
Nov. 28 at Mississippi State

Snead's team: If the Rebels are going to make a run at their first SEC championship in more than 40 years, Jevan Snead's the guy to take them there. He was terrific over the last half of last season and took it to another level this spring. Offensive coordinator Kent Austin will be able to expand the playbook with Snead under center and give him more freedom.

Powe emerges on defense: Jerrell Powe certainly waited long enough to play in a game for Ole Miss, and after learning on the job a year ago and getting his weight down, he showed this spring that he can be a difference-maker up front. He's poised to be a big part next season of one of the deepest defensive lines in the country.

Trahan the man: The Rebels have talented defensive linemen coming out of their ears, which is the strength of this defense. But keep an eye on outside linebacker Patrick Trahan, who had his moments last season and blossomed this spring. He's a big-play linebacker with the speed, strength and desire that it takes to be a star in this league.

Fall questions

Handling the hype: From a talent standpoint, Ole Miss ranks second only to Florida in the SEC. But this is entirely new ground for the Rebels. They're probably going to be a top-10 team entering the season, and the expectations are going to be off the charts. We'll find out a lot about this team's maturity, focus and leadership next fall, because the talent is there to be special.

Solidifying the left side: Michael Oher was Snead's bodyguard from his left tackle position last season, but Oher is now counting his money after being selected in the first round of the draft. Bradley Sowell, who played some at tight end last season, had an up-and-down spring. But he enters the fall as the Rebels' starting left tackle. Top signee Bobbie Massie arrives this summer.

Is Patterson the real deal? If signee Patrick Patterson is as good as he looks on tape, then Snead is really going to have a big time slinging the ball around next season. Patterson has the size and speed everybody's looking for in a receiver. We'll see in the fall if he also has the maturity and focus to play as a freshman in this league.
March, 5, 2009
3/05/09
1:00
PM ET
By
ESPN.com staff
| ESPN.com
Posted by ESPN.com's Chris Low
It's graduation time for Jevan Snead.
No need to panic, Ole Miss fans. He's not going anywhere, and he'll be right back under center when the Rebels open the 2009 season at Memphis on Sept. 5.
He'd be disappointed, though, if he were the same player as a year ago when he burst onto the scene as the best young quarterback in the SEC.
| | |
| --- | --- |
| | |
| | Wesley Hitt/Getty Images |
| | Jevan Snead said he's embracing a larger leadership role this season. |
"That first year is always kind of a learning year, and I'm looking forward to really taking off this next year," Snead said.
The Rebels will do everything they can to facilitate that move to the next level, and it starts with giving him more of offensive coordinator Kent Austin's playbook and broadening the offense.
"I'm looking forward to expanding and diving deeper into the playbook, and I'm excited about some of the stuff we're going to be adding," said Snead, who threw 16 touchdown passes and only three interceptions during Ole Miss' six-game winning streak to end last season.
But like all great competitors, Snead is not as interested in talking about the things he did right last season. His focus is on the things he did wrong.
It's all part of growing, maturing and developing into the kind of quarterback that can lead a team to an SEC championship.
Keep in mind that last season was Snead's first dose of the SEC, and all he did was beat Florida on the road, beat LSU on the road and carve apart Texas Tech in the AT&T Cotton Bowl.
"There's always another level," Snead said. "That goes for me and this team. I know there are a lot of things I can do better."
At the top of his list is being a more consistent quarterback, namely protecting the ball better.
In his first seven games, Snead threw 10 interceptions. He only threw three more in his last six games. But the part that Snead can't get out of his mind is that the Rebels lost the Wake Forest, Vanderbilt and South Carolina games primarily because they couldn't take care of the football.
"I'm trying to continue my learning and understand things better so I can make good decisions," Snead said. "I struggled early on last season with my decision-making, so I'm trying to get to where I can make better decisions and make them quicker."
Finding a left tackle is of the utmost importance this spring, but Snead has a bunch of experience returning around him when it comes to his playmakers. Dexter McCluster, who led the Rebels in rushing and was second in receiving, is back. So is leading receiver Shay Hodge, not to mention running backs Cordera Eason, Brandon Bolden and Enrique Davis.
"We can do a lot more things, and there's a lot we can do that we didn't last year just because we were all still learning it," said Snead, who sat out the year before after transferring from Texas. "We pretty much have the base down now and are looking to add some stuff. We know we have the players that can run it. It's just a matter of building on it."
Snead's 2,762 passing yards a year ago were the most in a season for an Ole Miss quarterback by somebody not named Eli Manning. The same goes for Snead's 26 touchdown passes.
Manning's leadership, though, was what was invaluable for the Rebels during their breakthrough 10-win season in 2003 when they shared a piece of the Western Division title.
Snead, a junior, knows that's where he has to step up like never before next season, and it's already started this offseason.

Jevan Snead
#4 QB
Ole Miss Rebels
2008 STATS
RAT
YDS
TD
INT
CMP%
94.1
2,762
26
13
56.3
This is his team now.
"Last year, I was an underclassman. I had no experience," Snead said. "I didn't really have anything behind my talk. I didn't want to say too much and felt like I needed to gain everybody's respect and everybody's trust first. This year, having been through last season and the success we had, I feel a lot more confident in my role as a leader and more prepared for it."
One of the things he's done ever since Ole Miss left Dallas earlier this year is watch for complacency. So far, he likes how the Rebels have handled success and dealt with being in the spotlight.
It's new territory for them, as many are picking them as one of the favorites in 2009 in the Western Division.
"Everybody knows who we are," he said. "We were the underdogs last year. This year, it's going to be different. Everybody's going to be watching out for us.
"That's OK, because we feel there's a lot more out there for us."