March, 13, 2014
Mar 13
3:00
PM ET
This is Part IV of a week-long series predicting what changes are ahead for Auburn this spring.
AUBURN, Ala. -- When Auburn opens practice next week, there's no doubt that the best position battle of the spring will be at left tackle. It's one of the most important positions on the field, and depending on the winner, it could shake up the entire offensive line.
[+] Enlarge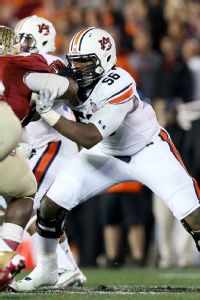 Matthew Emmons/USA TODAY SportsAfter securing the right tackle job last season, Avery Young could make a move to the left side this spring.
At this point, it's too early to predict who's going to win the job, but don't be surprised if the staff waits until fall camp before naming a starter.
The good news for Auburn is that there are plenty of candidates. The bad news for the fans is that the coaches will likely explore all of those options and take their time in making a decision. There will obviously be a player who starts with the first-team offense in the spring game, but that doesn't mean he's going to be the starter come August for the season opener.
Don't forget that ESPN 300 offensive lineman
Braden Smith
, a highly regarded member of the Tigers' 2014 recruiting class, isn't even on campus yet. He enrolls this summer, and though it's unlikely he'll start at left tackle, he could still factor into the two-deep depth chart.
"He's very athletic, one of the strongest guys in the entire country," head coach Gus Malzahn said of Smith. "He'll fit in very good for us, and I think he has the ability to help us early."
For those doubting that Smith can earn a significant role in his first year, just look at what
Avery Young
did two years ago as a true freshman. He also arrived in the summer, and by the season opener, was Auburn's starting right tackle. It didn't last as a shoulder injury forced him to miss the majority of the season, but it shows that it's possible.
Speaking of Young, many consider him to be the best offensive tackle on the roster. His injury opened the door for
Patrick Miller
in 2012, but when Miller missed three games last year due to off-field issues, it was Young who stepped in and took advantage of an opportunity. He started the team's last eight games, and now he'll almost certainly have a starting job.
The only question is will he stay at right tackle where he's played his whole career at Auburn or will he move over and fill the void left by
Greg Robinson
at left tackle?
If Young stays put, that means the competition will ultimately come down to Miller, the team's opening day starter at right tackle a year ago, or redshirt sophomore
Shon Coleman
, Robinson's primary backup last year.
"I think Coach [J.B.] Grimes is going to open it up to those two guys," Malzahn told reporters last month. "
Robert Leff
will get an opportunity, Avery Young ... Spring is a great time for coaches to kind of mix and match, put people in different positions. The good thing is we have some depth up front going into this year."
Either Malzahn is a master at not tipping his hand or he has no idea who his left tackle is going to be next season. That's what spring is for, though. He doesn't have to name a starter the first week. He doesn't even have to name a starter by the last week -- not one that's etched in stone, anyway. He just needs to find a starter by August 30 when Arkansas comes to town.
The only real prediction that can be made right now about Auburn's left tackle competition is that it's going to take time to find the right guy.
January, 15, 2014
Jan 15
12:10
PM ET
The NFL draft early entry deadline is today, and that leads our news roundup of what's happening around the SEC.
September, 6, 2012
9/06/12
12:00
PM ET
Did the Cowboys really win that game last night? I guess the Giants will once again limp into the playoffs with no hope in sight ...
Also, don't forget to send in your
questions to the mailbag
. We didn't get many questions last week, so get in there and ask away. You should have a lot, considering there were no chats this week.
April, 13, 2012
4/13/12
11:00
AM ET
Lost in all of the Bobby Petrino hoopla was an inspiring story on the the Plains.
Wednesday, Auburn offensive lineman
Shon Coleman
returned to practice
. But this wasn't just any regular practice. Coleman was back in shoulder pads and had his helmet on two years after he was diagnosed with acute lymphoblastic leukemia soon after he signed with the Tigers.

Coleman
Coleman signed in 2010, but learned two months later that he had leukemia. It cost him his immediate football future, but more importantly, it put him in the ultimate battle for his life. That didn't keep Auburn coach Gene Chizik from keeping Coleman in the Auburn family. Regardless of whether Coleman would ever play football again, Chizik wanted him to attend and graduate from Auburn.
Two years later, Coleman was back and ready to do more than earn a diploma; he was competing on the football field.
"He tried to downplay it, but you could see he was excited and he was happy," defensive lineman Jeff Whitaker told reporters. "I know he was excited about the response that he got. Coach Chiz made him stand up in front of the whole team. Coach Chiz didn't even have to acknowledge it. Once he stood up the whole team gave him a standing ovation."
Coleman won't return to his former football self overnight. It's going to take time some time for him to get back into the swing of things and get his body back into field and playing shape. Auburn's medical staff will be monitoring his every move, as well, making sure he's not doing anything that could put his health at risk.
Regardless, just seeing Coleman, who is cancer free, back in pads and going through the motions must have been quite the sight for his teammates and coaches. Two years removed from being diagnosed, Coleman is looking to make a comeback in football after he could have completely given up on it, and no one would have thought twice about it. No one would have challenged him for thinking of his health and well-being.
But Coleman, who was once a top offensive line prospect coming out of high school, battled through cancer and is looking to battle through football once again.
Chizik said Wednesday that he wasn't sure if Coleman would make an impact on the field this fall, but there's no question his courageous actions in life and in his attempt to return to football have already made an impact on everyone in and around Auburn's program.
"He's extremely excited and I'm excited for him and his family," Chizik said. "You talk about perseverance and commitment, he's worked extremely hard to get to this point. I'm very proud of him."
April, 12, 2012
4/12/12
12:30
PM ET
Hitting the SEC links on a Thursday.
July, 28, 2010
7/28/10
3:12
PM ET
Auburn has
released its 2010 roster
, including the freshmen and all their jersey numbers.
Prized running back signee
Michael Dyer
will wear No. 5. Receiver
Trovon Reed
will wear No. 1, which is fitting. Don't be surprised if Reed emerges as one of the Tigers' top targets this season. He's perfect as a slot guy in Gus Malzahn's offense.
Freshman offensive tackle
Shon Coleman
, who's battling leukemia, is not listed on the roster. He's not expected to enroll in school this fall and will continue receiving treatments with the hope of joining the team in the next year or so.
Also, four of the five projected offensive line starters weigh 299 pounds or more. Left tackle Lee Ziemba is 319, while left guard Mike Berry is down to 316. Berry was pushing 325 in the spring.
Senior running back
Mario Fannin
is listed at 228, while sophomore running back
Onterio McCalebb
is 171. Dyer is listed at 215. Redshirt freshman defensive end Nosa Eguae has also bulked up to 258 pounds.
April, 30, 2010
4/30/10
9:00
AM ET
One of the neatest things I've read recently came courtesy of my ESPN The Magazine colleague Bruce Feldman, who has a
moving piece on Josiah Greene
, an Auburn student deployed with his Army Reserve unit overseas on a peacekeeping mission to Kosovo.
Greene has started a
tribute fund with St. Jude
in honor of Auburn signee Shon Coleman, who's battling leukemia. Greene told Feldman that he's raised about $7,600 in honor of Coleman to help fund cancer research at St. Jude.
DeKeisha Tunstall, Coleman's mother, said Greene's initial e-mail offering to help brought tears to her eyes.
"Josiah is a very special young man, and for him to do this is truly amazing," Tunstall said. "Neither he nor any of the St. Jude donors have ever met my son or family, but they care enough to donate to ensure that Shon and other St. Jude patients continue to receive the best care available. That just means so much. Every donor is literally saving a child's life."
Fans wanting to keep up with Coleman's progress can go to the CaringBridge site where his
mother is keeping a journal
.
"Since Shon's diagnosis several weeks ago, there has been such a huge outpouring of love and support from across the country, and that support is what helps us face this devastating disease head-on every day," she said. "It is really amazing that everyone is lending a hand. St. Jude has received donations from our Auburn family and other schools who would normally be fierce football rivals to AU. In this situation, rivalries have been set aside to meet a common goal. It's a beautiful thing, and we are so grateful."
March, 29, 2010
3/29/10
2:30
PM ET
AUBURN, Ala. -- Auburn just wrapped its second practice in full pads a little while ago, and coach Gene Chizik met with the media afterward.
Here's a quick synopsis:
• Fans across the SEC will want to keep Auburn signee Shon Coleman in their thoughts and prayers.
According to a post on his mother's Facebook page, Coleman is undergoing chemotherapy for a form of cancer.
Chizik said only that he had talked to Coleman and the family and that he was dealing with a medical issue.
"We want the young man to be healthy, and our thoughts and prayers are out to the family in terms of his recovery," Chizik said. "We haven't broached the subject of football in any way, shape or form, and we won't. I just want the young man to be healthy again."
Coleman is a highly rated offensive tackle prospect from Olive Branch, Miss., who was planning on being on campus this summer.
• Chizik expressed disappointment over the Tigers' ability to stop the run on defense and said that was an area that would take top priority the rest of the spring.
Chizik said the defense gave up too many longer runs and allowed guys to get outside too much during Saturday's practice.
"We let some runs get out Saturday that we need to corral back in," Chizik said.
The Tigers finished 10th in rushing defense last season.
• Auburn receivers coach Trooper Taylor has been impressed with
Ralph Spry Jr.
and the way he's caught the ball so far in the spring.
Spry didn't play last season after transferring from Minnesota.
• Demond Washington, who's moved from safety to cornerback, said it's been a blast having veterans like Aairon Savage and Mike McNeil back in the secondary.
"They're two great players and know the game well," Washington said. "Savage goes in like he hasn't lost a step, and McNeil's the same way. They're helping us out."
February, 3, 2010
2/03/10
10:23
AM ET
There were some uneasy moments these last few days for Auburn concerning top offensive tackle prospect Shon Coleman.

But after looking around a little bit and taking some late visits, Coleman stuck by his earlier commitment and signed with the Tigers on Wednesday.

Alabama, Arkansas and Miami were all in play down the stretch for the 6-foot-6, 270-pound Coleman, who's rated as the No. 31 offensive tackle prospect in the country by ESPN's Scouts Inc. The Olive Branch, Miss., product is the third highly rated offensive lineman in this class for the Tigers. Ed Christian of Valdosta, Ga., is the No. 18 offensive tackle prospect and Eric Mack of St. Matthews, S.C., is the No. 2 offensive guard prospect.