September, 30, 2013
9/30/13
8:00
AM ET
TUSCALOOSA, Ala. -- There was no dipping a toe in the water for preseason No. 1 Alabama. The Crimson Tide instead had to jump right in, battling sharks every week in the first month of the season.
The early stretch was brutal at times. Sure, Alabama looked like the best team in the country and got through the first four games undefeated, but there were certainly some blemishes revealed along the way. Each week and each win was a struggle.
Virginia Tech opened the season by stifling Alabama's offense in Atlanta, getting into the face of quarterback
AJ McCarron
by applying constant pressure on the backfield. The offensive line, a group that featured three new starters, looked nothing if not inexperienced.
[+] Enlarge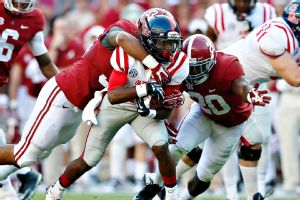 Kevin C. Cox/Getty ImagesThe Crimson Tide defense had its most complete effort of the season on Saturday.
Ninth-ranked Texas A&M then lit up Alabama two weeks later.
Johnny Manziel
and
Mike Evans
tore apart the secondary, abusing the Tide with the deep pass. UA set a kind of record you don't want to see, allowing the most yards in school history.
Even Colorado State, the $1.5 million cupcake courtesy of the Mountain West Conference, gave Alabama trouble. The Tide defense made too many mistakes and the offense was terribly inconsistent, failing to convert on a single third-down attempt in the first three quarters.
Then came No. 24 Ole Miss, an undefeated team playing with house money against Alabama. But this time, mercifully, the Tide put together a complete game and won, ending a four-game streak that tested the mettle of the championship contenders.
Now it's time to exhale. Alabama survived the early onslaught and can now take a breath to regroup with Georgia State, Kentucky, Arkansas and Tennessee up next. None of the four is ranked, and only the Razorbacks and the Vols are above .500, albeit at just one game over each. The four teams' combined record (7-11) is noticeably worse than the combined record of the first four teams Alabama faced (13-6) and the last four teams Alabama will face to end the season (11-6).
To make matters even more favorable for the Tide, Alabama will get a bye to start the month of November before hosting LSU on Nov. 9.
No team in the SEC has an easier next five weeks than Alabama. South Carolina is a close second and the only other school in the conference that won't face a ranked team over that time, but at least the Gamecocks don't have a cupcake like Georgia State to snack on. Instead, Steve Spurier's team will be tested somewhat by Kentucky, Arkansas, Tennessee, Mississippi State and undefeated Missouri. In fact, if one-loss South Carolina plays like it did against unranked UCF this past weekend, it might not be much of a championship contender come November.
The rest of the league's title contenders don't have it so easy. Georgia has rival Florida to contend with, LSU has Florida and Ole Miss in back-to-back weeks, and Texas A&M has to deal with the same explosive Rebels on Oct. 12.
Ole Miss is one of seven SEC schools to play two ranked opponents over the next five weeks. Only Tennessee and Missouri have it worse with three ranked opponents each in the month of October.
While Nick Saban might not be fond of focusing on records, it's hard to ignore the obvious -- if Alabama doesn't make it to November undefeated, it would be a shock. The Crimson Tide's coach isn't one to admit those things and he won't ever say an opponent is overmatched, but he and his staff do have the luxury of not stressing over serious competition the next few weeks.
Instead, they can budget their time wisely, resting banged up starters such as
Ryan Kelly
and
T.J. Yeldon
while working out the kinks with some younger guys for the stretch run, especially those on defense such as rookie cornerbacks
Eddie Jackson
and
Maurice Smith
.
"I'm looking more at the standard, not the record," Saban said following his team's shutout of No. 24 Ole Miss on Saturday night. "And I think it's important that our players do the same so we can continue to improve."
Improvement, though, might be the best Saban can hope for. Making another statement like his team did by thumping Ole Miss doesn't appear to be possible against the forthcoming carousel of unranked, overmatched opponents. Rather, building up some level of consistency over the next few weeks will be the challenge as the scoreboard certainly doesn't figure to be.
"We have high expectations for the standard of how we play," Saban said. "And I think more than what the record is, I think and our team thinks, what do we need to do so we can continue to improve so we can play the the standard on a more consistent basis.
"I would say if there's any criticism of myself, our staff and our team, it would be the fact that we have not been as consistent as we'd like to be."
Saban got through a rough, inconsistent start to the season intact and in the driver's seat for another run to the national championship. For the next month, he'll be in the enviable position of fine-tuning his team's mistakes against lesser competition.
While the rest of the SEC slogs through the ghoulish month of October, Alabama will be playing trick or treat each Saturday. All that remains now is reaching LSU on Nov. 9 without slipping on the proverbial banana peel.
August, 23, 2013
8/23/13
12:00
PM ET
Just think, the next time you click on the SEC lunchtime links post it will be Monday of the first game week of the college football season. Ready or not, it's that time again.
August, 20, 2013
8/20/13
2:45
PM ET
In the SEC, it's all about recruiting and player development. It's the big reason why the league has won seven straight BCS championships and produced more NFL players than any other conference. The two go hand-in-hand.
The Senior Bowl, which
released its 2014 Watch List
on Tuesday, further illustrated that fact, selecting nearly 20 percent (72) of its 400 candidates from the SEC. The ACC twas nearly lapped with 48 selections, followed by the Big 10 (46) and the Pac-12 (38).
And the team with the most players should come as no surprise as defending-champion Alabama had 10 make the list, including quarterback AJ McCarron and All-American linebacker C.J. Mosley. Florida, Mississippi State and Missouri tied for the second-most players taken from the SEC with six apiece.
Alabama:
WR Kenny Bell, CB Deion Belue, CB John Fulton, P Cody Mandell, QB AJ McCarron, LB C.J. Mosley, WR Kevin Norwood, RG Anthony Steen, S Nick Perry.
Arkansas:
WR Jevontee Herndon, DT Brian Jones, DE Chris Smith, C Travis Swanson, DT Robert Thomas.
Auburn:
P Steven Clark, DC Chris Davis, DE Nosa Eguae, DE Dee Ford, FB Jay Prosch, DT Jeffrey Whitaker
Florida:
WR Andre Debose, DE Dominique Easley, OG Jon Halapio, C Jonatthan Harrison, WR Soloman Patton, DC Jaylen Watkins.
Georgia:
OG Chris Burnett, OG Kernarious Gates, TE Arthur Lynch, QB Aaron Murray, OB Garrison Smith.
Kentucky:
IB Avery Williamson
LSU:
IB Lamin Barrow, RB Alfred Blue, FB JC Copeland, FS Craig Loston, QB Zach Mettenberger
Mississippi State:
DE Denico Autry, OG Gabe Jackson, RB LeDarious Perkins, QB Tyler Russell, OB Deontae Skinner, FS Nickoe Whitley
Missouri:
OT Justin Britt, QB James Franklin, DC EJ Gaines, WR Marcus Lucas, WR L'Damian Washington, IB Andrew Wilson
Ole Miss:
PT Tyler Campbell, IB Mike Marry, DC Charles Sawyer, RB Jeff Scott, IB DT Shackleford
South Carolina:
DC Jimmy Legree, QB Connor Shaw, DE Chaz Sutton
Tennessee:
OT Ju'Wuan James, DT Daniel McCuller, RB Rajon Neal, DE Jacques Smith, C James Stone
Texas A&M:
LB Steven Jenkins, RB Ben Malena, OT Jake Matthews
Vanderbilt:
IB Chase Garnham, DC Andre Hal, OT Wesley Johnson, FS Kenny Ladler, WR Jordan Matthews
August, 23, 2012
8/23/12
11:00
AM ET
By
Sharon Katz, ESPN Stats & Information
| ESPN.com
Mike Ehrmann/Getty ImagesConnor Shaw will look to replicate his late-season surge in 2012.
Can you name the FBS leader in pass efficiency rating from Nov. 6 to the end of the season?
Here's a hint: It was an SEC quarterback.
No, it wasn't Arkansas'
Tyler Wilson
. Not Georgia's
Aaron Murray
. And not the MVP of the BCS National Championship Game,
A.J. McCarron
of Alabama.
The most efficient quarterback, according to pass efficiency rating, was
Connor Shaw
of South Carolina. That's the same Connor Shaw who was not a starter until Week 6 of last season.
Shaw drastically improved at the end of last season, completing 70.1 percent of his passes with eight touchdowns and two interceptions after losing to Arkansas on Nov. 5. The Gamecocks went 4-0 to close the season, including wins against Florida, Clemson and Nebraska.
Prior to Nov. 6, Shaw was completing 62.8 percent of his passes and his pass efficiency rating tied for eighth in the SEC.
The key to Shaw's success was a mix of accurate deep passing and more efficient rushing.
Shaw increased his completion percentage 15 points on passes of 15 yards or longer in the final four weeks of the season. Six of his eight touchdowns after Nov. 5 were on passes of this distance.
And in the final four games he averaged 5.0 yards per rush compared to his 2.8-yard average in South Carolina's first nine games.
These reasons, along with and more reps in Steve Spurrier's offense, made Shaw the best quarterback in the SEC in the final two months of the season. Despite throwing just 18.4 passes per game, he ranked in the top two among SEC quarterbacks in total yards per game, touchdowns, yards per pass attempt, yards per rush and pass efficiency rating from the start of November through the end of the season.
The return of running back
Marcus Lattimore
should further improve Shaw's numbers this season. The threat of Lattimore could open up play-action opportunities, an area in which Shaw has excelled.
Shaw struggled most passing on the road in 2011, completing 9 of 33 passes thrown 10 yards or longer away from home.
Overall, he completed 61.9 percent of his passes with four touchdowns and four interceptions in road/neutral sites and 69.2 percent of his passes with 10 touchdowns and two interceptions at home.
If Shaw can improve his road splits, he has a chance to become one of the top quarterbacks in the nation. The good news for Shaw is that three of South Carolina's first four games are in Columbia, and the Gamecocks don't face a ranked opponent until Georgia comes to town on Oct. 6.