SEC:

Southeastern Conference
October, 14, 2014
Oct 14
5:42
PM ET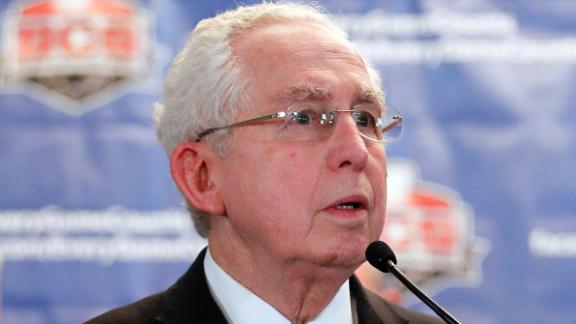 There's an old saying that you never want to be the person who follows the man, but rather the person who follows the person who follows the man.
Mike Slive, in stature anyway, is a small man, but whoever
replaces him as SEC commissioner
in 2015, when he retires in part because of a recurrence of prostate cancer, has gargantuan shoes to fill. We're talking size 23s.
As one of the most powerful men in all of college sports, Slive has the uncanny ability to relate to just about everybody, from high-ranking television executives to testosterone-filled head coaches to aspiring journalists angling for a story.
Slive loves to refer to himself as a recovering attorney and is masterful at carrying on long conversations but never saying anything he doesn't want out there for public consumption.
He knows names, and the names of your kids -- and will frequently recall the first time he ever saw them as they splashed in the surf in Destin, Florida, at the SEC spring meetings.
Most of all, Slive knows how to run a business. And make no mistake, college sports is a business.
[+] Enlarge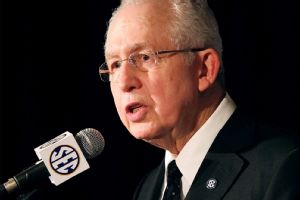 Marvin Gentry/USA TODAY SportsSEC commissioner Mike Slive will retire next July having made the SEC into the envy of college sports.
He has a grandfatherly air about him (and is a doting grandfather to 2-year-old Abigail), but there is also a more pointed side to him that not just everybody saw.
If Slive wanted something, he usually got it.
Case in point: The SEC has become the envy of college sports on his watch, and when Slive retires as league commissioner next July, he'll do so knowing his 13 years on the job have helped reshape the landscape of college athletics as we know it in more ways than we can possibly count.
Much like his predecessor, Roy Kramer, Slive was a visionary. Kramer oversaw the 1992 SEC expansion that brought Arkansas and South Carolina into the league and found a little-known caveat in the NCAA rulebook that allowed conferences with 12 or more teams to split into divisions and stage a conference championship game.
Whereas Kramer was known as the architect of the BCS, Slive was one of the ones early on pushing for a playoff in college football when many of his peers were not. It's fitting that Slive's final football season as SEC commissioner will coincide with the inaugural College Football Playoff.
Slive, too, oversaw expansion in the SEC. Missouri and Texas A&M joined the league in 2012.
And on the playing field, he leaves the SEC in excellent shape, particularly in the sport that drives the train.
The SEC had won seven straight national championships in football until that streak was snapped last season by Florida State. Slive, an avid baseball fan, compares that streak to the 56-game hitting streak Joe DiMaggio put together during the magical 1941 baseball season.
In other words, it's one that will likely never be broken.
Off the field, Slive has been a leader in pushing for NCAA reform, specifically in getting athletes a bigger piece of the pie in the form of full cost of tuition. He was on the front end of calling for autonomy for the Power 5 conferences, allowing them to make their own bylaws.
In so many ways, Slive was way ahead of the game in the rapidly changing world of college athletics.
One of his proudest moments was seeing the SEC hire its first black head football coach when Sylvester Croom was introduced at Mississippi State prior to the 2004 season. When Slive was hired a couple of years earlier, he had vowed then that there would be a black head football coach in the SEC on his watch. There have since been four black head football coaches hired in the SEC.
During Slive's time as the SEC's head honcho, the league has won 67 national championships in 15 of its 21 sponsored sports. And just this past August, the SEC Network was launched, which will send the league's already profitable revenue stream into orbit when the figures are tallied at the next spring meetings.
Slive's job was anything but easy. The fans at Auburn swear he bent over backward to grease the skids (and the schedule) for Alabama en route to the Crimson Tide winning three of four national championships from 2009 to 2012. The fans at Alabama insist he played a part in keeping Cam Newton eligible in 2010 when the NCAA said Newton's father solicited money while Newton was being recruited out of junior college.
Every other school, at some point during Slive's tenure, has accused him of playing favorites. Even administrators in rival conferences have lamented that Slive wields too much power.
But as they say, the wind always blows the hardest at the top of the flag pole, and Slive's neatly combed white hair never seemed to be too disheveled.
He knew it all came with the territory and never lost sight of doing what he felt was in the best interests of the SEC, regardless of who might be cursing him behind closed doors.
Above everything else, Slive is a fighter. Don't let his outwardly calm demeanor fool you. He is tough, smart and cunning.
It's the reason I have no doubt he'll win his latest bout, the recurrence of his prostate cancer.
I repeat: He usually gets what he wants.
October, 2, 2014
Oct 2
11:23
AM ET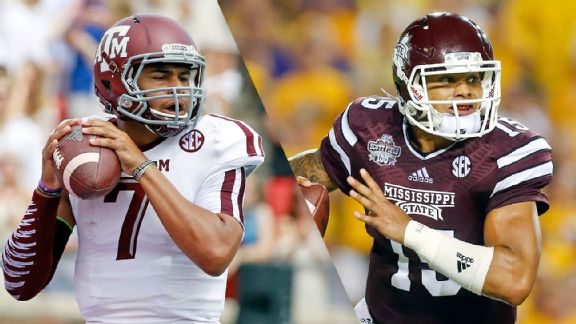 USA TODAY SportsQuarterbacks Kenny Hill and Dak Prescott will duke it out at Davis Wade Stadium this weekend.
While there are a multitude of stellar Week 6 matchups, for me one clearly stands out as being the most intriguing: Texas A&M at Mississippi State.
Simply put, these two programs could not be more different.
The Aggies, often characterized as flashy, are the hottest program in the state of Texas (if not the country). Kevin Sumlin is known as "Coach Swag," arguably the coolest coach in college football (he's known to attend rap concerts and make dramatic entrances via helicopter on the recruiting trail). The roster is filled with some of the country's top recruits, and quarterback
Kenny "Trill" Hill
's family trademarked his nickname just as Johnny Football's did last year. Most consider the Aggies a finesse team with elite athleticism.
On the other hand, Mississippi State is the self-proclaimed "band of misfits" who see themselves as blue-collar -- tough players who were under-recruited and are looking for respect. They're led by coach Dan Mullen, who calls himself a "Yankee" in the South. Most consider the Bulldogs a tough, physical team.
Which one of these contrasting styles will come out on top and continue its quest for the SEC West crown? After studying both clubs, here's a look at three keys that will determine whether the Aggies or Bulldogs win on Saturday.
---
1. Can the Aggies contain QB Dak Prescott?
The Aggies have to limit Prescott to less than 100 yards rushing in order to win.
December, 30, 2013
12/30/13
9:00
AM ET
New Year's Day is near, along with the end to long layoffs for No. 22
Georgia
and
Nebraska
.


Mitch Sherman and David Ching come together for a final discussion on the TaxSlayer.com Gator Bowl, set for Wednesday at noon ET on ESPN2:
How motivated is Georgia to win this game and why?
Ching:
That's the big question entering this game, isn't it? It doesn't feel like either fan base is particularly jazzed about this matchup since these teams just played in a bowl a year ago. It wouldn't be a surprise if the teams deal with the same problem. Georgia seems like the more talented team here, but the coaches have to convince the Bulldogs that this is a game worth playing their best.
Sherman:
I don't expect motivation to be a problem for Nebraska. The Huskers don't want their streak of nine-win seasons -- a point of much discussion and pride -- to end. A victory over an SEC opponent would serve as boost for Bo Pelini's program and the Big Ten. Moreover, it has been a long, trying season in Lincoln; playing well in the Gator Bowl could change the narrative and allow the Huskers and their fans to focus on positives.
What do you expect out of the quarterback position?
Ching:
Hutson Mason
has the benefit of already making one start in a huge game. He started slowly against Georgia Tech in the regular-season finale, but helped the Bulldogs rally for a double-overtime win. Nebraska has a talented secondary that will test him, but I expect Mason to perform well. He has waited his turn behind
Aaron Murray
, but is well prepared to become a solid performer as a senior in 2014.
Sherman:
We saw at the Big House in November that
Tommy Armstrong
has a knack for playing well under the spotlight. And for a redshirt freshman with seven starts under his belt, New Year's Day is big. Armstrong is motivated. His linemen are healthier than at any point since late October. His receivers are healed up, and while
Kenny Bell
and
Quincy Enunwa
won't surprise Georgia with their athleticism after last year, look for the Huskers to make plays in the passing game.
Who holds the edge when Nebraska has the football?
[+] Enlarge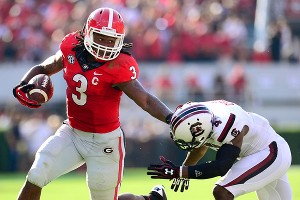 Dale Zanine/USA TODAY SportsGeorgia tailback Todd Gurley has been effective since returning for injury, rushing for six touchdowns in his last five games.
Ching:
Probably Nebraska. I know the Huskers have struggled on offense for most of the season without
Taylor Martinez
, but Georgia's defense has only dominated against the least of its competition this season. I expect Nebraska to produce decent yardage and point totals against the Bulldogs, considering how half of their opponents this season generated at least 400 yards of offense and eight scored at least 30 points.
Sherman:
If we're answering based off the second half of the season, it's Georgia, despite its defensive injuries and propensity to allow chunks of yardage. Offensively, Nebraska simply hit a wall after mid-October, with the exception of the Michigan State game. The Huskers didn't once scored 30 points after all-conference guard
Spencer Long
went down on Oct. 12 at Purdue. Injuries are the wild card, though. Long remains out, but most of the others who missed time are back. If Nebraska creates some momentum early, it could top 400 yards for the first time in five games.
Who holds the edge when UGA has the football?
Ching:
Georgia. The Huskers haven't defended the run particularly well -- they're 60th nationally at 161.2 yards per game -- and that doesn't bode well for stopping
Todd Gurley
after he's had a month to allow his injured ankle to heal. Nebraska's defense has been fairly average in every way, so even with someone other than Murray at the helm, I expect Georgia's high-scoring offense to keep rolling in Jacksonville.
Sherman:
Season-long statistics don't tell the whole story of this Nebraska defense. The Blackshirts are much improved from September, when they were trampled in the opening quarter by an FCS-level foe. Since Nov. 1, the Huskers rank among the top 20 defensive units nationally. They're especially strong against the pass. And with time to prepare, Pelini will devise a scheme to test Mason. As for Gurley, well, he could pose a problem. The Huskers will miss defensive end
Avery Moss
. And Big Ten results so far this bowl season don't bode well for Nebraska.
December, 26, 2013
12/26/13
9:00
AM ET
Aaron Murray
and
Taylor Martinez
, the shelved senior quarterbacks at Georgia and Nebraska, started 95 college games.
They won 67.4 percent.
Bet you thought that rate was higher.
Seems we've watched these two operate forever. In the past four years, Murray and Martinez meant something important to college football. They tormented defensive coordinators and served as the poster boys for a pair of proud programs, trying -- desperately close at times -- to break through.
It's not going to happen in their time.
Despite 64 victories between them (35 for Murray, 29 for Martinez), neither won a conference title. At Georgia and Nebraska, a conference title, at minimum, is the standard of success.
Yet as Murray and Martinez depart the college game in sadly anticlimactic fashion as the Bulldogs (8-4) and Huskers (8-4) meet for a New Year's Day rematch in the TaxSlayer.com Gator Bowl, they leave a record of greatness.
[+] Enlarge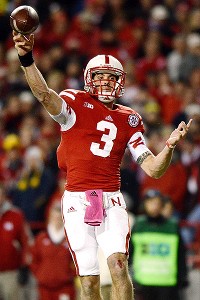 Josh Wolfe/Icon SMITaylor Martinez's final season didn't go as planned, but he'll be remembered in Lincoln.
Murray's senior season was nearly doomed from the start. Injuries to running backs
Keith Marshall
and
Todd Gurley
, several top receivers and playmakers on defense contributed heavily to four Georgia losses.
The QB persevered until Nov. 23, when he suffered an ACL tear in a 59-17 victory over Kentucky. Murray played through the injury for one series but couldn't fight the pain any further.
In similar fashion, Martinez battled for two weeks through a foot injury, suffered in the Huskers' season opener.
He led the Huskers to a 21-3 edge over UCLA in the second quarter on Sept 14, but any thoughts of a storybook ending to his career crashed to a halt in the second half. The Bruins scored 38 consecutive points. Martinez clearly wasn't himself, unable use his usually dangerous feet to stem momentum.
A one-game comeback fell flat at Minnesota in October. Martinez was finished. He lost his final two starts and an opportunity to join Colin Kaepernick as the only players in FBS history to pass for 9,000 yards and rush for 3,000. He finished with 7,258 passing yards and 2,975 rushing yards.
He lost his chance to win a conference title, a hope so promising back in 2010, when Martinez led Nebraska to a 17-point lead over Oklahoma in the Big 12 championship game as a freshman.
Martinez never broke through.
"It's been hard," Nebraska coach Bo Pelini said. "This whole season's been hard on him. It's not the way you want to see him go out."
Georgia coach Mark Richt said the same thing about Murray. Richt visited a hospitalized Murray after he underwent surgery on the damaged knee. Richt said he wanted to feel sorry for his quarterback, but Murray wouldn't let him.
His positivity is relentless. And that's part of Murray's legacy, alongside the 13,166 passing yards and 121 touchdown passes.
No Southeastern Conference quarterback before Murray threw for 3,000 yards in three seasons. Murray did it four times. He broke Danny Wuerffel's SEC record for touchdown passes and Tim Tebow's record for total yardage.
But, like Martinez, his teams never broke through.
Murray's best chance fell 5 yards short last year against Alabama in the SEC championship game. He targeted
Malcolm Mitchell
in the end zone, a shot within reach to win an SEC title as the clock ticked away. Tide linebacker
C.J. Mosley
deflected the pass to Georgia receiver
Chris Conley
. Conley slid to the turf, surrounded by defenders. Time expired on Murray's best opportunity.
[+] Enlarge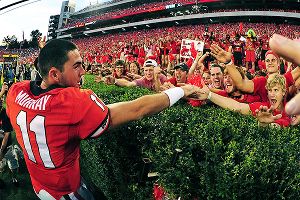 Scott Cunningham/Getty ImagesAaron Murray's place in Georgia and SEC football history is secure.
Instead of a shot to play for the national title, Georgia beat Nebraska in the Capital One Bowl as Murray threw for 427 yards and five touchdowns, both career-best marks.
It all felt anticlimactic for Murray, though nothing like this year.
"Obviously I had a vision of how I wanted to go out," Murray said recently.
This wasn't it.
"It's almost like I didn't say goodbye," he said, "which, I guess, is a good thing. I guess it's like, 'to be continued.' I'm not leaving. I'm always a Bulldog. I'll always be a Bulldog, and I guess if I would have been there to wave and really cherish the end of it, that would have been like, 'Book closed, it's over,' and I feel like it's not over for me."
Murray is eloquent and charismatic. Martinez is quite the opposite.
Uncomfortable in the spotlight, the Nebraska quarterback hasn't spoken to the media since the Minnesota game.
But Martinez appears to be at peace. He has remained at the side of teammates through conditioning drills and practices this month. Those close to him, though, say he's devastated by the injury.
A generation from now, Murray and Martinez will be remembered not for this anticlimactic ending or their inability to break through and win a championship.
Time will heal their wounds. History will reflect well on their legacies. College football will remember them.
July, 14, 2011
7/14/11
11:00
AM ET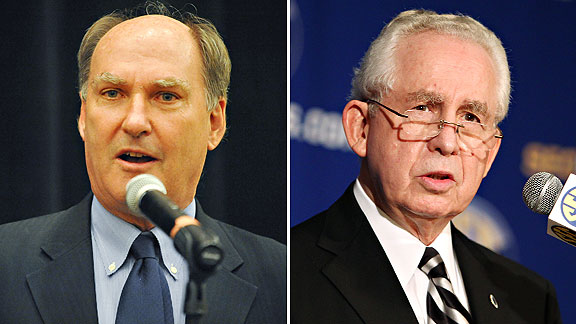 AP PhotosCommissioners Jim Delany of the Big Ten, left, and the SEC's Mike Slive support paying athletes.
Two of the most powerful men in all of college sports, Big Ten commissioner Jim Delany and SEC commissioner Mike Slive, came out this spring in support of providing more money to college athletes to cover the full cost of attendance. When these guys speak, people listen, so naturally there has been a lot of talk about the issue. Some wonder if it's merely the start of a seismic shift in college athletics. What does it all mean? Big Ten blogger Brian Bennett and SEC blogger Chris Low break it down.
Brian Bennett:
Chris, Jim Delany caused a stir at the Big Ten spring meetings when he said his league was looking at increasing scholarship money. It wasn't a new idea -- the late Myles Brand and current NCAA president Mark Emmert have publicly supported the same plan. Still, things are different when Delany and Slive get behind an idea.
We know that the Big Ten and SEC are flush with money thanks to their lucrative TV contracts, so they can afford an extra $3,000 per athlete if they decided to go this route. I guess the big question is, are these leagues merely exploring this idea with the student-athletes' best interests at heart, or are they trying to move toward a model where the richest schools operate on a different playing field? What do you think?
Chris Low:
The SEC (and the Big Ten) trying to gain a competitive edge? Surely you jest, Brian. Nah, I think Slive is serious about exploring every realistic possibility to try and share the wealth with the athletes. As South Carolina's Steve Spurrier reminded us all in Destin, Fla., at the SEC spring meetings in June, the athletes are the performers and the ones who are bringing in all of the big dollars. They're the ones who deserve a piece of the pie, or at the very least, enough money to help bring in their families every weekend to see them play. Remember, too, that Spurrier was willing to give up part of his salary to pay each player a $300 stipend for every game, which would equate to a little less than $300,000 per season. That's a lot of coin. But when nine of the 12 SEC head football coaches are making $2.5 million or more per year, they can spare a few extra dollars.
Obviously, Spurrier's proposal has no chance of passing, even though six other SEC head coaches signed it. But his point is well taken. This is a movement, Brian, that I think is just going to keep gaining momentum. What do you see as the biggest hurdle to paying athletes? To me, it's the simple fact that you're going to have to pay all athletes (on both the men's and women's side) and not just football players. When you do the math, that's a lot of cash ... even for leagues with seemingly endless pockets.
BB:
With Title IX, it's impossible to envision a scenario where only players in revenue-generating sports receive extra money. But I have done the math. The average gap in cost of attendance is about $3,000. At a place like Ohio State where there are about 400 varsity athletes, that works to about $1.2 million a year. That's a lot of money, but when the Big Ten is raking in more than $20 million per year per school from its TV deals, that figure is not outlandish.
And why shouldn't these leagues do this? Do SEC and Big Ten schools really need to pay coaches more? Do they really need to build even bigger stadiums and spotless weight rooms? There has to be a limit to the arms race at some point, and putting this influx of cash into the players' hands is a noble goal in many ways.
I guess the concern here is that Western Michigan isn't the same as Michigan, nor is Alabama-Birmingham the same as Alabama. Outside of the Big Six leagues (or maybe Big Five; it's questionable whether the Big East is rich enough), very few conferences could afford to go this route. Many athletic programs are in the red already and need student fees to stay afloat. Ohio State athletic director Gene Smith suggested in May that non-AQ teams shouldn't try to spend like the big boys and that the playing field does not need to be level. Are we headed for a scenario where the wealthy schools gain even more of an advantage through cost-of-attendance increases, or an eventual split among the FBS haves and have-nots?
CL:
Brian, I think there's already an unofficial split between the FBS haves and have-nots. You mention the arms race in college football. Try walking around an SEC campus these days. There are new football facilities going up all the time, and I'm talking about state-of-the-art digs. Auburn is getting ready to open a brand new indoor practice facility, and Arkansas is poised to spend $34 million on a new complex. It truly is an arms race and recruiting-driven in most cases. Prospects do keep count. If Alabama has one, then LSU and Auburn have to have one. And if Florida has one, then you can bet Tennessee and Georgia will be angling to get one.
I don't see any way the FBS have-nots can keep up in the facilities arm race or the paying of coaches arms race. The SEC has an assistant coach (Auburn offensive coordinator Gus Malzahn) making $1.3 million. I'm old enough to remember when it was a big deal that then-Tennessee head coach Phillip Fulmer hit the $1 million plateau just prior to the Vols winning the national championship in 1998.
With all this money flying around, there has to be some practical way to share it with the players. I know the cynics insist a lot of the players are already being paid under the table, and there's no denying that. But what about the second-team offensive guard who was lightly recruited and comes from an impoverished background? He's the guy I think about in this whole deal.
BB:
Some might suggest that SEC players are already getting some extra money. But I digress.
Giving players the true cost of attendance is a worthy cause, but I'm not sure it will ever fly. There will be many objections from the non-AQ leagues, and unless the Big Six are truly ready to strike out on their own, I don't see it happening for a while. I do think that eventually things have got to change. With all the recent scandals, the lawsuit over player images in video games and the huge dollars being thrown around, sooner or later this concept of amateurism in college sports needs to be revisited and revised for a more equal partnership. I just don't know if that will happen in our lifetimes.
OK, Chris, since I just took a cheap shot and your league has won all the national titles, you get the last word. Where do you see this all heading?
CL:
Where do I see it heading? Honestly, nowhere. There will be considerable grandstanding. Players will speak out, and Slive and Delany will continue to push the issue. But the whole concept of paying collegiate athletes is a road too many people simply don't want to go down. Hey, it quit being an extracurricular activity a long time ago. A successful football program at a place like Ohio State or Alabama is worth millions of dollars to that university and to that state.
I, too, don't expect to see any significant changes in the system in our lifetimes, and in the meantime, those intent on breaking the rules will see to it that certain players and hotshot recruits are compensated ... be it in cold, hard cash or maybe even tattooes.
SEC SCOREBOARD
Wednesday, 12/24
Saturday, 12/20
Monday, 12/22
Tuesday, 12/23
Friday, 12/26
Saturday, 12/27
Monday, 12/29
Tuesday, 12/30
Wednesday, 12/31
Thursday, 1/1
Friday, 1/2
Saturday, 1/3
Sunday, 1/4
Monday, 1/12
Tweets from https://twitter.com/ESPNCFB/lists/sec