September, 4, 2014
Sep 4
11:00
AM ET
Nobody will argue that the Ole Miss-Vanderbilt series has the acclaim or reputation of Alabama-Auburn or Florida-Georgia. It certainly isn't close to being as volatile, either.
But to those around the programs and those invested in these teams, this series is very much a rivalry. Mississippi State and LSU might bring out more passion in Ole Miss fans, and Vandy's followers might have more hatred for Tennessee, but this game resonates with folks in Oxford and Nashville.
Saturday marks the 89th meeting between the schools. They recruit many of the same players out of the Tennessee area and the series has been pretty competitive in its long history. Ole Miss leads the series 48-38-2 but is 27-22-2 in Nashville, where Saturday's game will be played.
[+] Enlarge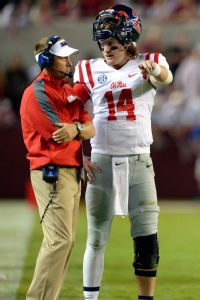 John David Mercer/USA TODAY SportsOle Miss coach Hugh Freeze and quarterback Bo Wallace will try to beat Vanderbilt for the second year in a row.
"They're a tough team because they bring it every time, no matter what," said Ole Miss defensive lineman
Robert Nkemdiche
, who made his college debut in last year's Vandy game. "They're in the SEC, and SEC teams are always good. The Southeastern Conference is a hard conference; I don't care who you play. If you do sleep on a team, you can lose. I don't see us sleeping on no team."
The series has been played annually since 1970. Vandy has won six of the last nine against Ole Miss, including three of the last five in Nashville. Ten of the last 15 meetings have been decided by eight points or fewer, and the last two were decided a combined five points.
The only team that Vandy has played more than Ole Miss (88 times) is Tennessee (108).
"It's always been a fun and exciting game to be a part of," junior Vanderbilt offensive lineman
Spencer Pulley
said. "I know the community and fans have really gotten into it, especially the last couple of years. As far as a rivalry, over the last couple of years it's really turned into a good one."
In 2012, Ole Miss quarterback
Bo Wallace
threw a career-high 403 yards and wide receiver Ja-Mes Logan caught eight passes for 160 yards – both career-highs -- only for the Rebels to blow a 17-point lead. The Commodores scored 14 unanswered points in the third quarter and won 27-26 on a 26-yard touchdown pass from
Jordan Rodgers
to
Chris Boyd
with 52 seconds remaining.
Last year, Ole Miss snapped the Commodores' three-game winning streak with 29 second-half points in a 39-35 victory, capped by an exhilarating 75-yard touchdown run with 1:07 left.
The images of a cutting, darting Scott still plays in the minds of some Vandy players, and it's added a little fuel to Saturday's game.
"It sticks with me, 'cause every time I think about Ole Miss, I think about that last play," Vandy defensive lineman
Adam Butler
said. "And I just think about if we would've stayed with our fundamentals, which is an area that coach said we didn't really stick with in this past game."
Ah, yes, the last game. A comedy of errors for the Commodores. With seven turnovers, seven penalties, less than 280 yards of offense and no points on offense, Vandy was steamrolled in its home opener 37-7 to a Temple team that won just two games last year.
Head coach Derek Mason is embarrassed, and so are his players. But they're motivated by the fact that Ole Miss visits for a late afternoon game at LP Field, just down the road from Vandy's campus.
Mason will be baptized into this rivalry on Saturday, but players filled him in on the importance – and bragging rights – this game holds.
"The veterans got up and talked about the rivalry between the two schools and how tight it's been," Mason said. "That's when your leadership starts to come out and shows you what the scope of this game is. Not only is it an SEC opponent, it's a rivalry game. There's always a little more on these rivalry games, but I think it helps us understand where we need to go, what the level of intensity is going to be."
Ole Miss coach Hugh Freeze is very familiar with this game. He spent three years in it as an assistant at Ole Miss from 2005-2007, when the Rebels went 1-2 against the Commodores. As the head coach he's 1-1, and knows it's dangerous to discount the Commodores.
"We're not going to overlook them," said Freeze, whose 15th-ranked Rebels are coming off a 35-13 victory over Boise State. "We'll get them ready. It's an SEC football game on the road.
"They've always played us tough up there, for whatever reason."
What will add a little more to this game is the atmosphere inside LP Field. With a large contingent of Ole Miss fans residing in and around the Nashville area, there's a chance that this could actually feel like a home game for the Rebels. The short drive from Oxford, Mississippi – roughly 230 miles – should also help pack a lot more red and blue into "Nashvegas."
"This game is going to be a live atmosphere," Ole Miss receiver
Laquon Treadwell
said. "I can't wait."
August, 16, 2012
8/16/12
1:35
PM ET
Vanderbilt offensive line coach Herb Hand has no time to ease his group of wide-eyed freshmen into the mix this fall.
He wants to chuck anything and everything at the six true freshmen in order to give them every single opportunity to show him that they aren't ready to play this fall.

"We want to throw them right in the mix," Hand said.
"I want to throw everything at them; not just give them the easy stuff to do.
"We have thrown the kitchen sink at them. A lot of those guys probably feel like they're drinking out of a fire hose right now."
Add in the big screen TV and the dining room table and Hand has the recipe for finding out which guys won't be able to cut it this fall. The ones who withstand the pounding earn the opportunity to play.
Knowing there would be depth issues in 2012, coach James Franklin and his staff made the offensive line a priority in the 2012 class. Six was a good number for the Commodores because bodies were needed.
Vandy's staff spent most of the spring trying to keep the offensive line together with tape, as injuries and procedures sidelined some of the big guys throughout spring practice. At one point this spring, Franklin and Hand could only use seven offensive linemen during practices because so many injuries piled up. It also didn't help that center Logan Stewart and Mylon Brown were both dismissed, after combining for 14 starts in 2011.
What was one of the most improved groups in the SEC last year now enters the fall with questions surrounding it. The good news for Hand is he feels very confident in eight core players, including projected starters
Wesley Johnson
,
Ryan Seymour
,
Spencer Pulley
,
Josh Jelesky
and
Andrew Bridges
, who, outside of Pulley, all have starting experience.
Redshirt freshman
Jake Bernstein
and sophomore
Joe Townsend
will also get their shots at playing time this fall, Hand said.
To Johnson, who is Vandy's most talented and versatile lineman, getting the freshmen acclimated quickly was a priority during summer workouts. He and the other vets made sure they hit the playbook with the youngsters as much as possible in order to pound the plays and schemes into their brains before real practices began.
Though there have been plenty of hiccups and setbacks from the newbies, Johnson said he's confident a few will end up stepping up and contributing this fall in order to make this line as strong as it was last year.
"We pretty much know we can get it done," Johnson said.
Hand still isn't ready to say which freshmen he can count on yet, but
Adam Butler
and
Andrew Jelks
have made the most progress in his eyes. Both were highly regarded coming out of high school. Hand is also happy that each of his new linemen were blessed with ideal genetics, as he considers each one "long" when it comes to their arms and legs and heavy enough to hold up in this league.
"We don't have the 250-pound guy that you're trying to build up," he said. "Not that we wouldn't take a guy like that, but with this particular class we feel like we've got some length and we've got some girth."
He added that each is pretty athletic on their feet, which helps as they adapt to the speed of the college game.
Hand won't know where his freshmen stand until after 15 fall practices, which essentially equates to them going through spring. After that, he'll have a much better understanding of where his line stands.
Fortunately for Vanderbilt, the vets are getting healthier and are much more comfortable with the offense, which is something Johnson said will help as they continue to prep the youngsters.
"Now, we pretty much have most of the playbook in, as opposed to last year where we were still learning plays and trying to figure everything out," he said. "There's a much better understanding of what we have to do."
August, 2, 2012
8/02/12
9:00
AM ET
Schedule:
The Commodores' first practice is on Thursday, and their first day in pads is on Aug. 7. They open the season on Aug. 30 at home against South Carolina, which will air at 7 p.m. ET on ESPN.
Returning starters:
Nine on offense, eight on defense and the place-kicker and punter on special teams.

Star power:
Running back
Zac Stacy
returns this fall as the SEC's top statistical back from a year ago after he broke Vanderbilt's single-season rushing record with 1,193 yards and single-season rushing touchdown record with 14.
New faces:
The Commodores welcome in six true freshmen offensive linemen. That's big for Vanderbilt, considering the depth issues along the offensive line. The coaching staff will be looking to expedite the learning process for them, as they'll all be expected to compete for some sort of time this fall. Also, the staff is especially excited about incoming frosh
Brian Kimbrow
, who could lineup at running back and return punts for the Dores. And don't forget that former Montana QB and Mountain West Freshman of the Year
Austyn Carta-Samuels
is eligible to play this fall and will continue to push
Jordan Rodgers
in camp.
Don't forget about:
Running back/return specialist
Warren Norman
is back and should be healthier than he's been since his sophomore year. Norman was Vandy's top rusher back in 2009 and was also one of the league's best kick returners. Injury cut his 2010 season short and he missed all of 2011 with a bad knee. If he's back at 100 percent, he'll not only bolster Vandy's return game but he should add another solid weapon in the running game.
Big shoes to fill:
Linebacker Chris Marve wasn't just a tremendous player out on the field for the Commodores, he was the unquestioned leader of this team inside the locker room. This spring,
Chase Garnham
did a pretty good job of filling in for Marve on the field, but growth is still needed for him to become an impact player on defense. The staff has been happy with Garnham in the leadership department, but more is expected during camp and when the season starts.
Key battles:
Vandy returns two starters on the offensive line --
Wesley Johnson
and
Ryan Seymour
-- and there is still a lot of inexperience that offensive line coach Herb Hand will have to deal with. One interesting battle should be between sophomores
Spencer Pulley
and
Joe Townsend
for the center spot. The third receiver spot is also up for grabs, with juniors
Wesley Tate
and
Jonathan Krause
battling redshirt freshman
Josh Grady
.
Rising star:
Grady made the move from quarterback to wide receiver and shined this spring. The staff has always been excited about his potential because of how athletic of a player he is, and it seems as though he has the best chance to be a big-play threat at receiver. He showed his versatility this spring by lining up receiver, running back and as the Wildcat quarterback.
Bottom line:
James Franklin turned Vandy around during his first year, after the program underwent a major attitude adjustment. There was more confidence and excitement surging through the program last year, and it has spilled over into Year 2 of Franklin's tenure. The Commodores have to replace some key defensive weapons and are thin on the offensive line, but there are enough offensive playmakers returning to make the Commodores' offense fun to watch. And if the defense holds up like last year, the Commodores could go bowling for a second straight year.
May, 8, 2012
5/08/12
3:00
PM ET
Now that you've seen some
SEC West notes
delivered by the SEC office, here are some SEC East notes for your viewing pleasure:
FLORIDA
Florida returns 10 starters on defense where the Gators ranked eighth nationally in total defense (299.5 yards per game) in 2011. The Gators ranked second in the nation in third-down defense in 2011, holding opponents to 48-for-176 (.273).
Florida returns 14 of its top 15 tacklers for the 2012 season, including leading tackler senior linebacker Jon Bostic, who tallied 94 total tackles, 10 tackles for a loss and three sacks. Also returning for the Gators are their second and third leading tacklers, junior safety Matt Elam who recorded 78 tackles, a team-leading 11 tackles for a loss and a team-high-tying two interceptions, and junior linebacker Jelani Jenkins who totaled 75 tackles and a team-best six pass break-ups.
Last year marked Florida's FBS-leading 32nd-straight season with a winning percentage of .500 or higher. With the win over Ohio State in the Gator Bowl, the Gators have had 24 consecutive winning seasons, the longest active streak in the country. Additionally, with the trip to the Gator Bowl, Florida made its 21st straight bowl appearance, which ranks first in the SEC and second nationally.
GEORGIA
Sophomore outside linebacker/defensive end Ray Drew and redshirt freshman receiver Justin Scott-Wesley are splitting time between track and football. Drew has competed in three discus competitions during the outdoor season, taking second and third in separate competitions. Scott-Wesley competed indoors and already ranks in the top 10 on the school's 60-meter dash list.
The Bulldog defense returns nine starters and 12 of the 14 leading tacklers after posting a No. 5 national ranking in 2011. All-American junior outside linebacker Jarvis Jones and All-American senior free safety Bacarri Rambo headline the unit.
KENTUCKY
The line should be a strength of the UK defense in 2012. All three regular starters return, senior end Collins Ukwu and junior tackles Mister Cobble and Donte Rumph. Senior end Taylor Wyndham, a starter when Kentucky goes to a four-man line, also will be back.
Junior linebacker Avery Williamson continued his improvement in the spring and is expected to anchor the defense at middle linebacker. He led all players in the spring game with eight tackles, featuring two tackles for loss and a sack. He made 49 tackles last season as a reserve and is ready to step into a leadership role.
The Wildcats did not appear to have any major new injuries in the spring. Six players sat out the contact portions of spring drills, including quarterback Morgan Newton, tailback Josh Clemons, wide receiver Gene McCaskill, offensive lineman Tyler Davenport, Ukwu and linebacker Jabari Johnson. All six are expected to be ready to go in time for preseason practice.
MISSOURI
Mizzou comes to the SEC after seven consecutive winning seasons under coach Gary Pinkel, who will be in his 12th year on the Tiger sideline. Mizzou has won 48 games in the past five seasons, which ranks as ninth-most in the nation from 2007-11 among BCS-AQ conferences. Mizzou is one of only six schools from BCS-AQ leagues to have won a minimum of eight games in each of the last six seasons (2006-11).
Pinkel enters the 2012 as the eighth-winningest active coach in the FBS ranks, with his 158 wins. In 21 years as a head coach (1991-2000 at Toledo, 2001-present at Mizzou), Pinkel has a 158-91-3 overall record (.633). With an 85-54 mark in 11 seasons at Mizzou (.612), Pinkel stands 3rd alltime in wins, trailing only College Football Hall of Famers Don Faurot (101 wins from 1935-42, 1946-56) and Dan Devine (93 wins from 1958-70).
SOUTH CAROLINA
The Gamecocks will open the 2012 season on a four-game winning streak. They had not finished a season with four consecutive wins since 1958 prior to last season's finish, which included wins over Florida, The Citadel, Clemson and Nebraska.
Connor Shaw is the first Gamecock quarterback in the last 40 years to win eight of his first nine starts.
The Gamecocks have signed the last four "Mr. Football" winners in the state of South Carolina -- Stephon Gilmore (2009), Marcus Lattimore (2010), Jadeveon Clowney (2011) and Shaq Roland (2012).
The Gamecocks are a perfect 8-0 over the last two seasons over their top four rivals -- division foes Florida, Georgia and Tennessee, and in-state rival Clemson.
TENNESSEE
Tennessee is slated to open a new training center this summer. The 145,000-square foot building includes an amphitheater-style team room, coaches offices, position meeting rooms, a dining hall, players' lounge, a 7,000-square foot locker room, a 22,000-square foot, multi-level weight room as well as a new training room and hydrotherapy area.
For just the fourth time in school history, Tennessee will enter October with five games under its belt (2006, 1995, 1990). In the previous three campaigns, the Vols won at least nine games, highlighted by a 1990 SEC Championship.
Eight of Tennessee's opponents earned a bid to play in a bowl game last season: NC State (Belk), Florida (Gator), Georgia (Outback), Mississippi State (Music City), Alabama (National Championship), South Carolina (Capital One), Missouri (Independence) and Vanderbilt (Liberty). All but Georgia and Vanderbilt were victorious.
For the second consecutive year, Tennessee's opponents compiled an overall record of 81-71 the previous season. Seven of Tennessee's opponents had winning records in 2011: NC State (8-5), Florida (7-6), Georgia (10-4), Mississippi State (7-6), Alabama (12-1), South Carolina (11-2) and Missouri (8-5).
VANDERBILT
Among the most impressive offensive players during spring practice for the Commodores were redshirt freshmen Josh Grady and Kris Kentera, both recruited out of high school as possible quarterbacks. Grady, from Tampa, Fla., impressed as a wide receiver and wildcat quarterback during the Black & Gold Spring Game. Kentera, from Colorado Springs, Colo., has athleticism and excellent hands and made a strong case for playing time this fall at H-back.
For the second straight spring, the Commodores were limited with potential offensive linemen. During the spring game, only eight linemen participated. The limited numbers allowed three young prospects to showcase their talents to the staff: sophomore center/guard Spencer Pulley and Joe Townsend, and redshirt freshman guard Jake Bernstein.
The Commodores introduced a "rover" position on defense during spring drills. Junior Karl Butler was one of Vanderbilt's defensive standouts during the spring working exclusively in the hybrid linebacker-safety role.
SEC SCOREBOARD
Friday, 12/26
Saturday, 12/20
Monday, 12/22
Tuesday, 12/23
Wednesday, 12/24
Saturday, 12/27
Monday, 12/29
Tuesday, 12/30
Wednesday, 12/31
Thursday, 1/1
Friday, 1/2
Saturday, 1/3
Sunday, 1/4
Monday, 1/12
Tweets from https://twitter.com/ESPNCFB/lists/sec