August, 15, 2012
8/15/12
12:00
PM ET
Editor's note: RecruitingNation is taking a look at the state of each team's brand.
ATHENS, Ga. -- Perhaps no factor is more important than stability when measuring the strength of a brand -- and Georgia has that with Mark Richt helming its football program.
Entering his 12th season at Georgia, Richt is tied with Wake Forest's Jim Grobe and Missouri's Gary Pinkel for the seventh-longest tenure among FBS head coaches. And after surviving the dreaded hot seat last season and winning his first SEC East title since 2005, Richt signed a contract extension that could keep him in Athens through at least 2016.
The combination of football tradition -- Georgia has won at least 10 games in seven of the last 10 seasons -- social opportunities at one of America's top party schools and a strong academic reputation make Georgia an easy sell for Richt's coaching staff.
August, 15, 2012
8/15/12
11:00
AM ET
Editor's note: RecruitingNation is taking a look at the state of each team's brand.
GAINESVILLE, Fla. -- After a couple of sub-par seasons on the field, Florida's brand remains very strong among top high school prospects. Head coach Will Muschamp experienced a dip with his first recruiting class (ranked No. 12) in 2010, but quickly had UF back near the top with a top-five class in 2011. Now the Gators are contending for the nation's No. 1 recruiting class.
[+] Enlarge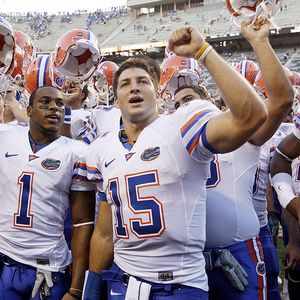 AP Photo/Mark HumphreyPercy Harvin, left, and Tim Tebow took Florida to the statosphere with two national championships.
Four-star offensive linemen
Cameron Dillard
(Canton, Mich./Canton) is one of six out-of-state commits for the Gators. The 6-foot-3, 290-pound center prospect thinks there are a few reasons why Muschamp has continued to keep Florida's brand strong amongst recruits.
"It's the coaching staff. They are a team that's always pushing forward, never getting in trouble and always doing the right thing. It's just a team you can look at to set an example," Dillard said. "They do a great job every year. Coach Muschamp's vision for the team is great. They always bring in the top athletes in the country and get the athletes to the next level."
Despite sliding with 15-11 record over the last two years, the Gators have three national championships on their resume and have sent numerous players to the NFL. In 2011 alone, Florida had 35 former players on NFL rosters.
Tim Tebow, who could be the most popular athlete to ever play at UF, and Percy Harvin are two of the more recognizable names to play for the Gators. Top 2014 wide receiver prospect
Johnnie Dixon
(Palm Beach, Fla./Dwyer) said it was players like Tebow and Harvin who made him grow up a fan of the Gators.
"I've always liked Florida," Dixon said. "It was my childhood favorite. They've just always been my team. Like Percy was an animal and Tebow, they were just a great team."
August, 15, 2012
8/15/12
9:00
AM ET
Editor's note: RecruitingNation is taking a look at the state of each team's brand.
COLLEGE STATION, Texas -- Football was at the heart of Texas A&M's motivation for moving to the SEC, but it wasn't the only thing, nor was it everything.
Joining the country's premier football conference, one that has produced the last six BCS champions, was of great appeal, as was the tremendous media-rights revenue that comes with being an SEC member. But it was also an opportunity for the Aggies, at every step, to ensure that it turns into an opportunity for brand expansion.
"It's interesting that part of our deliberations in the conference move, we never did talk about what our football record was going to be in 2012," said Jason Cook, Texas A&M's vice president for marketing and communications. "This was truly a brand move for Texas A&M. Just like the University of Texas wants the Longhorn Network to expand their brand, we believe that the move to the SEC provides the opportunity to expand the Texas A&M brand on a national level."
And the effect has already been seen in Aggieland and beyond. Cook said that licensing revenues are up 23 percent in the last year. Texas A&M has become part of the national football discussion because of its move to the SEC, and that could be seen at SEC media days when the Aggies had the chance to introduce themselves.
"Texas A&M is part of the national conversation right now," Cook said. "We're coming off a 7-6 season, but if you look back, Texas A&M has been part of the national dialogue in the sports world for over a year now. Obviously, sometimes we stub our toe, and it's national news now. But that's what being a national brand is all about. So we're part of the media dialogue, the SEC media days was a tremendous platform for us to introduce Texas A&M to a new part of the country and a new group of media outlets, so you can look at it from a media attention standpoint and also from a collegiate licensing area."
Cook said Texas A&M is using the SEC move as a chance to "wipe the slate clean" and introduce Texas A&M to the rest of the country.
"A lot of people are interested in Texas A&M, they're wanting to learn about Texas A&M, yet not a lot of people understand that we have 50,000 students, that we are one of the top 20 universities in the country, that we have over $700 million in research that happens on our campus every year," Cook said. "They're wanting to find out more about us and sometimes they don't have the context of our traditions and our spirit and our sense of family that we have.
"But that's where we see the SEC move as a great opportunity to really wipe the slate clean and introduce people to the true Texas A&M brand without it being filtered by some of the other institutions here in the state of Texas."
Cook also said that Texas A&M works hard to ensure the brand stays consistent between athletics and the university, rather than the two being separate identities.
"Here at Texas A&M we have a completely different approach in that we truly have a one-brand approach," Cook said. "If you look at the logo on the side of our football helmets, it's the same logo for the academic side and we work in a very integrated manner, not only athletics but across marketing, communications and social media and then our licensing program as well. So we're a little unique in that manner. We have this one brand approach and a coordinated effort."
August, 14, 2012
8/14/12
1:15
PM ET
Editor's note: RecruitingNation is taking a look at the state of each team's brand.
On April 14, Alabama's crystal football was shattered, dislodged from its stand by the parent of a player walking the halls of the athletics department on A-Day. The janitorial staff came by to sweep up the mess later, pushing brilliant shards of Waterford Crystal into a dingy dustpan.
Coach Nick Saban and the Alabama administration didn't bat an eye at the $30,000 accident.
Saban's response: "Look, we'll get another one."
No big deal, it's just a trophy. There are plenty of those lying around these days in Tuscaloosa, Ala., as well as the expectation of more to come.
The football program has traveled along those lines since Saban arrived in 2007. It took a few years to get to BCS form, and now that it has, no one is looking back -- not even to January and the Tide's 14th national title.