February, 13, 2014
Feb 13
9:00
AM ET
AUBURN, Ala. -- There's nothing quite like the passion in the Alabama-Auburn rivalry, but sometimes it goes too far. That seems to be the case for ESPN 300 linebacker
Rashaan Evans
, who
has been harassed by fans all week
since he signed with Alabama. However, Evans isn't the first in-state recruit to receive backlash, and he certainly won't be the last.
It's been nine months since fellow in-state linebacker
Tre' Williams
committed to Auburn, but he also received plenty of flak for his decision. He heard things like, 'You're never going to get a ring,' or 'Alabama has so and so (many) rings.'
"That really opened my eyes," Williams said. "I don't want to be just another team getting a ring. I want to be that team that helps turn the program around."
Williams wasn't alone. At the end of last May, Auburn already had eight commitments, including five from the state of Alabama. It didn't matter that the Tigers were coming off a 3-9 season and their cross-state rival had just won its second national championship. These recruits believed in first-year head coach Gus Malzahn and what he was building on the Plains.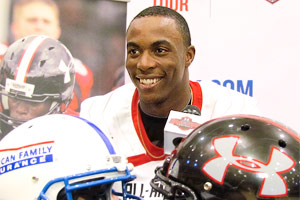 Courtesy of IntersportESPN 300 running back Racean Thomas was one of several prospects who committed to Auburn in good faith before the Tigers' run to the BCS title game.
"For me, really from the beginning when I committed May 25, I knew Auburn was going to be something special," four-star tight end
Jakell Mitchell
said. "I knew that Gus was going to come in and turn the program around."
Over the summer, Auburn added six more commitments, including one from running back
Racean Thomas
, the state's No. 3 player. And yet, the Tigers had not played a single game under Malzahn. Who knew how long it would take for him to turn the program around? Who knew if he was going to turn it around at all?
"It was hard," Williams said. "I'm not even going to lie; it was hard because what they were saying was true. 'Auburn sucked last year. Bama has all these rings.' It was true. I couldn't argue with that, but then again I was wanting for the season to come because I was like, 'Wait. Just wait and see what happens.'"
The Auburn coaches had promised recruits they were going to turn things around, and they stayed true to their word. It started with a victory over Washington State in the season opener. Then, a couple games later, the Tigers rallied to beat Mississippi State in their first SEC game. After a loss to LSU the next week, they went on to win nine consecutive games and earned an unexpected trip to Pasadena, Calif., for the VIZIO BCS National Championship game.
The turnaround was complete, maybe a year or two ahead of schedule, but the 2014 recruiting class grew more and more confident with every victory.
"It felt like they really stuck to their word," Williams said. "They weren't just saying that to bring me in. They were really determined to turn the place around, and they did.
"The other thing is it didn't just affect me, it affected everyone else. We had other commitments, and they said the same thing. Coach Malzahn and Coach [Dameyune] Craig were telling them they were going to change the program, and they did."
The class expanded as Auburn kept winning, and the staff was able to flip
Kalvaraz Bessent
and
Stephen Roberts
, a pair of ESPN 300 cornerbacks who were committed to Alabama.
But more importantly, the early commitments -- the ones who made a verbal pledge to Auburn before the first game -- they stayed true to their word. They didn't look around or take any visits to other schools. They didn't question their decision; they remained loyal.
"I really appreciate the loyalty of our commitments," Malzahn said on signing day. "In this day and time, that's very rare. A lot of these guys committed when we came off winning three games. It was very tough. They really believed in what we were doing, and that's also tough to do. But they hung in there with us.
"Obviously, we won and all that, but there's a great appreciation for those guys who came on board before we started winning. And now that we've won, I really feel like that will help us in years to come even more than it did this year."
February, 7, 2014
Feb 7
9:00
AM ET
AUBURN, Ala. -- The ink is dry, and
Rashaan Evans
is headed to Alabama. It was the surprise of signing day. The local product left his hometown to play for the enemy, and the people of Auburn were stunned to say the least. It's a rivalry centered around momentum, and the Crimson Tide stole it back on Wednesday.
But just how close did Evans come to signing with the Tigers?
[+] Enlarge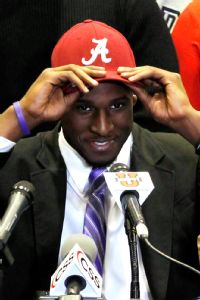 AP Photo/Butch DillAuburn feels good about its recruiting class even with Rashaan Evans headed to Alabama.
"When I was up there at the podium, I was thinking 'Man, maybe I should go to Auburn,' but then I really thought about it and Alabama was the best place for me," he said.
Apparently, Evans wasn't the only one who thought he should go to Auburn or who thought he had already signed with the Tigers. The school's athletic department put his bio on the website along with the other recruits who had signed that day. An embarrassing blunder no doubt, but it just goes to show how tight this battle really was.
Auburn signees
Jakell Mitchell
and
Stephen Roberts
made the short drive from their ceremony at Opelika (Ala.) High School to be at Evans' announcement. Roberts said he knew the outcome already, but Mitchell was just as surprised as everybody else, surprised and disappointed.
"I was looking forward to getting him in the Auburn family," Mitchell said. "But he made the best decision for him and his family. I hope he does great."
No hard feelings.
It wasn't easy for Evans' parents either. Both went to Auburn for a period of time, and both still live in Auburn. His father, Alan Evans, says he will still root for the Tigers in every game except the Iron Bowl. That doesn't change what happened, though. He still has to go around town with everybody fully aware that his son is playing for the school across the state.
"I know the Auburn people," he said. "They're the type of people that are going to take this with a grain of salt. They'll move on, and there will be another Rashaan Evans. I think Rashaan has to move on, and I think Auburn has to move on. I think they'll be OK."
The folks in town probably haven't moved on just yet, but the same can't be said for Auburn coach Gus Malzahn. According to Evans, Malzahn wasn't aware of the decision until the Alabama hat came out of the bag, but he didn't dwell on it. He and his staff had work to do.
"You recruit guys year-round, but we're very excited about the guys we have," Malzahn said, when asked about Evans. "We couldn't be happier. We've got some outstanding guys that are going to help us win a whole lot of games, and the future is very bright.
"We focus on the guys that are here. We've got one of the best classes in college football, not only talent-wise but everything else that goes with it."
Who can argue with that? When the smoke finally cleared, Auburn had signed 23 players including five early enrollees and finished with
the No. 8 class
on ESPN. It's a class that included 17 four-stars and 12 recruits ranked in the ESPN 300, and it's a class that features the No. 1 junior college player, the No. 2 pocket passer, and the No. 5 running back.
The loss of Evans might have left a sour taste on signing day if not for both
Braden Smith
and
Andrew Williams
, a pair of ESPN 300 prospects, choosing to sign with the Tigers.
"Sometimes you don't get a guy that maybe you thought you were going to get or maybe felt like you were going to get, but then you get two that you got in on late," athletic director Jay Jacobs said. "You just wish people well and know that we're real excited about what we've got going on here."
Sooner or later, that's what Malzahn and the people of Auburn will do with Evans. They'll wish him well until next November when he's on the opposing sideline.
February, 6, 2014
Feb 6
11:10
AM ET
Now that the fax machines are quiet, the 2014 signing classes have been announced and before we start looking ahead to 2015, let's take a moment to examine how each of the SEC schools did in filling immediate needs via recruiting.
We're checking out what all 14 teams did to fill holes, and we're looking at which holes still remain. We'll start with the SEC West (
click here for the SEC East
):

ALABAMA
Needs filled:
It was obvious Alabama needed help at cornerback, and the Crimson Tide went out and got two of the best in the country in five-star prospects
Tony Brown
and
Marlon Humphrey
. Pass rushers were also a priority, which makes five-star defensive end
Da'Shawn Hand
and four-star outside linebackers
Rashaan Evans
and
Christian Miller
key pickups.
Cameron Robinson
, yet another five-star prospect, could end up starting at left tackle next season on the offensive line.
Holes remaining:
The Crimson Tide could have used another marquee receiver and lost out on No. 1 wideout
Malachi Dupre
to LSU. With
Ha Ha Clinton-Dix
and
Vinnie Sunseri
both heading early to the NFL, the Tide also might have come up short at safety.

ARKANSAS
Needs filled:
The Hogs' passing game was in need of a jump-start, and getting an ESPN 300 player out of Miami the caliber of
JoJo Robinson
adds another playmaker to the equation. Arkansas' offensive line class is equally impressive with four-star prospects
Brian Wallace
and
Frank Ragnow
and three-star prospect
Jovan Pruitt
joining
Denver Kirkland
and
Dan Skipper
from last year's class.
Holes remaining:
The highest-ranked player in the Hogs' class was defensive tackle
Bijhon Jackson
of El Dorado, Ark., which was big considering they need help everywhere on defense. But they missed out on a pair of highly ranked defensive ends in
Solomon Thomas
and
Demetrius Jackson
.

AUBURN
Needs filled:
Gus Malzahn called ESPN 300 prospect
Tre' Williams
the key to the class, and he should provide an immediate boost at linebacker. With
Chris Davis
departing, the Tigers also needed to replenish at cornerback, which is where four-star prospects
Kalvaraz Bessent
and
Stephen Roberts
come in. Both were ranked in the top 10 nationally at their position. With
Greg Robinson
leaving early for the NFL draft, it was good to add muscle on the offensive line with ESPN 300 prospect
Braden Smith
, who could play guard or tackle.
Holes remaining:
The sting of losing Evans, who's from Auburn, to Alabama could be felt for a while. He's the kind of explosive athlete who would fit on any defense, and the Tigers need more of those guys, particularly at linebacker.

LSU
Needs filled:
The loss of running back
Jeremy Hill
early to the NFL draft was lessened by landing
Leonard Fournette
, the No. 1 overall prospect in this class. It only got better for the Tigers' offense on signing day when the country's No. 1 receiver, Dupre, said he would play his college football on the Bayou. Safety was a real sore spot on defense last season, so getting ESPN 300 prospect
Jamal Adams
was a major pickup. Adams is rated by ESPN RecruitingNation as the No. 2 safety in the 2014 class.
Holes remaining:
Robinson would have been a nice centerpiece on that LSU offensive line, but Alabama came into West Monroe, La., and swiped the five-star prospect. The Tigers also lost five-star athlete
Speedy Noil
of New Orleans to Texas A&M.

MISSISSIPPI STATE
Needs filled:
Junior college signee
Jocquell Johnson
is already on campus and will battle for a starting job next season on an offensive line that's losing two starters, including All-SEC guard
Gabe Jackson
. The Bulldogs also added a pair of playmakers at receiver in ESPN 300 prospects
Jamoral Graham
and
Jesse Jackson
. Flipping 6-foot-6, 265-pound defensive lineman
Cory Thomas
from Tennessee on signing day added some more punch to an already deep and talented defensive line in Starkville.
Holes remaining:
More secondary help would have been nice, which is why losing cornerback
Tee Shepard
to Ole Miss on signing day was a downer. A couple of the offensive linemen the Bulldogs wanted,
Jordan Sims
and
Sean Rawlings
, also opted for Ole Miss.

OLE MISS
Needs filled:
The Rebels wanted to continue to stockpile talent on the offensive line after reeling in
Laremy Tunsil
and
Austin Golson
a year ago and did that with four-star prospects
Rod Taylor
,
Tyler Putman
and Sims. Upgrading the defense was also a priority, which is why beating Alabama for ESPN 300 safety
C.J. Hampton
was so important along with getting ESPN 300 defensive end
Garrald McDowell
out of Louisiana. Flipping junior college cornerback Shepard from Mississippi State was a nice signing day coup.
Holes remaining:
You can never have enough defensive linemen in the SEC, so losing defensive tackle
Michael Sawyers
to Tennessee was a blow. The same goes for ESPN 300 defensive end
Davon Godchaux
, who stuck with his commitment and signed with LSU.

TEXAS A&M
Needs filled:
With
Johnny Manziel
taking his show to the NFL, Texas A&M has to find a quarterback. Early enrollee
Kyle Allen
is an ESPN 300 prospect and ranked as the No. 1 pocket passer in this class. Noil, another early enrollee, should help fill a void with big-play receiver
Mike Evans
headed to the NFL, and the Aggies also loaded up on offensive linemen, including a pair of junior college signees. Any help on defense was a priority, which makes five-star defensive end
Myles Garrett
one of the keys to the class.
Holes remaining:
The Aggies are still thin at safety after swinging and missing on several of their top targets in this class, including Adams,
Steven Parker II
and
Mattrell McGraw
. They also had ESPN 300 safety
Dylan Sumner-Gardner
committed but lost him to Boise State when Marcel Yates took the defensive coordinator job there.
February, 3, 2014
Feb 3
10:30
AM ET
As expected, with the plethora of commitments followed by decommitments and second and third verbal pledges, it's no surprise that the hotly contested Southeast and SEC feature a number of impactful flips in 2014.


January, 7, 2014
Jan 7
12:50
AM ET
Auburn's magical season ended with a tough 34-31 loss to Florida State on Monday night. The top two teams in the country certainly played like it in the VIZIO BCS National Championship Game. On the recruiting front, both schools are in the top 10 of the recruiting rankings. With less than a month until national signing day here's a closer look where Auburn stands.
To continue reading this article you must be an Insider
December, 17, 2013
12/17/13
8:00
AM ET
With signing day 50 short days away, several questions remain in the SEC. Here's a look at the top storylines as signing day quickly approaches.
To continue reading this article you must be an Insider
November, 21, 2013
11/21/13
2:00
PM ET
It has been another busy week in the SEC. Alabama has had a rough week, while other programs will be getting visits from high-priority targets. Here's a closer look at the latest story lines in the Southeastern Conference.
Bama loses second recruit in three days
To continue reading this article you must be an Insider
November, 14, 2013
11/14/13
2:00
PM ET
A week after LSU-Alabama took center stage in the recruiting universe, the Auburn Tigers will take the spotlight this weekend with a number of big-time prospects expected on the Plains.
Stellar visitor list expected on the Plains
To continue reading this article you must be an Insider
November, 13, 2013
11/13/13
2:00
PM ET
With Missouri's recent run on the field and the recruiting trail, all 14 teams in the SEC are in RecruitingNation's top-40 class rankings. While Missouri and Tennessee have made the most news of late, the strangle hold on the top spot remains in the hands of Alabama.

Trending up:
Missouri and Auburn are a pair of schools on upward trends. Missouri's Tigers had a huge week with commitments from ESPN300 No. 82
Andy Bauer
(Saint Louis, Mo./De Smet Jesuit High) and No. 239
Brandon Lee
(Indianapolis, In./Lawrence Central High). The SEC East leaders are now clearly in the picture for No. 145
Brian Wallace
(Saint Louis, Mo./Christian Brothers College High), No. 156
Roderick Johnson
(Florissant, Mo./Hazelwood Central High) and others.
To continue reading this article you must be an Insider
October, 15, 2013
10/15/13
8:00
PM ET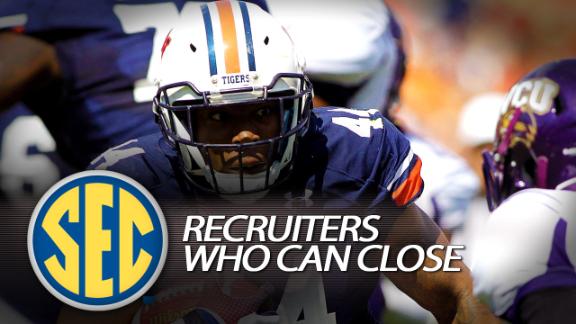 Editor's note: For a look at the national recruiter power rankings based only on Class of 2014 success,
click here
.
It's no secret that Southeastern Conference has been the top conference in the country as far as recruiting over the last several years. The league currently has six teams ranked in the top 11 of the team recruiting rankings. Here's a look at the top 10 recruiters around the ultra-competitive conference.
To continue reading this article you must be an Insider
October, 9, 2013
10/09/13
2:00
PM ET
Each Wednesday, ESPN RecruitingNation updates its
national class rankings
. For an in-depth look at the SEC, check out our conference rankings:

1. Alabama, 21 commits:
The Crimson Tide sit atop the RecruitingNation class rankings with a class that features 15 ESPN 300 prospects, including most recent commitment
Ronnie Clark
(Calera, Ala./Calera), the No. 96 overall prospect. Alabama remains in the hunt for several five-star prospects, including No. 1 overall
Leonard Fournette
(New Orleans/Saint Augustine) and No. 9
Marlon Humphrey
(Hoover, Ala./Hoover).
To continue reading this article you must be an Insider
August, 9, 2013
8/09/13
11:00
AM ET
It's time to dip into the SEC recruiting mailbag and answer your questions. Because of the amount of questions we've received, we won't be able to get to all of them today -- but we encourage you to ask again next week by tweeting your questions to
@DerekTysonESPN.

@cpage2911: who are the top SEC assistant coaches recruiting wise?
Derek Tyson:
As evident by having 10 SEC schools ranked in the top 25 of the Recruiting Nation class rankings, the SEC is full of recruiting savvy coaches. The list is long and full of quality coaches, and I could make a case for a number of SEC coaches, but here's a glance at three coaches who stand out to me this year.
Auburn co-offensive coordinator Dameyune Craig is responsible for Auburn landing commits from five ESPN 300 members including
Tre' Williams
,
Nicholas Ruffin
,
Justin Thornton
,
Kamryn Pettway
and
Stanton Truitt
. Florida defensive backs coach Travaris Robinson is the primary recruiter for four committed ESPN 300 prospects --
Dalvin Cook
,
Khairi Clark
,
J.C. Jackson
and
Duke Dawson
. He is also the primary recruiter for ESPN 300 prospects
Ermon Lane
and
Quincy Wilson
, who the Gators have a shot of landing on Monday.
Alabama defensive coordinator Kirby Smart continues to be an outstanding recruiter and has helped the Tide stand firm in the top five of the class rankings. Smart is the primary recruiter for ESPN 300 committed players
Kalvaraz Bessent
,
Stephen Roberts
,
Shaun Dion Hamilton
and Zach Whitley.
@SleeperAthletes: Out of all the #SEC states, which state is most heavily recruited?
DT:
As far as sheer numbers, Florida is always one of the most heavily recruited areas in the country. In fact, 17 percent (52) of the prospects ranked in the ESPN 300 are from the state of Florida. Texas is the next state in SEC territory with 34 players on the ESPN 300 followed by Georgia with 29 players.
Louisiana might not have the total number of prospects as Florida, Texas and Georgia, but what it lacks in numbers it makes up for in quality. Three of the top 10 players in the country including the No. 1 overall prospect,
Leonard Fournette
, and eight of the top 50 players in the country are from Louisiana.
SECfan: Will an SEC team take home the recruiting championship again?
DT:
Five of the top 10 recruiting classes are from the SEC including three -- Alabama, Tennessee and Georgia in the top five. When it's all said and done, though, I believe it will be a battle between Alabama and LSU. Alabama is at No. 2 while LSU is at No. 10, and with several key targets still available LSU could certainly jump to the top.
Louisiana natives and top 10 players including Fournette,
Cameron Robinson
and
Speedy Noil
are high on the Tigers. Linebacker
Clifton Garrett
, wide receivers
Trey Quinn
and
Malachi Dupre
, safety
Laurence Jones
and defensive tackle
Gerald Willis III
are just some of the top prospects considering LSU and the Tigers could end up with a monster class. Alabama, however, is still very much in contention for both Fournette and Robinson which could quickly cement the Tide as the top overall class. Bottom line is, yes, I believe the SEC will land the No. 1 recruiting class for the third straight year.