November, 14, 2013
Nov 14
7:00
AM ET
ATHENS, Ga. – The members of Georgia's 2011 "Dream Team" recruiting class still maintain a close bond, even if circumstances have taken some members of the class to other places.
That bond between players will face an unusual test on Saturday when former Dream Teamer
Nick Marshall
– now Auburn's starting quarterback after Bulldogs coach Mark Richt dismissed him, Sanford Seay and Chris Sanders following the 2011 season after getting caught stealing from teammates – will stand on the opposite sideline from his former classmates.
[+] Enlarge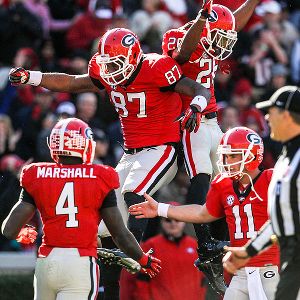 Daniel Shirey/USA TODAY SportsJay Rome (87) and Malcolm Mitchell (26), who were member of Georgia's Class of 2011 Dream Team, have had plenty to celebrate through the years.
"Weird I wouldn't say is the right word for it. It's going to be different going against one of the guys that you did come in with and actually roomed with when we first got here," said defensive end
Ray Drew
, who roomed with Marshall, Seay,
Jay Rome
,
Malcolm Mitchell
and
Sterling Bailey
at Georgia's Reed Hall when the class first arrived on campus.
Georgia was coming off a disappointing 6-7 season when the Dream Team signed with the Bulldogs, and the group was never shy in expressing its intention of helping the program get back on track. They had the nation's top tailback and No. 4 overall prospect in
Isaiah Crowell
, another five-star talent in Drew, the No. 1 tight end in Rome and a large group including Mitchell, John Jenkins,
Amarlo Herrera
,
Chris Conley
and
Damian Swann
who would contribute soon after becoming Bulldogs.
There was a level of self-assurance within the group that was somewhat unusual for a group of freshmen.
"Coming in I do believe the guys did have some confidence about themselves – that this was going to be the class that did some big things," Drew recalled. "And there's still that possibility. We still can. That swagger you're talking about, I can see that being there. It was. You can't deny it."
Truth be told, they've already been part of some big things. Crowell was named the SEC's Freshman of the Year in his lone season on campus – he was dismissed in the summer of 2012 after a weapons possession arrest and is now starring at Alabama State – and the Bulldogs won their first SEC East championship since 2005.
They played in a second straight SEC championship game at the end of last season and fell only a few yards short of playing for a BCS title – with multiple Dream Team members playing key roles on a team that would finish fifth nationally.
"I think we've actually got a good resume being here," said Swann, now in his second season as a starting cornerback. "We beat Auburn twice, we beat Florida three times, we've been to the SEC championship two times since I've been here. We're 1-1 in a bowl game. I think with the resume that my class has put together, I think it's actually one to look at, and I think we're continuing to improve it and make it better."
That they are. Linebacker
Ramik Wilson
leads the SEC with 92 tackles, with Herrera's 79 stops ranking fourth. Drew is sixth in the league with six sack. Wideouts Mitchell, Conley and
Justin Scott-Wesley
have all flashed star potential, although injuries have struck all three players this season. Center
David Andrews
, also a second-year starter, is one of the leaders of the Bulldogs' offensive line.
And junior college transfer Jenkins is already in the NFL – the New Orleans Saints picked him in the third round of this year's draft – after solidifying the middle of the Bulldogs' defensive line in 2011 and 2012.
"We've done some pretty good things," said defensive end Bailey, who has started eight times this season in his first significant dose of playing time. "You had some players from the Dream Team come in and make an impact and then you had some players behind some great players who are playing in the NFL right now and got experience and now being in the third year, we're putting all that experience to work."
The Georgia journey ended early for several members of the class. Marshall, Seay and Sanders were all dismissed together and Crowell followed them out the door a few months later. Safety Quintavious Harrow left shortly after his former Carver-Columbus teammate and close friend Crowell.
In all, seven members of the 26-man signing class are either gone or never enrolled at Georgia at all (linebacker
Kent Turene
). But the remaining Dream Teamers still maintain a close bond, Drew said.
"There's a tightness between us," he said. "I think even though we're tight as a team, I think there's just one more stitch or two between us that pulls us close. Whenever you see one person, you're always going to see someone else from the same class right there with them just tagging along."
The bulk of the class should remain intact for at least one more season, with several more Dream Teamers who redshirted still carrying two seasons of eligibility after 2013. That time, they said, is what will determine whether they meet the high expectations that accompanied their arrival.
"We're still in the process," Wilson said. "A lot of us are just now starting to play, so it's in the process of something becoming great.
"We all had high expectations of playing early and turning this program around. As soon as we stepped on this campus, we went to the SEC championship from that 6-7 year. So all we had was nothing but success here, 10-win seasons, since I've been here. So we're just trying to keep that going."
November, 13, 2013
Nov 13
7:00
AM ET
ATHENS, Ga. -- Few teams in college football are more committed to moving the ball on the ground than Auburn, which suits the members of Georgia's defensive front seven just fine.
The Tigers bring the nation's third-best rushing attack (320 yards per game) into Saturday's game vs. Georgia, but defending the run is what the Bulldogs have done best this season, ranking fourth in the conference and 20th nationally in rushing defense (126 ypg).
[+] Enlarge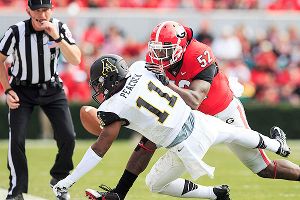 AP Photo/Paul AbellGeorgia linebacker Amarlo Herrera has 79 tackles and an interception on the season.
"We are excited that we have the opportunity to, I guess you could say, flex our muscles, show who we really are," Georgia defensive end
Ray Drew
said. "This is going to be one of those tell-tale games. But if we go out and do what we're supposed to, I know that the talent level that we have with myself,
Sterling Bailey
,
Garrison Smith
and those guys, the guys up front, I believe we're going to be fine. I'm confident as all get out. I don't see anything that's going to stop us other than ourselves."
Lineup stability has been one of the key factors in Georgia's mostly solid play against the run, as the defensive line hasn't been hit hard by injuries the way some other position groups have this season. More importantly, inside linebackers
Ramik Wilson
(10.2 tackles per game) and
Amarlo Herrera
(8.8) -- two of the SEC's top four tacklers -- have managed to stay healthy enough to play nearly every important down this season, providing veteran presences at positions that otherwise would have been manned by freshmen.
The two junior linebackers denied, however, that they're feeling any ill effects from the heavy workload at this late point in the season.
"I feel good, man," Herrera said. "I feel good, I love football. This is the only time of year I get to play. I waited all year for this."
Wilson agreed, adding, "We're always in the cold tub and getting treatment, so we feel pretty good."
Saturday's game might be the biggest test yet for the starting duo of Herrera-Wilson. Auburn's run-heavy spread offense centers around quarterback
Nick Marshall
and running back
Tre Mason
's ability to break long runs and keep the chains moving even when plays don't break big.
Defending it properly requires disciplined play from the linemen and linebackers entrusted to fill gaps and clean up with a tackle -- much like how they must play sound "assignment football" each down to contain Georgia Tech's option running game.
"Looking at both of the offenses, really they try to cause chaos and confusion," defensive end
Sterling Bailey
said. "As a defense, we've got to just play our technique and play our fundamentals."
For the most part, Georgia has done that against the run. The Bulldogs knew LSU would try to establish the ground game when they met earlier this season and held the Tigers to just 77 rushing yards on 36 carries.
It's defending the pass that has created the most glaring issues for Georgia's defense -- for instance, LSU quarterback
Zach Mettenberger
passed for 372 yards even when his running game was faltering -- so Georgia's defenders are perfectly happy to face an Auburn offense that frequently attempts fewer than 10 passes in a game.
"I don't have to run around a lot," Herrera said. "I get to play football and hit somebody every play. I don't have to cover as much as I do on other weeks because you know they're going to run the ball."
Surely other Auburn opponents have had similar thoughts prior to facing the Tigers. Yet corralling elusive runners like Marshall and Mason has proven not to be so simple. Aside from a 120-yard rushing effort in their last-minute win against Mississippi State -- they passed for 339 yards in that game -- the Tigers have rushed for at least 200 yards in every game this season.
That includes a 511-yard game on the ground against Western Carolina, 379 yards in an upset of Texas A&M and 444 last Saturday against Tennessee -- with Marshall going for 214 yards and two touchdowns.
To avoid becoming another victim on the Tigers' hit list, the Bulldogs' front seven has to operate quickly -- and provide its most technically sound performance of the season.
"You've just got to know your responsibilities and everybody has to be gap-responsible because if one person's out of position, it can be a big play," safety
Josh Harvey-Clemons
said.
September, 9, 2013
Sep 9
7:00
AM ET
ATHENS, Ga. -- Winning is the best salve in sports, so Georgia's defensive lapses aren't as painful as they would have been if the Bulldogs had lost to South Carolina on Saturday and entered their bye week with an 0-2 record.
That alone is a relief for the young defenders who allowed 34 points and 460.5 yards per game against Clemson and South Carolina, surrendering 6.7 yards per play to the two highly ranked opponents.
"It definitely would have stunk. We probably would have been in full pads every day, hitting," outside linebacker
Jordan Jenkins
said of the bye-week practices. "It wouldn't have been a fun environment in Athens for these next two weeks."
The members of Todd Grantham's defense realize that their shoddy tackling would have been the reason for the extra hitting, just as it was the reason they practiced in full pads twice last week leading up to the South Carolina game. They are simply nowhere near where they need to be if Georgia is to remain in the national championship conversation through the rest of the season.
[+] Enlarge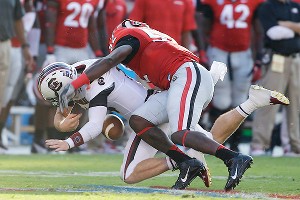 AP Photo/John Bazemore)Amarlo Herrera forces a fumble by South Carolina QB Connor Shaw.
The Bulldogs' offense has mostly bailed them out thus far, but there have been too many missed tackles and busted coverages preventing Georgia's defense from even being considered competent to this point.
"We've still got some things to fix," Jenkins said. "There were still some moments where some guys didn't know what to do. It still wasn't as much as it was last week, but we're just a defense that's coming along and we've just got to fix some small things. I know that's getting repetitive, but I feel like this week was really something that we needed as a defense."
South Carolina finished with 454 yards of total offense and actually averaged more yards per play than did Georgia -- 7.4 to 7.1 -- but there were a couple of bright spots for the Bulldogs in the second half.
For starters,
Amarlo Herrera
continued his difference-making play at inside linebacker. A week after notching 12 tackles against Clemson, Herrera made another 12 stops -- none bigger than when he met Gamecocks running back
Mike Davis
at the goal line on a fourth-down option run and forced a turnover on downs.
"They just came out in a formation that we knew and [South Carolina quarterback
Connor Shaw
] checked, so I kind of knew by the alignment what play they were going to run," Herrera said. "So I just ran to the running back."
Herrera also tracked down Shaw from behind in the third quarter and forced a fumble that
Josh Harvey-Clemons
recovered at Georgia's 25-yard line.
Because of those two giveaways, the Gamecocks mustered just six points in the second half on Saturday, despite generating 221 yards of offense and averaging 7.9 yards per play in the half.
Some of those yards played out in ugly fashion for the Bulldogs, such as when Davis broke a 75-yard run deep into Georgia territory, setting up a 3-yard touchdown run where he ran straight through tackle attempts by Herrera,
Ramik Wilson
, Harvey-Clemons and
John Taylor
. Or when
Nick Jones
twice burned freshman cornerback
Brendan Langley
for touchdown catches in the second quarter.
"It's not easy to play corner in this league, or any league for that matter, in college football," Georgia coach Mark Richt said. "You're going to get challenged, especially if you're a rookie. And he got challenged. He got beat once or twice, but he hung in there."
Certainly some of Georgia's early problems were to be expected. With a big group of inexperienced players taking over for 12 major contributors -- most notably NFL first-round picks Jarvis Jones and Alec Ogletree -- from the 2012 defense, naturally there have been some growing pains.
Langley is a true freshman who lined up against All-American
Sammy Watkins
and an array of other talented Clemson receivers in his first college game. Other new starters like
Leonard Floyd
, Harvey-Clemons,
Sterling Bailey
, Wilson and
Tray Matthews
intrigue the coaches with their talent, but sometimes frustrate them by not performing as consistently as they'd like.
"We're young and we're learning," Harvey-Clemons said. "A lot of us -- like me and Corey [Moore] -- this is our first time playing, so once we get together and get some games under us and get that chemistry going, I feel like there will be a lot of trouble for offenses to come."
The open date comes at a good time for the Bulldogs (1-1), allowing them to regroup from as tough a first two weeks as Georgia has ever faced in program history. With a week off followed by a visit from North Texas (1-1) before LSU (2-0) comes to Athens on Sept. 28, Grantham and company can use the rocky first two games as a teaching tool in a low-pressure environment before life gets difficult again.
LSU has diversified its offense this season and will present a bigger challenge than its run-heavy attacks of the past. And Tennessee's and Missouri's offenses will likely try to spread the field and tear holes in Georgia's defensive scheme, as well.
In short, this is a nice break, but the Bulldogs must be better prepared to be on the defensive soon. They know it as well as anyone.
"We find a way to make a play, make a turnover, keep grinding," Grantham said. "I think that I saw some improvement over last week. I thought our front guys were physically stout at the line of scrimmage. I think we've got to do a better job on the edges in the run game. … We've just got to keep working and if we do that, we'll be fine."
September, 6, 2013
Sep 6
7:00
AM ET
ATHENS, Ga. -- Like most of Georgia's defense, the Bulldogs' line had its moments of competence -- and even solid play -- in last Saturday's season-opening loss at Clemson.
The problem across the board was that there weren't enough of those moments, and the line knows it must turn in a more consistent performance with South Carolina's physical rushing attack on tap Saturday.
"We didn't tackle that good in the last game, so we're just trying to come out and just get ready for South Carolina," Georgia defensive end
Toby Johnson
said. "Them boys, they like to run the ball a lot, so obviously we've got to tackle."
Led by tailback
Mike Davis
, who might have wound up at Georgia had
Todd Gurley
not committed to the Bulldogs first, South Carolina pounded North Carolina for 228 rushing yards and 6 yards per carry in last week's opener. Included in Davis' 115 rushing yards was a 75-yard touchdown run that cemented the Gamecocks' 27-10 victory.
"He's not the biggest guy, but he's tough," Georgia nose guard
Mike Thornton
said of Davis, his former teammate at Atlanta's Stephenson High School. "He's a tough runner."
To contend with Davis' power running and South Carolina's NFL-sized offensive line, Georgia's defensive front also must be tougher following its uneven results in Week 1.
[+] Enlarge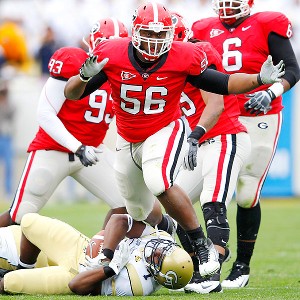 Joe Robbins/Getty ImagesGarrison Smith, a 6-foot-3, 299-pound senior, is now listed as Georgia's starting nose guard.
According to ESPN Stats & Information, Clemson ran 36 times on designed runs inside the tackles for 158 yards (4.4 YPC) and a touchdown last Saturday. That number would look more impressive were it not for a 36-yard run by Rod McDowell in the fourth quarter to set up Clemson's final touchdown.
"We swarmed to the ball as a defense, especially our linebackers, but for the most part we missed a lot of big tackles," Johnson said. "That goes with me, I missed a big sack. So we've just got to wrap up and keep our head up and keep your feet."
Considering that it was the first college game for a couple of Georgia linemen and the first heavy dose of playing time for a couple more, defensive coordinator Todd Grantham said he actually came away feeling encouraged after watching film of the group's debut effort.
"I thought there was some good things. At times they were stout and did the things we had to do. We're so young, we've got to continue to work on our techniques and our fundamentals to be consistent in our play," Grantham said. "I walked away thinking that if we can build on this, we'll be fine. And really I walked away as that for the whole unit from that standpoint after watching the tape."
The Bulldogs practiced in full pads Tuesday and Wednesday in an effort to work more on shedding blocks and tackling. They also shuffled their depth chart, placing
Garrison Smith
as the starting nose guard and
Sterling Bailey
and
Josh Dawson
as the starting ends, although Grantham insisted that making a fuss over players' positional labels is "so overrated" in his scheme that shifts between a traditional 3-4 base defense and a nickel look that deploys four players along the line.
Nonetheless, Smith played in the interior of the line for much of the Clemson game and felt he performed well, even if his 299-pound frame is considerably smaller than Georgia's 2012 nose men, John Jenkins and Kwame Geathers.
"I ain't the size of a double-wide trailer like John Jenkins and Kwame. I'm like a dually [truck] and they're like an 18-wheeler ... a big Mack truck, Freightliners," Smith said. "It's a big difference between our sizes, but I just do it the best I can."
It should help that new line coach Chris Wilson seems prepared to follow through on his plan to use more players up front. Thornton said the Clemson game was "was the most we've ever rotated since I've been here."
And it made a difference in the players' energy levels, as Clemson's offensive play count built and the game reached its latter stages.
"It's a noticeable difference when you know you've got somebody that can come in and play a couple snaps for you, and you don't have to worry about getting so winded and getting so tired," Smith said. "You can get a couple plays off and be able to go back in and be able to keep playing hard."
Whoever is in the game along Georgia's line will have one main challenge come Saturday. South Carolina arrives each week planning to dominate the line of scrimmage, and the Bulldogs must play a tougher, more consistent brand of defense if they are to end a three-game losing streak against the Gamecocks.
"Something that's going to pop up on the film whenever you look at it and just see how big and physical they are," Dawson said. "You've just got to match them."
August, 12, 2013
Aug 12
12:30
PM ET
Here's some required SEC reading to help get you through the rest of your Monday.
August, 6, 2013
Aug 6
7:00
AM ET
ATHENS, Ga. -- Chris Wilson needed only about 30 minutes in Georgia's first preseason practice before he started fiddling with his depth chart.
The new defensive line coach's face broke into a wide grin when explaining why he loudly informed
Sterling Bailey
-- who finished spring practice as a starting defensive end -- that
Ray Drew
was now the starter in Georgia's base defense and that Bailey would be the first-team end when the Bulldogs play a nickel defense.
"We make on-the-field adjustments," Wilson cracked.
[+] Enlarge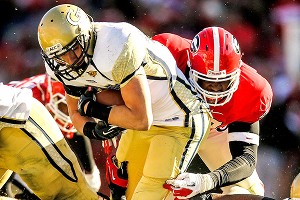 Daniel Shirey/USA TODAY SportsNew defensive line coach Chris Wilson isn't afraid to mix and match players such as defensive end Ray Drew to get the perfect fit.
Apparently such a change is nothing new for Wilson's new charges, who say that if Wilson doesn't think someone is getting the job done adequately, he's quick with the hook.
"[It happens on a] daily basis," Bailey chuckled. "He just loves motivating us. He just wants us to play hard."
Georgia largely stuck with a small rotation of veteran players along last season's defensive line, but that practice created fatigue that Alabama obviously exploited in racking up 350 rushing yards against the Bulldogs in the SEC championship game. The Bulldogs' coaching staff has vowed to rotate more players up front this fall -- and Drew and Bailey are among the seven or eight players that Wilson hopes will figure heavily into that rotation.
But they have to prove to their new position coach that they deserve the opportunity, as neither player has been more than a role player thus far in his college career.
"[Wilson] mentioned it to me one time before that he likes competition within the players because if he puts you in a position and you're not getting it done, he bumps someone else in there," Drew said. "He wants you to take enough initiative to say, 'OK, I've got to get my stuff together and win my spot back.' So we look at it as a competition between the two players, but it's actually just a way to make each other better."
There should be no shortage of competition for spots in Wilson's rotation over the next few weeks. Junior college transfer
Toby Johnson
-- the No. 4 overall prospect on the ESPN Junior College 100 -- is "kicking butt" at defensive end thus far in practice, Wilson said, and other youngsters such as
John Taylor
,
John Atkins
and
Chris Mayes
have impressed him at points.
They have a prime opportunity to solidify those impressions when the Bulldogs hold their first preseason scrimmage at Sanford Stadium on Wednesday -- even if the depth chart will probably remain flexible well into the season.
"We never know what the set depth chart is," Drew said. "One thing he made perfectly clear to all of us is he does not care who plays. He's going to put in the guy that is going to play his behind off, do what he's coached to do and make things happen. So it doesn't matter if you're an 18-year senior or if you're a first-year freshman. If you're getting it done and you're doing what you need to do, that's what matters."
As of now, the "play his behind off" factor might be the most important element of the competition.
Yes, understanding their assignments and playing with the proper technique will be of utmost importance once the linemen take on the Clemsons and South Carolinas and LSUs that they will face in the first month of the season. But as they enter their first scrimmage, Wilson wants to see them fight for their jobs, viewing competitive fire as perhaps his top means of evaluation.
"Here's the thing that I would like to see more than anything in our next scrimmage: I would like to see us play extremely hard. I'm talking about with relentless effort," Wilson said. "And if they are playing that hard, that means they know what to do. And if we will play as hard as we can and know what we're doing, I think we've got a chance to win all the football games that we play.
"And so if we can come away with just those two simple things that sound so simple, we really have become a better football team."
July, 8, 2013
Jul 8
10:30
AM ET
The SEC prides itself on having all that talent in the trenches, and the defensive lines in this league just continue set this conference apart from everyone else. Here's how all 14 lines rank in the SEC heading into the 2013 season:
[+] Enlarge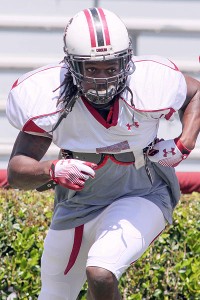 Jeremy Brevard/USA TODAY SportsThe whole nation may be familiar with Jadeveon Clowney, but there's even more power on the South Carolina defensive line.
1. South Carolina:
There's more to South Carolina's defensive front than man-beast
Jadeveon Clowney
. While his 21 career sacks and 35.5 tackles for loss are great, he gets good help from a solid helping of depth, beginning with starters
Kelcy Quarles
(defensive tackle) and
Chaz Sutton
(end). Quarles might be one of the most underrated linemen around and should improve on his 3.5 sacks and 4.5 tackles for loss from last year. Sutton was a backup last year, but still registered five sacks and seven tackles for loss. Tackle
J.T. Surratt
saw action in just 10 games last year, but moves into a starting role this year.
Gerald Dixon
and
Gerald Dixon Jr
. provide good depth at tackle and end.
2. Florida:
Sure, the Gators lost All-American Sharrif Floyd and Omar Hunter, but Florida rotated enough guys in last year to have good experience coming back across the board. Star lineman Dominique Easley will play at his more natural position at tackle this year, but will move outside at times. He led Florida with four sacks last year and was consistently disruptive all year. Florida is loaded at end with sophomores
Dante Fowler Jr
. and
Jonathan Bullard
returning.
Ronald Powell
, who is coming off of two ACL injuries will rotate with Fowler at the hybrid linebacker/end "Buck" position, while
Damien Jacobs
and Darious Cummings will help out at tackle.
3. Arkansas:
While Arkansas featured one of the league's worst defenses last year, the Razorbacks were solid up front. Arkansas returns one of the best defensive end combos in senior
Chris Smith
and junior
Trey Flowers
. They combined for 15.5 sacks and 26 tackles for loss last year. Inside, you have seniors
Byran Jones
and
Robert Thomas
. Jones has started 29 games in his career and had 52 tackles last year. Thomas steps into a starting role this fall after recording five tackles for loss and 2.5 sacks last year. The Hogs have young reserves, the staff is excited about guys like
JaMichael Winston
,
Brandon Lewis
,
Darius Philon
,
DeMarcus Hodge
and
Deatrich Wise Jr
.
4. LSU:
The Tigers lost a lot up front, but this team is used to reloading along the defensive line. Tackle
Anthony Johnson
has the meat and ability to be one of the best at his position, and excels as both a run-stopper and pass-rusher. He'll be helped by junior
Ego Ferguson
, who has all the talent to be successful but is still looking to reach his full potential. The staff is expecting big things from end
Jermauria Rasco
, who might be a better pure pass-rusher than Barkevious Mingo and Sam Montgomery before him.
Danielle Hunter
and
Jordan Allen
should do more at end, while incoming freshman
Tashawn Bower
could see immediate playing time. Also, keep an eye on freshman
Christian LaCouture
, who played his way into the two-deep this spring at tackle.
5. Ole Miss:
There are depth issues at defensive tackle, but the Rebels are stacked on the outside.
C.J. Johnson
should be back from the broken leg he suffered this spring, and has All-SEC talent at end. Fellow end
Cameron Whigham
only had 1.5 sacks last year, but started 11 games.
Channing Ward
got a lot of action this spring with Johnson out and has the chance to have a true breakout season. All eyes will be on freshman Robert Nkemdiche, who was the No. 1 recruit in the 2013 recruiting class and is physically ready to play right now. Tackle
Issac Gross
should be healed from his spring grown injury and will get good help from junior college transfer
Lavon Hooks
.
6. Alabama:
Right now, Alabama is still searching for the elite players it's used to having up front. This unit wasn't as consistent as Nick Saban would have wanted this spring, but there is a lot of potential in the trenches, starting with the versatile
Ed Stinson
, who can line up inside or out and recorded 8.5 tackles for loss and three sacks last year.
Jeoffrey Pagan
could be fun to watch at the other end spot. He was a big-time recruit a few years ago and will get a lot more time to shine this fall.
Brandon Ivory
has to replace
Jesse Williams
at nose guard, but showed good flashes this spring. LaMichael Fanning will also help at end. Alabama is young here, but will continuously rotate again in order to keep guys fresh.
7. Vanderbilt:
End
Walker May
is the star of this very talented group. He isn't the biggest at his position, but he's a relentless worker and is exception at getting to the quarterback on passing plays. Junior
Kyle Woestmann
came on very strong during the second half of the 2012 season, registering six sacks in the final five games. Then there's sophomore Caleb Azibuke, who grabbedd 4.5 sacks last year, had a great spring and is extremely athletic. With two starters departing, depth is an issue inside, but tackle Jared Morese, who started six games last year is back after being kicked off this team this spring for violating team rules. Juniors
Barron Dixon
and
Vince Taylor
both played in 13 games last year. The Commodores also had to move offensive lineman
Adam Butler
to defensive tackle this spring.
8. Kentucky:
There is a lot of experience, starting with seniors
Donte Rumph
,
Mister Cobble
and
Tristian Johnson
at defensive tackle. Rumph, who is coming off of a spring shoulder injury, is the best of the bunch and recorded six tackles for loss and four sacks last year. Cobble is finally starting to reach his potential, and should improve on his three tackles for loss and two sacks from last year. Johnson started nine straight games to end last season. Alvin "Bud" Dupree has nine sacks in the last two years and is moving from linebacker to end this year. Helping him will be junior college transfer
Za'Darius Smith
, who had an exceptional spring. Incoming freshman end Jason Hatcher will also get a chance to play immediately.
9. Georgia:
The first order of business is finding a suitable nose guard to replace the massive John Jenkins. Right now, it looks like that will happen by committee. Junior Mike Thornton left spring as the starter there, but has just one career tackle. Redshirt sophomore Chris Mayes is next in line, but hasn't recorded any stats during his career. Freshman
John Atkins
enrolled early this spring and junior college transfer Toby Johnson, who could be the best of them, is recovering from an ACL injury. Defensive coordinator Todd Grantham cross-trained all his linemen and was very pleased with
Sterling Bailey
's improvement, along with senior
Garrison Smith
, who started eight games last year. Junior
Ray Drew
is also getting more comfortable up front.
10. Mississippi State:
It's not like Mississippi State doesn't have the talent or potential up front, but his group really struggled to get to the quarterback last year. Senior end
Denico Autry
struggled through the first part of last season, but played strong down the stretch, which is really encouraging to the staff. End
Preston Smith
was a backup last year, but still led the Bulldogs with 4.5 sacks. The staff seems pretty excited about tackle
P.J. Jones
, who made some big plays late for this team last year. Of course, having vet
Kaleb Eulls
back helps and it looks like he's permanently moving inside. End
Ryan Brown
didn't blow up the stat chart last year, but had a good spring and should see plenty of playing time this fall.
11. Missouri:
This unit was probably the Tigers' strongest last year, but it lost its best player in tackle Sheldon Richardson. Mizzou has to replace him by committee, and Gary Pinkel seemed pleased with his tackles this spring.
Matt Hoch
had a very good spring and while he isn't the same player as Richardson, he figures out ways to get to the ball and started 12 games last year.
Lucas Vincent
will line up at nose guard, but injuries limited him to just three tackles last year. Redshirt freshman
Harold Brantley
has a lot of potential at tackle and should see good time this fall. The Tigers are pretty solid outside, with
Kony Ealy
and
Michael Sam
returning. Ealy is just waiting to break out, while Sam led the team with 4.5 sacks last fall.
Shane Ray
provides good depth at end, while tackle
Marvin Foster
played in 10 games last year.
12. Tennessee:
The Vols have to figure out how to move around all those pieces up front with the defense moving back to a traditional 4-3 look. Big-bodied
Daniel McCullers
is the top player along the line, but he has to be more disruptive up front. He has to be more than just a space eater. Senior
Jacques Smith
should move down to end from linebacker, while fellow seniors
Marlon Walls
and
Daniel Hood
should push for starting time at end and tackle. Senior
Maurice Couch
is another player with a ton of talent, but has to be more consistent inside. Junior
Jordan Williams
should also move down after playing a hybrid end/linebacker position last year.
13. Auburn:
The Tigers just weren't good enough up front last year, ranking 11th in the SEC in sacks (22) and 12th in tackles for loss (66). Now the best player -- end Corey Lemonier -- is gone. A handful of vets return, but this group has to be tougher and more consistent. Senior ends
Dee Ford
and
Nosa Eguae
lead things up front, but only accounted for 8.5 tackles for loss and seven sacks last year. Eguae will have his hands full trying to fend off
Kenneth Carter
, who moved from tackle to end this spring.
Jeffrey Whitaker
,
Angelo Blackson
and
Gabe Wright
lead the inside game, but only Blackson had more than five tackles for lass last year (a team-high seven).
14. Texas A&M:
The Aggies lost quality starters like Damontre Moore and Spencer Nealy and the injury bug devastated this unit during the spring. No one will replace Moore's 21 tackles for loss and 12.5 sacks, but A&M needs multiple guys to step up.
Julien Obioha
started 12 games as a true freshman last year, but has to stay healthy this fall, as he's the key to the entire line. He also has to generate a better pass rush. Tackle Kirby Ennis started 11 games last year, but ran into legal trouble before spring practice and was suspended, but is expected to return. Youngsters
Alonzo Williams
, Tyrone Taylor and Tyrell Taylor will be thrown into the mix this fall, but expect plenty of growing pains.
Gavin Stansbury
and Alonzo Williams have showed flashes here and there, but will have to much more consistent this fall.
June, 21, 2013
Jun 21
3:00
PM ET
Every year, players come and go in college football. With the turnover teams can either grow or take steps back.
It's time to check out Georgia's strongest position and weakest position heading into the 2013 season:
Strongest position: Quarterback and/or running backs

Let's see, the Bulldogs bring back one of the nation's best quarterbacks in
Aaron Murray
, have a wealth of talented depth behind him and own the best running back duo in the country in
Todd Gurley
and
Keith Marshall
. It really is a little unfair, honestly. Murray became the first SEC quarterback to throw for 3,000 yards in three seasons last year when he finished with 3,895 yards. He'll likely end 2013 with four straight 3,000-yard seasons and even more Georgia/SEC records. He also has a very capable backup in redshirt junior
Hutson Mason
, who the coaches feel comfortable leaving the team with if it came to that.
Christian LeMay
will be in his third year this fall, while freshmen
Faton Bauta
and Brice Ramsey give the Bulldogs even more quality depth.
The Bulldogs will rely on Gurley and Marshall, who combined for 2,144 yards and averaged 6.3 yards per carry, yet again this season. Depth is an issue behind them, but these two were the stars of the show last year and things went swimmingly. Gurley is the bruiser, who led all SEC backs in rushing last year, while Marshall has more moves and explosion. He's also gained some good weight, so defenders beware.
Weakest position: Defensive tackle
While defensive coordinator Todd Grantham has more bodies to rotate in and out along the defensive line, defensive tackle is still a troublesome area for the Bulldogs. There isn't a John Jenkins to plug in the middle of the line, so the Bulldogs will likely work by committee to fill the void he left, but there just isn't a lot of experience inside. Junior
Mike Thornton
left spring as the starter at nose guard, but has just one career tackle. Redshirt sophomore
Chris Mayes
is right behind him on the depth chart, but hasn't recorded any stats for the Dawgs. Freshman John Atkins enrolled early this spring, but he has no experience at the college level. The good news is that Grantham is cross-training guys, so defensive ends
Sterling Bailey
, who was Grantham's best cross-trainer this spring, and redshirt freshman
John Taylor
will get a chance to help out at tackle. The staff hopes to get a lot out of junior college transfer Toby Johnson this season, but he is recovering from an ACL injury he suffered last fall.
April, 10, 2013
Apr 10
10:15
AM ET
One of the most rewarding parts of spring practice for coaches is finding those pleasant surprises, whether it's players who fly in under the radar and step up at positions of need or players little-used to this point who look like they're going to be key contributors in the fall.
Several of those guys have emerged this spring in the SEC.
Here's a look:

Sterling Bailey, DE, Georgia, RSo.:
Defensive coordinator Todd Grantham cross-trained his defensive linemen at all three positions this spring, and Bailey stood out at both end and nose guard. He's poised to be a valuable run-stopper for the Bulldogs after playing in only three games last season as a redshirt freshman.
Kentrell Brothers, LB, Missouri, RSo.:
Brothers appears to be all the way back from the broken leg he suffered in preseason camp two years ago. He's pushing
Darvin Ruise
hard for the starting weakside linebacker job and has been impressive this spring. Brothers had 14 tackles last season and didn't make any starts.
Justin Garrett, LB/S, Auburn, Jr.:
Stuck behind
Daren Bates
the past two seasons and playing only sparingly, Garrett has gone from an undersized linebacker to the "Star" in Ellis Johnson's 4-2-5 scheme. He'll be part-linebacker and part-safety and has shown the kind of speed and tackling ability this spring that Johnson is looking for at that hybrid position.
Joe Morrow, WR, Mississippi State, RSo.:
Morrow has been a spring sensation for the Bulldogs in the past, but it's yet to translate during the season. He caught just five passes last season as a redshirt freshman and was plagued by a bum knee. But this spring, Morrow has been much more consistent and has given his teammates and coaches confidence that he can be a go-to receiver. He's an inviting target at 6-foot-4 and 210 pounds and a tough matchup for smaller cornerbacks.
Floyd Raven, S, Texas A&M, Jr.:
A backup cornerback a year ago, Raven has moved to free safety and is currently sitting atop the depth chart. His athleticism and playmaking skills make him a natural back there. He's intercepted
Johnny Manziel
a couple of different times in scrimmages. The key will be fully understanding his role at safety and what all that entails. If he gets that down, look out.
Dontavis Sapp, LB, Tennessee, Sr.:
First-year coach Butch Jones said following Saturday's second scrimmage that Sapp has been "amazing" this spring. Some pretty lofty praise for a guy who made just 17 tackles last season. But with a new staff and a new defensive scheme, Sapp has prospered. The former safety can play any of the three linebacker positions and is a fixture on special teams.
Austin Shepherd, OT, Alabama, RJr.:
The Crimson Tide lost three starters from an offensive line that most people considered the best in the country a year ago. Shepherd, entering his fourth year in the program, has waited his turn and has the edge right now over junior-college newcomer
Leon Brown
in the battle for the starting right-tackle job.
Mitch Smothers, OG, Arkansas, RSo.:
Smothers has found a new lease on his football life under first-year offensive-line coach Sam Pittman. After redshirting last season, Smothers has played his way back into the starting lineup at left guard. He was a starter at tackle to open his true freshman season in 2011, but was benched after the first four games and spent the rest of the season watching from the sideline.
Carlos Thompson, DE, Ole Miss, RJr.:
A big get for the Rebels out of high school, Thompson has played in just 11 games during his first three years on campus. He redshirted last season to get stronger, and the Ole Miss coaches have been impressed with the results. He's been more physical and has held up better at the point of attack. With
C.J. Johnson
out for the rest of the spring with a broken fibula, Thompson has made the most of his opportunities. He could be a breakout player in the fall for the Rebels.
D.J. Welter, LB, LSU, RJr.:
Academics derailed Welter last season after he played sparingly as a redshirt freshman in 2011. The feeling coming into the spring was that
Lamin Barrow
would move from weakside linebacker to middle linebacker to replace
Kevin Minter
. But so far, Welter has played well enough in the middle that the Tigers haven't felt like they needed to move anybody.
August, 10, 2012
8/10/12
2:51
PM ET
David Ching writes:
Georgia freshman outside linebacker Jordan Jenkins hasn't downshifted once since arriving on campus for fall camp, and while he's blowing past senior offensive linemen, it all reminds one particular All-American outside linebacker of himself.
Ching

: Already facing so much pressure to fill two pairs of pretty impressive shoes, Georgia's new kicker-punter duo Marshall Morgan and Collin Barber have been set up as roommates and have forged a fast friendship.
Ching

: Highly touted freshman Josh Harvey-Clemons answers questions ranging from his adjustment in playing safety, to how he plans to gain the 30 extra pounds he needs.
Ching

: Georgia's new freshman outside linebackers are turning heads and grabbing coaches' compliments left and right, and the upperclassmen are impressed as well.
Kipp Adams writes

: Class of 2014 UGA commit Nick Glass wonders with all the shuffling and movement in recruiting lately what his future really holds in Athens. The talented defensive back recently accepted an early invitation to December's all-star Rising Seniors week in Atlanta.
Ching

: Around the Hedges in 80 Days – 22 days to kickoff.
All-American safety Bacarri Rambo is one of the Bulldogs' defensive stars whenever he's on the field. It's fully expected that he will return to his opportunistic ways when his off-the-field issues are behind him.
Radi Nabulsi:
Redshirt freshman Sterling Bailey is working hard in his transition to a new position. He admits that sometimes the process is slow, but says he's headed in the right direction.
August, 8, 2012
8/08/12
2:46
PM ET
By
ESPN.com staff
| ESPN.com
DawgNation live chat in The Pound:
7 p.m. ET
DawgNation Roundtable

: In Georgia's 2012 backfield, veteran workhorses Ken Malcome and Richard Samuel will team with bright, shiny new freshman stars Keith Marshall and Todd Gurley. Who will carpe the diem?
David Ching writes

: What more could an incoming freshman ask for than an NFL-ready star linebacker such as UGA's Jarvis Jones making it his mission to prepare the newcomer for life on the college gridiron? That's Jones' plan for new UGA offensive tackle John Theus, and everyone else.
Ching

: Redshirt freshman Sterling Bailey said goodbye to his no-contact jersey when fall camp started as the defensive end has been cleared to play, coming back from a December injury.
Kipp Adams writes

: While schools nationwide court juco DT Toby Johnson, who is in school in Kansas now but attended high school in Atlanta, he finds a certain home-y appeal in the Georgia Bulldogs.
Ching

: Around the Hedges in 80 Days -- 24 days to kickoff. The twin brother of Georgia star linebacker Alec Ogletree, fullback Zander Ogletree has been a useful role player through his first two seasons in Athens and should continue on that path in 2012 and beyond.
March, 20, 2012
3/20/12
2:30
PM ET
Schedule:
Georgia begins spring practice March 20 and concludes with the G-Day Game, 2 p.m. ET April 14 at Sanford Stadium.
What's new:
For the first time in a long time, the Bulldogs enter spring ball without any coaching changes. Georgia let its coaches know how much the 2011 season meant by giving extensions to head coach Mark Richt and defensive coordinator Todd Grantham. The Bulldogs also went through mat drills before spring practice, something they didn't do last year. Georgia welcomed three early enrollees in running back Keith Marshall, quarterback Faton Bauta and junior college offensive lineman Mark Beard.

On the mend:
Wide receiver
Chris Conley
could be limited this spring with a wrist injury. Also, outside linebacker/defensive end
Sterling Bailey
had foot surgery in December and could be limited. Receiver
Rantavious Wooten
is coming off of a season in which he battled concussion symptoms for most of the year after being in a car accident, but he's expected to be completely recovered this spring.
On the move:
One of the biggest moves in the SEC revolves around receiver
Malcolm Mitchell
. After quite the freshman season, Mitchell will work at cornerback this spring, because Georgia's numbers there are so low. Mitchell was one of the best in the conference at receiver in 2011, but with Georgia needing more help at cornerback, he could see more playing time on defense rather than offense this fall. Bailey was listed as an outside linebacker last season, but there's a chance that he could move to defensive end this spring.
Ray Drew
will also get more reps at defensive end, after playing outside linebacker last fall. He's likely to get more reps than Bailey, considering he played more and Bailey is recovering from surgery.
Richard Samuel
, who moved back to running back from linebacker last fall, could get reps at fullback as well.
Questions:
The cornerback spot will be very thin heading into the 2012 season. Thanks to attrition, dismissals and suspensions, Mitchell moved to corner. There is starting experience, but depth is an issue, and Sander Commings has been suspended for the first two games. With Commings and
Branden Smith
the only vets, Georgia will have to rely on youngsters will little experience this spring.
Damian Swann
,
Devin Bowman
and
Blake Sailors
will have to grow up fast. The offensive line lost starters
Cordy Glenn
,
Ben Jones
and
Justin Anderson,
and returns zero seniors this season. All 14 who will partake in spring practice are underclassmen. The good news is that there is depth, and a lot of players can play different positions, but it's a pretty inexperienced group.
Chris Burnette
,
Kenarious Gates
and
Dallas Lee
all started games last season, but they'll have to coach up a lot of younger players this spring. And you can't forget about the running back spot.
Isaiah Crowell
has vowed to work harder, and has had the most time since he arrived to be healthy, so a big spring is expected. He'll need it, with Marshall on campus and ready to see a lot some time this fall.
Getting defensive:
The Bulldogs return nine defensive starters from a unit that ranked fifth nationally last season. Those returners include the SEC's top sack man in linebacker
Jarvis Jones
. Complementing Jones on what is arguably the SEC's top linebacking unit are Alec Oglreetree,
Cornelius Washington,
and Mike Gilliard. The massive John Jenkins is back at nose guard, and
Abry Jones
, who is coming off a solid 2011, is back at end. There certainly are questions in the secondary, but having starters
Bacarri Rambo
,
Shawn Williams
, Smith, and eventually Commings, will help tremendously
Don't forget about:
With defense being in Mitchell's future, Georgia's offense will take a hit, but the Bulldogs aren't without bodies at receiver. Mitchell is easily Georgia's best receiver, but there is still some good talent behind him.
Tavarres King
hopes his bowl performance is a springboard for this season. He didn't put up stellar numbers, but became a more reliable target in the second half of the season. Then you have
Michael Bennett
, who really came on as a third option at receiver, catching 32 passes and five touchdowns. Conley will be limited, but proved to be a trusted target last season. Of course, Wooten and
Marlon Brown
are still looking to put everything together, but time is ticking for these two vets. It's time for them to step up this spring, and the coaches feel both have the physical tools and understand the offense enough to make it happen.
Breaking out:
Brown appears to be the healthiest he's been since arriving in Athens. The coaches have been waiting and waiting for him to step up and be a force in the passing game, but he's been so off-and-on during his career. He enters the spring with high expectations from the coaching staff, and his quarterback,
Aaron Murray
, has a lot of confidence in him. Tight ends
Jay Rome
and
Arthur Lynch
are players who could break through this spring, especially with Mitchell working on defense. Rome and Lynch will be looking to replace
Orson Charles
' production. Running back Ken Malcolme is another player to keep an eye on. His attitude has changed, and he will push to be the second or third running back. Defensively, linebacker Cornelius Washington is another players the coaches hope elevates his play this spring and finally reaches his potential.
All eyes on:
Murray is coming off two seasons in which he broke Georgia passing records, but the redshirt junior still hears some criticism. His play in big games has been called into question because of the mistakes he's made. Georgia opened the season with two losses against ranked teams, and ended the season that way. In Murray's past four games, he threw eight touchdowns and six interceptions, including two interceptions in the SEC title-game loss against LSU, and two in the Outback Bowl loss to Michigan State. Improving the little things and trusting those around him more will help Murray tremendously this spring. He'll also have the responsibility of making sure this team is mentally ready for all the hype and the spotlight that will come with a team that will surely be a favorite in the SEC East this fall.
March, 5, 2012
3/05/12
4:05
PM ET
Radi Nabulsi writes

: In this week's team mailbag, DawgNation addresses pressing questions from our Insiders about who might change positions or double up on positions, how the backup QB situation will shake out, and making second-half corrections.
David Ching writes

: Quick pro day observations from Athens.
Kipp Adams writes

: The Georgia Bulldogs' first Very Important Dawg Day in review.