January, 10, 2012
1/10/12
6:19
PM ET
With New Orleans hospitals, schools and basic infrastructure in dire need of rebuilding following Hurricane Katrina, many taxpayers wondered aloud why the Federal Emergency Management Agency would allocate $156 million for a renovation of the Superdome.
Sure, the stadium was eligible for FEMA funding because it was state-owned, open to the public, and it sustained damage during Katrina. Yet questions came, anyway.
But for Louisiana, it marked a "If You Build It, They Will Come" idea. Fast-forward six years, and note that the Mercedes-Benz Superdome -- on the heels of $336 million, multiphase renovation -- is in the midst of playing host to a string of the country's major sporting events.
[+] Enlarge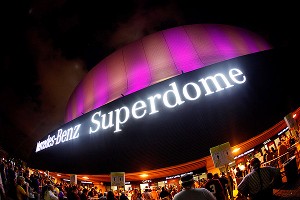 Chris Graythen/Getty ImagesThe Mercedes-Benz Superdome before the All-State BCS National Championship Game.
In addition to the annual Sugar and New Orleans bowls, the city that hosted the Allstate BCS National Championship Game on Monday night also has Saints playoffs games this winter, the SEC men's basketball tournament and men's Final Four this spring, the Super Bowl in February 2013, and the women's Final Four a few months later.
Landing such events was part of the post-Katrina recovery plan, says Mark Romig, chief executive officer of the New Orleans Tourism Marketing Corp., and a member of committees for the Super Bowl and Sugar Bowl. "We knew for us to come back and to lift ourselves up, we had to go through this process."
Romig says New Orleans annually ranks at or near the top of the list in hospitality jobs nationally, with between 70,000 and 80,000 positions. He says that number is "very close" to pre-Katrina levels and that there are more restaurants in New Orleans than before the hurricane, and hotel numbers are comparable.
John Williams, interim dean for University of New Orleans' College of Business Administration, attributes much of the city's jump from $4.3 billion in tourism spending in 2009 to $5.5 billion in 2010 to sports. Business travelers are staying an average of 2.2 days longer than their business plans, he says, often to attend sporting events.
Williams says studies also show fans visiting for sporting events are more likely to patronize local restaurants than other tourist segments, like day visitors or business travelers. It's why he thinks the city has seen a jump in restaurants from 805 pre-Katrina to 1,230 today. "Sports are really key to that," he says.
Williams says the city saw a 6.6 percent growth in tourism-related jobs in the first quarter of 2011 alone. While numbers have not yet been vetted for the remainder of 2011, he says the city has been experiencing a snowball effect since hosting Saints playoff games in 2009.
Romig says hosting events like the BCS game Monday essentially provide the city with immeasurable free advertising to help boost tourism unrelated to sporting events. ESPN logged more than 36 hours of programming on sets around New Orleans in the week leading up to the game, not counting the game itself, pre- or post-game shows or halftime shows.
Asked to estimate the value of the advertising New Orleans received around the BCS National Championship game, Malcolm Turner of Wasserman Media Group says, "There's no question we're talking in the tens of millions of dollars."
The projected economic impact from the recent Sugar Bowl and BCS National Championship games was $400 million. The R&L Carriers New Orleans Bowl played on Dec. 18 and the Saints playoff game last Saturday were expected to contribute another $45 million. But the Super Bowl is the big revenue generator, with estimates at about $900 million.
December, 30, 2008
12/30/08
10:19
AM ET
Posted by ESPN.com's Chris Low
It's been nine years since Alabama last walked among college football's elite in the BCS bowl bonanza.
Chances are it won't be another nine years or even another three or four years. Chances are the Crimson Tide are here to stay.
"This is where Alabama football is supposed to be," Alabama senior center Antoine Caldwell said. "This is where everybody associated with the program made a commitment to get it to, and the foundation is in place to keep it here."
| | |
| --- | --- |
| | |
| | Marvin Gentry/US Presswire |
| | John Parker Wilson hopes to finish his college career with a win in the Sugar Bowl. |
Alabama, which spent the month of November as the country's No. 1-ranked team, will do its best Friday night against Utah in the Allstate Sugar Bowl to put a cap on what's been a memorable season.
The suspension of star left offensive tackle Andre Smith on Monday was a downer, and so was the bitter 31-20 loss to Florida in the SEC championship game.
Still, this is the kind of season you build on, the kind of season that proclaims to the rest of the college football world that you're indeed back.
But there is one caveat, according to the Alabama players.
Winning this game is a must if the Crimson Tide are going to make that proclamation stick.
"We've had a great season up to this point, something we'll all remember," Alabama senior quarterback John Parker Wilson said. "But I think if we don't go out and win this game, it's going to be all for nothing. We're looking at this as a one-game season, that we're going to go out and take care of business and kind of put a cap on our legacy as seniors.
"It's a huge game. We're playing in the Sugar Bowl. We're putting a lot on this game."