June, 1, 2010
6/01/10
11:00
AM ET
By
ESPN.com staff
| ESPN.com
It's not every day that a team has a Heisman Trophy winner returning, and some in and around the program are wondering if his backup might be even better.
Running back
Mark Ingram
became the first Alabama player in history last season to win the Heisman Trophy. He rushed for 1,658 yards and scored 20 touchdowns.
Is it too farfetched to think that
Trent Richardson
might be the second from Alabama to take home college football's most prestigious individual award somewhere down the road?
[+] Enlarge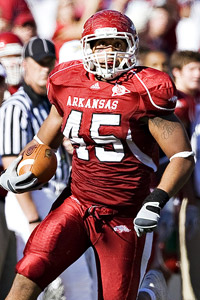 Wesley Hitt/Getty ImagesD.J. Williams is part of a very deep Arkansas receiving corps.
It makes for good conversation, and at the same time, underscores how well stocked the Crimson Tide will be at running back in 2010. Don't forget about redshirt freshman
Eddie Lacy
, either.
While Alabama's at the head of the class in the SEC when it comes to being the most prepared to replace a key player, the Crimson Tide's hardly the only team with quality depth in key spots.
One of the best examples is Georgia's offensive line, specifically senior left tackle Clint Boling. The Bulldogs have eight lettermen returning up front, and while Boling has played both guard and tackle during his career, offensive line coach Stacy Searels could have some flexibility if Trinton Sturdivant and Tanner Strickland both come back healthy in the fall.
Sturdivant was Georgia's starting left tackle for 13 games as a true freshman. The Bulldogs' coaches felt like he was their best offensive lineman at the time, but he's missed each of the past two seasons after tearing up his left knee. Strickland could also be a factor at guard after missing last season with a shoulder injury.
The Arkansas receiving corps is another position that's among the deepest in the league.
Greg Childs
,
Joe Adams
,
Jarius Wright
and
Cobi Hamilton
are all big-time players in their own right. And when you throw in tight end
D.J. Williams
, it's a collection of pass-catchers that any quarterback would love to have.
Losing one of those guys would hurt the Hogs' passing game, but it certainly wouldn't devastate it.
Ole Miss' depth at defensive tackle is equally staggering. Jerrell Powe is one of the top two or three interior defensive linemen in the SEC. But the Rebels will be able to run tackles in and out of the game next season with the likes of Ted Laurent, Lawon Scott, LaMark Armour and Justin Smith.
LSU would have several options in its secondary if something were to happen to one of the starters.
Junior cornerback Patrick Peterson is the backbone of the unit, but the Tigers made some changes this spring and essentially went with four cornerbacks as the four starters. Jai Eugene moved from cornerback to safety, while safety Brandon Mitchell has also played a lot of cornerback during his career.
Sophomore cornerback Morris Claiborne looks like he's going to follow in Peterson's footsteps as one of the SEC's best, while junior cornerback Ron Brooks has also played a lot of quality snaps for the Tigers. If redshirt freshman safety Craig Loston comes around next season, that would give the Tigers' even more flexibility in an already deep and talented secondary.
May, 17, 2010
5/17/10
10:01
AM ET
By
ESPN.com staff
| ESPN.com
Sizing up where the Bulldogs were the strongest and where they were the weakest coming out of spring practice:
Strongest position: Offensive line

Key returnees:
Senior tackle Clint Boling, junior center Ben Jones, senior guard Chris Davis, junior guard Cordy Glenn, senior tackle Josh Davis, junior tackle Trinton Sturdivant, junior guard Tanner Strickland
Key departures:
Tackle Vince Vance
The skinny:
Lots and lots of depth. Experienced depth, too. And if a couple of injured players come through, this could be the dominant, dictate-the-flow-of-the-game offensive line Georgia fans have been waiting on for some time. Boling is an All-SEC player who's played both tackle and guard during his career. Sturdivant has missed the last two seasons with knee injuries. He started at left tackle as a true freshman, and the Georgia coaches felt like he was their best offensive lineman at the time. Granted, there are no guarantees when you're trying to come back from a two-year absence, but the Bulldogs are optimistic about where Sturdivant is in his recovery. The same goes for Strickland, who also probably would have been a starter last season had it not been for shoulder surgery. Georgia offensive line coach Stacy Searels will look at a couple of different combinations when everybody's back out there for fall practice. Most of the guys returning have played different positions, so Searels will have some options with eight lettermen returning.
Weakest position:
Quarterback
Key returnees:
Redshirt freshman
Aaron Murray
, junior
Logan Gray
(5-of-12, 31 yards, no touchdowns, two interceptions)
Key departures:
Joe Cox
, Zach Mettenberger
The skinny:
Georgia coach Mark Richt isn't fretting. He suggests if Georgia fans are worried about the quarterback position to go back and watch Murray's high school tape. In reality, that's a big part of the concern. Murray has never taken a snap in a college football game, and first-year starters in the SEC almost always seem to suffer through some degree of struggles. There are exceptions. Georgia's own David Greene passed for 2,789 yards with 17 touchdowns and nine interceptions as a redshirt freshman in 2001. The Bulldogs would take those kind of numbers from Murray next season in a second. And if they get them, they should be a strong player in the Eastern Division race. Murray is plenty talented with the arm strength, versatility and smarts to have a big year. He just has to keep from making the critical mistakes. The bigger issue is what happens if Murray goes down with an injury or gets into one of those ruts where it's simply not clicking for the offense. Gray has decided to stick around, but will be spending a lot of his time at receiver. And with Mettenberger getting the boot, the only other option would be incoming freshman Hutson Mason. As Richt has said several times now, however it shakes out, the Bulldogs are going to be extremely inexperienced at quarterback. It always helps, though, to have the other 10 starters on offense returning.
May, 14, 2010
5/14/10
3:00
PM ET
By
ESPN.com staff
| ESPN.com
Thanks for a wide scope of questions this week. I'll do my best to answer as many of them as I can in the SEC mailbag:
Lawrence in Alpharetta, Ga., writes:
When you look at all the experience coming back, is this the year that Georgia puts it all together in the offensive line?
Chris Low:
Down deep, Georgia coach Mark Richt thinks so, but he's not going to say it publicly. He'd much rather see it play out that way on the field. Trinton Sturdivant hopes to regain his starting spot at left tackle after missing each of the past two seasons with knee injuries. The Bulldogs felt Sturdivant was their best lineman before he got hurt leading into the 2008 season. Tanner Strickland is also back after missing last season with a shoulder injury. So if everybody stays healthy (and the Bulldogs are due a little luck in that area), they will put a deep, veteran offensive line in front of redshirt freshman quarterback
Aaron Murray
in 2010.
John in Oxford, Miss., writes:
How about some love for us stepping up and playing Boise State to open 2011? You've ripped on Ole Miss' football schedule for last year and this year a lot, and rightfully so. However, we have Boise State now in 2011 and Texas in 2012 and 2013. The schedule is stepping up.
Chris Low:
Indeed it is. The Rebels have some marquee home games lined up for the next several years. They get Boise State at home to open the 2011 season, then face Texas at home the third week of the 2012 season and also play Clemson at home during the 2016 season. Ole Miss plays at Texas during the 2013 season and travels to Clemson during the 2015 season. Every SEC school should play at least one high-profile nonconference game every season. Ole Miss' nonconference schedule has been ridiculously soft and will be again next season. The Rebels did go on the road to face Wake Forest in 2008, but were beaten by the Deacons. So, yes, it's good to see them get serious about upgrading their schedule. Plus, I'm not sure the Ole Miss fans were lining up at the box office to see too many more games against Northern Arizona, Southeastern Louisiana, Samford and Louisiana-Monroe.
Ernie in Columbus, Ohio, writes:
You reportedly made a statement on ESPN Radio late Tuesday night that Mike Slive has had talks with four schools about joining the SEC. West Virginia was one of the four. Oddly, there hasn't been another word mentioned about this report. Was this incorrect, inaccurate or was there another reason why this hasn't been mentioned again? Thanks.
Chris Low:
I appreciate your asking that question, because I've been getting bombarded with inquiries about what I supposedly reported concerning West Virginia, Florida State, Georgia Tech and Miami moving to the SEC. For the record, I haven't reported anything of the sort. In fact, I'm not sure I've ever even mentioned West Virginia in terms of SEC expansion. I have said that Clemson, Florida State, Miami and Georgia Tech could all four be teams SEC commissioner Mike Slive would probably be interested in should the league decide it needs to expand. But that's a long way from saying those teams have already been contacted. I'm sure we're going to hear a lot of wild expansion stories over the next few months and who's coming and who's going. When you consider that each SEC school will pocket close to $17 million in shared revenue next month at the spring meetings, why would anybody be looking to get out?
Hawgwild 2010 in Little Rock, Ark., writes:
Julio Jones
gets talked up like he is the second coming of
Jerry Rice
. I think he is a borderline top 5 wide receiver in the SEC going into 2010. I get why he is an elite pro prospect, and I don't dispute his potential. He had a very good freshman year, but his eight touchdowns in two seasons are pedestrian. To me, he is the equivalent of Taylor Mays. Great specimen. However, he is invisible at times and he doesn't get it done in the red zone. The bottom line: The numbers don't lie. When will his potential and production truly deserve the adulation? My top 5 to start the season is
A.J. Green
,
Greg Childs
,
Darvin Adams
,
Alshon Jeffery
and Julio Jones.
Chris Low:
I get it. You think Jones is overrated. And while I'd agree that his numbers were down last season, I'm betting you see a different version of Jones in 2010, the one we saw as a freshman. Right now, I would take Green as the No. 1 receiver in the SEC, but Jones would be my No. 2 choice. You mention everything he's supposedly not. Well, he did make a few plays to help the Crimson Tide win a national championship last season. Without his 73-yard touchdown catch and run against LSU, I'm not sure Alabama wins that game. He was also clutch in that final drive to beat Auburn. There are a number of outstanding receivers in this league, and it's true that Childs led the SEC in conference games last season in receiving yards, yards per catch and touchdown catches. I think the Hogs' collection of receivers are among the best in the country. But Jones would still be in my top 2 in the league.
C.B. in Baton Rouge, La., writes:
Not sure if you saw this, but I thought I'd throw it out there. This was from LSU's spring conditioning in the 40-yard dash (hand timed): Patrick Peterson 4.20, Ron Brooks 4.23,
Drayton Calhoun
4.24,
Morris Claiborne
4.25,
Chris Tolliver
4.33,
Russell Shepard
4.36. That's one fast defensive backfield, huh?
Chris Low:
Yep, that was the plan when the Tigers moved Jai Eugene from cornerback to safety, to get even more speed on the field in the secondary. The thing that should make LSU so good back there next season is that Peterson can cover and tackle and has the speed to lock down on anybody. The LSU coaches think Claiborne is cut from that same mold. Obviously, Shepard is a receiver, but the Tigers sound serious about putting his speed to good use next fall. Here's a link to some of the
Tigers' strength and conditioning numbers
.
John in Las Vegas writes:
After going through the spring camps in the SEC, did you think that if you took the exact same South Carolina team and replaced their jerseys with Georgia or Tennessee jerseys, you'd believe in them a lot more? I guess my real question is are they good, or are they just good for South Carolina and our eternally hopeful fans?
Chris Low:
I genuinely believe this is Steve Spurrier's best chance to make some real noise in the Eastern Division race since he's been in Columbia. I say that because of the 15 starters returning, in particular the young talent in the program (Stephon Gilmore, Alshon Jeffery, Marcus Lattimore, DeVonte Holloman), and because I think Florida won't be as dominant as the Gators have been the last few years. We'll find out soon enough if I'm right. South Carolina has to beat Georgia at home that second week of the season if the Gamecocks are going to be a legitimate player.
March, 22, 2010
3/22/10
11:55
AM ET
By
ESPN.com staff
| ESPN.com
Today, we take a look at what should be the strongest and weakest positions for Georgia entering the 2010 season:
Strongest position:
Offensive line

Key returnees:
Clint Boling, Ben Jones, Chris Davis, Josh Davis, Tanner Strickland, Trinton Sturdivant, Cordy Glenn, Justin Anderson
Key departures:
Vince Vance
The skinny:
Georgia coach Mark Richt is holding off before he showers this offensive line with too much praise. He wants to see it on the field. But with eight lettermen and all five starters returning, there's no reason that the offensive line shouldn't be the strength of this team in 2010. There are a couple of wild cards. Sturdivant has missed the last two seasons with knee injuries. He's the Bulldogs' left tackle if he's healthy. The Georgia coaches thought he was their best lineman before he was hurt prior to the 2008 season. Strickland is another guy who was hurt last season and would have been a factor. Boling is an All-SEC performer who's played both guard and tackle, and Ben Jones is one of the better centers in the league. In short, the Bulldogs will have experience, depth and versatility up front this fall.
Weakest position:
Secondary
Key returnees:
Brandon Boykin, Branden Smith, Vance Cuff
Key departures:
Reshad Jones, Prince Miller, Bryan Evans
The skinny:
This isn't so much a knock on the Bulldogs' talent in the secondary, because the talent is there. The frightening part is their lack of depth, and it's especially glaring at cornerback. Boykin, who's also one of the top kickoff returners in the league, simply can't get hurt. Cuff has been a part-time starter, while Smith has a ton of talent. He just needs to learn to play the position at this level. He was juggling some offense and special-teams duties last season as a true freshman. Junior college newcomer Jakar Hamilton has been impressive this spring at safety. The Bulldogs gave up 19 touchdown passes in SEC games last season, which was five more than anybody else in the league. They were also last in pass defense, giving up 244.5 yards per game against league foes. Obviously, that's not all on the secondary, but it goes without saying that the Bulldogs need to do a better job of covering and tackling in the secondary in 2010.