January, 3, 2013
Jan 3
1:10
PM ET
During the last two seasons, when I'm at a bowl game featuring an SEC team, the league is 1-3. You're welcome everyone not in the SEC.
April, 19, 2012
4/19/12
6:45
PM ET
COLUMBUS, Ohio -- Paul Haynes and Taver Johnson were among the coaches entrusted to guide Ohio State through a storm 2011.
The last thing the two men could have expected at their next coaching stop was another tempest. And, in many ways, a more damaging one.

Haynes and Johnson are part of an Arkansas staff left to pick up the pieces from the Bobby Petrino scandal. Johnson, the Razorbacks' assistant head coach/linebackers coach, is in charge until a head coach is named, while Haynes serves as the Hogs' defensive coordinator after leaving Ohio State in December. Johnson had a chance to remain with Ohio State but left to join Hayes in Fayetteville.
Ohio State defensive coordinator Luke Fickell, who served as the Buckeyes' head coach last season after Jim Tressel's departure, has been in touch with Haynes since the Petrino scandal broke.
"A very, very difficult situation," Fickell told ESPN.com on Thursday. "Different in a lot of ways, but similar in some ways, too. Everybody learned from last year, whether they were an administrator here, whether they were an intern, a defensive coordinator or a head coach, you learn a lot of different things, and it's going to help them in the long run."
Fickell and Haynes are close friends and remain in regular contact, as do their wives. Fickell hasn't spoken as often with Johnson, but he's confident the two men don't need his advice despite another difficult situation.
"Hell, they were here, they know what happened," Fickell said. "Now if the situation [at Arkansas] stays the way it is, before they start a season, I'm sure just like I had, they'll have an opportunity to communicate with some different people and pick some brains. Right now, they're probably just trying to keep the whole ship afloat."
Through some very choppy waters.
April, 10, 2012
4/10/12
9:05
PM ET
The overriding feeling in the Ozarks was that this would be Bobby Petrino's best football team at Arkansas.
But now that
he's not going to be around to coach that team
, where do the Hogs go from here?
As we saw with both North Carolina and Ohio State a year ago, it's never easy to navigate a season when your coach has been sent packing in the months leading up to that season.
Granted, Butch Davis was fired at North Carolina about a month before the 2011 season began, and Jim Tressel was forced out heading into June.
So Arkansas' coaches and players at least have a little more time to process the situation, but this is the kind of thing that can fester for even the most resilient of football teams.
One day, Petrino is there, firmly in control and feverishly building on last season's No. 5 finish in the polls.
And then one ill-fated motorcycle ride later, he's gone.
There's no way to prepare for such a sudden transition, no textbook, no therapist who can all of a sudden make everything right again.
Put yourself in the place of the Arkansas players.
[+] Enlarge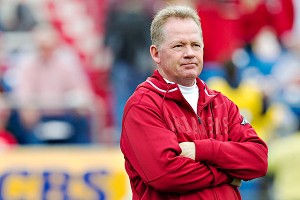 Wesley Hitt/Getty ImagesArkansas faces an uncertain 2012 season without Bobby Petrino at the helm.
Petrino had guided them to this position, and together, they engineered the kind of success the Hogs haven't had for 30 years. He talks about doing things the right way, being accountable to your teammates and never losing sight of the fact that you're representing an entire university and an entire state when you put on that Arkansas uniform.
Those words ring hollow now, and the only thing more hollow is the feeling that everybody associated with the football program must be experiencing.
There are so many unanswered questions going forward.
Petrino had obviously done a masterful job in making the Hogs relevant again nationally, so losing his leadership is one thing.
But what about his offensive genius?
Few coaches in football have a better feel for the game when it comes to breaking down defenses and calling plays.
Petrino called all of the Hogs' plays on offense, so losing that dynamic is a huge blow.
What this team has going for it is talent, not to mention experience in key spots.
Talent has a way of covering up even the nastiest of wounds.
Having one of the best quarterbacks in the SEC helps, too, and
Tyler Wilson
now has a full season as a starter under his belt.
Wilson's leadership in 2012 will be crucial. The same goes for running back
Knile Davis
, who knows a little something about dealing with hardship.
Davis, who missed all of last season after injuring his ankle, was already an inspiration to his teammates with the way he has continued to fight back from injuries.
The Hogs are going to need him more than ever, both on and off the field, in 2012.
Petrino had overhauled his defensive staff in the offseason, and it just so happens that two of the guys he brought in -- defensive coordinator Paul Haynes and linebackers/interim head coach Taver Johnson -- were at Ohio State last season.
If anybody has a clue what Arkansas is about to face, it's Haynes and Johnson. They lived it last season with the Buckeyes following Tressel's ouster.
Ultimately, the coaches will only be able to do so much.
If the Hogs are going to keep 2012 from being a lost season and fulfill the promise everybody had for this team prior to Petrino's dismissal, it's going to be on the players.
They have the talent to weather the storm. We'll find out in the fall if they have the fortitude.
April, 6, 2012
4/06/12
2:35
AM ET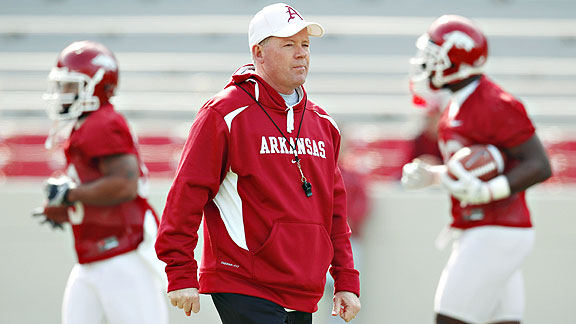 AP Photo/Beth HallThe breaking scandal has coach Bobby Petrino on thin ice at Arkansas.
Football coaches who win at a high level have been known to survive the most serious of storms.
The storm that has engulfed Arkansas coach Bobby Petrino might get worse before it gets better, and it has already become a huge embarrassment for the university.
Petrino's success on the field and the way he has made Arkansas relevant again nationally will weigh heavily in his corner, but the stigma that's sure to follow him now might be too much to overcome.
Furthermore, who knows what other details might be out there concerning his motorcycle crash last Sunday night, and more specifically, his relationship with the 25-year-old woman he was riding with when the crash occurred? She's the same woman, Jessica Dorrell, who was hired last month as the student-athlete development coordinator for football. She works under Petrino and oversees on-campus recruiting.
Clearly, Petrino's bosses are ticked. Arkansas athletic director Jeff Long announced at a news conference late Thursday night that
Petrino had been placed on paid leave
, and Long said he would conduct a review of both Petrino and Dorrell.
While Petrino's away, Long said assistant head coach and linebackers coach Taver Johnson would serve as Arkansas' interim head coach. The Hogs are in the middle of spring practice and will play their spring game April 21.
Ultimately, what Long will have to decide is whether Petrino violated the terms of his contract, which has a clause in it that would allow Arkansas to fire Petrino for "engaging in conduct, as solely determined by the university, which is clearly contrary to the character and responsibilities of a person occupying the position of head football coach or which negatively or adversely affects the reputation of the (university's) athletics programs in any way."
Lying or misleading the media is one thing. The same goes for the public. But when you're not forthcoming with your bosses, that's one of those things that tends to resonate.
Only when an Arkansas state police report confirmed Thursday that Dorrell was riding with Petrino did he come clean after initially saying through a statement released by university officials that he was alone when he crashed. He repeated that claim after finishing up his news conference on Tuesday when asked specifically by a media member if he had been alone during the crash.
Long said he didn't find out until Thursday afternoon from Petrino that Dorrell was riding with the Hogs' head coach, and it was later Thursday that Petrino, who is married and has four children, issued another statement acknowledging a previous inappropriate relationship.
It only muddies the situation that, according to several reports, Dorrell was engaged to marry the Hogs' director of swimming and diving operations, Josh Morgan, in June.
[+] Enlarge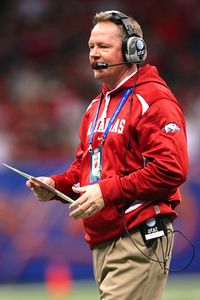 Nelson Chenault/US PresswireArkansas administrators must weigh Bobby Petrino's on-field accomplishments against his off-field actions.
Here's Petrino's statement in full, in which he expresses his desire to remain as Arkansas head coach:
"The state police report today provides an accurate description of my accident, which includes details that had not publically come to light prior to the report being issued. I regret that I have not publically acknowledged a passenger on the vehicle. I have been in constant pain, medicated and the circumstances involving the wreck have come out in bits and pieces. That said I certainly had a concern about Jessica Dorrell's name being revealed. In my press conference, I referred to her simply as 'a lady'. My concern was to protect my family and a previous inappropriate relationship from becoming public. In hindsight, I showed a serious mistake in judgment when I chose not to be more specific about those details. Today, I've acknowledged this previous inappropriate relationship with my family and those within the athletic department administration.

I apologize to my wife, Becky, and our four children, Chancellor (David) Gearhart, Jeff Long, the Board of Trustees, University administration, my coaching staff, student-athletes and the entire state of Arkansas. I have been humbled by the outpouring of concern and get-well wishes. I apologize to the Razorback Nation for the attention my actions have brought to the University of Arkansas and our program. I will fully cooperate with the University throughout this process and my hope is to repair my relationships with my family, my Athletic Director, the Razorback Nation and remain the head coach of the Razorbacks."
Much will be made about the "previous inappropriate relationship" Petrino speaks of and the fact that Dorrell was out riding the countryside with him.
But the two biggest factors working against Petrino are, No. 1, that he wasn't truthful with his superiors about the accident and lied about it publicly, and No. 2, that Dorrell was somebody who was hired to work under Petrino in the football office. If a "previous inappropriate relationship" with Petrino did indeed lead to her hiring, that's bad news for everybody involved.
It's especially bad news for the Arkansas fans, who deserved better.
Just when you thought the Hogs might be on the verge of breaking through and joining the SEC party in the national championship equation, this happens.
Petrino was dug in, too. He signed a contract two Decembers ago that more or less locked him down at Arkansas for the foreseeable future. I can also tell you from my conversations with Petrino that he truly believed that he could win a national championship at Arkansas and that the Hogs weren't that far away.
The job he'd done to this point was exemplary, and even though he was castigated for leaving the Atlanta Falcons before the 2007 season was over, it was a coup for Arkansas to get a coach of Petrino's caliber.
It all seemed to be pointing in the right direction for the Hogs, who played in their first-ever BCS bowl game in 2010 and then followed that up with 11 wins last season.
Now, in the wake of one forgettable motorcycle crash, it remains to be seen whether Petrino will get a chance to finish what he started.
January, 17, 2012
1/17/12
11:30
AM ET
Arkansas added to its staff Sunday when coach Bobby Petrino announced the hiring of Taver Johnson.

Johnson, who spent the past five season as cornerbacks coach at Ohio State, will serve as assistant head coach/linebackers coach for the Razorbacks.

"Taver is an extremely enthusiastic and devoted coach," Petrino said. "He has a strong work ethic, is a great teacher of the game and is skillful at relating to his players. During his time at Ohio State, he became familiar with the principles Coach [Paul] Haynes has worked to incorporate here. He has also been a part of a program with a culture of consistently winning and will be instrumental in preparing our players to compete for championships."

During his five seasons at Ohio State, Johnson helped produce 2008 Jim Thorpe Award winner Malcolm Jenkins who was a two-time first-team All-Big Ten performer. The Buckeyes had three cornerbacks selected in the NFL draft between 2008-11, led by Jenkins, who was the 14th overall pick by New Orleans in 2009. Ohio State had three different cornerbacks earn four first-team All-Big Ten honors under Johnson.

In 2011, with new Arkansas defensive coordinator Paul Haynes serving as Ohio State's co-defensive coordinator, the Buckeyes ranked fifth in the Big Ten in pass defense. Ohio State also ranked in the top 30 nationally in total defense and scoring defense.
SEC SCOREBOARD
Saturday, 12/21
Monday, 12/23
Tuesday, 12/24
Thursday, 12/26
Friday, 12/27
Saturday, 12/28
Monday, 12/30
Tuesday, 12/31
Wednesday, 1/1
Thursday, 1/2
Friday, 1/3
Saturday, 1/4
Sunday, 1/5
Monday, 1/6
Tweets from @ESPNCFB/sec