January, 5, 2013
1/05/13
1:44
AM ET
ARLINGTON, Texas -- Oklahoma's defense had heard the legends about Johnny Football. They'd seen the highlight reels and trophy acceptance speeches.
Until Friday, though, they had never stepped on the same field with the first freshman to win a Heisman Trophy. After Texas A&M's 20-year-old superstar rolled over the Sooners for 516 total yards (229 rushing, 287 throwing) and four touchdowns in a
41-13 Cotton Bowl victory
, Oklahoma couldn't help but be glad his college years will be spent on fields across the SEC and not the Big 12 -- where the Aggies would have been if not for some conference upheaval over the past two years.
"
Johnny Manziel
is everything he was billed to be," Oklahoma coach Bob Stoops said. "He makes everybody miss him. He was what you've seen on tape the whole year."
Sooners defensive coordinator Mike Stoops called Manziel the best player he'd ever played, which carries a special significance considering Stoops' defense gave up 344 rushing yards and 572 all-purpose yards to a shifty, speedy receiver named
Tavon Austin
from West Virginia barely six weeks ago, the second-most all-purpose yards in a game in FBS history.
[+] Enlarge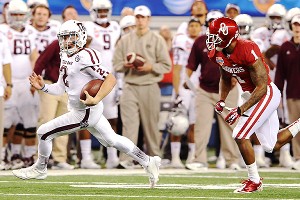 Kevin Jairaj/USA TODAY SportsJohnny Manziel sprints away from Oklahoma's Tony Jefferson during a second-half run.
"He's not a Heisman winner for no reason," said Oklahoma safety
Javon Harris
, who scooped up an interception off Manziel when receiver
Malcome Kennedy
bobbled what likely should have been Manziel's fifth touchdown of the night. "You saw what he did to the SEC all year. We knew exactly what we were going to get into."
Stoops' defense refused to blitz Manziel for most of the night, but the Aggies' strong offensive line -- led by bookends and future NFL first-round picks
Luke Joeckel
and
Jake Matthews
-- hardly allowed Oklahoma's defensive linemen to make Manziel notice they were even trying to chase him down. For much of the game, Oklahoma's secondary would cover the Aggies' receivers, but Manziel would find a crease and turn a broken play into a big gain.
"It's hard if you've got an angle on him," Bob Stoops said. "He stops, goes the other way. If you don't he outruns you."
Despite spending the past month making a post-Heisman nationwide media circuit and losing his offensive coordinator, Kliff Kingsbury, Manziel strung together one of the best highlight reels in bowl history, which was set to a soundtrack of "Johnny B. Goode" from Chuck Berry on the big screen at Cowboys Stadium as the final minutes of the game ticked away and Texas A&M fans serenaded the exiting Oklahomans with an "S-E-C" chant.
More like Johnny B. Great.
"There wasn't anything holding us back. No rust. There was no nothing," Manziel said.
He energized the crowd as few have ever had the ability to do, the volume level in Cowboys Stadium rising quickly any time he fled the pocket. Oklahoma's defense could do little to stop him or to quiet the Aggies-friendly crowd of 87,025, the biggest Cotton Bowl crowd ever at the venue.
A media flock hounding him while he did required postgame TV and
radio interviews

couldn't catch him either after he sprinted from midfield to the corner of the stadium to finish the last few bars of the "Aggie War Hymn" with his teammates in front of the Fightin' Texas Aggie Band.
"This is kind of a game that turned the page again," Manziel said. "People asked me earlier in the year about what game made it all click. There was the Arkansas game, and this game tonight made me flash back to that."
That's a scary thought for the rest of the SEC, which could spend the next three years chasing a quarterback nobody can seem to catch, inside or outside the pocket. He helped Texas A&M become the first offense in SEC history to amass 7,000 total yards, and there's no reason he won't do it again. With Manziel taking snaps and breaking tackles, there will be plenty of national title talk in Aggieland over the next few months, with a blowout victory over the Sooners serving as springboard. Texas A&M proved it was better than national title game favorite Alabama on a November afternoon in Tuscaloosa. Can it be better than everyone in the nation for three months next fall?
"For everybody next year, this is the first game of the new year," A&M coach Kevin Sumlin said. "It sets the bar."
Manziel will be around to help us all find out if the Aggies will clear it.
October, 23, 2012
10/23/12
5:00
PM ET
By
Sharon Katz, ESPN Stats & info
| ESPN.com
Two of the top Heisman Trophy candidates, West Virginia's
Geno Smith
and Texas A&M's
Johnny Manziel
, were shut down in their own buildings on Saturday. How did it happen?
Kansas State dropped in coverage and limited big plays
Kansas State did not do anything tricky on defense in its 55-14 win over West Virginia. The Wildcats played coverage and tackled. They had a season-low three missed tackles and dropped at least seven defenders in coverage on 42 of Smith's 43 dropbacks. The extra coverage limited Smith's deep options and provided less space for West Virginia's shifty receivers.

Entering the game, West Virginia was one of the top big-play passing offenses in FBS, averaging 7.8 completions of 15 yards or longer per game. Kansas State did not allow one 15-yard completion, the first time since October 2008 that West Virginia failed to complete one such pass.
Kansas State did not allow Smith to beat the Wildcats deep. Smith was 0-for-5 on passes that traveled at least 15 yards in the air. Smith had completed one pass of this distance in 24 straight games before Saturday.
In his past two games, both losses, Smith has completed just 8.7 percent of his throws 15 yards or longer, with 12 of his 21 incompletions being off-target (overthrown, underthrown or wide). In his first five games of the season, Smith had just eight off-target 15-yard throws.
Without a viable deep game, Smith looked short to his receivers and hoped that one of the nation's top teams at running after the catch could break some long plays.
West Virginia was averaging 203.8 yards after the catch per game, including 85.5 yards after the catch on screen passes. But against the Wildcats, West Virginia was held to a season-low 117 yards after the catch and 65 yards after the catch on eight screen passes.
Entering the game,
Tavon Austin
led receivers from AQ schools with 491 yards after the catch. Against Kansas State, Austin gained only 29 yards after the catch, his fewest in a game since the start of 2011.
Manziel Limited Outside of the Pocket
Against LSU, Manziel was held to a season-low 27 yards rushing, including just 25 yards on scrambles. Manziel entered the game leading the SEC in rushing yards (475), touchdowns (7) and first downs (20) when scrambling.
Manziel attempted as many scrambles as normal, but failed to break any long runs. His longest scramble against LSU gained 14 yards. In his first six games, Manziel had 12 15-yard scrambles, including six touchdowns.
With LSU taking away the running lanes, Manziel attempted a career-high 56 passes -- including 49 inside of the pocket, or 16 more than he had ever attempted in the pocket.
Inside of the pocket against LSU, Manziel completed 55.1 percent of his passes and averaged a season-low 5 yards per attempt. Even worse, Manziel threw two interceptions from inside the pocket for the first time this season. Entering the game, Manziel was completing 69.3 percent of his passes inside of the pocket with just two interceptions in 150 attempts.
September, 25, 2011
9/25/11
2:15
AM ET
MORGANTOWN, W.Va. -- LSU coach Les Miles could feel it. His players could feel it. The West Virginia crowd, once silent, rose up into a chorus of roars.
They waved their gold towels furiously. This was the momentum shift they had waited for all game long. West Virginia had just closed the gap on No. 2 LSU to 27-21 with 1:16 to play in the third quarter -- the closest the Mountaineers had come to the Tigers since early in the second quarter. West Virginia has been a team of fits and starts this season -- so perhaps this was it. Perhaps the Mountaineers were about to begin their roll.
Corey Smith kicked off.
Morris Claiborne
fielded the ball at the 1. Ahead of him, he saw blockers line up. Claiborne knew he had to redeem himself from what he called a terrible first half -- he got beat on a touchdown, got flagged for a personal foul. He was fighting a cold, too, his raspy voice a dead giveaway.
[+] Enlarge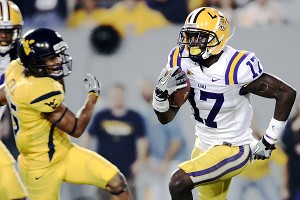 AP Photo/Jeff GentnerWest Virginia's offense didn't score again after Morris Claiborne returned a kickoff for 99 yards and a touchdown late in the third quarter.
He took off, a few steps here a few steps there. Alluding one tackler here, another there. And then he was off. In the span of 16 seconds, the West Virginia crowd fell silent again. The Mountaineers players hung their heads. Claiborne returned the kick 99 yards, and LSU romped
47-21
on Saturday night. LSU ended the game with 21 unanswered points, an emphatic answer to yet another challenge thrown their way.
"We knew we had to do something," Claiborne said. "It just so happens we broke the kick."
The Tigers sit 4-0 today, having beaten three ranked teams on the road. They have withstood the strongest test of any team in the country, with a quarterback thrown into the starting job just before the season began. These Tigers are resilient, yes. But they are also unquestionably good, able to beat teams in a variety of ways. Whatever it takes to win.
"Our guys seem to answer the bell, enjoy a competitive environment." Miles said. "I feel comfortable going on the road and playing with this team. I think if we continue to improve, continue to do the things we're capable of, somewhere down the road, we'll stake a claim on something important."
West Virginia and its fans came ready to play. Miles described the raucous scene in Morgantown this way, "They were having a football party and invited us. I knew our guys would show up."
Play got chippy early on with a few personal fouls. LSU running back
Spencer Ware
said the West Virginia players were talking trash, and that served as extra motivation. But the gulf between the best team in the SEC and what many believed was the best team in the Big East was apparent almost from the outset.
The Mountaineers punted on their first drive, and LSU scored on its first drive, easily marching down the field. West Virginia has the type of offense that can serve it well in a shootout. But it does not have the type of team that can survive four turnovers. There is not a team out there that is likely to survive that.
LSU turned those mistakes into 21 points. West Virginia was forced to pass because it faced such big deficits throughout the game.
Geno Smith
threw a school record 65 times, completing 38 of his passes for 463 yards and two touchdowns.
Tavon Austin
made a huge impression on Miles, with 187 yards receiving on 11 catches. But the Mountaineers had 22 runs, an imbalance that cannot be ignored.
"There were a couple of times I thought we had momentum," West Virginia coach Dana Holgorsen said. "We did some good things offensively and defensively, but you can't beat a good team by doing that. You can talk about 500 yards if you want to, but the only thing I'm going to talk about tomorrow is four turnovers. Three out of our four games we had zero turnovers."
Special teams were a killer, too. On Claiborne's kickoff return, Holgorsen said, "We just didn't block anybody, it's plain and simple. We didn't tackle."
In addition to that, LSU punter Brad Wing averaged 48.7 yards a punt and landed all six of his punts inside the West Virginia 10-yard line. West Virginia had 10 penalties for 73 yards, double what LSU had. When you make so many mistakes, you are going to have a hard time beating anybody, let alone the No. 2 team in the nation.
Speaking of that ranking, a case can be made for LSU to be No. 1 with the stretch of ranked teams it has beaten on the road. It was a popular post-game question, one that everybody deflected.
"I don't know. I can't say," LSU quarterback Jarrett Lee said. "We've beaten some good teams so I think we're up there. We've just got to keep working hard each and every week. We're up there for sure."
The goal is not to be No. 1. But to be No. 1 at the end of the season. Miles loves the road identity of this team, and he knows it will only serve it well as the heart of SEC play approaches. The Tigers have answered all their tests for now. But there will be plenty more down the road.
"I like the position we're in," Miles said. "I don't think we're the best team in the country. There's that hope and that want and desire for this team."
September, 24, 2011
9/24/11
11:58
PM ET
MORGANTOWN, W.V. -- No. 2 LSU finished off a brutal September schedule with yet another impressive win, this one
47-21
over No. 16 West Virginia on Saturday night.


Could the Tigers be the new No. 1 on Sunday? They certainly have made a case.
LSU withheld a challenge from West Virginia -- especially in the third quarter, when
Dustin Garrison
's 1-yard touchdown run pulled the Mountaineers to 27-21. But Morris Claiborne returned the ensuing kickoff 99 yards, LSU extended its lead and West Virginia never threatened a again.
West Virginia had success passing on the LSUdefense -- if only because it was forced to throw nearly every down -- and protected quarterback
Geno Smith
well.
Tavon Austin
had some spectacular plays. Smith completed 38 of 65 passes for 463 yards. Eleven of those completions and 187 yards went to Austin.
But the Mountaineers simply could not get anything going consistently, and turnovers were an absolute killer. West Virginia had four of them, and LSUturned them into 21 points -- one of the biggest differences in the game. Tyrann Mathieu forced two of those mistakes and had another great performance.
LSU also won special teams as well. Not only did it have the kickoff return for a score, punter Brad Wing certainly deserves mention as an MVP for the Tigers for kicking six punts inside the West Virginia 20.
The West Virginia defense also had its share of tackling problems, and never got a good pass rush going. LSU gashed the Mountaineers for some big runs as well. It was the first time West Virignia has allowed 40 points at home in regulation since a 40-23 loss to Miami in 2002.