November, 14, 2013
11/14/13
1:15
PM ET
COLLEGE STATION, Texas — Even though Texas A&M sophomore running back and kickoff return specialist
Trey Williams
had a touchdown return nullified for a penalty, special teams coordinator Jeff Banks didn't rant to Williams about the miscue. He didn't have to.
[+] Enlarge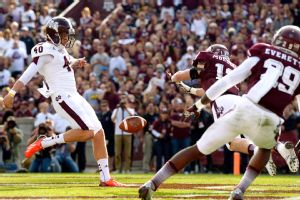 Thomas Campbell/USA TODAY SportsThe Aggies special teams unit, seen here blocking a punt against Mississippi State, has come up big in recent weeks.
"I told him 'I hate it for you because you took away what a great play you made. That's punishment enough. I don't need to yell at you,'" Banks recalled telling Williams.
Early in the fourth quarter of the Aggies' 51-41 win over Mississippi State last Saturday, Williams returned a kickoff 100 yards for a touchdown. As he approached the goal line, he kept in the air, diving in the end zone, but officials ruled it "unsportsmanlike conduct" as part of a new rule established in recent seasons. The fact that Williams began the act before the end zone meant the penalty would be enforced from that spot. The Aggies scored a few plays later and head coach Kevin Sumlin discussed the matter on the sideline with Williams shortly thereafter, but on Monday, Banks credited his return man anyway.
"I felt bad for Trey but yesterday, I rewarded him with an award [Monday] for having a [100]-yard return for a touchdown," Banks said. "I think he knows enough what happened. I'm sure he'll be on a 'Not Top 10,' or a 'C'mon Man!'"
Jokes and penalties aside, it was part of a solid special teams performance for Banks' group, something that turned out to be significant in Saturday's win. Throughout the season, the Aggies have had their ups and downs in the third phase of the game, but lately it appears they're steadily improving.
Banks noted in recent weeks that his kickoff return group was getting closer and closer to breaking free for a score. When it finally happened, it was the result of Williams' ability, blocking and coaching.
"This was a team that was pretty good at kickoff coverage, but at the same time they had done something different every week," Banks said. "And Trey Williams is phenomenal in improvisation and being able to make people miss in short space and get to the open field. So it was a combination of both of those things."
Because of the different looks Mississippi State showed every week in covering kickoffs, Banks chose to have his group block man-on-man rather than try to scheme something in particular to generate a return. It paid off.
Perhaps the most significant progress on special teams has come in the kicking game. After an inconsistent start to the season on field goals and point-after-touchdown kicks by placekicker
Taylor Bertolet
(which followed a rough freshman season), Banks made a change, going with walk-on
Josh Lambo
.
Since taking over, Lambo is 6-of-7 on field-goal attempts and 39-of-40 on PATs. Both misses were the result of miscues on holds. His success includes a game-winning 33-yard field goal as time expired at Ole Miss on Oct. 12.
Bertolet still has a role in the kicking game, serving as the kickoff specialist. He's averaging 62.4 yards per kickoff and has 34 touchbacks to his credit.
"It's huge peace of mind, both on kickoff and the field-goal kicking situation, to know what we're getting every game and to know that they can do it at a high level," Banks said. "I think that's probably more of why I'm feeling so good now. Taylor Bertolet's kicking off really well, kicking to the corners when we need him to, kicking it out [of the end zone] when we need him to and then Lambo's kicking really well. He just hasn't had a lot of opportunities to kick field goals. ... I'm looking forward to him being a big factor in the next two weeks."
And in each of the past two weeks, the Aggies have also come up with a blocked punt. They started the UTEP game on Nov. 2 by blocking a punt on the Miners' first possession that turned into a safety. On Saturday against Mississippi State, they did it again ... and again ... got two points.
"They run several different protections, this last team, and we didn't know which one they would run, so we had to bring an overload type of a block that would block it versus every protection," Banks said. "We got lucky that they switched their protection completely and we wound up getting two guys free as opposed to one. There were some schematics involved with that."
The performance is certainly something that made Sumlin happy.
"I thought all in all, it was another really good performance by our special teams unit again," Sumlin said. "We blocked a punt and a field goal. We had a great kickoff return. All those things helped us win that football game. Across the board, we did some things that were really good, but I thought our special teams unit was exceptional."
October, 15, 2013
10/15/13
7:00
PM ET
COLLEGE STATION, Texas -- The scene was one
Josh Lambo
might never forget.
As his game-winning 33-yard field goal sailed between the uprights with triple zeroes on the clock and fell to the turf at Vaught-Hemingway Stadium in Oxford, Miss., Lambo ran toward the Texas A&M sideline and performed a soccer-style celebratory slide, an homage to his pre-A&M background.
[+] Enlarge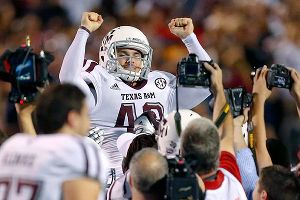 AP Photo/Rogelio V. SolisWalk-on kicker Josh Lambo was the Aggies' hero as he hit a 33-yard field goal to win the game vs. Ole Miss.
Aggies mauled him, screaming, yelling and jumping in joy as they reveled in the satisfaction of again escaping with a hard-fought
41-38 win over Ole Miss
. They lifted Lambo into the air and as the seconds passed, coaches and players came to Lambo to hug him, congratulate him, thank him.
Even
Johnny Manziel
, the Aggies' all-everything player and Heisman Trophy winner, approached the walk-on kicker. With his hand clutching the back of Lambo's head to bring him in close, Manziel shared more than a few private words into Lambo's left ear mere feet away from the goal posts that Lambo successfully split moments before.
It was a scene Lambo would have never pictured a couple years ago while playing goalkeeper for Major League Soccer squad FC Dallas.
"I could say I've had better [nights] but I'd probably be lying to you," Lambo said.
The journey to that moment is an unlikely one for the walk-on kicker. Before arriving in Aggieland in 2012, Lambo never put on football pads. He was a soccer player from Wisconsin and found his way to Texas through the 2008 MLS Super Draft, when FC Dallas selected him eighth overall in the first round.
Lambo was with the club through 2011. Before his final season, he was having a meal in a diner with his mother when she suggested he return to his home state and give college football a try. Lambo dismissed the idea initially.
"My mom said 'Come kick for the Badgers. Come back up to Madison,'" Lambo recalls. "I said 'No mom, there's no way I can kick. It's too boring, they don't do anything.'"
But throughout his last season with FC Dallas, he said the thought nagged at him. After his time with the club was up and he didn't get a new contract, he passed on other contract offers from other clubs and decided to give it a shot. He got in touch with former Wisconsin kicker Taylor Mehlhaff and asked if Mehlhaff could teach him how to placekick. Mehlhaff obliged and Lambo began training.
He walked on with the Aggies in 2012 and didn't see any on-field action but competed for a job during preseason camp prior to this season and became the backup to returning starter
Taylor Bertolet
. When Bertolet struggled early in the season on point-after-touchdown kick attempts, the staff turned to Lambo for that duty.
His first career attempt against SMU on Sept. 21 was unsuccessful as the result of a bobbled hold, but his next attempt went smoothly and his first field goal attempt that night, from 40 yards away, was also good.
Lambo has held on to field goal and PAT duties ever since, while Bertolet continues to handle kickoffs. But the transition Lambo had to go through to transition from goalkeeper on the soccer pitch to placekicker on the gridiron was a significant one.
"The biggest difference was definitely the pads and the helmet and having a snap and a hold," Lambo said. "Going toward a target where there's not a ball and then there's suddenly a ball appears and then you have to kick it, that took a little bit of time. I think my first couple of kicks with a snap and a hold here were pretty ugly last fall in 2012. But I kept on working at it and it paid off."
On Saturday, with the game tied at 38 and time ticking down, coach Kevin Sumlin knew where his offense had to go in order to get within range for a game-winning kick by Lambo. Special teams coordinator Jeff Banks told Sumlin prior to the game that the 33-yard line would be the goal, which would give Lambo a 50-yard attempt.
"I was not quite comfortable with the 33-yard line," Sumlin said with a laugh. "So we kept running the ball."
The Aggies eventually reached the 15, setting Lambo up for a 33-yard attempt. He drilled it, said after the game it was his "best kick" of the night and carved himself out a small spot in Aggie lore.
"I'm just really appreciative of the coaching staff giving me a chance to prove my worth and show them what I can do," Lambo said. "Unfortunately the circumstances came to where I got to go in [earlier in the season], but you know, whenever I got my chance, I knew I was going to take it and I just praise God that I've been able to utilize my opportunities."
September, 30, 2013
9/30/13
3:00
PM ET
Texas A&M is 4-1 after its first five games of the season. The Aggies split their first two SEC games and get a brief break with an open date this weekend. With the bulk of their league schedule coming up after the off week, let's analyze where the Aggies are and what's ahead:
The good
[+] Enlarge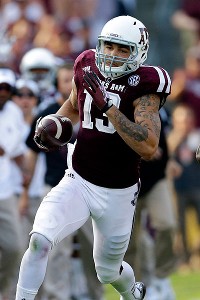 AP Photo/David J. PhillipTexas A&M's Mike Evans might be the best receiver in the nation and a Heisman candidate.
Johnny Manziel and Mike Evans:
These two had high expectations coming into the season based on their 2012 performances, and you could argue that they have exceeded them thus far in 2013, especially Evans. The sophomore receiver is making his case to be considered among the best receivers in the country, if not the best. Only Oregon State's
Brandin Cooks
has more receiving yards than Evans' 691, but Evans's schedule includes Alabama, which he torched for a school-record 279 yards. Manziel ranks in the top 10 nationally in several categories, including total offense, passing efficiency, QBR, touchdowns responsible for and passing yards. He has made a concerted effort to become a better pocket passer, showing more patience when dropping back, but it hasn't taken away from his signature scrambling ability that makes him such an offensive force. If the Aggies continue to win and these two continue to play as they have, one could make the argument that both deserve to be in the Heisman Trophy discussion.
The offensive line and running game:
There were some questions coming into the season about how the Aggies' offensive line would fare after losing Luke Joeckel to the NFL draft and center Patrick Lewis to graduation. So far, the Aggies have continued to shine in this area. The protection provided to Manziel when he passes has been stellar, and the Aggies have not had much trouble running the football, averaging 221.4 yards per game. On Saturday against Arkansas, the Aggies actually had more rushing yards than passing. And the last two weeks, we've seen the coaching staff use all four scholarship running backs (
Ben Malena
,
Tra Carson
,
Trey Williams
and
Brandon Williams
) effectively. Malena continues to be a steady force, Carson has provided a hammer who can break tackles and get short yardage but is explosive enough to get chunks as well, and the Williamses are both explosive talents with a lot of speed.
Deshazor Everett:
The junior defensive back has been the Aggies' best defensive player this year. Though cornerback is his usual home, he moved to safety for the last two weeks to help alleviate some issues in the secondary. He performed well in both positions, is second on the team with 31 tackles and leads the team with two interceptions, including a pick-six against Arkansas. If the Aggies had more Everetts, their defense would be better off.
Play-calling:
The offensive staff, led by offensive coordinator and play-caller Clarence McKinney has done a solid job of ensuring the offense utilizes its many weapons. There has been plenty of balance in the play calls (Texas A&M has run the ball 202 times and attempted 179 passes), the pace of the offense remains high, and it appears the Aggies have had an answer for almost anything opposing defenses have thrown at them. The one game in which the Aggies came up short was due to two turnovers against No. 1 Alabama.
The bad
The defense:
To say the Aggies have struggled defensively is an understatement. Texas A&M is 112th nationally in yards allowed per game (476.8), 109th in yards allowed per play (6.59), 107th in rushing yards allowed per game (214.8) and 94th in passing yards allowed per game (262). Some of those struggles were the result of missing personnel in the first two games because of suspensions, but that's not an excuse anymore. Alabama and Arkansas both moved the ball with relative ease against the unit. In the second half against Arkansas on Saturday, the A&M defense did show the ability to get some key stops and make a few plays, so that might be encouraging, but it will have to build on that when it faces Ole Miss on Oct. 12.
The kicking game:
The Aggies had to make a change at place-kicker, removing
Taylor Bertolet
from PAT and field-goal duty and replacing him with walk-on
Josh Lambo
. The issues haven't just been with the actual kickers, but there were also a couple of botched holds in the first four games. Leaving points on the board might not cost Texas A&M against nonconference foes like Sam Houston State or SMU, but it will cost them in SEC play if it continues to happen. Is Lambo the answer? He had a solid day on Saturday against Arkansas, going 6-for-6 on PATs and hitting a 39-yard field goal. So far he's 2-for-2 on field goals and 7-for-8 on PATs with his only miss coming as the result of a fumbled hold.
What's ahead
Texas A&M has a chance to heal up some injuries this week, which is critical after three starters -- defensive tackle
Kirby Ennis
, linebacker
Darian Claiborne
and Evans -- got banged up. Safety
Floyd Raven
, who has been out with a collarbone injury, continues to make progress in hopes of a return before long.
With the meat of the SEC schedule coming up, the Aggies have to get better on defense if they hope to realize some of their season goals. The offense continues to put up 40 points per game, but if for some reason it has an off night, A&M has to be able to rely on the D to help it pull through. Aside from the kicking game, special teams has been solid overall, and if Lambo is the answer at place-kicker, that's a positive for A&M moving forward.
Perhaps most notably, the drama is behind the Aggies. The constant headlines and media circus that followed the team, specifically Manziel, is in the rearview mirror. Led by Kevin Sumlin, the Aggies handled it well and didn't allow it to distract them from the task at hand.
September, 24, 2013
9/24/13
3:15
PM ET
COLLEGE STATION, Texas — The applause at Kyle Field were loud and boisterous.
After three consecutive point-after-touchdown kick attempts failed in
Texas A&M's 42-13 win over SMU
on Saturday, the volume level of the exuberant Aggies when
Josh Lambo
put one through the uprights with 11:34 remaining in the third quarter were nearly as high as it was when running back
Ben Malena
put six points on the board right before it.
Such is the life of the Texas A&M kicking game right now, where every point is appreciated.
Lambo, a sophomore walk-on, is now in what coach Kevin Sumlin called Tuesday an "ongoing competition," for placekicking duties with former starter
Taylor Bertolet
.
The transition took place on Saturday when the Aggies struggled on extra points. Bertolet missed consecutive attempts in the first half, reminiscent of his struggles in 2012 when he was 67-of-74 on PATs and 13-of-22 on field goal attempts. He is 23-of-26 this season on PATs and 2-of-3 on field goal attempts, with his lone miss being a 31-yarder against Sam Houston State.
After an inconsistent season in 2012 and some early struggles in the Aggies' first four games, the coaching staff decided to try someone new in Lambo, who competed with
Kyle Serres
during training camp.
"What we're doing is based on competition," Sumlin said Tuesday. "The ability to play in games and based on how you compete during practice and your success rate during practice, so that's where we are.
"That will continue to be the case. It won't change this week or next week. That's a work in progress. I think there's some things that both guys do that are positive, but in this business, life pays off on results, so that's where it is."
Lambo's first PAT attempt Saturday failed because of a fumbled snap by holder/punter
Drew Kaser
, but he connected on his next attempt as well as a 40-yard field goal late in the third quarter against SMU. Struggles with the hold is also something seen earlier this season.
"Drew's had a couple of those. ... The whole operation has to work," Sumlin said of the kicking game. "Those are things people take for granted. It's like any other position, where you have dropped balls -- concentration is part of that. We'll get that fixed and get that addressed. Like I said, competition is good for everybody."
Bertolet continued to handle kickoffs, as he has since last season. But at least for now, it looks like he has company in the kicking game in Lambo, a Middleton, Wis., product who transferred to A&M from Collin College.
"We're going to keep the competition up just like we do at every position," Sumlin said after Saturday's game. "The guys who compete earn the spot. Lambo came in and did a good job [Saturday]."
September, 22, 2013
9/22/13
12:43
AM ET
COLLEGE STATION, Texas -- Coming off a thriller that few will soon forget, No. 10 Texas A&M had a few questions to answer going into Saturday's battle with SMU.
Though it's way too early to surmise that they've permanently answered some of those questions, the Aggies certainly took steps toward a few solutions in their dominant 42-13 win over the Mustangs at Kyle Field.
The biggest question about the Aggies after three games surrounded their defense, or lack thereof. If Texas A&M (3-1) couldn't prove that it could get stops against an opponent like SMU (the Aggies already allowed significant yardage to Rice and Sam Houston State, though the unit was shorthanded for both games), when would it ever show that? The rest of A&M's SEC schedule is coming, starting with a road game at Arkansas on Sept. 28.
Fortunately for the Aggies, the unit showed some progress.
[+] Enlarge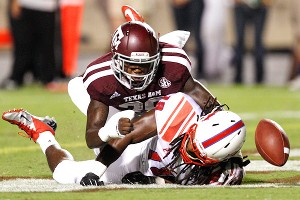 AP Photo/Bob LeveyDeshazor Everett's move to safety this week was one of several moves that help jumpstart the Texas A&M defense.
Though SMU compiled 292 yards in the first three quarters as A&M built a 42-6 lead, the Aggies were stellar on third downs, holding the Mustangs to just four conversions on its first 14 attempts in that span and 5-of-16 for the game.
"We looked pretty fast out there tonight," Aggies defensive coordinator Mark Snyder said. "There were times where we looked extremely fast, which is what I was hoping was the case. We still have some areas that we've got to work on, but it was a much better game from our sideline tonight."
Snyder made two key personnel changes this week. He moved starting cornerback
Deshazor Everett
to safety to help address the issues the Aggies have had in coverage and he inserted true freshman
Darian Claiborne
into the starting lineup at middle linebacker.
"I think we have the right guys on the field right now," Snyder said. "[Claiborne] needs to play and needs to be on the field. He was able to make the adjustment from [weakside linebacker] to [middle linebacker] in a week. … I was really proud of him. He handled getting the front [seven] set, he brought a lot of energy, he's a lot like
Steven Jenkins
and I was very, very happy with that."
Everett spent time at both cornerback and safety last season, so it's not an unfamiliar move for the junior. By moving him back there, the Aggies moved third cornerback
Tramain Jacobs
to the starting lineup next to
De'Vante Harris
, and he didn't appear to miss a beat. Everett said because SMU runs an offense similar to A&M's, the transition was smooth.
"It was pretty simple," Everett said. "I see those formations a lot and I know what the safety's checks are to me at corner. … It kind of helped me because I know where the corner is going to be and where I should be if I were a corner, to want safety help."
Was Saturday a sign that a cure-all is coming to a defense that ranked in the bottom 20 in the nation in total yards allowed and rushing yards allowed coming into the game? Far from it. But it was a much-needed positive performance from a group that has struggled through youth, inexperience and missing personnel because of suspensions or injuries in the first three games. On-field communication and the ability to make adjustments in the first three games was a chore simply because of the lack of consistency in starting personnel from week to week.
"In the first couple, three weeks … there were a lot of moving parts and guys out there just worrying about doing their job, not being able to communicate," head coach Kevin Sumlin said. "There's definitely a comfort factor with having all your pieces back and being able to not only play that play but also make adjustments as the game moves on."
With the Aggies resuming SEC play next week in Fayetteville, Ark., having some success on defense is key.
Offensively, the Aggies ran smoothly, as they have most of the year. Quarterback
Johnny Manziel
threw strikes when he stayed in the pocket and chewed up rushing yards when he darted out of it. His night, which included 244 passing yards, 102 rushing yards and three total touchdowns, was done by the 10:06 mark of the third quarter with the Aggies leading 39-6.
Malcome Kennedy
(six catches, 83 yards) continued to show that will be a legitimate receiving threat to complement star sophomore receiver
Mike Evans
and the running game was productive and efficient, led by Manziel and
Ben Malena
(13 carries, 71 yards, two touchdowns).
The win wasn't without its warts though. Like SMU, the Aggies were heavily penalized (there were 29 accepted penalties in the game, 13 of which went against the Aggies for 114 yards) and the kicking game continues to be a struggle. Sophomore place-kicker
Taylor Bertolet
missed back-to-back point-after-touchdown kick attempts in the first half and was replaced thereafter by junior walk-on
Josh Lambo
. And what happened when Lambo entered the game? Holder
Drew Kaser
bobbled a snap -- the second time that's happened this season -- and as a result, Lambo's first PAT attempt failed.
When Lambo connected on a PAT after a Malena touchdown run with 11:34 remaining in the third quarter, it almost seemed as if the cheers for Lambo were as loud as those for Malena's touchdown. Finding a solution at place-kicker is critical if the Aggies expect to remain contenders in the SEC West. Against SMU, those points left on the field didn't matter. Against Ole Miss or LSU on the road later this season, they might.
Sumlin, when asked who will be kicking field goals and PATs moving forward, called the situation "a competition."
"We're going to keep the competition up just like we do at every position," Sumlin said. "Lambo came in and did a good job. … It's just like any other position. … We evaluate guys every week, no matter what the position, so there will be competition there."
But the Aggies made some plays on defense. They forced a turnover that led directly to points when defensive back
Toney Hurd Jr
. jolted the ball loose from receiver
Jeremiah Gaines
, a fumble that Everett returned for a 12-yard touchdown. Linebacker
Tommy Sanders
intercepted a pass late, and though he fumbled, freshman defensive end
Daeshon Hall
was able to scoop it up for a 39-yard return. The secondary was tested a few times in the first half by SMU quarterback
Garrett Gilbert
(37-of-62 passing, 310 yards) but passed with flying colors when it came to third downs or plays near the end zone or red zone.
"I feel like going back into SEC play [next week] it was great for us to come and play well," Hurd said. "It was great for our defense to put a good showing out tonight."
August, 31, 2013
8/31/13
8:52
PM ET
COLLEGE STATION, Texas -- There are several reasons Texas A&M was so highly thought of and had lofty expectations coming into the 2013 season.
The No. 7 Aggies, who were ranked in the top 10 of both preseason polls (they were No. 6 in the coaches' poll), returned a Heisman Trophy-winning quarterback, a plethora of running backs and an All-America caliber tackle, and play a style of offense that many SEC teams -- defending champion Alabama included -- find hard to defend.
And while there were several positives to take away from Texas A&M's season-opening 52-31 win over Rice on Saturday at Kyle Field, the win also illustrated that the Aggies still have a long way to go in several areas if they plan on fulfilling championship expectations.
[+] Enlarge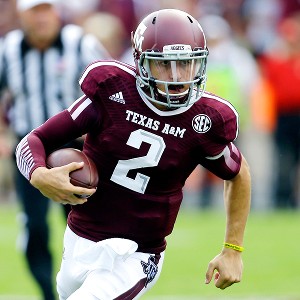 AP Photo/Eric GayThe good news is Johnny Manziel looked like his Heisman Trophy winning self once he got in the game. The bad news is the Aggies look like they still have lots of work to do if they want to win titles.
One of those areas is maturity. Head coach Kevin Sumlin discussed that after the game, and while he was specifically addressing it in relation to the ejection of freshman defensive end
Daeshon Hall
and the unsportsmanlike conduct penalty drawn by quarterback
Johnny Manziel
after a touchdown pass, Sumlin's words can apply across the board.
The Aggies had eight players miss at least the first half of Saturday's game. Four were suspended for "violating Texas A&M athletics department rules and regulations." Three were suspended after offseason arrests and Manziel was suspended for the first half after "inadvertent violations" that occurred as a result of signing autographs after the conclusion of an NCAA investigation.
That was also part of Manziel's message, according to Sumlin, to his teammates when he addressed them on Friday as part of the requirements of restoring his eligibility.
"Actions just like today and just like other guys on this team, those actions may be actions that you think just hurt you, but they end up hurting the whole football team," Sumlin said. "That was the real gist of [Manziel's] message to the team. That everybody's individual acts affect the team. When that happens, it's not good."
Of the suspended players, five were defensive starters (defensive tackle
Kirby Ennis
, cornerbacks
Deshazor Everett
and
De'Vante Harris
, linebacker
Steven Jenkins
and defensive end
Gavin Stansbury
). Another, Floyd Raven, is a key player expected to contribute this fall and was one time projected to start at free safety before
Clay Honeycutt
wound up first on the depth chart after a strong training camp.
As a result, the Aggies' defense was filled with true freshmen and newcomers getting significant playing time on Saturday and ended up surrendering 509 total offensive yards. Now, Rice is a good team in Conference USA that could contend for the league title, but it's not nearly the caliber of opponent Texas A&M will see on its SEC schedule. The Owls ran for a whopping 306 yards -- six yards a carry -- and appeared able to run right at the Aggies' defense.
The Aggies struggled with missed tackles and missed assignments, which are to be expected when you have a significant number of 18- and 19-year-olds on the field.
"We played 20 guys out there that had never played before," Sumlin said. "Is that an excuse for our play? No. I think we learned from today."
The Aggies regain the services of Ennis and Raven next week, though Everett will again have to sit out a half, by rule, because he was ejected in the second half after being called for a targeting penalty. The other four suspended -- Jenkins, Harris, Stansbury and receiver
Edward Pope
-- won't return until Sept. 14 when the Aggies host No. 1 Alabama.
But there were plenty of positives to be seen as well, most notably in the win column. Backup quarterback
Matt Joeckel
showed he was capable of moving the offense, leading the Aggies to 28 first-half points while putting up more than respectable numbers (14-of-19 passing, 190 yards). Joeckel's lone touchdown pass was a 71-yard catch-and-run completion to an apparent star in the making, 6-foot-5, 240-pound true freshman receiver
Ricky Seals-Jones
.
Players who are considered to be among the team's leaders, running back
Ben Malena
(100 total offensive yards, two touchdowns) and
Mike Evans
(84 receiving yards, two touchdowns) played their roles aptly. The kicking game was consistent as
Taylor Bertolet
was perfect on all his kick attempts, something he struggled with last season. And as Sumlin noted, the positive to having so many young players on the field on defense means they'll have a chance to learn from their mistakes and develop. Though there were struggles, they came up with turnovers and still did enough to win.
Most importantly, the Aggies got their quarterback, Manziel, back on the field in the second half and he looked like the player who captivated the nation a season ago. He was 6-of-8 passing for 94 yards with three touchdown passes and showed his trademark scrambling ability, though Rice did a solid job of keeping him from running too wild.
This is a team that has encountered a lot this offseason. From the headlines Manziel made and the NCAA investigation, to the suspensions and most importantly, the death of a teammate --
Polo Manukainiu
-- the Aggies have already dealt with their fair share of adversity.
The Aggies honored Manukainiu on Saturday by wearing decals with his number, first name and a Tongan-inspired design on their helmets and electing sophomore defensive tackle
Alonzo Williams
to wear Maunkainiu's No. 90. The team will elect a different defensive lineman to do so each week as a nod to Manukainiu and his family that he is "still out there with us," senior defensive back
Toney Hurd Jr
. said.
This team has lofty goals. Hurd mentioned Saturday the team would wear the Manukainiu decal "each and every week, leading [up] to the national championship." If they plan to get there, they have a lot of work still to do.
July, 11, 2013
7/11/13
2:50
PM ET
We conclude our position rankings by looking at special teams. These can be some of the unsung heroes of teams or they can be major goats. Believe it or not, it's hard out there for special teams guys.
Here's how all 14 SEC special teams units rank heading into the 2013 season:
1. Mississippi State:
The Bulldogs return starting kicker
Devon Bell
, who hit 14 of his last 18 field goals last year, and punter
Baker Swedenburg
, who averaged 41.1 yards per kick last year and had a net of 39.9 yards.
Jameon Lewis
was Mississippi State's top return man last year, averaging 25.9 yards on his 20 kick returns. He also took one 100 yards for a touchdown. With Johnthan Banks gone, Lewis could move to punt returner, while
LaDarius Perkins
and
Robert Johnson
can handle kickoffs. Mississippi State also allowed just 6 yards on 13 punt returns (.46 yards per return), but did allow two touchdowns on kickoffs.
[+] Enlarge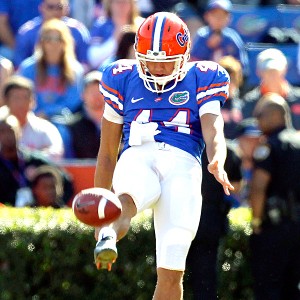 AP Photo/John RaouxKyle Christ has averaged 44.0 yards per punt in his two seasons at Florida.
2. Florida:
The Gators have to replace All-American kicker Caleb Sturgis, which won't be easy at all with nothing but inexperience there, but Florida has arguably the nation's best punter in
Kyle Christy
. He averaged 45.8 yards per kick, pinned 27 kicks inside the 20-yard line, blasted 25 punts that went 50-plus yards and ranked ninth nationally in net punting.
Andre Debose
proved to be one of the SEC's best return men again, averaging 28.3 yards on 18 kick returns and taking one back 100 yards for a score.
Loucheiz Purifoy
is a great cover guy and can help return kicks along with
Marcus Roberson
. Florida gave up 7.3 yards per punt return (one touchdown), just 18 yards on kickoffs and blocked six kicks last year.
3. Vanderbilt:
Carey Spear
knocked 20-of-24 field goals through last year, setting the school record for field goals made and kick scoring. He also didn't miss anything within 43 yards. Vandy must replace solid punter Richard Kent. Redshirt freshman
Colby Cooke
and walk-on
Taylor Hudson
competed at punter this spring, but freshman Tommy Openshaw could get a shot as well.
Jonathan Krause
returned 25 punts for 281 yards and became the first Commodore in 45 years to return two punts for touchdowns last year. Both
Brian Kimbrow
and
Andre Hal
averaged a little more than 22 yards per kick return. Vandy was solid defending kickoffs, but was second-to-last in the SEC in defending punts (10.7 yards per return and one touchdown).
4. Missouri:
The Tigers return one of the nation's best return men in
Marcus Murphy
, who took three kickoffs and a punt to the house last fall. He averaged 24.1 yards per kick return and 13.9 per punt return.
Andrew Baggett
, who only missed two kicks under 40 yards last year, was a an SEC All-Freshman Team member last year, but has to be more consistent in 2013. Punter is up for grabs with Trey Barrow gone. Junior
Christian Brinser
is the favorite, but has just one career punt.
5. Alabama:
The Crimson Tide has one of the league's most reliable punters in
Cody Mandell
, whose 44.3 yards per kick, pinned 19 inside the 20 and booted 14 50-plus yards.
Christion Jones
averaged 26.6 yards per kick return (eight returns) and had a touchdown last year, while returning 21 punts for 213 yards. He could get help from the shifty
Dee Hart
, who returns from an ACL injury. Short-yardage kicker Jeremy Shelley is gone, but long-distance man
Cade Foster
is back. He's shown improvement, but hit just 4-of-9 kicks last year and could share duties with redshirt freshman
Adam Griffith
. Coverage has to improve as well.
6. LSU:
The Tigers lost kicker Drew Alleman and punter Brad Wing. Losing Wing sounds like the most significant, but the staff feels pretty confident in fellow Aussie
Jamie Keehn
, who averaged 43.7 yards on 12 punts last year.
Odell Beckham
Jr. racked up 320 yards and two touchdowns on punt returns and might get more chances on kickoffs. Freshman
Jeryl Brazil
is extremely fast and shifty, so expect him to get work in the return game, too. LSU was also one of the best kick/punt coverage teams in the SEC last year. Finding a suitable kicker won't be easy, though. Two walk-ons competed for the kicking job this spring. Junior
James Hairston
has a monster leg, but has been inconsistent on field goals.
7. Ole Miss:
In hindsight, Ole Miss' coaches made a smart decision when they decided to redshirt
Tyler Campbell
. He was one of the country's best punters two years ago and has a career average of 44.6 yards per kick. In 2011, he downed 28 kicks inside the 20.
Jaylen Walton
became a dangerous returner for the Rebels last year, averaging 24.7 yards on 26 kick returns, and took one 100 yards for a score. The Rebels have to replace kicker Bryson Rose, but senior
Andrew Ritter
, who redshirted last year, should have the first crack at it. Though, he hasn't attempted a field goal in his career. Ole Miss also has to improve its kick coverage, as they gave up three total touchdowns on returns.
8. Auburn:
The Tigers had some of the best numbers around when it came to defending kickoffs and punts. But that's because Auburn didn't kick off much and opponents rarely punted. So it's tough to say how good the Tigers are in those areas, but on five punt returns the Tigers allowed just 4 yards. Kicker
Cody Parkey
hit 11 of 14 kicks last year and didn't miss from within 46 yards. He's also hit 51 straight extra points. Punter
Steven Clark
averaged only 39.8 per kick, but his hang time forced only five returns last year. Onterio McCalebb is gone, finding a game-changer like him is up for grabs. Eyes are on
Trovon Reed
and
Quan Bray
.
9. Arkansas:
Kicker Zach Hocker enters the season as the SEC's active career leader in extra points made (143), total points (287) and points per game (7.6). He'll have to improve on his 11-of-18 field-goal mark from last year. The Hogs were middle-of-the road when it came to defending returns and lost top return man Dennis Johnson.
D'Arthur Cowan
and
Nate Holmes
will handle return duties. Holmes ranked 10th in the SEC with a punt return average of 6.4 yards per return, while Cowan averaged 17.6 yards per kick return.
10. Texas A&M:
The Aggies have one of the SEC's best returners in
Trey Williams
, who averaged 22.3 yards on 25 returns.
Brandon Williams
, who should be a big-play athlete for A&M, should also help out on kick returns.
De'Vante Harris
and
Sabian Holmes
should provide the Aggies with some solid return options on punts as well. A&M lost punter
Ryan Epperson
, but
Drew Kaser
shouldn't miss a beat as his replacement. Kicker
Taylor Bertolet
has to be much better, though. He hit just 13 of 22 field goals, missed seven extra points and was just 2-of-9 on field goals between 30 and 49 yards.
11. South Carolina:
Bruce Ellington
is a very good and very experienced kick returner. He averaged 22.6 yards per return last season and had a long of 50 yards. Now, replacing Ace Sanders at punt returner won't be easy, but
Victor Hampton
should be a viable option there. He's extremely fast and is a fast-twitch player, so he should be able to create plays in space. Speedy
Damiere Byrd
will get a chance on kickoffs and possesses the speed to hit a home run when he touches the ball. Punter
Tyler Hull
is back after averaging 39.4 per kick and pinning 12 inside the 20.
Landon Ard
left spring as the top placekicker, but has only handled kickoff duty during his career.
12. Tennessee:
The Vols might have to rely on
Michael Palardy
to handle field goals, punts and kickoffs this fall. He hit 9 of 12 field goals last year, while
Derrick Brodus
hit 6-of-7. Only Palardy attempted a kick more than 40 yards last year and missed it. There will be competition at kicker, but Palardy should have the punter spot after averaging 43.1 yards per kick, pinning 16 inside the 20 and blasting 13 50-plus yards. With Cordarrelle Patterson gone,
Devrin Young
should take over kickoff and punt return duties. He was Tennessee's top punt returner last year.
13. Kentucky:
The Wildcats return one of the nation's best punters in
Landon Foster
, who averaged 42.9 yards per kick and had 22 kicks go for 50-plus yards last year. But Kentucky is still searching for a field goal kicker.
Joe Mansour
has been the kickoff guy for three years, but freshman Austin MacGinnis might be the guy the coaches are depending on the most when he gets in for fall camp. Kentucky has one of its top return guys coming back in
Demarco Robinson
, but lost
DeMarcus Sweat
this summer. Sweat averaged 20.5 yards per return.
14. Georgia:
The Bulldogs continued the trend of having issues defending returns, ranking last in the SEC in punt coverage (11.1 yards per return and a touchdown) and eighth in kickoff coverage (20.2 yards per return). Another concern is kicker, where
Marshall Morgan
could miss at least one game this fall following an arrest on June 29 for boating under the influence. He's Georgia's only scholarship kicker and was shaky last year, hitting 8 of 14 field goals. Punter
Collin Barber
averaged 41.5 yards per punt and pinned 19 of his 60 kicks inside the 20.
Malcolm Mitchell
has all the talent to be a return star, but his ill-advised decision-making has turned him into a liability.
May, 6, 2013
5/06/13
11:48
AM ET
2012 record:
11-2
2012 conference record:
6-2 (tied for second, West Division)
Returning starters:
Offense: 6; defense: 6; kicker/punter: 1

Top returners
QB
Johnny Manziel
, RB
Ben Malena
, OT
Jake Matthews
, WR
Mike Evans
, DT
Kirby Ennis
, OLB
Steven Jenkins
, CB
Deshazor Everett
, S
Howard Matthews
Key losses
LT
Luke Joeckel
, C
Patrick Lewis
, WR
Ryan Swope
, DE
Damontre Moore
, OLB
Sean Porter
, MLB
Johnathan Stewart
, FS
Steven Terrell
2012 statistical leaders (*returners)
Rushing:
Johnny Manziel* (1,409 yards)
Passing:
Johnny Manziel* (3,706)
Receiving:
Mike Evans* (1,105)
Tackles:
Damontre Moore (85)
Sacks:
Damontre Moore (12.5)
Interceptions:
Deshazor Everett* and Steven Terrell (2)
Spring answers
1. Johnny Football:
The Aggies are in the rare position of returning the previous season's Heisman Trophy winner. Heading into his sophomore season, Texas A&M is hoping that quarterback Johnny Manziel can be even better than he was a season ago. This will be his second year in the offense and for quarterbacks who have played in this system, year two is typically a season in which they progress significantly as passers. That's one of Manziel's primary goals, even though he'll still run when the time calls for it. As long as he's healthy and playing well, things bode well for the Aggies.
2. Experienced secondary:
Last season, the defensive backfield was young and inexperienced. This fall, there are still young players back there, but it is the most experienced unit on the Aggies' defense. Three of the four starters in the secondary from the AT&T Cotton Bowl are back: Deshazor Everett,
De'Vante Harris
and Howard Matthews. Junior
Floyd Raven
has moved from cornerback to free safety and appears to have the skill set (range and tackling prowess) to fit into the position well.
3. Loaded backfield:
The Aggies have four good options in their offensive backfield for Manziel to hand off or throw to. Starting running back Ben Malena returns, as does
Trey Williams
, who returned kicks and received carries as a true freshman. Add to the mix a pair of transfer backs who sat out last season,
Brandon Williams
(Oklahoma) and
Tra Carson
(Oregon) and the Aggies have a quartet that gives them a multitude of options.
Fall questions
1. Front seven:
The Aggies are looking for someone to replace the production that third-round NFL draft pick Damontre Moore brought last season. Moore led the team in tackles, tackles for loss and sacks a year ago. Also, with two senior leaders gone from linebacker (Sean Porter and Jonathan Stewart) Texas A&M not only has to replace the bodies but also the leadership. Because of injuries, the Aggies were thin up front in the spring but when all their key players return in the fall, it will ease at least some of those concerns. Keep an eye on names like defensive end
Julien Obioha
(who started opposite Moore last year), defensive tackle
Alonzo Williams
and linebacker
Donnie Baggs
as players who have a chance to see their contributions increase significantly this year.
2. New receivers:
Only one starting receiver returns from last year's squad: Mike Evans. Four of the top six players in receiving yardage are no longer on the roster, including second-leading receiver Ryan Swope. So who will Johnny Manziel throw to? Keep an eye on guys like
Malcome Kennedy
, who caught a fourth-quarter touchdown against Alabama last season,
Derel Walker
, who had a strong spring game,
Edward Pope
, who was a star on the scout team when he redshirted last year and a host of recruits from the 2013 class like
Ja'Quay Williams
and ESPN 150 duo
Ricky Seals-Jones
and
Sebastian LaRue
. Developing other reliable pass-catching options is critical, so keep an eye on how they use the tight ends with newcomer
Cameron Clear
(6-foot-7, 270 pounds) on campus.
3. Kicking game:
One player who fans kept a close eye on this spring was kicker
Taylor Bertolet
. In his redshirt freshman season, the strong-legged kicker struggled with consistency, hitting just 13-of-22 field goal attempts and missing seven point-after attempts. With a new special-teams coordinator (Jeff Banks) who has college punting and kicking experience around to guide him, the Aggies are looking for an improvement from Bertolet this fall. Also the Aggies are working in a new punter,
Drew Kaser
, who takes the reins after senior
Ryan Epperson
graduated.
April, 29, 2013
4/29/13
12:00
PM ET
Quite the NFL draft for the SEC ...
April, 3, 2013
4/03/13
12:10
PM ET
Middle of the week, and here are some links.
September, 19, 2012
9/19/12
9:00
AM ET
COLLEGE STATION, Texas -- With so much in and around the Texas A&M football program being new -- from the conference to the coaching staff to the schemes and even the uniforms -- it seems only natural that on the field, some of the most significant impacts have been made by new players.
Or, in other words, freshmen.
Some are true freshmen completely new to the program. Some are redshirt freshmen who have already spent a year as part of the Aggies' program. Across both spectrums are players who are already contributing significantly and will likely continue to do so throughout the season.
[+] Enlarge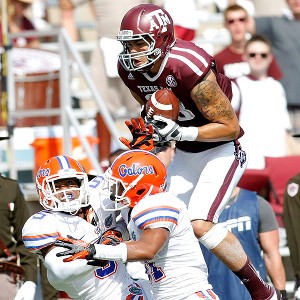 Brett Davis/US Presswire'Raw' receiver Mike Evans has proven to be one of Texas A&M's most-dynamic offensive options.
In the
Aggies' 48-3 win over SMU
on Saturday, freshmen were statistical leaders in six different categories: redshirt freshman quarterback
Johnny Manziel
led the team in passing yards (294), rushing yards (124) and all-purpose yards (418), redshirt freshman receiver
Mike Evans
led in receiving (six catches, 123 yards) and true freshman cornerback
De'Vante Harris
led the team in tackles (seven).
Naturally, much of the focus has been on Manziel, the quarterback who won the starting job during fall camp and is already beginning to dazzle observers with his athleticism and ability to freelance, which has resulted in a handful of big plays for the Aggies (1-1).
There is an adjustment period for those freshmen though, Texas A&M coach Kevin Sumlin said.
"You saw that in high school," Texas A&M coach Kevin Sumlin said of Manziel and his playmaking ability. "What he's finding out is that he's not the fastest or most talented guy on the field. So for a lot of players, they go through that, you have to figure out what you can do with your strengths and what you can't do with your weaknesses."