July, 9, 2010
7/09/10
6:07
PM ET
By
ESPN.com staff
| ESPN.com
Let's see what's on your mind in the SEC mailbag:
Bobby in Cleveland, Tenn., writes:
Your article "Dooley's job just got harder" was out of line and unprofessional. You try and make Tennessee look bad. I know your job is to report news. But the way you presented it in this article was unprofessional.
Chris Low:
Bobby, with all due respect, I don't think the Vols need any help in looking bad in this particular situation. I 100 percent stand by what I wrote. If the allegations hold up that there were indeed a group of players kicking an off-duty police officer in the street until he was unconscious, then they have no place on that team if Derek Dooley is serious about the role of character in his program. And let me add: I believe he's very serious and that his actions will reflect how serious as he deals with this situation.
---
Cameron in Ann Arbor, Mich., writes:
So
Terrance Toliver
isn't one of the top six wide receivers in the league? That's egregious. He was ninth in the league last year in receiving yards, splitting catches with Brandon LaFell. Who was seventh in the league in receiving yards? How does that not translate into increased production for Toliver? Please explain.
Chris Low:
Well, my best explanation is that I can't fit 40 players into 25 spots. I think Toliver is an excellent player and again shows the depth of talent in this league that a player of his caliber is not in the top 25. But as I put this list together and talked to different coaches in the league and others who scout players for a living,
A.J. Green
,
Julio Jones
,
Randall Cobb
,
Alshon Jeffery
,
Darvin Adams
and
Greg Childs
all came in a little bit ahead of Toliver. Maybe he'll prove me wrong during the season.
---
Greg in Goose Creek, S.C., writes:
Hey, Chris, where is the love for South Carolina. All those players you mentioned … and nobody from Gamecock Nation. What about DeVonte Holloman, Devin Taylor and
D.L. Moore
, off the top of my head? Gamecock Nation is going to surprise you all this year and feed off the baseball team. Garcia will have a huge year if he gets a little time no matter what Spurrier says to the press. If he did not think Garcia had it, he would have let him go on multiple occasions in the past. Last year was not great, but he was solely responsible for at least three of those wins.
Chris Low:
Give me a little bit of credit for showing the Gamecocks some love. I had three of their players ranked among the top 25. Only Alabama had more. I agree they have some younger players who could break through this coming season, and I like Holloman a lot at safety. We'll wait and see on Garcia, which is the same thing the Head Ball Coach is doing. I do think that Garcia improved more last season than Spurrier is giving him credit for, but it's his work ethic and commitment level that Spurrier doesn't think is strong enough. We'll find out a lot about what Garcia is made of after being challenged publicly the way he has by his coach.
---
Daniel in Baton Rouge, La., writes:
What realistic expectations should LSU fans have toward the quarterback situation? Do you think that the running power of
Stevan Ridley
and the agility of
Michael Ford
is enough to take the pressure off
Jordan Jefferson
?
Chris Low:
I honestly think that it needs to work both ways. To be fair, Jefferson's numbers weren't too shabby last season. He just needs to be more instinctive in his decision-making and make more plans in the passing game when they're there. Part of the concern is that he kind of stayed in neutral this spring and didn't take a huge step forward. In fact,
Jarrett Lee
outplayed him at times. One thing that will help Jefferson this fall is that LSU is going to make more of a commitment to be a better running team. Ridley has the power and speed to be a marquee back in this league, and the Tigers are eager to see what Ford can do. The other thing is that
Russell Shepard
and
Rueben Randle
will be much bigger parts of the offense and turn some of those shorter passes from Jefferson into big plays.
---
Jason in Fayetteville, Ark., writes:
In the article about the Tennessee wide receiver being arrested in a bar brawl, one of the owners of the bar stated that Vols' players were routinely not charged covers to enter. Would this be an NCAA violation of some sort? I know they deserve Fulmer Cup points, but I wanted to know if this was an NCAA violation as well.
Chris Low:
Yes, if true, it would be a violation of the NCAA's extra benefits bylaws, similar to a manager of a movie theater giving football players discount movie tickets or a restaurant owner allowing players to eat on the house. I doubt this will rise to the level of a major violation. But if it is true, then Tennessee will almost certainly have to self-report it, take action to make sure it doesn't keep happening and then see what the NCAA's response is.
---
Eric in Nashville, Tenn., writes:
I am interested if you have been able to get a comment from Mike Hamilton on his rumored response that Tennessee would be glad to face USC in 2012 and 2013, but then Kiffin declined? Or is this just an internet rumor, which is why it is not being reported by ESPN on a national scale as the previous report by Mr. Feldman that Kiffin had contacted Hamilton?
Chris Low:
I did speak with Hamilton, and he said he had only casual conversations with Gary Stokan of the Chick-fil-A Kickoff Game. Hamilton's conversations were not with Kiffin. Hamilton did tell me that he told Stokan that Tennessee would be glad to play sometime in the next three or four years, but not in 2011. If anything, Tennessee is trying to lighten the schedule in 2011, not make it more difficult. My question is: Why wasn't Kiffin lobbying to play USC when he was at Tennessee?
July, 8, 2010
7/08/10
11:32
AM ET
By
ESPN.com staff
| ESPN.com
I know it's still a sore subject down on the Bayou, but the end of that Ole Miss game last season continues to resonate.
Could LSU have gotten its field goal team onto the field to kick the game-winner after
Terrance Toliver
's spectacular catch? There was only one second remaining on the game clock, but more than 25 seconds in real time went by before the officials marked the ball and re-started the clock.
Take a look at
these two videos
, one of that LSU-Ole Miss ending and another showing Air Force successfully racing its field goal team onto the field in the final seconds before halftime last season in the Armed Forces Bowl against Houston.
Obviously, it can be done.
May, 26, 2010
5/26/10
1:00
PM ET
By
ESPN.com staff
| ESPN.com
My ESPN.com colleague, Adam Rittenberg, had a good piece earlier Wednesday about the
Big Ten being stacked at receiver
for this coming season.
And he's right, the talent at that position in the Big Ten speaks for itself.
But you know what? The SEC is even better, especially when you throw in the tight ends.
[+] Enlarge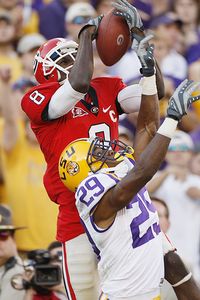 AP Photo/John BazemoreA.J. Green caught 53 passes for 808 yards and six TDs last season.
Six of the SEC's top 10 receivers from a year ago are back, and two of those – Georgia's
A.J. Green
and Alabama's
Julio Jones
– were named first-team preseason All-Americans by Phil Steele.
Arkansas tight end
D.J. Williams
was named second team and Tennessee tight end
Luke Stocker
fourth team.
Indeed, the pass-catching positions should be among the strongest in the SEC in 2010.
Here's a closer look:
Georgia's A.J. Green:
Already being projected as the top receiver selected in the 2011 NFL draft. He's big, fast and has the body control and leaping ability to go up and catch anything.
Alabama's Julio Jones:
Should be completely healthy to start the 2010 season. Jones is one of those guys who never goes down on the first hit and plays the position like a linebacker. A great blocker, too.
Arkansas' Greg Childs, Joe Adams, Jarius Wright and D.J. Williams:
Think Arkansas quarterback
Ryan Mallett
is eager for the 2010 season to get here? We didn't even mention sophomore
Cobi Hamilton
, and he may potentially be the most explosive of the group. Childs led all SEC receivers in receiving yards, touchdowns and yards per catch in league games only last season.
Auburn's Darvin Adams:
One of the breakout players in the league a year ago. Adams had three catches in 2008 and 60 last season, including 10 touchdowns. He's a natural in Gus Malzahn's offense.
South Carolina's Alshon Jeffery and Weslye Saunders:
Jeffery may have as much upside as any receiver in the league. He just got better and better as his freshman season progressed a year ago. A big, athletic target who can go get the football with the best of them. Saunders is rated as Mel Kiper's No. 2 tight end in the country.
Kentucky's Randall Cobb:
You won't find a more versatile football player anywhere in the country. Cobb is still mastering the receiver position, but is one of the best players in the league once he gets the ball in his hands.
LSU's Terrance Toliver:
Kiper recently rated Toliver as the top senior receiver prospect in college football. Toliver had 53 catches last season and will be one of the focal parts of the LSU offense in 2010.
Tennessee's Luke Stocker and Gerald Jones:
Get ready to hear a lot more about Stocker, who's a terrific run-after-the-catch guy and a tough matchup for anybody at tight end. Jones has battled some injuries, but could be in for his best season if the Vols can find a quarterback.
Here are some other names to watch, in alphabetical order:
Chad Bumphis, Mississippi State

Orson Charles, Georgia

John Cole, Vanderbilt

Andre Debose, Florida

Kris Durham, Georgia

Tori Gurley, South Carolina

Chris Matthews, Kentucky

Marquis Maze, Alabama

Denarius Moore, Tennessee

Rueben Randle, LSU

Russell Shepard, LSU

Markeith Summers, Ole Miss

Deonte Thompson, Florida

Terrell Zachery, Auburn
May, 4, 2010
5/04/10
8:30
AM ET
By
ESPN.com staff
| ESPN.com
2009 overall record:
9-4

2009 conference record:
5-3
Returning starters
Offense: 6; Defense: 4; Kicker/punter: 2
Top returners
QB
Jordan Jefferson
, RB
Stevan Ridley
, WR
Terrance Toliver
, WR
Russell Shepard
, OT Joseph Barksdale, DT Drake Nevis, LB Kelvin Sheppard, CB Patrick Peterson
Key losses
RB Charles Scott, WR Brandon LaFell, TE
Richard Dickson
, DT Al Woods, LB Perry Riley, LB Harry Coleman, S Chad Jones
2009 statistical leaders
(* returners)
Rushing:
Charles Scott (542 yards)
Passing:
Jordan Jefferson* (2,166 yards)
Receiving:
Brandon LaFell (792 yards)
Tackles:
Kelvin Sheppard* (110)
Sacks:
Rahim Alem (4.5)
Interceptions:
Chad Jones (3)
Spring answers
1. Shepard on the move:
It looks like the Tigers are finally serious about getting the ball into Russell Shepard's hands. He's washed his hands of wanting to be an every-down quarterback and moved to receiver full time this spring. He'll still line up in some different spots, and the Tigers would like to get him touches throwing it to him, handing it to him and snapping it to him in the Wildcat formation. The bottom line is that Shepard is too talented and too good of a playmaker to be playing a part-time quarterback role.
2. Establishing the run:
LSU coach Les Miles said the Tigers worked overtime on running the football this spring, and he's confident that they will be a better running team in 2010. That part of the offense let them down in most of the games a year ago. Steven Ridley has all the tools to be a big-time back in this league. Speedy
Richard Murphy
hopes to be all the way back from his knee injury, and Miles is also eager to see what redshirt freshman
Michael Ford
can do.
3. Speed in the secondary:
By moving Jai Eugene to safety, the Tigers essentially have four cornerbacks in the secondary. And most importantly, they all have outstanding top-end speed. Junior cornerback Patrick Peterson is one of the best shut-down corners in college football, and the LSU defensive staff thinks that sophomore cornerback Morris Clairborne will be equally difficult to throw against on the other side. Brandon Taylor is the other returning starter at safety. Taylor also started his career as a cornerback.
Fall questions
1. Next step for Jefferson:
Even though his numbers last season as a first-time starter were solid, Jordan Jefferson was hesitant at times in the pocket, and the Tigers' passing game tended to go belly-up in key situations. Jefferson didn't have his best spring, either, which caused some concern in the LSU camp. He's still the guy to beat, but Miles has been talking up
Jarrett Lee
, who threw 16 interceptions two years ago as a redshirt freshman. Fall camp should be interesting on the Bayou at the quarterback position.
2. Making more plays:
The Tigers lacked a lot of explosive plays down the field last season, and having to go the distance all the time against SEC defenses is like beating your head into the wall. Shepard certainly fits that playmaker mold and will get more chances next season. Receivers Terrance Toliver and
Rueben Randle
combined for five touchdown catches last season. The Tigers would like to see that number climb to 10-plus in 2010. Neither Toliver nor Randle had a pass reception over 45 yards a year ago.
3. Playing better up front:
There's no other way to say it other than just to say it: The Tigers played poorly on the offensive line a year ago, as evidenced by the fact that their top guy, senior tackle Ciron Black, didn't even get drafted. They've moved some guys around. Joseph Barksdale switched from right tackle to left tackle, while right guard Will Blackwell and right tackle Alex Hurst both won awards for their performance this spring. Of course, the real test will come this fall.
April, 27, 2010
4/27/10
2:00
PM ET
By
ESPN.com staff
| ESPN.com
The SEC is well represented in ESPN NFL draft analyst Mel Kiper's position-by-position breakdown of the
top draft prospects next year
among returning seniors.
Even though Arkansas'
Ryan Mallett
is listed No. 2 among the quarterbacks behind Washington's
Jake Locker
, Mallett will technically be a junior next season. He played one season at Michigan and one at Arkansas.
Also of note, Kiper has LSU's
Terrance Toliver
rated No. 1 among the returning senior receivers. So in other words, the Tigers should be plenty talented at receiver next season with the likes of
Russell Shepard
,
Rueben Randle
and Toliver.
Under the tight ends, Arkansas'
D.J. Williams
is rated No. 2.
One of the names not on here that will almost certainly be by the end of next season is Mississippi State defensive end Pernell McPhee, who returns as one of the top defensive linemen in the SEC.
Here's a look at the SEC players making Kiper's list and where they were rated in the top 5:
QUARTERBACKS
No. 2 -- Ryan Mallett, Arkansas
RECEIVERS
No. 1 -- Terrance Toliver, LSU
TIGHT ENDS
No. 1 --
Weslye Saunders
, South Carolina
No. 2 -- D.J. Williams, Arkansas
No. 3 --
Luke Stocker
, Tennessee
OFFENSIVE TACKLES
No. 2 -- Clint Boling, Georgia
No. 5 -- James Carpenter, Alabama
OFFENSIVE GUARDS
No. 3 - Mike Pouncey, Florida
DEFENSIVE TACKLES
No. 2 -- Jerrell Powe, Ole Miss
No. 5 -- Drake Nevis, LSU
SAFETIES
No. 3 -- Ahmad Black, Florida
No. 4 -- Zac Etheridge, Auburn
No. 5 -- Chris Culliver, South Carolina
KICKERS
No. 3 -- Wes Byrum, Auburn
March, 11, 2010
3/11/10
12:15
PM ET
By
ESPN.com staff
| ESPN.com
A few SEC links to munch on:







March, 10, 2010
3/10/10
1:03
PM ET
By
ESPN.com staff
| ESPN.com
Some of what's going on in the SEC:






March, 9, 2010
3/09/10
12:31
PM ET
By
ESPN.com staff
| ESPN.com
Making the rounds in the SEC:
March, 8, 2010
3/08/10
9:28
AM ET
By
ESPN.com staff
| ESPN.com
LSU's
Terrance Toliver
, the Tigers' leading returning receiver, was
involved in a fight outside a bar over the weekend
and cited for disturbing the peace by public intoxication and resisting an officer, according to police.
LSU coach Les Miles already met with Toliver once on Sunday and is expected to meet with him again on Monday.
Toliver, a senior, caught 53 passes for 735 yards and three touchdowns last season. The Tigers have already begun spring practice.
September, 6, 2009
9/06/09
2:19
AM ET
By
ESPN.com staff
| ESPN.com

Posted by ESPN.com's Chris Low

A full day (and I mean a full day) of SEC football is in the books, so that means it's time to pass out our Week 1 helmet stickers:
Alabama running back Mark Ingram:
He took over the game in the fourth quarter with 99 yards of total offense and scored both of the Crimson's Tide touchdowns
in the final quarter
. Ingram finished with a career-high 150 yards rushing to cap what was a nerve-racking week for him. He and
Julio Jones
weren't cleared by the NCAA to play until Wednesday night after making restitution for a Gulf Coast fishing trip he and Jones took in the spring.
Tennessee quarterback Jonathan Crompton:
The guy actually received death threats last season, but he looked like a different quarterback in the
Vols' 63-7 win
over Western Kentucky. He tossed five touchdown passes, one more than he threw all of last season.
Vanderbilt linebacker Chris Marve:
One of the more underrated players in the SEC, Marve forced two fumbles and also had a sack to help trigger
Vanderbilt's first shutout in a decade
.
Auburn offensive coordinator Gus Malzahn:
Everywhere Malzahn has been, his offenses have put up big numbers. His debut at Auburn was no different. The Tigers finished with 556 yards of total offense in
a 37-13 win over Louisiana Tech
. The play that got them going was a 93-yard touchdown pass from
Chris Todd
to
Terrell Zachery
four minutes into the third quarter.
LSU receiver Terrance Toliver:
How big were
his two touchdowns
? LSU would be looking at an 0-1 start without them. Both times, he made sweet moves after the catch and then showed off his speed. His first one was a 45-yard touchdown in the second quarter, and he followed that up with a 39-yard touchdown in the third quarter. Toliver only had one touchdown catch all of last season.