February, 7, 2014
Feb 7
11:15
AM ET
Quietly, Kentucky coach Mark Stoops made an emphatic statement with his 2014 recruiting class: The Wildcats aren't going to sit idly by and watch the big boy have all the fun.
Just months removed from a 2-10 debut that resulted in Kentucky's fourth straight losing season, Stoops secured the
No. 20 recruiting class in the ESPN rankings
. It was the highest-ever finish for Kentucky in ESPN's recruiting rankings.
Stoops rubbed shoulders with the SEC's best, signing 28 players, including six ESPN 300 members and eight four-stars. Stoops flipped a Florida State commit and beat out Alabama for a highly coveted defensive tackle. He snagged a top-10 quarterback and filled critical holes on both sides of the ball.
Stoops has zero SEC wins on his Kentucky resume, but he got a major win on signing day.
"We hit on a lot of areas," Stoops told ESPN.com Thursday.
[+] Enlarge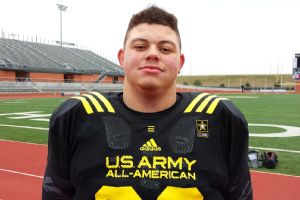 Damon Sayles/ESPNFour-star DT Matt Elam is one of the key pieces in Kentucky's 20th-ranked recruiting class.
"Last year, we did a nice job of piecing together a good a class as we could in five or six weeks. From that point on -- from signing day last year to signing day this year -- I thought it was absolutely the most critical time for us to have a great year in recruiting. We needed good players, we needed guys at every position."
But the Wildcats couldn't afford to just fill space. That would have been counterproductive for a team looking to rebuild. Kentucky needed both quality
and
quantity, which can be a tough task for a new coach at a struggling program.
Stoops said he and his coaches set out with a simple message of building relationships and getting in front of as many quality prospects as possible. They got players on campus for junior days when Stoops' crew first arrived last year, they got them to last year's record-setting spring game, they got them to basketball games to see that other historic program on campus, and they stayed confident in their message of the future.
There was no magic selling point, just very detailed process of showing prospects exactly what they were doing in the program, not just in games.
"They understood that we were in for a little bit of a struggle -- that this is a rebuild -- and we need good players to rebuild this program," Stoops said. "They understood very clearly the success that we've had before and what we do offensively and defensively. These coaches have been very successful and showed them exactly what our plan was for the future."
Stoops held a top-20 class for most of 2013, proving that players didn't waver, despite the Wildcats' on-field struggles. He was able to keep ESPN 300 defensive end
Denzel Ware
, who flip-flopped between Kentucky and Florida State for months before staying with the Wildcats. He kept ESPN 300 early enrollee quarterback
Drew Barker
, who went through winter workouts and has a chance to push for the starting spot this year.
Stoops also kept ESPN 300 standouts
Thaddeus Snodgrass
(wide receiver) and
Stanley Williams
(running back), and he sold Kentucky to four-star defensive tackle
Matt Elam
, who picked the Cats over Alabama last month.
"It's very important to win your fair share of battles, and we're going to win our fair share," Stoops said. "We're going to recruit very hard, we're going to recruit the best players, and we're not afraid to go in and compete. You're going to win some and lose some, but I thought we did a nice job of hitting a very high percentage of guys we targeted."
Where Kentucky really succeeded was in the secondary, signing ESPN 300 cornerbacks
Darius West
and
Kendall Randolph
. Stoops desperately needed offensive playmakers, but gaining talents like this in the secondary was crucial.
"It's a real issue," Stoops said of the depth in his secondary.
"For us, it's hard for me to pinpoint an area, but we were clearly not very good in the secondary so I thought that was very important to hit that [hard] as well."
Stoops left fingerprint in 10 states and came away with a handful of players who could make an immediate impact in Lexington. But Stoops understands that this class can't do it alone. He needs development to continue with his current players already on campus. He needs competition to blossom and he needs his upperclassmen to mesh with the youngsters in order to get Kentucky up and running.
"We're at a point where we're still trying to put together a top-notch first team," Stoops said. "Not only do we need depth, we need some playmakers with our starters as well.
"In our business, no one has patience, everybody wants to win now. But it is a process, and we're working to improve every day and we're getting better."
February, 6, 2014
Feb 6
3:30
PM ET
Now that signing day is over and the fax machine is allowed another 364 days of rest, it's time to look back on who did the most on the recruiting trail in the SEC.
It's important to note that this is not purely a rank of who had the best class. You can go to
ESPN's class rankings
for that information. Rather, this list took into account the state of each program and how it performed against expectations, hence Kentucky's lofty standing.

No. 1: Alabama
Rundown:
The class wasn't just No. 1 overall, it was No. 1 by a mile. Alabama cleaned up with one-third of all the five-star prospects in the ESPN 300, the highest ranking of which was offensive tackle
Cameron Robinson
, who could challenge for immediate playing time as a freshman. Along those lines, coach Nick Saban and his staff didn't just sign the best prospects, they signed those that fit the program's needs. The offensive line class could be the best in Saban's history, the cornerback class promises two future stars and quarterback
David Cornwell
helps expand the field of candidates to replace
AJ McCarron
.
Instant impact signee:
Tony Brown
won't be the only five-star cornerback on campus, but he'll be the first one there. The speedy track star enrolled in January and will compete in spring practice. With both starting cornerback spots open, he'll have a chance to start right away.

No. 2: Kentucky
Rundown:
This ain't your grandfather's Kentucky. It's not your father's or your older brother's, either. Mark Stoops didn't have the highest ranked recruiting class in the country or even the SEC, but the top-20 class far outpaced even the highest expectations . The signees speaks for themselves -- an infusion of young talent desperately needed for the road ahead -- but the overall statement Stoops and his staff made going out and landing the best of the best was huge. Nabbing four-star defensive lineman
Matt Elam
from Alabama sent shockwaves through college football. It not only said that Kentucky was here to play; it's here to play and win.
Instant impact signee:
There's opportunity abound in Lexington. At one point, a walk-on was starting at receiver against Alabama. With that, four-star
Thaddeus Snodgrass
has the athleticism (4.5 second 40-yard dash) to provide a quick spark to the Wildcats' offense.

No. 3: Tennessee
Rundown:
No program brought in more young talent than the Vols. All told, Tennessee signed 35 prospects, far more than any BCS-level program. Coach Butch Jones joked that he'll have an all-freshman team next year, and with 11 ESPN 300 players in the class it's not that farfetched an idea. Not only did Jones lock down in-state stars like
Josh Malone
,
Todd Kelly Jr.
and
Jalen Hurd
, he reached across borders and landed
LaVon Pearson
and
Dillon Bates
. Where his first recruiting class in 2013 was more about creating buzz, 2014 was about fulfilling a promise.
Instant impact signee:
Jones and his staff are high on junior college offensive tackle
Dontavius Blair
, who enrolled at Tennessee early. Considering the Vols are completely reloading on the offensive line, the 6-7, 307-pound Blair will have the chance to step in and play from Day 1.

No. 4: LSU
Rundown:
Les Miles was on the hook after losing several in-state stars to programs like Alabama, Texas A&M and Florida. Seeing Cam Robinson,
Speedy Noil
and
Laurence Jones
commit elsewhere cast LSU's recruiting efforts in a bad light. But that all changed when
Leonard Fournette
, the No. 1 overall prospect in the country, announced that he would be a Tiger. And on Wednesday,
Malachi Dupre
, the No. 1 wide receiver in the nation, followed suit. By the end of the day, 11 of the top 25 players in Louisiana ended up at LSU.
Instant impact signee:
Fournette is the No. 1 overall prospect for a reason. He's got all the physical tools and the mindset to play at the next level. Because of that he's been compared favorably to former Sooner
Adrian Peterson
. With
Jeremy Hill
off to the NFL, Fournette can insert himself into the running back rotation right away.

No. 5: Texas A&M
Rundown:
In 2012, Texas A&M signed the 15th best recruiting class in the country. In 2013, it joined the SEC and rose to eighth in the rankings. And on Wednesday, it completed that climb by finishing fourth. Kevin Sumlin and Co. signed an impressive 10 ESPN 300 recruits, including the No. 1 defensive end, the No. 1 athlete and the No. 1 pro-style quarterback. Signing a pair of junior college offensive linemen --
Avery Gennesy
and
Jermaine Eluemunor
-- solidifies depth on a line moving on without
Jake Matthews
.
Instant impact signee:
There's no doubt Texas A&M needs help on the defense. Defensive end
Myles Garrett
's body is college-ready (6-5, 255 pounds) and he's ripped to shreds. If he can pick up the defense and show he's capable of holding up against the run, he could play soon.

No. 6: Florida
Rundown:
It's the win coach Will Muschamp so desperately needed. Keeping together this class after one of the most disastrous seasons in program history was a remarkable feat. In all, Florida signed 13 ESPN 300 commitments, including seven players who rank among the top 10 nationally at their position. Even more impressive was that Muschamp sold Florida against some other top programs, flipping four-star Florida State quarterback commitment
Treon Harris
to cross the state to Gainesville.
Instant impact signee:
Jalen Tabor
has as good a chance as anyone to start at cornerback opposite
Vernon Hargreaves III
, the former standout freshman whose footsteps he's trying to follow. Florida coaches are high on his talent and skill level, and of course, being an early enrollee helps.

No. 7: Georgia
Rundown:
Mark Richt got his guy in
Lorenzo Carter
. Without him, the entire outlook of the class changes. While it wasn't high on numbers -- 21 signees in all -- the quality of Georgia's class was impressive. Richt signed 11 ESPN 300 recruits, including the No. 2 and No. 7 running backs in the country. Four-star athlete
Isaiah McKenzie
was a big signee as well. He's small in size (5-8), but his speed and quickness could translate to early playing time.
Instant impact signee: "
That defense is going to be nasty," Carter said. "And I plan on being a part of it." With that, Georgia got a taste of the energy the No. 3-rated defensive end will bring to Athens. His ability as a pass-rusher will help the Bulldogs right away, and if he adds a few more pounds he could develop into an every-down lineman.

No. 8: Auburn
Rundown:
It's not always about who you sign, but who you miss. The loss of
Rashaan Evans
still stings a day later, but Auburn landed commitments from offensive lineman
Braden Smith
and defensive end
Andrew Williams
to close out what was already an impressive class. In all, the Tigers have 12 signees in the ESPN 300 and two ranked in the ESPN JC 50. Despite losing Evans to the Tide, Auburn signed four of the state's top 10 players, including its top-ranked player in the class, running back
Racean Thomas
.
Instant impact signee:
Nobody is more qualified to step in and contribute than wide receiver
D'haquille Williams
. He's the No. 1 junior college player in the country, and he's already on campus. Don't be surprised if he becomes the team's go-to wide receiver by the start of next season.

No. 9: Ole Miss
Rundown:
The class wasn't filled with stars like the year before, but coach Hugh Freeze and his staff didn't let up in 2014. The Rebels went after more seasoned recruits, signing six players from either junior college, prep schools or delayed enrollment. Actually, this year's class might end up having more depth than the previous year's as 15 four-star recruits signed in 2014, compared to 12 four-star recruits and two five-star recruits in 2013. With players like
Garrald McDowell
and
C.J. Hampton
, there's plenty to build around.
Instant impact signee:
Ole Miss needed help on the offensive line and four-star
Rod Taylor
could be the man to give them a boost. The No. 2 offensive guard in the ESPN 300 and the Rebels' highest ranked signee enrolled in school early and will compete in spring practice.

No. 10: South Carolina
Rundown:
It wasn't the most heralded class in Steve Spurrier's tenure at South Carolina, but it didn't lack talent, especially on defense where the Gamecocks signed four defensive linemen and four cornerbacks. Stealing defensive tackle
Dexter Wideman
from Florida State and nabbing cornerback
Chris Lammons
from Wisconsin's sights was huge in moving South Carolina up from 27th in the class rankings to 19th.
Instant impact signee:
He'll no doubt add a few pounds to his 6-3, 250-pound frame, but no amount of weight will help
Dante Sawyer
's attempts to fill
Jadeveon Clowney
's sizable shoes at South Carolina. That's not Sawyer's job as a freshman, though. The four-star prospect should help the Gamecocks pass rush and is versatile enough to play either outside linebacker or defensive end.

No. 11: Arkansas
Rundown:
When I spoke to Bret Bielema during the season, he told me that he wasn't going after guys based on their rankings. He wanted "his guys," guys who fit his blue-collar system. And he did exactly that with six of his top eight signees coming on the offensive and defensive lines. Throw in
Rafe Peavey
, the No. 10 dual-threat quarterback, and Arkansas' got a good foundation to build upon.
Instant impact signee:
With starting defensive tackle
Byran Jones
gone, the door is open for big
Bijhon Jackson
, who comes in at a hefty 6-2 and 330 pounds. The No. 6-ranked defensive tackle is one of three ESPN 300 member in Arkansas' recruiting class.

No. 12: Mississippi State
Rundown:
The Bulldogs' 2014 signing class was on the small side with 23 signees, and it was planned that way. With so few seniors, coach Dan Mullen chose to be selective. Still, the class left something to be desired without a single player ranked in the top 10 nationally at their position. It was good to see the Bulldogs get so many in-state recruits, but the furthest their reach went was to Texas, Alabama and Georgia. That said, Mississippi State fans will be glad to see that both of its ESPN 300 signees --
Jamoral Graham
and
Jesse Jackson
-- were skill players on offense, an area in need of development.
Instant impact signee:
There's plenty of opportunity in the Bulldogs' backfield now that
LaDarius Perkins
is off to the NFL. Enter
Aeris Williams
, a four-star prospect from Mississippi. With
Dak Prescott
at quarterback, Williams could make hay on the read-option.

No. 13: Missouri
Rundown:
Maybe the SEC East title and the trip to Atlanta didn't amount to much on the recruiting trail. Maybe the thrilling Cotton Bowl win didn't impress enough recruits either. Whatever it was, coach Gary Pinkel didn't exactly make hay on signing day. Landing just two ESPN 300 commitments was underwhelming, as was the grand total of four four-star recruits. The signing of
Andy Bauer
, a four-star offensive tackle who was targeted by Alabama, does engender some hope. Still, as we watch Texas A&M take advantage of the bump it received in recruiting since joining the SEC, one has to wonder why Missouri hasn't done the same.
Instant impact signee:
Brandon Lee
, the nation's No. 17 outside linebacker, comes in at a healthy 6-2 and 210 pounds. Given that two of the Tigers' three starting linebackers were seniors last season, Lee will have a chance to come in and contribute right away.

No. 14: Vanderbilt
Rundown:
With so little time to recruit, Derek Mason couldn't put together the class he wanted. And with former Vanderbilt coach James Franklin poaching so many of his former recruits at Penn State, it only made matters worse. So don't judge Mason's first class and its two ESPN 300 signees too harshly. But do give him credit for convincing
Nifae Lealao
, the No. 20 defensive tackle, to come to Nashville. The four-star prospect is among the most highly rated recruits to ever sign with the Commodores.
Instant impact signee:
It isn't just
Jordan Matthews
who's leaving. So is
Jonathan Krause
, who started 11 of 13 games last season. Enter three-star
Rashad Canty
. He's not the most highly ranked recruit, but the 6-3, 201-pound receiver has the tools to make a push for reps early.
December, 19, 2013
12/19/13
2:00
PM ET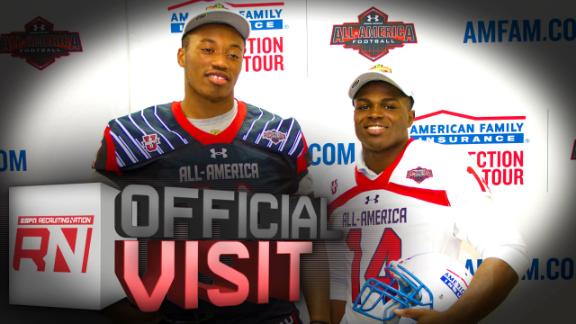 Here are five things to watch over the holidays in the SEC:
Fournette set to announce
The nation's top ranked prospect, running back
Leonard Fournette
(New Orleans/Saint Augustine), is scheduled to announce his decision during the Under Armour All-America Game Jan. 2, which will be on ESPN at 4 p.m. ET. Fournette has made official visits to Texas, LSU and Alabama.
To continue reading this article you must be an Insider
October, 15, 2013
10/15/13
8:00
PM ET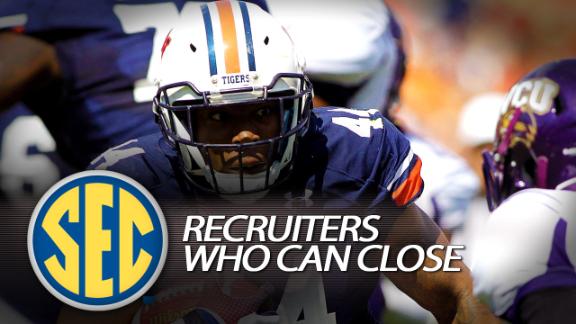 Editor's note: For a look at the national recruiter power rankings based only on Class of 2014 success,
click here
.
It's no secret that Southeastern Conference has been the top conference in the country as far as recruiting over the last several years. The league currently has six teams ranked in the top 11 of the team recruiting rankings. Here's a look at the top 10 recruiters around the ultra-competitive conference.
To continue reading this article you must be an Insider