October, 2, 2011
10/02/11
2:20
AM ET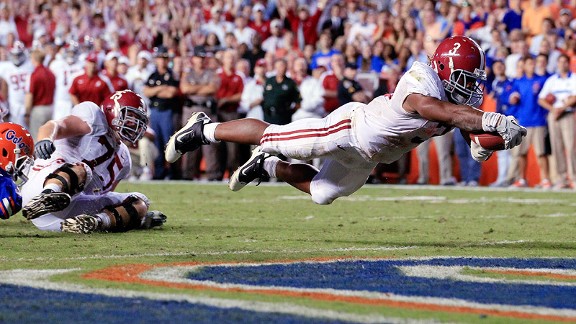 Sam Greenwood/Getty ImagesAlabama rolled behind Trent Richardson as the Crimson Tide topped No. 12 Florida.
GAINESVILLE, Fla. -- The air had long since come out of Florida's defense Saturday night, and the guy most responsible for the damage was wearing an approving smile.
Alabama junior running back
Trent Richardson
took turns bludgeoning the Gators and slicing and dicing them on his way to a career-high 181 rushing yards and two touchdowns in the Crimson Tide's
38-10 romp
in the Swamp.
Afterward, he could not quit talking about the guys who paved the way to 226 rushing yards for the Crimson Tide against a Gators' defense that was allowing just 56.5 yards per game on the ground coming into the game.
"I felt like I was running behind a legendary offensive line. They're living legends right now," Richardson gushed.
If they keep this up, it's going to be hard to argue that assessment, at least in the realm of Alabama football.
But Richardson is not too shabby himself.
He runs the football the way Eddie Van Halen plays the guitar: full-speed, knocking heads along the way and with an artistry that nobody else can exactly duplicate.
He sees creases that seemingly aren't there, and he has exquisite footwork for a 225-pound guy who can bench-press more than twice his weight.
And if there isn't much of a hole, he's the one that delivers the blow.
"He never gets tackled by arm tackles … ever," Alabama senior center William Vlachos said. "That's the luxury of having backs like that, and we've had them ever since I've been here. It makes your job as an offensive lineman a lot easier."
The final score said plenty Saturday in this battle of unbeatens, but the way the Crimson Tide seized control with its running game after the quick touchdown by the Gators to start the game was vintage old-school Alabama football.
"Our goal is that we want to wear people down," said Barrett Jones, who's made the successful transition to left tackle after earning All-SEC honors at right guard last season for the Tide.
"You might be able to hang with us in the first half. But come the third and fourth quarter, we're going to keep pounding, and that's what happened tonight."
The Gators jumped out front 7-0 on the first play from scrimmage when
John Brantley
hooked up with
Andre Debose
on a 65-yard touchdown pass.
But Alabama came right back down the field. And even though the Tide only got a field goal on that drive, the message had been sent.
"We set the tempo tonight on offense, and that's what we needed to do," said Richardson, who's rushed for more than 100 yards in each of his past four games and is averaging 158 yards in his last three contests. "The defense fed off of us."
The Crimson Tide (5-0, 2-0) wound up scoring 35 unanswered points after the Gators took a 10-3 lead.
The way they did it was what was so impressive. They methodically pounded Florida, and while Richardson had been getting 5 yards here and 8 yards there for much of the night, he popped the big one to close the deal. He made a cut behind superb blocking up front and raced 36 yards for a touchdown.
"He's a great player. It takes more than one person to bring him down," Florida senior defensive tackle Jaye Howard said.
Even then, it's not a sure thing.
"He's an unbelievable football player, and the passion he plays with every time he touches the ball is something that elevates everybody's game on offense," Vlachos said. "You want to block for him.
"Our job up front ain't always fun. But when you see a guy working like that, it makes you want to give it all you've got."
Richardson called it a night by the midway point of the fourth quarter, and by that time, the only question was whether there were more Florida fans in the stadium or more of them spreading out across campus and heading to their cars.
"That's probably the best feeling as an offensive lineman," Jones said. "We know we're running the ball. They know we're running the ball. Everybody in the stadium knows you're running the ball, and you still run the ball … and they can't stop it."
It's a scene the Crimson Tide wouldn't mind repeating more than a few times this season.
"I think we finally created our identity," Vlachos said. "It's coming together for us [on offense], but we've got to continue to work."
Never a problem with this group.
October, 1, 2011
10/01/11
11:36
PM ET
GAINESVILLE, Fla. -- Florida struck quickly Saturday night. The first play from scrimmage, in fact.


But it was lights out for the Gators after that, as No. 3-ranked Alabama reeled off 35 unanswered points and romped past No. 12-ranked Florida
38-10
in the Swamp.
It was vintage Alabama, which made Florida one-dimensional on offense and then teed off on the Gators.
Florida quarterback
John Brantley
was injured just before halftime and didn't return. He was helped off the field, and the Gators' medical personnel were looking at his right lower leg. True freshman
Jeff Driskel
replaced Brantley and was under constant duress in the second half.
Junior running back
Trent Richardson
led the Crimson Tide (5-0, 2-0) with a season-high 181 rushing yards on 29 carries. He scored a pair of touchdowns, including a 36-yard sprint.
The Gators (4-1, 2-1) scored on a 65-yard touchdown pass from Brantley to
Andre Debose
on the first play from scrimmage. But from there, the Alabama defense locked down, and Florida managed just 157 total yards the rest of the way.
Alabama held Florida to 15 rushing yards on 29 attempts.
The Gators have now lost four out of their past five SEC games at home dating back to last season. It was also their worst home loss since bowing 36-7 to LSU in 2002.
October, 1, 2011
10/01/11
10:03
PM ET
GAINESVILLE, Fla. -- After falling behind 7-0 early, No. 3-ranked Alabama came charging back and leads No. 12-ranked Florida
24-10 at the half
Saturday night in the Swamp.
Here's a halftime analysis:


Turning point:
With the game tied 10-10 in the early minutes of the second quarter, Alabama linebacker Courtney Upshaw stepped in front of short
John Brantley
pass over the middle and returned it 45 yards for a touchdown.
Stat of the half:
Florida scored on the first play from scrimmage when Brantley hit
Andre Debose
for a 65-yard touchdown pass. After that, the Gators had just 111 more yards the rest of the way in the first half.
Player of the half:
Alabama running back
Trent Richardson
had 77 rushing yards on 15 carries in the first half, including a 5-yard touchdown run. He also caught a pass for 22 yards.
Injury report:
Brantley was helped off he field in the final seconds of the first half after being sacked on back-to-back plays. On the final one, he looked like he injured his right ankle after his leg buckled under him.
What Florida needs to do:
The Gators need to find a way to soften up that Alabama defense with some more big plays down the field. Florida hasn't been able to run the ball at all and has minus-3 rushing yards at the half.
October, 1, 2011
10/01/11
7:54
PM ET
GAINESVILLE, Fla. -- Florida sophomore defensive tackle Dominique Easley is warming up with the Gators' starters.
There were reports this week that Easley was injured in practice and could be a question mark for the game. He had his left ankle heavily taped on the outside, but was out there with the starters during warm-ups.
Sophomore defensive end Sharrif Floyd was also out there with the starters. He, too, was reportedly banged up this week in practice.
One player who's back this week for the Gators and will be worth watching is tight end
Jordan Reed
, who missed the past two weeks. Offensive coordinator Charlie Weis really liked what he saw from Reed during the preseason, and don't be surprised if the Gators have a few new things in to get him the ball tonight.
On the Alabama side, with linebacker C.J. Mosley out, junior Nico Johnson will step into Mosley's role in coverage situations. Defensive coordinator Kirby Smart was also pleased with some of the pressure redshirt freshman Adrian Hubbard got on the quarterback last week against Arkansas, so Hubbard could also factor into the Crimson Tide's plans on passing downs.
October, 1, 2011
10/01/11
7:22
PM ET
GAINESVILLE, Fla. -- This is not the Swamp I remember in early October.
I mean, there's actually a nice breeze and it's not so muggy that you can't breathe.
You can bet things will be heating up later on when No. 3-ranked Alabama and No. 12-ranked Florida clash in the SEC's most anticipated game of the season to this point.
The whole teacher vs. pupil storyline has gotten a lot of play this week. It makes for good copy, and Nick Saban has said repeatedly that Will Muschamp was as good of an assistant coach as Saban has ever had.
But this game is going to be about a lot more than just Saban vs. Muschamp.
Both quarterbacks still have a lot to prove. Neither Alabama's
AJ McCarron
nor Florida's
John Brantley
have been asked to throw the ball down the field much this season.
They may have to tonight against these two defenses.
Alabama faced a stiff test last week against an Arkansas offense that accounted for 42 points earlier today against Texas A&M. The Hogs couldn't run the ball against the Crimson Tide, though, and lived in third-and-long ... and subsequently died in third-and-long.
Florida's defense has been equally nasty, but the Gators really haven't faced a stout running game. In fact, the Gators haven't gone up against anybody in their first four games that was ranked higher than 90th nationally in rushing offense.
Ultimately, this one is probably going to come down to which quarterback can make a few plays down the field and which offensive line holds up the best.