September, 25, 2010
9/25/10
10:05
PM ET
FAYETTEVILLE, Ark. -- When it was time to win Saturday in the biggest game -- certainly the most hyped game -- they've played in these parts in more than three decades, one team looked as cool and composed as Clint Eastwood riding into town in one of his famed Westerns.
[+] Enlarge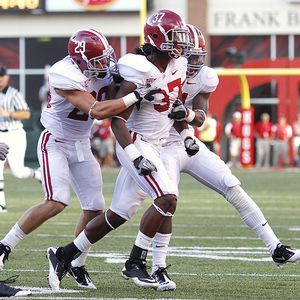 Joe Robbins/Getty ImagesRobert Lester's interception set up the winning score in Alabama's 24-20 victory over Arkansas.
The other team looked unsure whether it really belonged in the kind of electric atmosphere that doesn't come around every weekend, even in the football-crazed world of the SEC.
Alabama and Arkansas both had their moments when they resembled championship football teams.
The difference was that Alabama finished like a champion, coming back from 13 points down to hand
Arkansas a bitter 24-20 defeat
at Razorback Stadium.
The No. 1 Crimson Tide (4-0, 1-0) extended their winning streak to 18 straight games. More importantly, they demonstrated the same poise under pressure that carried them to a national championship a year ago.
"It's not how you start. It's how you finish," said Alabama senior quarterback
Greg McElroy
, who epitomized the Crimson Tide's turnaround.
After throwing a pair of interceptions in the first half, McElroy made every right decision in the second half in leading Alabama to 17 unanswered points.
The Crimson Tide kept the ball away from Arkansas in the third quarter and held onto the ball for nearly 10 minutes.
Meanwhile, the frustration started to set in for the No. 10-ranked Hogs, who managed just 120 yards of total offense in the second half. Each of their last two possessions ended in
Ryan Mallett
interceptions.
That's after a first half that saw Arkansas receivers running free in the Alabama secondary and Mallett having his way in one of the worst exhibitions of defensive football you'll ever see for a Nick Saban team.
Sophomore cornerback Dre Kirkpatrick, who had one of Alabama's three interceptions on the day, admitted that the Crimson Tide's young secondary was shell-shocked early.
The important thing, though, is that they didn't stay that way.
"We hadn't played in an atmosphere like this, and we had to adjust," Kirkpatrick said. "A lot of us hadn't played in a stadium this loud and being on the road like this. But we grew up, and we stepped up.
"Hey, if it takes this to be a champion, that's what we've got to do."
For the second week in a row, Arkansas (3-1, 1-1) couldn't protect a lead by running the football. The Hogs only had had 10 rushing yards on six carries in the fourth quarter last week against Georgia after jumping out to a 24-10 lead.
Against Alabama, the Hogs were held to 64 yards on the ground for the game. But in the second half, they managed just 13 rushing yards on seven carries.
"We just couldn't find a way to win in the fourth quarter," Arkansas coach Bobby Petrino said. "We had the opportunity and just couldn't get it done."
A big reason why was because the Crimson Tide wouldn't let them.
They drove 74 yards in eight plays, ending with a 20-yard touchdown pass to
Trent Richardson
on a screen play, to pull within 20-14.
They kept the football for 16 plays on their next possession, ending with Jeremy Shelley's 36-yard field goal, to pull within three points.
By that time, the momentum had long since turned in Alabama's favor.
"You could just see the look on those guys' faces," said junior receiver
Julio Jones
, who had several key third-down receptions. "They were gasping for air, and we were going to keep the tempo going and stay on them."
Sophomore offensive guard Barrett Jones sensed the same thing.
"I felt they were getting a little tired and could feel the momentum swinging, and that's when we wanted to drive the nail in the coffin, as we put it, and put the hammer down," Barrett Jones said.
Even after Alabama had taken the 24-20 lead on Mark Ingram's second touchdown run, the Crimson Tide didn't want to take any chances.
They had the ball at their own 44 with 54 seconds to play and were facing fourth-and-inches. After trying to draw Arkansas offsides the first time, the Alabama players were lobbying hard for Saban to go for it.
He didn't flinch.
"We didn't want to punt it back to them," Barrett Jones said. "We told coach we'd get that yard for him, and I'm glad he had confidence in us."
In the end, it was an Alabama team that had been there and an Arkansas team that had not.
And that was never more apparent than when it came time to win the game.
"We're a team that just refuses to lose," McElroy said.
September, 25, 2010
9/25/10
7:09
PM ET
FAYETTEVILLE, Ark. -- The top-ranked
Alabama Crimson Tide
rallied from a 13-point deficit
to beat
the No. 10
Arkansas Razorbacks
24-20 on Saturday at Razorback Stadium.


How the game was won:
Robert Lester's interception and return to the Arkansas 12-yard line set up a
Mark Ingram
1-yard touchdown run a few plays later. The Crimson Tide sealed the win when Dre Kirkpatrick intercepted
Ryan Mallett
on the sideline, Mallett's third interception of the game. The Tide also converted on fourth-and-inches from their own 44 to keep from having to punt the ball back to the Hogs in the final seconds.
What it means:
The Crimson Tide extended their winning streak to 18 games and passed their first big road test. It was the first of three straight tough games. Alabama returns home next week to face Florida and then goes on the road to play South Carolina the following week.
Stat of the game:
The Hogs had 301 total yards at the half, but were held to 120 yards the rest of the way.
Player of the game:
Ingram, in only his second game back after undergoing knee surgery, showed once again why he's the best player in college football. He finished with 157 yards on 24 carries.
Unsung hero:
After making a couple of bad decisions in the first half, Alabama quarterback
Greg McElroy
responded like a champ in the second half. He converted one key third down after another and methodically led his team back from a 13-point deficit.
Turning point:
Alabama, trailing 20-14, was backed up on its own 8-yard after a holding call on D.J. Fluker early in the fourth quarter. But the Crimson Tide went on to keep the ball for 15 plays and moved into position for a field goal to pull within 20-17.
September, 25, 2010
9/25/10
6:45
PM ET
FAYETTEVILLE, Ark. -- Alabama has made this its kind of game.
The Crimson Tide have kept the football on offense, converting on third down, and are forcing Arkansas into third-and-long situations.
Ryan Mallett
's interception came on third-and-long, and he threw into double coverage. Robert Lester was there to pick it off and set up
Mark Ingram
's 1-yard touchdown run to put the Tide ahead for the first time all game, 24-20.
This is vintage Alabama.
The Crimson Tide never panicked, didn't get away from their plan on offense and tired out the Arkansas defense with some long drives.
And when they get you in third-and-long, it's usually bad news -- and it has been for the Hogs.
September, 25, 2010
9/25/10
6:35
PM ET
FAYETTEVILLE, Ark. -- Arkansas' defense came up with a clutch play on third down when Tenarius Wright burst through the line to sack Alabama quarterback
Greg McElroy
and force a field goal attempt. Arkansas holds a 20-17 lead over Alabama.
But here's the concern for Arkansas: The Hogs' defense was on the field for a large chunk of the third quarter and has been on the field a bunch here in the fourth quarter, too.
You wonder if the Hogs have to go out and make another stand if they're going to have enough in the tank.
September, 25, 2010
9/25/10
6:10
PM ET
FAYETTEVILLE, Ark. -- I think it gets down to being able to run the football in the fourth quarter, at least some, if Arkansas is going to win this game.

Arkansas coach Bobby Petrino said back in the spring that to beat Alabama, you had to be able run it on the Tide in the fourth quarter and keep your defense off the field.

Well, here the Hogs are with a chance to do just that. The Arkansas defense was on the field a bunch in the third quarter.
September, 25, 2010
9/25/10
5:16
PM ET
FAYETTEVILLE, Ark. -- Arkansas, moving the ball up and down the field, took a
17-7
lead against No. 1-ranked Alabama into halftime Saturday at a raucous Razorback Stadium.
Here's a quick halftime analysis:
Turning point:
Trailing 10-7, Alabama was driving to either tie the game or take the lead in the final minutes of the second quarter, but Arkansas safety Rudell Crim intercepted
Greg McElroy
on the sideline at the Hogs' 34. Arkansas took the ball down the field and scored on
Ryan Mallett
's 1-yard touchdown plunge.
Stat of the half:
The Hogs have 301 total yards at the half, bringing up the obvious question: When's the last time a Nick Saban-coached team has given up 300 yards in a half?
What Alabama needs to do:
Not to oversimplify it, but the Crimson Tide need to cover somebody. Arkansas has had receivers running free the entire first half, a few of those plays looking like obvious busted coverages. Alabama's secondary has looked really confused, and the Tide also haven't been able to get much pressure on Mallett.
September, 25, 2010
9/25/10
4:46
PM ET
FAYETTEVILLE, Ark. -- You can't give away points against Alabama, and that's exactly what Arkansas quarterback
Ryan Mallett
did early in the second quarter.
With the Hogs facing third-and-goal from the 6, Mallett tried to force one in there, even though he had nothing, and was intercepted by Alabama's Robert Lester in the end zone.
So instead of going up 13-7, the Hogs give the Crimson Tide some momentum.
Mallett has played enough football to know you throw that ball into the 10th row of the stands and kick the field goal.
September, 25, 2010
9/25/10
4:41
PM ET
FAYETTEVILLE, Ark. -- Arkansas'
Greg Childs
was taken to the locker room after making a great catch down the sideline in the second quarter and then twisting his knee.
He was walking under his own power, but limping noticeably as trainers took him to the locker room to have the knee evaluated.
After a few minutes, he came sprinting back onto the Arkansas sideline.
September, 25, 2010
9/25/10
4:15
PM ET
FAYETTEVILLE, Ark. -- Every time you watch
Mark Ingram
play in person, you come away a little more impressed.
I know I do.
I say it for the umpteenth time: There's not a better football player in college football with the emphasis on "football." Nobody hits the hole harder, and nobody's harder to tackle.
His 54-yard touchdown run to tie the game was as good as it gets.
September, 25, 2010
9/25/10
3:40
PM ET
FAYETTEVILLE, Ark. – Blocking Marcell Dareus, Alabama's star defensive end, will be one of the biggest challenges for Arkansas on Saturday.

This is Dareus' second game back after being suspended by the NCAA the first two games.

But Arkansas had better not place too much emphasis on Dareus, because Damion Square at right end is one of the Crimson Tide's best pure pass-rushers on the team. Square may be close to overtaking senior Luther Davis full time at that right end spot.
September, 25, 2010
9/25/10
3:03
PM ET
FAYETTEVILLE, Ark. – Big-time football has returned to Fayetteville.

In a word, this place is jumping … and has been all week.

The Arkansas students started setting up their tents just outside Gate 17 at the student entrance to the stadium on Monday, and by Friday night, there was a sea of tents stretching all the way past Bud Walton Arena.

A home football game is always a big deal when the Hogs are playing at Razorback Stadium. They're as close as it gets to a state's professional team in the SEC.

But the buildup and anticipation to Saturday's game with No. 1-ranked Alabama has been three times what it normally is around here.

Good luck in finding a ticket.

The best seats were going for close to $500 two hours prior to the game. Even the seats in the upper deck were going for $200.

Fans were everywhere outside the stadium looking for tickets, and we're talking well into the thousands.

Hey, it's been 31 years since two Top-10 teams played a game here.

And if Friday night on Dickson Street was any indication, this place is going to be raucous.

Let's hope the game itself holds up its end of the bargain.