October, 21, 2012
10/21/12
1:05
AM ET
KNOXVILLE, Tenn. -- The scoreboard read like just another day at the office for Alabama, but Saturday night's performance meant so much more to the No. 1 team in the nation.
It would have been easy for Alabama to coast through this one and grind out things in the fourth quarter, as it did against Missouri last week.
But the Crimson Tide didn't come close to that. With their most balanced offensive performance of the season and yet another tremendous effort from their defense, the Tide pounded Tennessee
44-13
by playing arguably their most complete game of the season.
With top-15 opponents Mississippi State and LSU coming up in consecutive weeks, this was exactly the kind of performance Alabama needed going forward.
"We came in with a game plan and we executed it," tight end
Michael Williams
said. "We like to come out and impose our will on our opponent, and we did that to the best of our abilities tonight."
Previous games were mere tuneups for what lies ahead. Now, Alabama's true tests come, and the difference between the SEC and more lies within the next two weeks. Heading into Saturday, questions still remained. Alabama did a great job of answering them.
Everyone harped on Alabama's passing. On Saturday, quarterback
AJ McCarron
couldn't throw it enough, as he passed for a career-high 306 yards and had four touchdowns on 17-of-22 passing.
People wondered how Alabama's secondary would fare against a talented passing game. It shined, as
Justin Hunter
and
Cordarrelle Patterson
were targeted 14 times but combined for five catches for 95 yards and no touchdowns.
[+] Enlarge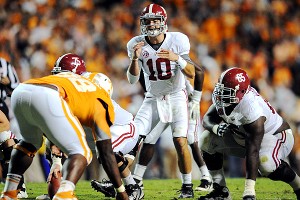 Randy Sartin/US PresswireAJ McCarron answered doubts about Alabama's passing with four TDs and a career-high 306 yards.
Tyler Bray
threw for just 184 yards and two interceptions.
And the young offensive playmakers are getting better, as receiver
Amari Cooper
led all receivers with 162 yards and two touchdowns, and
T.J. Yeldon
led all rushers with 129 yards and two scores.
Players knew how important it was to come out and have everything click before Alabama's upcoming stretch. A rusty win only makes for longer film sessions and more pressing. This team had to have a complete game before facing the Bulldogs and Tigers.
After Saturday, Alabama is showing the systematic separation between not just its opponents, but the rest of the nation.
"We played all four quarters of Alabama football tonight," center
Barrett Jones
said.
People nitpicked at the offense being too run-oriented, but it was as balanced as ever Saturday. McCarron was asked to pass more and showed he certainly doesn't have a problem slinging the ball.
"Everybody's gotta understand, we're gonna take what the defense gives us," McCarron said. "One week, we might have to run it, and the next week, we might have to throw it. Tonight, we got them on their heels a little and we were able to do both really well."
So well that it even had coach Nick Saban consenting that this was his team's most complete game.
"I was really pleased with how our guys played for 60 minutes in the game, and we know that's what it would take," Saban said. "They kept grinding, and we finally got control of the game."
Alabama's recovery was splendid, as well. Adversity hadn't really hit this team until Saturday, but the Tide always responded, as the offense scored touchdowns directly after three drives that ended without scores and the defense erased big plays almost immediately after they occurred.
Tennessee averaged just 4 yards on the plays right after the Vols' four pass plays that went for 20-plus yards. One play was a 2-yard touchdown, while only one other drive led to a score -- a 32-yard field goal.
Trouble didn't bother Alabama.
"We did an excellent job doing that, forgetting about the big plays and making all big plays on defense," said safety
Robert Lester
, who intercepted Bray in the end zone three plays after a 44-yard Hunter reception in the third.
Alabama wasn't perfect, but it played its most well-rounded game without a lull in its performance. That's what this team has waited for. It's more focused and it's getting better at the most important time of the season.
October, 20, 2012
10/20/12
10:22
PM ET
If he wasn't before the game, Alabama quarterback
AJ McCarron
put himself in the conversation for the Heisman Trophy with his performance at Tennessee on Saturday. McCarron finished 17-of-22 for 306 yards with four touchdowns and no interceptions as the Crimson Tide cruised
44-13
.


After a sluggish start in the first half, the running game picked up in the second half as Alabama finished with 233 yards on the ground. Freshman
T.J. Yeldon
led the way with 129 yards and two touchdowns, including one from 43 yards out.
The Bama defense did its part as well, holding
Tyler Bray
and the high-powered Tennessee offense in check throughout the game. Bray finished 13-of-27 for 184 yards with no touchdowns and two interceptions. Vols wide receiver
Cordarrelle Patterson
had just one catch in the game.
It was over when:
Tennessee hung around in the first half, and had a chance to cut into the lead and make it a two-score game again late in the third quarter when
Robert Lester
intercepted Bray in the end zone. Alabama scored the next 14 points to put it away.
Game ball goes to:
McCarron had a career night for Alabama, but the game ball goes to his go-to wide receiver,
Amari Cooper
. The true freshman put the Tide on the board first with a 23-yard touchdown reception, and he added another score in the second half on a 42-yard catch. Cooper finished with seven receptions for 162 yards and two touchdowns.
Stat of the game:
Alabama's offense finished with 539 total yards of offense against Tennessee. It's the second week in a row and the third time in the past four games that the Tide have gained more than 500 yards of total offense.
What it means for Alabama:
Many thought this would be the first real test for the Tide defense, and if it was, it passed with flying colors. Combined with the performance from McCarron and Yeldon on the offensive side of the ball, Alabama showed why it's still the No. 1 team in the country. The Tide won't look ahead with an undefeated Mississippi State team visiting next week, but it's never too early to eye the showdown at LSU in two weeks.
What it means for Tennessee:
The stool Derek Dooley was supposed to sit on during the game just got a little warmer. Tennessee now has lost its first four SEC games to start the season, and it doesn't get any easier next week with a road game at South Carolina. The Volunteers finish with Missouri, Vanderbilt and Kentucky, but any less than six wins could signal the end of the Dooley era in Knoxville.
October, 20, 2012
10/20/12
7:05
PM ET
KNOXVILLE, Tenn. -- Former Tennessee coach Phillip Fulmer and members of the 1997 SEC championship team were honored before Saturday night's game with Alabama.

Fulmer was honored for his induction into the National Football Foundation and College Hall of Fame, an honor that will formally be presented to him in December. Fulmer was fired from Tennessee halfway through the 2008 season, but finished his Tennessee career with a 152-52 record during his 16 years as the Vols' head coach. He ranks eighth all time among SEC coaches in overall wins and is tied for fifth all time with 98 SEC regular-season wins.

Fulmer's 1997-98 teams remain the last teams to repeat as SEC champions. His 1998 team went 13-0 and beat Florida State in the Fiesta Bowl to win the first BCS national championship.

The 1997 team was ranked in the top 10 the entire season and finished 11-2, winning the school's 12th SEC title with a 30-29 win over Auburn in the Georgia Dome. Tennessee won nine consecutive games that season and only lost to Florida and eventual national champion Nebraska (shared with Michigan) in the Orange Bowl.
October, 20, 2012
10/20/12
6:30
PM ET
KNOXVILLE, Tenn. -- Tennessee coach Derek Dooley will
coach from a stool on the sideline
in tonight's game against Alabama.
Dooley coached from the press box against Mississippi State after undergoing hip surgery.
In order to make sure Dooley is safe during game action, he will have two people on both sides of him.
October, 20, 2012
10/20/12
6:05
PM ET
KNOXVILLE, Tenn. -- Greetings from Neyland Stadium!
The sun isn't really out, but the weather is just about perfect here. Tailgates were going hard for the Third Saturday in October.
Not a lot of people are giving Tennessee a chance in today's matchup with No. 1 Alabama, but don't sleep on the Vols' passing attack. The Tide's secondary came into the season younger and less experienced than last year's unit, and it really hasn't been tested this season. Now, the play up front has been a big reason, but this is easily the best passing game Alabama has faced to this point.
Tennessee quarterback
Tyler Bray
is passing for almost 300 yards a game and leads the SEC with 16 touchdown passes. He also has
Justin Hunter
and
Cordarrelle Patterson
to work with out there. Don't be surprised if he makes a few plays early on this secondary.
The key for Tennessee's offense is balance. If the Vols can't run the ball, Bray won't be able to be as affective throwing the ball against this swarming Alabama defense. That'll be tough for the Vols with running back dealing with an ankle injury. He's been listed as doubtful this whole week and hasn't done much during warmups. That leads
Devrin Young
and
Marlin Lane
to carry the load. Young and Lane have combined for 301 rushing yards compared to Lane's 500 on the season.
Alabama hasn't had to be flashy this year, and expect that again tonight. This team feeds off its running game and just pounds teams in the second half. Now,
AJ McCarron
might have the opportunity to throw it around a bit with Tennessee's defense reeling right now. McCarron has the ability to stretch the field, and he might get to more tonight.
Tennessee coach Derek Dooley will also be coaching down on the field today after hip surgery. He won't be moving around a lot, but he'll be down there.
October, 20, 2012
10/20/12
5:26
PM ET

Edward Aschoff and Alex Scarborough discuss the Alabama-Tennessee game.